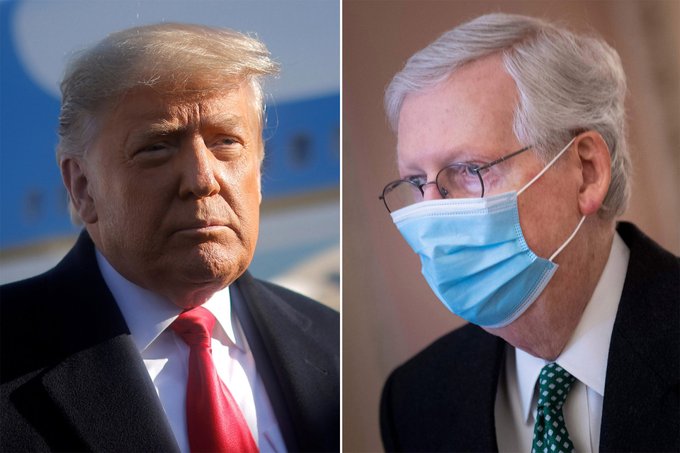 Newsmax.com reports that
In the most caustic sign yet of deepening GOP divisions, former President Donald Trump blistered Senate Minority Leader Mitch McConnell, R-Ky., as a "political hack" on Tuesday, days after the Senate's top Republican denounced him as the inciter of U.S. Capitol attack.

"The Republican Party can never again be respected or strong with political 'leaders' like Sen. Mitch McConnell at its helm," Trump said in a statement released by his political action committee.

He went on to write: "Mitch is a dour, sullen, and unsmiling political hack, and if Republican Senators are going to stay with him, they will not win again."

A McConnell spokesperson did not immediately return requests for comment.

The deeply personal attack follows McConnell's speech over over the weekend saying Trump was responsible for the deadly insurrection at the Capitol on Jan. 6. But McConnell said that only after he joined other Republicans in voting against the former president's conviction during a Senate impeachment trial that accused Trump of inciting the mob.

"There's no question, none, that President Trump is practically and morally responsible for provoking the events of the day," McConnell said Saturday, after Trump, the only president to be impeached twice, was acquitted on a 57-43 vote. "The people who stormed this building believed they were acting on the wishes and instructions of their president."

McConnell said he voted to acquit Trump because the Senate has no jurisdiction over an ex-president — even though he had rejected a push from Democrats to start the trial when Trump was still in office. The House impeached Trump a week before he left office.

McConnell had remained loyal to Trump during nearly all of his four years in office, when the pair were the two most powerful members of the Republican Party. But, after Trump spent months making claims election fraud cost him the November election against Democrat Joe Biden, McConnell said overturning the vote because of objections from the losing side would see American democracy enter "a death spiral."

Republican officials in battleground states including Georgia and Arizona have also said the election was fair. Trump's accusations of election fraud were rejected by judges at all levels of the judiciary, including those appointed by Trump himself.

The former president's statement promises to further fuel an intraparty struggle.

Some, like the seven Republican senators who voted to convict Trump during the second impeachment trial, have sought to distance the party from the former president. But others have remained loyal in hopes of not alienating Trump supporters during future elections.

In his statement, Trump criticized McConnell for failing to do more to back his unfounded claims of election fraud. He also said McConnell "begged" for his endorsement in the senator's home state of Kentucky while running for reelection last year — and suggested he would work to defeat McConnell and his Republican allies, saying he planned to "back primary rivals who espouse Making America Great."

"This is a big moment for our country," Trump wrote, "and we cannot let it pass by using third rate 'leaders' to dictate our future."
Here is the hard truth of the above article: Average Americans had been holding their noses while voting for the Republican party for some time.
That is, until Donald J. Trump came along.
The Presidential Campaign of Donald J. Trump was something different that your average Republican's campaign for President.
It was a Populist Movement.
Dictionary.com defines "populism" as
1. the political philosophy of the People's party.
2. (lowercase) any of various, often antiestablishment or anti-intellectual political movements or philosophies that offer unorthodox solutions or policies and appeal to the common person rather than according with traditional party or partisan ideologies.
3. (lowercase) grass-roots democracy; working-class activism; egalitarianism.
4. (lowercase) representation or extolling of the common person, the working class, the underdog, etc.:populism in the arts.
That word first reappeared in the American Lexicon, when Sarah Palin almost dragged John McCain's RINO Rear across the Finish Line, in the Presidential Election of 2008.
The Grassroots Movement, which began back then, led us to a seminal moment in American Politics.
The American People spoke in 2016 and are still speaking, loud and clear.
Donald J. Trump was a "Citizen Statesman", such as our Founding Fathers envisioned.
A Presidential Candidate has to build a coalition, in order to win the Presidency.
Ronald Reagan, and, again, I am not comparing Trump to Reagan, figured out in 1980, that, in order to win the presidency, you had to bypass the Republican Establishment and go directly to the American People.
That is exactly what Donald J. Trump did.
The Godfather of Conservative Talk Radio, Rush Limbaugh, broke that fact down for us during his program on February 10, 2016…
This is what the Republican Party's been telling us they need to win.  I've had 'em come to my office.  I've told you.  I've had Rand Paul here, Mitt Romney's here.  One thing they've all said in common is that Republican Party can't win with Republican votes alone anymore.  We have to branch out, we have to reach out.  This is what they were telling me to prepare me for some of the campaign tactics that I was gonna see. That they were gonna have to reach out and immigration was one of the ways of reaching out, supporting amnesty. Well, all along Trump has built that coalition the Republican Party claims to want and they're out there badgering it and bashing it.  It's exactly what they claim to want.  They could have had it.  The Republican Party could have had the Trump coalition.  They could have had it at health care.  A majority of Americans opposed Obamacare from the get-go.  The Republican Party could have seriously attempted to form an alliance with the Tea Party and the anti-Obamacare people and been a dominant majority party on that issue alone.  And then on subsequent issues to come down the pike the Republican Party could have formed an alliance with majorities in other areas of opposition, and they didn't. 

Donald Trump has the exact coalition the Republican Party, to a man, has told me they need to win, that they need to thrive.  And now they're reduced to bashing it by virtue of bashing Trump.  And now they're reduced to bashing it by virtue of bashing Cruz.  The two people who are showing the Republican Party all they had to do all these past seven years, but they didn't.  They purposely, strategically, tactically refused to push back, refused to make a spectacle of stopping Obama, and they have themselves to blame for this predicament. 

People are not gonna donate and donate and vote and vote and hear the right things during campaigns, the promises to stop Obama, to oppose Obamacare, to seriously make an effort to repeal it.  Even if they don't have the votes to override a veto, the effort, all it would have taken was the effort, all it would have taken was put the onus on Obama, make Obama illustrate that all this is his fingerprints.  No such strategy was ever seen. 
As I gave previously written, Trump is riding the crest of an ever-growing anger over the inaction of Professional Politicians, whom, after being voted into National Office by their constituents back home, have literally bitten the hand that feeds them, tossing Ma and Pa Kettle aside for Big Money Donors and the Political Prestige of "reaching across the aisle", i.e.. "selling out".
Now, in 2021, members of that same political party, including its Political Leader, Senate Minority Leader Mitch McConnell, seem determined to commit political seppuku by shunning Former President Donald J. Trump.
Regarding those who continue to insist that they are on the side of average Americans and are working at banishing Trump "for the good of the Republican Party"…
Former President Trump showed y'all how to win and a lot of you "Establishment Republicans" furthered your political career by riding his coat tails to positions of power on Capitol Hill.
Y'all want to go back to your political strategy of of reaching across the aisle (i.e. sucking up) to the Democrats and allowing them to pass whatever cockamamie laws they want to while they raises our taxes and the amount we pay for gas to fill up our cars so that we can go to work and provide for our families.
That is how we got stuck with Former President Barack Hussein Obama, aka "Petulant President Pantywaist".
If the Republican Establishment keeps mooning average Americans and showcasing their Spines of Jello, instead of supporting the wishes of those who sent them to Capitol Hill, average Americans are liable to show them what they think of them by starting a new party behind Donald J. Trump.
However, I am beginning to believe that the Vichy Republicans. for all of their bluster, could care less.
As it has  proven, without a doubt in the past, the Republican Establishment's arrogance will be their undoing.
After all…
Actions (and Inactions) have consequences.
In summation, the American people are tired of Political Correctness and anti-American political expediencies being forced down our throats by both political parties and trumpeted by their lackeys in the Main Stream Media.
Donald Trump, for all of his brashness and braggadocio, remains a breath of free air and, quite frankly an anomaly. He's not a professional politician. He is a businessman who became a wonderful public servant.
Does Donald J. Trump need to "tone it down", in terms of his fight against those who would preserve the Washingtonian Status Quo?
Only if he wants to sound like a Professional Politician.
And, we Americans have had our fill of them.
Until He Comes,
KJ