"We went from detain-and-remove to catch-and-release. We went from having border security that was the envy of the world to a lawless border that is now pitied around the world. Biden and Harris have handed control of our border over to cartels, criminals, and coyotes. Drug dealers, MS-13 gang members, human smugglers, sex traffickers, and the criminal elements of the world now have free reign. Hospitals and schools are getting crushed and public health is being sacrificed all in service of a radical left anti-borders agenda. Our brave border agents and courageous ICE officers have been illegally stopped from doing their jobs. Our Nation is now one giant sanctuary city where even dangerous criminals are being cut loose and set free inside the U.S interior on a daily basis." – Former President Donald J. Trump, June 15, 2021
FoxNews.com reports that
Former President Donald Trump is scheduled to visit the U.S.-Mexico border with Texas Gov. Greg Abbott at the end of the month, which he described on Tuesday as an "unmitigated disaster zone."

The president said in a press release that he had accepted Abbott's invitation to visit the "decimated" border, a deteriorating situation that he attributed to the Biden administration's decisions to reverse many of his immigration policies.

"Biden and Harris have handed control of our border over to cartels, criminals, and coyotes. Drug dealers, MS-13 gang members, human smugglers, sex traffickers, and the criminal elements of the world now have free reign," Trump said in a statement. "What Biden and Harris have done, and are continuing to do on our border, is a grave and willful dereliction of duty."

Abbott previously told Fox News in an interview that later this week he will unveil the state's plans to build a border wall in an attempt to finish what the former president started.

"We will continue that process of building the border wall in addition to these other strategies that we will use to make sure that anybody coming here will understand Texas is the wrong state to come into," Abbott said.

President Biden signed an executive order on his Inauguration Day pausing construction on the border wall project spearheaded by Trump. The White House also ended the former administration's national emergency declaration at the border shortly after taking over, in addition to terminating a number of other measures like the "Remain in Mexico" policy.

Vice President Kamala Harris recently drew criticism from members of her own party during her first trip to Guatemala and Mexico since she was tasked with addressing the "root causes" of the immigration crisis at the end of March.

During a press conference with Guatemalan President Alejandro Giammattei, Harris warned migrants not to make the "dangerous trek" to the U.S. border where they would be turned away.

Harris' comments come as the U.S. battles a surge in migrant encounters at the U.S. border, which totaled more than 180,000 in May, according to data from U.S. Customs and Border Protection.

She and the president have yet to visit the U.S. border, though Harris told Univision in an interview last week that she planned to do so. She declined to give a date when asked.
Our Southern Border is a disaster…and, Kamala Harris is not to blame for it.
This is Joe Biden's fault…100%.
He is the President and the buck stops with him.
By putting VP Harris "in charge" of the border situation, Biden's handlers sought to take some of the spotlight and blame away from Biden.
Harris is unlikable to begin with. Her inactivity regarding the border crisis is just making an already-tarnished public image worse.
Biden and his Handlers are the ones allowing the chaos at our Southern Birders.
The Far Left Democrats want an influx of undereducated illegal immigrants to come into our Sovereign Nation.
They, like the product of Liberal-staffed colleges before them, are easier to mold and deceive.
It is the same logic which caused Vladimir Lenin to approach the barbaric Bolsheviks and Mensheviks to help him overthrow the Czar of Russia and usher in the "glorious period of enlightenment and social justice" known as the Russian Revolution.
Of course, you know that while I was writing the statement above, I had my tongue firmly planted in my cheek.
Lenin suckered the masses into believing that the political theory which he was championing would bring about a land of milk and honey, where every man would have what he needed to be happy, healthy, and prosperous.
Instead, what Marxism, which has failed in every country in which it has been tried, brought to the poor peasants of Russia was more poverty and even less individual freedom than what they had experienced under the Czar's rule.
The Democrats are so desperate to change our country's government from a Constitutional Republic to the "glory" of Democratic Socialism that they are willing to bring thousands of Covid-19-positive illegals across our Southern Border.
Their plan kills two birds with one stone:
It gives them more "foot soldiers" and it will re-infect America with the Chinese Coronavirus, causing more lockdowns and the opportunity for Democrats to grab more power and gain more control of American Citizens.
Thank God that Texas has a strong governor, like Governor Abbott, to stand up against an out-of-control Presidential Administration.
And, a Former President like Donald J. Trump, who is not afraid to shine the spotlight on the disaster happening at our Southern Border.
I miss having a strong American President.
Until He Comes,
KJ
DONATIONS ARE WELCOME AND APPRECIATED.
Make a one-time donation
Make a monthly donation
Make a yearly donation
Choose an amount
Or enter a custom amount
$
---
Your contribution is appreciated.
Your contribution is appreciated.
Your contribution is appreciated.
Donate
Donate monthly
Donate yearly
Critical race theory is an academic discipline, formulated in the 1990s, built on the intellectual framework of identity-based Marxism. Relegated for many years to universities and obscure academic journals, over the past decade it has increasingly become the default ideology in our public institutions. It has been injected into government agencies, public school systems, teacher training programs, and corporate human resources departments in the form of diversity training programs, human resources modules, public policy frameworks, and school curricula. – Christopher Rufo, "Critical Race Theory: What It Is and How to Fight It", imprimus.hillsdale.edu
FoxNews.com reports that
National Public Radio (NPR) took a swing at Republicans who are denouncing and trying to stop the implementation of critical race theory in U.S. schools, asserting that their opposition is a political motive for next year's midterm elections.

The report's framing sparked outrage on social media, as figures like Republican commentator Matt Whitlock criticized NPR's one-sided take.

"Interesting framing — no examples of CRT being implemented in a number of places, and no commentary about 1619 being torn apart by historians," he tweeted. "It suggests R's just picked this fight out of the sky because Trump, which is not true for anyone following."

Psychology professor Geoffrey Miller responded, calling critical race theory a "toxic cult that promotes racial hatred & race war."

"@NPR used to be against racial hatred & race wars," he added. "What changed?"

Gold Institute for International Strategy senior fellow Matthew Brodsky asserted that critical race theory is not a truly academic approach as described by NPR.

"It's not 'an academic approach.' It's a revisionist history viewed through a selective prism that colors everything. When you wear red lenses in your sunglasses, everything looks red. When you view everything through critical race lenses, everyone is a racist," he tweeted.

Christopher Rufo, senior fellow of the Manhattan Institute and notable critic of critical race theory, called NPR "National Propaganda Radio."

Rufo has been a leading activist in helping state and local governments in banning CRT curriculum from being taught in schools and highlighting CRT employee training in businesses and corporations. Earlier this year, Rufo formed a network of private attorneys and conservative organizations to combat critical race theory.

NPR promoted the importance of critical race theory while blaming former President Donald Trump for causing partisanship on the issue after his signing of an executive order banning certain racial sensitivity training for federal contractors.

"Since then, the issue has taken hold as a rallying cry among some Republican lawmakers who argue the approach unfairly forces students to consider race and racism," the report reads.
Christopher Rufo, in the article from which I quoted at the beginning of today's post, explains that
There are a series of euphemisms deployed by its supporters to describe critical race theory, including "equity," "social justice," "diversity and inclusion," and "culturally responsive teaching." Critical race theorists, masters of language construction, realize that "neo-Marxism" would be a hard sell. Equity, on the other hand, sounds non-threatening and is easily confused with the American principle of equality. But the distinction is vast and important. Indeed, equality—the principle proclaimed in the Declaration of Independence, defended in the Civil War, and codified into law with the 14th and 15th Amendments, the Civil Rights Act of 1964, and the Voting Rights Act of 1965—is explicitly rejected by critical race theorists. To them, equality represents "mere nondiscrimination" and provides "camouflage" for white supremacy, patriarchy, and oppression.

In contrast to equality, equity as defined and promoted by critical race theorists is little more than reformulated Marxism.
The Democrats are attempting to create a generation of Marxist-loving, anti-American, Useful Idiot "New Bolsheviks" through the use of Racial Division and Revisionist History.
No country is perfect because countries are governed by human beings, which are fallen creatures.
However, the United States of America remains the country that everyone wants to come to, legally or otherwise.
Why?
Because for almost 250 years, this "Shining City Upon a Hill" has had a reputation as a land in which everyone could make their dreams a reality…if they were willing to work to achieve it.
Our economic system of capitalism has been the cause of millions of Americans achieving their dreams and providing for their families.
America is a country chiseled out of the wilderness by rugged individualists who wanted not only the freedom to prosper…but the freedom to worship as they pleased also.
America is a "Sweet Land of Liberty".
And, Liberty is Freedom with responsibility.
The responsibility to provide for yourself and your family…and to protect our precious liberty if our country goes to war.
The Far Left Democrats could care less about the sacrifices made and the lives lost to secure the Sovereign Nation which is today's America.
Why?
Because they themselves are a bunch of "useful idiots" who want desperately to "share the wealth" and insult patriotism by calling it "nationalism" and "bigoted White Supremacy" in order to "radically change" our proven economic system of capitalism into "Democratic Socialism", a form of Marxism, a political theory which has never worked in any country in which it has been tried. 
For several generations, Democrats have told the impoverished that "Uncle Sugar" will take care of their every need as long as they keep voting them into public office.
However, these same impoverished Americans found out during the Presidency of Donald J. Trump the rewards of a good job and hard work.
Boys and girls, the reason that the Biden Administration and the rest of the Far Left Democrats do not want Americans to be proud of America and our actual shared history that it reminds Americans of every good and just quality that this nation was founded upon and whichhas kept us strong for almost 250 years.
It fills us with pride and gratitude that we live in the Greatest Country on the Face of the Earth.
Everything that the Far Left Democrats despise.
The Leader of the Russian Revolution, Vladimir Lenin, who brought Marxism to Russia, wrote
"Give me just one generation of youth, and I'll transform the whole world."
However, Lady Margaret Thatcher, a close friend of President Ronald Reagan, laid that falsehood to rest with the following quote…
"The problem with socialism is that you eventually run out of other people's money."
And, you know what?
I would much rather live in "the Land of the Free and the Home of the Brave" than under a failed political system where you can not even buy a decent roll of toilet paper.
Until He Comes,
KJ
DONATIONS ARE WELCOME AND APPRECIATED.
Make a one-time donation
Make a monthly donation
Make a yearly donation
Choose an amount
Or enter a custom amount
$
---
Your contribution is appreciated.
Your contribution is appreciated.
Your contribution is appreciated.
Donate
Donate monthly
Donate yearly
Obama is not the messiah any longer. He is now your standard, ordinary, everyday politician who lies, who breaks promises, who's in it for himself, who can't do anything on his own. He's not qualified. All of this is becoming known, sadly, too late. – Rush Limbaugh
FoxNews.com reports that
A "parasite" on the Democratic Party is how journalist Edward Isaac Dovere describes former President Obama in his forthcoming tell-all book "Battle for the Soul: Inside the Democrats' Campaign to Defeat Trump."

In a chapter entitled "Benign Neglect," Dovere writes that the section's namesake is how Obama aides privately described his abandonment of the Democratic Party once in the White House. "'Negligence' might be more accurate," Dovere, writer for The Atlantic and former chief Washington correspondent for Politico, writes.

"The numbers are hard to ignore: during his eight years in office, Obama oversaw a net loss of 947 state legislative seats, 63 House seats, 11 senators, and 13 governors," he continues.

In 2008, Democrats increased their majorities in the House and Senate, delivering Obama the legislature for his first two years in office. In 2010, Republicans took the majority in the House with the Tea Party wave and Democrats maintained but shrunk their majority in the Senate. In 2014, Republicans gained control of both the House and Senate.

Dovere writes that the 44th president carried himself with a "self-assured self-regard."

"Obama never built a Democratic bench and never cared to, aside from a few scattered candidates who interested him," according to the book.

Dovere writes that "defenders" of Obama have argued he didn't want to "taint" his presidency by " mucking about in fundraising," or that he didn't want to spoil the image voters had of him as an independent politician, or that faced with the choice to campaign or govern, he would always choose govern.

Dovere writes that during his first term, Obama used the party structure as a "host" for his next campaign.

In 2009, Obama hired his friend Tim Kaine to head the DNC, even though Kaine was also serving as governor for the first year on the job.

In a scathing passage Dovere claims Kaine was at the time "commuting two days a week to oversee the pilfering of talent, money, resources, and purpose for the Obama reelection effort that was already under way."

"In his second term, he cared about what happened to the husk as much as any parasite does," Dovere says.

Dovere pointed to the Obama team's decision to strike a deal with the Democratic National Committee (DNC) that saddled the committee with $2.4 million in leftover debt from Obama's 2012 election. In return, "Obama for America" gave the DNC its email list, and Obama was supposed to headline additional fundraisers.

Obama's peak pride came in 2015, Dovere writes, when on back-to-back days the Supreme Court upheld ObamaCare, his signature achievement, and ruled the 14th Amendment requires all states to grant same-sex marriages.

"'In hindsight it's hard not to see delusion in the self-assurance and the celebration and the sense of moving forward of those two weeks in America," Dovere writes.

Obama also reportedly said in the summer of 2020 that when he had left office, America had more prepared for a pandemic than any nation on earth, but had since fallen far behind.

The former president reportedly believes he could have won had he run for another term.

"Ultimately Obama's math comes down to a simple calculation: he has suggested in conversations with people close to him that he thinks he would have won had he been able to be a candidate in 2016. The economy, the Democratic debris, Russia – if he could have run for a third term, even confronted with all these issues, he believes, he would have figured out how to pull a victory off anyway," according to the book.
Obama is more crooked than a dog's hind leg.
For example…
In 2004, Illinois State Senator Barack Hussein Obama (mm mmm mmmm) decided to run for The United States Senate.
In order to have a successful Senatorial campaign, Scooter  had to secure tremendous financial backing and be the recipient of astute political mentoring.  No problem.
It is now very well-known that George Soros, evil genius, major Democratic Party donor and anti-Israel crusader, has been a generous contributor to Barack Obama. However, not too many people know that a loophole in McCain-Feingold allowed Soros and his family members to be extremely generous in their support of Obama's 2004 Senatorial campaign.
Obama had to run against Blair Hull in the primary and then Jack Ryan in the general (both multi-millionaires). Obama received huge donations from individuals, to so-called "millionaires exception."  Usually,  individuals are limited to giving $2300 to candidates in federal elections, but if the candidates are running against millionaires, these limits do not apply and candidates are allowed to receive up to $12,000 from a single individual. Soros and his family gave Barack Obama $60,000. This does not count the money that Soros was funneled to so-called 527 groups (Moveon.org, for example) that have also been politically active; nor does it include money that Soros raised from tapping a network of friends, business associates, and employees.
Besides garnering unlimited campaign funds, as the campaigns entered their closing rounds, the news "happened to be" leaked to media outlets that both Hull and Ryan had "personal scandals" in their past. The timely release of this news wiped out both of their campaigns, leading to an easy victory for Obama in the primary and then in the general election.
The New York Times Magazine revealed that David Axelrod, Obama's chief political and media adviser, may well have been behind the leak of the story that doomed the Hull candidacy as the primary reached its home stretch.  I'm shocked.
As he has shown over the years, Axelrod was right at home operating in this gray area, part idealist, part hired muscle. One can not bring up Axelrod's name  in certain circles in Chicago without the matter of the Blair Hull divorce papers coming up. Approaching the 2004 Senate primary, it was clear that it was a two-man race: the millionaire liberal, Hull, leading in the polls, and Obama, who was the figurehead of an impressive grass-roots campaign. One month before the vote, The Chicago Tribune "just happened" to reveal, at the end of a long profile of Hull, that during a divorce proceeding, Hull's second wife filed for an order of protection. This revelation proceeded to erupt into a full-fledged scandal.  This scandal destroyed Hull's campaign and handed Obama an easy primary victory.
The Tribune reporter who wrote the story later admitted in print that the Obama camp had "worked aggressively behind the scenes" to push the story. However, a lot of folks in Chicago believe that Axelrod leaked the initial story. They will tell you that before signing on with Obama, Axelrod interviewed with Hull. They also point out that Obama's TV ad campaign just happened to start at almost the same time. Axelrod swears up and down that "we had nothing to do with it" and that the campaign's television ad schedule was in the works for a long time.
Axlerod's explanation?
An aura grows up around you, and people assume everything emanates from you.
That's not an "aura". That's a stench.
And, the Biden Presidency smells of that same stench…and then some.
Until He Comes,
KJ
DONATIONS ARE WELCOME AND APPRECIATED.
Make a one-time donation
Make a monthly donation
Make a yearly donation
Choose an amount
Or enter a custom amount
$
---
Your contribution is appreciated.
Your contribution is appreciated.
Your contribution is appreciated.
Donate
Donate monthly
Donate yearly
We must continue working toward a time when all people respect and understand the important work that law enforcement officers do.  Unfortunately, our law enforcement officers do not always receive the respect they deserve.  These brave men and women must operate in an environment where their moral and legal authority is constantly being scrutinized, and they undertake the critical yet difficult task of addressing the actions of those affected by addiction, homelessness, and mental illness.  Their ability to work well in the face of these and other challenges is extraordinary, and we have incredible appreciation for their public service and selflessness. – President Donald J. Trump, "Proclamation on Peace Officers Memorial Day and Police Week, 2020"

FoxNews.com reports that
President Biden is marking Police Week with a statement that includes language about the "deep sense of distrust" toward cops by Black and brown Americans and the "trauma" caused by deaths in police custody — a statement described as "beyond disappointing" by one police group.

Biden's proclamation marking both Police Week and Peace Officers Memorial Day, begins by praising law enforcement for their wide range of duties in securing public safety.

"Every morning, our Nation's law enforcement officers pin on a badge and go to work, not knowing what the day will bring, and hoping to come home safely," the president says, before noting the impact of COVID-19 on the men and women in blue.

"As we recognize Peace Officers Memorial Day and Police Week, we honor those who lost their lives in the line of duty, and thank them on behalf of this grateful Nation for their service," he says.

But after promising to support law enforcement "and work to ensure they have the resources and research tools they need to do their jobs successfully and the funding necessary to enhance officer safety and wellness," the statement begins talking about the alleged harm caused to minority communities by police.

"This year, we also recognize that in many of our communities, especially Black and brown communities, there is a deep sense of distrust towards law enforcement; a distrust that has been exacerbated by the recent deaths of several Black and brown people at the hands of law enforcement," he says.

Biden has pushed for police reform in the wake of the death of George Floyd, for which the police officer was convicted of murder, and his Department of Justice has returned to the Obama-era practice of issuing consent decrees to crack down on police departments — amid claims by activists and many Democrats that such deaths are caused by systemic racism.

"These deaths have resulted in a profound fear, trauma, pain, and exhaustion for many Black and brown Americans, and the resulting breakdown in trust between law enforcement and the communities they have sworn to protect and serve ultimately makes officers' jobs harder and more dangerous as well," Biden wrote. "In order to rebuild that trust, our State, local, and Federal Government and law enforcement agencies must protect constitutional rights, ensure accountability for misconduct, and embrace policing that reflects community values and ensures community safety. These approaches benefit those who wear the badge and those who count on their protection."

The statements are in stark contrast to those from the overwhelmingly positive proclamations issued by the Trump administration, and even the Obama administration — where a 2016 proclamation included no explicit reference to such controversies and said that cops "care deeply about their communities, and together with our partners in law enforcement, we must work to build up our neighborhoods, prevent crime before it happens, and put opportunity within reach for all our people."

Biden's proclamation comes amid a police week that was barely marked by the White House — although Biden did invite illegal immigrants protected from deportation by the Deferred Action for Childhood Arrivals (DACA) program to the White House, amid a number of non-cop related events.

"This week we pause to pay respect to our law enforcement officers, particularly those who have made the ultimate sacrifice to protect their communities," Jason Johnson, president of the Law Enforcement Legal Defense Fund told Fox News. "It is beyond disappointing to see the president of the United States continue to perpetuate false and hurtful myths about police, rather than uniting as he claimed he would during the campaign. "

Rep. Ronny Jackson, R-Texas, accused Biden of expressing a "Bash the Blue" attitude toward law enforcement.

"I'm still DISGUSTED that Biden would use his official Police Week statement to suggest that every Cop is a racist. Democrat hatred for our police is outright REPULSIVE," he tweeted.

The controversy comes as Biden faces continued pressure on policing from the left of his own party, who have pushed for police departments to be defunded entirely.
So, Appointed President Biden and the rest of you Far Left Democrats, how are you going to protect Americans when you run all of our municipal law enforcement officers off their jobs?
What are you going to do? Post "This is a Gun-Free Zone" signs all over your cities to discourage the criminals?
Tell all of the Gang Bangers to hand over their guns?
On July 2, 2008, Democratic Presidential Candidate Barack Obama proclaimed in a speech:
"We cannot continue to rely on our military in order to achieve the national security objectives that we've set," he said. "We've got to have a civilian national security force that's just as powerful, just as strong, just as well-funded."
This part of Barack Hussein Obama's political platform was quickly hidden away, never to be spoken of again.
At least, not openly.
As is my wont to do, I have been thinking back over Obama's Imperial Presidency, and his statements concerning America's Municipal Law Enforcement Organizations.
When issues involving law enforcement arose during his presidency, time and again, Obama came on the opposite side from every single local law enforcement organization.
Now, isn't the President of the United States supposed to be on the side of Law and Order?
Biden certainly isn't.
Neither is the man pulling his strings, the 44th President of the United States of America, Barack Hussein Obama (mm mmm mmmm).
Why would Barack Hussein Obama not support local law enforcement during his "first" presidency?
Perhaps, because he wanted to build a National Municipal Law Enforcement Organization, under his command and the command of the Department of Justice.
Fast forward to today…
All of the cities and states which have experienced "trouble"  with police departments happen to be Blue States with Democrats in charge of State and Municipal Governments.
Instead of relying on traditional police departments and the American System of Law and Order, Democrats like those in the Minneapolis City Council want to have the power to circumvent the American System of Justice because of their issues in the past with it.
The death of ex-convict George Floyd gave them the excuse to attempt to defund police departments.
And now, with a Democrat in office, those who oppose Law and Order are all taking the side of the criminals.
Even the Democrat sitting behind the Oval Office…when he is not taking a nap.
Just like a criminal does not represent an entire race, neither do bad policemen represent an entire nation's Law Enforcement Officers.
They are heroes.
So, please allow me to end today's post with the text of a classic narration by the late, great Paul Harvey  titled "What is a Policeman?"
"A policeman is a composite of what all men are, I guess, a mingling of saint and sinner, dust and deity. What that really means is that they are exceptional, they are unusual. They are not commonplace. Buried under the froth is the fact, the fact is that less than one half of one percent of policeman misfit that uniform, and that is a better average than you'd find among clergymen."What is a policeman?

"He of all men is at once the most needed, and the most wanted, a strangely nameless creature who is sir to his face and pig or worse behind his back. He must be such a diplomat that he can settle differences between individuals so that each will think he won, but, if a policeman is neat, he's conceited, if he's careless he's a bum, if he's pleasant, he's a flirt, if he's not, he's a grouch.

"He must make instant decisions that would require months for a lawyer but if he hurries he's careless, if he's deliberate, he's lazy. He must be first to an accident, infallible with diagnoses. He must be able to start breathing, stop bleeding, tie splints and above all, be sure the victim goes home without a limp.

"The police officer must know every gun, draw on the run and hit where it doesn't hurt.

"He must be able to whip two men twice his size and half his age without damaging his uniform, and without being brutal. If you hit him he's a coward, if he hits you, he's a bully. The policeman from a single human hair must be able to describe the crime, the weapon the criminal, and tell you where the criminal is hiding but, if he catches the criminal he's lucky, if he doesn't he's a dunce.

"He runs files and writes reports until his eyes ache to build a case against some felon who will get dealt out by some shameless shamus. The policeman must be a minister, a social worker, a diplomat, a tough guy, and a gentle man. And of course, he'll have to be a genius, because he'll have to feed a family on a policeman's salary."
Until He Comes,
KJ
DONATIONS ARE WELCOME AND APPRECIATED.
Make a one-time donation
Make a monthly donation
Make a yearly donation
Choose an amount
Or enter a custom amount
$
---
Your contribution is appreciated.
Your contribution is appreciated.
Your contribution is appreciated.
Donate
Donate monthly
Donate yearly
Why would President Joe Biden omit God? Today marks the 70th annual #NationalDayOfPrayer & President Biden is the first @POTUS to omit the word "God" in his proclamation. That speaks volumes doesn't it? – Franklin Graham, Twitter 5/6/21
FoxNews.com reports that
Like his predecessors, President Biden issued a proclamation on the National Day of Prayer this week, but one word was missing.

Both former presidents Barack Obama and Donald Trump mentioned "God" in their National Day of Prayer proclamations, but Biden's proclamation never mentions God, only Americans' "many religions and belief systems" and the "power of prayer."

"Throughout our history, Americans of many religions and belief systems have turned to prayer for strength, hope and guidance," Biden's proclamation reads. "Prayer has nourished countless souls and powered moral movements – including essential fights against racial injustice, child labor and infringement on the rights of disabled Americans. Prayer is also a daily practice for many, whether it is to ask for help or strength, or to give thanks over blessings bestowed."

Meanwhile, Trump's 2017 proclamation mentioned God five times, his 2018 proclamation mentioned God five times, his 2019 proclamation mentioned God seven times and his 2020 proclamation mentioned God 11 times.

While the proclamation itself didn't include "God," Biden's remarks for the occasion did say the vaccine was developed "by the grace of God."

Obama's 2011 proclamation contained two references to God.

"Let us pray for the police officers, firefighters and other first responders who put themselves in harm's way every day to protect their fellow citizens," he said. "And let us ask God for the sustenance and guidance for all of us to meet the great challenges we face as a Nation."

"I invite all citizens of our Nation, as their own faith or conscience directs them, to join me in giving thanks for the many blessings we enjoy, and I ask all people of faith to join me in asking God for guidance, mercy and protection for our Nation," Obama said.

The National Day of Prayer is typically the first Thursday in May. The National Day of Prayer went virtual last year amid the coronavirus pandemic.
Yesterday, there was NO Prayer Service held in Washington, DC. by the Biden-Harris Administration, virtual or otherwise.
This was the first time in 70 years that this important event did not happen.
For several decades now, the Democratic Party, relying on Far Left Ideologues or their own opinion as their "highest authority", have made a determined effort to eliminate the practice of American Christianity and the Traditional American Morality and Ethics which go with it from Everyday American Life, attempting to regulate Christians' role in American Society as remaining unseen and unheard from, worshiping in private, on Sunday mornings, only.
Or, as Actor and Professional Wrestler Dwayne "The Rock" Johnson would say, Modern American Liberals want American Christians to
Sit down, shut up, and know your role!
Unfortunately for them, Former President Donald J. Trump reinforced our rights as Americans to our Faith with an Executive Order early in his Presidency.
The First Amendment to the Constitution still holds.
Congress shall make no law respecting an establishment of religion, or prohibiting the free exercise thereof; or abridging the freedom of speech, or of the press; or the right of the people peaceably to assemble, and to petition the Government for a redress of grievances.
Being filled with human beings, America's churches have made a lot of mistakes, However, they have also done a lot of good in the Name of the Lord.
For example, the church I attend, helps support a Food Pantry, operated in co-operation with other churches in our area, which feeds 2,000 people per month, counseling them, and getting them the assistance that they need.
Churches today have to walk a fine line.
The spiritual battle raging between the influence of American Popular Culture and those seeking the Will of God in their lives, takes all the strength…and prayer, that Christians can muster.
Modern Liberals seem to have great difficulty comprehending the role which Our Creator, the God of Abraham, played and plays in this Grand Experiment, known as the United States of America.
Why are they so focused on removing America's Christian Heritage?
Well, as is usually my wont, I have been doing some "reckoning" about this.
It seems to this ol' Southern Boy, living here in the Heartland, that America's Christian Heritage and the very real fact of His influence in building and shaping America's growth into the greatest country on the face of God's Green Earth, not only stifles and interferes with Modern Liberals' "anything goes", "share the wealth", "hive-mind", "man is his own god" Political Ideology, but the reality of God's very existence, somewhere deep in their miserable, bitter psyches, scares the mess out of them.
Why else would they be trying so hard to fight against the influence of Someone Whom they really don't believe in?
And, a second and final thought occurred to me after hearing that President Biden did not invoke the Name of the God of Abraham in his National Day of Prayer Proclamation..
The Democrats "War on Traditional American Christianity" is why the Democrats lost on November 8, 2016 and why they had to cheat to win in 2020.
For…
The fool says in his heart, "There is no God." They are corrupt, they do abominable deeds; there is none who does good. – Psalms 14:1
At this time last year, President Trump said,
"Our opponents (the Far Left Democratic Party) want to shut out God from the public square so they can impose their extreme anti-religious and socialist agenda on America."
He certainly nailed that one, didn't he?
Until He Comes,
KJ
DONATIONS ARE WELCOMED AND APPRECIATED.
Make a one-time donation
Make a monthly donation
Make a yearly donation
Choose an amount
Or enter a custom amount
$
---
Your contribution is appreciated.
Your contribution is appreciated.
Your contribution is appreciated.
Donate
Donate monthly
Donate yearly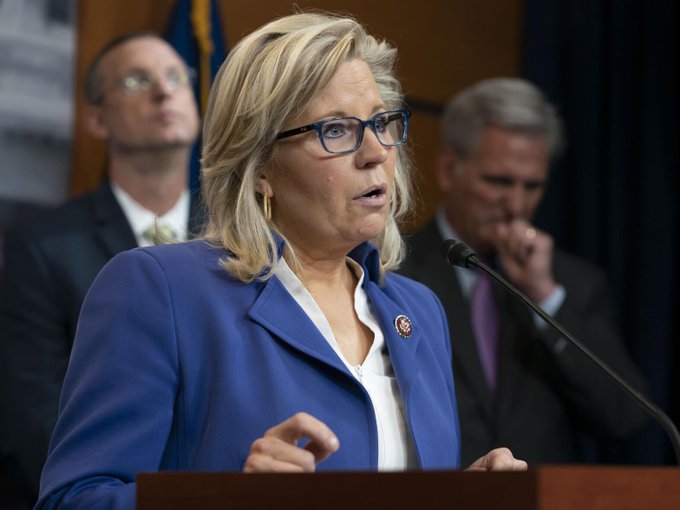 Liz Cheney is a warmongering fool who has no business in Republican Party Leadership. We want leaders who believe in the Make America Great Again movement, and prioritize the values of America First. Elise Stefanik is a far superior choice, and she has my COMPLETE and TOTAL endorsement for GOP Conference Chair. Elise is a tough and smart communicator! – From the Desk of Donald J. Trump, 5/5/21
Rep. Liz Cheney (R-WY) wrote that the Republican Party is at a "turning point" and must decide "whether we will join Trump's crusade to delegitimize and undo the legal outcome of the 2020 election, with all the consequences that might have."

Cheney offered her commentary in an op-ed for the Washington Post, published Wednesday.

"We Republicans need to stand for genuinely conservative principles, and steer away from the dangerous and anti-democratic Trump cult of personality," Cheney wrote.

With her House leadership role as GOP conference chair in jeopardy, Cheney writes that Trump's language about the 2020 election "provoked violence on January 6." Trump, who was banned from social media platforms, recently launched his own method of communicating with his supporters. There, he wrote, "the Fraudulent Presidential Election of 2020 will be, from this day forth, known as THE BIG LIE!"

"While embracing or ignoring Trump's statements might seem attractive to some for fundraising and political purposes, that approach will do profound long-term damage to our party and our country," Cheney wrote. "Trump has never expressed remorse or regret for the attack of Jan. 6 and now suggests that our elections, and our legal and constitutional system, cannot be trusted to do the will of the people."

This is immensely harmful, especially as we now compete on the world stage against Communist China and its claims that democracy is a failed system," she continued.

Cheney also addressed recent violence from groups such as Black Lives Matter and Antifa, but noted those are a "different problem with a different solution."
This woman has lost her RINO mind.
Donald J. Trump did more in three years to enrich the pocketbooks of America's Middle Class and to raise the employment levels of Black and Hispanic Americans than any American President before him.
The reason that Donald J. Trump remains the overwhelming choice of Republicans to run in the 2024 Presidential Election is because he actually has a spine.
He is unafraid to place American and Americans First.
He is not answerable to any lobbyist or any other country.
He is also NOT responsible for what happened on January 6th. It was preplanned before he ever gave his speech that day.
And before everything is said and done, it believe that the fact that Mitch McConnell and Nancy Pelosi were in on the "insurrection in order to damage Trump.
We still do not know the name of the officer who shot and killed unarmed Ashli Babbitt.
Liz Cheney is a nothing but a Democrat but-kissing Warhawk Swamp Creature who lives is the Washington D.C. Country Club along with the other RINOs.
Like the rest of the Vichy Republicans, Liz Cheney thinks more of her "colleagues across the aisle" than she does of actual Conservative Republicans, both in Congress and here in America's Heartland, where we cast our 2016 Vote for Donald J. Trump.
Vichy Republicans, like Liz Cheney, need to be purged from the Republican Party in 2022 and again in 2024, before their spineless acquiescence allows the Democrats to turn America into just another Marxist Nation.
Until He Comes,
KJ
DONATIONS ARE WELCOMED AND APPRECIATED.
Make a one-time donation
Make a monthly donation
Make a yearly donation
Choose an amount
Or enter a custom amount
$
---
Your contribution is appreciated.
Your contribution is appreciated.
Your contribution is appreciated.
Donate
Donate monthly
Donate yearly
FoxNews.com reports in an exclusive that
Former President Trump launched a communications platform on Tuesday, which will serve as "a place to speak freely and safely," and will eventually give him the ability to communicate directly with his followers, after months of being banned from sites like Twitter and Facebook.

The platform, "From the Desk of Donald J. Trump" appears on http://www.DonaldJTrump.com/desk.

The space allows Trump to post comments, images, and videos.

"In a time of silence and lies," a video Trump posted to the platform Tuesday night says. The video then plays news reports describing his suspension from Twitter.

"A beacon of freedom arises. A place to speak freely and safely," the video continues, showing the new platform. "Straight from the desk of Donald J. Trump."

The technology appears to be powered by Campaign Nucleus— the "digital ecosystem made for efficiently managing political campaigns and organizations," created by his former campaign manager, Brad Parscale.

The space allows Trump to post, and allows followers to share the former president's posts to Twitter and Facebook, however, the new platform does not have a feature to allow users to "reply" or engage with Trump's posts.

"This is just a one-way communication," one source familiar with the space told Fox News. "This system allows Trump to communicate with his followers."

The site has a sign-up list for people to enter their phone numbers and email addresses in order to receive alerts for when Trump posts a new message.

Trump's new platform surfaced Tuesday, after advisers had told Fox News that the former president planned to "move forward" to create a social media platform of his own after being banned from Facebook, Twitter, Instagram, YouTube, and Snapchat after the Capitol riot.

"President Trump's website is a great resource to find his latest statements and highlights from his first term in office, but this is not a new social media platform," senior advisor Jason Miller told Fox News. "We'll have additional information coming on that front in the very near future."

The rollout of the platform also comes just a day before Facebook's Oversight Board is expected to announce its decision on whether to indefinitely suspend Trump from Facebook and Instagram.

The board in January accepted a case referral from Facebook to examine the ban, as well as to provide policy recommendations on suspensions when the user is a political leader.

Facebook moved to block Trump "indefinitely" after the Jan. 6 riot in the U.S. Capitol, with CEO Mark Zuckerberg saying that they "believe the risks of allowing the President to continue to use our service during this period are simply too great."

Regardless of Facebook's decision Wednesday a Twitter spokesperson told Fox News that Trump is permanently suspended from tweeting.

The two things that Modern American Liberals/Far Left Democrats fear the most are
Free Speech
Former President Donald J. Trump
I am glad that Former President Trump now has a platform where he can say what he thinks.
It is no secret that the main Social Media Platforms are all run by Liberal Democrats.
There has been shadow banning of Conservatives happening on Twitter for quite some time.
For example, actor James Woods, a noted Conservative possessing a razor-sharp wit, hardly posted on Twitter any more.
Other Conservatives have had thousands of followers mysteriously vanish with no logical explanation, a practice which is still happening all over the place..
And, as Former President Trump once alluded to, Twitter was definitely Pro-Hillary during the 2016 Campaign.
What gets me, is while Trump HAD a Twitter Feed, "Bots" and wild-eyed vulgar Liberals were allowed to spam Trump's Twitter feed, making it almost impossible for average Americans to comment on it.
Why, it was almost like these clowns were getting paid to damage the President. (/sarc)
Trump was a master of using Twitter to reach out directly to the American people to get his point across unfiltered by the biased Main Stream Media.
He also took delight in "trolling" the Main Stream Media and their masters, the Democratic Party, through its use.
America received daily communication from its 45th President, Citizen Statesman Donald J. Trump.
The vast majority of Americans own cellphones…and have been on Twitter.
That is liable to change.
For years now, I have referred to the intolerant political ideology of Modern American Liberals, such as the Democrat Politicians on Capitol Hill and Jack Dorsey and his minions at Twitter, as "The New Fascism" because of their intolerance toward traditional Americans Faith and Values and their lack of respect for our Constitution and our American System of Law and Order.
What we saw, as regards the  Rigged Election and the inaction by Congress in response to it and the silencing of Conservative voices in Social Media is a result of an amalgamation of the political philosophies of the special interest groups who have replaced average Americans as the Democrats' Voting Base leading to a push toward changing America into a Marxist Nation.
Hate, envy, and control are the "pillars of faith" in Marxism in all of its forms, fascism, and, of course, Islam.
All of these political philosophies are the anti-thesis of who the Far Left Democrats claim to be.
Ladies and gentlemen, I firmly believe that America is in the middle of fighting a new war against fascism which has now grown so radical as to reach the Biblical Book of Revelation levels.
f this effort by the "New Bolsheviks" is allowed to go unchecked, it will not be our Brightest and Best who will die on this field of battle, but rather, it will be our Constitutional Freedoms and our form of government, including our System of Checks and Balances, which will die ignoble death, pierced by the arrows of the "New Fascism", going under the non de plumes of "socialism" and "political correctness".
Fascism, in any form, remains indefensible.
All of this unethical political behavior by the Far Left Democrats is reminiscent of both the Russian Revolution and Hitler and his Brown Shirts' "Beer Hall Putsch" which probably should have been expected, given the "New Bolsheviks" track record of Liberal Intolerance and aversion to opposing viewpoints.
Just as my Daddy did when he landed on Normandy Beach on June 6, 1944 with thousands of other brave young American men, we must look this "New Fascism" straight in the face and say, "NO MORE!"
And now, Former President Donald J. Trump has one.
Until He Comes,
KJ
DONATIONS ARE WELCOMED AND APPRECIATED.
Make a one-time donation
Make a monthly donation
Make a yearly donation
Choose an amount
Or enter a custom amount
$
---
Your contribution is appreciated.
Your contribution is appreciated.
Your contribution is appreciated.
Donate
Donate monthly
Donate yearly
"The Biden Justice Department was sending a clear message to America: If it can happen to the former mayor who led New York City through 9/11, it can happen to you, too." – Andrew H. Giuliani
Newsmax.com reports that
Harvard Law Professor Emeritus Alan Dershowitz compared the United States to a banana republic for the search warrant carried out by federal investigators at the Manhattan apartment of Rudy Giuliani.

Speaking Sunday on "The Cats Roundtable" radio show hosted by John Catsimatidis on WABC 770 AM, Dershowitz said he has agreed to represent Giuliani and is "very upset" about what's happening to the former New York City mayor and personal lawyer to former President Donald Trump.

"In banana republics, in Castro's Cuba, in many parts of the world, when a candidate loses for president, they go after the candidate, they go after his lawyers, they go after his friends," Dershowitz said. "That didn't happen in America. That's happening in America now. They're going after Rudy Giuliani … Who knows who's going to be next?"

Dershowitz stressed that "You don't use search warrants when people have privileged information on their cell phones and in their computers. You use a subpoena. The difference between a subpoena and a search warrant is like night and day."

He insisted that "It's just not constitutional. That's why when Rudy called me… I said sure, I'll help out. I'm in favor of the Constitution."

Dershowitz contended that, "I think the government made a serious mistake here when they went by search warrant. They gave Rudy Giuliani lots of legal arguments to make, arguments that I think he can prevail on. And it's not just Rudi, its everybody."

Dershowitz emphasized that "If Rudy's privacy is not protected, if his clients' privacy is not protected, we're all next… Apparently, they went after the cloud and other material and information without telling him. That's just not the way the government is supposed to treat its citizens."

The former Harvard law professor conceded that "when Rudy Giuliani was the U.S. attorney, he sometimes went after people with search warrants. And I was critical of him back then. He was wrong then. He's right now. He's learned from experience. He's on the right side now… He's on the side of the Constitution. And I'm on his side. …"

Dershowitz said it is vitally important to remember that "Today, they're going after people that maybe you don't like. Tomorrow, they'll be going after you and your friends. The one lesson we've learned from history is you can't have freedom of speech for me but not for thee. You can't have due process for me but not for thee."
Giuliani has been under investigation by the Democrats for several years over suspected business dealings in Ukraine.
The Democrats' complaint was that THEY were the experts on the situation in Ukraine and they resented President Trump sending his personal attorney over there in order to find out what was going on concerning the corruption which has been prevalent for some time there.
Methinks they did protest too much.
All those "diplomats" who were so adamantly opposed to "America's Mayor" snooping around in Ukraine had ties to the Obama Administration, they very President who appointed Joe Biden as his "Front Man" in dealing with Ukraine.
The entire Soviet-style Tribunal, known as "Hearings", held in the basement of the Capitol Building , which Adam Schiff ran with didactic impunity' was not only an attempt to force President Trump out of the Presidency, it was an attempt to cover up the Democrats' corrupt involvement with the Former Ukrainian Government.
Of course, Ukraine was not the only country in which the Democratic Party Elite (including the Biden Crime Family) were conducting corrupt activities, 
But I digress…
Have you noticed, gentle reader, that all the "legal" action taken by the Feds against friends of Former President Donald J. Trump has come out of the Southern District of New York Federal Prosecutor's Office?
The SDNY has been the stomping grounds of several of those involved in this ongoing Legal Lynch Mob out to get President Trump, including Former FBI Director Comey, FBI IG Horowitz, Mueller Investigator Andrew Weissman, and Manhattan DA Cyrus Vance, Jr.
All of them either worked in that office or had judicial standing in that district.
For a long time, I stated that the Mueller Investigation, otherwise known as the Russian Collusion Fairy Tale, was like a giant spider's web, leading back to the Obama Administration, during which the Deep State Operation to stop Donald J. Trump from becoming President began.
I also observed early on that the Southern District of New York was playing a major role, as well.
And, now that the Obama Cabal is pulling the strings of the Biden-Harris Administration, "The Feds" are going after people close to Trump again.
It is not a coincidence that this happened while Arizona is in the middle of a Presidential Election Vote Audit.
Nor is it coincidental that this is happening as Trump is hinting at running for President again in 2025.
This, gentle readers, was a Marxist-style Political "Preemptive Strike".
Until He Comes,
KJ
DONATIONS ARE WELCOME AND APPRECIATED.
Make a one-time donation
Make a monthly donation
Make a yearly donation
Choose an amount
Or enter a custom amount
$
---
Your contribution is appreciated.
Your contribution is appreciated.
Your contribution is appreciated.
Donate
Donate monthly
Donate yearly
FoxNews.com reports that
U.S. Special Climate Envoy John Kerry on Monday denied allegations that while he was serving as secretary of state under Barack Obama informed the Iranian foreign minister of Israeli operations in Syria.

In a Twitter post, Kerry called the claims – detailed in leaked audio obtained by several media outlets – 'unequivocally false.'

Iranian Foreign Minister Mohammad Javad Zarif alleged in the audio that Kerry told him that Israel had struck around 200 Iranian targets in Syria.

The Iranian leader admitted he was shocked by the purported admission, as reported by The New York Times.

Republicans were quick to jump on the reports as a betrayal to Israel – a key U.S. ally in the region – with some even calling for Kerry's resignation from his post in the Biden administration.

As previously reported by Fox News, Kerry has been accused of colluding with Iran to undermine President Donald Trump during his presidency in an effort to ease relations between the U.S. and Iran.

Kerry has said he met with Zarif on at least two occasions during the Trump administration, for which Trump said he should be "prosecuted."
The thing is, gentle readers, you can bet that John F. Kerry did not think of "reaching out" to the Iranians on his own.
What was conveniently forgotten during the Trump Administration, thanks to the Liberal Mass Freak-Out over the Trump-Russia Collusion Fairy Tale, is the fact that Barack Hussein Obama, the Former Petulant President Pantywaist himself, had set up his Command Headquarters for his "Shadow Government" just a few blocks away from the White House and had even moved his "right-hand Iranian" Valerie Jarrett, into the house with him and "Mooch".
When this was first reported. during his Nationally Syndicated Radio Talk Show, the late, great Rush Limbaugh stated on his March 2, 2017 Program that,
…The story is Valerie Jarrett moving in to the Obama family home. What the hell's up with that?

There's a story here is about how Obama and his people are running the resistance operation from that home, and that's why she's moved in. The story here is the Democrat Party being blown out of the water in election after election after election. The story here is Barack Obama's agenda has been totally reputed by the American people. It has been rejected in 2010. It was rejected in 2012. It was rejected in 2016. It was sent packing. The story here is that Barack Obama is humiliated and angry and embarrassed that his effort to transform the United States of America into some kind of socialist paradise has been interrupted, that he was the architect of the Democrat Party defeat. And that cannot stand for the history books! And so this story is all about the Democrat Party trying to rewrite history and make it look like they actually won were it not for the cheating of the Russians and Trump.

They're trying to convince the Europeans of this. They're doing everything they can to delegitimize Trump, his administration, his victory. That is the story that people need to focus on because there's evidence for that. There is evidence at every town hall protest. There is evidence all over this country every day that this sabotage is going on.
It appears the story that El Rushbo was referring to was 100% correct.
Merriam-Webster.com defines "sedition" as
: incitement of resistance to or insurrection against lawful authority
That being said, the intentional interference in the Foreign Policy of the United States of America by Former Secretary of State John F. Kerry though his rogue "negotiations" with the hostile Radical Islamic Rogue Nation of Iran can not be considered to be anything less. According to Federal Law, the punishment for Seditious Conspiracy  is detailed as follows..
If two or more persons in any State or Territory, or in any place subject to the jurisdiction of the United States, conspire to overthrow, put down, or to destroy by force the Government of the United States, or to levy war against them, or to oppose by force the authority thereof, or by force to prevent, hinder, or delay the execution of any law of the United States, or by force to seize, take, or possess any property of the United States contrary to the authority thereof, they shall each be fined under this title or imprisoned not more than twenty years, or both.
The Trump Administration and its specified duties regarding the operation of the Government of the United States of America and the oversight of the safety and welfare of its citizens were constantly under attack by both members of a Former Presidential Administration and by members of our own Department of Justice.
It is a wonder that President Trump was able to accomplish as much as he did for our Sovereign Nation.
Until He Comes,
KJ
DONATIONS ARE WELCOMED AND APPRECIATED.
Make a one-time donation
Make a monthly donation
Make a yearly donation
Choose an amount
Or enter a custom amount
$
---
Your contribution is appreciated.
Your contribution is appreciated.
Your contribution is appreciated.
Donate
Donate monthly
Donate yearly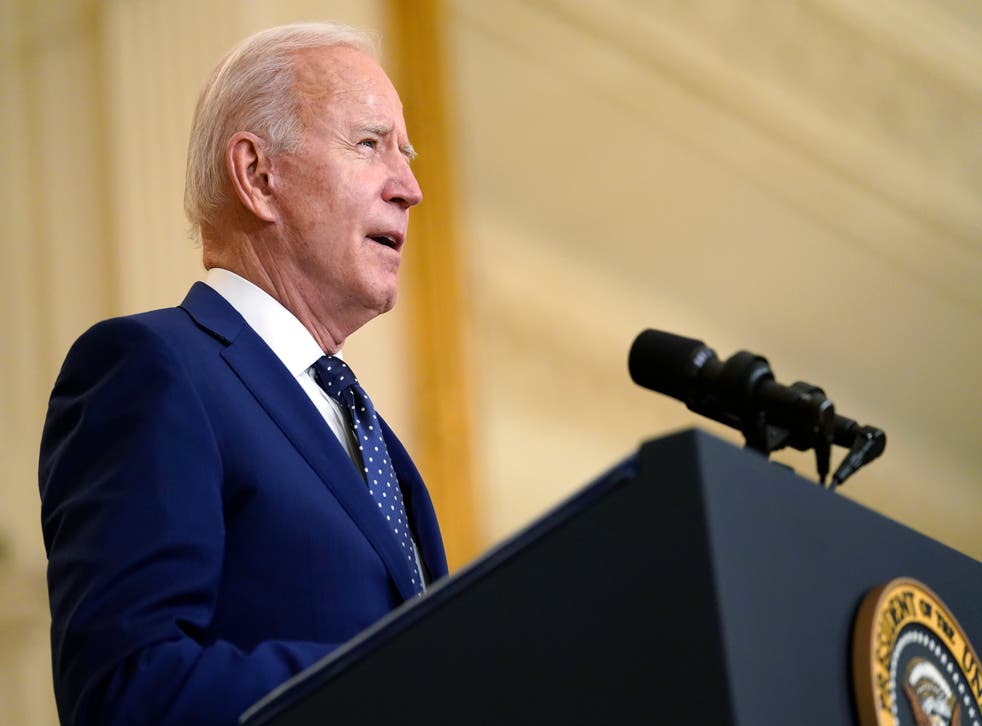 "In the first place, we should insist that if the immigrant who comes here in good faith becomes an American and assimilates himself to us, he shall be treated on an exact equality with everyone else, for it is an outrage to discriminate against any such man because of creed, or birthplace, or origin. But this is predicated upon the person's becoming in every facet an American, and nothing but an American…There can be no divided allegiance here. Any man who says he is an American, but something else also, isn't an American at all. We have room for but one flag, the American flag…We have room for but one language here, and that is the English language…." – President Theodore Roosevelt
FoxNews.com reports that
President Biden on Saturday described the situation at the border as a "crisis" for the first time, as he defended his administration's walkback on refugee policy a day earlier.

"We're going to increase the number [of refugees]," he told reporters. "The problem was that the refugee part was working on the crisis that ended up on the border with young people. We couldn't do two things at once. But now we are going to increase the number."

Biden's administration has until now refused to call the dramatic spike in migrant numbers, which saw 172,000 migrant encounters in March alone, a "crisis." Instead, it has referred to it as a "challenge" and blamed it on the Trump administration's dismantling of asylum paths.

"The men and women of the Department of Homeland Security are working around the clock seven days a week to ensure that we do not have a crisis at the border — that we manage the challenge, as acute as the challenge is," DHS Secretary Alejandro Mayorkas said last month.

But critics have pointed to the record numbers of migrants, overwhelmed facilities, and shocking images coming from the border, and blamed the crisis on Biden's liberal immigration policies for encouraging migrants to make the journey north.

Biden found himself in hot water with members of his own party on Friday, when he signed an emergency presidential determination to keep the number of refugees for Fiscal Year 2021 capped at 15,000 while changing the regional allocation of who is brought in. It is the same level set by the Trump administration.

Biden had said in February that he would increase the cap to 125,000 for FY 2022 which begins in October. He also said he would work with Congress to make a "down payment" on that number. In the meantime, Secretary of State Antony Blinken proposed to Congress lifting the cap to 62,000 for this fiscal year.

Immigration activists and left-wing Democrats were furious at the move. Rep. Alexandria Ocasio-Cortez, D-NY, calling it "completely and utterly unacceptable."

"This Biden Administration refugee admissions target is unacceptable," Sen. Dick Durbin, D-Ill., said. "These refugees can wait years for their chance and go through extensive vetting. Thirty-five thousand are ready. Facing the greatest refugee crisis in our time there is no reason to limit the number to 15,000. Say it ain't so, President Joe."

Hours later, the White House changed course, blaming "confusion" on behalf of the media, while promising to raise the number of refugees by the middle of next month.

"Given the decimated refugee admissions program we inherited, and burdens on the Office of Refugee Resettlement, his initial goal of 62,500 seems unlikely," White House Press Secretary Jen Psaki said, a reference to the border surge, of which the ORR — part of Health and Human Services (HHS) is a key agency in dealing with the flow.

Psaki then said that with the reforms to the refugee admissions in place, a new updated cap will be announced before the middle of May.

"While finalizing that determination, the President was urged to take immediate action to reverse the Trump policy that banned refugees from many key regions, to enable flights from those regions to begin within days; today's order did that," she said. "With that done, we expect the President to set a final, increased refugee cap for the remainder of this fiscal year by May 15."

However, there is still no sign of the surge facing the administration, and which affects ORR, slowing any time soon. There are currently more than 19,000 unaccompanied children in HHS care as of Friday.
On September 16, 2019, the New York Times reported that
The administration said it would accept 18,000 refugees during the next 12 months, down from the current limit of 30,000 and a fraction of the 110,000 President Barack Obama said should be allowed into the United States in 2016, his final year in office.

Even that low figure may overstate the number of slots that could be open for unanticipated crises, since many of the openings have been allocated. The Trump administration will reserve 4,000 refugee slots for Iraqis who worked with the United States military, 1,500 for people from Central America and 5,000 for people persecuted for their religion, senior administration officials said. The additional 7,500 slots are for those who are seeking family unification and have been cleared for resettlement.
So, who will the Biden-Harris Administration decided to be let into our sovereign Nation?
And, how many to each category?
Who will be doing the vetting of these "refugees"?
The same kind of imbecilic bureaucrats who allowed Europe to be trashed by Muslim "Refugees" who looked more like a plain-clothes army?
In November of 2015, the Ultra-Liberal BBC.com reported on the process.
If a refugee is cleared to be considered by the US, the process for approval is lengthy – 18-24 months, said one senior administration official.

Refugees are admitted at about a 50% acceptance rate after being subjected to "the most rigorous screening of any traveller to the US," an official told reporters in a conference call.

That involves extensive in-person interviews about their experiences with conflict, as well as the collection of both biometric and biographic information that is cross-checked with the State Department, the Department of Homeland Security and in some cases, the Department of Defense.

…Ten thousand people have been referred for resettlement in the US, but the US has not processed their applications yet.

After 18-24 months, a refugee may then be sent to his or her new community.
Now, that was during the Obama Administration.
The same people, including Obama, are involved in the Biden Presidency.
I wouldn't trust those Liberal idiots to vet children for a part in a Daycare Play, much less determine the character of foreign nationals wanting to be declared "refugees" and enter our Sovereign Nation.
President Trump limited the number of refugees who would be able to come to America out of a genuine concern for the safety of Americans.
The Far Left Democrats running the "Biden-Harris Administration" don't give a rat's rear.
They have been putting and will always put AMERICA LAST.
Until He Comes,
KJ
DONATIONS ARE WELCOME AND APPRECIATED.
Make a one-time donation
Make a monthly donation
Make a yearly donation
Choose an amount
Or enter a custom amount
$
---
Your contribution is appreciated.
Your contribution is appreciated.
Your contribution is appreciated.
Donate
Donate monthly
Donate yearly