Newsmax.com reports that
Calling Georgia the "central battleground" to save "our beloved nation," former President Donald Trump denounced the Biden administration's first-year missteps.

"Our country is being turned into a migrant camp," Trump told his Saturday night Save America Rally in Perry, Georgia, in a speech that aired live on Newsmax, forcefully declaring: "This is an invasion!"

"Other than that, how are things going?"

Trump told a large rally crowd "somebody's really screwing up our country, destroying our country."

"One thing is certain this would never, ever be happening if I were president, and we should have been your president," Trump continued.

"Look what happened with Joe Biden as your president: Our country has gone to hell," Trump said later as a "we love Trump" chant broke out for a minute. "Thank you, and I love you, too."

Georgia, Trump began, is going to be a key battleground in 2022 and a "big victory" in 2024, teasing another run for the White House that he has said he cannot announce yet due to campaign finance laws.

"I'm thrilled to be back in this magnificent state with thousands of hard working god fearing freedom loving, American patriots," Trump said. "And one year from now, Georgia is going to be a central battleground in our fight to rescue our beloved nation.

"With your help, we're going to take back the House and send Nancy Pelosi back to San Francisco," he added.

"And we're going to take back our country from these lunatics."

Trump, one day after Arizona revealed findings of a forensic audit, reminded his supporters, "you know, there never has been a concession."

"You do know that, right?" Trump continued, saying the media has a double standard with Democrats and Trump. "You know when Stacey Abrams says, 'I'm not going to concede,' it's O.K. No problem.

"I never conceded because I saw what was happening, and I can't do it. I can't do it because I have a commitment to you and I can't do it."

Trump decried the attempts to attack those seeking investigations into alleged election and voter fraud.

"Somebody said they're looking at me for questioning the election," Trump said. "That'll be an interesting one: 'Let's go after Trump because he's questioning the election.' You know what, if I won or lost, all I want is a fair election. That's all you want."

Just talking about voter fraud will get you investigated, Trump lamented.

"The people that are questioning the votes aren't interested in the people that committed the voter fraud, they're only interested in me and others because I bring voter fraud to the forefront in order to save our nation from corrupt elections and to make sure that this never, ever happens again," Trump said.

Trump continued to blast his former Joint Chiefs of Staff Gen. Mark Milley for the Afghanistan exit that left 13 U.S. service members dead – which Trump honored with 13 empty first-row Joe Biseats.

"This Milley is an idiot," Trump said. "I got to know him. He's an idiot."

Trump claimed Milley is the general that suggested it is cheaper to leave the military equipment in Afghanistan rather than take it out of the country upon withdrawal.

"Milley said to me one time, I'll never forget it, 'sir, it's more expensive, sir, to take the equipment than to leave it," Trump recalled. 'I said, 'really?'

"I mean you have a $10 million tank, you put it on a plane, and that's more expensive than leaving it? He said it's more expensive and I never forgot that he said that, because that's probably the first time I realized that he was stupid."

Trump also rebuked Democrats' prosecutorial attacks on him and his former advisers, including subpoenas issued this week to advisers and staffers who spoke to the president on Jan. 6 when protesters entered the U.S. Capitol.

"They want to go after me because I have, they think, a big mouth," Trump said. "I don't have a big mouth. You know what I have? I have a mouth that tells the truth. I have a mouth that wants to save our country."

Trump mocked Biden as the "biggest failure" as president, including suggesting former President Jimmy Carter is "very happy" to no longer hold that title.

"He's doing nothing to hold the Chinese communist party accountable for unleashing the virus upon the world," Trump said. "Biden did not even say the word 'China' in his U.N. speech because he's too compromised to take them on, and then only briefly mentioned Afghanistan because his withdrawal has been such a disaster for him and our country.

"And, by the way, for his poll numbers, which have tanked after just eight months, Joe Biden is already the biggest failure ever to occupy the oval office."
Trump was and IS right…about EVERYTHING.
I have to tell y'all…it was great to watch the 45th President of the United States of America do what he does best: communicate directly with average Americans.
Talk about a breath of fresh air,
I will take the brash honesty and "mean Tweets" of Donald J. Trump over the anti-American Policies, ineptitude, and prevarications of Dementia Joe and Heels Up Harris any day of the week.
Last night, American Citizens living in Georgia heard from a man who genuinely LOVES America and her people, instead of viewing us all as racist, misogynist, xenophobes…the 45th President of the United States of America, Donald J. Trump.
Just like Trump did, with his refusal early in his first Presidential campaign to "act more presidential", he is still taking his message directly to the American People.
You see, Gentle Readers, Trump has always been a "people person".
That is the reason that, when he was still a contributor to Fox News, he would speak to everyone in the building, from the maintenance crew, on up the ladder.
As Sam Walton, the Founder of Walmart, knew, you don't inspire people by acting imperious and above it all.
"Mr. Sam", until his health would no longer allow him to do so, would travel to Walmart Stores in his old pickup truck, with a tie and a baseball cap on, visiting the employees, in order to find out how his stores were doing.
He knew that the only way to be successful and to stay in touch with the public, was to be out among them, and speak to them honestly and directly, as one would speak to a friend.
Just as President Trump did when he went on a "Thank You" Tour after being elected in 2016 and his use of Twitter to speak directly to the American People.
The Political Establishment, of both parties, lost that concept, a long time ago.
Bypassing the borders to communication, historically determined by both political parties and the Main Stream Media, is a concept which I first witnessed being used by a Presidential Candidate in the 1980 Presidential Election, the legendary Ronald Wilson Reagan.
While I am not comparing the two, I am noting that this strategy has proved effective for both men.
As America witnessed last night, Trump continues to strike a resonant chord in the hearts of Average Americans, living in the part of America, which the snobbish Political Elites refer to as "Flyover Country", but which we refer to as "America's Heartland", or, quite simply, "HOME".
The reason being, President Trump kept his promises.
He does not talk down to us while disparaging our Sovereign Nation, as Sleepy Joe Biden, "Dr." Jill Biden, and Kamala Harris do..
Trump talks to us in a plain-spoken, clearly understood way, a style which is in stark contrast to a Far Left Democrat party full of professional politicians, whose only interest is the totalitarian retention of power in Washington, D.C., at whatever the cost.
Last night, the Former President of the United States of America made residents of Alabama, along with the rest of us average Americans, feel good about ourselves and the future of our Sovereign Nation
And, gentle readers, to see and hear a Former, and possibly Future American President who genuinely loves this country and her people and who was willing to give up his "lifestyle of the rich and famous" in order to secure a safe and prosperous future for American Citizens is indeed a "radical change" from what this country is experiencing coming out of the Oval Office now.
Until He Comes,
KJ
DONATIONS ARE WELCOME AND APPRECIATED.
Make a one-time donation
Make a monthly donation
Make a yearly donation
Choose an amount
Or enter a custom amount
$
---
Your contribution is appreciated.
Your contribution is appreciated.
Your contribution is appreciated.
Donate
Donate monthly
Donate yearly
Newsmax.com reports that
The Capitol Police response, requesting National Guard backup, to watch over the nondescript and peaceful "Justice for J6" rally in Washington, D.C., on Saturday was trolled as overzealous and misappropriated by former President Donald Trump.

Trump wrote in a Sunday statement from his Save America PAC:

"It is incredible that our National Guard is standing at the empty Capitol, not at our southern border, where the number of illegals coming into our country is at a level that has never been seen before!"

That rebuke preceded a more comprehensive one Sunday by the former president, who said the country is spiraling into a "cesspool of humanity."

"The largest number of illegal aliens in the history of our country are pouring in by the millions," Trump wrote in another Save America PAC statement. "They are totally unchecked and unvetted, can do whatever they want, and go wherever they want. Our country is rapidly becoming a cesspool of humanity.

"Murderers, drug dealers, and criminals of all shapes and sizes are a big part of this massive migration. Tens of thousands of people are coming from Haiti, and many now from countries in Africa, even more so now than South America."

Trump added the media is quietly covering for President Joe Biden's gaffes as the "border crisis" is becoming what he called a "crisis crisis."

"Nothing is done and the corrupt mainstream media is giving almost no attention to what will be perhaps the greatest crisis in the history of our country," Trump's statement concluded. "This is not just a border crisis, this is a crisis crisis. God Bless America!"
As per usual, Former President Donald J. Trump is exactly right.
There is a reason why Biden and his handlers are allowing anyone and everyone, whether they are  COVID-19-infected or not or whether they are a pedophile or serial killer, to enter our Southern Border illegally.
The Far Left Democrats want an influx of undereducated illegal immigrants to come into our Sovereign Nation.
They, like the product of Liberal-staffed colleges before them, are easier to mold and deceive.
It is the same logic which caused Vladimir Lenin to approach the barbaric Bolsheviks and Mensheviks to help him overthrow the Czar of Russia and usher in the "glorious period of enlightenment and social justice" known as the Russian Revolution.
Of course, you know that while I was writing the statement above, I had my tongue firmly planted in my cheek.
Lenin suckered the masses into believing that the political theory which he was championing would bring about a land of milk and honey, where every man would have what he needed to be happy, healthy, and prosperous.
Instead, what Marxism, which has failed in every country in which it has been tried, brought to the poor peasants of Russia was more poverty and even less individual freedom than what they had experienced under the Czar's rule.
The Democrats are so desperate to change our country's government from a Constitutional Republic to the "glory" of Democratic Socialism that they are willing to bring millions of illegals across our Southern Border.
Their plan kills two birds with one stone:
It gives them more "foot soldiers" and it will re-infect America with the Chinese Coronavirus, causing more lockdowns and the opportunity for Democrats to grab more power and gain more control of American Citizens.
They don't care if they are bringing "a cesspool of humanity" into America.
What better way to "radically change" it?
This invasion, however, is definitely NOT Biden's brainchild. 
President Biden is nothing but a demented old man who, along with the Handlers who are speaking into his earpiece, are trying to "radically change" our country into something that it was never meant to be.
However, it appears that it is indeed his fault.
Exactly how did 15,000 Haitians wind up under a bridge in Southern Texas?
Per AmericanThinker.com,
The surprising answer, which the migrants provided independently in different places and at different times, was universal: on Sunday, September 12, the Mexican government effectively sent a mass of migrants it had bottled up for months in its southern states up to the American border. This move, which appears to have been done under the cover of Mexico's independence week of celebration known as El Grito, essentially foisted a humanitarian problem onto the Americans in a single week.

Mexico was the one who did it. Turns out Joe Biden promised them some things and based on the available information, apparently never delivered.
Americans need to stand up to this out-of-control Totalitarian Marxist Government, full of lies and empty promises, which the Democrats are attempting to put in place…
…before America becomes the next Venezuela.
Until He Comes,
KJ
DONATIONS ARE WELCOME AND APPRECIATED.
Make a one-time donation
Make a monthly donation
Make a yearly donation
Choose an amount
Or enter a custom amount
$
---
Your contribution is appreciated.
Your contribution is appreciated.
Your contribution is appreciated.
Donate
Donate monthly
Donate yearly
"Now we have an open, really dangerous, border. More dangerous than it's ever been in the history of our country, and we better go back fast." – Former President Donald J. Trump, 
Newsmax.com reports that
Thousands of migrants have converged under the bridge that connects Del Rio, Texas, and Mexico's Ciudad Acuña, creating a makeshift camp with few basic services in intense heat in the latest border emergency facing U.S. President Joe Biden.

Food and water has been scarce, around 20 migrants told Reuters, and temperatures have risen to around 99 Fahrenheit (37 Celsius). Reuters witnessed hundreds of migrants wading through the Rio Grande river and back into Mexico to stock up on essentials they say they are not receiving on the American side.

The migrants are mostly Haitians, with Cubans, Venezuelans and Nicaraguans also present.

The squalid conditions are reflective of the humanitarian challenge facing Biden as border arrests hover around 20-year highs. U.S. authorities arrested more than 195,000 migrants at the Mexican border in August, according to government data released on Wednesday.

Ernesto, a 31-year-old Haitian migrant, slipped back into Mexico on Thursday to buy water and food – for the fourth time, he said, since arriving in the United States on Monday morning. Ernesto, who declined to give his surname to protect his identity, said he and his 3-year-old daughter had not been fed at the camp, where migrants are jostling for shade.

Sometimes, he said, he runs to avoid Mexican migration officials but is usually not bothered by them. "But now money is running out," he added.

Customs and Border Protection did not respond to questions about the number of people in the Del Rio camp. One CBP agent told Reuters on Wednesday that around 6,000 people were in the camp. Reuters journalists estimated they saw at least 1,000 people on the river's two shores.

Migrants showed Reuters tickets with numbers they had received from U.S. Border Patrol. Several said other migrants told them they could be stuck at the camp for up to five days.

Border Patrol said in a statement it was increasing staffing in Del Rio to facilitate a "safe, humane and orderly process." Drinking water, towels and portable toilets have been provided, the statement added, while migrants wait to be transported to facilities.

Biden, a Democrat who took office in January, has rolled back many of the hardline immigration measures of his Republican predecessor, former President Donald Trump.

But he has been caught between pro-migrant groups and some Democrats who have criticized him for not doing more to help migrants, and opponents who say his policies have encouraged illegal immigration.

Del Rio is in Val Verde County, which voted for Trump in 2020. Some residents in this sprawling, bilingual border town say they feel abandoned by the federal government on border security.

"Are they doing anything to stop them from coming?" one woman said while she looked down at the encampment while driving over the bridge.
'No, ma'am. They are not.
The Biden-Harris Administration and the Democrat Elite are not going to do squat about Biden's Border Crisis.
They want it this way.
Their goal is to turn America into a Third World "Democratic Socialist" Paradise, like Venezuela and Cuba.
Even Dems, like Rep. Cuellar of Texas are concerned that Biden and his Handers do not have a clue as to what they are doing in regards to the way that they have thrown open our Southern Border to bring in unaccompanied minors, housing them in the cages which Former President Barack Hussein Obama (mm mmm mmmm) built.
And now, 10,500 refugees, mostly from Haiti, are camped out under a bridge in Texas.
It is known that a percentage of all of these illegal aliens are COVID-19 positive.
If they are being allowed into our Sovereign Nation with the other illegals that have already entered, then Biden and his Administration are "recharging" the pandemic.
The Biden Administration has been loading these illegal immigrants into airplanes and dropping them into our towns and cities, like Chattanooga, Tennessee, in the middle of the night, under the cover of darkness.
Just as they have once again fenced in OUR nation's capitol in order to intimidate and control us, they would have no hesitation to attempt to force another nationwide "Pandemic Lockdown" on American citizens, again.
In countries like Greece, which have allowed the "Democratic Socialists" to take control of their government, the same "game plan" was followed.
Open up the borders, the overwhelm "the system" while raise taxes until businesses go under, placing 40% of the country's population "working for" the government or on government assistance".
Think about this:
Just as the Millionaire Democrats on Capital Hill, like Pelosi, live in gated communities to separate themselves from the violence and poverty which they are responsible for, so are they now working in a "gated community" designed to keep  "Deplorables" (i.e. average American citizens) out.
Welcome to the USSA, Comrades.
Until He Comes,
KJ
DONATIONS ARE WELCOME AND APPRECIATED.
Make a one-time donation
Make a monthly donation
Make a yearly donation
Choose an amount
Or enter a custom amount
$
---
Your contribution is appreciated.
Your contribution is appreciated.
Your contribution is appreciated.
Donate
Donate monthly
Donate yearly
Freebeacon.com reports that
The Chinese general whom Joint Chiefs of Staff chairman Mark Milley reportedly promised to warn about U.S. military action is among the regime's biggest warmongers.

Li Zuocheng, a People's Liberation Army chief and one of President Xi Jinping's highest-ranking military officers, reportedly took several phone calls from Milley in the closing days of the Trump administration. America's top military commander cited his five-year relationship with Li as reason to warn him of an American attack, according to journalist Bob Woodward. The Chinese general has a history of making public calls for military aggression, threatening to "resolutely smash" Taiwanese forces or any other country that challenges the CCP's regional control.

"If the possibility for peaceful reunification is lost, the people's armed forces will, with the whole nation, including the people of Taiwan, take all necessary steps to resolutely smash any separatist plots or actions," Li said in a 2020 speech at Beijing's Great Hall of the People. "We do not promise to abandon the use of force and reserve the option to take all necessary measures to stabilize and control the situation in the Taiwan Strait."

Woodward reported Milley placed the calls to Li outside of the chain of command, failing to notify other senior officials—or the president—of his actions. The top general also summoned officers to review practices for using nuclear weapons, saying he must be involved in any such decision.

Li's comments were amplified on Chinese social media, fomenting anti-American sentiment. One post on Baijiahao, a website for writing and commentary sponsored by Chinese media giant Baidu, framed Li's warnings as a threat to an "arrogant" United States in "cahoots" with Taiwan.

"The United States is in cahoots and arrogant, but General Li Zuocheng has also drawn a red line for the Taiwan Province authorities," a translation of the post reads. "General Li Zuocheng's warning is not a cliché. He is a fighting hero who … represents the attitude of every bloody Chinese son and daughter. The Taiwan Province authorities should not underestimate the determination of the mainland."

The Chinese general has met with military brass from other adversaries of the United States. Li led a Chinese delegation in a meeting with Russian defense minister Sergei Shoigu in May 2018 to discuss "strengthening strategic coordination" between the two countries. Experts told the Washington Free Beacon in August that growing ties between the Russian and Chinese militaries pose a vital threat to American national security. Shoigu led operations supporting the Assad regime in Syria, as well as against Ukraine.

Li also rubbed elbows with Pakistani military leaders. Li met in 2017 with top Pakistani general Bilal Akbar to forge closer military cooperation. In the aftermath of the Biden administration's withdrawal from Afghanistan, the Taliban has signaled interest in joining Pakistani and Chinese trade agreements.

Revelations about Li's past may intensify mounting calls from Republicans for Milley's resignation. Sen. Marco Rubio (R., Fla.) demanded President Joe Biden immediately fire Milley for his "reckless behavior."

"These actions by General Milley demonstrate a clear lack of sound judgment, and I urge you to dismiss him immediately," Rubio said. "General Milley has attempted to rationalize his reckless behavior by arguing that what he perceived as the military's judgment as [sic] more stable than its civilian commander. It is a dangerous precedent that could be asserted at any point in the future by General Milley or others. It threatens to tear apart our nation's longstanding principle of civilian control of the military."

Joint Chiefs spokesman Col. Dave Butler told the Washington Free Beacon that Milley "regularly communicates" with leaders worldwide to avoid "unintended consequences" and provide "clarity."

"His calls with the Chinese and others in October and January were in keeping with these duties and responsibilities conveying reassurance in order to maintain strategic stability," Butler said. "All calls from the Chairman to his counterparts, including those reported, are staffed, coordinated and communicated with the Department of Defense and the interagency. … General Milley continues to act and advise within his authority in the lawful tradition of civilian control of the military and his oath to the Constitution."
Isn't friendship just wonderful?
In an article posted January 21, 2016 on BreakingDefense.com, Milley said that Russia was America's number one enemy.
Guess what he said about China?
"It's important [that] the Chinese are not an enemy," Milley emphasized. "I would caution anyone from saying China is an 'adversary,' [even]. Fortunately…the Chinese take a long view." China's strategic patience and self-confidence contrasts with the Russians, whom Milley noted are bitter and anxious over the loss of the Soviet empire, the expansion of NATO, and the demographic disaster of an ever-shrinking ethnic Russian population.

While Chinese intentions are less aggressive than the Russians', their long-term capabilities are greater. With the rise of China and the Asia-Pacific generally, Milley said, "we are living through…one of the largest shifts in global power in world history," comparable to the fall of the Roman Empire or the rise of the current Atlantic-centric global economy after 1492. "History is not necessarily optimistic" about such shifts: In Harvard case studies of 18 rising powers, he said, 15 ended up at war with the incumbent major power.
Back on February 20, 2020, Secretary of State Mike Pompeo warned about the Chinese Infiltration of our Country which began under Obama.
Per their website, 1000plan.org, China initiated the Thousand Talents Plan at the end of 2008.
By 2017, China had recruited more than 7,000 professionals, per a bi-partisan Senate Sub-committee report titled "Threats to the U.S. Research Enterprise: China's Talent Recruitment Plans" published in November of last year.
Okay. Why was this allowed in the first place?
And, why didn't the Federal Government put a stop to it?
Who was the President in January of 2009?
Oh, wait…Now, I remember (with a little help from The Washington Post)
Obama became the first U.S. president to visit China during his first year in office. But his administration was taken aback by how completely the Chinese controlled all aspects of that visit.

"He wasn't allowed to say much at all," said Orville Schell, a longtime China scholar who was in China during the visit. "The Chinese kept him from meeting certain people, from taking questions or even radio broadcasts. He didn't know quite how to respond. He didn't want to be impolite. It took the U.S. a while to understand that this was the direction China and the relationship was headed."

Some have blamed Obama for adopting such an overly optimistic and open stance during those early years. For all his outreach, current and former top U.S. diplomats say, Obama got little in return, except the feeling of being burned by Beijing.
Well, gosh.
Milley said that his relationship with Li Zuocheng had been going on for 5 years at the time of the phone calls in question.
That meant that it started under President Barack Hussein Obama and Vice-President Joe Biden, when Milley was Chief of Staff of the Army, starting in August of 2015.
No wonder Biden said that he has complete faith in General Milley.
Once again…the plot sickens.
Until He Comes,
KJ
DONATIONS ARE WELCOMED AND APPRECIATED.
Make a one-time donation
Make a monthly donation
Make a yearly donation
Choose an amount
Or enter a custom amount
$
---
Your contribution is appreciated.
Your contribution is appreciated.
Your contribution is appreciated.
Donate
Donate monthly
Donate yearly
FoxNews.com reports that
Former President Donald Trump on Tuesday expressed skepticism regarding the report that Chairman of the Joint Chiefs of Staff Gen. Mark Milley went behind his back to call Chinese officials but said such an action was treasonous if true.

Washington Post associate editor Bob Woodward and national political reporter Robert Costa alleged in their upcoming book "Peril" that Milley made two secret phone calls to Gen. Li Zuocheng of the People's Liberation Army, his Chinese counterpart.

Milley reportedly made the calls before the 2020 presidential election on Oct. 30, 2020, and two days after the Jan. 6 Capitol riot, on Jan. 8, 2021, and assured Zuocheng of the stability of the American government. He also allegedly assured the Chinese general that he would contact him regarding any imminent attack from the U.S. in the waning days of Trump's presidency.

"So, first of all, if it is actually true, which is hard to believe, that he would have called China and done these things and was willing to advise them of an attack or in advance of an attack, that's treason," Trump told host Sean Spicer on NewsmaxTV's "Spicer & Co."

"I've had so many calls today saying that's treason, number one," Trump continued. Acknowledging he was tough on China regarding trade and COVID-19, he went on to describe the idea that would unilaterally attack China as "totally ridiculous."

In a statement released shortly after his interview on Newsmax, Trump called on Milley to step aside, floating a theory that Milley came up with the story himself and leaked it to Woodward and Costa, whom he described as journalists "who write fiction, not fact."

"For the record, I never even thought of attacking China—and China knows that. The people that fabricated the story are sick and demented, and the people who print it are just as bad. In fact, I'm the only President in decades who didn't get the U.S. into a war—a well known fact that is seldom reported," Trump added.
Former President Trump is speaking the absolute truth.
One of the reasons that some of the G.O.P. Establishment did not like him was the fact that he was not a War Hawk Like, say, Liz Cheney.
But wait…there's more to this "Milley Mess" per CNBC.com…
House Speaker Nancy Pelosi told the top U.S. Army general that then-President Donald Trump was a "dictator" who "should have been arrested on the spot" after what she called his coup attempt to remain in the White House by inciting the Jan. 6 Capitol insurrection, a new book reveals.

Pelosi also said during a phone call in January with Joint Chiefs of Staff Chairman Gen. Mike Milley that "the Republicans have blood on their hands" for enabling Trump's delusions about his ability to retain the presidency, the book says.

"But it is a sad state of affairs for our country that we've been taken over by a dictator who used force against another branch of government," Pelosi, a California Democrat, told Milley during the call several days after the riot, according to "Peril," a new book by Washington Post journalists Bob Woodward and Robert Costa.

"And he's still sitting there. He should have been arrested. He should have been arrested on the spot," said Pelosi, who is second in line in the order of presidential succession.

"He had a coup d'etat against us so he can stay in office. There should be some way to remove him," said the speaker, who at the time was trying to pursue the suspension of Trump's power as president by getting then-Vice President Mike Pence and the Trump Cabinet to trigger the constitution's 25th Amendment.

The book says Milley believed that the Jan. 6 riot by Trump supporters was a planned, coordinated attack that was designed to overthrow the U.S. government to prevent Congress from confirming the election of Joe Biden as president.

…The book says that Milley feared that even after the insurrection, Trump might still seek what the general called a "Reichstag moment," a reference to Nazi leader Adolf Hitler assuming full power in Germany after the burning of that nation's Parliament building in 1933.
Dear Lord.
The Democrat Elite are insane.
Their Trump Derangement Syndrome had raged out-of-control for four year, turning them into a party of Captain Ahabs, looking to harpoon the Great White Whale, while deathly afraid of him at the same time.
If what is in "Peril" is true, Milley committed treason and sedition against a sitting Commander-in-Chief and not only needs to resign, he should be brought up on charges.
Here's the sad part…
Even if it is true, the Democrat Elite will arrange for him to get away with it.
As we are witnessing with the wearing of masks, when it comes to the law and the Constitution, rules only apply to us "common" people.
Time and time again, Democrats have gotten away with things that you and I would have been put under the jail for.
The Anti-American Nightmare known as the Biden Presidency just keeps getting worse and worse with each passing day, doesn't it?
I am afraid to ask "What's Next?" because it will probably involve #DementiaJoe mistaking the launch button on the Nuclear Football for his intercom to ask the White House Kitchen Staff to bring him some ice cream.
But, I digress…
Both General Milley and Secretary of State Tony Blinken need to resign.
Both are arrogant, clueless, and incompetent.
And, that is a combination which will hurt the safety and reputation of our country more than it will help it.
Until He Comes,
KJ
DONATIONS ARE WELCOMED AND APPRECIATED.
Make a one-time donation
Make a monthly donation
Make a yearly donation
Choose an amount
Or enter a custom amount
$
---
Your contribution is appreciated.
Your contribution is appreciated.
Your contribution is appreciated.
Donate
Donate monthly
Donate yearly
FoxNews.com reports that
Former President Donald Trump blasted the Biden administration's withdrawal from Afghanistan and speculated that China and Russia could already be reverse-engineering U.S. military equipment left behind.

Speaking with host Sharyl Attkisson during an interview that aired Sunday on "Full Measure," Trump excoriated the withdrawal as "incompetent" and warned it will likely endanger the United States and benefit its enemies.

Trump also expressed doubt regarding whether the war in Afghanistan is over, noting how many unvetted Afghan refugees are being resettled in the United States and around the world.

"I don't know because you have people going all over the world and being dropped all over the world right now, and nobody knows who the hell they are, Sharyl," Trump said. "These aren't the interpreters that we took. These were people that rushed into the planes, and they were so interested in trying to make it sound like 'Oh, they're doing a good job.' These people, many of these people are going to be terrorists. Okay? They're going to be terrorists. They were very powerful. They were very energetic in getting onto the aircraft."

Trump went on to suggest the nation's adversaries are already taking advantage of the stockpile of weapons, armored vehicles, and aircraft that left U.S. forces left behind.

"Now I'm saying, 'How can they take this equipment?' And I guarantee that China and Russia already have our Apache helicopters and they're taking them apart to find out exactly how they're made. They're the best in the world by far. And they're taking them apart so they can make the exact same equipment. They're very good at that. It's a disgrace."

The U.S. offered approximately $83 billion worth of training and equipment to Afghan security forces since 2001.

The military left behind 73 aircraft in Afghanistan, some of which were disabled, according to USA Today. Pentagon officials said that soldiers operated Apache attack helicopters at the airport. Afghan pilots reportedly flew some of the advanced aircraft to foreign countries and abandoned much of the rest.
Once again, Former President Trump communicates with Americans using common sense and plain-spoken language.
The fact that Biden botched the pull-out from Afghanistan, leaving hundred of Americans and billions of dollars in American Weaponry behind is not up for argument.
It is factual history detailing the actions of an incompetent United States President who was installed and not elected.
But, why would Biden leave State-of-the-art American Weaponry behind to be examined and restored by Russia and China?
Well…
FoxNews.com reported on October 16th of last year that
One of the people on an explosive email thread allegedly involving Hunter Biden has corroborated the veracity of the messages, which appear to outline a payout for former Vice President Joe Biden as part of a deal with a Chinese energy firm.

One email, dated May 13, 2017, and obtained by Fox News, includes a discussion of "remuneration packages" for six people in a business deal with a Chinese energy firm. The email appeared to identify Hunter Biden as "Chair / Vice Chair depending on agreement with CEFC," in an apparent reference to now-bankrupt CEFC China Energy Co.

The email includes a note that "Hunter has some office expectations he will elaborate." A proposed equity split references "20" for "H" and "10 held by H for the big guy?" with no further details. Fox News spoke to one of the people who was copied on the email, who confirmed its authenticity.

Sources told Fox News that "the big guy" is a reference to the former vice president. The New York Post initially published the emails and other controversial messages that Fox News has also obtained.
Hunter Biden was the point of the spear in a Foreign Policy scandal which is just a small part of what will go down as the most corrupt Presidential Administration in history, making the Warren G. Harding Teapot Dome Scandal pale in comparison.
All of this boggles the mind. Think about it:
The Clinton Foundation Pay-for-Play
The Bidens' misuse of the power of the Vice-President for personal gain
President Barack Hussein Obama's $150 billion bribe of the murderous Mullahs of Iran which included hosting Radical Islamists like the late (Thank God) Gen. Quassem Soleimani at the White House
The trading of Muslim Terrorists for the traitorous Bowe Bergdahl
And, of course "Spygate", the Steele Dossier, and the unmasking of Gen. Flynn
The entire attack on Former President Trump, which lasted his entire first term, the Special Counsel's "Russian Collusion" investigation, and the hurried Democratic Sham Impeachment were all part of a strategy to cover up the out-of-control corruption, both foreign and domestic, which took place during the Obama Administration with the knowledge and consent of President Barack Hussein Obama, himself.
That would certainly explain the Democrats' over-the-top reaction to losing the 2016 Presidential Election and their vicious rhetoric and unconstitutional political actions and schemes since.
And, the Biden Administration's fervent desire to forget about what just happened in Afghanistan.
Former President Trump was right all along.
Just let this soak in, boys and girls…
We have a President of the United States of America who is owned by Communist China!!!
If the dots can be connected in the case of Hunter Biden's and his father's history of corruption and the Obama White House and their Foreign Policy, it could be absolutely huge.
If our Sovereign Nation is to survive, this out-of-control political corruption, perpetrated on behalf of a Shadow Government by Deep State Operatives, must be dealt with and those responsible brought to justice.
No matter to whom the trail of corruption leads.
So, to ask an important question again, in closing…
Why would Biden leave State-of-the-art American Weaponry behind to be examined and restored by Russia and China? enemies?
By the way, where IS Hunter Biden?
Until He Comes,
KJ
DONATIONS ARE WELCOMED AND APPRECIATED.
Make a one-time donation
Make a monthly donation
Make a yearly donation
Choose an amount
Or enter a custom amount
$
---
Your contribution is appreciated.
Your contribution is appreciated.
Your contribution is appreciated.
Donate
Donate monthly
Donate yearly
In some ways it does not seem like it has been 20 years since the worst Terrorist Attack ever perpetrated on American soil.
In other ways, it seems like an eternity.
That horrible day was so surreal. It seemed to me like I was stuck in a nightmare.
Certainly this couldn't be happening to us? We're the greatest nation in the world. Who in their right mind, would dare attack the United States of America? Who would be brazen enough to attack us, using instruments of our own design? Who would actually dare flying planes into the Twin Towers, a living symbol of American Prosperity?
For that matter,. who would fly a plane into the Pentagon…the Seat of Power behind our nation's awesome Military, the finest collection of Fighting Men and Women on Earth?
It was not a nightmare. It was a reality.
I remember seeing that first plane crash into the World Trade Center.
I remember the look of incredulity and panic on the faces of Steve Doocy, Brian Kilmeade, and E.D. Hill, as they watched from the set of Fox and Friends that fateful morning.
I remember the second plane on its approach, and the horrifying realization that this was no accident… that America was under attack. An attack, which turned out to have been planned and executed by Osama bin Laden, and a group of Saudi Arabians, members of the Muslim Terrorist Group, known as al-Qaeda.
I remember the images of Americans jumping out of windows to their certain death, rather than be consumed by the fires, raging around them.
I remember the sickening thud as they hit the pavement.
I remember the images of the brave NYC Policemen and Firemen as they rushed into the World Trade Center…never to return.
I remember watching the First Tower collapse…then, the second one.
I remember a heroic Mayor Rudy Giuliani, out in the middle of the devastation, doing whatever he could to get New Yorkers to safety.
I remember President George W. Bush coming on television, with a look of steely determination, as he announced that we would be avenged.
I remember him standing on that heap of rubble that used to be a part of the World Trade Center, side by side with that fireman, telling the assembled crowd, through his bullhorn, that "the world will hear from us".
And, it did.
Here is the tragedy of 9/11/01, broken down by the numbers. Courtesy of nymag.com:
The initial numbers are indelible: 8:46 a.m. and 9:02 a.m. Time the burning towers stood: 56 minutes and 102 minutes. Time they took to fall: 12 seconds. From there, they ripple out.

Total number killed in attacks (official figure as of 9/5/02):2,819
Number of firefighters and paramedics killed: 343
Number of NYPD officers: 23
Number of Port Authority police officers: 37
Number of WTC companies that lost people: 60
Number of employees who died in Tower One: 1,402
Number of employees who died in Tower Two: 614
Number of employees lost at Cantor Fitzgerald: 658
Number of U.S. troops killed in Operation Enduring Freedom: 22
Number of nations whose citizens were killed in attacks:115
Ratio of men to women who died: 3:1
Age of the greatest number who died: between 35 and 39
Bodies found "intact": 289
Body parts found: 19,858
Number of families who got no remains: 1,717
Estimated units of blood donated to the New York Blood Center: 36,000
Total units of donated blood actually used: 258
Number of people who lost a spouse or partner in the attacks: 1,609
Estimated number of children who lost a parent: 3,051
Percentage of Americans who knew someone hurt or killed in the attacks: 20
FDNY retirements, January–July 2001: 274
FDNY retirements, January–July 2002: 661
Number of firefighters on leave for respiratory problems by January 2002: 300
Number of funerals attended by Rudy Giuliani in 2001:200
Number of FDNY vehicles destroyed: 98
Tons of debris removed from site: 1,506,124
Days fires continued to burn after the attack: 99
Jobs lost in New York owing to the attacks: 146,100
Days the New York Stock Exchange was closed: 6
Point drop in the Dow Jones industrial average when the NYSE reopened: 684.81
Days after 9/11 that the U.S. began bombing Afghanistan: 26
Total number of hate crimes reported to the Council on American-Islamic Relations nationwide since 9/11: 1,714
Economic loss to New York in month following the attacks: $105 billion
Estimated cost of cleanup: $600 million
Total FEMA money spent on the emergency: $970 million
Estimated amount donated to 9/11 charities: $1.4 billion
Estimated amount of insurance paid worldwide related to 9/11: $40.2 billion
Estimated amount of money needed to overhaul lower-Manhattan subways: $7.5 billion
Amount of money recently granted by U.S. government to overhaul lower-Manhattan subways: $4.55 billion
Estimated amount of money raised for funds dedicated to NYPD and FDNY families: $500 million
Percentage of total charity money raised going to FDNY and NYPD families: 25
Average benefit already received by each FDNY and NYPD widow: $1 million
Percentage increase in law-school applications from 2001 to 2002: 17.9
Percentage increase in Peace Corps applications from 2001 to 2002: 40
Percentage increase in CIA applications from 2001 to 2002: 50
Number of songs Clear Channel Radio considered "inappropriate" to play after 9/11: 150
Number of mentions of 9/11 at the Oscars: 26
Apartments in lower Manhattan eligible for asbestos cleanup: 30,000
Number of apartments whose residents have requested cleanup and testing: 4,110
Number of Americans who changed their 2001 holiday-travel plans from plane to train or car: 1.4 million
Estimated number of New Yorkers suffering from post-traumatic-stress disorder as a result of 9/11: 422,000
And, here we are, 20 years removed from that nightmarish day, with a President of the United States, who since taking office, has purposefully divided our Sovereign Nation like never before, pitting black Americans against White Americans, the poor among us against those who employ people, and the vaccinated against the un-vaccinated.
This treasonous imbecile who was installed as President has kissed the backsides of the same people responsible for the horrific events which we stop to remember on this solemn day.
Not only that, in his surrender to the Taliban, he left behind American citizens, now claiming that the Taliban are acting like "professionals"
Under our former Commander-in-Chief that would have never happened. Former President Donald J. Trump does not bow down to Radical Islamists.
During the days after 9/11/2001, political affiliation, race, gender, personal philosophy, did not matter.
WE WERE AMERICANS.
This country came together, in a way in which I had never before seen in my lifetime (which, is a pretty long time).
Now, look at us.
Besides the Far Left Cabal and their puppet in the White House, we have Radical Muslims (and Marxists) occupying seats in the House of Representatives and displaying their ignorance and disdain for our country.
Like Rep. Ilhan Omar (D-MN) who infamously said,
"Some people did something."
Americans must continue to stand firm and to once again come together and let our "public servants" in the Halls of Power in Washington, D.C know that we stand against those who would embrace our enemies instead of serving our Sovereign Nation, as they were elected to do.
Also, we remember those who left us on that September Morning so long ago, and say a prayer for them and the Four Americans whom we lost on the grounds of a US Embassy Compound in Benghazi, Libya. All these years later, they still deserve no less.
On September 11, 2001, Radical Islamists attacked us on our own soil and murdered over 3,000 Americans, and if given the opportunity, they will not hesitate to do it again.
We must stop the Far Left ideologues of the Modern Democratic Party, including President Joe Biden and his "Handlers" and not give them any more opportunities to bring about "radical change" in America through the appeasement of our enemies which has already started happening under this President, including secret deals, possible pay-offs, acquiescence, and leaving them the means of our nation's destruction during the botched pull-out from Afghanistan..
America was NEVER meant to be "just another country".
We must stand united as a nation and continue to reclaim our heritage as "The Shining City Upon a Hill".
The lives lost on September 11, 2001…and September 11, 2012…demand it.
Until He Comes,
KJ
DONATIONS ARE WELCOMED AND APPRECIATED.
Make a one-time donation
Make a monthly donation
Make a yearly donation
Choose an amount
Or enter a custom amount
$
---
Your contribution is appreciated.
Your contribution is appreciated.
Your contribution is appreciated.
Donate
Donate monthly
Donate yearly
"Shana, you are 100% correct. If I were President, your wonderful and beautiful son Kareem would be with you now, and so would the sons and daughters of others, including all of those who died in the vicious Kabul airport attack. Civilians should have been brought out first, along with our $85 billion of equipment, with the Military coming out very safely after all was clear. I love you, and I love Kareem…" – Former President Donald J. Trump
Newsmax.com reports that
A Trump-supporting Gold Star mother received a heartfelt message from the former president Monday.

"Thank you Shana – our country loves you and especially loves your beautiful boy, Kareem," Donald Trump wrote to Shana Chappell in a message from his Save America PAC.

Trump's message included a quote from the Stars and Stripes' salute Sunday to Chappell's son Marine Lance Cpl. Kareem Mae'Lee Grant Nikoui, who was one of 13 U.S. service members killed in the Kabul suicide bombing:

"'Nikoui, a 2019 Norco High graduate was described as a "strong person," who "held no grudges," and had "a love for kids,"' Pastor Phil Wozniak said. The fallen Marine's mother told Wozniak that he'd gone back to save a child when the bomb went off."

Trump's message also shared a previous Facebook post from a grieving Chappell, where she thanks Trump for a past salute to her fallen son and calls him the "real President of the United States of America."

Chappell noted, like Trump, she has had her Instagram account temporarily suspended and has been "shadow banned" on social media.

"Now is the time we fight back, and we don't stop until we have our country back on her feet!" her Facebook post concluded. "Be #lionsnotsheep #america #landofthefree #homeofthebrave i am watching what i post and say that way i don't lose my account again or get censored.

"I will be doing interviews soon, but right now I'm to hurt and angry to do them."
Ms. Chappell's Facebook and Instagram accounts were restored last Tuesday after both removals were claimed to have been a mistake.
Both of her posts were lengthy and spoke about Biden attempting to compare his son, who passed away from Brain Cancer, to the 13 heroes who died from a suicide bombing at Kabul Airport while still on active duty.
Ms. Chappell wrote, and rightfully so, that if President Trump had still been in office, her son and his fellow warriors would not have died that fateful day.
Former President Trump loves and respects our military. So much so that he sat with them in the stands a couple of years ago for the annual Army-Navy Football Game.
And, when he participated in the dignified transfer of our fallen heroes, he did not look at his watch…he saluted.
President Biden's Afghanistan Crisis and his reaction to it and the deaths of our 13 heroes, has left an indelible stain on his Presidency.
So much so, that fans as several college football games chanted "F*** Joe Biden!!!" during the games.
I have also heard that when he visited Louisiana after Hurricane Ida, Americans turned their back to his motorcade as it passed.
At this rate, Biden is turning out to be the last-liked President in United States History.
And, no spinning by the Democrats and their minions in the Main Stream Media will be able to overcome that.
Until He Comes,
KJ
DONATIONS ARE WELCOME AND APPRECIATED.
Make a one-time donation
Make a monthly donation
Make a yearly donation
Choose an amount
Or enter a custom amount
$
---
Your contribution is appreciated.
Your contribution is appreciated.
Your contribution is appreciated.
Donate
Donate monthly
Donate yearly
"The Left, which dominates the media, the arts, and most of intellectual life in the West, has rendered criticism of Christianity and Zionism acceptable, even laudable, but criticism of Islam unacceptable. Why has the Left done this? Because the enemy (radical Islam) of my enemy (America and Israel) is my friend, and because the Muslim world is regarded as the underdog vis-à-vis powerful America and Israel, and the Left supports what it perceives as the underdog." ― Dennis Prager
FoxNews.com reports that
A growing number of prominent journalists have declared once-bedrock press principles like fairness and objectivity to be outdated and unnecessary since the Donald Trump era rocked American politics, and while some observers appreciate the honesty, others feel blending opinion and reporting makes for a "dangerous time" in America.

As media members like CNN's Jim Acosta and PBS' Yamiche Alcindor became heroes to the left for their antagonistic approach to the president, who derided them and other reporters as "fake news," more journalists are leaving behind the image of the disinterested, impartial correspondent.

"I do think it is a trend, and it frankly started with Trump even before all this election stuff," one network news reporter told Fox News.

In the aftermath of the Capitol riot and Trump's continued claims his 2020 election defeat was "rigged," NBC News anchor Lester Holt won plaudits from mainstream colleagues this year after declaring "fairness is overrated." In his acceptance speech for a journalism award, he added it's not necessary to "always give two sides equal weight and merit."

CNN's John Harwood, an outspoken liberal in the vein of Acosta, publicly thanked Holt. CNN's "Reliable Sources" newsletter called it a "sharp critique of bothsidesism."

Left-wing New York Times Magazine writer Nikole Hannah-Jones recently said "all journalism is activism," and Lauren Wolfe, the former New York Times editor who got fired after saying watching then-President-elect Joe Biden head to Washington gave her "chills," wrote this month it's "better to be open about my views on the issues I cover."

Alcindor said this year that she considers it her duty to use journalism to bend the "moral arc toward justice." Left-wing White House reporter April Ryan published a Twitter thread last August announcing why she would no longer be objective in covering the Trump White House.

"On one hand, journalists abandoning objectivity, or as Lester Holt said even more insidiously, 'fairness,' just further cements the media's abandonment of principles it once maintained," Fourth Watch editor Steve Krakauer told Fox News. "On the other hand, I appreciate the honesty."

Krakauer feels it's "almost refreshing" that mainstream media members are finally coming clean.

"Everyone in America with two eyes and a brain knows most of the establishment, legacy media isn't objective and hasn't been for a very long time. It's good they are finally admitting the obvious — to the public and to themselves," Krakauer said.

While liberals may cheer, conservatives fret that even the appearance of objectivity to some leading reporters has been cast aside.

The examples of media members "finally admitting the obvious" have grown on a seemingly regular basis. A former CBS News reporter who covered abortion issues quit last week and declared, to the surprise of few, she was openly pro-choice.

That's not to mention other recent gestures like an open media letter proclaiming Israel should be covered as a violent, oppressive "apartheid" state, directly adopting the language of far-left politicians like Squad members Alexandria Ocasio-Cortez, D-N.Y., Ilhan Omar, D-Minn., and Rashida Tlaib, D-Mich.

The signers included hundreds of journalists, some of them anonymous, from the New York Times, the Washington Post, CNN, BuzzFeed, the Associated Press, the Los Angeles Times, ABC News, NBC News, NPR, The Atlantic, The Boston Globe, and the Chicago Tribune.

CNN journalists presented as straight-news personalities like Acosta and Jake Tapper are more comfortable than ever blurring the lines between news and opinion, although the latter insists he only editorializes on matters of "decency." Tapper also made headlines when he declared he wouldn't have on "election liars" who voted to challenge Biden's 2020 Electoral College victory.

"Objectivity as a standard at least requires that outlets try to see and reconcile their own biases. Without it, we risk sinking even deeper into an environment where advocacy and partisanship get laundered as straight news to everyday Americans who see the media as honest brokers," conservative writer Drew Holden told Fox.

While many mainstream journalists bristle at conservative criticism of their reporting as bad-faith, the network news reporter told Fox there is pressure from the left to not even give voice to Republicans like the ones Tapper won't have on his programs.

"There's a whole group of people out there who want reporters to be partisans, and are very critical whenever people who do what I do try to basically do our jobs … to be fair and balanced," the reporter said. "It's like a sin, like, 'How dare you talk to Steve Scalise? He voted to challenge the electoral votes.' Yeah, he's also the number two Republican in the House and he's an important political figure. You've got to cover him."

Some reporters have claimed what appears to be a bias toward Democrats is merely a bias toward "facts."
Uh huh. Sure.
If that were the case, then Jennifer Rubin is today's Madame Marie Curie (look her up, kids).
For the last several decades, Americans have witnessed the Fourth Estate, America's Main Stream Media, slowly but surely lose their objectivity to become a Propaganda Arm for the Democratic Party.
While their reporting became decidedly one-sided, it was not a great danger to the country even though it was a completely different sort of propaganda than when President Franklin Delano Roosevelt used the Main Stream Media to support the American effort in World War II.
Then, the 1980s arrived and along with it a new era in mass communications. Cable News Networks began springing up, increasing the role of the media in our daily lives.
Because of this new role, news organizations increased in their power and their influence in our daily lives. However, with this increased role came the responsibility to fill a 24-hours a day, 7 days a week, 52 weeks a year, with new stories.
When actual new stories became hard to find, human interest stories began to fill the time, and when they ran out, news organizations decided to act like the National Enquirer and started to make news up.
Also, as the years wore on, America's newsrooms became bastions of Liberal thought as more and more Conservatives left the business simply due to attrition and being squeezed out by young Liberal reporters who were a product of American universities which had become fountains of anti-American Political Activism.
Of course, these Liberal news reporters were members of the Democratic Party as it moved to the left of the political Spectrum. So, naturally, these reporters started reporting news more and more favorably to their political party of choice while keeping with their own personal political philosophy.
We all remember what happened when Barack Obama appeared on the political scene.
The Main Stream Media treated him as if it his appearance on the political scene was the Second Coming".
The Main Stream Media had finally become political activists instead of just political observers and pundits.
And, that is where we find ourselves today.
The Main Stream Media did everything in its power as political activists, working as the Propaganda Arm of the Democratic Party, to keep Donald J. Trump from being elected President of the United States of America in 2016.
During his Presidency, they deliberately posted false and scurrilous news stories designed to impede and threaten his presidency.
And, when there was obvious political chicanery during the 2020 Presidential Election, they turned a blind eye on it.
Even now that Biden has turned out to be the worst United States President in history, leaving Americans and our allies stranded in a country run by Islamic Terrorists, the Liberal Reporters in the Main Stream Media, at least most of them, refuse to call the demented treasonous fool out on his actions.
At least, they are beginning to admit that they are all a bunch of Liberal Political Operatives, instead of objective news reporters.
But, then again, the majority of Americans had already figured that out a couple of decades ago.
Until He Comes,
KJ
DONATIONS ARE WELCOME AND APPRECIATED.
Make a one-time donation
Make a monthly donation
Make a yearly donation
Choose an amount
Or enter a custom amount
$
---
Your contribution is appreciated.
Your contribution is appreciated.
Your contribution is appreciated.
Donate
Donate monthly
Donate yearly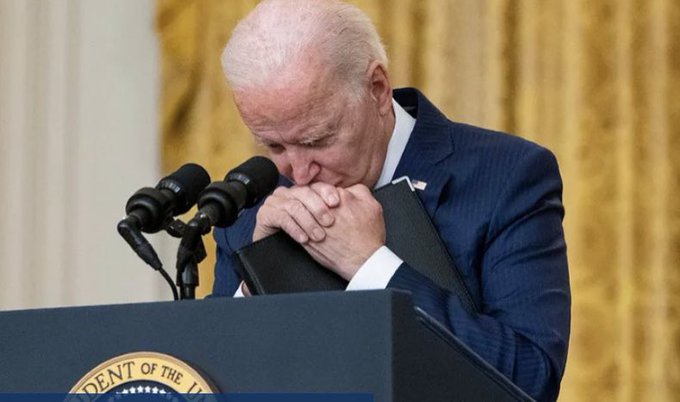 You know, at 62 years of age, I have a lot of memories.
Memories of great American accomplishments like the Moon Landing.
And, memories of horrible events like the largest Islamic Terrorist Attack ever on American Soil on September 11, 2001.
Now, to add to those horrible memories, I, like the rest of my fellow Americans, have to live with the knowledge that a President of the United States of America is running away like a scalded dog after 13 of our Brightest and Best were murdered by 2 suicide bombers at Kabul Airport in Afghanistan, trying to save Americans and Afghanis from being executed by the Taliban due to mistakes made by this same arrogant dementia-riddled "Surrenderer-in-Chief".
I was going to ask "What person in their right mind pulls out their military force from a dangerous country before they do their own government workers, civilian operatives and interpreters?"
However, therein lies the crux of the matter: The President of the United States of America, Joe Biden, is NOT in his right mind.
He is in the throes of dementia, which, along with his advanced years, has left him feeble and weak, and unable to perform the duties of the President of the United States of America.
No President in their right mind would have allowed yesterday's attack to happen.
Biden's predecessor, Former President Donald J. Trump, left him in the catbird's seat. There had been no attacks on our soldiers in Afghanistan in 18 months prior to yesterday.
Trump had literally cowered the leader of the Taliban back into his cave by threatening to unleash Hell on them and their families, if he dared to attack us.
So, what did Biden do?
He got rid of Trump's deal which kept our people over in Afghanistan safe.
And, when the Taliban had taken over, he sent his CIA Director to have a secret meeting with the leader of the Taliban.
Not only that, but Biden's people gave the Taliban a list of Americans and Afghanis that they wanted them to "escort" to the Kabul Airport.
I'm serious.
After yesterday's attack, his Handlers made him come out and have a Press Conference late yesterday afternoon, he mumbled something about accepting the blame for what happened…and then he blamed Trump.
Make no mistake….
In no way was yesterday's Islamic Terrorist Attack Trump's fault.
The blood of those 13 dead service members can be found on the hands of President Joe Biden.
The Democrats' lust for complete and absolute power which led them to change the rules of our Presidential Election, allowing them to cheat to win, has now put the entire Free World in danger.
Elections do indeed have consequences.
And, I am afraid that the consequences for us as a country are just beginning.
I sure could use a mean Tweet right about now.
Until He Comes,
KJ
DONATIONS ARE WELCOME AND APPRECIATED.
Make a one-time donation
Make a monthly donation
Make a yearly donation
Choose an amount
Or enter a custom amount
$
---
Your contribution is appreciated.
Your contribution is appreciated.
Your contribution is appreciated.
Donate
Donate monthly
Donate yearly