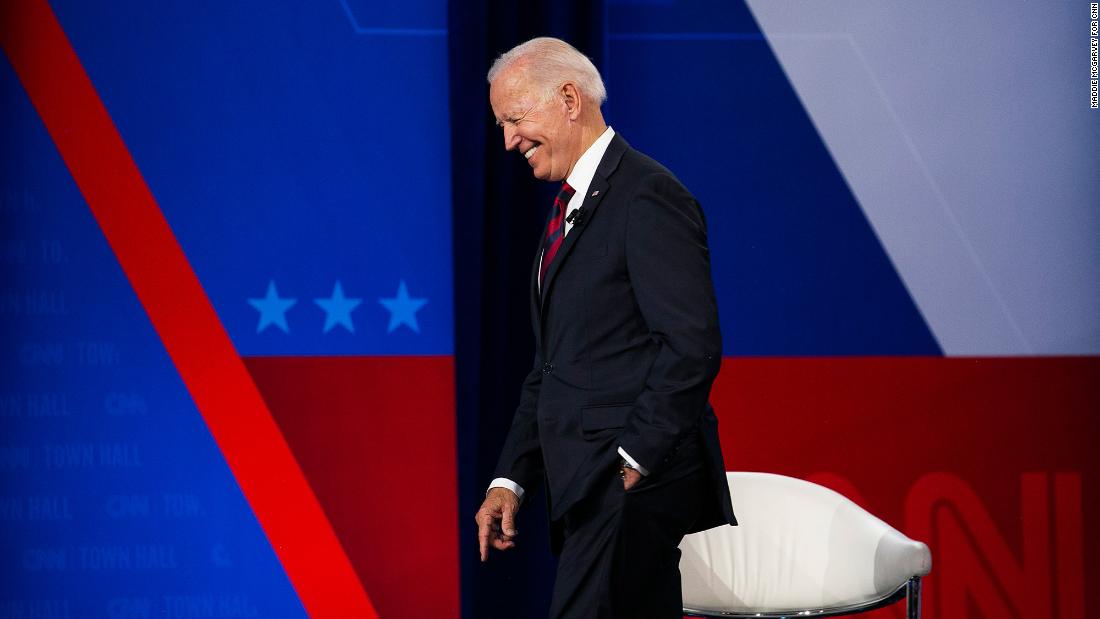 FoxNews.com reports that
CNN's heavily promoted town hall event with President Biden failed to resonate with Americans on Wednesday night, as it got thumped by Fox News and even finished with a smaller audience than MSNBC.

The CNN Biden town hall, moderated by Don Lemon, averaged only 1.5 million viewers from 8-9:30 p.m. ET, while Fox News averaged 2.7 million viewers during the same time period. MSNBC averaged 1.6 million sets of eyeballs, which pushed CNN's chat with the president to last place among relevant cable news stations.

Fox News beat CNN by a staggering 83 percent during the Biden town hall with regular programing on "Tucker Carlson Tonight" and a special edition of "Hannity" that featured Florida Republicans Gov. Ron DeSantis, Sen. Marco Rubio, Rep. Maria Salazar and Miami Mayor Francis Suarez.

Every Fox News town hall event over the past five years outdrew Wednesday's CNN event with Biden.

CNN's town hall also failed to beat Fox News among the key demographic of adults age 25-54. CNN averaged 306,000 demo viewers during the event, compared to 464,000 for Fox News.

CNN didn't just finish last during the Biden town hall. The liberal network also finished behind Fox News and MSNBC during the primetime hours of 8-11 p.m. ET.

Fox News averaged 2.3 million primetime viewers and MSNBC finished second with 1.6 million. Despite President Biden appearing on the network, CNN settled for only 1.3 million primetime viewers.

While Biden failed to lift the struggling network from last place, it did helped Lemon surpass the one-million viewer threshold that he fails to meet on a regular basis.

One interesting moment that was seen by CNN's tiny audience was when Lemon referred to Biden as "the big guy" during the presidential town hall.

"You've been the big guy for six months now in the White House. Can you take us behind the scenes, something that was extraordinary or unusual that happened that stands out to you?" Lemon asked.

"The big guy" was notably used as a reference to Biden in a leaked email thread allegedly involving Joe's son Hunter Biden making a deal with a Chinese energy firm. In 2020, Fox News confirmed the authenticity of an email dated May 13, 2017 that detailed a discussion for "remuneration packages" for people involved in a business deal. A section of the email contained a propriety split reading "10 held by H for the big guy?" which was later confirmed to reference Joe Biden.

Rep. Elise Stefanik, R-N.Y., remarked on this connection as well, tweeting, "Wow. Even Don Lemon knows Joe Biden is the "Big Guy"! #HuntersEmails."

All data is courtesy of early Nielsen Media Research
Americans have been fed a load of crap ever since the Democrats "chose" Biden as their Presidential Candidate.
There is no way that this demented old man could have been elected in an honest election.
Back in December of 2020, Newsmax.com reported the following about a recent McLaughlin Poll…
There is one stunning result in the entire poll: Americans believe there was a serious vote fraud problem in the last election.

Although Election Day is over a month ago, when we asked — "Do you believe there was election and voter fraud in the presidential election between Joe Biden and Donald Trump back in November?" — the plurality of voters, 46%, said yes, with only 45% saying no.

Among American voters the majority is not convinced that voter fraud did not occur in their Presidential election. It is important to note that the poll model reflects the national popular vote of 51% Biden, 47% Trump.

It is concerning that in this poll where a majority of voted for Biden, they still can't say it was an honest election.

As our presidential electors went this week to cast their votes, almost half the voters said there was clear election and voter fraud.

Since Election Day, and despite media spin the election fraud story is a big nothing, belief among voters of serious vote fraud has grown.
Since the obviously-rigged outcome of 2020 Presidential Election, I have been asking myself,
"Self, did the Democrats actually believe that the entire country was going to come together under dementia-riddled Joe Biden and "Heels Up" Harris after they committed the biggest case of Election Fraud in American History?
Yes, boys and girls. They did.
The Democrats believe that they are the smartest people in any room that they walk into.
They also believe that Traditional American Faith and Values are passé and the mark of the uneducated "Bitter clingers" who "cling to their guns and their Bibles" to quote Former President Barack Hussein Obama (mm mmm mmmm).
And, while the Democrats do not respect average Americans at all, they did realize whom we were voting for on November 3rd and it wasn't their candidate, Joe Biden.
That is why they came up with the intricate plan to steal, or rig, the 2020 Presidential Election.
The problem which they still face, even if the Trump Team is unable to reverse what has happened and restore the stolen victory to President Trump, is the fact as McLaughlin explains in the about article, is that a majority of Americans still believe that the election was not conducted in an honest fashion and do not believe that Joe Biden is a legitimate President.
And, only a minority of Americans believe that the country is headed in the right direction.
Not only that, but the majority of Americans still prefer free market capitalism to big government socialism 58% to 16%
Which means that "Democratic Socialism" and the Democratic Party itself are not as popular as the Main Stream Media wants you to believe them to be.
If fact, just the opposite.
That is why CNN got buried in the ratings on Wednesday Night.
Average Americans, like the rest of the world, believe that "President" Joe Biden is a joke.
So, Americans will not be gathering on a hillside to have a Coke and a Smile Moment any time soon.
Or, in Hunter Biden's case, SOME coke and a smile…and a prostitute…and a $50,000 a month job.
Until He Comes,
KJ
DONATIONS ARE WELCOME AND APPRECIATED.
Make a one-time donation
Make a monthly donation
Make a yearly donation
Choose an amount
Or enter a custom amount
$
---
Your contribution is appreciated.
Your contribution is appreciated.
Your contribution is appreciated.
Donate
Donate monthly
Donate yearly
FoxNews.com reports that
The Biden administration is reportedly weighing whether to formally urge vaccinated Americans to once again mask up as the country experiences an increase in the number of COVID-19 delta variant cases.

White House aides are in talks with officials at the Centers for Disease Control and Prevention (CDC) about proposed messaging to the public, the Washington Post reported.

People familiar with the discussions told the Post that the White House is hesitant to implement policies that would explicitly mandate people show proof of their vaccination status. One idea reportedly thrown around was to ask Americans to wear masks when vaccinated and unvaccinated people not to congregate in crowded places.

Fox News has reached out to the White House.

The talks come as COVID-19 cases have nearly tripled in the U.S. in recent weeks, putting yet another strain on hospitals, and exhausting doctors.

The seven-day rolling average across the U.S. for daily new cases rose over the past two weeks to more than 37,000 on Tuesday, up from less than 13,700 on July 7, according to data from Johns Hopkins University.

Health officials are blaming the delta variant and slowing vaccination rates. Barely more than 56% of Americans have received at least one dose of the vaccine, according to the CDC.

Of current COVID-19 cases, health officials say the delta variant accounts for an estimated 83% of cases in the U.S.
Is it just me…or is this article ironic, considering that the cowardly flight of the Democrat Texas State Representatives to D.C. has turned out to be a "Super Spreader" Event? 
Perhaps the above article is just showing the hypocrisy of the Biden Administration.
No…it is more that that.
Biden and the rest of the Democrat Elite want to turn  Americans into the new "Proletariat", whose lives are totally controlled by a  huge central Marxist Government from cradle to grave.
This is not about concern for Americans.
This is a ploy to gain complete and utter control of our daily lives.
Americans' Freedom is not a group thing.
America was founded on the concept of "liberty and freedom for all".
Liberty is freedom …with responsibility…individual responsibility…for our lives and that of our family.
Yes, we care about our friends. However, they are free in this country to make their own decisions as to what is right for them and their family.
If the Biden Administration actually believes that they are going to force Americans to take the various Covid-19 Vaccines and to go back wearing masks, they have a huge surprise ahead of them.
Americans have had enough of their personal liberty being taken away from them by National, State, and Municipal Democrat Politicians.
The overwhelming majority of Americans are not going to comply with any more "flattening the curve" restrictions.
The mortality rate of COVID-19 has shrunk tremendously and it time to live as Americans again.
And, if you Democrats crave a Totalitarian Socialist Government that much, Cuba is just 90 miles away.
Until He Comes,
KJ
DONATIONS ARE WELCOME AND APPRECIATED.
Make a one-time donation
Make a monthly donation
Make a yearly donation
Choose an amount
Or enter a custom amount
$
---
Your contribution is appreciated.
Your contribution is appreciated.
Your contribution is appreciated.
Donate
Donate monthly
Donate yearly
FoxNews.com reports that
Top government epidemiologist Dr. Anthony Fauci and Sen. Rand Paul traded accusations of "lying" about gain-of-function research at a Tuesday Senate hearing, continuing the long-running feud between the National Institute for Allergy and Infectious Diseases (NIAID) director and the Kentucky senator.

Centers for Disease Control and Prevention (CDC) Director Rochelle Walensky was also asked about continued health measures like mask mandates on public transportation and vaccine mandates for school children.

In his questioning of Fauci, Paul stepped close to the line of accusing Fauci of lying to Congress in previous testimony in which he said that the NIAID had never funded gain-of-function research in China. Citing a paper on research about bat coronaviruses, Paul said that U.S. money had essentially gone to the hazardous and controversial research – an assertion Fauci strongly objected to.

"I have never lied before the Congress, and I do not retract that statement," Fauci said. He added that the research Paul referenced was "judged by qualified staff up and down the chain as not being gain of function."

Fauci added: "You do not know what you are talking about quite frankly and I want to say that officially."

Paul's response was that the NIH's judgment "defines… away" work that essentially was gain-of-function."

"You're dancing around this because you're trying to obscure responsibility," Paul added

"The message from CDC remains clear… vaccination is the most powerful tool we have," Walensky said.

"The sobering news that you've already heard of is the fact that we are not challenged with a very difficult and problematic variant referred to as the Delta variant," Fauci said. "The fact is that, however… is that our vaccines… are very effective against this variant."

Fauci, meanwhile, also objected to any suggestion – which Paul denied he was trying to imply – that he or the NIH may be in some way responsible for the COVID-19 virus, saying that the viruses created by the research in question would be "molecularly impossible" to be the origin of the disease.

"You are implying that what we did was responsible for the deaths of individual[s], I totally resent that and if anybody is lying here, senator, it is you," Fauci said.

The hearing is meant to take a look at "The Path Forward" out of the pandemic. But worry over the Delta variant has led some in the U.S. to call for the return of strict health measures from the pandemic's height. And that talk has led opponents of such measures to push back hard against moves they say would be counter-productive.
The funding of research into bat viruses done by the Wuhan Institute, under the funding by the EcoHealth Alliance, lasted for over a decade.
Surprise! Surprise! Both the CDC and the NIH are partners of the Ecohealth Alliance.
Just as we found out during the whole charade known as "Russiagate", there are Professional Bureaucrats who operate behind the scenes of our Federal Government, imperious and seemingly above the law.
Like a spider's web of intrigue, they move in the shadows, spending our tax money on projects away from the eye of the public.
Projects like the Bat Virus Research done by the Wuhan Institute of Virology.
In an article from February 20th of last year, posted on qz.com by Jan Li, their Chinese Tech Reporter, she states that
The institute first rejected speculation that the first patient to be infected  with the virus was a graduate student who studied at the lab, saying on Sunday (Feb. 16) the student is in good health. Yesterday (Feb. 19), it issued a strong worded statement (link in Chinese), saying the rumors about it have "hurt the feelings of its frontline researchers hugely"  and "severely interfered" with its task to study viruses. "We have nothing to hide," the letter read. Nonetheless, internet users don't appear to be convinced by the assurances from the lab. "What is the truth? The collapse of trustworthiness of media and government is not only sad for the two parties, but also for us citizens," said a user on Weibo commenting on the rumors. "Some might think the so-called rumors are just a prophecy ahead of our times," said another.

Some "rumors" from the early days of the epidemic after all turned out not to be far from reality. Li Wenliang, a doctor, had told others about a cluster of cases of viral pneumonia before the outbreak had been made public, but was summoned by Wuhan police for "spreading rumors." He later became infected himself, and his death turned him into a vivid symbol of the costs of the government's opacity—prompting an outpouring of anger and grief, and rare public demands for freedom of speech and transparency from the government.
The Chinese people themselves knew that their Communist Government Officials were lying about the origin of the Coronavirus.
Unfortunately, the Chinese Communists are famous for making people "disappear".
These projects remain unknown by the general public, until something unforeseen happens, like the "accident" at the Wuhan Institute which released COVID-19 on an unsuspecting world.
Former President Trump tried to clean out this rats' nest of Professional Bureaucrats, naming them the Washington Swamp.
Unfortunately, he did not succeed and they eventually were able to arrange for a demented old man to be appointed the 46ths President of the United States of America.
The entire COVID-19 Catastrophe and Washington's behind-the-scenes machinations during it, which resulted in a nationwide lockdown and a "radical change to our American way of life, has been all about controlling average Americans to get them used to having their individual freedom taken away from them.
These revelations concerning the Washington Swamp's involvement with the funding of COVID-19 are just the beginning of horrifying things which were done in the darkness by bureaucrats which are about to find themselves illuminated by the light of truth.
Until He Comes,
KJ
DONATIONS ARE WELCOME AND APPRECIATED.
Make a one-time donation
Make a monthly donation
Make a yearly donation
Choose an amount
Or enter a custom amount
$
---
Your contribution is appreciated.
Your contribution is appreciated.
Your contribution is appreciated.
Donate
Donate monthly
Donate yearly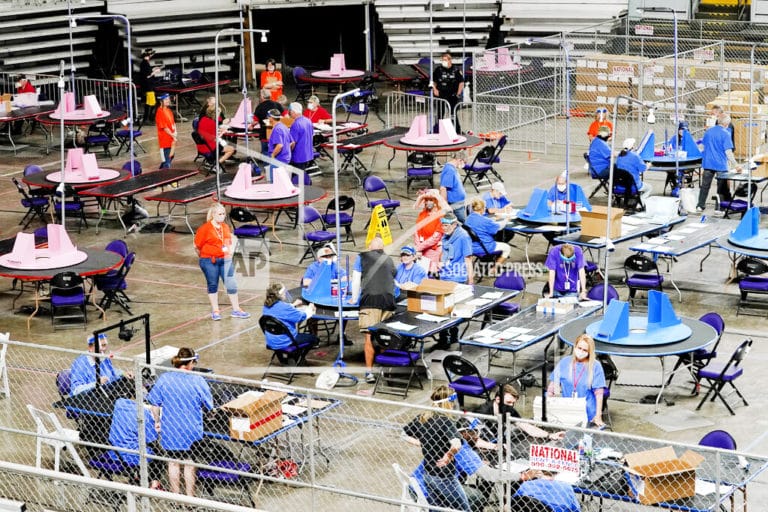 Newsmax.com reports that
Former President Donald Trump says Maricopa County's refusal to allow full transparency amid the 2020 presidential election audit makes him skeptical once again, suggesting that county election officials have something to hide.

"Why won't the RINO Maricopa County Board of Supervisors in Arizona give the routers?" Trump asked in a statement Monday from his Save America PAC. "What are they trying to hide? They are fighting for life or death. What is going on?"

The latest request for information involves auditors requesting routers from the county for inspection.

"Give the routers!" Trump's statement continued. "Doesn't this mean that the voting was, despite their statements to the contrary, connected to the Internet? The voter fraud in the 2020 presidential election was monumental, and the facts are coming out daily!"

The Republican-held Arizona Senate originally subpoenaed the internet routers from the county polling places, but the county rejected the request, claiming it would cost $6 million to replace them. A similar claim led Arizona Secretary of State Katie Hobbs to destroy voting machines that were inspected by auditors.

Officials skeptical of election fraud argued that Hobbs' claim the voting machines could be compromised by auditors is evidence they are indeed vulnerable to tampering. The voting machines audited would not be used in future elections, Hobbs said, but Arizona Republicans noted they would have been subjected to the inspection and certification process in place in the state.

Also, with respect to the routers subpoena, Maricopa County Sheriff Paul Penzone has said law enforcement security would have been jeopardized, the Arizona Mirror reported.

Auditors argue the routers are critical to finishing a complete report on election vulnerabilities, but Maricopa County election officials say the voting machines were not connected to the internet.

According to CyFir CEO Ben Cotton, one of the subcontractors doing the audit, submitting the routers for inspection would not compromise security, according to the Mirror.
The 2020 Presidential Election is the story that would not go away.
The number of states who are announcing that they are calling for an audit of the votes in the November 3rd Election, which saw a outcome which could only be described as "highly suspect" at best, continues to grow, as the obviously reality of the incompetency and unpopularity of Joe Biden becomes clearer every day.
The Political Swamp, the faceless bureaucrats who control Washington Politics behind the scenes, have extended their control into not just state governments but municipal governments as well, thanks to puppet masters like George Soros
Trying to investigate the mass fraud which occurred in the 2020 Presidential Election and the widespread corruption behind it is like wading through quicksand.
One false move and the investigators risk being "swallowed up" politically…never to be seen again.
For example, I have been watching the "Old Guard " of the Republican Party appear on Fox News and Newsmax, saying that they are going to fighting against what the Democrats are trying to do to our country.
If they are speaking the truth, they why are they not openly calling for audits in all of the states that stopped counting votes in the middle of the night of November 3rd?
Former President Trump showed y'all how to win and a lot of you "Establishment Republicans" furthered your political career by riding his coat tails to positions of power on Capitol Hill.
Y'all want to go back to your political strategy of of reaching across the aisle (i.e. sucking up) to the Democrats and allowing them to pass whatever cockamamie laws they want to while they raises our taxes and the amount we pay for gas to fill up our cars so that we can go to work and provide for our families.
That is how we got stuck with Former President Barack Hussein Obama, aka "Petulant President Pantywaist".
If the Republican Establishment keeps mooning average Americans and showcasing their Spines of Jello, instead of supporting the wishes of those who sent them to Capitol Hill and fight back, including investigating the 2020 Election, average Americans are liable to show them what they think of them by starting a new party behind Donald J. Trump.
However, I am beginning to believe that the Vichy Republicans. for all of their bluster, could care less.
As it has  proven, without a doubt in the past, the Republican Establishment's arrogance will be their undoing.
After all…
Actions (and Inactions) have consequences.
The American people are tired of Political Correctness and anti-American political expediencies being forced down our throats by both political parties and trumpeted by their lackeys in the Main Stream Media.
Donald Trump, for all of his brashness and braggadocio, remains a breath of free air and, quite frankly an anomaly. He's not a professional politician. He is a businessman who became a wonderful public servant.
Does Donald J. Trump need to "tone it down", in terms of his fight against those who would preserve the Washingtonian Status Quo?
Only if he wants to sound like a Professional Politician.
And, we Americans have had our fill of them.
Until He Comes,
KJ
DONATIONS ARE WELCOME AND APPRECIATED.
Make a one-time donation
Make a monthly donation
Make a yearly donation
Choose an amount
Or enter a custom amount
$
---
Your contribution is appreciated.
Your contribution is appreciated.
Your contribution is appreciated.
Donate
Donate monthly
Donate yearly
FoxNews.com reports that
1619 Project writer Nikole Hannah-Jones said in a podcast that she believes Cuba is the most equal country in the Western hemisphere and could serve as a model for its integration agenda.

In a 2019 podcast with Ezra Klein of Vox and The New York Times, Hannah-Jones was asked whether there were candidates or places that she thought had a "viable and sufficiently ambitious integration agenda."

Hannah-Jones responded that while she is not an expert on race relations internationally, she believed the most "equal" and "multiracial" country in the Western hemisphere is Cuba, which she attributed to socialism.

"The most equal multi-racial country in our hemisphere, it would be Cuba," Hannah-Jones said, as reported by the publication. "Cuba has the least inequality between Black and white people anyplace really in the hemisphere. I mean, the Caribbean, most of the Caribbean it's hard to count because the White population in a lot of those countries is very, very small. A lot of those countries are run by Black folks. But in places that are truly at least biracial countries, Cuba actually has the least inequality. And that's largely due to socialism—which I'm sure no one wants to hear."

As reported by The National Pulse, Hannah-Jones also wrote an op-ed published by The Oregonian that was posted in 2008, in which she noted that there are many overlooked accomplishments in the country, including a very high literacy rate, a low HIV infection rate and a "model" universal health care system.

In the article, she also wrote that the Cuban revolution led to the "end of codified racism" and brought about universal education and access to jobs for Black Cubans.

The 1619 Project is a project spearheaded by The New York Times that delves into the effects of slavery on U.S. history. It was led by Hannah-Jones, who is a Pulitzer Prize winning writer and a professor at Howard University.

As previously reported by Fox News, Rep. Alexandria Ocasio-Cortez has come under fire for recent comments she has made about Cuba.

Ocasio-Cortez wrote on Twitter that the U.S. has contributed to suffering in Cuba via its embargo, which she characterized as "absurdly cruel."

Rep. Nicole Malliotakis, R-N.Y., who is the daughter of a Cuban immigrant, called Ocasio-Cortez a "communist sympathizer who wants to bring socialism" to the U.S. during an interview with "Fox News Sunday."
The Far Left Democratic Party, which is full of "Useful Idiots" like Nikole Hanna-Jones and AOC,  is determined to not only rewrite American History but also to indoctrinate our children and grandchildren to hate America and our Traditional System of Faith, Values, and Patriotism.
Why is it wrong to be a Proud American?
Nationalism, placing the well-being of Americans Citizens first, is a good thing and is what being a President should be all about.
The Far Left-controlled Biden-Harris Administration, the Democratic Party and their Propaganda Arm, the Main Stream Media, look down their noses at us average Americans living here in "Flyover Country" who believe that America is the greatest country on the face of God's Green Earth and believing in American Exceptionalism.
Since the 8 years of the reign of King Barack The First, children and young adults, attending American Institutes of Learning from kindergarten to college campuses have been taught by Liberal teachers and professors that America was "just another country" and to be a patriot or to believe in "Nationalism" was to somehow be close-minded, ignorant, and bigoted, not necessarily in that order.
And now, these same clowns want to continue teaching Revisionist History to our children and grandchildren while asserting that "educated people" believe that those of us who agree with Former President Trump's optimism and "Nationalism" and those who disagree with their anti-American beliefs are  "racist" and "uneducated".
They really need to visit America's heartland, where all of us average and EDUCATED Americans live.
Believe of not, y'all, there are actually colleges and universities in "Flyover Country".
In fact, where the exceptionalism of America actually lies is not in the Halls of Power nor in the Halls of Academia. But, rather in the courage and spirit of the average American. A courage and spirit, which our history proves, has driven American Citizens to build a nation, which is indeed exceptional among all others.
The secret of this country's exceptionalism is the "Average Joe", the 9 to 5′er, working himself into the grave to try to provide for his family.
It was this same "Average Joe", who fired the shot heard around the world and began the War for American Independence, who stormed the beaches of Normandy on D-Day in World War II, who waded through rice paddies in Vietnam, and who swallowed sand in Desert Storm and Desert Shield. The same "Average Joe" who, as a New York City Policeman or Fireman, ran up the stairs of the World Trade Center on 9/11/01, instead of running down them. The same "Average Joe", who simply wants things to be easier in this life for his children and grandchildren, than he had it.
It is this same "Average Joe", who takes family and friends in, when they are in the midst of a life-altering tragedy. The same "Average Joe", who volunteers on a soup line or at a Senior Citizens Home, or, who begins a successful business in his basement.
And, it is this same "Average Joe" who, being fed up with the Democratic Party's Far Left Crusade against anything and everything traditionally American, went to the voting booth and elected Donald J. Trump, a Citizen Statesman, as our 45th President.
And, we are the same ones who believe that there is no way in H-E-L-L that dementia-riddled doddering fool Joe Biden won the 2020 Presidential Election with out a massive case of Election Fraud.
And that, boys and girls, is why the Far Left Democratic Party and Joe Biden's Handlers built a fence around OUR Capitol and are governing like a bunch of fascist dictators..
Their ego-driven political ideology does not permit them to consider the reality that theirs is still the minority political ideology in this nation.
While the East and "Left" Coast are indeed heavily populated in their metropolitan areas with Liberals (some of them even Legal Citizens), the reality is that the overwhelming majority of Americans are still Patriots who believe in God and Country.
It was an overestimation of their own intellect and an underestimation of the intelligence and unbridled love of average Americans for OUR COUNTRY, that cost the Democrats the Presidency in 2016.
And, stupid moves like attempting to teach our children and grandchildren that America is a "Racist Country" and the Totalitarian Communist Regime in Cuba is a brilliant example of government is going to blow up in their weasel-looking faces and cost them the next two national elections in 2022 and 2024.
As George Orwell said,
Patriotism is usually stronger than class hatred, and always stronger than internationalism.
Patriotism is still cool…and "Useful Idiots" like Nikole Hanna-Jones and the  rest of the Far Left Marxism-Loving Democrats are clueless.
Until He Comes,
KJ
DONATIONS ARE WELCOME AND APPRECIATED.
Make a one-time donation
Make a monthly donation
Make a yearly donation
Choose an amount
Or enter a custom amount
$
---
Your contribution is appreciated.
Your contribution is appreciated.
Your contribution is appreciated.
Donate
Donate monthly
Donate yearly
And then many will fall away and betray one another and hate one another. And many false prophets will arise and lead many astray. And because lawlessness will be increased, the love of many will grow cold. But the one who endures to the end will be saved. Matthew 24: 10-13
Back in May of this year, Christianpost.com reported that
As more and more people publicly walk away from the Christian faith, pastors must urge their congregations to have deep, personal encounters with God and bring "sacredness" and "reverence" back into worship, according to pastor and author Francis Chan.

"I am seeing so many people, friends of mine who were in ministry, who are just saying they don't believe, or they're walking away; 'I don't know if I believe that anymore,'" Chan said during Exponential's Reset Summit this week. "And I just think that's crazy. We're seeing people that we look up to, leaders fall. We're seeing the world look at evangelical Christianity as an absolute joke right now … it's every day you can just jump on Instagram … and someone is saying, 'I'm not a Christian anymore.'"

The "Until Unity" author lamented that there's a "lot of Isaiah 29:13" going on in churches and denominations across the country today. The verse reads, "These people come near to me with their mouth and honor me with their lips, but their hearts are far from me. Their worship of me is based on merely human rules they have been taught."

"In other words, it wasn't an encounter [with God]," he said, explaining that true, lasting faith doesn't come from simply hearing a message, but spending intentional, one-on-one time with God.

"Don't get away from your own encounter with God," he said. "We have to make sure we get people to encounter Him, and that their fear of God is not just a commandment that was taught to them by us."

"This is a new season. And all of this, people walking away and fighting and angry about everything and so opinionated, is because they've spent too much time in our presence, and in our evangelical talk, talk, talk, talk presence and not enough time before a Holy God and sacred and reverent, silence and awe and just recognizing their oneness with Him."

To have more unified horizontal relationships in the church, there must be a deeper, vertical relationship with the Father, Chan stressed.

"The world is going to get worse; persecution is going to get worse. And when they're alone with Him, is there enough of this awe and enjoyment of Him, and a fear of Him that they can survive anything?" he asked.

"I think this pandemic showed us that there's just way too much of this horizontal going on. And now we're trying to keep these people with us, and it's more like we have to direct people to Him. We have to do a better job of bringing sacredness back into our worship.".

A recent study found that 43% of millennials stated they either don't know, don't care or don't believe God exists, and 16% of millennials believe that when they die, they will go to Heaven only because they confessed their sins and accepted Jesus as their savior. Yet, 57% of millennials still call themselves Christian.

In an interview with The Christian Post, Michael Youssef, pastor of the 3,000-member Church of The Apostles in Atlanta, Georgia, warned that more and more pastors are "falling into the trap" of woke culture because it's "popular and appeals to the flesh."

"Bowing to woke culture allows you to avoid rejection by culture and society," he said. "It's a very, very popular message that is now being preached from many evangelical pulpits; traditionally Bible-believing, Gospel-preaching churches. We have gone so far that it just grieves me to the point that I literally sometimes just weep tears."

"I've always believed, as goes the pulpit, so goes the pew. As goes the pew, so goes the culture," he continued. "As a pastor, I put the full blame on us, right in our laps, because we want to be liked, loved, and followed on social media by millions of people. Pastors are the culprits. We need to be about Jesus, not about being liked, because that is deadly as far as the Gospel of Jesus Christ is concerned."

Youssef urged those who love Jesus to be "encouraged and motivated to stand up and not to be afraid," and compel those "teetering" to find the strength and courage to stand for the truth of the Gospel.

"We must take charge," he said. "Christians have abandoned so many areas of society, from media and the classroom. Instead of withdrawing, we need to go and invade these areas and take them for Christ and not be afraid. We are on the right side. We have read the last chapter, and it says we will win."
A Christian "Church" who believes that the Bible is NOT the Word of God is not a CHRISTIAN Church,
It can call itself a Social Justice Center.
It can call itself a Tabernacle of Wokeness.
However, if you devalue the Bible, the Holy Scriptures which are a "two-edged sword" and the key to learning about the foundation of the Christian Faith, then you are studying modern culture and not the history of the Hebrew people and the House of David, from whose lineage came Jesus Christ, the Prince of Peace.
The rise of "Wokeness" within Christian Churches is something that is literally tearing apart the fabric of our country.
The only conclusion that I, as a Christian American can reach, is the fact that our Sovereign Nation is in the midst of SPIRITUAL WARFARE for its very soul.
Make no mistake about it, boys and girls, EVIL EXISTS.
My friends, I believe that we are fighting a war against "princes and principalities". Evil is still alive and well and flourishing in a world in which relative morality and situational ethics are increasingly being accepted as normal behavior.
We see it everyday around us.
It inundates the cable news channels, 24 hours a day. Heck, you can even see it on Facebook.
Since Cain slew Able with a rock, mankind, because we are all fallen creatures, has had to deal with the presence of evil in our lives.
From the legendary massacres, perpetrated by Vlad the Impaler, to the horrific scenes of Hitler's Concentration Camps, to the killing fields of Pol Pot, to the massacre of innocent Middle Eastern Christians by Islamic State, to the murders by Chicago Street Gangs every night, the Forces of Evil continue to flourish across the globe.
Who we as a nation are struggling with are those forces who want to turn our country into not just an immoral society, but, an amoral one, whose concept of right and wrong is "Whatever Gets You Through the Night (It's Alright. It's Alright.)", and whose ultimate authority is not the God of Abraham, but a Godless All-Powerful Central Government, whose credo is
From each according to his abilities, to each according to his needs. (Karl Marx)
Just as Marxism has failed wherever it has been tried before, if the Far Left Democrats have their way, so it would lead to America's downfall.
The galling thing is the fact that, even though American Christians remain 75% of the population, we are propagandized and suppressed by the Liberals in both the Old and New Media, to make it seem as if WE are the Minority, when, in fact, WE are the overwhelming Majority.
It is this New Generation of Amoral Marxists, who have taken over the Democratic Party, who are in fact, just a tiny, albeit vocal, Minority of America's population.
So, what can an average Christian American, like you and me, do about this "Tyranny of the Minority"?
Christians have to make a choice in these tough times whether to allow those who are attempting to "radically change" our Sovereign Nation, given to us by God into a Democratic Socialist Paradise or…
As the Apostle Paul tells us in Ephesians, we can STAND.
However, you cannot stand without "the full armor of God". I have found, as have my family and friends, that the better that you are doing, in terms of your Christian Walk, the harder that you will be attacked.
10Finally, be strong in the Lord and in the strength of His might. 11Put on the full armor of God, so that you will be able to stand firm against the schemes of the devil. 12For our struggle is not against flesh and blood, but against the rulers, against the powers, against the world forces of this darkness, against the spiritual forces of wickedness in the heavenly places.…- Ephesians 6:10-12
Our Christianity as Americans does not and can not end at Noon on Sunday, as we shake the Preacher's hand and walk out of the sanctuary (those of us who still get to g and are not "quarantined" at home).
"Onward, Christian Soldiers, marching as to war."
Because believe me, Americans…we are in one.
Read your Bible…for it is the Word of God.
Pray for our country.
Pray for our Houses of Worship.
And, ask God for Revival in our Sovereign Nation.
Until He Comes,
KJ
DONATIONS ARE WELCOME AND APPRECIATED
Make a one-time donation
Make a monthly donation
Make a yearly donation
Choose an amount
Or enter a custom amount
$
---
Your contribution is appreciated.
Your contribution is appreciated.
Your contribution is appreciated.
Donate
Donate monthly
Donate yearly
FoxNews.com reports that
A federal judge on Friday ordered the Biden administration to stop all applications for the Deferred Action for Childhood Arrivals (DACA) program, ruling that the Obama-era program was illegal – dealing a blow to the Biden administration's efforts to protect the program.

DACA was established under the Obama administration in 2012 and granted protection from deportation and work permits to illegal immigrants who came to the country as minors. Approximately 700,000 are estimated to have been granted protection under the program, and hundreds of thousands more are deemed eligible.

Judge Andrew Hanen, a Texas judge, found that the Department of Homeland Security violated the Administrative Procedure Act (APA) in creating the policy. He found that the policy was implemented unlawfully and ordered DHS to stop approving DACA applications, although he said it could continue to accept applications and that it does not affect the status of any current DACA recipients.

The judge found that the agency's interpretation of statutes was "overly broad" and those laws did not carry the authority for the federal government to institute the program.

"DACA would grant lawful presence and work authorization to over a million people for whom Congress had made no provision and has consistently refused to make such a provision," Hanen wrote.

The suit had been brought by a coalition of states led by Texas, who argued that the policy violated the APA and the Constitution.

Republicans have repeatedly claimed that the program was illegal, and President Donald Trump sought to revoke the program. That effort was shot down by the Supreme Court, which found it was done in a manner that was "arbitrary and capricious," while not ruling on the program itself.

Democrats and the Biden administration, as well as some Republicans, have supported pathways to citizenship for DACA recipients, whom activists and Democrats have termed "dreamers." Many of those pushes expand the category to include not only DACA recipients, but those who are DACA-eligible.

President Biden signed a memo after entering office to protect DACA, ordering DHS to take "all appropriate actions under the law" to preserve the program and calling on Congress to give a path to citizenship for recipients.

There have already been a number of efforts in Congress this year to give legal status to DACA recipients. Most recently, Rep. Pramila Jayapal, D-Wash., said that the Democratic budget proposal includes a pathway for citizenship for a number of illegal immigrant groups — including DACA recipients. Democrats may be able to pass such a proposal without Republican support.

Immigration activists used the ruling to renew the push for a pathway to citizenship for all illegal immigrants.

"Judge Hanen's rash decision to suspend the DACA program reiterates the immediate need for Congress AND the Biden administration to keep their promise and create a pathway to citizenship for all undocumented people in the U.S.," the Refugee and Immigrant Center for Education and Legal Services tweeted.
What makes those benefiting from DACA, who wish to stay here forever, exempt from the rules and regulations that every other generation of immigrants to this country had to abide by in order to become legal citizens of the greatest nation in the world?
These "Dreamers" must go through a strict process such as other generations of immigrants have gone through.
In other words, a stringent, controlled pathway to citizenship that will end with them going through the same procedures as all other legal immigrants before them.
Just like those who have wanted to be American Citizens before them, these "Dreamers" must also pledge:
I hereby declare, on oath, that I absolutely and entirely renounce and abjure all allegiance and fidelity to any foreign prince, potentate, state, or sovereignty, of whom or which I have heretofore been a subject or citizen; that I will support and defend the Constitution and laws of the United States of America against all enemies, foreign and domestic; that I will bear true faith and allegiance to the same; that I will bear arms on behalf of the United States when required by the law; that I will perform noncombatant service in the Armed Forces of the United States when required by the law; that I will perform work of national importance under civilian direction when required by the law; and that I take this obligation freely, without any mental reservation or purpose of evasion; so help me God.
The Democrats have sought to make political hay for years now by erroneously claiming that the reason that the majority of Americans wanted to build a wall in order to secure our Southern Border is because we have a fear of people who look different from us.
If that were the case, American would have never become the "Great American Melting Pot", as the old cartoon from Scholastic Rock, that we used to watch as kids on Saturday Mornings on ABC, so aptly explained.
This country was built by LEGAL IMMIGRANTS of all Ethic Backgrounds, who assimilated into our culture and became AMERICANS, who were loyal to their now-found country, not the country that they left behind to come here for a better life.
For decades, Liberals/Democrats have purposefully assigned a "nobility" and "righteousness" to those who would enter this country illegally, to take American Jobs, while remaining loyal to their country of origin and to those who have been entering illegally for the purpose of destroying our nation through the mindless violence of Islamic Terrorism.
The overwhelming majority of Americans continue to state repeatedly that they want our borders to be secure.
President Reagan kept his word. Congress did not.
President Trump was well on his way to making that a reality.
The Democrats must not be allowed to reward those who enter our Sovereign Nation illegally.
Until He Comes,
KJ
DONATIONS ARE WELCOME AND APPRECIATED.
Make a one-time donation
Make a monthly donation
Make a yearly donation
Choose an amount
Or enter a custom amount
$
---
Your contribution is appreciated.
Your contribution is appreciated.
Your contribution is appreciated.
Donate
Donate monthly
Donate yearly
FoxNews.com reports that
The Black national anthem is reportedly set to return before NFL games for good starting in 2021.

"Lift Every Voice and Sing" was played before the start of Week 1 games during the 2020 NFL season, and Front Office Sports reported Wednesday the NFL plans to make it a "prominent part of big league events."

The NFL allowed social justice phrases like "End Racism" to be painted in the back of teams' end zones, and players were able to honor victims of systemic racism and police violence last year. Front Office Sports reported the NFL plans on ratcheting up the messaging for the 2021 season.

The national anthem is usually only heard before early-season games or some primetime games, the Super Bowl and the NFL Draft. "Lift Every Voice and Sing" was played before Super Bowl LV and the draft in April.

The league made the decision to play "Lift Every Voice and Sing" before Week 1 games last year in the midst of a summer of racial unrest across major metropolitan cities in the U.S.

NFL Commissioner Roger Goodell acknowledged the Black Lives Matter movement as well.

"We, at the National Football League, believe Black lives matter. I personally protest with you and want to be part of the much-needed change in this country," he said in last year's video.

"Without Black players, there would be no National Football League and the protests around the country are emblematic of the centuries of silence, inequality and oppression of Black players, coaches, fans and staff. We are listening, I am listening, and I will be reaching out to players who have raised their voices and others on how we can improve and go forward for a better and more united NFL family."
Without fans of every skin color and hue of the Human Race, the NFL will cease to exist.
Let's face it, this nation is experiencing a Political Division of a magnitude never before seen.
This ongoing Political Division came to fruition during the 8 long arduous years of the presidency of Barack Hussein Obama.
The NFLPA was not protesting during those years, however.
Just Colin Kaepernick was and he did it to impress his Muslim girlfriend, a poor choice which led to a lengthy unemployment, along with the cold hard fact that he is actually not that good of a quarterback.
No matter the feeble explanations which have been given by the NFL Players Association and the spineless Liberal Management of the NFL, the fact of the matter is that the election of Donald J. Trump and the poor advice of external Liberal Protest Groups, such as Black Lives Matter, caused these players, at least some of whom graduated college "Thank You, Laudy", instead of Cum Laude, to make the decision to kneel and disrespect the flag and the national anthem of a country which has made them multi-millionaires for playing a game which the majority of American kids growing up in the Heartland played out in our yards with our friends.
It is very apparent that before the beginning of the NFL's 2017-2018 Season, those same Liberals, whom the late, great Rush Limbaugh spoke about in 2014, had spoken to Commissioner Goodell concerning giving said "professionals" the freedom to exercise their "First Amendment Rights" during the course of Game Day Activities.
For some time now, it has been quite apparent to anyone with a lick of common sense that this organized protest by the NFL Players has NEVER been about  "Police Brutality" against black Americans.
Those who have influenced these players to kneel have played these poor saps for suckers, or, as Marxists (like BLM) have ALWAYS called them, "useful idiots"..
I truly believe that.
If you don't believe that to be the case, go back and read all of the articles, written by Liberal writers bemoaning the "violent NFL" and the subsequent articles written about the "Concussion Scandal" in the league.
Heck, go rent Will Smith's bomb of a movie about the "problem", titled simply "Concussion".
Liberals have always turned up their noses at the NFL AND their fans.
What better way to kill two birds with one stone than to convince the players that it is cool to protest on "company time" by indoctrinating them into Marxism through insulting our municipal police forces and the symbols of our country at the same time?
And, to allow a separate "National Anthem", based on race, to be played at the games?
Who in their right mind would believe that would be accepted by average Americans?
Probably the same simpletons who believe that Joe Biden is in charge of his Presidential Administration.
Buh Bye, NFL
You have turned America's Pastime into Political Theater.
And, Americans will turn you off.
GO WOKE. GO BROKE..
Until He Comes,
KJ
DONATIONS ARE WELCOME AND APPRECIATED.
Make a one-time donation
Make a monthly donation
Make a yearly donation
Choose an amount
Or enter a custom amount
$
---
Your contribution is appreciated.
Your contribution is appreciated.
Your contribution is appreciated.
Donate
Donate monthly
Donate yearly
"Let me just try to give you sort of the intuitive one here on the stimulus funds. If you have a two-person economy – let's imagine we have two farms, and that's the whole world, just two farms. If one of those farmers gets unemployment benefits, who do you think pays for him? Am I going way over your heads today?" – Arthur Laffer
Newsmax.com reports that
An estimated 1.84 million Americans turned down work to stay on the Biden administration's jobless bonus payroll, according to Morning Consult's latest poll.

About one-third of unemployment benefit recipients have turned down job offers during the pandemic, including 45% of those who cited the unemployment benefits as a major factor in turning down the job and 13% who said unemployment benefits were the direct reason they turned down the job.

President Joe Biden's American Rescue Plan, signed into law in March, delivered a $300 weekly bonus for Americans who remained unemployed, on top of regular unemployment benefits. Republicans argued that meant many jobless Americans would be paid more not to work than to reenter the labor force.

The 1.84 million estimate comes from 13% of those directly turning down work due to unemployment benefits, among the roughly 14.1 million collecting in mid-June when the poll was taken.

"Looking ahead, 1.84 million also provides a reasonable upper bound estimate of the number of jobs likely to be filled through the end of the year as a result of the expiration of federal unemployment benefits over the summer," Morning Consult chief economist John Leer wrote.

Also, Republicans have a case in their criticism of the extended benefits, according to the Washington Examiner.

The national average of statewide unemployment payers was $387, so the average jobless American collecting the $300 bonus was netting $687 a week, which would equate to $17.17 hourly wage to remain out of work. That is more than double the current federal minimum wage and even higher than progressive Democrats' plan to impose a $15 minimum wage nationwide.

The governors of 26 states nationwide have opted out of the Biden bonus early, shortening the duration from 12 weeks to five and excluding gig workers and independent contractors, according to Morning Consult.

The ending of the Biden bonus is a motivator for the unemployed to get back to work sooner, though, according to the poll.

Not only do 35% of all unemployment recipients feel a lot of pressure to find work, those who know their bonus is expiring soon are more likely to be feeling the pressure to find work. The difference is 20 percentage points as 45% whose benefits expired with a month feel pressure to find work, while just 25% over three months into the future said they feel pressure to get back to work, the poll found.

Morning Consult surveyed 5,000 U.S. adults June 22-25, including 463 receiving unemployment benefits at the time of the poll. The results have a margin of error of plus or minus 5 percentage points.
From my "castle" on  a hill here in Northwest Mississippi, I can tell you that , despite Biden's claims to the contrary, the giving away of Taypayers' money to those who continued for months to refuse to go back to work, did indeed make a difference in America's economy…and their actions affected those of us who remained at work for the last 20 months and those whom we worked for.
I live in a town just across the state line from Memphis, Tennessee, my hometown.
There is a state highway, basically a four-lane road, connecting four such towns, complete with grocery stores, banks, movie theaters, restaurants, fast food places, gas stations, and retail stores such as Walmart, Best Buy, and Hobby Lobby, often enclosed in outdoor shopping malls.
For months upon end, inhabitants of Northwest Mississippi seeking to eat and/or shop have found themselves basically pushed out of the way by Memphians who came down to take advantage of our lower tax rate (7%) and to spend the "free" money that Uncle Joe gave them.
For example, recently, on my day off I ordered some Popeye's Fried Chicken using their app for an early dinner for my wife and I so that she would not have to cook when she got home from work.
I ordered it around 3:30 p.m. I drove over there and, after waiting in the car line for 30 minutes, I finally asked about my order in the speaker, only to be told that they were out of food and would be shutting down for the day.
It was only 4:00 p.m!!!
Needless to say , I got the money put back on my credit card.
Mississippi ended the Enhanced Unemployment around 1 month ago. Tennessee ended it Saturday, July 3rd.
Coming home from work last night, the lines at the fast food restaurants seemed shorter., so maybe people are realizing that they need to go find a job.
I hope so.
Those who have worked so hard all these months in understaffed businesses need help.
And, we would like to be able to actually get something to eat at a fast food restaurant, too.
I'm just sayin'.
Until He Comes,
KJ
DONATIONS ARE WELCOME AND APPRECIATED.
Make a one-time donation
Make a monthly donation
Make a yearly donation
Choose an amount
Or enter a custom amount
$
---
Your contribution is appreciated.
Your contribution is appreciated.
Your contribution is appreciated.
Donate
Donate monthly
Donate yearly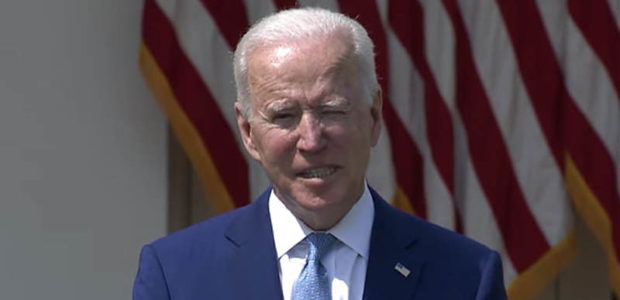 FoxNews.com reports that
"The Five" host Greg Gutfeld blasted President Joe Biden as a "pathological, shameless liar" after the commander-in-chief injected race into a Philadelphia speech about election laws as Texas state Democratic lawmakers flew to Washington, D.C. to prevent that state's legislature from having a quorum to approve new reforms.

Speaking in Old City, Biden claimed proponents of election security measures are engaging in a "21st century Jim Crow assault."

"It's unrelenting. It's unrelenting. And we are going to challenge it vigorously," he said. "Are you on the side of truth or lies?… Stand up, for God's sake, and help prevent this concerted effort to undermine our election.'

Biden went on to claim Republican-led election security reforms in states such as Texas, Georgia and Pennsylvania are akin to "facing the most significant test of our democracy since the Civil War."

On "The Five," Gutfeld said he was upset by Biden's race-infused rhetoric.

"He is a pathological, shameless liar," he said. "He ran on being a unifier, and all he does is bank on racial discontent. He is comparing this bill to the KKK [and] Jim Crow. All he does is foment racial conflict," Gutfeld said, additionally referencing the Texas election integrity bill that spurred the Democrats to leave the state. "

In his speech, Biden said 17 states have enacted 28 new laws to "make it harder for Americans to vote."

Gutfeld said Biden believes he is making a "moral case" for voting rights as if such rights don't exist.

"Every American has the right to vote, except the left's favored voting blocs, which are felons, illegal immigrants, and the dead," he said.

"[The] only one true possibility of a zombie uprising [is] because the corpses found out they voted for Joe Biden — The only Republicans they know of are evil."

The "Gutfeld!" host added that Biden joins a long line of Democratic figures who have made it customary to label their political opponents either racist or extremist:

He said President Reagan had been compared to Adolf Hitler while George W. Bush and the late Sen. John McCain, R-Ariz., were dubbed "warmongers."

Biden himself, the host noted, previously also claimed during a 2012 event near Martinsville, Va. that GOP nominee Mitt Romney would put the attendees of color "back in chains" with his fiscal policy platform.

"Then we are supposed to get the biggest, greatest existential risk in history out of Donald Trump, and now that's a lie because he's gone," Gutfeld continued. "And now this is a bigger existential risk than Donald Trump. 'This is the worst thing since the Civil War.' I'm beginning to think they are exaggerating."

Democrats in the Texas Legislature bolted Monday for Washington and said they were ready to remain there for weeks in a second revolt against a GOP overhaul of election laws, forcing a dramatic new showdown over voting rights in America.

Private planes carrying more than 50 Democrats left Austin for Dulles International Airport midafternoon, skipping town just days before the Texas House of Representatives was expected to give early approval to sweeping new voting restrictions in a special legislative session.

The cross-country exodus was the second time that Democratic lawmakers have staged a walkout on the voting overhaul, a measure of their fierce opposition to proposals they say will make it harder for young people, people of color, and people with disabilities to vote.

"Should we stick around? Hell no. For what?" Texas State Rep. Jarvis Johnson, D-Houston, said this week. "There's nothing being done in earnest."

"There's nothing be done with the utmost respect for one another," Johnson added.

In Pennsylvania, where Biden was speaking Tuesday, a group of Republicans led by State Sen. Pat Stefano, R-Somerset and Douglas Mastriano, R-Chambersburg, recently sponsored SB 402, which would repeal a 2019 provision that allows for no-excuse mail-in voting in the Keystone State.

The chairman of the state Senate committee that oversees elections, Sen. Dave Argall, R-Tamaqua, also responded to the president's visit in a statement, saying in part that "no matter what President Biden said today in Philadelphia, voter ID is not wrong, it's simple common sense. He further called his remarks "completely out of touch."
So, Joe Biden is calling Americans who want voter ID laws and fair, honest elections RACISTS.
Irony is embarrassed.
Back in February of 2007, Delaware Senator Joe Biden described his future boss, contender for the Democrat Presidential Nomination, Barack Hussein Obama, in the following manner…
I mean, you got the first mainstream African-American who is articulate and bright and clean and a nice-looking guy," Biden said. "I mean, that's a storybook, man.
Liberals' arrogance often lead them to reveal their own intolerance.
Sleepy Joe became chairman of the Senate Judiciary Committee in the late 1980s and as Delaware Senator supported a crime bill in 1994, saying at the time that his aim was to control violent crime.
Thomas Frank, a Liberal, wrote an op ed for The Guardian back on April 15, 2016, about the unexpected results of the 1994 Crime Bill. In the article he wrote that…
…what is most shocking in our current journo-historical understanding of the Clinton years is the idea that the mass imprisonment of people of color was an "unintended consequence" of the 1994 crime bill, to quote the New York Daily News's paraphrase of Hillary Clinton. This is flatly, glaringly false, as the final, ugly chapter of the crime bill story confirms.

Back in the early 1990s, and although they were chemically almost identical, crack and powder cocaine were regarded very differently by the law. The drug identified with black users (crack) was treated as though it were 100 times as villainous as the same amount of cocaine, a drug popular with affluent professionals. This "now-notorious 100-to-one" sentencing disparity, as the New York Times put it, had been enacted back in 1986, and the 1994 crime law instructed the US Sentencing Commission to study the subject and adjust federal sentencing guidelines as it saw fit.

The Sentencing Commission duly recommended that the 100-to-1 sentencing disparity be abolished, largely because (as their lengthy report on the subject put it) "The 100-to-1 crack cocaine to powder cocaine quantity ratio is a primary cause of the growing disparity between sentences for black and white federal defendants." By the time their report was released, however, Republicans had gained control of Congress, and they passed a bill explicitly overturning the decision of the Sentencing Commission. (Bernie Sanders, for the record, voted against that bill.)

The bill then went to President Clinton for approval. Shortly before it came to his desk he gave an inspiring speech deploring the mass incarceration of black Americans. "Blacks are right to think something is terribly wrong," he said on that occasion, "… when there are more African American men in our correction system than in our colleges; when almost one in three African American men, in their twenties, are either in jail, on parole, or otherwise under the supervision of the criminal system. Nearly one in three."

Two weeks after that speech, however, Clinton blandly affixed his signature to the bill retaining the 100-to-1 sentencing disparity, a disparity that had brought about the lopsided incarceration of black people. Clinton could have vetoed it, but he didn't. He signed it.

Today we are told that mass incarceration was an "unintended consequence" of Clinton's deeds.
Uh huh.
Liberal Democrats have taken the votes of Black Americans for granted for a long time now.
The Democrats, decades after the advent of LBJ's "Great Society", naturally assume that they are going to get the majority of black Americans' votes in every Presidential Election.
They not only expect it, they rely on it.
However, the problem the Biden and his handlers face is the fact that Trump made great inroads into securing some of that "expected" support from Black American Voters.
Candace Owens has done a great job of waking black Americans up to the reality of the Democrats' feigned "benevolence".
The problem that the "unintended consequences" of the 1994 Crime Bill and Biden's racist comment to the Radio personality, Charlemagne, poses for the Democrats is the fact that it shows the hypocrisy. is attempting to blame the amount of arrests made of black Americans on "Systematic Racism".
The Democrats are the ones who tore apart the Black Family United with the advent of their "Great Society" under President Lyndon Baines Johnson and the subsequent generations who either could not or did not wish to get off of the Government Dole. 
Unfortunately for Sleepy Joe and the Democrat Elite, Americans are very aware that they are not only supporting the racial unrest in our cities, their Vice-President Kamala Harris has bailed out rioters.
I thought Sleepy Joe was supposed to "unite" us..
Sheesh.
With the existence of "Uniters" like President "Sleepy Joe" Biden and his Vice-President, "Heels Up" Harris, America's "racial divide" has become another Grand Canyon..
Until He Comes,
KJ
DONATIONS ARE WELCOME AND APPRECIATED.
Make a one-time donation
Make a monthly donation
Make a yearly donation
Choose an amount
Or enter a custom amount
$
---
Your contribution is appreciated.
Your contribution is appreciated.
Your contribution is appreciated.
Donate
Donate monthly
Donate yearly