FoxNews.com reports that
Vice President Kamala Harris, as part of her visit to Guatemala, on Monday told potential migrants that they should not travel to the U.S. Mexico border — claiming that they would be turned back if they did.

"I want to emphasize that the goal of our work is to help Guatemalans find hope at home, at the same time I want to be clear to folks in this region who are thinking about making the dangerous trek to the United States-Mexico border — do not come, do not come," she said.

Harris made the remarks at a press conference alongside Guatemalan President Alejandro Giammattei as she visited the country in her first visit abroad since being appointed by President Biden to lead diplomatic efforts to the region to help solve the massive spike in migration to the border in recent months.

While Harris and the administration have emphasized "root causes" in Central America like poverty, climate and violence as the reason for the spike, Giammattei had also pointed to a change in message to migrants with the new administration.

"The message changed too: 'We're going to reunite families, we're going to reunite children,'" he told CBS News. "The very next day, the coyotes were here organizing groups of children to take them to the United States."

"We asked the United States government to send more of a clear message to prevent more people from leaving," he said.

Harris, on Monday, seemed to be attempting to make clear that message, and claimed that migrants would be turned back as she sought to present a tougher stance on illegal immigration.

"The United States will continue to enforce our laws and secure our border," she said. "There are legal methods by which migration can and should occur but we, as one of our priorities, will discourage illegal migration and I believe if you come to our border you will be turned back."

The Biden administration has rolled back a number of Trump-era policies which kept migrants out of the U.S., even as increasing numbers of migrants flooded to the border. Of those, the most significant was the Migrant Protection Protocols (MPP) — which kept migrants in Mexico as they awaited their hearings. The Biden administration has ended the program and has been processing migrants enrolled into the program into the U.S.

It has also ended a number of asylum cooperative agreements with countries like Guatemala which made migrants claim asylum in other countries first, and has been accused of encouraging migration by narrowing interior enforcement in the U.S., and pushing for a pathway to citizenship for illegal immigrants already in the U.S.

The administration has kept in place the Trump-era Title 42 public health order which allows migrants to be expelled quickly due to the COVID-19 pandemic, and officials said that out of the 178,000 migrants encountered at the border in April, 111,714 were expelled – mainly single adults.

However, the administration has not applied Title 42 to unaccompanied children, of which there were more than 13,000 that arrived at the border in April, and it is not returning migrant families with children under seven to Mexico due to the country's refusal to take them — meaning that significant numbers of families are not being turned back, and are being released into the U.S. interior.

Along with the tougher line of illegal immigration, Harris continued to emphasize the "root cause" explanation for the migrant surge, speaking of U.S. investment in agribusiness, affordable housing and Guatemalan entrepreneurs. The U.S. recently announced $310 million in aid to the region, as part of a $4 billion planned investment in Central America.

She announced a young women's empowerment initiative to increase education and employment among women and girls, as task forces to combat human trafficking, drug smuggling and corruption. She said she had had "frank' discussions with the Guatemalans on the question of fighting corruption.
Sure.
A Vice-President "elected" in a Presidential Election in which states are lining up to be audited because of possible Electoral Fraud is lecturing the Guatemalans on CORRUPTION.
Irony is embarrassed.
The Biden-Harris Administration's message to Guatemalans to "stay home" comes a little late, don't you think?
I have not heard a more half-hearted plea since Bre'er Rabbit begged not to be thrown into the briar patch.
Y'know, boys and girls, I have been saying for a long time now, that if the Democrats had their way regarding illegal immigration, America would turn into a Third World "Democratic Socialist" Paradise, like Venezuela and Cuba.
Even the Dems, like Rep. Cuellar, are concerned that Biden and his Handers do not have a clue as to what they are doing in regards to the way that they have thrown open our Southern Border to bring in unaccompanied minors, housing them in the cages which Former President Barack Hussein Obama (mm mmm mmmm) built.
It is known that a percentage of these illegal minors are COVID-19 positive.
If they are being held with the other illegals, then Biden and his Administration are "recharging" the pandemic.
And, they have been taking these "minors" to places around the country, like Obama did, and then these "children" are released to "relatives", making it very possible that America could be headed for another lockdown…which would fit in perfectly in the plans of the Far Left Democrats.
Just as they have fenced in OUR nation's capitol in order to intimidate and control us, they would have no hesitation to attempt to force another nationwide "Pandemic Lockdown" on American citizens, again.
In countries like Greece, which have allowed the "Democratic Socialists" to take control of their government, the same "game plan" was followed.
Open up the borders, the overwhelm "the system" while raise taxes until businesses go under, placing 40% of the country's population "working for" the government or on government assistance".
Think about this:
Just as the Millionaire Democrats on Capital Hill, like Pelosi, live in gated communities to separate themselves from the violence and poverty which they are responsible for, so are they now working in a "gated community" designed to keep  "Deplorables" (i.e. average American citizens) out.
And, if you believe that these desperate people in these poor corrupt countries in the Golden Triangle are going to stop trying to break into our Sovereign Nation just because Kamala Harris insincerely asked them not to, I have two bridges (one working) over the Mississippi River at Memphis to sell you..
Until He Comes,
KJ
DONATIONS ARE WELCOME AND APPRECIATED.
Make a one-time donation
Make a monthly donation
Make a yearly donation
Choose an amount
Or enter a custom amount
$
---
Your contribution is appreciated.
Your contribution is appreciated.
Your contribution is appreciated.
Donate
Donate monthly
Donate yearly
Critical race theory is an academic discipline, formulated in the 1990s, built on the intellectual framework of identity-based Marxism. Relegated for many years to universities and obscure academic journals, over the past decade it has increasingly become the default ideology in our public institutions. It has been injected into government agencies, public school systems, teacher training programs, and corporate human resources departments in the form of diversity training programs, human resources modules, public policy frameworks, and school curricula. – Christopher Rufo, "Critical Race Theory: What It Is and How to Fight It", imprimus.hillsdale.edu
FoxNews.com reports that
National Public Radio (NPR) took a swing at Republicans who are denouncing and trying to stop the implementation of critical race theory in U.S. schools, asserting that their opposition is a political motive for next year's midterm elections.

The report's framing sparked outrage on social media, as figures like Republican commentator Matt Whitlock criticized NPR's one-sided take.

"Interesting framing — no examples of CRT being implemented in a number of places, and no commentary about 1619 being torn apart by historians," he tweeted. "It suggests R's just picked this fight out of the sky because Trump, which is not true for anyone following."

Psychology professor Geoffrey Miller responded, calling critical race theory a "toxic cult that promotes racial hatred & race war."

"@NPR used to be against racial hatred & race wars," he added. "What changed?"

Gold Institute for International Strategy senior fellow Matthew Brodsky asserted that critical race theory is not a truly academic approach as described by NPR.

"It's not 'an academic approach.' It's a revisionist history viewed through a selective prism that colors everything. When you wear red lenses in your sunglasses, everything looks red. When you view everything through critical race lenses, everyone is a racist," he tweeted.

Christopher Rufo, senior fellow of the Manhattan Institute and notable critic of critical race theory, called NPR "National Propaganda Radio."

Rufo has been a leading activist in helping state and local governments in banning CRT curriculum from being taught in schools and highlighting CRT employee training in businesses and corporations. Earlier this year, Rufo formed a network of private attorneys and conservative organizations to combat critical race theory.

NPR promoted the importance of critical race theory while blaming former President Donald Trump for causing partisanship on the issue after his signing of an executive order banning certain racial sensitivity training for federal contractors.

"Since then, the issue has taken hold as a rallying cry among some Republican lawmakers who argue the approach unfairly forces students to consider race and racism," the report reads.
Christopher Rufo, in the article from which I quoted at the beginning of today's post, explains that
There are a series of euphemisms deployed by its supporters to describe critical race theory, including "equity," "social justice," "diversity and inclusion," and "culturally responsive teaching." Critical race theorists, masters of language construction, realize that "neo-Marxism" would be a hard sell. Equity, on the other hand, sounds non-threatening and is easily confused with the American principle of equality. But the distinction is vast and important. Indeed, equality—the principle proclaimed in the Declaration of Independence, defended in the Civil War, and codified into law with the 14th and 15th Amendments, the Civil Rights Act of 1964, and the Voting Rights Act of 1965—is explicitly rejected by critical race theorists. To them, equality represents "mere nondiscrimination" and provides "camouflage" for white supremacy, patriarchy, and oppression.

In contrast to equality, equity as defined and promoted by critical race theorists is little more than reformulated Marxism.
The Democrats are attempting to create a generation of Marxist-loving, anti-American, Useful Idiot "New Bolsheviks" through the use of Racial Division and Revisionist History.
No country is perfect because countries are governed by human beings, which are fallen creatures.
However, the United States of America remains the country that everyone wants to come to, legally or otherwise.
Why?
Because for almost 250 years, this "Shining City Upon a Hill" has had a reputation as a land in which everyone could make their dreams a reality…if they were willing to work to achieve it.
Our economic system of capitalism has been the cause of millions of Americans achieving their dreams and providing for their families.
America is a country chiseled out of the wilderness by rugged individualists who wanted not only the freedom to prosper…but the freedom to worship as they pleased also.
America is a "Sweet Land of Liberty".
And, Liberty is Freedom with responsibility.
The responsibility to provide for yourself and your family…and to protect our precious liberty if our country goes to war.
The Far Left Democrats could care less about the sacrifices made and the lives lost to secure the Sovereign Nation which is today's America.
Why?
Because they themselves are a bunch of "useful idiots" who want desperately to "share the wealth" and insult patriotism by calling it "nationalism" and "bigoted White Supremacy" in order to "radically change" our proven economic system of capitalism into "Democratic Socialism", a form of Marxism, a political theory which has never worked in any country in which it has been tried. 
For several generations, Democrats have told the impoverished that "Uncle Sugar" will take care of their every need as long as they keep voting them into public office.
However, these same impoverished Americans found out during the Presidency of Donald J. Trump the rewards of a good job and hard work.
Boys and girls, the reason that the Biden Administration and the rest of the Far Left Democrats do not want Americans to be proud of America and our actual shared history that it reminds Americans of every good and just quality that this nation was founded upon and whichhas kept us strong for almost 250 years.
It fills us with pride and gratitude that we live in the Greatest Country on the Face of the Earth.
Everything that the Far Left Democrats despise.
The Leader of the Russian Revolution, Vladimir Lenin, who brought Marxism to Russia, wrote
"Give me just one generation of youth, and I'll transform the whole world."
However, Lady Margaret Thatcher, a close friend of President Ronald Reagan, laid that falsehood to rest with the following quote…
"The problem with socialism is that you eventually run out of other people's money."
And, you know what?
I would much rather live in "the Land of the Free and the Home of the Brave" than under a failed political system where you can not even buy a decent roll of toilet paper.
Until He Comes,
KJ
DONATIONS ARE WELCOME AND APPRECIATED.
Make a one-time donation
Make a monthly donation
Make a yearly donation
Choose an amount
Or enter a custom amount
$
---
Your contribution is appreciated.
Your contribution is appreciated.
Your contribution is appreciated.
Donate
Donate monthly
Donate yearly
D-Day, also called the Battle of Normandy, was fought on June 6, 1944, between the Allied nations and German forces occupying Western Europe. To this day, 77 years later, it  still remains the largest seaborne invasion in history. Almost three million troops crossed the English Channel from England to Normandy to be used as human cannon fodder in an invasion of occupied France.
The twelve nations who participated in the invasion included Australia, Canada, Belgium, France, Czechoslovakia, Greece, New Zealand, the Netherlands, Norway, Poland, the United Kingdom, and, of course. the United States of America.
The codename for the invasion was Operation Overlord. The assault phase was known as Operation Neptune. Operation Neptune began on D-Day (June 6, 1944) and ended on June 30. Operation Overlord also began on D-Day, and ended with the crossing of the River Seine on August 19.
General Dwight D. Eisenhower faced a daunting task in the planning of such a massive invasion. He would have to move his forces 100 miles across the English Channel and storm a heavily fortified coastline. His enemy was the weapon-and-tank-superior German army commanded by the "Desert Fox" Erwin Rommel, one of the most brilliant generals of the war.
Less than 15 percent of the young men called upon to sacrifice their lives for our freedom in the invasion had ever seen combat.
A crossing of the unpredictable and dangerous English Channel had not been attempted since 1688. Once the invading forces set out, there was no turning back. The channel was soon hosting a 5,000-vessel armada that stretched as far as the eye could see, transporting both men and vehicles across the channel to the French beaches. Not to mention, the Allies also launched 4,000 smaller landing craft and more than 11,000 aircraft.
By the time the sun set on June 6, more than 9,000 Allied soldiers were dead or wounded, and more than 100,000 had made it ashore, capturing French coastal villages. Within weeks, supplies were being unloaded at Utah and Omaha beachheads at the rate of more than 20,000 tons per day. By June 11, more than 326,000 troops, 55,000 vehicles, and 105,000 tons of supplies had been landed on the beaches. By June 30, the Allies had established a firm foothold in Normandy. Allied forces crossed the River Seine on August 19.
There has never been an exact count of the sacrifices made on D-Day. Although, it is estimated that more than 425,000 Allied and German troops were killed, wounded, or went missing during the battle. 209,000 of those who lost their lives were Allied forces. In addition to almost 200,000 German troops killed or wounded, the Allies also captured 200,000 soldiers. Captured Germans were sent to American prisoner-of-war camps at the rate of 30,000 per month, from D-Day until Christmas 1944. Between 15,000 and 20,000 French civilians were killed during the battle.
Basically, the invasion of Normandy was a success, due to sheer force of numbers. By July 1944, some one million Allied troops, mostly American, British, and Canadian, were entrenched in Normandy. During the great invasion, the Allies assembled nearly three million men and stored 16 million tons of arms, munitions, and supplies in Britain.
Among the young men who stepped off those boats, in a hail of gunfire, was a fellow named Edward, whom everyone called Ned, from the small town of Helena, Arkansas.  Already in his young life, Ned had been forced to drop out of school in the sixth grade, in order to work at the local movie theatre to help support his mother, brother, and sister, faced with the ravages of the Great Depression.
He was a gentle man who loved to laugh and sing, having recorded several 78 rpm records in the do-it-yourself booths of the day. And now, he found himself, a Master Sergeant in an Army Engineering Unit, stepping off a boat into the unknown, watching his comrades being mercilessly gunned down around him.
Ned, along with the rest of his unit who survived the initial assault, would go on to assist in the cleaning out of the Concentration Camps, bearing witness to man's inhumanity to man.
The horrors he saw had a profound effect on Ned.  One which he would keep to himself for the remainder of his life.  While his children knew that he served with an Engineering Unit in World War II, they did not know the full extent of his service, until they found his medal, honoring his participation in the Invasion of Normandy, while going through his belongings, after he passed away on December 29, 1997.
The second soldier in this tale was born 41 years after D-Day, in Sun Valley Idaho, to a pair of "Devout Calvinists", who homeschooled him and his sister, while their parents both worked at jobs, which according to a famous national magazine in 2012, were "nearly off the grid".
At 16, tired of being cooped up at home, the young man went in search of fencing lessons, and wound up being a ballet "lifter", moving in with the girl he was "lifting".
At 20, he left for France, to learn to speak French and join the Foreign legion. Failing miserably at that, he returned home, where he worked for a few years at a local coffee shop.
He joined the Army in 2008, and arrived in Eastern Afghanistan in 2009.
According to his parents, and the "national magazine", this young man had "a heart for the Afghan people", which led him to become disgusted with the actions of our nation, whom he was supposed to be fighting for.
The young man would detail his disillusionment with the Afghanistan campaign in an email to his parents three days before he went missing.
"I am sorry for everything here," he wrote. "These people need help, yet what they get is the most conceited country in the world telling them that they are nothing and that they are stupid."
Bergdahl also complained about fellow soldiers. The battalion commander was a "conceited old fool," he said, and the only "decent" sergeants, planning to leave the platoon "as soon as they can," told the privates — Bergdahl then among them — "to do the same."
"I am ashamed to be an American. And the title of US soldier is just the lie of fools," he concluded. "I am sorry for everything. The horror that is America is disgusting."
His father responded in an email: "OBEY YOUR CONSCIENCE!"
This young man would then desert his post, for the second time, concluding a pair of calculated moves, proven by the fact that he sent his laptop and his personal journal, back to his mother and father.
On his second "walkabout", he was taken in by local Afghan Muslim Terrorists, with whom he lived for 5 years, converting to their religion and declaring himself a "WARRIOR FOR ISLAM" in 2010.
Some Liberal supporters say his purpose in leaving the base was an attempt to "broker a peace deal". Others, within his own unit, believe that he wanted to "aid and abed the enemy".
As far as his "conversion" goes, his defenders are claiming that he did it to insure his own survival, unlike former POWs, who chose death to renouncing God and Country.
The young man was flown back to the country that he betrayed, his freedom having been secured through the release of 5 of the enemy: high-ranking Muslim Terrorists, who had sworn an oath to "destroy the Great Satan" (That's US.)
Of course, that young man was Bowe Bergdahl.
The man responsible for this inequitable deal is the unapologetic Former (Thank God) President of the United States of America Barack Hussein Obama, the product of an Islamic Private School for the wealthy in Jakarta, Indonesia.
On October 16, 2017, Bowe Bergdahl plead guilty to desertion and misbehavior before the enemy. On November 3, 2017, he received a dishonorable discharge from the US Army, avoiding prison time. The military judge also ruled that Bergdahl's rank be reduced from sergeant to private and he was also required to pay a $1,000 fine from his salary for the next 10 months.
According to the New York Times, those five senior Taliban officials who were held for some 13 years at Guantanamo and exchanged for Bergdahl, held prominent positions across from U.S diplomats and generals led by America's senior envoy Zalmay Khalilzad in Doha, Qatar during some Afghanistan Peace Talks two years ago.
I kid you not.
I made the comparison between these two soldiers to make a point about the sacrifices made by those thousands of brave Americans 77 years ago today as compared to the selfishness and cowardice shown by Bowe Bergdahl, who was and still is treated as a hero by the Far Left Democratic Party.
If this selfish generation had existed 77 years ago, I have no doubt whatsoever that America would not exist as the Bastion of Freedom which we know it as today.
Why do I feel so strongly about this? And, how did I know so much about Ned?
Ned was my Daddy.  You see, my love of Christ and, of this country, comes from my Earthly father, 40 years my senior.
I was raised by members of the Greatest Generation.
It is today that we pause to remember their sacrifices at home and abroad.
May this day also serve as a reminder of the sacrifices made by our Brightest and Best and their families, yesterday, today, and tomorrow.
May God bless them all and may He hold them in the hollow of His hand.
God Bless America.
Until He Comes,
KJ
DONATIONS ARE WELCOME AND APPRECIATED.
Make a one-time donation
Make a monthly donation
Make a yearly donation
Choose an amount
Or enter a custom amount
$
---
Your contribution is appreciated.
Your contribution is appreciated.
Your contribution is appreciated.
Donate
Donate monthly
Donate yearly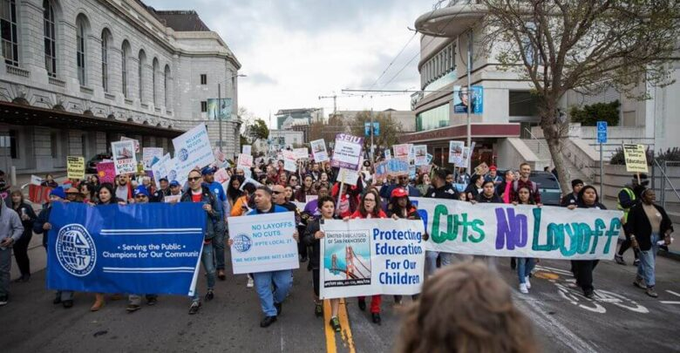 FoxNews.com reports that
San Francisco's teachers union is drawing criticism from Jewish families after voting to endorse the anti-Israel Boycott, Divestment and Sanctions (BDS) movement and releasing a statement accusing America's Middle Eastern ally of committing "apartheid and war crimes".

The United Educators of San Francisco's endorsement of the movement in mid-May during the recent fighting between Israel and Hamas is reportedly the first time a public school teachers union has backed that cause, according to the San Francisco Chronicle. The BDS movement seeks to pressure Israel to change its policies toward Palestinians.

"As public school educators in the United States of America, we have a special responsibility to stand in solidarity with the Palestinian people because of the 3.8 billion dollars annually that the U.S. government gives to Israel, thus directly using our tax dollars to fund apartheid and war crimes," the union said in a resolution that it passed. "Therefore, be it resolved, that United Educators of San Francisco (UESF) express our solidarity with the Palestinian people and call for Israel to end bombardment of Gaza and stop displacement at Sheikh Jarrah."

The union also called on President Biden to stop sending aid to Israel and that it "endorse[s] the international campaign for boycotts, divestment, and sanctions against apartheid in Israel."

However, parents of students in the district are wondering why the 6,000-member union is getting involved in international politics during the coronavirus pandemic. Public schools in San Francisco only started welcoming children back to classrooms in April.

"The teachers union has failed in its most basic mission this year, opening schools and educating San Francisco's children," Todd David, a Jewish parent, told the San Francisco Chronicle. "Instead of focusing on that, they are weighing in on an international political land dispute that experts have been unable to resolve for 70 years."

Parent Arik Luck – a member of the local Congregation Emanu-El — also told the newspaper that he feels the union has betrayed him as their statement "singled out Israel" and "did not even mention Hamas, an organization that is classified by our government as a terrorist group with a well-documented history of executing their political rivals and homosexuals."

"I also question what my teachers union is doing wading into these waters at the expense of my kids," he added. "There are many Jewish people in this city, public school parents who feel the way I do, and a statement like this causes us to worry for the safety of our children in school."

The San Francisco Unified School District has not yet responded to a request for comment Friday from Fox News.

Union spokesperson Amanda Hart told the San Francisco Chronicle this week that "we stand by our call for the boycott, divestment and sanctions of Israel and we unequivocally stand against antisemitism in all its forms."
Really?
Per their website BDSMovement.net,
The Boycott, Divestment, Sanctions (BDS) movement works to end international support for Israel's oppression of Palestinians and pressure Israel to comply with international law.
"BDS" stands for boycott, divest, and sanction.
According to MyJewishLearning.com,
The BDS effort officially traces its origins to a 2005 call by a coalition of 170 Palestinian organizations, though some observers see its roots in the Arab League boycott of Israel launched in the 1940s. The contemporary BDS movement began to take shape during the Second Intifada, which began in 2000. Escalating violence and various major Israeli military operations in the West Bank led to a number of boycott calls beginning in 2002. The construction of Israel's West Bank barrier, which the Palestinians largely opposed, alleging that it was a land grab rather than an effort to reduce terrorism, gave further momentum to these efforts. The 2005 BDS declaration opens by noting that Israel's construction of the barrier was continuing despite an International Court of Justice ruling a year earlier that it was illegal.

Do any Jewish organizations support BDS?

Very few, and none of the major ones. The best-known is Jewish Voice for Peace, a San Francisco-based group that does not endorse a two-state solution or the principles of Zionism and which the Anti-Defamation League lists among the top anti-Israel groups in the United States. Among mainstream Jewish organizations, there is wall-to-wall rejection of BDS. The Jewish campus group Hillel officially bars pro-BDS groups from speaking under its auspices, though this policy has been challenged at a number of schools. J Street, the liberal lobbying group, rejects BDS because the BDS movement does not support a two-state solution or recognize the Jewish right to a state. J Street does support boycotts that are targeted at Jewish settlements in Israeli-occupied territory, however.
So, the largest Jewish Group who supports the BDS Movement happens to be in San Francisco.
I'm shocked. Shocked, I tell you.
Boys and girls, are any of you actually surprised that a Liberal Teachers' Union in Ultra-Liberal San Francisco are taking the side of a "movement" which The Squad champions because it speaks for the wishes of a bunch of Islamic barbarians (yeah, I said it) who want to take land away from Israel for a "country" with never existed?
The term "Palestine" (Falastin in Arabic) was an ancient name for the general geographic region that is more or less today's Israel. The name derives from the Philistines, who originated from the eastern Mediterranean, and invaded the region in the 11th and 12th centuries B.C. The Philistines were apparently either from Greece, Crete, the Aegean Islands, and/or Ionia. They seem to be related to the Bronze Age Greeks, and they spoke a language akin to Mycenaean Greek. Their descendents, still living on the shores of the Mediterranean, greeted Roman invaders a thousand years later. The Romans corrupted the name to "Palestina," and the area under the sovereignty of their city-states became known as "Philistia." Six-hundred years later, the Arab invaders called the region "Falastin."

Throughout subsequent history, the name remained only a vague geographical entity. There was never a nation of "Palestine," never a people known as the "Palestinians," nor any notion of "historic Palestine." The region never enjoyed any sovereign autonomy, remaining instead under successive foreign sovereign domains from the Umayyads and Abbasids to the Fatimids, Ottomans, and British.
Here's a suggestion:
Why don't the United Educators of San Francisco shut up, open back up their schools and classrooms, and teach?
Wouldn't that be refreshing?
Or, would that be too much like work for them?
Until He Comes,
KJ
DONATIONS ARE WELCOME AND APPRECIATED.
Make a one-time donation
Make a monthly donation
Make a yearly donation
Choose an amount
Or enter a custom amount
$
---
Your contribution is appreciated.
Your contribution is appreciated.
Your contribution is appreciated.
Donate
Donate monthly
Donate yearly
FoxNews.com reports that
State Department leaders were warned not to pursue an investigation into the origins of COVID-19, former department officials confirmed to Fox News on Thursday, amid fears that it would bring attention to U.S. funding of research at the Wuhan Institute where the virus may have escaped.

Vanity Fair reported that officials calling for transparency from the Chinese government were told not to explore the Wuhan Institute of Virology's "gain of function" research, because it would bring what the outlet described as "unwelcome" attention of U.S. government funding into that research.

The outlet reported that Thomas DiNanno, a former acting assistant secretary of the State Department's Bureau of Arms Control, Verification, and Compliance, wrote in a January memo that staff from two bureaus "warned" leaders within his office not to probe the origins of the virus because it risked opening "a can of worms."

Multiple former State Department officials told Fox News that the reported memo accurately describes what was happening at State at the time and that there was an effort among some officials at the department to oppose an extensive investigation into a possible lab leak.

However, a State Department spokesperson told Fox News on Thursday that "no-one prevented the disclosure of accurate, properly contextualized information" and that "no effort was made at any time to suppress or withhold information from senior policymakers or the public."

The claims come amid fresh scrutiny over the theory that the COVID-19 pandemic could have escaped from the Wuhan lab, where viruses were being experimented on and where officials have said military research was being conducted alongside civilian research.

The theory was promulgated by a number of Trump officials — including President Trump himself — but was dismissed by many in the media and scientific community, where it was often declared to be debunked or a conspiracy theory.

But with Chinese stonewalling of a World Health Organization investigation into the origins of the virus, and reporting that multiple employees of the lab became sick in November 2019 that required hospitalization, the theory has reemerged.

The lengthy Vanity Fair piece delves into the back-and-forth at the State Department over how intensely to investigate the Chinese origins of the virus. The outlet reports that Chris Ford, then the acting undersecretary for Arms Control and International Security, was disinterested and even hostile to an investigation.

In a memo in January 2021, Ford pushed back against a panel of experts' initial investigation, which he believed contained weak evidence, and warned "against suggesting that there is anything inherently suspicious—and suggestive of biological warfare activity—about People's Liberation Army (PLA) involvement at WIV on classified projects.

"It would be difficult to say that military involvement in classified virus research is intrinsically problematic, since the U.S. Army has been deeply involved in virus research in the United States for many years," he said, according to Vanity Fair.

It was with that that DiNanno pushed back with a memo of his own, reportedly accusing Ford of misrepresenting the panel's finding — while objecting to "apprehension and contempt" from staff as well as warnings not to investigate the origins out of fear of opening a "can of worms."

The State Department spokesperson told Fox News that "internal disagreements were about the quality of analysis and the importance of not overstating, or bending, evidence to fit preconceived narratives."
Per WSJ.com, a number of Senators, including Ron Johnson and Dr. Rand Paul, recently sent  a letter to Dr. Francis Collins, the head of the National Institute of Health. Here is an excerpt…
One of the notable NIH-funded studies that was already underway prior to the funding moratorium (in 2014) was Dr. Ralph Baric's work on a "lab-made coronavirus related to SARS." In this 2015 study, researchers reportedly created a chimeric virus "related to SARS [that] can infect human cells." Dr. Zhengli-Li Shi, "China's leading expert on bat viruses" from the Wuhan Institute of Virology, contributed to this research. An article noted that NIH allowed this study "to proceed while it was under review by the agency." Baric reportedly added that "NIH eventually concluded that the work was not so risky as to fall under the [gain of function] moratorium." It is unclear why NIH apparently concluded that this study was not "risky" enough to fall under the moratorium.

In addition to Baric's apparent gain of function research in 2015, NIH and the National Institute of Allergy and Infectious Diseases (NIAID) also reportedly funded similar coronavirus research conducted by EcoHealth Alliance, which subcontracted with Shi. Because of Shi's research and her connection to the Wuhan lab, Dr. Richard Ebright, a molecular biologist and infectious disease expert, stated, "[i]t is clear that the Wuhan Institute of Virology was systematically constructing novel chimeric coronaviruses and was assessing their ability to infect human cells and human-ACE2-expressing mice." In fact, Dr. Peter Dasazk, the president of EcoHealth Alliance, spoke about changing coronaviruses in a lab. In an interview Dasazk stated, "Well I think . . . coronaviruses — you can manipulate them in the lab pretty easily."

In December 2017, NIH lifted the funding pause and established a multi-disciplinary review process, known as the P3CO Framework, to ensure that federally funded gain of function experiments are "conducted responsibly." It is unclear whether EcoHealth Alliance or any of its subcontractors was granted an exception to the moratorium or whether NIH reviewed those studies in connection with the P3CO Framework.
The funding of research into bat viruses done by the Wuhan Institute, under the funding by the EcoHealth Alliance, lasted for over a decade.
Surprise! Surprise! Both the CDC and the NIH are partners of the Ecohealth Alliance.
Just as we found out during the whole charade known as "Russiagate", there are Professional Bureaucrats who operate behind the scenes of our Federal Government, imperious and seemingly above the law.
Like a spider's web of intrigue, they move in the shadows, spending our tax money on projects away from the eye of the public.
Projects like the Bat Virus Research done by the Wuhan Institute of Virology.
These projects remain unknown by the general public, until something unforeseen happens, like the "accident" at the Wuhan Institute which released COVID-19 on an unsuspecting world.
Former President Trump tried to clean out this rats' nest of Professional Bureaucrats, naming them the Washington Swamp.
Unfortunately, he did not succeed and they eventually were able to arrange for a demented old man to be appointed the 46ths President of the United States of America.
The entire COVID-19 Catastrophe and Washington's behind-the-scenes machinations during it, which resulted in a nationwide lockdown and a "radical change to our American way of life, has been all about controlling average Americans to get them used to having their individual freedom taken away from them.
These revelations concerning the Washington Swamp's involvement with the funding of COVID-19 is just the beginning of horrifying things which were done in the darkness by bureaucrats which are about to find themselves illuminated by the light of truth.
Until He Comes,
KJ
DONATIONS ARE WELCOME AND APPRECIATED.
Make a one-time donation
Make a monthly donation
Make a yearly donation
Choose an amount
Or enter a custom amount
$
---
Your contribution is appreciated.
Your contribution is appreciated.
Your contribution is appreciated.
Donate
Donate monthly
Donate yearly
FoxNews.com reports that
Sen. Rand Paul, R-Ky., shared two words in response to news of unearthed emails from Dr. Anthony Fauci.

Thousands of emails obtained by Buzzfeed News and hundreds more reviewed by The Washington Post through Freedom of Information Act (FOIA) requests show Fauci's responses to both critiques and high praise as he worked to communicate the dangers of COVID-19 to the U.S. as director of the National Institute of Allergy and Infectious Diseases.

"Told you," Paul wrote in a Tuesday tweet with the hashtag #firefauci.

He added in another tweet: "Can't wait to see the media try to spin the Fauci FOIA emails."

Paul has repeatedly criticized Fauci on social media and in interviews for his comments on herd immunity, wearing masks even after getting the COVID-19 vaccine and his dismissal of a theory suggesting COVID-19 may have originated from the Wuhan Institute of Virology in China that has gained more credibility among members of the media in recent weeks despite early snubbing of the idea.

Paul has also condemned Fauci's claim made during a May 25 congressional hearing that a $600,000 federal grant from NIAID did not directly fund the lab's gain of function research, which is research that involves modifying a virus to make it more infectious among humans.

The grant went to a group called EcoHealth Alliance, which then paid the Wuhan Institute of Virology to study the risk that bat coronaviruses could infect humans.

Francis Collins, the director of NIH, said earlier in the hearing that the taxpayer-funded grant to EcoHealth and the Wuhan Institute of Virology was not approved to conduct gain of function research.

Some Republicans, including Paul, maintain that NIAID money under Fauci's purview did in fact go to the Wuhan Institute of Virology to conduct gain of function research, which raises ethical, safety and security concerns, according to some politicians and scientists.

"Fauci acknowledged that a gain of function super virus could escape a lab and cause a pandemic, but that it is worth the risk. His naïveté should disqualify him from government service," Paul wrote in a May 28 tweet responding to Fauci's comments during the House Appropriations Committee subcommittee hearing.

Collins dismissed the so-called "lab leak theory" as a "conspiracy" in an April email to Fauci obtained by Buzzfeed.

In an April 17 email obtained by the outlet, Fauci said coronavirus mutations that led to COVID-19 are "totally consistent with a jump of a species from an animal to a human" rather than a lab leak.

Peter Daszak, president of EcoHealth, personally thanked Fauci for supporting "evidence" that COVID-19 came from an animal rather than the Wuhan lab in an April 18, 2020, emails obtained by Buzzfeed show.

"I just wanted to say a personal thank you on behalf of our staff and collaborators, for publicly standing up and stating that the scientific evidence supports a natural origin for COVID-19 from a bat-to-human spillover, not a lab release from the Wuhan Institute of Virology," Daszak wrote to Fauci.

He praised the NIAID director's comments as "brave," saying they will "help dispel the myths being spun around the virus's origins."

"Many thanks for your kind note," Fauci responded.

The NIAID director said during the May 25 House Appropriations Committee subcommittee hearing that he has no objections to an investigation of China's early handling of the pandemic.

Fauci also said in the emails Buzzfeed released that store-bought masks would not be completely effective in preventing COVID-19.

In a February response to an emailed query about wearing masks while traveling via plane, Fauci said, "Masks are really for infected people to prevent them from spreading infection to people who are not infected rather than protecting uninfected people from acquiring infection."

He added that the "typical mask you buy in the drug store is not really effective in keeping out virus, which is small enough to pass through material."
So, it appears that Dr. Fauci has pulled one of the biggest con jobs in American History.
He was involved in the funding of the research going on at the Wuhan Institute of Virology.
And then, he becomes the COVID-19 Expert and the Medical "Face" advising President Trump and Americans how we should react to it, while hiding his involvement in its origin.
Between Fauci and the Main Stream Media, Americans were taught to fear the Chinese Coronavirus.
It is one thing to take common sense precautions.
It is quite another to live in fear, isolated within your own home, scared to death by an invisible enemy.
The fear spread by Dr. Fauci and his fellow bureaucrats and MSM Talking Heads, accomplished what Democratic Politicians could not.
They stopped the juggernaut that was the Trump-driven American Economic Comeback.
You know, the timing of this "lab accident" could not have been better for the Democrats and the Chinese Government.
It brought the Trump Presidency to a standstill, giving the Democrats the opportunity to put the political machinations into place that allowed demented old Joe Biden to be installed as the 46th President of the United States of America.
And since Biden has taken office, he has been extremely reticent to "open up" America and "get things back to normal", even though the rate of new COVID-19 Cases continues to dramatically decrease daily.
Hmmm.
So Dr. Fauci and President Biden have both been extremely cautious about allowing Americans to resume their normal lives, which include making the engine of American Capitalism run like a NASCAR driven by Dale Earnhart, Sr.
Gosh.
Why, you would think that they both had economic dealings with China in the past few years…wouldn't you?
Until He Comes,
KJ
DONATIONS ARE WELCOME AND APPRECIATED.
FoxNews.com reports that
Brazil-based JBS, the world's largest meat producer, has shuttered all of its US-based beef plants as of Tuesday while responding to a cyberattack,

The shutdowns impacted all nine beef plants, located in Arizona, Texas, Nebraska, Colorado, Wisconsin, Utah, Michigan and Pennsylvania, according to officials from the United Food and Commercial Workers (UFCW) International Union, which represents more than 25,000 JBS employees. JBS's US-based pork plants are still operational.

The shuttered plants produce nearly one-quarter of U.S. beef supplies. In total, JBS employs more than 66,000 workers across 84 US-based locations.

The attack raised concerns of a potential meat shortage in the U.S. and several other countries impacted by the situation. It wasn't immediately clear how the shutdown would affect meat prices.

JBS did not immediately respond to a request for comment. Bloomberg was first to report on the shutdowns.

JBS USA said it discovered on Sunday that an "organized cybersecurity attack" had impacted some of its computer systems in North America and Australia. The company noted it would "take time" to resolve the cybersecurity breach and warned it "may delay certain transactions with customers and suppliers."

UFCW called on the company to pay workers impacted by the plant shutdowns.

"As the union for JBS meatpacking workers across the country, UFCW is pleased JBS is working around the clock to resolve this, and UFCW is urging JBS to ensure that all of its meatpacking workers receive their contractually guaranteed pay as these plant shutdowns continue," UFCW International President Marc Perrone said in a statement.

JBS has yet to publicly disclose that it was targeted by a ransomware attack. The White House said it was aware of the situation and indicated a criminal group likely based in Russia was believed to be responsible.

"JBS notified the administration that the ransom demand came from a criminal organization likely based in Russia. The White House is engaging directly with the Russian government on this matter and delivering the message that responsible states do not harbor ransomware criminals," White House principal deputy press secretary Karine Jean-Pierre said at a press briefing.
So "a criminal group likely based in Russia was believed to be responsible".
Deja vu…all over again.
On May 11th, NYPost.com reported that
Russia on Tuesday denied responsibility for the cyberattack that led to the ongoing Colonial Pipeline shutdown — which has caused panic buying and gas shortages in the southeastern US.

A spokesman for Russian President Vladimir Putin told reporters that the Kremlin rejected any idea it was behind the crisis, now in its fifth day.

"Russia didn't have anything to do with hacking attacks that had taken place earlier," Dmitry Peskov said during a conference call.

"We categorically don't accept any accusations against us in this regard."

On Monday, the FBI blamed a criminal gang of hackers known as "DarkSide" for launching ransomware against the Alpharetta, Ga.-based Colonial Pipeline Co. and crippling some of its computer systems on Friday.
Colonial Pipeline wound up paying the Cyber Terrorist Group a whole lot of money to get their pipeline working again.
And now, it looks like this Brazilian-based company will have to do the same.
Lord knows, the Biden Administration will not do anything about it.
Their lack of response to the Colonial Pipeline Shutdown and now, this possible beef shortage, should tell you all that you need to know about they way this this Administration actually feels about the health and prosperity of American Citizens.
They have "more important things" to pay attention to.
Like increasing the racial division within our Sovereign Nation.
And, making sure that illegal immigrants get across our Southern Border in order to be dispersed throughout our country.
Why do you think that VP Kamala "Heels Up" Harris, who is supposed to be in charge of handling the "Border Situation" has never even gone down there on a fact-finding mission?
Just like they did with the cyberattack on the Colonial Pipeline, the Biden Administration will not do anything of consequence in response to this Cyber Terrorist attack.
After all, protecting American Citizens is not a priority to this Administration.
"Radical Change" is.
Until He Comes,
KJ
DONATIONS ARE WELCOME AND APPRECIATED.
Make a one-time donation
Make a monthly donation
Make a yearly donation
Choose an amount
Or enter a custom amount
$
---
Your contribution is appreciated.
Your contribution is appreciated.
Your contribution is appreciated.
Donate
Donate monthly
Donate yearly
To be filed under "Actions Have Consequences".
FoxNews.com reports that
A conservative group representing small businesses that says MLB's decision to move its All-Star game out of Atlanta is proof Commissioner Rob Manfred has "no balls" is now ready to throw another brush-back pitch.

With more than 30 partners ranging from the Nevada Chamber of Commerce to the National Restaurant Association, the Job Creators Network says baseball's decision to boycott Atlanta over its objection to Georgia's voting law is wrong and it is taking MLB to court.

FOX Business has learned that the right-leaning trade group founded by Home Depot co-founder Bernie Marcus — plans to file a lawsuit in Manhattan federal court Tuesday morning alleging that MLB's decision has injured Atlanta's small business community. Also to be named in the lawsuit, according to a person with direct knowledge of the matter is the Major League Baseball Players Association – the union which represents some 1,200 players – and which the Job Creators Network contends played a role in the decision to move the game out of Atlanta to Denver.

Alfredo Ortiz, president of the Job Creators Network, has mounted a high profile campaign against the baseball's decision with protests in front of MLB headquarters in Manhattan and billboards in Times Square that mocked MLB Commissioner Rob Manfred as having "All Strikes and No Balls" for caving into left-wing pressure groups that have denounced the state's new voter law as being overly restrictive to minority and poor voters.

Cincinnati Reds minority owner Ken Blackwell on MLB moving All-Star Game.video
MLB commissioner 'didn't do his homework': Cincinnati Reds minority owner
Cincinnati Reds minority owner Ken Blackwell on MLB moving All-Star Game.

Conservatives and Gov. Brian Kemp of Georgia have argued that the law simply requires voters to produce proper ID and ensures the integrity of mail-in voting.

"MLB robbed the small businesses of Atlanta – many of them minority-owned – of $100 million. We want the game back where it belongs," Ortiz told FOX Business, "This was a knee-jerk, hypocritical and illegal reaction to misinformation about Georgia's new voting law which includes voter ID."

Ortiz, who is also a board member of the Georgia Chamber of Commerce, noted that when it comes to identification, "Major League Baseball itself requests ID at will call ticket windows at Yankee Stadium in New York, Busch Stadium in St. Louis and at ballparks all across the country."

Spokesmen for the MLB and the players association had no comment.

"This action is not a surprise given the real damage that's been done." says Ken Blackwell, former Cincinnati mayor as well as Ohio secretary of state, but maybe most notable: he is a minority owner of the Cincinnati Reds baseball team.

The lawsuit will demand that MLB immediately moves the game back to Atlanta or pay damages to small businesses impacted by its decision.

The All-Star game's original venue at Truist Park in suburban Cobb County, Georgia was expected to generate tens of millions of dollars in revenues for area small businesses including many owned by minorities. MLB was also planning a celebration of the life and career of Hank Aaron, the Atlanta Braves great who shattered Babe Ruth's home run record and passed away in January.

Baseball's efforts came under scrutiny by left-wing activists and President Biden who called the Georgia voting law racist and said the All-Star game should be played elsewhere. People close to Manfred tell FOX Business that MLB had no choice but to relocate because these activists – including former Democratic gubernatorial candidate Stacey Abrams – were pressing the league to turn the game into a political event. A spokesman for Abrams confirmed to FOX Business that Abrams spoke to a senior baseball official about having the MLB take a position on the law but she wanted to keep the game in Georgia.
First, it was the National Football League and the disrespectful practice of taking a knee during the playing of the National Anthem.
Then, the NBA started turning political as well, as they not only took a knee, both the coaches and the players started being vocal about their Liberal politics, joining the Democrats in attacking President Donald J. Trump every chance that they got.
Both sports have suffered at the box office and in their pocketbooks due to turning athletic competitions, watched for entertainment purposes by average Americans, into political forums espousing the anti-American Fat Left viewpoints of the Democrat Party.
Recently, as related in the above article, Major League Baseball joined their didactic ranks, seeking to teach Conservative average Americans "a lesson" by moving their All-Star Game" out of a state which dared to pass legislation designed to  strengthen the integrity of the voting process.
As Major League Baseball, Delta Airlines, and Coca-Cola all start seeing their revenue shrinking as a reaction to their stupid decisions, I hope that they will wise up, as the NFL seemed to have been doing during the past season.
I kind of doubt it, though.
Liberals have always turned up their noses at major league sports AND their fans.
What better way to kill two birds with one stone than to convince the players that it is cool to protest on "company time" by sharing a minority political philosophy through insulting more than 50% of American Voters?
Who in their right mind would believe that would be accepted by average Americans?
Probably the same simpletons who believe the National Polls which, until recently, falsely proclaimed that the majority of Americans actually approved of the job that demented old Joe Biden has done as President, so far.
More Conservative Americans need to rise up as this group who has filed the lawsuit has and stand up for their rights as American citizens.
Even if they do not win the suit, they have given the Team Owners of Major League Baseball something to think about.
If they turn America's Pastime into Political Theater…Americans will turn them off.
Until He Comes,
KJ
DONATIONS ARE WELCOME AND APPRECIATED.
Make a one-time donation
Make a monthly donation
Make a yearly donation
Choose an amount
Or enter a custom amount
$
---
Your contribution is appreciated.
Your contribution is appreciated.
Your contribution is appreciated.
Donate
Donate monthly
Donate yearly
Memorial Day isn't just about honoring veterans, its honoring those who lost their lives. Veterans had the fortune of coming home. For us, that's a reminder of when we come home we still have a responsibility to serve. It's a continuation of service that honors our country and those who fell defending it. – Pete Hegseth
Today is a day of solemn remembrance, during which we honor our fallen heroes.
Memorial Day, originally called Decoration Day, is a day of remembrance for those who have died in our nation's service. There are many stories as to its actual beginnings, with over two dozen cities and towns laying claim to being the birthplace of Memorial Day. There is also evidence that organized women's groups in the South were decorating graves before the end of the Civil War: a hymn published in 1867, "Kneel Where Our Loves are Sleeping" by Nella L. Sweet carried the dedication "To The Ladies of the South who are Decorating the Graves of the Confederate Dead" (Source: Duke University's Historic American Sheet Music, 1850-1920). While Waterloo N.Y. was officially declared the birthplace of Memorial Day by President Lyndon Johnson in May 1966, it's difficult to prove conclusively the origins of the day. It is more likely that it had many separate beginnings; each of those towns and every planned or spontaneous gathering of people to honor the war dead in the 1860's tapped into the general human need to honor our dead, each contributed honorably to the growing movement that culminated in Gen Logan giving his official proclamation in 1868. It is not important who was the very first, what is important is that Memorial Day was established. Memorial Day is not about division. It is about reconciliation; it is about coming together to honor those who gave their all.

Memorial Day was officially proclaimed on 5 May 1868 by General John Logan, national commander of the Grand Army of the Republic, in his General Order No. 11, and was first observed on 30 May 1868, when flowers were placed on the graves of Union and Confederate soldiers at Arlington National Cemetery. The first state to officially recognize the holiday was New York in 1873. By 1890 it was recognized by all of the northern states. The South refused to acknowledge the day, honoring their dead on separate days until after World War I (when the holiday changed from honoring just those who died fighting in the Civil War to honoring Americans who died fighting in any war). It is now celebrated in almost every State on the last Monday in May (passed by Congress with the National Holiday Act of 1971 (P.L. 90 – 363) to ensure a three day weekend for Federal holidays), though several southern states have an additional separate day for honoring the Confederate war dead: January 19 in Texas, April 26 in Alabama, Florida, Georgia, and Mississippi; May 10 in South Carolina; and June 3 (Jefferson Davis' birthday) in Louisiana and Tennessee.
Last night, as I sat down to write today's post, I tried to think about something pithy to write. Then, I realized that today is not a day for witticisms and sarcasm.
I thought about all of the American lives, all of the brave men and women who have sacrificed their lives out of love and devotion for our Sovereign Nation and their fellow Americans, both their comrades and their families back home.
The unselfish devotion shown by these brave Americans is made fun of and remains the source of derision by many devotees of the anti-American political philosophy who consider themselves to be the "smartest people in the room".
These same "enlightened" individuals consider "patriotism" to be a bad word.
They have replaced it words like "nationalism" and "jingoism".
The devotees of this political philosophy do not believe in American Exceptionalism.
They believe that America is "just another country", certainly not worthy of sacrificing their lives for.
These people just don't get it.
Freedom is not free.
That is why brave men and women of the past and the present age have fought and died while wearing the uniforms of our Armed Forces.
When they went into battle, they did not just represent their hometowns…they represented all of us.
From the germ of an idea to the greatest country on the face of God's green Earth, this country has stood strong because of resolute men and women who were willing to "pledge their lives, their fortunes, and their sacred honor" to protect "The Shining City Upon a Hill".
Greater love hath no man than this, that a man lay down his life for his friends. – John 15:13-17 
May God bless and comfort the families of our Fallen Heroes and may their memories and our American Freedom endure.
Until He Comes,
KJ
DONATIONS ARE WELCOME AND APPRECIATED.
Make a one-time donation
Make a monthly donation
Make a yearly donation
Choose an amount
Or enter a custom amount
$
---
Your contribution is appreciated.
Your contribution is appreciated.
Your contribution is appreciated.
Donate
Donate monthly
Donate yearly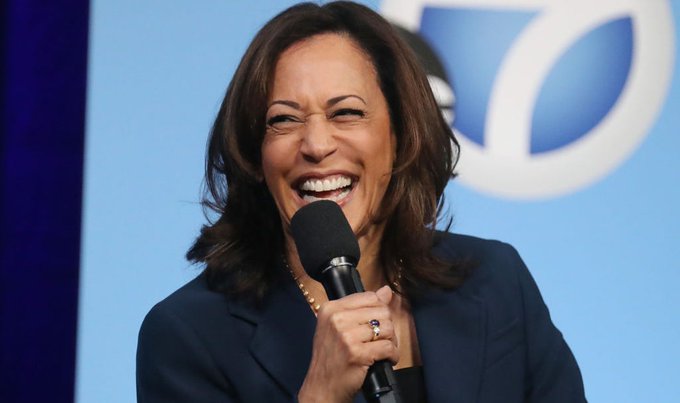 FoxNews.com reports that
Vice President Kamala Harris came under fire Saturday for tweeting about Memorial Day, but without mentioning the significance of the weekend.

"Enjoy the long weekend," Harris wrote, above a candid photo of herself smiling.

Social media users condemned Harris' lack of tact reminding the vice president of the sacrifices the "long weekend" is meant to honor.

"Don't forget why we have a long weekend," Tony Lederer wrote in a tweet paired with a picture of the Vietnam Memorial.

"It is Memorial Day weekend – [not] for enjoying – but for memorializing our fallen," wrote another. "Our brothers and sisters, who 'gave the last full measure of devotion. Please try to respect that."

The tweet was shared with an image of a woman lying on a blanket in front of a tombstone at the Arlington National Cemetery with an infant.

"While we get the long weekend to 'enjoy,' let us all please take a solemn moment to remember those courageous men and women who sacrificed *everything," Peter Francis wrote.

Memorial Day is celebrated the last Monday of May each year to honor the men and women who have died while serving in the U.S. military.

The tradition began as Decoration Day during the spring in the years following the end of the Civil War, eventually becoming a federal holiday in 1971.

A 2019 study by Bloomberg BNA found that 97 percent of employees designated Memorial Day a paid day off, but roughly 40 percent of companies require some employees to still work.

Other social media users reminded the vice president that not all Americans are allotted a long weekend with Mondays off, particularly as the service industry has reopened following the coronavirus pandemic.

Harris addressed the pandemic in a speech at a commencement ceremony for graduates at the U.S. Naval Academy Friday.

"It has forever impacted our world," she said. "It has forever influenced our perspective, and if we weren't clear before, we know now: Our world is interconnected. Our world is interdependent, and our world is fragile."

"This, midshipmen, is the era we are in, and it is unlike any era that came before," Harris added.

But Harris turned heads when she made a joke about Naval electrical engineers creating green energy during her speech Friday.

"Just ask any Marine today, would she rather carry 20 pounds of batteries or a rolled-up solar panel, and I am positive she will tell you a solar panel, and so would he," she said, before laughing.

The White House declined to comment on the tweet that garnered negative attention.
I am certain that they did.
America's President and Vice-President are supposed to be America's biggest advocates…not our biggest detractors.
I have never heard one word from Joe Biden or Kamala Harris about how wonderful America is and how much they appreciate our men and women of the Armed Forces and the sacrifices which those before us have made to secure our American Freedom.
Everything word that comes out of their mouths is either about how great they are or about what a backwards, bigoted nation with a long way to go America is.
For Kamala Harris to be so tone deaf, while appalling, is not surprising.
She is so awful that only 1% of the Democrats backed her in the Democratic Presidential Primaries.
She jump-started her political career by becoming 60-yeear old Willie Brown's paramour.
Since she has been Biden's Vice-President and presumed successor when his Handlers cannot hide his dementia from the American public anymore, Kamala hasn't done squat.
When Biden announced that he was putting his VP in charge of the "situation" at the Southern Border, I am sure that all of the Mexican Cartels breathed a sigh of relief.
That was over 50 days ago and she still has not visited our southern border, yet.
But, I digress…
Just like the Clintons and the Obamas before them, the Biden-Harris Administration have absolutely no respect for our Armed Forces.
Flag-draped coffins and grieving families do not move them at all.
To them, our Armed Forces are simply another vehicle by which to advance their mission to spread "Wokeness" (Cultural Marxist ) throughout our Sovereign Nation in order to usher in "Democratic Socialism".
And, in order to do that, the current Administration is in the process of purging our Armed Forces of "extremists", because those in their ranks who believe in Traditional American Faith and Values would resist fighting for a political ideology that is the exact opposite of what their ancestors fought and died in battle to preserve.
So, when Kamala Harris disrespected our Brightest and Best who died while serving our country by not acknowledging the reason for a three-day weeked…it was intentional.
To do so would be against what she believes in.
Until He Comes,
KJ
DONATIONS ARE WELCOME AND APPRECIATED.
Make a one-time donation
Make a monthly donation
Make a yearly donation
Choose an amount
Or enter a custom amount
$
---
Your contribution is appreciated.
Your contribution is appreciated.
Your contribution is appreciated.
Donate
Donate monthly
Donate yearly