'Emergencies' have always been the pretext on which the safeguards of individual liberty have been eroded. – Friedrich August von Hayek
FoxNews.com reports that
Chants of "F*** Joe Biden" rained down from the crowd at Alabama's Talladega Superspeedway after Brandon Brown captured his first NASCAR Xfinity Series race victory.

The anti-Biden chants came during Brown's post-race interview. After Brown told a reporter his victory was a "dream come true," the crowd began to loudly shout in unison their displeasure with the president.

The reporter acknowledged the chants and claimed the fans were shouting "Let's go Brandon!"

NASCAR initially posted video of the interview with the chant but later deleted the tweet.

Fox News reached out to NASCAR to ask why the post was taken down but did not immediately receive a response.

NASCAR officials called the race with five laps remaining in the scheduled 113-lap race at the 2.66-mile speedway due to poor visibility. Brown was declared the race leader as a final caution flag flew with 11 laps remaining. Brown defeated playoff driver Brandon Jones in the last scoring loop.

"Dad, we did it, let's go!" Brown yelled to the camera during the interview.

The "F— Joe Biden" chant has surfaced at sporting events across the United States — mainly in southern states — and has been especially popular at college football games where tens of thousands of fans have been packing stadiums in defiance of the Biden administration's strict coronavirus guidelines.
There is a very simple reason why average Americans are voicing their displeasure with Joe Biden while safe in the anonymity of the company of thousands of spectators at a sporting event, concert, or NASCAR Race.
Americans are fighting back.
The Biden Administration and their handlers decided to use a Chinese Coronavirus, unleashed on innocent Americans, to ostracize and "control" those Americans who have chosen not to take any of the COVID-19 Vaccine Shots
Something very similar has been done before.
German officials identified Jews residing in Germany through the normal records created by a modern state. They used census records, tax returns, synagogue membership lists, parish records (for converted Jews), routine but mandatory police registration forms, the questioning of relatives, and from information provided by neighbors and municipal officials.

In territory occupied by Nazi Germany or its Axis partners, Jews were identified largely through Jewish community membership lists, individual identity papers, captured census documents and police records, and local intelligence networks. Germany's racial laws identified a "Jew" as anyone with three or more Jewish grandparents, regardless of their religious identity or practice. Conversions to Christianity were pronounced illegitimate going back two generations, formalizing and instituting Nazi racial theories.
Now, I not saying that this will be another Holocaust. God forbid.
However…
On a different website, you will find these words…
Where is this art of ruling, to say nothing of the art of leadership? It is only the unscrupulousness for robbery. And when this same man then says: "We have a fine instinct for idealism and material values." Yes indeed they have. They have destroyed idealism everywhere, and they have grabbed and taken possession of material worth and always grabbed and taken possession of it, too, by brutal force only. For in 300 years that nation has oppressed and yoked and subjected nation after nation, people after people, race after race.
No, boys and girls, the following quote did not come from the Antifa Group Refuse Fascism's website, although it certainly reads like something they would write.
This quote comes from the Jewish Virtual Library. It is taken from a speech, delivered in 1942, given on the 19th Anniversary of the "Beer Hall Putsch", by German Chancellor Adolph Hitler.
The Beer Hall Putsch was an incident that took place on November 8, 1923, when Nazi troops under the direction of Hermann Goering surrounded the a beer hall in Munich, Germany. At 8:30 p.m., Hitler and his storm troopers burst into the beer hall causing instant panic. Hitler announced to the crowd that the Revolution had begun, and went to the back room of the hall to try to persuade the local officials to capitulate to him. They wouldn't. Hitler's attempt to seize power that night failed. But, thanks to word of mouth, and Hitler's use of propaganda, a seed was planted, that would eventually lead to World War II.
By now, you are probably asking:
Okay. So what does one thing have to do the other?
Hitler eventually rose to power by preying upon the economic despair, hopelessness, and avarice of the German people, whose country was savaged by the Great Depression of 1929.
Hitler formed a political party, naming it The National Socialist Party, which led to he and his thugs being called "Nazis".
The era became known as the "Rise of Fascism".
The Biden Administration and his fellow members of the Democrat Elite, including the Blue State Governors, used the COVID-19 Pandemic to take away Americans' Freedoms. And, these now "oligarchs" have loved their new Unconstitutional Power so much, that they do want to keep it, even though the science shows that it is going away.
These political actions, including the identification of those who have refused to take the COVID-19 Vaccine, is as much an act of fascism as identifying and ostracizing human beings by race or religion,
That, plus the leaving of Americans behind during Biden's Botched Bug-Out from Afghanistan has average Americans boiling mad.
Who knows what the bunch of fascists controlling Biden and his Administration will do next?
Will the Biden Administration identify the "Unvaccinated" by a circle with an empty hypodermic needle in it with a line through it?
Or. will they make Unvaccinated Americans wear that same marker as a yellow badge?
The Democratic Elite know that what they are doing is outrageous.
Why do you think that Nancy Pelosi had the fence around the Capitol put back up?
Until He Comes,
KJ
DONATIONS ARE WELCOME AND APPRECIATED
Make a one-time donation
Make a monthly donation
Make a yearly donation
Choose an amount
Or enter a custom amount
$
---
Your contribution is appreciated.
Your contribution is appreciated.
Your contribution is appreciated.
Donate
Donate monthly
Donate yearly
FoxNews.com reports that
New York Times reporter Katie Benner deleted tweets calling for Trump supporters to be considered "enemies of the state" after she faced viral backlash from critics.

Amid the first hearing of the Jan. 6 committee on Capitol Hill, Benner suggested that in order to "combat" national security threats within the country, the solution was to target the voters of the former president.

However, the Times' Justice Department reporter later took down the tweets, claiming they were "unclearly worded."

The Times did not respond to Fox News' multiple requests for comment, including an inquiry about whether Benner deleted the tweets at the direction of the paper.

In the original tweets, Benner stressed that the Jan. 6 committee "underscores" what she indicated was the ongoing threat within the U.S.

"Today's #January6thSelectCommittee underscores the America's current, essential natsec dilemma: Work to combat legitimate national security threats now entails calling a politician's supporters enemies of the state," Benner wrote.

Benner explained, "As Americans, we believe that state power should not be used to work against a political figure or a political party. But what happens if a politician seems to threaten the state? If the politician continues to do so out of office and his entire party supports that threat?"

The Times' DOJ reporter cast doubt that the Pelosi-appointed committee would resolve the "dilemma" since it remained "unresolved" following the Russia investigation and both impeachments of President Trump.

"That leaves it up to voters, making even more essential free, fair access to the polls," Benner concluded.

Benner's comments were slammed by critics.

"Absolutely amazing: the New York Times' Justice Department reporter says the US faces an 'essential natsec dilemma': namely, that Trump supporters are 'enemies of the state' and all of the GOP is a threat to the State. This is a reporter — not an op-ed writer — saying this," journalist Glenn Greenwald reacted. "Hearing anyone describe a traumatic and violent experience provoke emotions: even for police officers. That's what today is for. But the fixation on 1/6 is about exactly this: classifying Trump supporters as Enemies of the State for political gain & Security State power."

"Here we have an NYT reporter, channeling the views of the corrupt FBI and DOJ officials who leak to her, straight-up saying that your political opposition to the ruling regime makes you an enemy of the state by definition," The Federalist co-founder Sean Davis summarized.

"This is such a wildly extreme statement on so many levels, couched in the phony language of journalistic impartiality," journalist Michael Tracey slammed Benner's comments.

Rep. Jim Banks, R-Ind., who was initially set to serve on the Jan. 6 committee but was rejected by House Speaker Nancy Pelosi, D-Calif., appeared to be taken aback by Benner's tweets.

"That's the best summary of the Biden Admin's domestic national security strategy I've ever read," Banks wrote.

The Times did not respond to Fox News' inquiry as to whether or not Benner's tweets violated the paper's social media guidelines.
Was Katie Benner wearing a Brown Shirt when she was tweeting that garbage?
The Far Left Demicrat6s and their minions in the Main Stream Media are upset that average Americans, who believe in God and Country, are not "falling in line", and becoming subservient to their clearly Marxist Political Ideology, which they believe is "best" for America.
For years now, I have referred to the intolerant political ideology of Modern American Liberals, such as the Democrat Politicians on Capitol Hill and Jack Dorsey and his minions at Twitter, as "The New Fascism", because of their intolerance toward traditional Americans' Faith and Values and their lack of respect for our Constitution and our American System of Law and Order.
What we are seeing now, after an obviously Rigged 2020 Presidential Election, the inaction by a Democrat-Majority Congress in response to it, and the silencing of Conservative Voices in Social Media is a result of an amalgamation of the political philosophies of the special interest groups who have replaced average Americans as the Democrats' Voting Base, leading to a push toward changing America into a Marxist Nation.
Hate, envy, and control are the "pillars of faith" in Marxism in all of its forms, along with fascism.
All of these political philosophies are the anti-thesis of who the Far Left Democrats claim to be.
However, since they assumed absolute power in Washington, D.C., their actions have shown average Americans EXACTLY who they are.
Ladies and gentlemen, I firmly believe that America is in the middle of fighting a new war against fascism which has now grown so radical as to reach the Biblical Book of Revelation levels.
If this effort by the "New Bolsheviks" is allowed to go unchecked, it will not be our Brightest and Best who will die on this field of battle, but rather, it will be our Constitutional Freedoms and our form of government, including our System of Checks and Balances, which will die ignoble death, pierced by the arrows of the "New Fascism", going under the non de plumes of "socialism", "Wokeness", and "political correctness".
Fascism, in any form, remains indefensible.
All of this unethical political behavior by the Far Left Democrats is reminiscent of both the Russian Revolution and Hitler and his Brown Shirts' "Beer Hall Putsch" which probably should have been expected, given the "New Bolsheviks" track record of Liberal Intolerance and aversion to opposing viewpoints.
Just as my Daddy did when he landed on Normandy Beach on June 6, 1944 with thousands of other brave young American men, we must look this "New Fascism" straight in the face and say, "NO MORE!"
And, Ms. Benner…if anyone is an "Enemy of the State", is it you and the rest of those instigating and supporting this New Fascism that threatens to destroy America.
Until He Comes,
KJ
DONATIONS ARE WELCOME AND APPRECIATED.
Make a one-time donation
Make a monthly donation
Make a yearly donation
Choose an amount
Or enter a custom amount
$
---
Your contribution is appreciated.
Your contribution is appreciated.
Your contribution is appreciated.
Donate
Donate monthly
Donate yearly
"Those who seek to erase our heritage want Americans to forget our pride and our great dignity, so that we can no longer understand ourselves or America's destiny. In toppling the heroes of 1776, they seek to dissolve the bonds of love and loyalty that we feel for our country, and for each other." – Donald J. Trump, 45th President of the United States of America, July 3, 2020
On July 4th, 1986, the greatest president in my lifetime, Ronald Wilson Reagan, delivered these words to a television audience. They are as inspirational today as the day that they were given.
My remarks tonight will be brief, but it's worth remembering that all the celebration of this day is rooted in history. It's recorded that shortly after the Declaration of Independence was signed in Philadelphia celebrations took place throughout the land, and many of the former Colonists — they were just starting to call themselves Americans — set off cannons and marched in fife and drum parades.

What a contrast with the sober scene that had taken place a short time earlier in Independence Hall. Fifty-six men came forward to sign the parchment. It was noted at the time that they pledged their lives, their fortunes, and their sacred honors. And that was more than rhetoric; each of those men knew the penalty for high treason to the Crown. "We must all hang together," Benjamin Franklin said, "or, assuredly, we will all hang separately." And John Hancock, it is said, wrote his signature in large script so King George could see it without his spectacles. They were brave. They stayed brave through all the bloodshed of the coming years. Their courage created a nation built on a universal claim to human dignity, on the proposition that every man, woman, and child had a right to a future of freedom.

For just a moment, let us listen to the words again: "We hold these truths to be self-evident, that all men are created equal, that they are endowed by their Creator with certain unalienable Rights, that among these are Life, Liberty, and the pursuit of Happiness." Last night when we rededicated Miss Liberty and relit her torch, we reflected on all the millions who came here in search of the dream of freedom inaugurated in Independence Hall. We reflected, too, on their courage in coming great distances and settling in a foreign land and then passing on to their children and their children's children the hope symbolized in this statue here just behind us: the hope that is America. It is a hope that someday every people and every nation of the world will know the blessings of liberty.
If you listen to the Mantra of Modern American Liberals, you would think that America is the worst Nation on the face of the Earth.
Personally, I do not give one cent of value to their assessment of "The Shining City Upon a Hill".
Rather, I stand with this man who embodied the American Spirit that is beginning to awaken across this blessed land.
Per military.com:
Gen. Anthony Clement McAuliffe is best remembered for uttering a single word — no mean feat, considering that even the shortest Bible verse has two. Commanding the U.S. Army's beleaguered and surrounded 101st Airborne Division during World War II's Battle of the Bulge, McAuliffe received a German surrender ultimatum. "Nuts!" he replied, and became a lasting symbol of American courage and determination under fire.

A 1918 West Point graduate, McAuliffe held various field artillery positions before World War II. On the eve of D-Day, McAuliffe jumped with the first wave as a commander of division artillery, although he had never received formal parachute training.

In December 1944, during the siege of Bastogne, Belgium, McAuliffe was acting commander of the 101st in Gen. Maxwell D. Taylor's absence. The Americans had been holding the Belgian town "at all costs," and on Dec. 22, Gen. McAuliffe received the encouraging news that the 4th Armored Division was beginning its drive north to relieve the 101st. Later that morning, members of the division's glider regiment saw four Germans coming up the road carrying a white flag. Everyone hoped they were offering surrender. Instead, they presented two pages demanding the Americans' surrender: "To the USA Commander of the encircled town of Bastogne. . .There is only one possibility. . .the honorable surrender of the encircled town."

McAuliffe glanced at the message and said, "Aw, nuts!" When he told his commanders he didn't know what answer to send, Lt. Col. Harry Kinnard said 'That first crack you made would be hard to beat, General." Everyone laughed as a sergeant typed up the succinct response: "To the German Commander: Nuts! The American Commander."

Between this stoic reply, Patton's troops from the south, and a change in the weather that allowed air reinforcement the following day, the 101st was able to hold Bastogne. Their victory resulted in the first full-Division Presidential Distinguished Unit Citation.

McAuliffe's actions at Bastogne helped assure the final defeat of the Germans. Gen. McAuliffe continued to serve on active duty, including assignments as Head of the Army Chemical Corps, Commander, 7th Army, and Commander-In-Chief of the U.S. Army, Europe, until his 1956 retirement. He died in Washington, D.C. in 1975 and is buried at Arlington National Cemetery.
If you have been paying attention to what has been happening in our Sovereign Nation since the installation of "President" Joe Biden, you have witnessed clueless arrogant Far Left Local and National Democrat Politicians,  celebrities and professional athletes acting like a bunch of spoiled ungrateful wannabe Marxists, a "Woke Elite", if you will, aided by the Biden-Harris Administration,, attempt to erase our nation's history through their attempts to introduce a fictional version of our nation's history into the curriculum of public school systems and universities, in order to further divide our nation through Cultural Marxism..
Those who are leading this movement to "radically change this "Shining City Upon a Hill" into a Third World Marxist country echo the sentiments of the 44th President of the United States of America, Barack Hussein Obama, and the rest of the Far Left self-proclaimed geniuses who cost the Democratic Party the Presidency in 2016 and who cheated their way into the White House in 2020. and who believe that anybody who works hard for a living and believes in God and Country, is a Jingoistic imbecile.
According to the dictionary, Jingoism is an extreme chauvinism or nationalism marked especially by a belligerent foreign policy.
In other words, being guilty of believing that America is the greatest country on the face of God's Green Earth and believing in American Exceptionalism.
For the past 2 decades at least, children and young adults, attending American Institutes of Learning from kindergarten to college campuses have been taught by Liberal teachers and professors that America is "just another country" and to be a patriot is to somehow be close-minded, ignorant, and bigoted, not necessarily in that order.
Evidently, the overeducated imbeciles who planned this Marxist uprising which we have witnessed over the last year and a half have never understood in their ungrateful little lives what has made and continues to make our country exceptional.
Where the exceptionalism of America lies…is not in the Halls of Power…nor in the Halls of Academia. But, rather in the courage and spirit of the average American. A courage and spirit, which our history proves, has driven American Citizens to build a nation, which is indeed exceptional among all others.
The secret of this country's exceptionalism is the "Average Joe", the 9 to 5′er, working himself into the grave to try to provide for his family.
It was this same "Average Joe", who fired the shot heard around the world and began the War for American Independence, who stormed the beaches of Normandy on D-Day in World War II, who waded through rice paddies in Vietnam, and who swallowed sand in Desert Storm and Desert Shield. The same "Average Joe" who, as a New York City Policeman or Fireman, ran up the stairs of the World Trade Center on 9/11/01, instead of running down them. The same "Average Joe", who simply wants things to be easier in this life for his children and grandchildren, than he had it.
It is this same "Average Joe", who takes family and friends in, when they are in the midst of a life-altering tragedy. The same "Average Joe", who volunteers on a soup line or at a Senior Citizens Home, or, who begins a successful business in his basement.
And, it is this same "Average Joe" whom, being fed up with the Democratic Party's Far Left Crusade against anything and everything traditionally American, went to the voting booth and elected Donald J. Trump, a Citizen Statesman, as our 45th President.
And that, boys and girls, is why, on this 4th of July, almost 5 years after average Americans watched with a sense of prideful accomplishment as Donald J. Trump took the Oath of Office, Modern American Liberals are still showing the world their posteriors while continuing to throw the longest mass temper tantrum in recorded history., even though they "won" the 2024 Presidential Election.
Their ego-driven political ideology does not permit them to consider the reality that theirs is still the minority political ideology in this nation, as shown during the ongoing Marxist uprisings by Antifa and Black Lives Matters, during which they continue tp demonstrate that they champion a Far Left Fascist political ideology which none but a small minority on the Far Left of the Political Spectrum embrace.
While the East and "Left" Coast are indeed heavily-populated in their metropolitan areas with Liberals (some of them even Legal Citizens), the reality of what actually happened on November 8th, 2016 can been plainly seen on any Electoral Map.
It was an overestimation of their own intellect and an underestimation of the intelligence and unbridled love of average Americans for OUR COUNTRY, that will cost the Democrats the Presidency in 2024.
As George Orwell said,
Patriotism is usually stronger than class hatred, and always stronger than internationalism.
So, to summarize, by embracing Marxism, by labeling Patriotism as "Jingoism", and by ridiculing and accusing  those of us who love our country and hold fast to Traditional American Values as being "racists", the Democratic Party are well into the process of ruining this country, and making average Americans so mad that they are beginning to fight back by showing up to school board meetings and speaking out against the Democrat-driven Cultural Marxism which they are attempting to brainwash our children with.
Once again, the arrogance of the "Woke Elite" is going to not only cost them the Presidency…it will also cost them the House of Representatives and the Senate, as well.
If I was a Modern American Liberal with any sort of self-awareness, I would be ashamed of disrespecting both my flag and my country.
Unfortunately, the Far Left "Democratic Socialists" who have taken over the once mainstream Democratic Party and who guide poor old demented Joe Biden, are not self-aware.
It is this lack of self-awareness that is allowing average Americans to witness the implosion and political extinction of the Democratic Party right before our very eyes.
In the opinion of this 62-year-old, sitting in the Northwest corner of the Magnolia State in America's Heartland, Modern American Liberals, and their ideological leaders, who trod the Halls of Power with impunity, underestimate the American Spirit, just as King George and the British Aristocracy did, so many years ago.
As our enemies, both foreign and domestic, have discovered since the birth of our nation, Americans will fight for our freedom.
We showed this fact to the world on November 8th, 2016.
And now, almost 5 years later, thanks to the arrogant overreach of the Far Left Ideologues who are controlling Joe Biden, his Administration and the Democrat Politicians on Capitol Hill, the citizens of our Sovereign Nation are beginning to once again rise like a phoenix from its ashes and we are preparing to SAVE AMERICA!
May God Bless you and your family on this 4th of July, the Year of Our Lord, 2020, and may God Bless America.
Until He Comes,
KJ
DONATIONS ARE WELCOME AND APPRECIATED.
Make a one-time donation
Make a monthly donation
Make a yearly donation
Choose an amount
Or enter a custom amount
$
---
Your contribution is appreciated.
Your contribution is appreciated.
Your contribution is appreciated.
Donate
Donate monthly
Donate yearly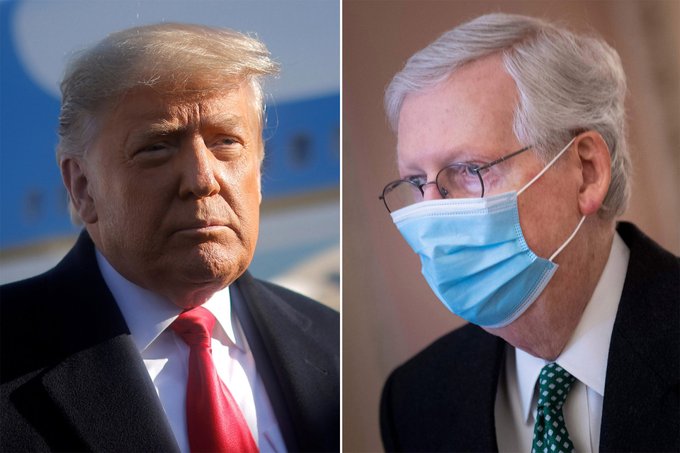 Newsmax.com reports that
In the most caustic sign yet of deepening GOP divisions, former President Donald Trump blistered Senate Minority Leader Mitch McConnell, R-Ky., as a "political hack" on Tuesday, days after the Senate's top Republican denounced him as the inciter of U.S. Capitol attack.

"The Republican Party can never again be respected or strong with political 'leaders' like Sen. Mitch McConnell at its helm," Trump said in a statement released by his political action committee.

He went on to write: "Mitch is a dour, sullen, and unsmiling political hack, and if Republican Senators are going to stay with him, they will not win again."

A McConnell spokesperson did not immediately return requests for comment.

The deeply personal attack follows McConnell's speech over over the weekend saying Trump was responsible for the deadly insurrection at the Capitol on Jan. 6. But McConnell said that only after he joined other Republicans in voting against the former president's conviction during a Senate impeachment trial that accused Trump of inciting the mob.

"There's no question, none, that President Trump is practically and morally responsible for provoking the events of the day," McConnell said Saturday, after Trump, the only president to be impeached twice, was acquitted on a 57-43 vote. "The people who stormed this building believed they were acting on the wishes and instructions of their president."

McConnell said he voted to acquit Trump because the Senate has no jurisdiction over an ex-president — even though he had rejected a push from Democrats to start the trial when Trump was still in office. The House impeached Trump a week before he left office.

McConnell had remained loyal to Trump during nearly all of his four years in office, when the pair were the two most powerful members of the Republican Party. But, after Trump spent months making claims election fraud cost him the November election against Democrat Joe Biden, McConnell said overturning the vote because of objections from the losing side would see American democracy enter "a death spiral."

Republican officials in battleground states including Georgia and Arizona have also said the election was fair. Trump's accusations of election fraud were rejected by judges at all levels of the judiciary, including those appointed by Trump himself.

The former president's statement promises to further fuel an intraparty struggle.

Some, like the seven Republican senators who voted to convict Trump during the second impeachment trial, have sought to distance the party from the former president. But others have remained loyal in hopes of not alienating Trump supporters during future elections.

In his statement, Trump criticized McConnell for failing to do more to back his unfounded claims of election fraud. He also said McConnell "begged" for his endorsement in the senator's home state of Kentucky while running for reelection last year — and suggested he would work to defeat McConnell and his Republican allies, saying he planned to "back primary rivals who espouse Making America Great."

"This is a big moment for our country," Trump wrote, "and we cannot let it pass by using third rate 'leaders' to dictate our future."
Here is the hard truth of the above article: Average Americans had been holding their noses while voting for the Republican party for some time.
That is, until Donald J. Trump came along.
The Presidential Campaign of Donald J. Trump was something different that your average Republican's campaign for President.
It was a Populist Movement.
Dictionary.com defines "populism" as
1. the political philosophy of the People's party.
2. (lowercase) any of various, often antiestablishment or anti-intellectual political movements or philosophies that offer unorthodox solutions or policies and appeal to the common person rather than according with traditional party or partisan ideologies.
3. (lowercase) grass-roots democracy; working-class activism; egalitarianism.
4. (lowercase) representation or extolling of the common person, the working class, the underdog, etc.:populism in the arts.
That word first reappeared in the American Lexicon, when Sarah Palin almost dragged John McCain's RINO Rear across the Finish Line, in the Presidential Election of 2008.
The Grassroots Movement, which began back then, led us to a seminal moment in American Politics.
The American People spoke in 2016 and are still speaking, loud and clear.
Donald J. Trump was a "Citizen Statesman", such as our Founding Fathers envisioned.
A Presidential Candidate has to build a coalition, in order to win the Presidency.
Ronald Reagan, and, again, I am not comparing Trump to Reagan, figured out in 1980, that, in order to win the presidency, you had to bypass the Republican Establishment and go directly to the American People.
That is exactly what Donald J. Trump did.
The Godfather of Conservative Talk Radio, Rush Limbaugh, broke that fact down for us during his program on February 10, 2016…
This is what the Republican Party's been telling us they need to win.  I've had 'em come to my office.  I've told you.  I've had Rand Paul here, Mitt Romney's here.  One thing they've all said in common is that Republican Party can't win with Republican votes alone anymore.  We have to branch out, we have to reach out.  This is what they were telling me to prepare me for some of the campaign tactics that I was gonna see. That they were gonna have to reach out and immigration was one of the ways of reaching out, supporting amnesty. Well, all along Trump has built that coalition the Republican Party claims to want and they're out there badgering it and bashing it.  It's exactly what they claim to want.  They could have had it.  The Republican Party could have had the Trump coalition.  They could have had it at health care.  A majority of Americans opposed Obamacare from the get-go.  The Republican Party could have seriously attempted to form an alliance with the Tea Party and the anti-Obamacare people and been a dominant majority party on that issue alone.  And then on subsequent issues to come down the pike the Republican Party could have formed an alliance with majorities in other areas of opposition, and they didn't. 

Donald Trump has the exact coalition the Republican Party, to a man, has told me they need to win, that they need to thrive.  And now they're reduced to bashing it by virtue of bashing Trump.  And now they're reduced to bashing it by virtue of bashing Cruz.  The two people who are showing the Republican Party all they had to do all these past seven years, but they didn't.  They purposely, strategically, tactically refused to push back, refused to make a spectacle of stopping Obama, and they have themselves to blame for this predicament. 

People are not gonna donate and donate and vote and vote and hear the right things during campaigns, the promises to stop Obama, to oppose Obamacare, to seriously make an effort to repeal it.  Even if they don't have the votes to override a veto, the effort, all it would have taken was the effort, all it would have taken was put the onus on Obama, make Obama illustrate that all this is his fingerprints.  No such strategy was ever seen. 
As I gave previously written, Trump is riding the crest of an ever-growing anger over the inaction of Professional Politicians, whom, after being voted into National Office by their constituents back home, have literally bitten the hand that feeds them, tossing Ma and Pa Kettle aside for Big Money Donors and the Political Prestige of "reaching across the aisle", i.e.. "selling out".
Now, in 2021, members of that same political party, including its Political Leader, Senate Minority Leader Mitch McConnell, seem determined to commit political seppuku by shunning Former President Donald J. Trump.
Regarding those who continue to insist that they are on the side of average Americans and are working at banishing Trump "for the good of the Republican Party"…
Former President Trump showed y'all how to win and a lot of you "Establishment Republicans" furthered your political career by riding his coat tails to positions of power on Capitol Hill.
Y'all want to go back to your political strategy of of reaching across the aisle (i.e. sucking up) to the Democrats and allowing them to pass whatever cockamamie laws they want to while they raises our taxes and the amount we pay for gas to fill up our cars so that we can go to work and provide for our families.
That is how we got stuck with Former President Barack Hussein Obama, aka "Petulant President Pantywaist".
If the Republican Establishment keeps mooning average Americans and showcasing their Spines of Jello, instead of supporting the wishes of those who sent them to Capitol Hill, average Americans are liable to show them what they think of them by starting a new party behind Donald J. Trump.
However, I am beginning to believe that the Vichy Republicans. for all of their bluster, could care less.
As it has  proven, without a doubt in the past, the Republican Establishment's arrogance will be their undoing.
After all…
Actions (and Inactions) have consequences.
In summation, the American people are tired of Political Correctness and anti-American political expediencies being forced down our throats by both political parties and trumpeted by their lackeys in the Main Stream Media.
Donald Trump, for all of his brashness and braggadocio, remains a breath of free air and, quite frankly an anomaly. He's not a professional politician. He is a businessman who became a wonderful public servant.
Does Donald J. Trump need to "tone it down", in terms of his fight against those who would preserve the Washingtonian Status Quo?
Only if he wants to sound like a Professional Politician.
And, we Americans have had our fill of them.
Until He Comes,
KJ