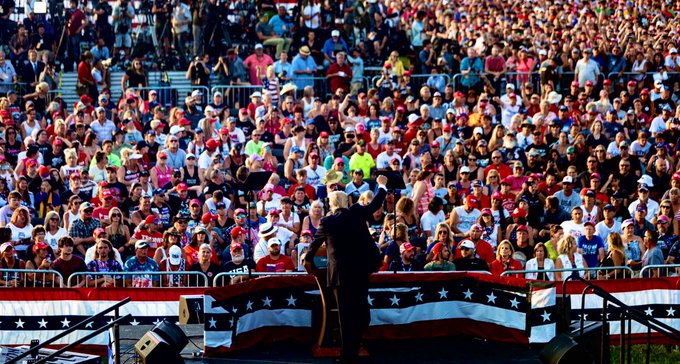 https://twitter.com/SebGorka/status/1408956677328494595?s=20
Newsmax.com reports that
President Donald Trump kicked off his 2022 campaign rally circuit Saturday night, rebuking the "complete and total catastrophe" of the Biden administration.

"Joe Biden is destroying our nation right before our very own eyes," Trump told a Wellington, Ohio, campaign rally broadcast on Newsmax, the first of its kind since he left office in January.

"After just five months the Biden administration is already a complete and total catastrophe. I told you. Crime is surging. Murders are soaring. Police departments are being gutted. Illegal aliens are overrunning their borders. Nobody's ever seen anything like it.

"Our poor borders. They were so perfect. They were so good. Drug cartels and human traffickers are back in business like they've never been before. They're doing numbers that they've never even thought possible. Just a few short months ago, drugs were way down, human trafficking was way down. It was all way down."

Trump was appearing to campaign for GOP primary candidate Max Miller, who will oppose anti-Trump Rep. Anthony Gonzalez, R-Ohio, running for reelection in Ohio's 16th congressional district.

"We're going to take back the House," Trump added. "We're going to take back the Senate, and we will take back America."

The crowd stopped his comments about 10 minutes in with a chant, "four more years."

"So you have to deliver massive majorities for Republicans in Congress next year – have to do it," Trump continued. "Right here in Ohio's 16th congressional district you have the opportunity to elect an incredible patriot to Congress, who I know very well.

"He grew up in this area, believe it or not; he's not a carpetbagger, like so many lot of them. They say, 'Sir, I'm running for Congress, so I say, 'Good, how long have you lived there?'

"'Well, actually, I moved there last week. I saw an opening."

"Max Miller. You know, Max. He loves our country. He loves the people of Ohio. And Max was a trusted aide of mine in the White House. We had great people working for me. We had some real losers, too, by the way."

Miller's GOP primary opponent, Gonzalez, is a former NFL wide receiver for the Indianapolis Colts, and was rejected by Trump.

"Max's opponent is a guy named Anthony Gonzalez, bad news," Trump said. "He's a grandstanding, RINO [Republican in Name Only], not respected in D.C, who voted for the unhinged, unconstitutional illegal impeachment, which hunt – the witch hunt."

"He's a sellout," Trump continued. "He's a fake Republican and a disgrace to your state. I will tell you that, and he's not the candidate that you want representing the Republican Party. He's the candidate of [Wyoming GOP Rep.] Liz Cheney. That's another beauty."

Trump rebuked Biden's dismantling his foreign policy progress, particularly with the attempts to reenter the Iran nuclear deal.

"Joe Biden is squandering all of this hard-earned respect that we have – or had – bowing down to America's enemies and embarrassing our country on the world stage," Trump said. "You saw that, it was an embarrassment."

Trump called out Democrats in key battleground states for changing election processes without the constitutional authority of state legislatures.

"They used COVID in order to cheat," Trump said. "They used COVID in order to rig the election and in order to steal the election, they used COVID. That's as simple as it get.

"With the help of everyone here tonight and patriots all across the country, we will do all that we are supposed to be doing and much more when we win giant Republican majorities next year."
I have to tell y'all…it was great to watch the 45th President of the United States of America do what he does best: communicate directly with average Americans.
Talk about a breath of fresh air,
I will take the brash honesty and "mean Tweets" of Donald J. Trump over the anti-American Policies and prevarications of Dementia Joe and Heels Up Harris any day of the week.
Last night, American Citizens living in the Buckeye State of Ohio heard from a man who genuinely LOVES America and her people, instead of viewing us all as racist, misogynist, xenophobes…the 45th President of the United States of America, Donald J. Trump.
Just like Trump did, with his refusal early in his first Presidential campaign to "act more presidential", he is still taking his message directly to the American People.
You see, Gentle Readers, Trump has always been a "people person".
That is the reason that, when he was still a contributor to Fox News, he would speak to everyone in the building, from the maintenance crew, on up the ladder.
As Sam Walton, the Founder of Walmart, knew, you don't inspire people by acting imperious and above it all.
"Mr. Sam", until his health would no longer allow him to do so, would travel to Walmart Stores in his old pickup truck, with a tie and a baseball cap on, visiting the employees, in order to find out how his stores were doing.
He knew that the only way to be successful and to stay in touch with the public, was to be out among them, and speak to them honestly and directly, as one would speak to a friend.
Just as President Trump did when he went on a "Thank You" Tour after being elected in 2016 and his use of Twitter to speak directly to the American People.
The Political Establishment, of both parties, lost that concept, a long time ago.
Bypassing the borders to communication, historically determined by both political parties and the Main Stream Media, is a concept which I first witnessed being used by a Presidential Candidate in the 1980 Presidential Election, the legendary Ronald Wilson Reagan.
While I am not comparing the two, I am noting that this strategy has proved effective for both men.
As America witnessed last night, Trump continues to strike a resonant chord in the hearts of Average Americans, living in the part of America, which the snobbish Political Elites refer to as "Flyover Country", but which we refer to as "America's Heartland", or, quite simply, "HOME".
The reason being, President Trump kept his promises.
He does not talk down to us while disparaging our Sovereign Nation, as Sleepy Joe Biden, "Dr." Jill Biden, and Kamala Harris do..
Trump talks to us in a plain-spoken, clearly understood way, a style which is in stark contrast to a Far Left Democrat party full of professional politicians, whose only interest is the totalitarian retention of power in Washington, D.C., at whatever the cost.
Last night, the President of the United States of America, the most powerful man in the world, made residents of the Buckeye State, along with the rest of us average Americans, feel good about ourselves and the future of our Sovereign Nation
And, gentle readers, to see and hear a Former, and possibly Future American President who genuinely loves this country and her people and who was willing to give up his "lifestyle of the rich and famous" in order to secure a safe and prosperous future for American Citizens is indeed a "radical change" from what this country is experiencing coming out of the Oval Office now.
Until He Comes,
KJ
DONATIONS ARE WELCOME AND APPRECIATED.
Make a one-time donation
Make a monthly donation
Make a yearly donation
Choose an amount
Or enter a custom amount
$
---
Your contribution is appreciated.
Your contribution is appreciated.
Your contribution is appreciated.
Donate
Donate monthly
Donate yearly
https://twitter.com/SebGorka/status/1335422262925783042?s=20
Newsmax.com reports that
Newsmax.com reports that

President Donald Trump delivered a stirring rebuke of the "rigged election" as he campaigned for Republican senators left to fight for Senate control in the Jan. 5 runoff elections, which he warned Democrats are going to try to "steal," too.

"You must go vote and vote early starting Dec. 14 – you have to do it – they cheated and they rigged this presidential election, but we will still win it," Trump told a large Valdosta, Georgia, rally Saturday night, which aired live on Newsmax TV. "We will still win it.

"And they're going to try to rig this election, too."

Incumbents Sens. David Perdue, R-Ga., and Kelly Loeffler, R-Ga., face challenges from Democrats Jon Ossoff and Rev. Raphael Warnock in runoff elections that might determine the balance of power in the Senate.

Republicans already hold 50 Senate seats, but if Democrats sweep the two Georgia runoffs and Joe Biden wins the White House, the vice president casts the deciding vote in a 50-50 tie.

"At least you have two beauties, and you know what you also have two beauties running against them, but beauty in a different way," Trump told a raucous crowd of Republican supporters. "They're two beauties, but there's never been a case where a state has this prominence on the Senate races, because they're never together.

"This is something that's very important, and you have to get out you have to vote. You have to make sure you have every vote counted. Everybody vote has to count. You got to make sure they don't throw away any ballots. You got to make sure that when they collect the ballots – they're bragging about how many ballots they have already collected – you've got to make sure your secretary of state does what the hell he's doing.

"And you got to make sure your governor gets a lot tougher than he's been. He's gotta get a lot tougher."

Trump seemed to admit remaining in the White House is an uphill battle, suggesting Vice President Mike Pence would not be the one casting the deciding vote in the next Senate if Democrats win a 50-50 Senate split with a Jan. 5 sweep.

"At stake in this election is control of the U.S. Senate, and that really means control of this country," Trump said. "The voters of Georgia will determine which party runs every committee, writes every piece of legislation, controls every single taxpayer dollar.

"Very simply you will decide whether your children will grow up in a socialist country or whether they will grow up in a free country."

He added later, "if the other side manages to steal both elections, we will have total one party socialist control. And everything you care about will be gone. Your whole philosophy is going to be gone."

The crowd broke out in a "Stop the steal" chant, before Trump added: "But we're working hard to ensure that it doesn't happen, and now they're trying to steal these two important Senate seats from Georgia."
Gentle readers…do you realize what President Trump was saying to Americans last night? A lot more is at stake in this rigged Presidential Election than just the future of Donald J. Trump.
Look around you. Average Americans have been witnessing the purposeful unraveling of the safeguards which those before us have put in place in order that we might live in a society where we can feel safe to venture from our homes.
Not only that, but as the cry from the "New Bolsheviks" is becoming louder and more high-pitched to do away with traditional law and order, spineless Democrat Governors and Mayors are actually giving them what they want: anarchy.
Why do they want anarchy?
In an article titled "Marx, Theoretician of Anarchism, written by Maximilien Rubel in 1973, and found on Marxists.org, the writer makes the following observation…
Marxism as the ideology of a master class has succeeded in emptying the concepts of socialism and communism, as Marx and his forerunners understood them, of their original meaning and has replaced it with the picture of a reality which is its complete negation. Although closely linked to the other two, a third concept – anarchism – seems however to have escaped this fate of becoming a mystification. But while people know that Marx had very little sympathy for certain anarchists, it is not so generally known that despite this he still shared the anarchist ideal and objectives: the disappearance of the State. It is therefore pertinent to recall that in embracing the cause of working class emancipation, Marx started off in the anarchist tradition rather than in that of socialism or communism; and that, when finally he chose to call himself a "communist," for him this term did not refer to one of the communist currents which then existed, but rather to a movement of thought and mode of action which had yet to be founded by gathering together all the revolutionary elements which had been inherited from existing doctrines and from the experience of past struggles. …Marx developed a theory of anarchism; and further, (and) in fact it was he who was the first to provide a rational basis for the anarchist utopia and to put forward a project for achieving it.
For decades now, the Democrats have moved further and further left of the Political Spectrum until, at this point, the Democratic Party is a Far Left political entity, ridiculing, hating, and seeking to destroy America History, traditional faith and values, and, in the process, radically changing our Constitutional Republic into just another failed Democratic Socialist country.
Through the mobilization of "useful Idiots" like Antifa, Black Lives Matter, and Hollywood celebrities, private and political power brokers have "taken advantage of a crisis" to make their move to stoke the fires of anarchy through the use of organized riots in major American cities.
They have used the death of George Floyd to attack and attempt to eliminate our first line of defense: "The Thin Blue Line".
Because their efforts to take out President Trump continued to fail, these power brokers decided to follow the example of Vladimir Lenin, the disciple of Karl Marx, and start a revolution at the grass roots level with their own "New Bolsheviks", the "useful idiots" who I mentioned earlier. And now, we know that while this outward rebellion was going on, the Democrat Elite and their benefactors were setting up the most massive Election Fraud Operation in American History. It is imperative that Patriotic Americans continue to stand with and support our President.
If we do not keep a strong American Patriot like President Trump in office, the Democrats' dream of a Socialist Utopia ushered in through anarchy achieved by fiery rhetoric designed to shame Americans into not standing up to them, will be successful.
They have already succeeding in having young Americans literally kiss the feet of those whom they have supposedly "offended".
They even succeeded in causing the cancellation of "Cops" after 32 years on television and "Live P.D.", a very popular program on A&E.
The "useful idiots" as Marxist Revolutionaries have always called their puppets, are out of control and becoming more bold every day. The Rigged Presidential election proved it.
It is time for Americans to stand up for our country and to stop this attempted coup by the Democrat Elite and their Far Left "useful Idiots".
Before we lose our country.
Until He Comes,
KJ