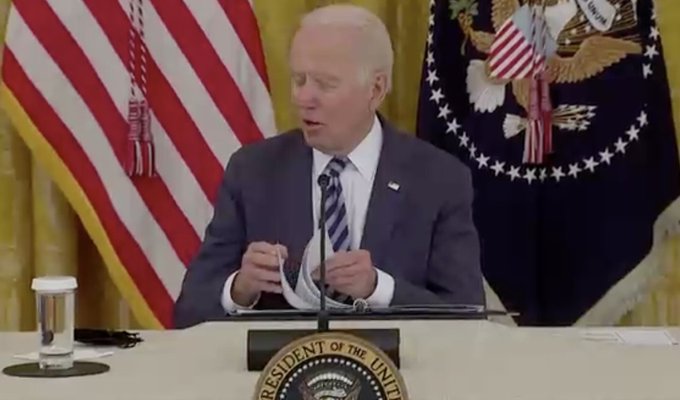 FoxNews.com reports that 
The White House cut off the audio feed for President Joe Biden after he was posed a question Wednesday on stranded Americans in Afghanistan.

As he wrapped up a meeting on cybersecurity in the State Dining Room, Biden dismissed the press as they continued to ask questions. However, he appeared to answer one reporter's query before leaving.

NBC's Peter Alexander asked, "If Americans are still in Afghanistan after the deadline what will you do?"

The White House then proceeded to cut off the audio feed from Biden's response. It was unclear if the maneuver was coincidental or done to prevent feed viewers from hearing any off-the-cuff comments.

Alexander later confirmed the exchange and noted Biden answered, "You'll be the first person I call."

He tweeted "I asked President Biden what he will do if Americans are still in Afghanistan after the 8/31 deadline. His response: 'You'll be the first person I call.' Took no questions."

Other reporters on the scene confirmed the exchange including Daily Caller correspondent Shelby Talcott, Breitbart correspondent Charlie Spiering, and Voice of America's Steve Herman.

Republicans accused the White House of trying to protect the president.

Former Mitch McConnell chief of staff Josh Holmes tweeted, "The White House cuts the President's microphone. Pretty remarkable."

Republican communicator Matt Whitlock tweeted, "Oh my gosh they cut the President's microphone so nobody could hear him answer. That's how worried this White House is about Biden answering questions on Afghanistan."

Others decried what seemed like a callous response from the president.

Biden has faced intense criticism for the Taliban's recent takeover of Afghanistan following his removal of U.S. troops, and he's continually dodged questions regarding efforts to rescue stranded Americans in the country.
Biden has been an arrogant ass for the entire length of his decades-long career as a Professional Politician.
The problem that his Handlers are facing is the fact that dementia often not only magnifies an individual's worst personality traits, it destroys their "filter" as well.
So, instead of Biden responding to the reporter's question like an American President, he responded like a 7th-Grader.
Unfortunately for those Americans stranded in Afghanistan, Biden's answer revealed their fate.
He really does not care whether they make it home or not.
If they are captured, tortured, and beheaded, Biden, Harris, Pelosi, Schumer, and the rest of the Democrats and their minions in the Main Stream Media will blame what happens to them on Former President Trump.
Biden is like every other member of the Democrat Elite: It is never their fault when a plan goes sideways or a decision they made winds up being a bad one.
And, the Democrats who installed him as Leader of the Free World will be as guilty as the Taliban for what happens to those Americans who are unfortunate enough to be left behind in Afghanistan.
The whole world is going to see them meet their fate, thanks to the 24/7 News Cycle.
Biden and his Handlers have damaged our Sovereign Nation so badly that it is liable to take decades to restore America to its rightful place among the world's countries.
The President of the United States of America is supposed to be our greatest advocate, not our greatest enemy.
And the thing is, even if Biden steps down or is impeached, Heels Up Harris and the Wicked Witch of the West, Nancy Pelosi, are next in the line of succession, at least until the Midterm Elections. 
The Democrats have shamed. embarrassed, and endangered our country.
God protect us.
Until He Comes,
KJ
DONATIONS ARE WELCOME AND APPRECIATED.
Make a one-time donation
Make a monthly donation
Make a yearly donation
Choose an amount
Or enter a custom amount
$
---
Your contribution is appreciated.
Your contribution is appreciated.
Your contribution is appreciated.
Donate
Donate monthly
Donate yearly