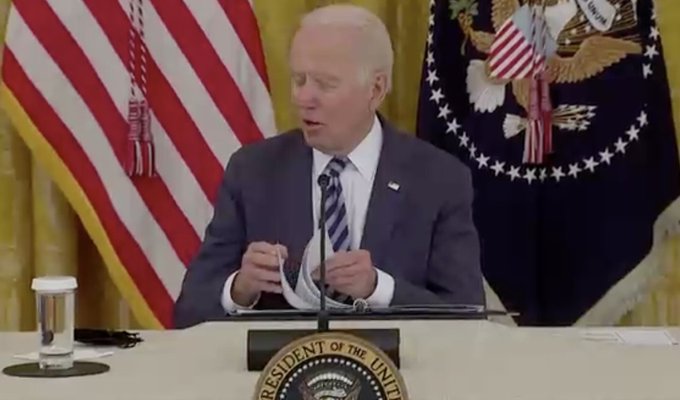 FoxNews.com reports that 
The White House cut off the audio feed for President Joe Biden after he was posed a question Wednesday on stranded Americans in Afghanistan.

As he wrapped up a meeting on cybersecurity in the State Dining Room, Biden dismissed the press as they continued to ask questions. However, he appeared to answer one reporter's query before leaving.

NBC's Peter Alexander asked, "If Americans are still in Afghanistan after the deadline what will you do?"

The White House then proceeded to cut off the audio feed from Biden's response. It was unclear if the maneuver was coincidental or done to prevent feed viewers from hearing any off-the-cuff comments.

Alexander later confirmed the exchange and noted Biden answered, "You'll be the first person I call."

He tweeted "I asked President Biden what he will do if Americans are still in Afghanistan after the 8/31 deadline. His response: 'You'll be the first person I call.' Took no questions."

Other reporters on the scene confirmed the exchange including Daily Caller correspondent Shelby Talcott, Breitbart correspondent Charlie Spiering, and Voice of America's Steve Herman.

Republicans accused the White House of trying to protect the president.

Former Mitch McConnell chief of staff Josh Holmes tweeted, "The White House cuts the President's microphone. Pretty remarkable."

Republican communicator Matt Whitlock tweeted, "Oh my gosh they cut the President's microphone so nobody could hear him answer. That's how worried this White House is about Biden answering questions on Afghanistan."

Others decried what seemed like a callous response from the president.

Biden has faced intense criticism for the Taliban's recent takeover of Afghanistan following his removal of U.S. troops, and he's continually dodged questions regarding efforts to rescue stranded Americans in the country.
Biden has been an arrogant ass for the entire length of his decades-long career as a Professional Politician.
The problem that his Handlers are facing is the fact that dementia often not only magnifies an individual's worst personality traits, it destroys their "filter" as well.
So, instead of Biden responding to the reporter's question like an American President, he responded like a 7th-Grader.
Unfortunately for those Americans stranded in Afghanistan, Biden's answer revealed their fate.
He really does not care whether they make it home or not.
If they are captured, tortured, and beheaded, Biden, Harris, Pelosi, Schumer, and the rest of the Democrats and their minions in the Main Stream Media will blame what happens to them on Former President Trump.
Biden is like every other member of the Democrat Elite: It is never their fault when a plan goes sideways or a decision they made winds up being a bad one.
And, the Democrats who installed him as Leader of the Free World will be as guilty as the Taliban for what happens to those Americans who are unfortunate enough to be left behind in Afghanistan.
The whole world is going to see them meet their fate, thanks to the 24/7 News Cycle.
Biden and his Handlers have damaged our Sovereign Nation so badly that it is liable to take decades to restore America to its rightful place among the world's countries.
The President of the United States of America is supposed to be our greatest advocate, not our greatest enemy.
And the thing is, even if Biden steps down or is impeached, Heels Up Harris and the Wicked Witch of the West, Nancy Pelosi, are next in the line of succession, at least until the Midterm Elections. 
The Democrats have shamed. embarrassed, and endangered our country.
God protect us.
Until He Comes,
KJ
DONATIONS ARE WELCOME AND APPRECIATED.
Make a one-time donation
Make a monthly donation
Make a yearly donation
Choose an amount
Or enter a custom amount
$
---
Your contribution is appreciated.
Your contribution is appreciated.
Your contribution is appreciated.
Donate
Donate monthly
Donate yearly
FoxNews.com reports that
Illegal immigrants would be eligible for coverage under their respective health care plans, the 2020 Democratic presidential hopefuls taking part in Thursday's second round of debates in Miami agreed.

Moderator and NBC "Today" host Savannah Guthrie asked the 10 candidates if their health plans would provide coverage for the estimated 11 million people living in the U.S. illegally.

All raised their hands.

"It's the humane thing to do," former Vice President Joe Biden said.

"This is not about a handout. This is about an insurance program," Pete Buttigieg, the mayor of South Bend, Ind., said.

President Trump seized on the moment in his first tweet of the night, commenting from Japan where he will attend the G-20 summit.

"All Democrats just raised their hands for giving millions of illegal aliens unlimited healthcare," the president wrote, just minutes after the exchange on the debate stage. "How about taking care of American Citizens first!? That's the end of that race!"

Blue states like California have embraced providing health care coverage for undocumented immigrants.

Under an agreement between Gov. Gavin Newsom and Democrats in the state Legislature, low-income adults age 19-25 living in California illegally would be eligible for the state's Medicaid program, known as Medi-Cal. The deal emerged as part of a broader $214 billion budget that Newsom signed into law Thursday.
Giving illegal aliens Government Benefits reserved for American Citizens is not a new idea. Obama and his Administration pushed hard for it.
In fact, he wanted to do it by simply writing an Executive Order!
Remember DAPA?
Terrence P. Jeffrey, writing for CNSNews.com, reported in January of 2016 that
…The solicitor general calls what Obama is doing "prosecutorial discretion."

He argues that under this particular type of "prosecutorial discretion," the executive can make millions of people in this country illegally, eligible for Social Security, disability and Medicare.

On April 18, the Supreme Court will hear arguments in the case. Entitled United States v. Texas, it pits President Obama against not only the Lone Star State, but also a majority of the states, which have joined in the litigation against the administration.

At issue is the policy the administration calls Deferred Action for Parents of Americans and Lawful Permanent Residents, which would allow aliens in this country illegally who are parents of citizens or lawful permanent residents to stay in the United States.

"The Executive Branch unilaterally created a program — known as DAPA — that contravenes Congress's complex statutory framework for determining when an alien may lawfully enter, remain in, and work in the country," the attorney general and solicitor general of Texas explained in a brief submitted to the Supreme Court on behalf of the states seeking to block the policy.

"DAPA would deem over four million unlawfully present aliens as 'lawfully present' and eligible for work authorization," says the Texas brief. "And 'lawful presence' is an immigration classification established by Congress that is necessary for valuable benefits, such as Medicare and Social Security."
Same ol', same ol'…
The Democrat's benevolence…OUR MONEY.
So, by giving an individual, who has broken our laws, by entering our Sovereign Nation illegally, Federal Benefits, reserved to provide for the welfare of actual American Citizens, these wannabe Democratic Presidential Candidates somehow believe that they are "taking care" of dutifully executing our Nation's Laws?
Sure they are.
And Rosie O'Donnell has a "bikini body". (Let that image settle in for a moment.)
Is breaking into our country, something that should be rewarded?
No.
What makes the current influx of illegal immigrants exempt from the rules and regulations that every other generation of immigrants to this country had to abide by in order to become legal citizens of the greatest nation in the world? By being here illegally, they are not entitled to the same rights as natural-born or naturalized American citizens.
And, yet, even as I write this, they are in our hospitals, taking advantage of our charity and the finest health care system in the world, and driving our streets, with either forged drivers licenses or those obtained from states who have acquiesced and given them to these "undocumented workers".
This is in no way a human rights issue. Freedom is God-given, and with freedom comes responsibility. With citizenship comes responsibility, like paying taxes and making your own way.
My concerns about the Democrats' coddling of the illegal aliens and the often-proposed "Path to Citizenship" business, can be divided into three bullet points. (Hey, I'm a Former VP of Marketing. What do you expect?)
1. Patriotism – Will these new "citizens" be willing to fly our flag above theirs? Will they be willing, if called upon, to serve in our Armed Forces, at home or abroad? Will they love this country, more than the one they left?
2. Loyalty – When these "new Americans" achieve the right to vote, are they all going to vote Democrat, so that they can receive more FREE STUFF? Will they honestly embrace our sovereign nation as their new home? Or, will they remain loyal to their country of origin?
3.  Immigration – Are we rewarding illegal behavior, while at the same time, insulting all of the brave souls who have come here legally, seeking a better life for themselves and their families?
I understand that people want a better life for themselves and their children.  Our ancestors were all immigrants in this land, except for American Indians, and they got here by crossing the Bering Straight.  But there is a huge difference between immigrating here legally and sneaking in illegally, between assimilating into an existing culture, and insisting on replacing a country's existing culture with that of the country you left.
I'm all for assisting anyone in becoming a legal citizen of the United States, if that is their wish.  But, it must be done the right way, and they must accept responsibility for their illegal entry, show a willingness to learn our language, and embrace our American way of life, including respecting the American Flag.
The Far Left Democratic Politicians on that stage last night, like those the night before, exhibited all the symptoms of a disease that I've noticed that all of the Far Left exhibit: Narcissistic-Reality-Denial-Over-Educated-Beyond-Their-Intelligence Syndrome. The patient tends to rely on his self-assumed superior intellect, denying the reality of the world around him to the point of forsaking both his allegiance to and concern for the people of the country that has provided him with both his livelihood and his well-being.
This syndrome seems to be extremely pernicious in academic and political figures. The patient actually believes that he is an expert on everything, to the point where he can write and distribute instructional theses to seasoned professionals while lecturing them in a didactic manner.
The only treatment for Narcissistic-Reality-Denial-Over-Educated-Beyond-Their-Intelligence Syndrome at this time is "refudiation" and isolation. The people who are being affected by these individuals must, in a clear and over-whelming manner, let the patient know that they do not accept their attitude or actions and put them in a "time-out".
In the case of whomever is chosen to be the Democratic Presidential Candidate in the 2020 Election, Americans must send a clear rejection of the anti-American Far Left Democratic Party and their Marxist Political Ideology, when we vote in the 2020 Election by re-electing President Donald J. Trump..
Y'know…at the rate that these educated-beyond-their-intelligence, imperious, Marxism-loving, "Social Justice Warrior" buffoons keep obviously virtue-signaling about wanting to intentionally run our nation into the ground, I fully expect each and every one of them, one day soon, to respond to an economic question at one of their campaign stops, when asked about the rights and welfare of our veterans and our average hard-working American Citizens, to answer:
Let them eat arugula!
Until He Comes,
KJ