Woe to those who call evil good and good evil, who put darkness for light and light for darkness, who put bitter for sweet and sweet for bitter! – Isaiah 5:20
Consider, if you will, a country in which its president's first action in office was to close a oil pipeline which was important to our country's energy needs and which employed thousands of Americans.
…a country whose majority political party builds a wall around its capitol building in order to separate itself from the citizens whom they are supposed to be serving..
…a country whose President and his Administration gave billions of dollars of our weaponry behind during a botched pull-out from a Radical Islamic Nation, leaving Islamic Terrorists in charge of it who worked with others who killed 3,000 Americans 20 years ago, leaving hundreds of Americans are trapped inside the country now.
…a country whose President announces with glee that he is going to require private businesses to force their employees to either get a vaccine that may require a booster or lose their job…increasing an already massive unemployment problem.
…a country whose President vows to fight a law protecting unborn babies having a heartbeat from getting ripped out of their mothers' wombs.
a country whose President is obviously battling dementia, getting worse every day, and no one is making him step down because the cabal who is "handling" him will not allow it.
…a country in which the faith of 75% of its citizens is constantly attacked by the same people who constantly clqaim to be tolerant of others.
"You are traveling through a previously unknown country, a country whose population has politically been torn asunder, a country whose Democratic Leadership have forsworn its traditional faith and values to embrace those of its enemies. A country whose great promise is now being broken, subjugated to the wishes of a political minpority who follow the teachings of Karl Marx.
There's a signpost up ahead. Next stop, Socialist America."
This country has been pulling apart at the seams since Barack Hussein Obama was elected as our 43rd President.
The direction which the Modern Democratic Party has taken to the Far Left of the Political Spectrum has put them at odds with the majority of Americans who still hold dear the Traditional Faith and Values System upon which our Sovereign Nation was founded.
In an article written for Decision Magazine dated February 12, 2012, America's Pastor, Rev. Billy Graham, wrote on the subject of "Confusing Evil With Good". Here are some excerpts…
Humanity has always been dexterous at confusing evil with good. That was Adam and Eve's problem, and it is our problem today. If evil were not made to appear good, there would be no such thing as temptation. It is in their close similarity that the danger lies.

Modern social righteousness often differs from the righteousness of the Bible. Someone has said: "A wrong deed is right if the majority of people declare it not to be wrong." By this principle we can see our standards shifting from year to year according to the popular vote! Divorce was once frowned upon by society, and laws against fornication and adultery were strictly enforced. But now divorce is accepted by society, and fornication is glorified in our literature and films.

The Bible says: "Woe to those who call evil good, and good evil." God has not changed. His standards have not been lowered. God still calls immorality a sin, and the Bible says God is going to judge it.

Honesty was once the hallmark of character. But it has been set aside with an "It's all right if you don't get caught" philosophy. Only when we are in court are we required to tell the truth, the whole truth and nothing but the truth.

…How do we get our values so mixed up? How do we fall into this trap of Satan? For one thing, we're shortsighted. We look for shortcuts to happiness. Our lust for immediate pleasure prompts us to think of evil as good.

In one of novelist John Steinbeck's books he has a character saying: "If it succeeds, they will be thought not crooked but clever." In our desire to achieve success quickly, it is easy to get our values mixed up and call evil good and good evil.

Another way to call evil good is to say that morals are relative. Someone has said: "As the occasion, so the behavior." We have changed our moral code to fit our behavior instead of changing our behavior to harmonize with our moral code. Nothing is firm today. We are not on solid ground. Young people are shifting from one side to the other. Morally, they are drifting aimlessly without compass or guide.

Still another way that evil is called good is for the conscience to be perverted, and certainly our consciences today are perverted. But right is right even if nobody is right, and wrong is wrong even if everybody is wrong. God does not change the moral law to suit our behavior.

…The modern conscience has been twisted and distorted so badly that it is difficult to tell what is genuine and what is false.

Self-centeredness is another reason we are so inclined to call evil good. When something brings profit or pleasure to us we are inclined to call evil good, even though we know it is dead wrong. "But it's what I've always wanted," or, "It's good for me, although I know it's wrong" are the alibis we have manufactured to justify evil and call it good.
It is very apparent that there is something that is literally tearing apart the fabric of our country.
The only conclusion that I, as a Christian American can reach, is the fact that our Sovereign Nation is in the midst of SPIRITUAL WARFARE for its very soul.
Make no mistake about it, boys and girls, EVIL EXISTS.
My friends, I believe that we are fighting a war not just against the Chinese Coronavirus and the Taliban, but also against "princes and principalities". Evil is still alive and well and flourishing in a world in which relative morality and situational ethics are increasingly being accepted as normal behavior.
We see it everyday around us.
It inundates the cable news channels and our country's failing Liberal Newspapers like the New York Times. Heck, you can even see it on Facebook.
Since Cain slew Able with a rock, mankind, because we are all fallen creatures, has had to deal with the presence of evil in our lives.
From the legendary massacres, perpetrated by Vlad the Impaler, to the horrific scenes of Hitler's Concentration Camps, to the killing fields of Pol Pot, to the massacre of innocent Middle Eastern Christians by Islamic State, to the murders by Chicago Street Gangs every night, the Forces of Evil continue to flourish across the globe.
Who we as a nation are struggling with are those forces who want to turn our country into not just an immoral society, but, an amoral one, whose concept of right and wrong is "Whatever Gets You Through the Night (It's Alright. It's Alright.)", and whose ultimate authority is not the God of Abraham, but a Godless All-Powerful Central Government, whose credo is
From each according to his abilities, to each according to his needs. (Karl Marx)
Just as Marxism has failed wherever it has been tried before, so, if allowed to do so, it would lead to America's downfall.
The galling thing is the fact that, even though American Christians remain 75% of the population, we are propagandized and suppressed by the Liberals in both the Old and New Media, to make it seem as if WE are the Minority, when, in fact, WE are the overwhelming Majority.
It is this New Generation of Amoral Socialists, who have taken over the Democratic Party, who are in fact, just a tiny, albeit vocal, Minority of America's population.
So, what can an average Christian American, like you and me, do about this "Tyranny of the Minority"?
Christians have to make a choice in these tough times whether to allow those who are attempting to "radically change" our Sovereign Nation, given to us by God into a Democratic Socialist Paradise or…
As the Apostle Paul tells us in Ephesians, we can STAND.
However, you cannot stand without "the full armor of God". I have found, as have my family and friends, that the better that you are doing, in terms of your Christian Walk, the harder that you will be attacked.
10Finally, be strong in the Lord and in the strength of His might. 11Put on the full armor of God, so that you will be able to stand firm against the schemes of the devil. 12For our struggle is not against flesh and blood, but against the rulers, against the powers, against the world forces of this darkness, against the spiritual forces of wickedness in the heavenly places.…- Ephesians 6:10-12
Now, more than ever, in the midst of this pandemic, our Christianity as Americans does not and can not end at Noon on Sunday as we finish watching church services on the internet via our Smart TVs.
"Onward, Christian Soldiers, marching as to war."
Because believe me, Americans…we are in one with three enemies. Two enemies are invisible and one is political.
Pray for those who are out "on the front line" fighting the Chinese Coronavirus every day and caring for those who are sick with it,
Pray for our country.
God Bless America.
Until He Comes,
KJ
DONATIONS ARE WELCOMED AND APPRECIATED.
Make a one-time donation
Make a monthly donation
Make a yearly donation
Choose an amount
Or enter a custom amount
$
---
Your contribution is appreciated.
Your contribution is appreciated.
Your contribution is appreciated.
Donate
Donate monthly
Donate yearly
In some ways it does not seem like it has been 20 years since the worst Terrorist Attack ever perpetrated on American soil.
In other ways, it seems like an eternity.
That horrible day was so surreal. It seemed to me like I was stuck in a nightmare.
Certainly this couldn't be happening to us? We're the greatest nation in the world. Who in their right mind, would dare attack the United States of America? Who would be brazen enough to attack us, using instruments of our own design? Who would actually dare flying planes into the Twin Towers, a living symbol of American Prosperity?
For that matter,. who would fly a plane into the Pentagon…the Seat of Power behind our nation's awesome Military, the finest collection of Fighting Men and Women on Earth?
It was not a nightmare. It was a reality.
I remember seeing that first plane crash into the World Trade Center.
I remember the look of incredulity and panic on the faces of Steve Doocy, Brian Kilmeade, and E.D. Hill, as they watched from the set of Fox and Friends that fateful morning.
I remember the second plane on its approach, and the horrifying realization that this was no accident… that America was under attack. An attack, which turned out to have been planned and executed by Osama bin Laden, and a group of Saudi Arabians, members of the Muslim Terrorist Group, known as al-Qaeda.
I remember the images of Americans jumping out of windows to their certain death, rather than be consumed by the fires, raging around them.
I remember the sickening thud as they hit the pavement.
I remember the images of the brave NYC Policemen and Firemen as they rushed into the World Trade Center…never to return.
I remember watching the First Tower collapse…then, the second one.
I remember a heroic Mayor Rudy Giuliani, out in the middle of the devastation, doing whatever he could to get New Yorkers to safety.
I remember President George W. Bush coming on television, with a look of steely determination, as he announced that we would be avenged.
I remember him standing on that heap of rubble that used to be a part of the World Trade Center, side by side with that fireman, telling the assembled crowd, through his bullhorn, that "the world will hear from us".
And, it did.
Here is the tragedy of 9/11/01, broken down by the numbers. Courtesy of nymag.com:
The initial numbers are indelible: 8:46 a.m. and 9:02 a.m. Time the burning towers stood: 56 minutes and 102 minutes. Time they took to fall: 12 seconds. From there, they ripple out.

Total number killed in attacks (official figure as of 9/5/02):2,819
Number of firefighters and paramedics killed: 343
Number of NYPD officers: 23
Number of Port Authority police officers: 37
Number of WTC companies that lost people: 60
Number of employees who died in Tower One: 1,402
Number of employees who died in Tower Two: 614
Number of employees lost at Cantor Fitzgerald: 658
Number of U.S. troops killed in Operation Enduring Freedom: 22
Number of nations whose citizens were killed in attacks:115
Ratio of men to women who died: 3:1
Age of the greatest number who died: between 35 and 39
Bodies found "intact": 289
Body parts found: 19,858
Number of families who got no remains: 1,717
Estimated units of blood donated to the New York Blood Center: 36,000
Total units of donated blood actually used: 258
Number of people who lost a spouse or partner in the attacks: 1,609
Estimated number of children who lost a parent: 3,051
Percentage of Americans who knew someone hurt or killed in the attacks: 20
FDNY retirements, January–July 2001: 274
FDNY retirements, January–July 2002: 661
Number of firefighters on leave for respiratory problems by January 2002: 300
Number of funerals attended by Rudy Giuliani in 2001:200
Number of FDNY vehicles destroyed: 98
Tons of debris removed from site: 1,506,124
Days fires continued to burn after the attack: 99
Jobs lost in New York owing to the attacks: 146,100
Days the New York Stock Exchange was closed: 6
Point drop in the Dow Jones industrial average when the NYSE reopened: 684.81
Days after 9/11 that the U.S. began bombing Afghanistan: 26
Total number of hate crimes reported to the Council on American-Islamic Relations nationwide since 9/11: 1,714
Economic loss to New York in month following the attacks: $105 billion
Estimated cost of cleanup: $600 million
Total FEMA money spent on the emergency: $970 million
Estimated amount donated to 9/11 charities: $1.4 billion
Estimated amount of insurance paid worldwide related to 9/11: $40.2 billion
Estimated amount of money needed to overhaul lower-Manhattan subways: $7.5 billion
Amount of money recently granted by U.S. government to overhaul lower-Manhattan subways: $4.55 billion
Estimated amount of money raised for funds dedicated to NYPD and FDNY families: $500 million
Percentage of total charity money raised going to FDNY and NYPD families: 25
Average benefit already received by each FDNY and NYPD widow: $1 million
Percentage increase in law-school applications from 2001 to 2002: 17.9
Percentage increase in Peace Corps applications from 2001 to 2002: 40
Percentage increase in CIA applications from 2001 to 2002: 50
Number of songs Clear Channel Radio considered "inappropriate" to play after 9/11: 150
Number of mentions of 9/11 at the Oscars: 26
Apartments in lower Manhattan eligible for asbestos cleanup: 30,000
Number of apartments whose residents have requested cleanup and testing: 4,110
Number of Americans who changed their 2001 holiday-travel plans from plane to train or car: 1.4 million
Estimated number of New Yorkers suffering from post-traumatic-stress disorder as a result of 9/11: 422,000
And, here we are, 20 years removed from that nightmarish day, with a President of the United States, who since taking office, has purposefully divided our Sovereign Nation like never before, pitting black Americans against White Americans, the poor among us against those who employ people, and the vaccinated against the un-vaccinated.
This treasonous imbecile who was installed as President has kissed the backsides of the same people responsible for the horrific events which we stop to remember on this solemn day.
Not only that, in his surrender to the Taliban, he left behind American citizens, now claiming that the Taliban are acting like "professionals"
Under our former Commander-in-Chief that would have never happened. Former President Donald J. Trump does not bow down to Radical Islamists.
During the days after 9/11/2001, political affiliation, race, gender, personal philosophy, did not matter.
WE WERE AMERICANS.
This country came together, in a way in which I had never before seen in my lifetime (which, is a pretty long time).
Now, look at us.
Besides the Far Left Cabal and their puppet in the White House, we have Radical Muslims (and Marxists) occupying seats in the House of Representatives and displaying their ignorance and disdain for our country.
Like Rep. Ilhan Omar (D-MN) who infamously said,
"Some people did something."
Americans must continue to stand firm and to once again come together and let our "public servants" in the Halls of Power in Washington, D.C know that we stand against those who would embrace our enemies instead of serving our Sovereign Nation, as they were elected to do.
Also, we remember those who left us on that September Morning so long ago, and say a prayer for them and the Four Americans whom we lost on the grounds of a US Embassy Compound in Benghazi, Libya. All these years later, they still deserve no less.
On September 11, 2001, Radical Islamists attacked us on our own soil and murdered over 3,000 Americans, and if given the opportunity, they will not hesitate to do it again.
We must stop the Far Left ideologues of the Modern Democratic Party, including President Joe Biden and his "Handlers" and not give them any more opportunities to bring about "radical change" in America through the appeasement of our enemies which has already started happening under this President, including secret deals, possible pay-offs, acquiescence, and leaving them the means of our nation's destruction during the botched pull-out from Afghanistan..
America was NEVER meant to be "just another country".
We must stand united as a nation and continue to reclaim our heritage as "The Shining City Upon a Hill".
The lives lost on September 11, 2001…and September 11, 2012…demand it.
Until He Comes,
KJ
DONATIONS ARE WELCOMED AND APPRECIATED.
Make a one-time donation
Make a monthly donation
Make a yearly donation
Choose an amount
Or enter a custom amount
$
---
Your contribution is appreciated.
Your contribution is appreciated.
Your contribution is appreciated.
Donate
Donate monthly
Donate yearly
That is not all they have to answer for.
FoxNews.com reports that
A Tennessee congressman who is also an Iraq & Afghanistan war veteran sent a letter to the State Department demanding answers after a source informed his office evacuees being held at a Southside Virginia military base have had "free reign" of the campus and have allegedly been leaving the base using rideshare apps without restraint from officials, Fox News has learned.

Rep. Mark Green, who represents part of Middle Tennessee wrote to Secretary of State Antony Blinken Wednesday after a source with knowledge of the situation made the allegations to his office.

Green wrote Blinken asking for information regarding allegations not-fully-vetted Afghan evacuees being held at Fort Pickett have "basically have free reign of the complex and have even been allowed to leave despite not having completed the vetting process."

He claimed soldiers at Fort Pickett, located between Petersburg and South Boston, have no authority to "arrest or stop" any of the evacuees from leaving the base on their own free will, regardless of vetting status.

"My source has made shocking allegations," Green wrote. Among the allegations mentioned, Green wrote "several evacuees have been picked up by Uber drivers without any permission from authorities, or being cleared to leave."

Green called upon his combat service in Afghanistan to request confirmation or denial of the allegations made by the source, telling Blinken they pose an obvious national security risk.

The State Department has not been able to provide a breakdown of evacuees, pertaining to how many are interpreters who aided the U.S. military, how many are other SIV holders, and how many are simply Afghan citizens seeking to escape the ruthless Taliban rule.

When contacted by Fox News, the State Department said as a general matter it does not comment on communications with Congress.
Well, after all, what can a few possible members of the Taliban accomplish?
Over 3,000 American deaths, that's what.
Here is what happened the last time unvetted Islamists were allowed to roam freely in America.
15 of the 19 Muslim Terrorists who carried out the attack on September 11, 2001 were Saudi Arabian citizens — and the mastermind Osama bin Laden was the son of a wealthy Saudi Arabian contractor with close ties to the Saudi Royal Family.
Court documents in the case of Zacarias Moussaoui, the 20th hijacker from 9/11/2001, outline how the three main leaders in Florida — Mohamed Atta, Marwan al-Shehhi and Ziad Jarrah — arrived in Florida in the summer of 2000. Interviews and media accounts fill many of the gaps left by the FBI.
Atta, al-Shehhi and Jarrah had attended Technical University in Hamburg, Germany, in the late 1990s. They had been roommates there, part of an Islamic student group that hated Western ways.  Atta signed a "will" in 1996, pledging to die in a "holy war" against the infidels.
The federal indictment against Moussaoui told how more than $114,000 from the United Arab Emirates was distributed that summer to Atta and al-Shehhi through SunTrust bank accounts in Florida. Much more would come later from the al-Qaida terrorist network.  The cost of the operation was nearly $500,000.
The indictment said Atta and al-Shehhi took flying lessons from July to December at Huffman Aviation, a flight school in Venice.
Jarrah showed up that summer in Venice also, taking piloting classes at a neighboring flight school.
When Atta and al-Shehhi got their commercial pilots licenses in December 2000, Florida was still pre-occupied with the close election that put George W. Bush in the White House.
A few days later, Atta and al-Shehhi moved over to Florida's east coast, in Opa-Locka, where each paid $1,500 cash for three hours in a Boeing 727 simulator.
During the spring and summer of 2001, eight additional hijackers came to the United States and settled in Florida. Nine opened SunTrust bank accounts.  Three others arrived in San Diego, completing the five-man team based in California.
That spring and summer, the Florida terrorist group made itself at home in South Florida, renting apartments and condos, attending gyms, and going to restaurants.  They were seen a lot, hanging around Hollywood and Delray Beach.
These terrorists assimilated into American Society, excuse the expression, flying under the radar, only to strike on September 11th, 2001, killing 2,819 in the word Terrorist attack ever on American soil.
Where the funding for these Saudi Terrorists actually came from, remains a mystery,
So, yeah.
I think that the procedures being used to bring in poorly-vetted Afghanis directly from a country which was just taken over the the murderous Radical Islamists known as the Taliban was a very stupid and dangerous move by an incompetent Administration.
Especially, when that same Administration is refusing to let American Citizens leave Afghanistan on privately chartered flights, arranged by retired American Veterans.
Until He Comes,
KJ
DONATIONS ARE WELCOME AND APPRECIATED.
Make a one-time donation
Make a monthly donation
Make a yearly donation
Choose an amount
Or enter a custom amount
$
---
Your contribution is appreciated.
Your contribution is appreciated.
Your contribution is appreciated.
Donate
Donate monthly
Donate yearly
FoxNews.com reports
FIRST ON FOX: Americans engaged in the rescue of U.S. citizens, SIVs and green card holders left behind by President Biden in Afghanistan are horrified by what they describe as inexplicable delays from the State Department that are preventing evacuation flights from leaving the country.

The State Department's delays are recklessly endangering American lives, three different individuals involved in the private evacuation effort told Fox News.

Rick Clay, who runs the private rescue group PlanB, told Fox News that the State Department is the only thing preventing the flights he's organizing from leaving Afghanistan.

Two other American individuals separately involved in evacuation efforts, whom Fox News is not naming to avoid jeopardizing ongoing rescue efforts, similarly said that the State Department is the sole entity preventing their charter flights from leaving Afghanistan.

"This is zero place to be negotiating with American lives. Those are our people standing on the tarmac and all it takes is a f****ing phone call," one of those individuals, who has been integral to private evacuation efforts from Afghanistan, told Fox News.

"If one life is lost as a result of this, the blood is on the White House's hands. The blood is on their hands," that individual said, adding: "It is not the Taliban that is holding this up – as much as it sickens me to say that – it is the United States government."

That individual suggested that the State Department's obstruction is motivated in part by embarrassment that private individuals are rescuing Americans that the U.S. government left behind.

Military command over Al Udeid Air Base in Doha, Qatar, have informed those seeking clearance to land that they must first go through the State Department to gain approval, an email reviewed by Fox News shows.

Clay has a manifest of 4,500 names of U.S. citizens, green card holders, SIVs and refugees trying to get state-side. So far, they've given the State Department 800 names for a first round of flights. Fox News has reviewed that manifest, which confirms Clay's account.

"It is imperative that we get into Doha where there [are] other refugee centers," the PlanB founder told Fox News in a text message. "That is where I've asked for clearance."

Clay told Fox News that his organization is "having problems getting permission" from the Biden State Department "to land on the return flight" from Afghanistan in a neighboring country.

The State Department "is not allowing any private charters carrying refugees [to] land anywhere" in nearby countries if they are coming out of Afghanistan and is making different "excuses" as to why, such as pointing to the lack of air traffic controllers and radar issues, Clay told Fox News this week. The two other individuals separately involved in private evacuation efforts confirmed Clay's account.

"If we can get aircraft in and pick up people and bring them out, why can't we take them to Doha to the refugee center or other refugee centers?" Clay remarked. "This makes no sense."

"We still have Americans we can get out," he added.

After making little to no progress with the State Department, Clay's group turned to senators from both parties: Sens. Tom Cotton, R-Ark., Richard Blumenthal, D-Conn., and Ron Johnson, R-Wis., have all sought to help PlanB and other organizations secure the approval they need to get the evacuees safely out of Afghanistan, organizers and Senate staffers told Fox News.

Clay received word on Thursday that their flights out of Afghanistan would eventually receive approval following the State Department's review of their manifest — a task that could take several days even as just the initial 800 names are subjected to the vetting process.

As of Sunday evening, the State Department had yet to give PlanB the green light to land any of their flights in any countries neighboring Afghanistan.

The two other Americans involved in another private evacuation effort told Fox News that the State Department has secured them clearance to land in a neighboring country and that the Taliban has given them the green light to take off, dependent on State Department approval – which hasn't come.

Meanwhile, Taliban fighters are reportedly carrying out executions against those who helped American troops during the war.
Gentle Readers, I used to refer to the 8 long nightmarish years which Barack Hussein Obama (mm mmm mmmm) occupied the White House as "the First Anti-American Presidency"
The last 8 months with Joe Biden's Handlers running things have proven to be the Second.
For any United States President to leave hundreds of our countrymen trapped in Afghanistan, subject to the "tender mercies" of Radical Islamic Terrorists, demonstrates an occupant of the Oval Office who is nothing but a demented treasonous sociopath (Yeah, I said it).
As several military experts have pointed out, Biden has had 8 months to get all Americans out of Afghanistan.
The excuse that he and his Military Cabinet members did not expect Afghanistan to be overrun so quickly simply does not pass the smell test.
Their a@@-backwards withdrawal plan, closing Bagram Air Base and removing the troops before the civilians, is such a display of ignorance and arrogance as to make "Military Intelligence", at least when it involves this Administration, a contradiction in terms.
The cherry on the top of the melting cake in MacArthur's Park (look it up, children) is the lack of cooperation by our own State Department with those who are valiantly attempting to rescue their fellow Americans from certain death at the hands of the Taliban.
And now, as reported in Jack Posobiec's Twitter above, the State Department is not letting planes full of evacuees land in other countries once they have escaped Afghanistan.
I hate myself for thinking this way…did Biden give up his fellow Americans in some sort of deal with the Taliban and their friends, the Communist Chinese Government?
I know that it seems insane.
However, at this point, after watching Biden, his Handlers, and his Cabinet purposely attempt to ruin the country he is supposed to leading in order to "radically change" it…
ANYTHING IS POSSIBLE.
GOD PROTECT US.
Until He Comes,
KJ
DONATIONS ARE WELCOME AND APPRECIATED.
Make a one-time donation
Make a monthly donation
Make a yearly donation
Choose an amount
Or enter a custom amount
$
---
Your contribution is appreciated.
Your contribution is appreciated.
Your contribution is appreciated.
Donate
Donate monthly
Donate yearly
Reuters.com reports that
In the last call between U.S. President Joe Biden and his Afghanistan counterpart before the Taliban seized control of the country, the leaders discussed military aid, political strategy and messaging tactics, but neither Biden nor Ashraf Ghani appeared aware of or prepared for the immediate danger of the entire country falling to insurgents, a transcript reviewed by Reuters shows.

The men spoke for roughly 14 minutes on July 23. On August 15, Ghani fled the presidential palace, and the Taliban entered Kabul. Since then, tens of thousands of desperate Afghans have fled and 13 U.S. troops and scores of Afghan civilians were killed in a suicide bombing at the Kabul airport during the frenetic U.S. military evacuation.

Reuters reviewed a transcript of the presidential phone call and has listened to the audio to authenticate the conversation. The materials were provided on condition of anonymity by a source who was not authorized to distribute it.

In the call, Biden offered aid if Ghani could publicly project he had a plan to control the spiraling situation in Afghanistan. "We will continue to provide close air support, if we know what the plan is," Biden said. Days before the call, the U.S. carried out air strikes to support Afghan security forces, a move the Taliban said was in violation of the Doha peace agreement.

The U.S. president also advised Ghani to get buy-in from powerful Afghans for a military strategy going forward, and then to put a "warrior" in charge of the effort, a reference to Defense Minister General Bismillah Khan Mohammadi.

Biden lauded the Afghan armed forces, which were trained and funded by the U.S. government. "You clearly have the best military," he told Ghani. "You have 300,000 well-armed forces versus 70-80,000 and they're clearly capable of fighting well." Days later, the Afghan military started folding across provincial capitals in the country with little fight against the Taliban.

In much of the call, Biden focused on what he called the Afghan government's "perception" problem. "I need not tell you the perception around the world and in parts of Afghanistan, I believe, is that things are not going well in terms of the fight against the Taliban," Biden said. "And there is a need, whether it is true or not, there is a need to project a different picture."

Biden told Ghani that if Afghanistan's prominent political figures were to give a press conference together, backing a new military strategy, "that will change perception, and that will change an awful lot I think."

The American leader's words indicated he didn't anticipate the massive insurrection and collapse to come 23 days later. "We are going to continue to fight hard, diplomatically, politically, economically, to make sure your government not only survives, but is sustained and grows," said Biden.

The White House Tuesday declined to comment on the call.
In what is left of Joe Biden's mind, perception is reality.
That is an old adage favored by politicians and others who lie for a living.
This conversation between Biden and the Afghan President is just another stranded in the tangled web which Biden and his staff wove which led to the debacle in Afghanistan.
Biden wanted to false project strength to Americans and the rest of the Free World, in a desperate attempt to convince everybody that he was in control of the Afghanistan "Situation" regarding the Taliban.
In reality, #DementiaJoe did not have a clue.
Just like in the best seller from the 1970s, "The Peter Principle", Joe Biden had risen to up to a level at which his incompetency was becoming harder and harder to hide.
He wanted the Afghanistan President to "change the perception" of the rapidly-unraveling country, so that it, in turn, would convince everyone that he, as the President of the Greatest Country on Earth, knew how to handle Foreign Policy Issues, despite what his 40-year track record in Washington showed.
Unfortunately for Sleepy Joe, B.S. can only get you so far.
When the rubber met the road and the Taliban started taking over, it was too late for feeble-minded Biden to do anything about it, except to implement the a@@-backwards strategy of pulling our military out first and then scramble to get American Citizens and our Afghani Allies out later.
Instead of cutting the head off of the snake known as the Taliban when he had the chance, Biden's ignorance of the true situation allowed them to take over the country.
And, yesterday, when he spoke to Americans, instead of admitting his mistakes, he doubled-down on his ignorance, blaming, Trump, the Afghanis, and anyone else he could think of…except himself and his Military Leaders.
He knew that he had failed.
That is why he spent the majority of yesterday's speech yelling at Americans.
After all, in Biden's demented state, I am sure that we share equal blame with President Trump and the Afghanis for not realizing just how brilliant a 78-year old professional politician who was installed as President, actually is.
Why do images of Wile E. Coyote, knocking on Bugs bunny's door, introducing himself as a "suuuper genius" come to my mind?
Until He Comes,
KJ
DONATIONS ARE WELCOME AND APPRECIATED.
Make a one-time donation
Make a monthly donation
Make a yearly donation
Choose an amount
Or enter a custom amount
$
---
Your contribution is appreciated.
Your contribution is appreciated.
Your contribution is appreciated.
Donate
Donate monthly
Donate yearly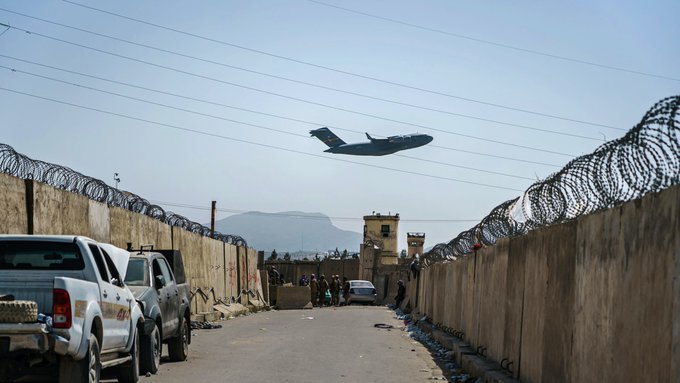 FoxNews.com reports that
President Biden appears to have broken his promise to stay in Afghanistan until every American is evacuated.

Marine Corps Gen. Kenneth F. McKenzie Jr. announced Monday evening that the last of the U.S. troops stationed at the Kabul airport had left, completing the military's drawdown in the country, even though hundreds of Americans likely remain.

McKenzie, commander of U.S. Central Command, said some American citizens who wanted to leave Afghanistan remain in country.

"We did not get everybody out that we wanted to get out," he said.

President Joe Biden told ABC News' George Stephanopoulos during an interview on Aug. 18 that the U.S. military objective in Afghanistan was to get "everyone" out, including Americans and Afghan allies and their families.

"That's what we're doing now, that's the path we're on. And I think we'll get there," he said. "If there's American citizens left, we're gonna stay to get them all out."

A senior State Department official told Fox News on Monday that there is still a "small number" of Americans who are in Afghanistan.

That official put the number of Americans at "below 250," adding that some additional Americans have departed Afghanistan in recent hours. The official added that the State Department is also committed to evacuating "those who worked with us," referring to Afghan "partners."

The announced end of the withdrawal comes less than a day before the official deadline agreed to by the Taliban, which was 3:29 p.m. EST Tuesday – 11:59 p.m. local time in Kabul, U.S. defense officials told Fox News.

The Taliban has said they will allow normal travel after the U.S. withdrawal is completed on Tuesday and they assume control of the airport.
Uh huh.
One of the advantages of being **cough** older, is that I remember when Americans were left behind in the middle of another Middle Eastern "Revolution".
Are you old enough to remember the Iranian Hostage Crisis? If not, here is a summary, courtesy of u-s-history.com:
On November 4, 1979, an angry mob of some 300 to 500 "students" who called themselves "Imam's Disciples," laid siege to the American Embassy in Teheran, Iran, to capture and hold hostage 66 U.S. citizens and diplomats. Although women and African-Americans were released a short time later, 51 hostages remained imprisoned for 444 days with another individual released because of illness midway through the ordeal.

…Upon the death of the shah in July [1980] (which neutralized one demand) and the Iraqi invasion of Iran in September (necessitating weapons acquisition), Iran became more amenable to reopening negotiations for the hostages' release.

In the late stages of the presidential race with Ronald Reagan, Carter, given those new parameters, might have been able to bargain with the Iranians, which might have clinched the election for him. The 11th-hour heroics were dubbed an "October Surprise"* by the Reagan camp — something they did not want to see happen.

Allegations surfaced that William Casey, director of the Reagan campaign, and some CIA operatives, secretly met with Iranian officials in Europe to arrange for the hostages' release, but not until after the election. If true, some observers aver, dealing with a hostile foreign government to achieve a domestic administration's defeat would have been grounds for charges of treason.

Reagan won the election, partly because of the failure of the Carter administration to bring the hostages home. Within minutes of Reagan's inauguration, the hostages were released.
In sharp contrast, the 46th President of the United States of America, Joe Biden, has just, whether intentionally or unintentionally, armed wild-eyed Radical Islamic Terrorists with $2 billion worth of American Military Weapons, including helicopters and left hundred of Americans behind to be killed or taken hostage.
Biden makes Carter look competent.
WTH were Biden's Handlers thinking when they told him to ignore his Military Advisors and take our Armed Forces out of Afghanistan before he took American citizens and our Afghan Allies out?
I realize that, at this point in his battle against dementia, Biden is just an empty vessel, who cannot speak without first receiving instructions through his earwig.
However, shouldn't some little sliver of neurons lift in his cranium have fired off, telling him what would happen if he abandoned Americans to the "mercy" of the Taliban?
I haven't seen a move this stupid since "Tommy's parents left him at home to be baby-sat by "Wicked Uncle Ernie" (look it up, kids).
I realize that, Bidden will not be impeached as long as Nancy Pelosi remains the Speaker of the House of Representatives,
However, if there was EVER a president that needs to be boot out of the front door of the White House, it is Sleepy Joe Biden.
How callous can the Democrats who are handling him and advising him be?
Their arrogance and their distancing themselves from us "Deplorables" has erased whatever Patriotism and Common Sense they ever had.
I can only imagine what our Founding Fathers would have done to tis irresponsible, anti-American bunch of cowards.
May God protect those Americans whom Biden and Company have left behind.
Until He Comes,
KJ
DONATIONS ARE WELCOME AND APPRECIATED.
Make a one-time donation
Make a monthly donation
Make a yearly donation
Choose an amount
Or enter a custom amount
$
---
Your contribution is appreciated.
Your contribution is appreciated.
Your contribution is appreciated.
Donate
Donate monthly
Donate yearly
FoxNews.com reported last night that
"U.S. military forces conducted an over-the-horizon counterterrorism operation today against an ISIS-K planner. The unmanned airstrike occurred in the Nangahar Province of Afghanistan. Initial indications are that we killed the target. We know of no civilian casualties," U.S. Central Command spokesman Capt. Bill Urban said.

The U.S. drone hit a vehicle carrying the ISIS-K leader who was believed to be "carrying out future attacks," a U.S. official briefed on the strike tells Fox News.

(Later, Fox News reported that)

It's not clear if the planner was involved in the suicide attack at Kabul airport Thursday, which killed 13 U.S. service members and wounded 20 others.

The ISIS-K planner was also traveling with an "associate," Fox News understands.
The U.S. Embassy in Kabul issued a second alert to Americans on Friday, advising them not to travel to the airport and to avoid airport gates due to "security threats" in Afghanistan.

"Because of security threats at the Kabul airport, we continue to advise U.S. citizens to avoid traveling to the airport and to avoid airport gates," the embassy wrote in the alert, which seemingly mirrored the first one.

Unlike the first alert the embassy issued on Wednesday, this one mentions the New Ministry of Interior Gate at Kabul airport as an area in which Americans should immediately flee. "U.S. citizens who are at the Abbey gate, East gate, North gate or the New Ministry of Interior gate now should leave immediately."
Let me get this straight.
They killed someone whom they believe is an "ISIS-K Planner who MAY have been carrying out future attacks against Americans and Afghanis and the Biden Administration is not even sure that they killed the barbarian responsible for killing 13 of America's Best and Brightest and 90 Afghanis.
So, he could strike again.
Oh, Dear Lord.
Why did they not get the appropriate information together before beginning the operation?
This is the same half-a@@ military intelligence shown in Biden's botched pullout of our troops from Afghanis which resulted in an Islamic Terrorist Attack at Kabul Airport.
And now, if this WASN'T the mastermind of that attack, we will probably be hit with an even bigger attack in the near future.
Don't forget,,,we left $2 billion worth of American military weapons, including helicopters behind. 
Who are the members our Military Intelligence Brain Trust?
Dru's Minions?
I was going to say that this is unbelievable…except for what we as a country have witnessed so far in this deadly fiasco that is Biden's decision as President…so far.
All of the pundits have been saying that identifying the terrorist responsible for Thursday's bombing would be next to impossible since Biden has pulled all of our operatives out already…and the rest and running for their lives trying to get out of the country.                 
With all of the blowback that Biden has received already on this botched operation, his Handlers probably told his Woke Military Leaders that some sort of retaliation had to be put together FAST before the movement in the House to impeach him gathered stream and Americans started protesting for his ouster in front of the White House.
So, evidently they decided that a Drone Strike was in order, in keeping with Biden's bragging about "Over the Horizon" military Operations.
The only problem with remote control war is the fact that it only works if you hit the right target.
Until He Comes,
KJ
DONATIONS ARE WELCOME AND APPRECIATED.
Make a one-time donation
Make a monthly donation
Make a yearly donation
Choose an amount
Or enter a custom amount
$
---
Your contribution is appreciated.
Your contribution is appreciated.
Your contribution is appreciated.
Donate
Donate monthly
Donate yearly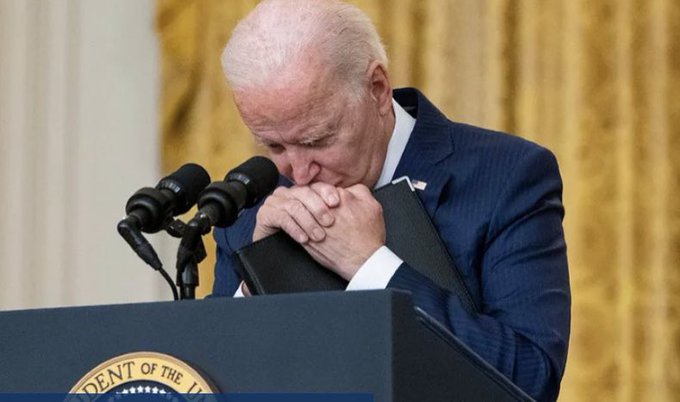 You know, at 62 years of age, I have a lot of memories.
Memories of great American accomplishments like the Moon Landing.
And, memories of horrible events like the largest Islamic Terrorist Attack ever on American Soil on September 11, 2001.
Now, to add to those horrible memories, I, like the rest of my fellow Americans, have to live with the knowledge that a President of the United States of America is running away like a scalded dog after 13 of our Brightest and Best were murdered by 2 suicide bombers at Kabul Airport in Afghanistan, trying to save Americans and Afghanis from being executed by the Taliban due to mistakes made by this same arrogant dementia-riddled "Surrenderer-in-Chief".
I was going to ask "What person in their right mind pulls out their military force from a dangerous country before they do their own government workers, civilian operatives and interpreters?"
However, therein lies the crux of the matter: The President of the United States of America, Joe Biden, is NOT in his right mind.
He is in the throes of dementia, which, along with his advanced years, has left him feeble and weak, and unable to perform the duties of the President of the United States of America.
No President in their right mind would have allowed yesterday's attack to happen.
Biden's predecessor, Former President Donald J. Trump, left him in the catbird's seat. There had been no attacks on our soldiers in Afghanistan in 18 months prior to yesterday.
Trump had literally cowered the leader of the Taliban back into his cave by threatening to unleash Hell on them and their families, if he dared to attack us.
So, what did Biden do?
He got rid of Trump's deal which kept our people over in Afghanistan safe.
And, when the Taliban had taken over, he sent his CIA Director to have a secret meeting with the leader of the Taliban.
Not only that, but Biden's people gave the Taliban a list of Americans and Afghanis that they wanted them to "escort" to the Kabul Airport.
I'm serious.
After yesterday's attack, his Handlers made him come out and have a Press Conference late yesterday afternoon, he mumbled something about accepting the blame for what happened…and then he blamed Trump.
Make no mistake….
In no way was yesterday's Islamic Terrorist Attack Trump's fault.
The blood of those 13 dead service members can be found on the hands of President Joe Biden.
The Democrats' lust for complete and absolute power which led them to change the rules of our Presidential Election, allowing them to cheat to win, has now put the entire Free World in danger.
Elections do indeed have consequences.
And, I am afraid that the consequences for us as a country are just beginning.
I sure could use a mean Tweet right about now.
Until He Comes,
KJ
DONATIONS ARE WELCOME AND APPRECIATED.
Make a one-time donation
Make a monthly donation
Make a yearly donation
Choose an amount
Or enter a custom amount
$
---
Your contribution is appreciated.
Your contribution is appreciated.
Your contribution is appreciated.
Donate
Donate monthly
Donate yearly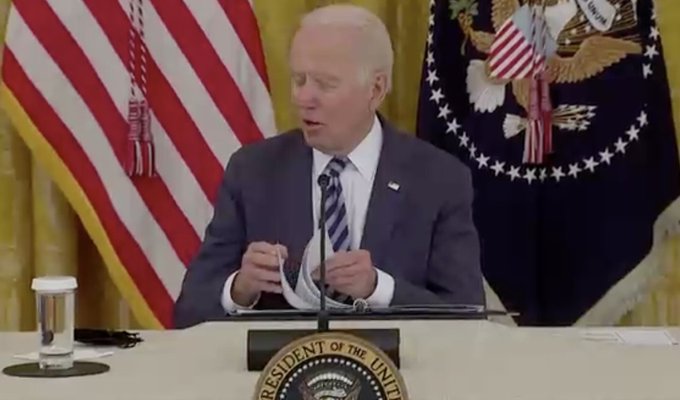 FoxNews.com reports that 
The White House cut off the audio feed for President Joe Biden after he was posed a question Wednesday on stranded Americans in Afghanistan.

As he wrapped up a meeting on cybersecurity in the State Dining Room, Biden dismissed the press as they continued to ask questions. However, he appeared to answer one reporter's query before leaving.

NBC's Peter Alexander asked, "If Americans are still in Afghanistan after the deadline what will you do?"

The White House then proceeded to cut off the audio feed from Biden's response. It was unclear if the maneuver was coincidental or done to prevent feed viewers from hearing any off-the-cuff comments.

Alexander later confirmed the exchange and noted Biden answered, "You'll be the first person I call."

He tweeted "I asked President Biden what he will do if Americans are still in Afghanistan after the 8/31 deadline. His response: 'You'll be the first person I call.' Took no questions."

Other reporters on the scene confirmed the exchange including Daily Caller correspondent Shelby Talcott, Breitbart correspondent Charlie Spiering, and Voice of America's Steve Herman.

Republicans accused the White House of trying to protect the president.

Former Mitch McConnell chief of staff Josh Holmes tweeted, "The White House cuts the President's microphone. Pretty remarkable."

Republican communicator Matt Whitlock tweeted, "Oh my gosh they cut the President's microphone so nobody could hear him answer. That's how worried this White House is about Biden answering questions on Afghanistan."

Others decried what seemed like a callous response from the president.

Biden has faced intense criticism for the Taliban's recent takeover of Afghanistan following his removal of U.S. troops, and he's continually dodged questions regarding efforts to rescue stranded Americans in the country.
Biden has been an arrogant ass for the entire length of his decades-long career as a Professional Politician.
The problem that his Handlers are facing is the fact that dementia often not only magnifies an individual's worst personality traits, it destroys their "filter" as well.
So, instead of Biden responding to the reporter's question like an American President, he responded like a 7th-Grader.
Unfortunately for those Americans stranded in Afghanistan, Biden's answer revealed their fate.
He really does not care whether they make it home or not.
If they are captured, tortured, and beheaded, Biden, Harris, Pelosi, Schumer, and the rest of the Democrats and their minions in the Main Stream Media will blame what happens to them on Former President Trump.
Biden is like every other member of the Democrat Elite: It is never their fault when a plan goes sideways or a decision they made winds up being a bad one.
And, the Democrats who installed him as Leader of the Free World will be as guilty as the Taliban for what happens to those Americans who are unfortunate enough to be left behind in Afghanistan.
The whole world is going to see them meet their fate, thanks to the 24/7 News Cycle.
Biden and his Handlers have damaged our Sovereign Nation so badly that it is liable to take decades to restore America to its rightful place among the world's countries.
The President of the United States of America is supposed to be our greatest advocate, not our greatest enemy.
And the thing is, even if Biden steps down or is impeached, Heels Up Harris and the Wicked Witch of the West, Nancy Pelosi, are next in the line of succession, at least until the Midterm Elections. 
The Democrats have shamed. embarrassed, and endangered our country.
God protect us.
Until He Comes,
KJ
DONATIONS ARE WELCOME AND APPRECIATED.
Make a one-time donation
Make a monthly donation
Make a yearly donation
Choose an amount
Or enter a custom amount
$
---
Your contribution is appreciated.
Your contribution is appreciated.
Your contribution is appreciated.
Donate
Donate monthly
Donate yearly
Newsmax.com reports that
President Joe Biden said Tuesday the United States intends to complete its pullout from Afghanistan by August 31 and needs to withdraw rapidly because of a growing risk of terrorist attacks.

"The sooner we can finish, the better," Biden said of the plan to evacuate Americans, Afghan nationals and US troops from Taliban-controlled Kabul.

"Each day of operations brings added risk to our troops."

The US president said he had discussed the evacuation with Group of Seven leaders earlier Tuesday and they agreed to "continue our close cooperation to get people out as efficiently and safely as possible."

"We are currently on the pace to finish by August 31," said Biden, who has been under pressure from some European leaders to extend the deadline to ensure the evacuation of everyone who is seeking to flee the country.

He said meeting the August 31 deadline was contingent "upon the Taliban continuing to cooperate and allow access to the airport for those who we're transporting out."

"I've asked the Pentagon and the State Department for contingency plans to adjust the timetable should that become necessary," Biden added.

The Taliban have been "taking steps to work with us" so far, Biden said, but there is an "acute and growing risk of an attack by a terrorist group known as ISIS-K," or Islamic State-Khorasan.

"Every day we're on the ground is another day we know that ISIS-K is seeking to target the airport and attack both US and allied forces and innocent civilians," he said.

US-led troops have ramped up operations to get thousands of people out of Kabul by August 31 — the deadline set by the US before the fall of the capital for all foreign troops to have pulled out.

Biden said the United States has evacuated 70,700 people since August 14 — the day before the Taliban took power in Kabul — including 6,400 in the past 12 hours.

US officials said more than 4,000 Americans were among those flown out of Hamid Karzai International Airport in the Afghan capital.

Several thousand other people have been evacuated by allied European nations, such as Germany and the United Kingdom.

The Taliban urged skilled Afghans not to flee the country on Tuesday and warned the United States and its NATO allies they would not accept an extension to the evacuation deadline.
Gentle Readers, think for a moment how the leadership of this Sovereign nation has changed in just a few short months.
We have literally gone from a Commander-in Chief who sincerely loved this country and her people to a Coward-in-Chief who have surrendered to the Taliban, the same Radical Islamic Terrorists who killed over 3,000 Americans almost 20 years ago on September 11, 2001.
How far we have come…in the wrong direction.
Joe Biden has now eclipsed Jimmy Carter as the worst United States President in Modern Times.
Carter only allowed 52 Americans to be held hostage by Radical Islamists.
Biden is about to allow thousands of Americans to be either held hostage or beheaded on international television for the world to see how weak America has become.
How did we get here?
Whose fault is it?
It is the fault of the Far Left Democratic Party, who were so desperate to regain the White House that they were forced to nominate a doddering old fool in the throes of dementia because all of the other primary candidates had the personality of a cardboard cutout.
To add to the problem, the professional politician that they chose had a 40 year track record of making horrible Foreign Policy decisions.
And, even though Biden ran as a Moderate, he has governed as a Far Left Radical Socialist, even taking a knee at the White House with the NBA Champions.
All of our enemies, foreign and domestic, must be throwing a party.
The Democrats installed Neville Chamberlain on Steroids as President of the Greatest Country on God's Green Earth.
Nero fiddled and just burned down Rome.
The Democrats are about to set the Free World on fire.
Until He Comes,
KJ
DONATIONS ARE WELCOME AND APPRECIATED.
Make a one-time donation
Make a monthly donation
Make a yearly donation
Choose an amount
Or enter a custom amount
$
---
Your contribution is appreciated.
Your contribution is appreciated.
Your contribution is appreciated.
Donate
Donate monthly
Donate yearly