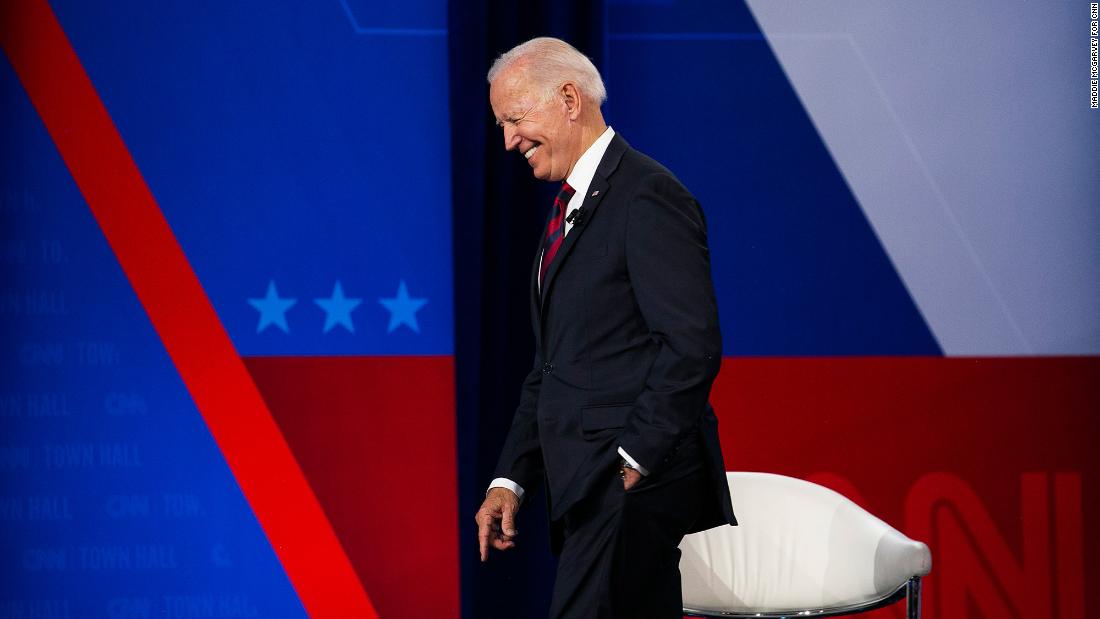 FoxNews.com reports that
CNN's heavily promoted town hall event with President Biden failed to resonate with Americans on Wednesday night, as it got thumped by Fox News and even finished with a smaller audience than MSNBC.

The CNN Biden town hall, moderated by Don Lemon, averaged only 1.5 million viewers from 8-9:30 p.m. ET, while Fox News averaged 2.7 million viewers during the same time period. MSNBC averaged 1.6 million sets of eyeballs, which pushed CNN's chat with the president to last place among relevant cable news stations.

Fox News beat CNN by a staggering 83 percent during the Biden town hall with regular programing on "Tucker Carlson Tonight" and a special edition of "Hannity" that featured Florida Republicans Gov. Ron DeSantis, Sen. Marco Rubio, Rep. Maria Salazar and Miami Mayor Francis Suarez.

Every Fox News town hall event over the past five years outdrew Wednesday's CNN event with Biden.

CNN's town hall also failed to beat Fox News among the key demographic of adults age 25-54. CNN averaged 306,000 demo viewers during the event, compared to 464,000 for Fox News.

CNN didn't just finish last during the Biden town hall. The liberal network also finished behind Fox News and MSNBC during the primetime hours of 8-11 p.m. ET.

Fox News averaged 2.3 million primetime viewers and MSNBC finished second with 1.6 million. Despite President Biden appearing on the network, CNN settled for only 1.3 million primetime viewers.

While Biden failed to lift the struggling network from last place, it did helped Lemon surpass the one-million viewer threshold that he fails to meet on a regular basis.

One interesting moment that was seen by CNN's tiny audience was when Lemon referred to Biden as "the big guy" during the presidential town hall.

"You've been the big guy for six months now in the White House. Can you take us behind the scenes, something that was extraordinary or unusual that happened that stands out to you?" Lemon asked.

"The big guy" was notably used as a reference to Biden in a leaked email thread allegedly involving Joe's son Hunter Biden making a deal with a Chinese energy firm. In 2020, Fox News confirmed the authenticity of an email dated May 13, 2017 that detailed a discussion for "remuneration packages" for people involved in a business deal. A section of the email contained a propriety split reading "10 held by H for the big guy?" which was later confirmed to reference Joe Biden.

Rep. Elise Stefanik, R-N.Y., remarked on this connection as well, tweeting, "Wow. Even Don Lemon knows Joe Biden is the "Big Guy"! #HuntersEmails."

All data is courtesy of early Nielsen Media Research
Americans have been fed a load of crap ever since the Democrats "chose" Biden as their Presidential Candidate.
There is no way that this demented old man could have been elected in an honest election.
Back in December of 2020, Newsmax.com reported the following about a recent McLaughlin Poll…
There is one stunning result in the entire poll: Americans believe there was a serious vote fraud problem in the last election.

Although Election Day is over a month ago, when we asked — "Do you believe there was election and voter fraud in the presidential election between Joe Biden and Donald Trump back in November?" — the plurality of voters, 46%, said yes, with only 45% saying no.

Among American voters the majority is not convinced that voter fraud did not occur in their Presidential election. It is important to note that the poll model reflects the national popular vote of 51% Biden, 47% Trump.

It is concerning that in this poll where a majority of voted for Biden, they still can't say it was an honest election.

As our presidential electors went this week to cast their votes, almost half the voters said there was clear election and voter fraud.

Since Election Day, and despite media spin the election fraud story is a big nothing, belief among voters of serious vote fraud has grown.
Since the obviously-rigged outcome of 2020 Presidential Election, I have been asking myself,
"Self, did the Democrats actually believe that the entire country was going to come together under dementia-riddled Joe Biden and "Heels Up" Harris after they committed the biggest case of Election Fraud in American History?
Yes, boys and girls. They did.
The Democrats believe that they are the smartest people in any room that they walk into.
They also believe that Traditional American Faith and Values are passé and the mark of the uneducated "Bitter clingers" who "cling to their guns and their Bibles" to quote Former President Barack Hussein Obama (mm mmm mmmm).
And, while the Democrats do not respect average Americans at all, they did realize whom we were voting for on November 3rd and it wasn't their candidate, Joe Biden.
That is why they came up with the intricate plan to steal, or rig, the 2020 Presidential Election.
The problem which they still face, even if the Trump Team is unable to reverse what has happened and restore the stolen victory to President Trump, is the fact as McLaughlin explains in the about article, is that a majority of Americans still believe that the election was not conducted in an honest fashion and do not believe that Joe Biden is a legitimate President.
And, only a minority of Americans believe that the country is headed in the right direction.
Not only that, but the majority of Americans still prefer free market capitalism to big government socialism 58% to 16%
Which means that "Democratic Socialism" and the Democratic Party itself are not as popular as the Main Stream Media wants you to believe them to be.
If fact, just the opposite.
That is why CNN got buried in the ratings on Wednesday Night.
Average Americans, like the rest of the world, believe that "President" Joe Biden is a joke.
So, Americans will not be gathering on a hillside to have a Coke and a Smile Moment any time soon.
Or, in Hunter Biden's case, SOME coke and a smile…and a prostitute…and a $50,000 a month job.
Until He Comes,
KJ
DONATIONS ARE WELCOME AND APPRECIATED.
Make a one-time donation
Make a monthly donation
Make a yearly donation
Choose an amount
Or enter a custom amount
$
---
Your contribution is appreciated.
Your contribution is appreciated.
Your contribution is appreciated.
Donate
Donate monthly
Donate yearly