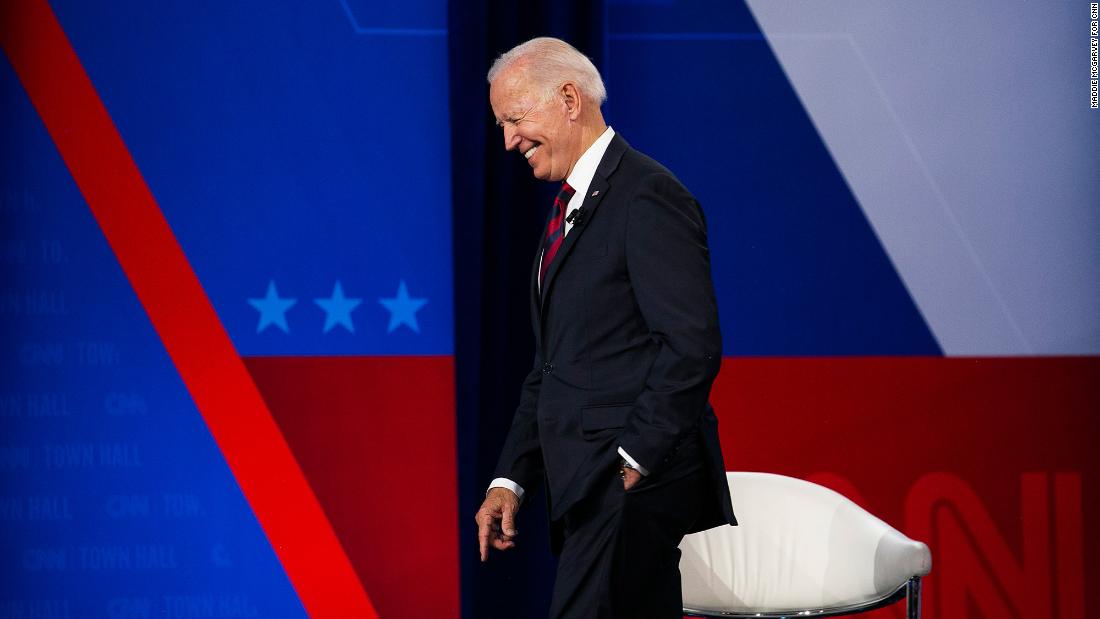 FoxNews.com reports that
CNN's heavily promoted town hall event with President Biden failed to resonate with Americans on Wednesday night, as it got thumped by Fox News and even finished with a smaller audience than MSNBC.

The CNN Biden town hall, moderated by Don Lemon, averaged only 1.5 million viewers from 8-9:30 p.m. ET, while Fox News averaged 2.7 million viewers during the same time period. MSNBC averaged 1.6 million sets of eyeballs, which pushed CNN's chat with the president to last place among relevant cable news stations.

Fox News beat CNN by a staggering 83 percent during the Biden town hall with regular programing on "Tucker Carlson Tonight" and a special edition of "Hannity" that featured Florida Republicans Gov. Ron DeSantis, Sen. Marco Rubio, Rep. Maria Salazar and Miami Mayor Francis Suarez.

Every Fox News town hall event over the past five years outdrew Wednesday's CNN event with Biden.

CNN's town hall also failed to beat Fox News among the key demographic of adults age 25-54. CNN averaged 306,000 demo viewers during the event, compared to 464,000 for Fox News.

CNN didn't just finish last during the Biden town hall. The liberal network also finished behind Fox News and MSNBC during the primetime hours of 8-11 p.m. ET.

Fox News averaged 2.3 million primetime viewers and MSNBC finished second with 1.6 million. Despite President Biden appearing on the network, CNN settled for only 1.3 million primetime viewers.

While Biden failed to lift the struggling network from last place, it did helped Lemon surpass the one-million viewer threshold that he fails to meet on a regular basis.

One interesting moment that was seen by CNN's tiny audience was when Lemon referred to Biden as "the big guy" during the presidential town hall.

"You've been the big guy for six months now in the White House. Can you take us behind the scenes, something that was extraordinary or unusual that happened that stands out to you?" Lemon asked.

"The big guy" was notably used as a reference to Biden in a leaked email thread allegedly involving Joe's son Hunter Biden making a deal with a Chinese energy firm. In 2020, Fox News confirmed the authenticity of an email dated May 13, 2017 that detailed a discussion for "remuneration packages" for people involved in a business deal. A section of the email contained a propriety split reading "10 held by H for the big guy?" which was later confirmed to reference Joe Biden.

Rep. Elise Stefanik, R-N.Y., remarked on this connection as well, tweeting, "Wow. Even Don Lemon knows Joe Biden is the "Big Guy"! #HuntersEmails."

All data is courtesy of early Nielsen Media Research
Americans have been fed a load of crap ever since the Democrats "chose" Biden as their Presidential Candidate.
There is no way that this demented old man could have been elected in an honest election.
Back in December of 2020, Newsmax.com reported the following about a recent McLaughlin Poll…
There is one stunning result in the entire poll: Americans believe there was a serious vote fraud problem in the last election.

Although Election Day is over a month ago, when we asked — "Do you believe there was election and voter fraud in the presidential election between Joe Biden and Donald Trump back in November?" — the plurality of voters, 46%, said yes, with only 45% saying no.

Among American voters the majority is not convinced that voter fraud did not occur in their Presidential election. It is important to note that the poll model reflects the national popular vote of 51% Biden, 47% Trump.

It is concerning that in this poll where a majority of voted for Biden, they still can't say it was an honest election.

As our presidential electors went this week to cast their votes, almost half the voters said there was clear election and voter fraud.

Since Election Day, and despite media spin the election fraud story is a big nothing, belief among voters of serious vote fraud has grown.
Since the obviously-rigged outcome of 2020 Presidential Election, I have been asking myself,
"Self, did the Democrats actually believe that the entire country was going to come together under dementia-riddled Joe Biden and "Heels Up" Harris after they committed the biggest case of Election Fraud in American History?
Yes, boys and girls. They did.
The Democrats believe that they are the smartest people in any room that they walk into.
They also believe that Traditional American Faith and Values are passé and the mark of the uneducated "Bitter clingers" who "cling to their guns and their Bibles" to quote Former President Barack Hussein Obama (mm mmm mmmm).
And, while the Democrats do not respect average Americans at all, they did realize whom we were voting for on November 3rd and it wasn't their candidate, Joe Biden.
That is why they came up with the intricate plan to steal, or rig, the 2020 Presidential Election.
The problem which they still face, even if the Trump Team is unable to reverse what has happened and restore the stolen victory to President Trump, is the fact as McLaughlin explains in the about article, is that a majority of Americans still believe that the election was not conducted in an honest fashion and do not believe that Joe Biden is a legitimate President.
And, only a minority of Americans believe that the country is headed in the right direction.
Not only that, but the majority of Americans still prefer free market capitalism to big government socialism 58% to 16%
Which means that "Democratic Socialism" and the Democratic Party itself are not as popular as the Main Stream Media wants you to believe them to be.
If fact, just the opposite.
That is why CNN got buried in the ratings on Wednesday Night.
Average Americans, like the rest of the world, believe that "President" Joe Biden is a joke.
So, Americans will not be gathering on a hillside to have a Coke and a Smile Moment any time soon.
Or, in Hunter Biden's case, SOME coke and a smile…and a prostitute…and a $50,000 a month job.
Until He Comes,
KJ
DONATIONS ARE WELCOME AND APPRECIATED.
Make a one-time donation
Make a monthly donation
Make a yearly donation
Choose an amount
Or enter a custom amount
$
---
Your contribution is appreciated.
Your contribution is appreciated.
Your contribution is appreciated.
Donate
Donate monthly
Donate yearly
Critical race theory is an academic discipline, formulated in the 1990s, built on the intellectual framework of identity-based Marxism. Relegated for many years to universities and obscure academic journals, over the past decade it has increasingly become the default ideology in our public institutions. It has been injected into government agencies, public school systems, teacher training programs, and corporate human resources departments in the form of diversity training programs, human resources modules, public policy frameworks, and school curricula. – Christopher Rufo, "Critical Race Theory: What It Is and How to Fight It", imprimus.hillsdale.edu
FoxNews.com reports that
MSNBC host Joy Reid compared parents who oppose schools teaching critical race theory curriculum to their kids as segregationists.

On Thursday, Reid, host of the MSNBC show "The Reid Out," tweeted out several photos in an effort to compare current activists against critical race theory to race segregationists from the 1950s and 60s.

"A reminder that the earlier versions of these 'anti-fake CRT parents' also used their children as fodder and false cries of "communism" to enforce their ultra-conservative, white-supremacist vision of America. #uncancelhistory," Reid tweeted.

The tweet also contained black-and-white photos of crowds objecting to integrating schools.

This is not the first time Reid has unfavorably described critics of critical race theory. On Wednesday, Reid suggested that the grassroots movement to stop critical race theory from entering schools was "being exploited" by QAnon and other conspiracy theorists.

"That hysteria over the perceived encroachment of race-conscious education is being exploited by another insidious force: followers of QAnon who are now using the battle cry to similarly target school boards, with many who have espoused QAnon theories now melding their own conspiracies with the lies about critical race theory," Reid claimed.

However, there are many critics of critical race theory curriculum being taught in schools who are Black and have publicly spoken out against it. In June, Keisha King, a Black mother, spoke out against critical race theory to the Florida Board of Education.

"I don't know about you, but telling my child or any child that they are in a permanent oppressed status in America because they are Black is racist – and saying that White people are automatically above me, my children, or any child is racist as well. This is not something that we can stand for in our country," King said.

Columbia University linguistics professor, John McWhorter, also tweeted out against schools teaching critical race theory, encouraging "truly antiracist parents" to pull their kids from schools that do.

This also followed one day after CNN was previously mocked for apparently "gaslighting" critics of critical race theory. In a segment on Wednesday's "New Day," co-host Brianna Keilar questioned reporter Elle Reeve asking "Do these vocal opponents of critical race theory actually understand fully what it is?"

"No. Why should they? It's an academic theory mostly taught at the grad-student level," Reeve responded.

Since Sunday, the National Education Association declared critical race theory to be 'reasonable and appropriate' for children, despite many progressives and reporters claiming schools aren't teaching critical race theory.
I graduated from high school in 1976 in Memphis, Tennessee.
I watched as friends left to go to private schools because of forced bussing.
That was choice that their parents made in order to keep their children from being bussed across town from their neighborhood school.
If it were up to the NEA, children would be forced to be brainwashed by having to learned the Revisionist False History known as Critical Race Theory.
Christopher Rufo, in the article from which I quoted at the beginning of today's post, explains that
There are a series of euphemisms deployed by its supporters to describe critical race theory, including "equity," "social justice," "diversity and inclusion," and "culturally responsive teaching." Critical race theorists, masters of language construction, realize that "neo-Marxism" would be a hard sell. Equity, on the other hand, sounds non-threatening and is easily confused with the American principle of equality. But the distinction is vast and important. Indeed, equality—the principle proclaimed in the Declaration of Independence, defended in the Civil War, and codified into law with the 14th and 15th Amendments, the Civil Rights Act of 1964, and the Voting Rights Act of 1965—is explicitly rejected by critical race theorists. To them, equality represents "mere nondiscrimination" and provides "camouflage" for white supremacy, patriarchy, and oppression.

In contrast to equality, equity as defined and promoted by critical race theorists is little more than reformulated Marxism.
Do you know why Joy Reid and the other Far Left Talking Heads are so desperate for American Children to be indoctrinated with Critical Race Theory?
Because the Democrats are attempting to create a generation of Marxist-loving, anti-American, Useful Idiot "New Bolsheviks" through the use of Racial Division and Revisionist History.
However, the United States of America remains the country that everyone wants to come to, legally or otherwise.
Why? 
Because for almost 250 years, this "Shining City Upon a Hill" has had a reputation as a land in which everyone could make their dreams a reality…if they were willing to work to achieve it.
Our economic system of capitalism has been the cause of millions of Americans achieving their dreams and providing for their families.
America is a country chiseled out of the wilderness by rugged individualists who wanted not only the freedom to prosper…but the freedom to worship as they pleased also.
America is a "Sweet Land of Liberty".
And, Liberty is Freedom with responsibility.
The responsibility to provide for yourself and your family…and to protect our precious liberty if our country goes to war.
The Far Left Democrats could care less about the sacrifices made and the lives lost to secure the Sovereign Nation which is today's America.
Why?
Because they themselves are a bunch of "useful idiots" who want desperately to "share the wealth" and insult patriotism by calling it "nationalism" and "bigoted White Supremacy" in order to "radically change" our proven economic system of capitalism into "Democratic Socialism", a form of Marxism, a political theory which has never worked in any country in which it has been tried. 
For several generations, Democrats have told the impoverished that "Uncle Sugar" will take care of their every need as long as they keep voting them into public office.
However, these same impoverished Americans found out during the Presidency of Donald J. Trump the rewards of a good job and hard work.
Boys and girls, the reason that the Biden Administration and the rest of the Far Left Democrats do not want Americans to be proud of America and our actual shared history that it reminds Americans of every good and just quality that this nation was founded upon and which has kept us strong for almost 250 years.
It fills us with pride and gratitude that we live in the Greatest Country on the Face of the Earth.
Everything that the Far Left Democrats despise.
The Leader of the Russian Revolution, Vladimir Lenin, who brought Marxism to Russia, wrote
"Give me just one generation of youth, and I'll transform the whole world."
However, Lady Margaret Thatcher, a close friend of President Ronald Reagan, laid that falsehood to rest with the following quote…
"The problem with socialism is that you eventually run out of other people's money."
And, you know what?
I would much rather live in "the Land of the Free and the Home of the Brave" than under a failed political system where you can not even buy a decent roll of toilet paper.
Until He Comes,
KJ
DONATIONS ARE WELCOME AND APPRECIATED.
Make a one-time donation
Make a monthly donation
Make a yearly donation
Choose an amount
Or enter a custom amount
$
---
Your contribution is appreciated.
Your contribution is appreciated.
Your contribution is appreciated.
Donate
Donate monthly
Donate yearly
FoxNews.com reports that
Former Deputy Attorney General Rod Rosenstein took an apparent shot at former FBI Director James Comey on Twitter Thursday and derided commentators from CNN and MSNBC following the release of the Justice Department inspector general's report.

While Rosenstein didn't explicitly mention Comey, his initial tweet quoted a letter in which he cautioned against violating Justice Department policy because of short-term circumstances.

"It is important for the Department of Justice to follow established policies and procedures, especially when the stakes are high," Rosenstein wrote.

In the preceding paragraph, he mentioned that Comey seemed to argue that circumstances justified both his disclosures about the Russia investigation and his 2016 letter about the investigation into former Secretary of State Hillary Clinton's emails.

"It may seem tempting to depart from Department policies and traditions in an effort to deflect short-term criticism, but such deviations ultimately may cause a loss of public confidence in the even-handed administration of justice," Rosenstein added. "We should be most on guard when we believe that our own uncomfortable present circumstances justify ignoring timeless principles respected by our predecessors."

Rosenstein's tweet came as Comey responded to a critical Inspector General report by highlighting its conclusion that he didn't leak any classified information — despite the fact that the report also blasted his decision to violate FBI policies.

CNN Legal Analyst Renato Mariotti responded to Rosenstein by accusing him of a double standard, arguing that the deputy failed to call out Attorney General William Barr.

"You speak up about Comey failing to 'follow established policies and procedures' but stood silently beside Barr when he misled the public about Trump," Mariotti said, apparently referring to Barr's decision to summarize former Special Counsel Robert Mueller's report on the Russia investigation.

Mariotti also criticized the president, accusing Trump of using "his power to try to quash investigations of him and his friends."

Rosenstein responded to Mariotti by saying: "Notice how this pundit completely misses the point and thereby illustrates it."

The former deputy attorney general also called out MSNBC analyst Matthew Miller, who criticized the inspector general's claim that Comey set a dangerous precedent by ignoring FBI policy.

"Asinine. Comey did what he did because the president was actively trying to dismantle DOJ's normal way of operating," Miller tweeted.

"The AG [Jeff Sessions] and the DAG [Rosenstein] were both complicit, so Comey had no where [sic] else to take his concerns," Miller added.

Rosenstein responded by linking to Miller's own Washington Post op-ed which blasted Comey's "abuse of power" in the Clinton email investigation.

"Another pundit illustrates my point: In 2016, he agreed policy violations 'should trouble anyone who believes in the rule of law and fundamental principles of fairness' Rosenstein tweeted. "Many employees dislike supervisors, but most keep faith with government institutions."
However, as average Americans found out during the Obama Administration, the rules did not apply to the Obamas or anyone who worked for them, as James Comey did.
Let's face it, y'all…Former FBI Director James Comey is a self-righteous Prima Donna, not unlike the Democrats in the House of Representatives.
People like Comey believe themselves to be smarter than everyone else.  So therefore, the rules do not apply to them.
I am certain that when he found out that President Trump was going to keep him on as FBI Director, he, along with his "fellow travelers" conspired as to use his position to aid in the ongoing Deep State Operation to remove President Trump from office.
So, why is the Department of Justice not seeking to file charges against Comey?
I am guessing it is because he will be charged along with other members of the "Silent Coup" Operations Team for FISA Abuse, which is a part of the DOJ Probe which was ordered by Attorney General Barr and is currently being carried out by U.S. Attorney John Durham.
In fact, FoxNews.com reported on August 8th that
The FBI formally documented the anti-Trump bias of British ex-spy Christopher Steele months shortly after the November 2016 presidential election — yet despite the red flags, continued to use his unverified dossier in multiple Foreign Intelligence Surveillance Act (FISA) court warrant application renewals, records obtained by Fox News show.

The partially redacted documents, first obtained by Judicial Watch, also revealed that top Justice Department official Bruce Ohr maintained contact with Steele for at least six months after Steele was fired by the FBI for unauthorized media contacts in November 2016.

The records further confirm that Ohr knew of Steele's anti-Trump bias before the 2016 election.

"This is just the tip of the iceberg," Senate Judiciary Committee Chairman Lindsey Graham, R-S.C., told Fox News' "Hannity" Thursday evening. "I know personally there's a lot more out there."

The summaries of FBI interviews with Ohr, known as 302s, showed that Ohr knew by September 2016 — a month before the initial FISA application to surveil the Trump campaign — that Steele was "desperate that Donald Trump not get elected and was passionate about him not being the U.S. President."

A source close to the matter told Fox News "this had the effect of putting a senior DOJ official on notice that a witness/source had an extreme bias."

Nevertheless, the FISA warrant application went through in October 2016 with multiple renewals.
Of course, to this day Comey denies knowing who funded the Steele Dossier.
If you believe that the head of the Federal Bureau of Investigation did not know what his top agents were involved in nor have any knowledge of the Secretary of State's activities and those of her confidantes', I have two bridges over the Mississippi River at Memphis, Tennessee to sell you.
President Ronald Reagan used to say that the nine words that you never want to hear were
I'm from the Government and I'm here to help.
The Deep State Operatives within the FBI and the DOJ conspired to overturn the results of the 2016 Presidential Election via means of a seditious plot which like a Machiavellian spider's web, reached into the Halls of Power in Washington, D.C.
Being political appointees holding political opinions, while carrying political obligations to a certain political party, never bodes well in a position of legal authority.
Add into that mix an extra-marital affair between these bureaucrats and, to paraphrase, "the affairs of mice and men (and agents) will indeed go awry".
I've got a feeling that very soon Former FBI Director James Comey and his co-consirators will find the spotlight of justice shining directly upon them.
And, like cockroaches in a kitchen in a Raid commercial, when the lights comes on, there will be a reckoning.
Until He Comes,
KJ