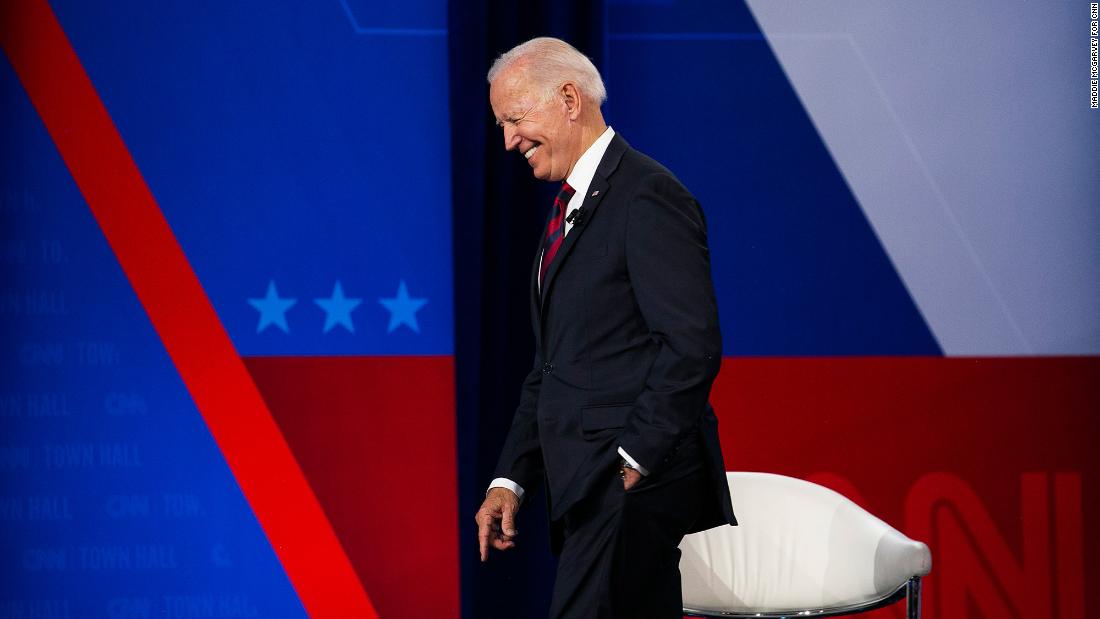 FoxNews.com reports that
CNN's heavily promoted town hall event with President Biden failed to resonate with Americans on Wednesday night, as it got thumped by Fox News and even finished with a smaller audience than MSNBC.

The CNN Biden town hall, moderated by Don Lemon, averaged only 1.5 million viewers from 8-9:30 p.m. ET, while Fox News averaged 2.7 million viewers during the same time period. MSNBC averaged 1.6 million sets of eyeballs, which pushed CNN's chat with the president to last place among relevant cable news stations.

Fox News beat CNN by a staggering 83 percent during the Biden town hall with regular programing on "Tucker Carlson Tonight" and a special edition of "Hannity" that featured Florida Republicans Gov. Ron DeSantis, Sen. Marco Rubio, Rep. Maria Salazar and Miami Mayor Francis Suarez.

Every Fox News town hall event over the past five years outdrew Wednesday's CNN event with Biden.

CNN's town hall also failed to beat Fox News among the key demographic of adults age 25-54. CNN averaged 306,000 demo viewers during the event, compared to 464,000 for Fox News.

CNN didn't just finish last during the Biden town hall. The liberal network also finished behind Fox News and MSNBC during the primetime hours of 8-11 p.m. ET.

Fox News averaged 2.3 million primetime viewers and MSNBC finished second with 1.6 million. Despite President Biden appearing on the network, CNN settled for only 1.3 million primetime viewers.

While Biden failed to lift the struggling network from last place, it did helped Lemon surpass the one-million viewer threshold that he fails to meet on a regular basis.

One interesting moment that was seen by CNN's tiny audience was when Lemon referred to Biden as "the big guy" during the presidential town hall.

"You've been the big guy for six months now in the White House. Can you take us behind the scenes, something that was extraordinary or unusual that happened that stands out to you?" Lemon asked.

"The big guy" was notably used as a reference to Biden in a leaked email thread allegedly involving Joe's son Hunter Biden making a deal with a Chinese energy firm. In 2020, Fox News confirmed the authenticity of an email dated May 13, 2017 that detailed a discussion for "remuneration packages" for people involved in a business deal. A section of the email contained a propriety split reading "10 held by H for the big guy?" which was later confirmed to reference Joe Biden.

Rep. Elise Stefanik, R-N.Y., remarked on this connection as well, tweeting, "Wow. Even Don Lemon knows Joe Biden is the "Big Guy"! #HuntersEmails."

All data is courtesy of early Nielsen Media Research
Americans have been fed a load of crap ever since the Democrats "chose" Biden as their Presidential Candidate.
There is no way that this demented old man could have been elected in an honest election.
Back in December of 2020, Newsmax.com reported the following about a recent McLaughlin Poll…
There is one stunning result in the entire poll: Americans believe there was a serious vote fraud problem in the last election.

Although Election Day is over a month ago, when we asked — "Do you believe there was election and voter fraud in the presidential election between Joe Biden and Donald Trump back in November?" — the plurality of voters, 46%, said yes, with only 45% saying no.

Among American voters the majority is not convinced that voter fraud did not occur in their Presidential election. It is important to note that the poll model reflects the national popular vote of 51% Biden, 47% Trump.

It is concerning that in this poll where a majority of voted for Biden, they still can't say it was an honest election.

As our presidential electors went this week to cast their votes, almost half the voters said there was clear election and voter fraud.

Since Election Day, and despite media spin the election fraud story is a big nothing, belief among voters of serious vote fraud has grown.
Since the obviously-rigged outcome of 2020 Presidential Election, I have been asking myself,
"Self, did the Democrats actually believe that the entire country was going to come together under dementia-riddled Joe Biden and "Heels Up" Harris after they committed the biggest case of Election Fraud in American History?
Yes, boys and girls. They did.
The Democrats believe that they are the smartest people in any room that they walk into.
They also believe that Traditional American Faith and Values are passé and the mark of the uneducated "Bitter clingers" who "cling to their guns and their Bibles" to quote Former President Barack Hussein Obama (mm mmm mmmm).
And, while the Democrats do not respect average Americans at all, they did realize whom we were voting for on November 3rd and it wasn't their candidate, Joe Biden.
That is why they came up with the intricate plan to steal, or rig, the 2020 Presidential Election.
The problem which they still face, even if the Trump Team is unable to reverse what has happened and restore the stolen victory to President Trump, is the fact as McLaughlin explains in the about article, is that a majority of Americans still believe that the election was not conducted in an honest fashion and do not believe that Joe Biden is a legitimate President.
And, only a minority of Americans believe that the country is headed in the right direction.
Not only that, but the majority of Americans still prefer free market capitalism to big government socialism 58% to 16%
Which means that "Democratic Socialism" and the Democratic Party itself are not as popular as the Main Stream Media wants you to believe them to be.
If fact, just the opposite.
That is why CNN got buried in the ratings on Wednesday Night.
Average Americans, like the rest of the world, believe that "President" Joe Biden is a joke.
So, Americans will not be gathering on a hillside to have a Coke and a Smile Moment any time soon.
Or, in Hunter Biden's case, SOME coke and a smile…and a prostitute…and a $50,000 a month job.
Until He Comes,
KJ
DONATIONS ARE WELCOME AND APPRECIATED.
Make a one-time donation
Make a monthly donation
Make a yearly donation
Choose an amount
Or enter a custom amount
$
---
Your contribution is appreciated.
Your contribution is appreciated.
Your contribution is appreciated.
Donate
Donate monthly
Donate yearly
FoxNews.com reports that
President Biden was mocked for "saying the quiet part out loud" on Wednesday when he admitted at the outset of his press conference in Geneva he would only be calling on reporters from a prepared list.

"I'll take your questions, and as usual, folks, they gave me a list of the people I'm going to call on," Biden told the press following his anticipated meeting with Russian President Vladimir Putin. Observers wondered whether the "they" Biden referred to was his communications team.

"How is this acceptable?" asked Rep. Greg Steube, R-Fla.

"Embarrassing," Steve Guest, special advisor for communications for Sen. Ted Cruz, R-Texas, tweeted.

Social media users agreed that the president had "said the quiet part out loud."

"They won't let him take questions from anyone other than Democrat activists in the media," another user claimed.

Fox News contributor Joe Concha contrasted Biden's admission with Putin's earlier press conference, which lasted over an hour and showed "no signs of stopping."

Biden has often relied on pre-approved lists for press conferences. At his first formal press conference as president in January, most of the questions he took were from reporters that were pre-selected by his team.

"A White House handler is calling on reporters by name and by outlet one-by-one to ask Biden a question, unlike Trump who called on reporters as the [spirit] moved him," Real Clear News reporter Philip Wegmann noted at the time, comparing Biden to his predecessor.

Then in March, Biden was seen consulting a "cheat sheet" that appeared to show the pictures and news outlets of journalists who attended his news conference, some of whom had a circled number next to their photos.

The president has also taken some heat for not holding more press conferences, a criticism White House Press Secretary Jen Psaki pushed back on in her seemingly softball interview with CNN's Brian Stelter by claiming Biden "takes questions several times a week." Psaki has also admitted that she advises the president against taking impromptu questions.
Even though I was at work during yesterday's meeting of the Sleepy Joe Admiration Society, I was able to keep up through the use of that marvelous invention, the cell phone.
I caught bits and pieces of the actual presser and it went just as every American with common sense thought that it would: softball questions being lobbed at a dementia-riddled, confused, doddering old man who was appointed POTUS, as he called upon reporters from a predetermined list.
The days of an objective national news media are long gone.
Today's Main Stream Media are servants of the Democrat Elite…minions, if you will, like those in the "Despicable Me" movies…not too bright but slavishly devoted to their masters.
Just as the MSM viewed it as their jobs to make President Donald J. Trump's time as POTUS a living Hell, so do they believe that they are Biden's "Hospice Aides", whose job is to make his days in office as comfortable and stress-free as possible.
They are running interference, along with Biden's Handlers and the Democrat Elite, putting out propaganda about the mental and physical health of Biden in an effort to hide the actual, ugly truth of his deteriorating condition.
If you do not believe me, then take a look at the Tweets of Jennifer Rubin, the "Professional Blogger" who writes op eds for The Washington Post.
They are like reading an old Superman comic book where he travels to Bizarro World, where everything is "bass-ackwards".
Liberals like Rubin and the reporter who said that Biden was "knocking it out of the park so far" need to put down the bong and join us hard-working average Americans who see Biden for the poor excuse for a President that he really is.
For them to start complaining about their treatment now, after they helped the Democrats literally appoint him into office, is very funny, when you consider that the MSM knew that Joe Biden was mentally-impaired when they worked to get him elected President.
It is even funnier when you consider that Biden blew up at a CNN Reporter, yesterday, as alluded to in the above Tweet.
Dementia is an ugly thing.
It was bad enough we we just had to suffer through San Fran Nan's dementia, much less a President of the United States of America who is fighting it…and losing terribly as was witnessed around the world again yesterday.
Putin and the rest of our nation's enemies are laughing their butts off.
Until He Comes,
KJ
DONATIONS ARE WELCOME AND APPRECIATED.
Make a one-time donation
Make a monthly donation
Make a yearly donation
Choose an amount
Or enter a custom amount
$
---
Your contribution is appreciated.
Your contribution is appreciated.
Your contribution is appreciated.
Donate
Donate monthly
Donate yearly
FoxNews.com reports that
Social media users are demanding CNN respond after discovering that one of their freelance contributors, Adeel Raja, who has written dozens of pieces for the outlet, wrote in a now-deleted tweet that "the world today needs a Hitler." After some digging, it turned out to be one of several messages Raja has posted praising the Nazi leader.

"The only reason I am supporting Germany in the finals – Hitler was a German and he did good with those Jews!" Raja wrote during the 2014 FIFA World Cup. Raja last had a CNN byline on Sept. 16, 2020. He still lists his affiliation with the network on LinkedIn.

"Hail Hitler!" he wrote the following day. Twitter users shared screenshots of the messages.

CNN spokesman Matt Dornic told the Washington Examiner that he "never heard" of Raja and that he's "looking into it."

The unearthing of Raja's controversial comments come amid the escalating violence between Israel and the militant group Hamas in the Middle East., which is at its most violent since the 2014 Gaza War, according to reports.

Palestinian militants have fired hundreds of rockets into Israel, the majority of which have been intercepted by Israel's "Iron Dome" missile defense system. Israel has also responded with a series of airstrikes, which have taken out some of Hamas' senior leaders.

"In response to HUNDREDS of rockets in the last 24 hours, the IDF has struck a number of significant terror targets and terror operatives across the Gaza Strip, marking our largest strike since 2014," the Israeli Defense Forces wrote on Twitter. "We are currently striking more terror targets in Gaza."

Israeli Prime Minister Benjamin Netanyahu warned Hamas that there will be more retaliation where that came from.

"We'll do whatever it takes to restore order and quiet, and the security of our people and deterrence," Netanyahu said on "Face the Nation" on Sunday. "We're trying to degrade Hamas' terrorist abilities and to degrade their will to do this again."
Raise you hand if you are surprised that a CNN Contributor is a raging anti-Semitic.
I thought so.
Me, neither.
Per TheBlaze.com,
Raja is a longtime contributor to CNN.com. There are 53 results when you search for "Adeel Raja" on the CNN website. It appears that his first article for the CNN website was published on Jan. 2, 2014, and he was contributing fairly consistently to the site. Raja posted as recently as Sept. 16, 2020. Most of the articles he contributed are related to Pakistan, where he is allegedly based.
CNN has now responded to say that they will no longer accept his articles.
A little late, don't you think?
Raja is supposedly based out of Islamabad, Pakistan.
Radical Islam runs deep in Pakistan.
Remember the Awan Brothers?
They were the IT People who, after working for Debbie Wasserman Shultz since 2005, became the IT People for members of  the House of Representatives,
They were not only caught embezzling, they were also an information Pipeline for the Muslim Brotherhood.
They were also from Pakistan and were caught trying to fly back home.
What is it about Liberals and Islamic Extremists?
The last time they world saw a pairing like this was during World War II between Hitler's National Socialist Party and Muslims in the Middle East.
It appears that little Historical Tidbit is not lost on Adeel Raja, huh?
Until He Comes,
KJ
DONATIONS ARE WELCOMED AND APPRECIATED.
Make a one-time donation
Make a monthly donation
Make a yearly donation
Choose an amount
Or enter a custom amount
$
---
Your contribution is appreciated.
Your contribution is appreciated.
Your contribution is appreciated.
Donate
Donate monthly
Donate yearly
Fauci spent U.S. money on the Wuhan lab in China—and we now know how that worked out. Dr. Birx is a proven liar with very little credibility left. – Former President Donald J. Trump
FoxNews.com reports that
Former President Donald Trump slammed Anthony Fauci and Deborah Birx on Monday, accusing the infectious disease experts of "trying to reinvent history" in televised interviews detailing their roles in combating the coronavirus pandemic.

Trump spoke out after Fauci and Birx, who both served as key members of his administration's coronavirus task force, were interviewed for a CNN special titled "COVID WAR: The Pandemic Doctors Speak Out."

During the special, Fauci, director of the National Institute of Allergy and Infectious Diseases, described the push to develop a COVID-19 vaccine as "the best decision that I've ever made with regard to an intervention as director of the institute." Birx, the former White House Coronavirus Response Coordinator, said she had a "very difficult" phone call with Trump after she spoke candidly about the severity of an outbreak last August.

In a lengthy statement, Trump accused both of his former colleagues of being "self-promoters."

"Based on their interviews, I felt it was time to speak up about Dr. Fauci and Dr. Birx, two self-promoters trying to reinvent history to cover for their bad instincts and faulty recommendations, which I fortunately almost always overturned," Trump said. "They had bad policy decisions that would have left our country open to China and others, closed to reopening our economy, and years away from an approved vaccine—putting millions of lives at risk."

WHO report claims COVID-19 most likely jumped from animals to humansVideo
Trump has long taken credit for the rapid development of COVID-19 vaccines under "Operation Warp Speed," a partnership between federal agencies and private companies. To date, three vaccines have received emergency use authorizations in the United States.

The former president said Fauci and Birx "moved far too slowly" on vaccine development and touted strict lockdown measures that would leave Americans "locked in our basements."

"Operation Warp Speed" was first announced in May. In his interview with CNN, Fauci said the decision to go "all in" on vaccine development was made far earlier.

"When I saw what happened in New York City, almost overrunning of our health care system, it was like, 'Oh my goodness,'" Fauci said. "And that's when it became very clear that the decision we made on January the 10th – to go all out and develop a vaccine – may have been the best decision that I've ever made with regard to an intervention as director of the institute."

Trump described Fauci's remarks as a "fake interview." He mocked Fauci's first pitch at a Washington Nationals game last July, saying the doctor "was an athlete in college but couldn't throw a baseball even close to home plate," adding, "It was a roller."

He added that Fauci "tried to take credit for the vaccine, when in fact he said it would take three to five years, and probably longer, to have it approved."

"Dr. Fauci was incapable of pressing the FDA to move it through faster. I was the one to get it done, and even the fake news media knows and reports this. "Dr. Fauci is also the king of "flip-flops" and moving the goalposts to make himself look as good as possible. He fought me so hard because he wanted to keep our country open to countries like China."

Trump also targeted Birx in the lengthy diatribe.

The former response coordinator described a "very uncomfortable" phone call with Trump after she warned in a television appearance last August that COVID-19 was "extraordinarily widespread."

"It was a CNN report in August that got horrible pushback," Birx told the network. "That was a very difficult time, because everybody in the White House was upset with that interview and the clarity that I brought about the epidemic."

In response, Trump called Birx a "proven liar with very little credibility left."
Both of these "experts" are legends in their own mind.
Former President Trump is a very shrewd man.
I believe that, if he does return to the Oval Office, he will be much more cautious about the individuals whom he hires as "experts".
There are way too may camera-seeking bureaucratic "experts" whose loyalties change every time the opposite political party gains control of the Presidency.
Both Fauci and Birx are members of the Beltway Cocktail Party Set.
The have rubbed elbows with the hoi polloi for decades.
They have never met a camera they didn't like.
They have both grown accustomed to a lifestyle of notoriety. Hence, their being "recruited" by CNN in a feeble attempt to damage Trump over the way he handled the Chinese Coronavirus.
The problem with CNN's effort to damage Trump's handling of COVID-19 is the fact that average Americans living between the coasts already recognize them and their experts for the pompous egotistical fools that they are.
And, we know that it was Trump who facilitated the rapid discovery of the vaccine.
The pleas of the "good doctors", the Biden-Harris Administration, and the Liberals in the Main Stream Media for states to restore mask mandates is falling of deaf ears.
America is ready to get on with our normal lives.
And, Americans see the entire "mask mandate" issue for what it is: an attempt to control Americans like a shepherd controls his sheep.
They problem that the Neo-Marxists in the Biden-Harris Administration and their minions face is the fact that the majority of Americans already have a "Good Shepherd" in our lives.
And, we will remember His sacrifice this Sunday.
Until He Comes,
KJ
DONATIONS ARE WELCOME AND APPRECIATED.
Make a one-time donation
Make a monthly donation
Make a yearly donation
Choose an amount
Or enter a custom amount
$
---
Your contribution is appreciated.
Your contribution is appreciated.
Your contribution is appreciated.
Donate
Donate monthly
Donate yearly
13 When Jesus came to the region of Caesarea Philippi, he asked his disciples, "Who do people say the Son of Man is?"

14 They replied, "Some say John the Baptist; others say Elijah; and still others, Jeremiah or one of the prophets."

15 "But what about you?" he asked. "Who do you say I am?"

16 Simon Peter answered, "You are the Messiah, the Son of the living God." – Matthew 16: 13-16 (NIV)
Per Laura Ingraham's Lifezette.com,
On his CNN show this week, Don Lemon tried to use an attack on Jesus Christ to make one of his ridiculous liberal points, but it didn't take long for this to blow up in his face.

During a panel discussing the faults in America's founding fathers with CNN host Chris Cuomo, Lemon said, "Here's the thing: Jesus Christ — if that's who you believe in, Jesus Christ — admittedly was not perfect when he was here on this earth."

"So why are we deifying the founders of this country, many of whom owned slaves, and in the Constitution — the original one — they didn't want, they put slavery in there, that slavery should be abolished because it was the way the king wanted. And then the Congress said, 'No way!'" he added, as Cuomo nodded in approval.

"Jesus Christ, if that's who you believe, if that's who you believe in, admittedly was not perfect when he was here on this earth."

Prominent leftists don't understand even the most basic aspects of the most basic things we believe. pic.twitter.com/QzwjNJC4O8

— Michael Knowles (@michaeljknowles) July 9, 2020

Evangelical author Eric Metaxas, who famously went at it with Cuomo back in December over abortion and whether Christians should support President Donald Trump, fired back at Lemon by tweeting out a quote by Oscar Wilde.

"'To be embarrassingly culturally ignorant may be regarded as a misfortune, but to proclaim one's ignorance whilst hosting a major tv show looks like carelessness!' — Oscar Wilde," he tweeted.

"To be embarrassingly culturally ignorant may be regarded as a misfortune, but to proclaim one's ignorance whilst hosting a major tv show looks like carelessness!" — Oscar Wilde https://t.co/7zc8Mx3h5D

— Eric Metaxas (@ericmetaxas) July 9, 2020

It should be noted that the notion of the moral perfection of Jesus is a cornerstone of Christianity that goes back to the earliest days of the religion. New Testament passages like 2 Corinthians 5:21 and Hebrews 7:26 assert that Christ "knew no sin" and was "holy, innocent, unstained, separated from sinners," according to Daily Wire.

This comes days after Fox News host Tucker Carlson called out Lemon for recent comments the CNN host made about Black Lives Matter.

"Now if you're running a channel like CNN, you want dumb people on TV because they are compliant, they will say what they're told, they will tell the audience what the moment demands, they will never stray from the script, and that's exactly what Mr. Lemon is doing…" Carlson said.

Once again, Carlson has hit the nail on the head.
It is very evident that Don Lemon has no clue as to whom Jesus was and is.
The following piece was written in 1912 by the editor of the Commercial Appeal in Memphis, Tennessee, C.P.J. Mooney. Since then, it has remained so popular, that the newspaper has published it on their Op Ed page every year at Christmas.
JESUS, THE PERFECT MAN

There is no other character in history like that of Jesus.

As a preacher, as a doer of things, and as a philosopher, no man ever had the sweep and the vision of Jesus.

A human analysis of the human actions of Jesus brings to view a rule of life that is amazing in its perfect detail.

The system of ethics Jesus taught during His Earthly sojourn 2,000 years ago was true then, has been true in every century since and will be true forever.

Plato was a great thinker and learned in his age, but his teachings did not stand the test of time. In big things and in little things time and human experience have shown that he erred.

Marcus Aurelius touched the reflective mind of the world, but he was as cold and austere as brown marble. …

Thomas a Kempis' Imitation of Christ is a thing of rare beauty and sympathy, but it is, as its name indicates, only an imitation.

Sir Thomas More's Utopia is yet a dream that cannot be realized.

Lord Bacon writing on chemistry and medicine under the glasses of the man working in a 20th century laboratory is puerile.

The world's most learned doctors until 150 years ago gave dragon's blood and ground tails of lizards and shells of eggs for certain ailments. The great surgeons a hundred years ago bled a man if he were wounded.

Napoleon had the world at his feet for four years, and when he died the world was going on its way as if he had never lived.

JESUS TAUGHT little as to property because He knew there were things of more importance than property. He measured property and life, the body and soul, at their exact relative value. He taught much more as to character, because character is of more importance than dollars.

Other men taught us to develop systems of government. Jesus taught so as to perfect the minds of men. Jesus looked to the soul, while other men dwelled on material things.

After the experience of 2,000 years no man can find a flaw in the governmental system outlined by Jesus.

Czar and kaiser, president and socialist, give to its complete merit their admiration.

No man today, no matter whether he follows the doctrine of Mill, Marx or George as to property, can find a false principle in Jesus's theory of property.

In the duty of a man to his fellow, no sociologist has ever approximated the perfection of the doctrine laid down by Jesus in His Sermon on the Mount.

Not all the investigations of chemists, not all the discoveries of explorers, not all the experiences of rulers, not all the historical facts that go to make up the sum of human knowledge on this day in 1912 are in contradiction to one word uttered or one principle laid down by Jesus.

The human experiences of 2,000 years show that Jesus never made a mistake. Jesus never uttered a doctrine that was true at that time and then became obsolete.

Jesus spoke the truth, and the truth is eternal.

History has no record of any other man leading a perfect life or doing everything in logical order. Jesus is the only person whose every action and whose every utterance strike a true note in the heart and mind of every man born of woman. He never said a foolish thing, never did a foolish act and never dissembled.

No poet, no dreamer, no philosopher loved humanity with all the love that Jesus bore toward all men.

WHO, THEN, was Jesus?

He could not have been merely a man, for there never was a man who had two consecutive thoughts absolute in truthful perfection.

Jesus must have been what Christendom proclaims Him to be — a divine being — or He could not have been what He was. No mind but an infinite mind could have left behind those things which Jesus gave the world as a heritage.
Don Lemon is just an example of the ignorance of and false teachings concerning Our Savior Jesus Christ which have been spread by "the smartest people in the room".
The direction which the Modern Democratic Party has taken to the Far Left of the Political Spectrum has put them at odds with the majority of Americans who still hold dear the Traditional Faith and Values System upon which our Sovereign Nation was founded.
The rise of Antifa and the rest of the "Wokesheviks" is a direct result of Far Left Liberal Programming, accomplished in our schools and universities by members of the Democratic Party.
The Democratic Elite keep trying to convince the gullible that President Trump is literally tearing apart the fabric of our country
That fact is, it is their allegiance to a failed political philosophy and their unbridled lust for political power which has caused this out-of-control situation which they find themselves in, a political party endorsing Marxism with a presumed Presidential Candidate in the throes of dementia.
The only conclusion that I, as a Christian American can reach, is the fact that our Sovereign Nation is in the midst of SPIRITUAL WARFARE for its very soul.
The galling thing is the fact that, even though American Christians remain 75% of the population, we are propagandized and suppressed by the Liberals in both the Old and New Media, to make it seem as if WE are the Minority, when, in fact, WE are the overwhelming Majority.
It is this New Generation of Amoral Socialists, who are in fact, just a tiny, albeit vocal, Minority of America's population.
So, what can an average Christian American, like you and me, do about this "Tyranny of the Minority"?
As the Apostle Paul tells us in Ephesians, we can STAND.
However, you cannot stand without "the full armor of God". I have found, as have my family and friends, that the better that you are doing, in terms of your Christian Walk, the harder that you will be attacked.
10Finally, be strong in the Lord and in the strength of His might. 11Put on the full armor of God, so that you will be able to stand firm against the schemes of the devil. 12For our struggle is not against flesh and blood, but against the rulers, against the powers, against the world forces of this darkness, against the spiritual forces of wickedness in the heavenly places.…- Ephesians 6:10-12
Our Christianity as Americans does not and can not end at Noon on Sunday, as we shake the Preacher's hand and walk out of the sanctuary.
As every Christian knows, the Triune God dwells within each of us, in the form of that "still, small voice", the Holy Spirit.
And, we must allow that "still, small voice" to accompany us to the voting booth next November.
Christians have to make a choice in these tough times.
The choice we each have to make is whether to "give to Caesar" that which is not his, our Christian Faith, or to listen to that "still, small voice" and decide which candidates will best serve and protect our Sovereign Nation and its citizenry from our enemies, foreign and DOMESTIC.
This is not just a "Political Choice" which we as Christian Americans are facing right now.
As I wrote earlier, America is in the midst of a battle of "Princes and Principalities".
By now. you're probably asking, "So what's the point of all this, KJ?"
We are given free will by our Creator…will to make choices and decisions on the direction of our lives. Being human, we often don't make the right decisions and being human, those decisions have the potential to lead us down a dark path.
Whether it is in reality or strictly in the close quarters of our own consciousness, the path we choose to follow is up to us. However, our parents, family, and friends can make a difference in our journey and I thank God that through His Grace I was given a Father who made sure that I received loving instruction in The Way in which I should go.
We still live in the greatest country on the face of the earth and we still have a responsibility to one another and to those who have gone before us, risking their very lives to secure our freedom.
The Light or the Darkness. The choice is up to each and every one of us.
Little children, you are from God and have overcome them, for he who is in you is greater than he who is in the world. 1 John 4:14 (ESV)
And, I stand with the King of Kings.
You see, gentle readers, I've read the back of The Book.
The Good Guys win.
Between now and November, be thinking and praying about the direction which you would have America take in the future.
Do you want us to be "One Nation under God" or "The Tower of Babel"?
Also, as you go about your day today, remember, that we have an Advocate, in Jesus Christ the Righteous, and, He is in our corner.
So, take that "little light" of yours, and let it shine.
God Bless.
Until He Comes,
KJ​