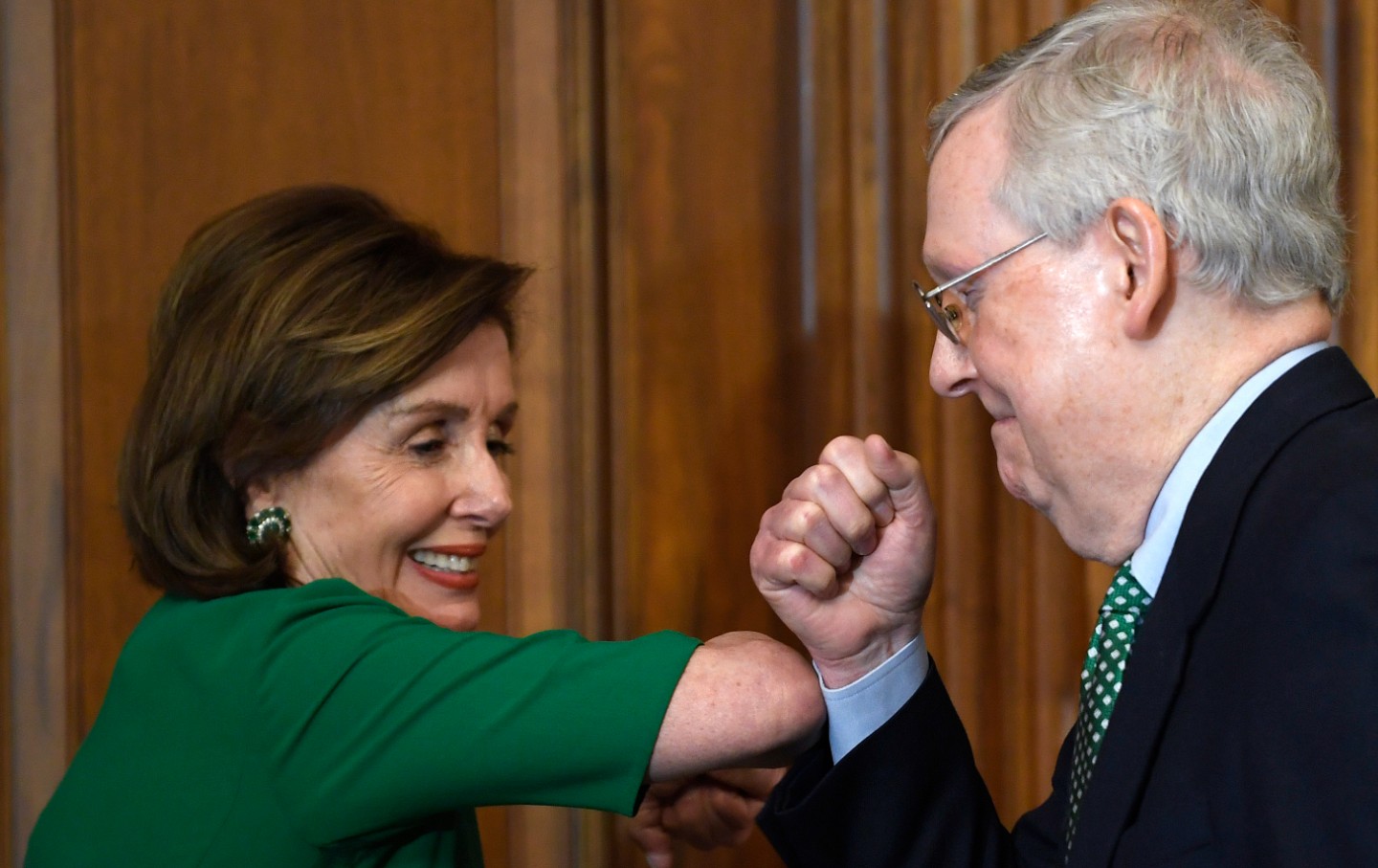 Newsmax.com reports that
Despite the widespread press given House GOP Conference Chairman Liz Cheney's announcement Tuesday night she would vote for President Donald Trump's impeachment, sources within the conference insisted to Newsmax "fewer than 10" House Republicans would join her.

"Not even 10 — fewer than 10," one GOP lawmaker told us. He spoke to us under a vow of anonymity, following a conference call among House Republicans over new security measures in the House.

Cheney, the number three member in the House Republican hierarchy, was the second of three Republican representatives to announce their support of impeaching President Trump in the vote scheduled for Wednesday.

The other two are Reps. John Katko, R-N.Y., and Adam Kinzinger, R-Ill., both of whom are considered more moderate than most Republican House members and have had public differences with the president.

Later Tuesday, Rep. Fred Upton, R-Mich., announced he too will vote to impeach, Upton spokesman Josh Paciorek told Reuters.
Also, from Newsmax.com…
Senate Majority Leader Mitch McConnell, R-Ky., reportedly told associates President Donald Trump committed impeachable acts and is done defending him.

According to The New York Times on Tuesday, McConnell has told people he is pleased Democrats have moved to impeach the president because it will make it easier to rid Trump from the Republican Party.

The Hill reported McConnell told friends he has not spoken to Trump since December, and was no longer defending him.

"He's genuinely furious about what happened last week and what led up to it," a GOP source told The Hill about McConnell's anger over the storming of the Capitol.

Shortly before demonstrators attacked the Capitol to protest the election results, McConnell gave a speech that broke from Trump, who alleged voter fraud in several key battleground states resulted in Joe Biden winning the election.

The House will vote Wednesday to formally charge Trump with inciting violence against the country. McConnell has not revealed whether or not he would vote to convict Trump on an article of impeachment, according to The Hill's Senate Republican sources.
Can you say "Vichy Republican", gentle readers? I knew that you could.
So, what about the 45th President of the United States of America has put a burr up Burr's saddle?
Trump is the first non-politician since our nation's early days to become the President of the United States of America.
And, he did a great job, having more accomplishments in 4 years that most Presidents do in 8.
Due to their arrogance, tone-deafness and the fact that they are completely out of touch with average Americans living here in the Heartland, the professional politicians up on Capitol Hill are ignoring some basic facts.
To put it bluntly, those Washington Insiders on both sides of the Political Aisle who are so offended by President Trump are the ones who put him in office.
A bunch of Never-Trumpers who were in in the Republican Party, such as Paul Ryan, left Congress before the 2018 Midterm Elections. offended that a rank outsider somehow became our 45th President.
While the Vichy Republicans who remain in Washington, DC, like Rep. Jill Cheney and Sen. Mitch McConnell, continue to be offended by the fact that Donald J. Trump is President, average Americans living between the coasts continue to be offended by "NeverTrumper" Professional Politicians like him.
Anger has played an important part in the forging of this great country.
It was anger that formed our country….an anger over being held captive to "Taxation Without Representation"…an anger which, as a prime example of history repeating itself, led Americans to choose a Citizen Statesman for their 45th President over a Professional Politician.
It is this anger, which also propelled Donald J. Trump to his victory in the 2020 Presidential Election…and those who prefer the Washingtonian Status Quo seem to have forgotten that fact.
That is why the Republican Establishment, at least some of them like Sen. McConnell, are "biting the hand that fed them", calling for another sham impeachment of President Trump days before he leaves office.
The funny thing is, for all of their angst and "concern", if they had not accepted the reality of his Republican Primary Victory, and the fact that Americans were angry, they would have gone down to defeat in 2016 and the company would have suffered under the oppressive rule of President Hillary Clinton as they are about to suffer under the rule of Biden's handlers.
If the Republican Establishment believes that they will achieve another victory in a Presidential Election by once again trying to push the Jello of "Liberal Moderation" up a hill, they are delusional.
Please reference the failed campaign of Jeb! Bush.
When Trump ran for the Presidency in 2016, the American people were tired of Political Correctness and anti-American political expediencies being forced down our throats by both political parties and trumpeted by their lackeys in the Main Stream Media.
Donald Trump, for all of his brashness and braggadocio, was a breath of free air and, quite frankly an anomaly. He was not a professional politician. He was a businessman who wanted to become a public servant.
And, what he has accomplished as President while being the subject of 4 years of constant personal attacks on him and his family has demonstrated that he was up to the challenge.
President Trump exemplified leadership ability and a concern for our country that we did not see from his predecessor.
Meanwhile, those on the left are still participating in a National Temper Tantrum, even after they successfully stole the 2020 Presidential Election, proceeding to attempt another sham impeachment at the end of Trump's Presidency for no reason other than they do not like him.
And, the NeverTrumpers in the GOP Elite are gladly helping them.
Pit-i-ful.
To those Republicans who would rather stand with the Democrats than stand up for a Republican President, it is time for you to go ahead and get it over with and switch parties, go stand with your Democrat Friends, and then sit down and shut up.
Try not to ruin America for the next two years while your replacements in Congress get ready.
It's not about what you want.
It is about what us average Americans want.
After all, you are supposed to be working for US.
Until He Comes,
KJ