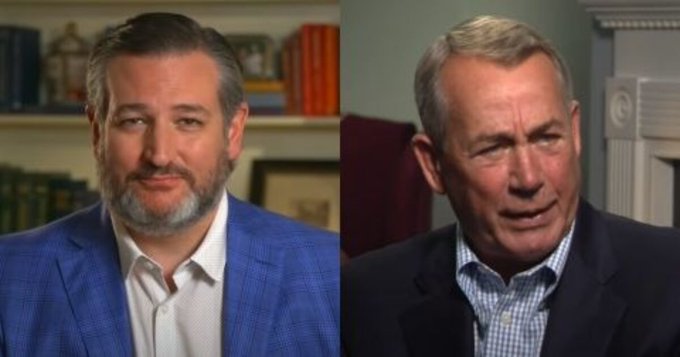 "Please don't cry." – Sen. Ted Cruz to Former Speaker of the House John Boehner
FoxNews.com reports that
U.S. Sen. Ted Cruz doubled down on his response to former House Speaker John Boehner after he told the Texas Republican to "go f**k yourself" in a leaked audio recording.

"I think he was probably recording at nine or ten in the morning so obviously he had too much wine that day already," Cruz told the Daily Caller on Saturday. "This guy is a little unhinged."

Cruz on Friday mockingly tweeted that he wears Boehner's "drunken, bloviated scorn" proudly alongside a clip from an upcoming CBS News interview with Boehner in which he calls Cruz a "jerk" and accuses him of "making a lot of noise" but not being especially productive in Congress.

"The Swamp is unhappy," Cruz tweeted. "I wear with pride his drunken, bloviated scorn. Please don't cry," the lawmaker joked, referencing Boehner's reputation for appearing publicly emotional at various points throughout his career.

The ex-speaker has taken several shots at Cruz, including while recording his audiobook when he reportedly told Cruz to "f—" himself in several off-script moments.

In the CBS interview, Boehner says he doesn't like to "beat anyone up" but he'd make an exception for Cruz.

"Perfect symbol, you know, of getting elected, making a lot of noise, draw a lot of attention to yourself, raise a lot of money, which means you're gonna go make more noise, raise more money," Boehner told CBS of how he views Cruz's political career.

Boehner, an Ohio Republican who served as House speaker from 2011-2015, has been making the interview rounds promoting his book, "On The House: A Washington Memoir," which comes out next week. Boehner represented Ohio's 8th Congressional District from 1991-2015.

Cruz made a joke of it at the Conservative Political Action Conference (CPAC) in Florida in February, saying, "John Boehner made some news. He suggested that I do something that was anatomically impossible. To which my response was, 'Who's John Boehner?'" according to The Hill.

Cruz on Saturday noted that the "lead insult on the back on the back of the book is a different insult he directed at me."

He seems to have a bit of an obsession," Cruz said.

Asked whether he planned to write a book about Boehner in response, Cruz said plainly, "I don't anticipate writing a fortune cookie about him."
Here is some information you may not have known about the Former Speaker of the House, courtesy of sourcewatch.org, from a blog I wrote in March of 2013…
In 1981 Boehner served on the board of trustees of Union Township, Butler County, Ohio. In 1984, he served as president of the township board of trustees.

Boehner served as a Ohio state representative from 1985 to 1990. In 1990, when U.S. Rep. Donald "Buz" Lukens (R-Ohio) was caught in a sex scandal involving a minor, Boehner challenged Lukens in the Republican primary and defeated the incumbent, while also upsetting the district's former representative, Tom Kindness, who Boehner declared had abandoned his district to become a lobbyist. Boehner went on to victory in the 1990 general election and began serving in the U.S. House of Representatives the 102nd Congress.

He was a member of the Gang of Seven, a group of seven freshmen Republicans who assailed the Democratic leadership with accusations of corruption and arrogance over the misuse of the House Bank. According to a 1992 San Francisco Chronicle article the Gang "set the match to the bank scandal that has now engulfed the House, blackened its leadership and sparked a 'spontaneous political combustion' that many analysts say will fuel a record turnover in Congress." (San Francisco Chronicle, 3/30/02)

Boehner told the Cleveland Plain Dealer: "I came as a reformer. But when people in charge don't want to reform – the only way…is revolution." (Cleveland Plain Dealer, 2/15/93)

The banking scandal involved 355 members, Democrats and Republicans, writing 8,331 overdrafts to the bank. The Gang pounced on the issue and forced the Democrats into a corner and eventually led to the tidal wave Republican Revolution of 1994.

Boehner came to Congress as one of the most pro-business, anti-government members in 1990. He advocated a flat tax and abolition of whole government agencies including the Department of Education and the Occupational Safety and Health Administration (OSHA).

Boehner quickly rose to the fourth highest position in the Republican leadership – Republican Conference Chairman – after chairing Newt Gingrich's 1994 run for the Minority Leader post.

Boehner was on of the principal architects of the Contract With America. He also championed the 1996 Freedom to Farm Act.

When Newt Gingrich resigned his post as Speaker in the wake of the GOPs loss of seats in the 1998 election Boehner's leadership post was challenged by J.C. Watts, the only black Republican congressman. Boehner lost to Watts 121-93.

…Boehner was elected House Majority Leader on February 2, 2006, following Tom DeLay's departure because of a criminal indictment.

…According to the Washington Post "From illegal immigration to sanctions on China to an overhaul of the pension system, Boehner, as chairman of the House Committee on Education and the Workforce, took ardently pro-business positions that were contrary to those of many in his party. Religious conservatives — examining his voting record — see him as a policymaker driven by small-government economic concerns, not theirs….. [He opposes] a tough illegal immigration bill that passed in December [2005] with overwhelming Republican support over Boehner's opposition. One provision in the bill would mandate that every business verify the legality of every employee through the federal terrorism watch list and a database of Social Security numbers. For the bill's authors, the measure is central to choking off illegal immigrants' employment opportunities. To business groups and Boehner, it is unworkable." Feb 12, 2006
The professional politicians on both sides of the aisle up on Capitol Hill live in a bubble, totally and purposely oblivious from the wants and needs of the American Voters who gave them their cushy jobs.
Moderate Republicans , like Cryin' John Boehner, have been a barrier to Republican victory for as long as I can remember. Like Quakers, Establishment Republicans seem to believe that passive resistance and reaching out to their sworn enemies, friends, is the way to defeat those who oppose you.
When Donald J. Trump came down that golden escalator, along with his beautiful wife Melania, a loud thunderclap could be heard emanating from Capitol Hill and Democrat and Republican Headquarters in Washington, D.C.
That sound was the sound of the sphincters of all the "Keepers of the Washington Status Quo" slamming shut in unison.
You see, boys and girls, the Vichy Republicans in Washington had made a lot of money being "buds" (i.e. servants) with the Democrats.
Of course, they never won Presidential Elections, but, why should they care?
They were getting filthy rich from all of the stock tips and other perks which came from "reaching across the aisle".
They knew that Trump was going to change all of that.
He was not coming to Washington to make money. In fact, he was not even going to take a salary.
He could not be bought.
And, by the way, that is just one of the reasons that Cryin' John Boehner, Paul Ryan, Mitch McConnell, and the rest of the Never-Trumpers among the Republican Elite hate our Former President so much.
He refused to take their money and play their games.
He would rather hold a MAGA Rally and speak directly to thousands of average Americans, that to attend some political soiree full of the Washington Elite.
Cruz is right, Boehner is a long-time member of the Washington Political Elite, better known as The Swamp.
All of those Republicans, who are still on Capitol Hill, and who worked against Former President Trump during his tenure in office and who still stand against him to this day, needed to be voted out of office in the 2020 Midterm Elections.
Perhaps then, American Voters will have placed in office Republican Representatives and Senators who actually want to work for and serve US…instead of themselves.
Until He Comes,
KJ 
DONATIONS ARE WELCOME AND APPRECIATED.
Make a one-time donation
Make a monthly donation
Make a yearly donation
Choose an amount
Or enter a custom amount
$
---
Your contribution is appreciated.
Your contribution is appreciated.
Your contribution is appreciated.
Donate
Donate monthly
Donate yearly
Newsmax.com reports that
Tears on the Senate floor have not necessarily moved the American people, Rep. Matt Gaetz, R-Fla., said Wednesday on Newsmax TV.

Democrat lawmakers delivered emotional presentations on both Tuesday and Wednesday, the first two days of the Senate trial following the House's impeachment of former President Donald Trump. Trump stands accused of inciting the protesters who rioted at and overran the U.S. Capitol on Jan. 6.

"You have this emotion-based argument driven by the Democrats," in-studio guest Gaetz told host Greg Kelly on "Greg Kelly Reports." "And while they're tearing up each and every day, I don't know that they're moving the American people.

"The American people would probably like to be the subject of the focus of their government rather than seeing the Democrats obsessed with the former president."

Although he questioned the approach of Trump attorney Bruce Castor's opening remarks Tuesday, which many critics and observers called light on constitutional law and heavy on folksy appeal, Gaetz said the Democrats have overreached with their own efforts.

"We are watching as the Democrats are now expanding their indictment beyond just President Trump to his supporters, to the people who showed up in Washington, D.C., not to do any harm, not to breach the Capitol, but to express their displeasure with an election that they believe should have been run with tighter standards," Gaetz said.

"I do think President Trump's defense has missed the opportunity to define the president's concerns about election integrity as entirely proper when you have officials in some of these states unilaterally departing from the law."

After saying "never take your position in any trial for granted," Gaetz nevertheless sounded a note of confidence about the trial's outcome.

"He's not going to be convicted," Gaetz said. "There's not going to be some action against Trump here. This is all about the Democrats having to obsess over Trump, because they don't really have an agenda to help regular Americans."
Well said, Congressman Gaetz.
The Far Left Democratic Party has a history of underestimating the intelligence of average American Voters, especially those of us living between the coasts, in what they call "Flyover Country" or what we call "The Heartland".
President Trump was not a Goering, Mussolini, Hitler, or Svengali.
He did not have to use some sort of hypnotism to make 74 million American Voters vote for him.
We all saw what that brash New York Businessman did for the country which he and we love.
He had America's Economy soaring before the Chinese released their coronavirus from that lab in Wuhan Province.
And, even after that happened, he refused to give up, pushing for the pharmaceutical companies to develop a vaccine at record speed.
Unlike the professional politicians who look down on us from Capitol Hill, Trump actually cares for the American People.
You see, Gentle Readers, Trump has always been a "people person".
He is not, and never has been, a professional politician.
And, he refuses to play by THEIR rules.
THANK GOD.
That is the reason that, when he was still a contributor to Fox News, he would speak to everyone in the building, from the maintenance crew, on up the ladder.
As Sam Walton, the Founder of Walmart, knew, you don't inspire people by acting imperious and above it all.
"Mr. Sam", until his health would no longer allow him to do so, would travel to Walmart Stores in his old pickup truck, with a tie and a baseball cap on, visiting the employees, in order to find out how his stores were doing.
He knew that the only way to be successful and to stay in touch with the public, was to be out among them, and speak to them honestly and directly, as one would speak to a friend.
Just as President Trump did when he went on a "Thank You" Tour and as he did with his Daily Tweets to the American People..
The Political Establishment, of both parties, lost that concept, a long time ago.
Bypassing the borders to communication, historically determined by both political parties and the Main Stream Media, is a concept which I first witnessed being used by a Presidential Candidate in the 1980 Presidential Election, the before-mentioned Ronald Wilson Reagan.
While I am not comparing the two, I am noting that this strategy has proved effective for both men.
Regardless of what Democrats up on Capitol Hill and their Propaganda Arm, the Main Stream Media tell everyone who will listen to them, Trump helped and inspired a lot of his countrymen, a way of governing which continues to strike a resonant chord in the hearts of Average Americans,
As far as the speech on January 6th, 2021 goes, House Managers serving as prosecutors have focused on Trump's comments during the rally urging his supporters to "fight like hell" and urging them to go to the Capitol.
But Trump also urged the crowd to "peacefully and patriotically make your voices heard."
For the Democrats to intentionally edit that out has let the American Voting Public know that this is not a Constitutional Impeachment, it is a vendetta designed to separate Donald J. Trump from the voters and make sure than he cannot run again in 2024.
It is also meant as a warning to all of us "Deplorables" to "sit down, shut up, and know your rule".
Unfortunately for the Democrats, Former President Donald J. Trump will be acquitted and…well…we Americans in "Flyover Country" are not very good at taking orders from those who were sent to Washington to SERVE US.
Until He Comes,
KJ