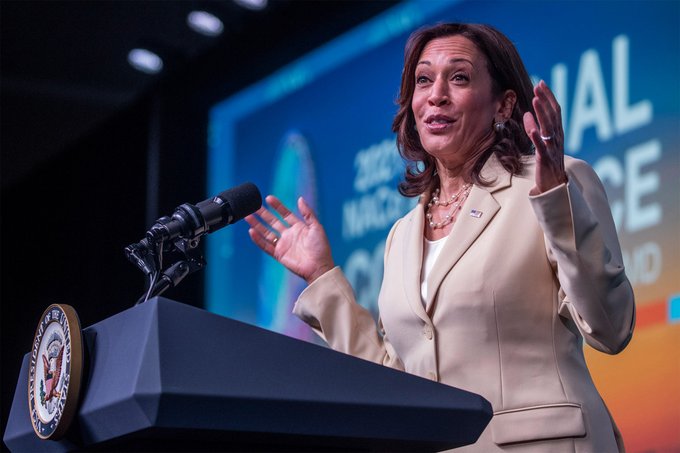 FoxNews.com reports that
Vice President Kamala Harris was criticized Saturday for arguing against voter ID laws because rural Americans couldn't get photocopies of their ID's.

"I don't think that we should underestimate what that [compromise on voter ID laws] could mean," Harris said in her interview with BET News. "Because in some people's mind, that means you're going to have to Xerox or photocopy your ID to send it in to prove who you are. Well, there are a whole lot of people, especially people who live in rural communities, who don't – there's no Kinkos, there's no OfficeMax near them."

"Of course people have to prove who they are," Harris continued, but "not in a way that makes it almost impossible for them to prove who they are."

The vice president's comments come in the midst of a nationwide battle over voter ID laws, with states like Georgia and Texas taking center stage. Many progressives argue that voter ID laws are "racist," while Republicans suggest the laws are necessary to prevent voter fraud.

Rural Americans took issue with the vice president's comments, suggesting she is out of touch with the nation.

"We built this country. We can manage to photocopy our ID's," tweeted former CIA officer Bryan Dean Wright.

Others questioned Harris' comments that people had to prove who they were, but "not in ways that make it impossible to prove who they are."

"No one is buying this ridiculous argument against Voter ID," tweeted veteran and Pennsylvania Senate candidate Sean Parnell. "The vast majority of Americans support it. Let's get it done."

Last month, President Biden announced that he tapped Harris to lead the White House's fight to expand access to the ballot box, an issue the vice president told BET News she specifically asked to lead. In the same interview, though, Harris noted that she may have not said "'no' enough" to the multiple assignments from Biden, but that she is used to "multitasking"

Polling data from the Associated Press shows that most Americans support laws requiring photo identification to access the ballot box, with a majority of both Republicans and Democrats backing the idea. Overall, 72% of American adults support requiring photo identification to vote.

Harris' comments came during the BET special titled "State of Our Union: Vice President Kamala Harris" that aired on Friday. The interview also touched on coronavirus vaccine rates and police reform.
The Liberal Elite have always believed that our country revolves around the big metropolitan areas in the Northeast and in California. They have always looked down their noses at what they derisively call "Flyover Country", the same area that many of us call the Heartland of America or simply "home".
Dear Vice-President Harris…or may I just call you "Heels Up"?
First off, allow me to introduce myself.
I am one of those average Americans, living in the Northwest corner of the State of Mississippi, whom you have, in your arrogance, mistakenly labeled as "Rural" simply because we do not live in the densely crowded metropolitan areas of either coast and we voted for Donald J. Trump as the 45th President of the United States of America.
You probably think of us as being a "rural minority".
That's funny. Last night, as I was writing this response to you, I took a look once again at the 2016 Electoral Map and was once again struck by the fact that 80% of the continental land mass known as the contiguous United States was 80% red and just 20% blue.
Doesn't the word "minority" mean "a smaller number of"?
Your "Fellow Travelers" also claim that those of us residing in the area which you Coastal Liberals tend to refer to as "Flyover Country" but which we refer to as "America's Heartland" as "the core threat to our democracy".
Seriously?
Forgive my bluntness, but Civics Class must have been one of those which you skipped in order to hang out with the "cool kids".
America is not a "democracy". Our Founding Fathers, in their infinite wisdom, created this Blessed Land as a Constitutional Republic in order to provide fair and equal representation to all areas of the country, whether they be densely populated "urban" areas or sparsely populated "rural" areas.
No American's vote is more important than somebody else's.
When I voted down here, outside Memphis, Tennessee, in the Northwest Corner of the Magnolia State during the rigged Presidential Election of 2020, it was supposed to count as your vote.
The Founders created and put in place the Electoral College in order to prevent just what you and the rest of your Fellow Travelers in the Far Left Democratic Party are suddenly crying for: a nation where its leaders are selected by mob rule in which special interest groups of a minority political philosophy join together to form a voting bloc in order to "radically change" the course of a Sovereign Nation.
In the case of Modern America Liberals, such as yourself, this would allow you and your Fellow Travelers to change our Constitutional Republic into a "Democratic" Socialist Nation, a form of government based on Marxist Theory which has never worked in any country in which it has been tried.
If that is the sort of country you which to live in…move to Venezuela.
I am certain that they could use your "help".
By the way, addressing your "concern" that voters in "rural areas have no way of making copies of their IDs…
During the COVID-19 Lockdown and subsequent Stimulus Checks, Walmarts across the Heartland sold out of printers, so children could do their schoolwork and those Americans who kept working at home could do their jobs.
Oh, and before you call me a "rascist", you do realize that Black Americans use their IDs every day out here in the sticks, don't you?
We "stupid" "Rural" Americans even know how to use a home printer to make copies.
In conclusion, Ms. Reid, it was  your own arrogance, yours and your Fellow Travelers', which led to the election of Donald J. Trump as our 45th President.
And, once again, it will be your undoing.
As it says in Proverbs 16:18,
Pride goeth before destruction, and a haughty spirit before a fall.
Or, as you guys in your self-proclaimed "urban majority" like to say,
Payback's a…well…you know.
Until He Comes,
KJ
DONATIONS ARE WELCOME AND APPRECIATED.
Make a one-time donation
Make a monthly donation
Make a yearly donation
Choose an amount
Or enter a custom amount
$
---
Your contribution is appreciated.
Your contribution is appreciated.
Your contribution is appreciated.
Donate
Donate monthly
Donate yearly