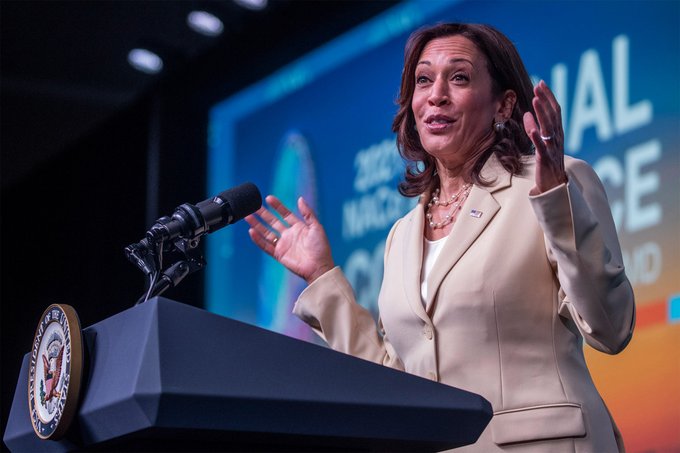 FoxNews.com reports that
Vice President Kamala Harris was criticized Saturday for arguing against voter ID laws because rural Americans couldn't get photocopies of their ID's.

"I don't think that we should underestimate what that [compromise on voter ID laws] could mean," Harris said in her interview with BET News. "Because in some people's mind, that means you're going to have to Xerox or photocopy your ID to send it in to prove who you are. Well, there are a whole lot of people, especially people who live in rural communities, who don't – there's no Kinkos, there's no OfficeMax near them."

"Of course people have to prove who they are," Harris continued, but "not in a way that makes it almost impossible for them to prove who they are."

The vice president's comments come in the midst of a nationwide battle over voter ID laws, with states like Georgia and Texas taking center stage. Many progressives argue that voter ID laws are "racist," while Republicans suggest the laws are necessary to prevent voter fraud.

Rural Americans took issue with the vice president's comments, suggesting she is out of touch with the nation.

"We built this country. We can manage to photocopy our ID's," tweeted former CIA officer Bryan Dean Wright.

Others questioned Harris' comments that people had to prove who they were, but "not in ways that make it impossible to prove who they are."

"No one is buying this ridiculous argument against Voter ID," tweeted veteran and Pennsylvania Senate candidate Sean Parnell. "The vast majority of Americans support it. Let's get it done."

Last month, President Biden announced that he tapped Harris to lead the White House's fight to expand access to the ballot box, an issue the vice president told BET News she specifically asked to lead. In the same interview, though, Harris noted that she may have not said "'no' enough" to the multiple assignments from Biden, but that she is used to "multitasking"

Polling data from the Associated Press shows that most Americans support laws requiring photo identification to access the ballot box, with a majority of both Republicans and Democrats backing the idea. Overall, 72% of American adults support requiring photo identification to vote.

Harris' comments came during the BET special titled "State of Our Union: Vice President Kamala Harris" that aired on Friday. The interview also touched on coronavirus vaccine rates and police reform.
The Liberal Elite have always believed that our country revolves around the big metropolitan areas in the Northeast and in California. They have always looked down their noses at what they derisively call "Flyover Country", the same area that many of us call the Heartland of America or simply "home".
Dear Vice-President Harris…or may I just call you "Heels Up"?
First off, allow me to introduce myself.
I am one of those average Americans, living in the Northwest corner of the State of Mississippi, whom you have, in your arrogance, mistakenly labeled as "Rural" simply because we do not live in the densely crowded metropolitan areas of either coast and we voted for Donald J. Trump as the 45th President of the United States of America.
You probably think of us as being a "rural minority".
That's funny. Last night, as I was writing this response to you, I took a look once again at the 2016 Electoral Map and was once again struck by the fact that 80% of the continental land mass known as the contiguous United States was 80% red and just 20% blue.
Doesn't the word "minority" mean "a smaller number of"?
Your "Fellow Travelers" also claim that those of us residing in the area which you Coastal Liberals tend to refer to as "Flyover Country" but which we refer to as "America's Heartland" as "the core threat to our democracy".
Seriously?
Forgive my bluntness, but Civics Class must have been one of those which you skipped in order to hang out with the "cool kids".
America is not a "democracy". Our Founding Fathers, in their infinite wisdom, created this Blessed Land as a Constitutional Republic in order to provide fair and equal representation to all areas of the country, whether they be densely populated "urban" areas or sparsely populated "rural" areas.
No American's vote is more important than somebody else's.
When I voted down here, outside Memphis, Tennessee, in the Northwest Corner of the Magnolia State during the rigged Presidential Election of 2020, it was supposed to count as your vote.
The Founders created and put in place the Electoral College in order to prevent just what you and the rest of your Fellow Travelers in the Far Left Democratic Party are suddenly crying for: a nation where its leaders are selected by mob rule in which special interest groups of a minority political philosophy join together to form a voting bloc in order to "radically change" the course of a Sovereign Nation.
In the case of Modern America Liberals, such as yourself, this would allow you and your Fellow Travelers to change our Constitutional Republic into a "Democratic" Socialist Nation, a form of government based on Marxist Theory which has never worked in any country in which it has been tried.
If that is the sort of country you which to live in…move to Venezuela.
I am certain that they could use your "help".
By the way, addressing your "concern" that voters in "rural areas have no way of making copies of their IDs…
During the COVID-19 Lockdown and subsequent Stimulus Checks, Walmarts across the Heartland sold out of printers, so children could do their schoolwork and those Americans who kept working at home could do their jobs.
Oh, and before you call me a "rascist", you do realize that Black Americans use their IDs every day out here in the sticks, don't you?
We "stupid" "Rural" Americans even know how to use a home printer to make copies.
In conclusion, Ms. Reid, it was  your own arrogance, yours and your Fellow Travelers', which led to the election of Donald J. Trump as our 45th President.
And, once again, it will be your undoing.
As it says in Proverbs 16:18,
Pride goeth before destruction, and a haughty spirit before a fall.
Or, as you guys in your self-proclaimed "urban majority" like to say,
Payback's a…well…you know.
Until He Comes,
KJ
DONATIONS ARE WELCOME AND APPRECIATED.
Make a one-time donation
Make a monthly donation
Make a yearly donation
Choose an amount
Or enter a custom amount
$
---
Your contribution is appreciated.
Your contribution is appreciated.
Your contribution is appreciated.
Donate
Donate monthly
Donate yearly
Overestimation of their own intelligence and underestimation of the intelligence and backbone of average Americans, here in America's Heartland, is what cost Modern American Liberals the White House and a Congressional Majority.

You would think that they would be trying to suck up to average Americans, instead of didactically instructing us as to what we MUST believe.

Because when they do that, it always backfires.

Please reference November 8th, 2016. – kingjester, March 6, 2017
FoxNews.com reports that
The 2020 Emmys kicked off during unprecedented times with a fakeout that saw the host pretend to present the opening monologue for an audience that wasn't really there.

The 72nd Emmy Awards are without a doubt the most unique award show in recent memory thanks to the coronavirus pandemic forcing the broadcast to go virtual and forego the large gathering of celebrities dressed to the nines on the red carpet.

Still, that didn't stop host Jimmy Kimmel from making the most out of a bad situation, kicking off the show with an opening monologue that poked fun at the pandemic, Trump supporters and Hollywood.

The host took the stage to thunderous applause from the audience, all of whom appeared to be live and in-person as he mocked the "frivolous and unnecessary" awards show. However, midway through the opening monologue, it became clear that the footage was just being reused from a previous show. Kimmel hung a lantern on that fact when he spotted himself in the crowd.

"Of course I'm here all alone, of course we don't have an audience!" Kimmel said. "This isn't a MAGA rally, it's the Emmys. Instead of the live audience, we took a page from baseball and did cardboard cutouts of the nominees."

With that, the host highlighted some cardboard cutouts in the crowd at the Staples Center before awkwardly noticing that "Ozark" star Jason Bateman was there in person. The star asked if he could stay because he's been going crazy in quarantine. When Kimmel suggested that he could stay despite safety regulations if he agreed to laugh at his jokes.

"I'm out," Bateman curtly replied.

The show then forged ahead with Kimmel revealing that more than 100 cameras were dispatched to stars all around the country so that they could tune in and give their acceptance speeches if they won. Jennifer Aniston arrived in person to announce that "Schitt's Creek" actress Catharine O'Hara took home the first award of the night for outstanding lead actress in a comedy series. O'Hara's on-screen husband, Eugene Levy, took home the next award for his role on the same show.

The series pulled off the hat trick by taking home the first three awards of the night when series creator and star Daniel Levy brought home the Emmy for outstanding writing in a comedy series.

"Getting to write David Rose, getting to write this show, getting to tell these stories has been the greatest and most cathartic experience of my life," the younger Levy said after tearing up thanking his Emmy-winning dad.

Things got slightly political once again before the announcement of Daniel Levy again as the winner for outstanding directing in a comedy series when "Barry" actor Anthony Carrigan somewhat reprised his role from the show. He engaged in a bit with Kimmel in which he pretended to be a Russian operative impersonating a mail carrier out to steal mail-in-voting ballots. When Kimmel wasn't fooled, Carrigan's character settled for handing over the Emmy winners envelopes.

The "Schitt's Creek" winning streak continued for a fifth award when Daniel won outstanding supporting actor in a comedy series.

"OK, the Internet is about to turn on me," he joked before giving his acceptance speech.

"Schitt's Creek" continued its winning streak with Annie Murphy taking home the award for outstanding supporting actress in a comedy series. Finally, the show maintained its winning streak by taking home the coveted award for outstanding comedy series.

Daniel spent his moment speaking to encourage fans to register and vote in November.

"I'm so sorry for making this political," he said before turning things over to his dad, who promptly gave thanks to everyone involved, including his son.

Kimmel kept the jabs at Trump coming by noting that he should have built his wall on the northern border of the U.S., taking a shot at the Canada-based "Schitt's Creek" cast.

"Has he tweeted yet? Oh, it's Sunday, he's probably at Church," Kimmel said, mocking the president.

David Letterman arrived next for a pre-recorded segment in which he announced the first non-"Schitt's Creek" related award of the night, which went to "Last Week Tonight" with John Oliver.

As the show moved out of comedy, Regina King took home the Emmy for outstanding lead actress in a limited series or movie for her leading role in HBO's "Watchmen." She was the first of the night to acknowledge the death of Justice Ruth Bader Ginsburg, who died earlier this week at age 87. The actress was wearing a bright pink blazer and a black t-shirt with a photo of Breonna Taylor on it.

Mark Ruffalo kept the political ball rolling, giving a speech next after taking home the award for outstanding lead actor in a limited series or movie where he encouraged people to vote in November for "compassion and kindness" rather than a country of "hatred and division" that's only for "a certain type of people."

Damon Lindelof and Cord Jefferson got to speak next after winning for their writing on "Watchmen." In his speech, Jefferson acknowledged the victims of the 1921 racially motivated massacre in Tulsa, Okla. that was used as the backdrop for the series.

"This country neglects and forgets its own history at its own peril often and I think that we should never forget them," he said. "Thank you so much for this honor."

Fortunately for viewers, the show wasn't completely without levity. Kimmel introduced a segment halfway through the awards show that saw famous TV celebrities like Will Arnett, Kene Thompson, Bob Newhart and more explain what they're doing in quarantine. The bit featured former "Saturday Night Live" star David Spade dress up as "Tiger King" subject Joe Exotic.
First off, what in the world is the matter with the Producers of the Emmy Awards?
Couldn't they find someone who is actually entertaining to host the show?
Or, someone who actually knows that America is a Constitutional Republic, not a Third World Country, where our leader is chosen by mob rule?
I stopped watching awards shows, such as the Emmys, years ago, as they did indeed become more and more of a Sounding Board for Far Left Political Opinion and less of a showcase of the brightest and best in their respective entertainment industries.
Those "celebrities" on the Left of the Political Spectrum who voted for Hillary Clinton for President back in 2016, continue to throw the longest temper tantrum over the results of one of the biggest upsets in an American Presidential Election that the world has ever seen.
These self-proclaimed activists, are making a lie out of the claim that they have made for years that they are the most tolerant…and "gifted" among us.
In fact, these sore losers remind me of the hysterically sobbing children that you hear in every Walmart across the country.
It's not that those children are crying because they are physically hurt. Just like these Hollywood Liberals, they're crying because they did not get their way.
This epic meltdown by those who are paid handsomely to entertain us is a direct result of an isolated ignorance of average Americans' desire to rid ourselves of those in the Halls of Power who told us repeatedly that they knew what was best for us and "who we were", while their actual mission was to turn America into a Third-World Barrio in their quest to make us a Socialist Paradise.
All during the Presidential Campaign, the Democratic Party, along with those in "Showbiz", through their minions in the Main Stream Media, assured us that it was a foregone conclusion that Hillary Clinton would be our 45th president.
There is a reason for that.
The Liberal Elite have always believed that our country revolves around the big metropolitan areas in the Northeast and in California. They have always looked down their noses at what they derisively call "Flyover Country", the same area that many of us call the Heartland of America or simply "home".
This meltdown which promises to last way past Inauguration Day, is a reaction caused by their own unbridled and unsupported arrogance.
Just like their fellow Modern American Liberals who run Democratic Party, the disconnected "dancing monkeys" in Tinsel Town and the Big Apple never saw Trump's victory coming.
At this point, all their incessant national temper tantrum is doing, is making them look like fools.
I don't remember any of us average Americans asking them for their opinion as to how we should vote, do you?
Isn't it funny how those who claim to be the most tolerant among us, are actually the most intolerant of all of us?
Average Americans continue to be treated as subhuman by the self-proclaimed "Smartest People in the Room".
These "spoiled brats", such as those seen on the Emmy Awards last night, still weeping and wailing in the throes of self-afflicted agony over the miserable failure of Hillary Clinton to defeat Donald J. Trump on November 8, 2016, do not care about the "Will of the People", but, rather, they are intent on reinstating. restoring, and enforcing their Far Left Political Ideology, resulting in a "Tyranny of the Minority", which we are seeing play out, as their "Fellow Travelers" attempt to hold on to their "FREE STUFF" bestowed upon them by the "benevolent masters" of the Democrat Party, by trying to block President Donald J. Trump's mandate which he was given by the average Americans who elected him the 45th President of the United States of America.
The use of Karl Marx/Saul Alinsky-inspired "Class War Politics", as taught by Liberal professors in American Universities and preached by Far Left Radical Organizations like Antifa and BLM, who are in turn funded by Former Nazi Sympathizer and Billionaire George Soros, has inspired these "protesters", leading to a divided nation, the likes of which has not been seen since "The War of Northern Aggression".
When our Founding Fathers sat down to provide form and substance to the laws and procedures for governing this new country, which they had fought and won a bloody war over, by pledging their lives, their fortunes, and their sacred honor, they were very aware of the price of tyranny.
They determined that this new nation would be a Constitutional Republic, having had their fill of monarchies.
And, that Sacred Document, our United States Constitution, gives each of us out here in the Heartland of America, between the East and Left Coasts, the right, including President Donald J. Trump, the man whom the "Dancing Monkeys" of the Television Industry attempted to vilify last night, to speak our minds and be heard.
According to a Gallup Poll, published on January 9, 2020, Conservatives are still the leading Political Ideology in America at 37%, followed closely by "self-described" Moderates at 35%. Liberals remain the Minority Political Ideology in America, comprising only 24% of our population.
The fact is, a majority of those working in the Entertainment Industry are Liberal in their Political Ideology…at least, it is evident that the most vocal of them are.
Therefore, please allow me in summation, to address the Special Snowflakes of the Glitterati…
To those of you in Tinsel Town who believe that your ability to stand of a piece of tape on a set, mug for the camera, and read lines on a cue card or even memorize a few of them, somehow gives you the authority to insult, demean, and act superior to those of us here in the Heartland who were responsible for the election of Donald J. Trump as President of the United States of America…HERE'S A REALITY CHECK FOR YOU:
Average Americans, such as myself and my readers, really don't give a tinker's damn about your opinions of our intelligence or the Citizen Statesman whom we put into the Oval Office on November 8, 2016 and are about to reelect on November 3, 2020.
There is a reason why those of us who actually watch TV are spending more and more time on channels such as Circle, the Inspiration Channel, and MeTV:
The majority of modern television programs STINK ON ICE.
We would rather watch the old television programs which were actually entertaining…shows like Walker, Texas Ranger, The Virginian, Good Times, The Golden Girls…and even Lassie.
Come to think of it…when compared to y'all…Lassie was a better actor.
Until He Comes,
KJ