Newsmax.com reports that
Calling Georgia the "central battleground" to save "our beloved nation," former President Donald Trump denounced the Biden administration's first-year missteps.

"Our country is being turned into a migrant camp," Trump told his Saturday night Save America Rally in Perry, Georgia, in a speech that aired live on Newsmax, forcefully declaring: "This is an invasion!"

"Other than that, how are things going?"

Trump told a large rally crowd "somebody's really screwing up our country, destroying our country."

"One thing is certain this would never, ever be happening if I were president, and we should have been your president," Trump continued.

"Look what happened with Joe Biden as your president: Our country has gone to hell," Trump said later as a "we love Trump" chant broke out for a minute. "Thank you, and I love you, too."

Georgia, Trump began, is going to be a key battleground in 2022 and a "big victory" in 2024, teasing another run for the White House that he has said he cannot announce yet due to campaign finance laws.

"I'm thrilled to be back in this magnificent state with thousands of hard working god fearing freedom loving, American patriots," Trump said. "And one year from now, Georgia is going to be a central battleground in our fight to rescue our beloved nation.

"With your help, we're going to take back the House and send Nancy Pelosi back to San Francisco," he added.

"And we're going to take back our country from these lunatics."

Trump, one day after Arizona revealed findings of a forensic audit, reminded his supporters, "you know, there never has been a concession."

"You do know that, right?" Trump continued, saying the media has a double standard with Democrats and Trump. "You know when Stacey Abrams says, 'I'm not going to concede,' it's O.K. No problem.

"I never conceded because I saw what was happening, and I can't do it. I can't do it because I have a commitment to you and I can't do it."

Trump decried the attempts to attack those seeking investigations into alleged election and voter fraud.

"Somebody said they're looking at me for questioning the election," Trump said. "That'll be an interesting one: 'Let's go after Trump because he's questioning the election.' You know what, if I won or lost, all I want is a fair election. That's all you want."

Just talking about voter fraud will get you investigated, Trump lamented.

"The people that are questioning the votes aren't interested in the people that committed the voter fraud, they're only interested in me and others because I bring voter fraud to the forefront in order to save our nation from corrupt elections and to make sure that this never, ever happens again," Trump said.

Trump continued to blast his former Joint Chiefs of Staff Gen. Mark Milley for the Afghanistan exit that left 13 U.S. service members dead – which Trump honored with 13 empty first-row Joe Biseats.

"This Milley is an idiot," Trump said. "I got to know him. He's an idiot."

Trump claimed Milley is the general that suggested it is cheaper to leave the military equipment in Afghanistan rather than take it out of the country upon withdrawal.

"Milley said to me one time, I'll never forget it, 'sir, it's more expensive, sir, to take the equipment than to leave it," Trump recalled. 'I said, 'really?'

"I mean you have a $10 million tank, you put it on a plane, and that's more expensive than leaving it? He said it's more expensive and I never forgot that he said that, because that's probably the first time I realized that he was stupid."

Trump also rebuked Democrats' prosecutorial attacks on him and his former advisers, including subpoenas issued this week to advisers and staffers who spoke to the president on Jan. 6 when protesters entered the U.S. Capitol.

"They want to go after me because I have, they think, a big mouth," Trump said. "I don't have a big mouth. You know what I have? I have a mouth that tells the truth. I have a mouth that wants to save our country."

Trump mocked Biden as the "biggest failure" as president, including suggesting former President Jimmy Carter is "very happy" to no longer hold that title.

"He's doing nothing to hold the Chinese communist party accountable for unleashing the virus upon the world," Trump said. "Biden did not even say the word 'China' in his U.N. speech because he's too compromised to take them on, and then only briefly mentioned Afghanistan because his withdrawal has been such a disaster for him and our country.

"And, by the way, for his poll numbers, which have tanked after just eight months, Joe Biden is already the biggest failure ever to occupy the oval office."
Trump was and IS right…about EVERYTHING.
I have to tell y'all…it was great to watch the 45th President of the United States of America do what he does best: communicate directly with average Americans.
Talk about a breath of fresh air,
I will take the brash honesty and "mean Tweets" of Donald J. Trump over the anti-American Policies, ineptitude, and prevarications of Dementia Joe and Heels Up Harris any day of the week.
Last night, American Citizens living in Georgia heard from a man who genuinely LOVES America and her people, instead of viewing us all as racist, misogynist, xenophobes…the 45th President of the United States of America, Donald J. Trump.
Just like Trump did, with his refusal early in his first Presidential campaign to "act more presidential", he is still taking his message directly to the American People.
You see, Gentle Readers, Trump has always been a "people person".
That is the reason that, when he was still a contributor to Fox News, he would speak to everyone in the building, from the maintenance crew, on up the ladder.
As Sam Walton, the Founder of Walmart, knew, you don't inspire people by acting imperious and above it all.
"Mr. Sam", until his health would no longer allow him to do so, would travel to Walmart Stores in his old pickup truck, with a tie and a baseball cap on, visiting the employees, in order to find out how his stores were doing.
He knew that the only way to be successful and to stay in touch with the public, was to be out among them, and speak to them honestly and directly, as one would speak to a friend.
Just as President Trump did when he went on a "Thank You" Tour after being elected in 2016 and his use of Twitter to speak directly to the American People.
The Political Establishment, of both parties, lost that concept, a long time ago.
Bypassing the borders to communication, historically determined by both political parties and the Main Stream Media, is a concept which I first witnessed being used by a Presidential Candidate in the 1980 Presidential Election, the legendary Ronald Wilson Reagan.
While I am not comparing the two, I am noting that this strategy has proved effective for both men.
As America witnessed last night, Trump continues to strike a resonant chord in the hearts of Average Americans, living in the part of America, which the snobbish Political Elites refer to as "Flyover Country", but which we refer to as "America's Heartland", or, quite simply, "HOME".
The reason being, President Trump kept his promises.
He does not talk down to us while disparaging our Sovereign Nation, as Sleepy Joe Biden, "Dr." Jill Biden, and Kamala Harris do..
Trump talks to us in a plain-spoken, clearly understood way, a style which is in stark contrast to a Far Left Democrat party full of professional politicians, whose only interest is the totalitarian retention of power in Washington, D.C., at whatever the cost.
Last night, the Former President of the United States of America made residents of Alabama, along with the rest of us average Americans, feel good about ourselves and the future of our Sovereign Nation
And, gentle readers, to see and hear a Former, and possibly Future American President who genuinely loves this country and her people and who was willing to give up his "lifestyle of the rich and famous" in order to secure a safe and prosperous future for American Citizens is indeed a "radical change" from what this country is experiencing coming out of the Oval Office now.
Until He Comes,
KJ
DONATIONS ARE WELCOME AND APPRECIATED.
Make a one-time donation
Make a monthly donation
Make a yearly donation
Choose an amount
Or enter a custom amount
$
---
Your contribution is appreciated.
Your contribution is appreciated.
Your contribution is appreciated.
Donate
Donate monthly
Donate yearly
FoxNews.com reports that
The president of the Anti-Defamation League (ADL) blasted the members of the Democratic "Squad" for the defunding of Israel's Iron Dome defense system from the massive spending bill.

Responding to an op-ed published by The Times of Israel titled "The immorality of Democratic 'progressives' targeting Iron Dome," ADL president Jonathan Greenblatt tweeted, "It is unconscionable that a small group of Members of Congress — the so-called 'Squad' — demanded that the House leadership strip out funding for Israel's Iron Dome before they would approve the [continuing resolution]."

"The Iron Dome is a defensive system designed to protect civilians. Innocent people of all ethnicities & faiths — Jews, Muslims, Christians, Druze and others — depend on the Iron Dome for protection when terror groups like Hamas + Hezbollah launch thousands of rockets at them," Greenblatt wrote on Wednesday. "It is a disgrace that the Squad succeeded. It emboldens Hamas & Hezbollah and others enemies of peace. To the MOCs who made the demands, look at the below. Every intercepted rocket was fired indiscriminately toward civilian centers with 1 goal: the brazen murder of innocents."

Greenblatt predicted the "shameful act" by the progressive lawmakers will "fuel further campaigns by anti-Zionist activists" as well as inflame anti-Semitic violence like what took place last spring amid the Israel-Gaza conflict.

"Make no mistake – human lives are at stake. Lawmakers are promising action and we demand Congress follows through. This funding has been delayed by both Democrats & Republicans for too long. We need an immediate bipartisan effort to fund the Iron Dome now," Greenblatt added.

The "Squad," which includes Reps. Alexandria Ocasio-Cortez, D-N.Y., Ilhan Omar, D-Minn., and Rashida Tlaib, D-Mich., were able to scrub the proposed $1 billion meant to continue funding the Iron Dome.

However, several moderate Democrats, including Michigan Rep. Elissa Slotkin, slammed the progressive victory.

"Iron Dome is a purely *defensive* system — it protects civilians when hundreds of rockets are shot at population centers. Whatever your views on the Israeli-Pal conflict, using a system that just saved hundreds, if not thousands, of lives as a political chit is problematic," Slotkin tweeted on Tuesday. "So to target Iron Dome now means the issue isn't a genuine concern over the system, but rather the desire to attack something – anything – related to the State of Israel; it's devoid of substance and irresponsible."

On Wednesday, House Democrats introduced a separate bill that would provide the $1 billion in funding towards the Iron Dome.
A while back, Rep. Tlaib advocated for the BDS Movement from the Floor of the House of Representatives.
So what is BDS?
Per their website bdsmovement.net,
Boycott, Divestment, Sanctions (BDS) is a Palestinian-led movement for freedom, justice and equality. BDS upholds the simple principle that Palestinians are entitled to the same rights as the rest of humanity.

Israel is occupying and colonising Palestinian land, discriminating against Palestinian citizens of Israel and denying Palestinian refugees the right to return to their homes. Inspired by the South African anti-apartheid movement, the BDS call urges action to pressure Israel to comply with international law.

BDS is now a vibrant global movement made up of unions, academic associations, churches and grassroots movements across the world. Thirteen years since its launch, BDS is having a major impact and is effectively challenging international support for Israeli apartheid and settler-colonialism.
Rep. Talib said this in May of 2019….
"There's always kind of a calming feeling, I tell folks, when I think of the Holocaust, and the tragedy of the Holocaust, and the fact that it was my ancestors — Palestinians — who lost their land and some lost their lives, their livelihood, their human dignity, their existence in many ways, have been wiped out, and some people's passports," Tlaib said on the podcast's most recent episode, published Friday. "And, just all of it was in the name of trying to create a safe haven for Jews, post-the Holocaust, post-the tragedy and the horrific persecution of Jews across the world at that time. And, I love the fact that it was my ancestors that provided that, right, in many ways, but they did it in a way that took their human dignity away and it was forced on them."
In case you do not remember, the night that Rep. Tlaib was sworn in as a member of the 116th Congress, she was videotaped vowing to impeach Former President Trump. This was shortly after she penned an op-ed for The Detroit Free Press outlining the case for impeachment.
The video showed Tlaib telling supporters.
"People love you and you win. And when your son looks at you and says: 'Momma, look you won. Bullies don't win.' And I said, 'Baby, they don't, because we're gonna go in there and we're gonna impeach the motherf***er.'"
Classy, huh?
Tlaib is a Black Muslim, born in America to parents of Palestinian descent.
As I have been writing over the last 11 years, Liberals are nothing if not predictable.
They view everything in terms of politics and race, not necessarily in that order.
For years now, I have referred to the intolerant political ideology of Modern American Liberals as "The New Fascism" because of their intolerance toward traditional Americans Faith and Values, including our relationship with our closest ally, Israel, since their birth as a country in 1948.
What we are seeing now, as regards the rampant anti-Semitism in the Far Left Democratic Party, which began under Former President Barack Hussein Obama, is a result of an amalgamation of the political philosophies of the special interest groups who have replaced average Americans as the Democrats' Voting Base.
Anti-Semitism is the norm in Marxism in all of its forms, including "Democratic Socialism".
Anti-Semitic groups tend to gravitate toward each other finding solace and kindred spirits in their shared hatred of the Jewish people.
For those of you who are old enough to have actually studied history before the Liberals started revising it, the world has bore witness to this phenomena before.
A socialist political party in a developed nation joined forces with Islamists before, based on their mutual hatred of Jews.
You may remember this. They were the National Socialist Party of Germany, otherwise known as the Nazis.
They caused the mass extermination of millions of innocent European Jews, the Holocaust which gives Congresswoman Tlaib "a calming feeling".
The political philosophies which the Modern Democrats are now embracing are the anti-thesis of whom they claim to be.
Average Americans are not fooled by the "Unity" Rhetoric spewed by Joe Biden and the Far Left Democrats..
Heck, they can not even keep their own political party unified.
Those who hate Americans, simply because they are Jewish, like those who hate the nation of Israel for the same reason, have already gone on record.
Those on the Left Side of the Political Spectrum bear the responsibility for the anti-Semitic violence which has plagued New York City and is beginning to rear its ugly head in other cities, as well,.
Unfortunately, all we are hearing from their leaders is support for a "country" which never existed.
Until He Comes,
KJ
DONATIONS ARE WELCOMED AND APPRECIATED.
Make a one-time donation
Make a monthly donation
Make a yearly donation
Choose an amount
Or enter a custom amount
$
---
Your contribution is appreciated.
Your contribution is appreciated.
Your contribution is appreciated.
Donate
Donate monthly
Donate yearly
Newsmax.com reports that
The Capitol Police response, requesting National Guard backup, to watch over the nondescript and peaceful "Justice for J6" rally in Washington, D.C., on Saturday was trolled as overzealous and misappropriated by former President Donald Trump.

Trump wrote in a Sunday statement from his Save America PAC:

"It is incredible that our National Guard is standing at the empty Capitol, not at our southern border, where the number of illegals coming into our country is at a level that has never been seen before!"

That rebuke preceded a more comprehensive one Sunday by the former president, who said the country is spiraling into a "cesspool of humanity."

"The largest number of illegal aliens in the history of our country are pouring in by the millions," Trump wrote in another Save America PAC statement. "They are totally unchecked and unvetted, can do whatever they want, and go wherever they want. Our country is rapidly becoming a cesspool of humanity.

"Murderers, drug dealers, and criminals of all shapes and sizes are a big part of this massive migration. Tens of thousands of people are coming from Haiti, and many now from countries in Africa, even more so now than South America."

Trump added the media is quietly covering for President Joe Biden's gaffes as the "border crisis" is becoming what he called a "crisis crisis."

"Nothing is done and the corrupt mainstream media is giving almost no attention to what will be perhaps the greatest crisis in the history of our country," Trump's statement concluded. "This is not just a border crisis, this is a crisis crisis. God Bless America!"
As per usual, Former President Donald J. Trump is exactly right.
There is a reason why Biden and his handlers are allowing anyone and everyone, whether they are  COVID-19-infected or not or whether they are a pedophile or serial killer, to enter our Southern Border illegally.
The Far Left Democrats want an influx of undereducated illegal immigrants to come into our Sovereign Nation.
They, like the product of Liberal-staffed colleges before them, are easier to mold and deceive.
It is the same logic which caused Vladimir Lenin to approach the barbaric Bolsheviks and Mensheviks to help him overthrow the Czar of Russia and usher in the "glorious period of enlightenment and social justice" known as the Russian Revolution.
Of course, you know that while I was writing the statement above, I had my tongue firmly planted in my cheek.
Lenin suckered the masses into believing that the political theory which he was championing would bring about a land of milk and honey, where every man would have what he needed to be happy, healthy, and prosperous.
Instead, what Marxism, which has failed in every country in which it has been tried, brought to the poor peasants of Russia was more poverty and even less individual freedom than what they had experienced under the Czar's rule.
The Democrats are so desperate to change our country's government from a Constitutional Republic to the "glory" of Democratic Socialism that they are willing to bring millions of illegals across our Southern Border.
Their plan kills two birds with one stone:
It gives them more "foot soldiers" and it will re-infect America with the Chinese Coronavirus, causing more lockdowns and the opportunity for Democrats to grab more power and gain more control of American Citizens.
They don't care if they are bringing "a cesspool of humanity" into America.
What better way to "radically change" it?
This invasion, however, is definitely NOT Biden's brainchild. 
President Biden is nothing but a demented old man who, along with the Handlers who are speaking into his earpiece, are trying to "radically change" our country into something that it was never meant to be.
However, it appears that it is indeed his fault.
Exactly how did 15,000 Haitians wind up under a bridge in Southern Texas?
Per AmericanThinker.com,
The surprising answer, which the migrants provided independently in different places and at different times, was universal: on Sunday, September 12, the Mexican government effectively sent a mass of migrants it had bottled up for months in its southern states up to the American border. This move, which appears to have been done under the cover of Mexico's independence week of celebration known as El Grito, essentially foisted a humanitarian problem onto the Americans in a single week.

Mexico was the one who did it. Turns out Joe Biden promised them some things and based on the available information, apparently never delivered.
Americans need to stand up to this out-of-control Totalitarian Marxist Government, full of lies and empty promises, which the Democrats are attempting to put in place…
…before America becomes the next Venezuela.
Until He Comes,
KJ
DONATIONS ARE WELCOME AND APPRECIATED.
Make a one-time donation
Make a monthly donation
Make a yearly donation
Choose an amount
Or enter a custom amount
$
---
Your contribution is appreciated.
Your contribution is appreciated.
Your contribution is appreciated.
Donate
Donate monthly
Donate yearly
Woe to those who call evil good and good evil, who put darkness for light and light for darkness, who put bitter for sweet and sweet for bitter! – Isaiah 5:20
Consider, if you will, a country in which its president's first action in office was to close a oil pipeline which was important to our country's energy needs and which employed thousands of Americans.
…a country whose majority political party builds a wall around its capitol building in order to separate itself from the citizens whom they are supposed to be serving..
…a country whose President and his Administration gave billions of dollars of our weaponry behind during a botched pull-out from a Radical Islamic Nation, leaving Islamic Terrorists in charge of it who worked with others who killed 3,000 Americans 20 years ago, leaving hundreds of Americans are trapped inside the country now.
…a country whose President announces with glee that he is going to require private businesses to force their employees to either get a vaccine that may require a booster or lose their job…increasing an already massive unemployment problem.
…a country whose President vows to fight a law protecting unborn babies having a heartbeat from getting ripped out of their mothers' wombs.
a country whose President is obviously battling dementia, getting worse every day, and no one is making him step down because the cabal who is "handling" him will not allow it.
…a country in which the faith of 75% of its citizens is constantly attacked by the same people who constantly clqaim to be tolerant of others.
"You are traveling through a previously unknown country, a country whose population has politically been torn asunder, a country whose Democratic Leadership have forsworn its traditional faith and values to embrace those of its enemies. A country whose great promise is now being broken, subjugated to the wishes of a political minpority who follow the teachings of Karl Marx.
There's a signpost up ahead. Next stop, Socialist America."
This country has been pulling apart at the seams since Barack Hussein Obama was elected as our 43rd President.
The direction which the Modern Democratic Party has taken to the Far Left of the Political Spectrum has put them at odds with the majority of Americans who still hold dear the Traditional Faith and Values System upon which our Sovereign Nation was founded.
In an article written for Decision Magazine dated February 12, 2012, America's Pastor, Rev. Billy Graham, wrote on the subject of "Confusing Evil With Good". Here are some excerpts…
Humanity has always been dexterous at confusing evil with good. That was Adam and Eve's problem, and it is our problem today. If evil were not made to appear good, there would be no such thing as temptation. It is in their close similarity that the danger lies.

Modern social righteousness often differs from the righteousness of the Bible. Someone has said: "A wrong deed is right if the majority of people declare it not to be wrong." By this principle we can see our standards shifting from year to year according to the popular vote! Divorce was once frowned upon by society, and laws against fornication and adultery were strictly enforced. But now divorce is accepted by society, and fornication is glorified in our literature and films.

The Bible says: "Woe to those who call evil good, and good evil." God has not changed. His standards have not been lowered. God still calls immorality a sin, and the Bible says God is going to judge it.

Honesty was once the hallmark of character. But it has been set aside with an "It's all right if you don't get caught" philosophy. Only when we are in court are we required to tell the truth, the whole truth and nothing but the truth.

…How do we get our values so mixed up? How do we fall into this trap of Satan? For one thing, we're shortsighted. We look for shortcuts to happiness. Our lust for immediate pleasure prompts us to think of evil as good.

In one of novelist John Steinbeck's books he has a character saying: "If it succeeds, they will be thought not crooked but clever." In our desire to achieve success quickly, it is easy to get our values mixed up and call evil good and good evil.

Another way to call evil good is to say that morals are relative. Someone has said: "As the occasion, so the behavior." We have changed our moral code to fit our behavior instead of changing our behavior to harmonize with our moral code. Nothing is firm today. We are not on solid ground. Young people are shifting from one side to the other. Morally, they are drifting aimlessly without compass or guide.

Still another way that evil is called good is for the conscience to be perverted, and certainly our consciences today are perverted. But right is right even if nobody is right, and wrong is wrong even if everybody is wrong. God does not change the moral law to suit our behavior.

…The modern conscience has been twisted and distorted so badly that it is difficult to tell what is genuine and what is false.

Self-centeredness is another reason we are so inclined to call evil good. When something brings profit or pleasure to us we are inclined to call evil good, even though we know it is dead wrong. "But it's what I've always wanted," or, "It's good for me, although I know it's wrong" are the alibis we have manufactured to justify evil and call it good.
It is very apparent that there is something that is literally tearing apart the fabric of our country.
The only conclusion that I, as a Christian American can reach, is the fact that our Sovereign Nation is in the midst of SPIRITUAL WARFARE for its very soul.
Make no mistake about it, boys and girls, EVIL EXISTS.
My friends, I believe that we are fighting a war not just against the Chinese Coronavirus and the Taliban, but also against "princes and principalities". Evil is still alive and well and flourishing in a world in which relative morality and situational ethics are increasingly being accepted as normal behavior.
We see it everyday around us.
It inundates the cable news channels and our country's failing Liberal Newspapers like the New York Times. Heck, you can even see it on Facebook.
Since Cain slew Able with a rock, mankind, because we are all fallen creatures, has had to deal with the presence of evil in our lives.
From the legendary massacres, perpetrated by Vlad the Impaler, to the horrific scenes of Hitler's Concentration Camps, to the killing fields of Pol Pot, to the massacre of innocent Middle Eastern Christians by Islamic State, to the murders by Chicago Street Gangs every night, the Forces of Evil continue to flourish across the globe.
Who we as a nation are struggling with are those forces who want to turn our country into not just an immoral society, but, an amoral one, whose concept of right and wrong is "Whatever Gets You Through the Night (It's Alright. It's Alright.)", and whose ultimate authority is not the God of Abraham, but a Godless All-Powerful Central Government, whose credo is
From each according to his abilities, to each according to his needs. (Karl Marx)
Just as Marxism has failed wherever it has been tried before, so, if allowed to do so, it would lead to America's downfall.
The galling thing is the fact that, even though American Christians remain 75% of the population, we are propagandized and suppressed by the Liberals in both the Old and New Media, to make it seem as if WE are the Minority, when, in fact, WE are the overwhelming Majority.
It is this New Generation of Amoral Socialists, who have taken over the Democratic Party, who are in fact, just a tiny, albeit vocal, Minority of America's population.
So, what can an average Christian American, like you and me, do about this "Tyranny of the Minority"?
Christians have to make a choice in these tough times whether to allow those who are attempting to "radically change" our Sovereign Nation, given to us by God into a Democratic Socialist Paradise or…
As the Apostle Paul tells us in Ephesians, we can STAND.
However, you cannot stand without "the full armor of God". I have found, as have my family and friends, that the better that you are doing, in terms of your Christian Walk, the harder that you will be attacked.
10Finally, be strong in the Lord and in the strength of His might. 11Put on the full armor of God, so that you will be able to stand firm against the schemes of the devil. 12For our struggle is not against flesh and blood, but against the rulers, against the powers, against the world forces of this darkness, against the spiritual forces of wickedness in the heavenly places.…- Ephesians 6:10-12
Now, more than ever, in the midst of this pandemic, our Christianity as Americans does not and can not end at Noon on Sunday as we finish watching church services on the internet via our Smart TVs.
"Onward, Christian Soldiers, marching as to war."
Because believe me, Americans…we are in one with three enemies. Two enemies are invisible and one is political.
Pray for those who are out "on the front line" fighting the Chinese Coronavirus every day and caring for those who are sick with it,
Pray for our country.
God Bless America.
Until He Comes,
KJ
DONATIONS ARE WELCOMED AND APPRECIATED.
Make a one-time donation
Make a monthly donation
Make a yearly donation
Choose an amount
Or enter a custom amount
$
---
Your contribution is appreciated.
Your contribution is appreciated.
Your contribution is appreciated.
Donate
Donate monthly
Donate yearly
In some ways it does not seem like it has been 20 years since the worst Terrorist Attack ever perpetrated on American soil.
In other ways, it seems like an eternity.
That horrible day was so surreal. It seemed to me like I was stuck in a nightmare.
Certainly this couldn't be happening to us? We're the greatest nation in the world. Who in their right mind, would dare attack the United States of America? Who would be brazen enough to attack us, using instruments of our own design? Who would actually dare flying planes into the Twin Towers, a living symbol of American Prosperity?
For that matter,. who would fly a plane into the Pentagon…the Seat of Power behind our nation's awesome Military, the finest collection of Fighting Men and Women on Earth?
It was not a nightmare. It was a reality.
I remember seeing that first plane crash into the World Trade Center.
I remember the look of incredulity and panic on the faces of Steve Doocy, Brian Kilmeade, and E.D. Hill, as they watched from the set of Fox and Friends that fateful morning.
I remember the second plane on its approach, and the horrifying realization that this was no accident… that America was under attack. An attack, which turned out to have been planned and executed by Osama bin Laden, and a group of Saudi Arabians, members of the Muslim Terrorist Group, known as al-Qaeda.
I remember the images of Americans jumping out of windows to their certain death, rather than be consumed by the fires, raging around them.
I remember the sickening thud as they hit the pavement.
I remember the images of the brave NYC Policemen and Firemen as they rushed into the World Trade Center…never to return.
I remember watching the First Tower collapse…then, the second one.
I remember a heroic Mayor Rudy Giuliani, out in the middle of the devastation, doing whatever he could to get New Yorkers to safety.
I remember President George W. Bush coming on television, with a look of steely determination, as he announced that we would be avenged.
I remember him standing on that heap of rubble that used to be a part of the World Trade Center, side by side with that fireman, telling the assembled crowd, through his bullhorn, that "the world will hear from us".
And, it did.
Here is the tragedy of 9/11/01, broken down by the numbers. Courtesy of nymag.com:
The initial numbers are indelible: 8:46 a.m. and 9:02 a.m. Time the burning towers stood: 56 minutes and 102 minutes. Time they took to fall: 12 seconds. From there, they ripple out.

Total number killed in attacks (official figure as of 9/5/02):2,819
Number of firefighters and paramedics killed: 343
Number of NYPD officers: 23
Number of Port Authority police officers: 37
Number of WTC companies that lost people: 60
Number of employees who died in Tower One: 1,402
Number of employees who died in Tower Two: 614
Number of employees lost at Cantor Fitzgerald: 658
Number of U.S. troops killed in Operation Enduring Freedom: 22
Number of nations whose citizens were killed in attacks:115
Ratio of men to women who died: 3:1
Age of the greatest number who died: between 35 and 39
Bodies found "intact": 289
Body parts found: 19,858
Number of families who got no remains: 1,717
Estimated units of blood donated to the New York Blood Center: 36,000
Total units of donated blood actually used: 258
Number of people who lost a spouse or partner in the attacks: 1,609
Estimated number of children who lost a parent: 3,051
Percentage of Americans who knew someone hurt or killed in the attacks: 20
FDNY retirements, January–July 2001: 274
FDNY retirements, January–July 2002: 661
Number of firefighters on leave for respiratory problems by January 2002: 300
Number of funerals attended by Rudy Giuliani in 2001:200
Number of FDNY vehicles destroyed: 98
Tons of debris removed from site: 1,506,124
Days fires continued to burn after the attack: 99
Jobs lost in New York owing to the attacks: 146,100
Days the New York Stock Exchange was closed: 6
Point drop in the Dow Jones industrial average when the NYSE reopened: 684.81
Days after 9/11 that the U.S. began bombing Afghanistan: 26
Total number of hate crimes reported to the Council on American-Islamic Relations nationwide since 9/11: 1,714
Economic loss to New York in month following the attacks: $105 billion
Estimated cost of cleanup: $600 million
Total FEMA money spent on the emergency: $970 million
Estimated amount donated to 9/11 charities: $1.4 billion
Estimated amount of insurance paid worldwide related to 9/11: $40.2 billion
Estimated amount of money needed to overhaul lower-Manhattan subways: $7.5 billion
Amount of money recently granted by U.S. government to overhaul lower-Manhattan subways: $4.55 billion
Estimated amount of money raised for funds dedicated to NYPD and FDNY families: $500 million
Percentage of total charity money raised going to FDNY and NYPD families: 25
Average benefit already received by each FDNY and NYPD widow: $1 million
Percentage increase in law-school applications from 2001 to 2002: 17.9
Percentage increase in Peace Corps applications from 2001 to 2002: 40
Percentage increase in CIA applications from 2001 to 2002: 50
Number of songs Clear Channel Radio considered "inappropriate" to play after 9/11: 150
Number of mentions of 9/11 at the Oscars: 26
Apartments in lower Manhattan eligible for asbestos cleanup: 30,000
Number of apartments whose residents have requested cleanup and testing: 4,110
Number of Americans who changed their 2001 holiday-travel plans from plane to train or car: 1.4 million
Estimated number of New Yorkers suffering from post-traumatic-stress disorder as a result of 9/11: 422,000
And, here we are, 20 years removed from that nightmarish day, with a President of the United States, who since taking office, has purposefully divided our Sovereign Nation like never before, pitting black Americans against White Americans, the poor among us against those who employ people, and the vaccinated against the un-vaccinated.
This treasonous imbecile who was installed as President has kissed the backsides of the same people responsible for the horrific events which we stop to remember on this solemn day.
Not only that, in his surrender to the Taliban, he left behind American citizens, now claiming that the Taliban are acting like "professionals"
Under our former Commander-in-Chief that would have never happened. Former President Donald J. Trump does not bow down to Radical Islamists.
During the days after 9/11/2001, political affiliation, race, gender, personal philosophy, did not matter.
WE WERE AMERICANS.
This country came together, in a way in which I had never before seen in my lifetime (which, is a pretty long time).
Now, look at us.
Besides the Far Left Cabal and their puppet in the White House, we have Radical Muslims (and Marxists) occupying seats in the House of Representatives and displaying their ignorance and disdain for our country.
Like Rep. Ilhan Omar (D-MN) who infamously said,
"Some people did something."
Americans must continue to stand firm and to once again come together and let our "public servants" in the Halls of Power in Washington, D.C know that we stand against those who would embrace our enemies instead of serving our Sovereign Nation, as they were elected to do.
Also, we remember those who left us on that September Morning so long ago, and say a prayer for them and the Four Americans whom we lost on the grounds of a US Embassy Compound in Benghazi, Libya. All these years later, they still deserve no less.
On September 11, 2001, Radical Islamists attacked us on our own soil and murdered over 3,000 Americans, and if given the opportunity, they will not hesitate to do it again.
We must stop the Far Left ideologues of the Modern Democratic Party, including President Joe Biden and his "Handlers" and not give them any more opportunities to bring about "radical change" in America through the appeasement of our enemies which has already started happening under this President, including secret deals, possible pay-offs, acquiescence, and leaving them the means of our nation's destruction during the botched pull-out from Afghanistan..
America was NEVER meant to be "just another country".
We must stand united as a nation and continue to reclaim our heritage as "The Shining City Upon a Hill".
The lives lost on September 11, 2001…and September 11, 2012…demand it.
Until He Comes,
KJ
DONATIONS ARE WELCOMED AND APPRECIATED.
Make a one-time donation
Make a monthly donation
Make a yearly donation
Choose an amount
Or enter a custom amount
$
---
Your contribution is appreciated.
Your contribution is appreciated.
Your contribution is appreciated.
Donate
Donate monthly
Donate yearly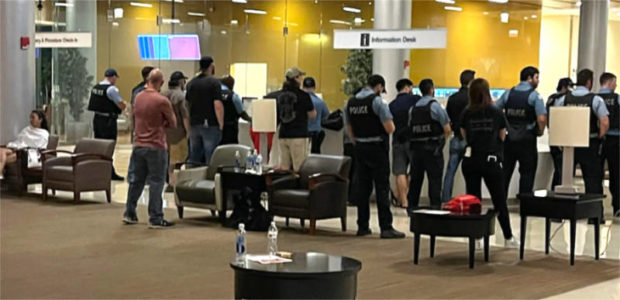 FoxNews.com reports that
More than two dozen Chicago police officers reportedly turned their backs when greeted by Mayor Lori Lightfoot late Saturday at the hospital where an officer remains in critical condition.

Chicago Police Officer Ella French, 29, was shot and killed during a traffic stop Saturday night, while her partner fights for his life at the University of Chicago Medical Center. As Lightfoot visited the hospital about midnight Saturday, about 30 officers turned their backs to her when she approached them on the 7th floor, the Chicago Sun-Times reported Monday morning.

"It looked like it had been choreographed," a source told the outlet.

The male officer's father, who is a retired Chicago cop, also gave the mayor an earful when she tried to talk to him, sources told the Sun-Times. She reportedly remained calm and attentive while he blamed her for what happened.

The mayor's press office provided a statement to Fox News, saying, "In a time of tragedy, emotions run high and that is to be expected."

"The Mayor spoke to a range of officers that tragic night and sensed the overwhelming sentiment was about concern for their fallen colleagues," the statement read. "As the Mayor stated yesterday, now is not the time for divisive and toxic rhetoric or reporting. This is a time for us to come together as a city. We have a common enemy and it is the conditions that breed the violence and the manifestations of violence, namely illegal guns, and gangs. The Mayor is focused on healing the wounds and will reject any and all that try to use this moment to drive further divisions in our city."

Dozens of shooting incidents across Chicago over the weekend left 13 people dead and 73 injured.

In the period beginning Friday at 6 p.m. and ending at midnight Sunday, the Chicago Police Department recorded 54 shooting incidents, statistics show.

Chicago Police Department Supt. David Brown said Sunday that French, her partner and another officer were fired upon after approaching a vehicle with three occupants during a traffic stop in West Englewood on Saturday. Three suspects are currently in police custody.

Lightfoot declared Sunday a day of mourning and called for all flags to be flown at half-staff. In an earlier statement, she told critics of her treatment of police to "just stop."

"There are some who say we do not do enough for the police and that we are handcuffing them from doing their jobs. There are others who say we do too much for the police and that we never hold them accountable for what they do, particularly in Black and brown neighborhoods," Lightfoot said. "All of this, I say, stop. Just stop. This constant strife is not what we need in this moment. Of course, we have to continue the journey to achieve constitutional and accountable policing. That cannot be in debate at this point."

Lightfoot concluded her statement by calling on Chicagoans to "say thank you" when they see a police officer in public, adding, "We owe them a debt of gratitude that we will never truly be able to truly repay."
So, Far Left Democrat Mayor Lori Lightfoot joins Bill di Blasio in having her city's Police Department turn their backs on her.
And, with good reason
For a long time now, Lightfoot has been a proponent of the "Defund the Police" movement.
On 20 May 2019, the freshly elected Chicago mayor, Lori Lightfoot, delivered her inauguration speech to a jubilant audience.

It was imbued with promises of fundamental change – tailored care for blighted neighborhoods, solutions to government corruption and endemic violent crime, an ambitious agenda for tackling deep-rooted faults in the city.

"For years they've said Chicago ain't ready for reform. Well, get ready, because reform is here," Lightfoot, Chicago's first Black woman and openly gay mayor, and a former federal prosecutor, said.

She pledged to reform the Chicago police department, promising to "continue the hard but essential work of forging partnerships between police officers and the community premised on mutual respect, accountability and a recognition that the destinies of police and community are inextricably intertwined".

Police reform seemed like a perfect task for Lightfoot given one of her prior roles of leading the city's special taskforce on police accountability and reform.

She issued a scathing report on the department in 2016, addressing broken trust between police and community and noting: "A painful but necessary reckoning is upon us."
And, look at her now.
The hypocrisy of Far Left Democrats like Mayor Lightfoot would be comical…it did not cause so much tragedy.
Her reluctance to "Back The Blue" has axded gas to the flames of an already out-of-control violent crime problem in the Windy City.
The fatal shooting of Ella French and the wounding of her partner may very well have been the straw that broke the camel's back for the men and women of the Chicago P.D.
I don't blame them for turning their backs on Mayor Lightfoot.
The audacity of the woman to pretend as if she actually respects and backs those whom she and the Chicago Board of Aldermen have been trying to defund is beyond the pale.
Her hypocrisy knows no bounds.
All of the cities and states which have experienced "trouble" with police departments happen to be Blue States with Democrats in charge of State and Municipal Governments.
Instead of relying on traditional police departments and the American System of Law and Order, Democrats like those in the Minneapolis City Council want to have the power to circumvent the American System of Justice because of their issues in the past with it.
The death of ex-convict George Floyd gave them the excuse to attempt to defund police departments.
And now, with a Democrat in office, those who oppose Law and Order are all taking the side of the criminals.
Even the Democrat sitting behind the Oval Office…when he is not taking a nap.
Just like a criminal does not represent an entire race, neither do bad policemen represent an entire nation's Law Enforcement Officers.
They are heroes.
So, please allow me to end today's post with the text of a classic narration by the late, great Paul Harvey titled "What is a Policeman?"
"A policeman is a composite of what all men are, I guess, a mingling of saint and sinner, dust and deity. What that really means is that they are exceptional, they are unusual. They are not commonplace. Buried under the froth is the fact, the fact is that less than one half of one percent of policeman misfit that uniform, and that is a better average than you'd find among clergymen."What is a policeman?

"He of all men is at once the most needed, and the most wanted, a strangely nameless creature who is sir to his face and pig or worse behind his back. He must be such a diplomat that he can settle differences between individuals so that each will think he won, but, if a policeman is neat, he's conceited, if he's careless he's a bum, if he's pleasant, he's a flirt, if he's not, he's a grouch.

"He must make instant decisions that would require months for a lawyer but if he hurries he's careless, if he's deliberate, he's lazy. He must be first to an accident, infallible with diagnoses. He must be able to start breathing, stop bleeding, tie splints and above all, be sure the victim goes home without a limp.

"The police officer must know every gun, draw on the run and hit where it doesn't hurt.

"He must be able to whip two men twice his size and half his age without damaging his uniform, and without being brutal. If you hit him he's a coward, if he hits you, he's a bully. The policeman from a single human hair must be able to describe the crime, the weapon the criminal, and tell you where the criminal is hiding but, if he catches the criminal he's lucky, if he doesn't he's a dunce.

"He runs files and writes reports until his eyes ache to build a case against some felon who will get dealt out by some shameless shamus. The policeman must be a minister, a social worker, a diplomat, a tough guy, and a gentle man. And of course, he'll have to be a genius, because he'll have to feed a family on a policeman's salary."
Until He Comes,
KJ
DONATIONS ARE WELCOME AND APPRECIATED.
Make a one-time donation
Make a monthly donation
Make a yearly donation
Choose an amount
Or enter a custom amount
$
---
Your contribution is appreciated.
Your contribution is appreciated.
Your contribution is appreciated.
Donate
Donate monthly
Donate yearly
FoxNews.com reports that
Congress has blocked federal dollars from paying for abortion coverage for decades now. But that could change if pro-choice Democrats have their way.

It's not a surprise that money dictates policy in Washington. Want to understand how a given lawmaker or presidential administration feels about a particular issue? Look to how much money – or little – they devote to a project.

If they spend any money from the federal coffers on a particular program at all.

That's why the Hyde Amendment has been a part of every government spending bill since 1976, just after the Supreme Court ruling which legalized abortion, Roe v. Wade.

It's named after late Rep. Henry Hyde. R-Ill. Hyde is known for two things. He chaired the House Judiciary Committee from 1995 to 2001 and was the lead House impeachment manager for President Clinton's 1999 impeachment trial. He also crafted the Hyde Amendment, barring the government from spending money on abortions.

Few were more ardent pro-lifers in Congress than Henry Hyde.

"It violates your right to be born," said an impassioned Hyde on the House floor during the summer of 1995 about abortion. "Your right to life, which our Declaration (of Independence) says, is a fundamental endowment..it is inalienable, the right to life."

But the Hyde Amendment also represented a form of Congressional détente. Pro-choice and pro-life lawmakers reached a "deal" in the 1970s. It prohibited the funneling of federal dollars to Medicaid or the Children's Health Insurance Program for abortion services.

Like most compromises, it was negotiated, as Henry Clay might say, "to hurt." The Hyde Amendment made sure both sides took it on the chin – although both pro-choice and pro-life advocates alike might argue their side absorbed more of an impact than the other. Pro-lifers want to eliminate abortions completely. The Hyde Amendment certainly didn't do that. A proposal to ban abortion would probably never make it out of the House – even with a Republican majority. That's to say nothing of overcoming a filibuster in the Senate. Meantime, pro-choice lawmakers thought the Hyde Amendment was unfair for women who rely on health care assistance from the government. The Hyde Amendment impeded that.

"We believe that who you are, where you live, your zip code, your income, should not determine whether you have coverage for the basic part of reproductive health care," said Rachel Fey of The Power to Decide, a group which works to prevent unplanned pregnancies.

However, Democrats have now stricken the Hyde Amendment from the House version of the Labor/HHS appropriations bill. The full House approved a multi-spending bill package late last week to fund the government for fiscal year 2022. That plan included the labor/HHS appropriations bill, sans the Hyde Amendment.

"I am proud that this bill promotes equal treatment for women through increased funding for Title X and by repealing the discriminatory Hyde Amendment," said House Appropriations Committee Chairwoman Rosa DeLauro, D-Conn. "But I do believe repealing the Hyde Amendment is the best thing we can do to support our mothers and families and help prevent, rather than penalize unwanted pregnancies and later, riskier and more costly abortions."

Fey called this a "game changer."

But, upending 45 years of federal policy enraged pro-life Republicans.

"There are non-starters. There are game enders," said Rep. Chuck Fleischmann, R-Tenn., about DeLauro's maneuver.

"This is a real red line for the Republican Conference," observed Rep. Tom Cole, R-Okla., the top GOPer on the House Appropriations Committee.

House Speaker Nancy Pelosi, D-Calif., tipped her hand on the Hyde Amendment at a December, 2020 press conference.

"Way before I was in Congress the Hyde Amendment was there. I was thinking, 'How can we get rid of that?' So it's long overdue, getting rid of it, in my view," said Pelosi.

She forecast that the Democratic House would craft a bill to torpedo the Hyde Amendment in the coming year.

But the annual appropriations process in Congress is a complicated path. It was historically significant that the Appropriations Committee and full House halted the Hyde Amendment. But then there is the Senate. And, annual spending bills have to clear two rounds of filibusters with 60-vote thresholds each. So despite the House action, few believe that ending the Hyde Amendment will ever survive the Senate.
If you are surprised that Pelosi and Company are attempting to end the Hyde Amendment, then you have not been paying attention to "The Party of Death".
Prior to 1973, abortions were allowed in some states but restricted or almost banned in others. Every state legislature made their own decision on whether to allow abortions and under what circumstances.  There was no Federal Law in regards to abortion.   Then, in 1973, the U.S. Supreme Court gave us Roe v. Wade. It declared a Texas anti-abortion statute unconstitutional and, in doing so, affected abortion laws in many other states.
For any low  information voters who might be reading, I present the following summary:
Jane Roe was an unmarried and pregnant Texas resident in 1970. Texas law made it a felony to abort a fetus unless "on medical advice for the purpose of saving the life of the mother." Roe filed suit against Wade, the district attorney of Dallas County, contesting the statue on the grounds that it violated the guarantee of personal liberty and the right to privacy implicitly guaranteed in the First, Fourth, Fifth, Ninth, and Fourteenth Amendments. In deciding for Roe, the Supreme Court invalidated any state laws that prohibited first trimester abortions.

"We … acknowledge our awareness of the sensitive and emotional nature of the abortion controversy, of the vigorous opposing views, even among physicians, and of the deep and seemingly absolute convictions that the subject inspires." — Justice Blackmun (1973), majority opinion in Roe v. Wade
When you talk to Far Left Democrats about this stopping of a beating heart, they will  claim that, a human fetus is "just a clump of cells". 
From the scientific perspective, Dr. Carlo Bellieni, in his book "Dawn of the I: Pain, Memory, Desire, Dream of the Fetus," says:
As soon as it is born, the child shows in a scientifically demonstrable way that it recognizes its mother's voice and distinguishes it from that of a stranger. Where has he learned that voice other than in the maternal womb?

There are also direct proofs. For example, we register how the movements and cardiac frequency of the fetus vary if we transmit unexpected sounds through the uterine wall. And we see that at first the fetus is startled, then it gets used to it, just like we do when we hear something that does not interest us.

In fact, the scientific evidence is immense. We cannot understand how it can be thought that it becomes a person at a certain point, perhaps when coming out of the uterus.

From the physical point of view, at the birth very little really changes: Air enters the lungs, the arrival of blood from the placenta is interrupted, the type of circulation of blood in the heart changes, and not much more.

As I often say, only blind faith in magic arts or some strange divinity can lead one to think that there is a "human" quality leap at a given moment — certainly not science.
Several years ago, then-President Obama, who was brushing away tears on Tuesday Morning on behalf of limiting the Second Amendment Rights of American Citizens, said the following,
Look, I got two daughters — 9 years old and 6 years old. I am going to teach them first about values and morals, but if they make a mistake, I don't want them punished with a baby. I don't want them punished with an STD at age 16, so it doesn't make sense to not give them information.
My question for Speaker Pelosi and the rest of the Democrat Elite, is:
When do children stop being a "punishment" and start being precious lives to shed tears over?
Is it simply a matter of "Political Expediency"?
Until He Comes,
KJ
DONATIONS ARE WELCOME AND APPRECIATED.
Make a one-time donation
Make a monthly donation
Make a yearly donation
Choose an amount
Or enter a custom amount
$
---
Your contribution is appreciated.
Your contribution is appreciated.
Your contribution is appreciated.
Donate
Donate monthly
Donate yearly
FoxNews.com reports that
1619 Project writer Nikole Hannah-Jones said in a podcast that she believes Cuba is the most equal country in the Western hemisphere and could serve as a model for its integration agenda.

In a 2019 podcast with Ezra Klein of Vox and The New York Times, Hannah-Jones was asked whether there were candidates or places that she thought had a "viable and sufficiently ambitious integration agenda."

Hannah-Jones responded that while she is not an expert on race relations internationally, she believed the most "equal" and "multiracial" country in the Western hemisphere is Cuba, which she attributed to socialism.

"The most equal multi-racial country in our hemisphere, it would be Cuba," Hannah-Jones said, as reported by the publication. "Cuba has the least inequality between Black and white people anyplace really in the hemisphere. I mean, the Caribbean, most of the Caribbean it's hard to count because the White population in a lot of those countries is very, very small. A lot of those countries are run by Black folks. But in places that are truly at least biracial countries, Cuba actually has the least inequality. And that's largely due to socialism—which I'm sure no one wants to hear."

As reported by The National Pulse, Hannah-Jones also wrote an op-ed published by The Oregonian that was posted in 2008, in which she noted that there are many overlooked accomplishments in the country, including a very high literacy rate, a low HIV infection rate and a "model" universal health care system.

In the article, she also wrote that the Cuban revolution led to the "end of codified racism" and brought about universal education and access to jobs for Black Cubans.

The 1619 Project is a project spearheaded by The New York Times that delves into the effects of slavery on U.S. history. It was led by Hannah-Jones, who is a Pulitzer Prize winning writer and a professor at Howard University.

As previously reported by Fox News, Rep. Alexandria Ocasio-Cortez has come under fire for recent comments she has made about Cuba.

Ocasio-Cortez wrote on Twitter that the U.S. has contributed to suffering in Cuba via its embargo, which she characterized as "absurdly cruel."

Rep. Nicole Malliotakis, R-N.Y., who is the daughter of a Cuban immigrant, called Ocasio-Cortez a "communist sympathizer who wants to bring socialism" to the U.S. during an interview with "Fox News Sunday."
The Far Left Democratic Party, which is full of "Useful Idiots" like Nikole Hanna-Jones and AOC,  is determined to not only rewrite American History but also to indoctrinate our children and grandchildren to hate America and our Traditional System of Faith, Values, and Patriotism.
Why is it wrong to be a Proud American?
Nationalism, placing the well-being of Americans Citizens first, is a good thing and is what being a President should be all about.
The Far Left-controlled Biden-Harris Administration, the Democratic Party and their Propaganda Arm, the Main Stream Media, look down their noses at us average Americans living here in "Flyover Country" who believe that America is the greatest country on the face of God's Green Earth and believing in American Exceptionalism.
Since the 8 years of the reign of King Barack The First, children and young adults, attending American Institutes of Learning from kindergarten to college campuses have been taught by Liberal teachers and professors that America was "just another country" and to be a patriot or to believe in "Nationalism" was to somehow be close-minded, ignorant, and bigoted, not necessarily in that order.
And now, these same clowns want to continue teaching Revisionist History to our children and grandchildren while asserting that "educated people" believe that those of us who agree with Former President Trump's optimism and "Nationalism" and those who disagree with their anti-American beliefs are  "racist" and "uneducated".
They really need to visit America's heartland, where all of us average and EDUCATED Americans live.
Believe of not, y'all, there are actually colleges and universities in "Flyover Country".
In fact, where the exceptionalism of America actually lies is not in the Halls of Power nor in the Halls of Academia. But, rather in the courage and spirit of the average American. A courage and spirit, which our history proves, has driven American Citizens to build a nation, which is indeed exceptional among all others.
The secret of this country's exceptionalism is the "Average Joe", the 9 to 5′er, working himself into the grave to try to provide for his family.
It was this same "Average Joe", who fired the shot heard around the world and began the War for American Independence, who stormed the beaches of Normandy on D-Day in World War II, who waded through rice paddies in Vietnam, and who swallowed sand in Desert Storm and Desert Shield. The same "Average Joe" who, as a New York City Policeman or Fireman, ran up the stairs of the World Trade Center on 9/11/01, instead of running down them. The same "Average Joe", who simply wants things to be easier in this life for his children and grandchildren, than he had it.
It is this same "Average Joe", who takes family and friends in, when they are in the midst of a life-altering tragedy. The same "Average Joe", who volunteers on a soup line or at a Senior Citizens Home, or, who begins a successful business in his basement.
And, it is this same "Average Joe" who, being fed up with the Democratic Party's Far Left Crusade against anything and everything traditionally American, went to the voting booth and elected Donald J. Trump, a Citizen Statesman, as our 45th President.
And, we are the same ones who believe that there is no way in H-E-L-L that dementia-riddled doddering fool Joe Biden won the 2020 Presidential Election with out a massive case of Election Fraud.
And that, boys and girls, is why the Far Left Democratic Party and Joe Biden's Handlers built a fence around OUR Capitol and are governing like a bunch of fascist dictators..
Their ego-driven political ideology does not permit them to consider the reality that theirs is still the minority political ideology in this nation.
While the East and "Left" Coast are indeed heavily populated in their metropolitan areas with Liberals (some of them even Legal Citizens), the reality is that the overwhelming majority of Americans are still Patriots who believe in God and Country.
It was an overestimation of their own intellect and an underestimation of the intelligence and unbridled love of average Americans for OUR COUNTRY, that cost the Democrats the Presidency in 2016.
And, stupid moves like attempting to teach our children and grandchildren that America is a "Racist Country" and the Totalitarian Communist Regime in Cuba is a brilliant example of government is going to blow up in their weasel-looking faces and cost them the next two national elections in 2022 and 2024.
As George Orwell said,
Patriotism is usually stronger than class hatred, and always stronger than internationalism.
Patriotism is still cool…and "Useful Idiots" like Nikole Hanna-Jones and the  rest of the Far Left Marxism-Loving Democrats are clueless.
Until He Comes,
KJ
DONATIONS ARE WELCOME AND APPRECIATED.
Make a one-time donation
Make a monthly donation
Make a yearly donation
Choose an amount
Or enter a custom amount
$
---
Your contribution is appreciated.
Your contribution is appreciated.
Your contribution is appreciated.
Donate
Donate monthly
Donate yearly
FoxNews.com reports that
A federal judge on Friday ordered the Biden administration to stop all applications for the Deferred Action for Childhood Arrivals (DACA) program, ruling that the Obama-era program was illegal – dealing a blow to the Biden administration's efforts to protect the program.

DACA was established under the Obama administration in 2012 and granted protection from deportation and work permits to illegal immigrants who came to the country as minors. Approximately 700,000 are estimated to have been granted protection under the program, and hundreds of thousands more are deemed eligible.

Judge Andrew Hanen, a Texas judge, found that the Department of Homeland Security violated the Administrative Procedure Act (APA) in creating the policy. He found that the policy was implemented unlawfully and ordered DHS to stop approving DACA applications, although he said it could continue to accept applications and that it does not affect the status of any current DACA recipients.

The judge found that the agency's interpretation of statutes was "overly broad" and those laws did not carry the authority for the federal government to institute the program.

"DACA would grant lawful presence and work authorization to over a million people for whom Congress had made no provision and has consistently refused to make such a provision," Hanen wrote.

The suit had been brought by a coalition of states led by Texas, who argued that the policy violated the APA and the Constitution.

Republicans have repeatedly claimed that the program was illegal, and President Donald Trump sought to revoke the program. That effort was shot down by the Supreme Court, which found it was done in a manner that was "arbitrary and capricious," while not ruling on the program itself.

Democrats and the Biden administration, as well as some Republicans, have supported pathways to citizenship for DACA recipients, whom activists and Democrats have termed "dreamers." Many of those pushes expand the category to include not only DACA recipients, but those who are DACA-eligible.

President Biden signed a memo after entering office to protect DACA, ordering DHS to take "all appropriate actions under the law" to preserve the program and calling on Congress to give a path to citizenship for recipients.

There have already been a number of efforts in Congress this year to give legal status to DACA recipients. Most recently, Rep. Pramila Jayapal, D-Wash., said that the Democratic budget proposal includes a pathway for citizenship for a number of illegal immigrant groups — including DACA recipients. Democrats may be able to pass such a proposal without Republican support.

Immigration activists used the ruling to renew the push for a pathway to citizenship for all illegal immigrants.

"Judge Hanen's rash decision to suspend the DACA program reiterates the immediate need for Congress AND the Biden administration to keep their promise and create a pathway to citizenship for all undocumented people in the U.S.," the Refugee and Immigrant Center for Education and Legal Services tweeted.
What makes those benefiting from DACA, who wish to stay here forever, exempt from the rules and regulations that every other generation of immigrants to this country had to abide by in order to become legal citizens of the greatest nation in the world?
These "Dreamers" must go through a strict process such as other generations of immigrants have gone through.
In other words, a stringent, controlled pathway to citizenship that will end with them going through the same procedures as all other legal immigrants before them.
Just like those who have wanted to be American Citizens before them, these "Dreamers" must also pledge:
I hereby declare, on oath, that I absolutely and entirely renounce and abjure all allegiance and fidelity to any foreign prince, potentate, state, or sovereignty, of whom or which I have heretofore been a subject or citizen; that I will support and defend the Constitution and laws of the United States of America against all enemies, foreign and domestic; that I will bear true faith and allegiance to the same; that I will bear arms on behalf of the United States when required by the law; that I will perform noncombatant service in the Armed Forces of the United States when required by the law; that I will perform work of national importance under civilian direction when required by the law; and that I take this obligation freely, without any mental reservation or purpose of evasion; so help me God.
The Democrats have sought to make political hay for years now by erroneously claiming that the reason that the majority of Americans wanted to build a wall in order to secure our Southern Border is because we have a fear of people who look different from us.
If that were the case, American would have never become the "Great American Melting Pot", as the old cartoon from Scholastic Rock, that we used to watch as kids on Saturday Mornings on ABC, so aptly explained.
This country was built by LEGAL IMMIGRANTS of all Ethic Backgrounds, who assimilated into our culture and became AMERICANS, who were loyal to their now-found country, not the country that they left behind to come here for a better life.
For decades, Liberals/Democrats have purposefully assigned a "nobility" and "righteousness" to those who would enter this country illegally, to take American Jobs, while remaining loyal to their country of origin and to those who have been entering illegally for the purpose of destroying our nation through the mindless violence of Islamic Terrorism.
The overwhelming majority of Americans continue to state repeatedly that they want our borders to be secure.
President Reagan kept his word. Congress did not.
President Trump was well on his way to making that a reality.
The Democrats must not be allowed to reward those who enter our Sovereign Nation illegally.
Until He Comes,
KJ
DONATIONS ARE WELCOME AND APPRECIATED.
Make a one-time donation
Make a monthly donation
Make a yearly donation
Choose an amount
Or enter a custom amount
$
---
Your contribution is appreciated.
Your contribution is appreciated.
Your contribution is appreciated.
Donate
Donate monthly
Donate yearly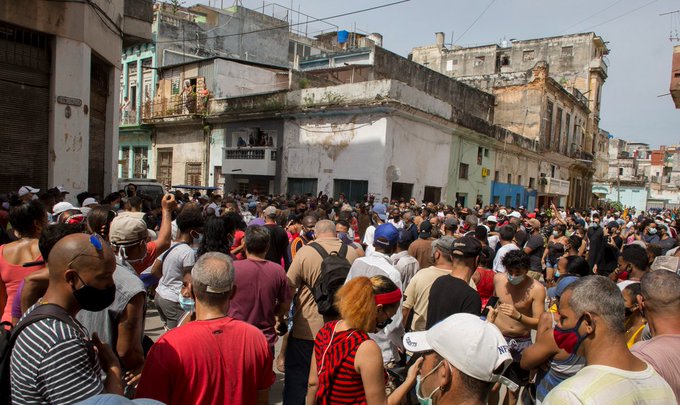 Newsmax.com reports that
Backing the protesters calling for liberation from communism in Cuba, former President Donald Trump issued a reminder of the Biden administration's reversing his Cuban policies and calling on President Joe Biden to stand up against communism.

"I stand with the Cuban people 100% in their fight for freedom," Trump wrote in a statement from his Save America PAC on Monday afternoon. "The government must let them speak and be free!

"Joe Biden MUST stand up to the communist regime or — history will remember. The Cuban people deserve freedom and human rights! THEY ARE NOT AFRAID!"

Trump noted the protests abruptly stopped in Cuba, remarking on the oppressive regime's silencing of freedoms and speech – much like he has denounced from Big Tech and the liberal mainstream media in America.

"Big demonstrations are breaking out in Cuba and Miami in protest of the Communist Cuban Government (although, today there are zero protesters in Cuba — you know what that means!)," Trump's statement began.

Trump also rebuked Biden's reversing his administration's "very tough stance on Cuba," while reminding Americans former President Barack Obama – who Biden served as a vice president – was not only soft on Cuba, but welcoming.

"Don't forget that Biden and the Democrats campaigned on reversing my very tough stance on Cuba," Trump's statement continued. "Remember when Obama attended baseball games with Castros while they imprisoned, beat, and killed the Cuban people."

Trump's strict embargo against Cuba was imposed after he took the White House from Obama in 2017, and Diaz-Canel pointed to those for causing an energy shortage in Cuba, which triggered the uprising that saw the first mass anti-government protests in decades on the island.

President Miguel Diaz-Canel denounced the "economic asphyxiation" causing the discontent over energy shortages forcing the government to slow economic output and causing blackouts in the tropical island.

Diaz-Canel also railed against "Miami's conservative Cuban-American mafia" for fueling the unrest as Cubans were already exhausted and living uneasy with surging COVID-19 infections on the island, according to The Associated Press.

Protesters looted and flipped a police car, according to the president, scenes similar to the anti-China protests in Hong Kong more than a year ago and the social injustice unrest in America led by Black Lives Matter and Antifa activists after the death of George Floyd.
Do you remember how Barack Hussein Obama (mm mmm mmmm) eulogized Cuba's Communist Dictator, Fidel Castro?
At this time of Fidel Castro's passing, we extend a hand of friendship to the Cuban people. We know that this moment fills Cubans – in Cuba and in the United States – with powerful emotions, recalling the countless ways in which Fidel Castro altered the course of individual lives, families, and of the Cuban nation. History will record and judge the enormous impact of this singular figure on the people and world around him. For nearly six decades, the relationship between the United States and Cuba was marked by discord and profound political disagreements. During my presidency, we have worked hard to put the past behind us, pursuing a future in which the relationship between our two countries is defined not by our differences but by the many things that we share as neighbors and friends – bonds of family, culture, commerce, and common humanity. This engagement includes the contributions of Cuban Americans, who have done so much for our country and who care deeply about their loved ones in Cuba.

Today, we offer condolences to Fidel Castro's family, and our thoughts and prayers are with the Cuban people.
I am certain that the "most refined" among us, "the smartest people in the room" as they refer to themselves, the Modern American Liberals, including the Former Chief Marxist/Alinsky-ite himself, Barack Hussein Obama, and the Administration of his Former Vice-President, #DementiaJoe, are aghast at the protesters calling for the end of the Cuba's "perfect form of government"(Marxism) which they are trying to install in our Sovereign Nation.
Why do Modern American Liberals admire those leaders and societies, like the government of Communist Cuba, the leaders of whom would take away their individual freedom, at best, and gut them like a Thanksgiving Turkey, at worst?
How could they be so naïve as to view he poverty-stricken Communist country as being a "Socialist Utopia", which they have dreamt of and which they are trying their best to turn America into, you ask?
Didn't you know? Being a Marxist is cool.
Just ask the Liberal American Millennials walking around with their Che Guevara t-shirts on.
They remember Che differently than the Cuban Exiles in Miami, who came here seeking freedom from tyranny do.
If these members of the "Young and Dumb" had actually read a book, they would burn those stupid t-shirts.
Cuban children are taught in state-run schools that Che was a doctor, even though he had no medical degree.
They are taught that he was a kind soul who cared for the poor and the oppressed, and a brave guerrilla leader who helped to liberate the downtrodden Cuban People from the oppressive tyrant Batista.
And, Jack the Ripper was a surgeon who made House Calls.
Humberto Fontova's "Exposing the Real Che Guevara" paints a vivid picture of the real Che Guevara:
In his biography of Che, Fontova quotes a Cuban exile who is identified by the pseudonym of "Charlie Bravo"
I'd loved to have seen those Sorbonne and Berkeley and Berlin student protesters with their 'groovy' Che posters try their 'anti-authority' grandstanding in Cuba at the time. I'd love to have seen Che and his goons get their hands on them. They'd have gotten a quick lesson about the 'fascism' they were constantly complaining about—and firsthand. They would have quickly found themselves sweating and gasping from forced labor in Castro's and Che's concentration camps, or jabbed in the butt by 'groovy' bayonets when they dared slow down and perhaps getting their teeth shattered by a 'groovy' machine-gun butt if they adopted the same attitude in front of Che's militia as they adopted in front of those campus cops.
In the instruction to that book, Fontova writes that,
If Cuban Americans strike you as too passionate, over the top, even a little crazy, there is a reason. Practically every day, we turn on our televisions or go out to the street only to see the image of the very man who trained the secret police to murder our relatives—thousands of men, women, and boys. This man committed many of these murders with his own hands. And yet we see him celebrated everywhere as the quintessence of humanity, progress, and compassion.
So, while President Obama and his family were jetting to Cuba, on Air Force One, on the American Taxpayer's dime, celebrating the "Progressive Freedom" that only Marxism can bring (that's sarcasm, boys and girls), America's Che Worshippers were back home, wearing their Che T-shirts, brandishing posters proclaiming American Businessman, Entrepreneur, and then-Leading Republican Primary Candidate Donald J. Trump a "fascist", and a modern "Hitler", while blocking roads, jumping on people's cars, and marching lockstep on the streets of New York City, in scenes reminiscent of the Cuban Revolution.
And, that same Astroturf  "Resistance" Movement continues today.
Only now, it is the "Woke" Movement.
United States President Ronald Reagan once said,
How do you tell a communist? Well, it's someone who reads Marx and Lenin. And how do you tell an anti-Communist? It's someone who understands Marx and Lenin.
What we are witnessing among the Far Left Power Brokers, and their "Young and Dumb Foot Soldiers", is a purposeful obtuseness, as to our Constitutional Rights to arm ourselves and vote for whom we please and the harsh reality of Marxism or "spreading the wealth".
History repeats itself.
Irony is embarrassed.
Until He Comes,
KJ
DONATIONS ARE WELCOME AND APPRECIATED.
Make a one-time donation
Make a monthly donation
Make a yearly donation
Choose an amount
Or enter a custom amount
$
---
Your contribution is appreciated.
Your contribution is appreciated.
Your contribution is appreciated.
Donate
Donate monthly
Donate yearly