FoxNews.com reports that
The Black national anthem is reportedly set to return before NFL games for good starting in 2021.

"Lift Every Voice and Sing" was played before the start of Week 1 games during the 2020 NFL season, and Front Office Sports reported Wednesday the NFL plans to make it a "prominent part of big league events."

The NFL allowed social justice phrases like "End Racism" to be painted in the back of teams' end zones, and players were able to honor victims of systemic racism and police violence last year. Front Office Sports reported the NFL plans on ratcheting up the messaging for the 2021 season.

The national anthem is usually only heard before early-season games or some primetime games, the Super Bowl and the NFL Draft. "Lift Every Voice and Sing" was played before Super Bowl LV and the draft in April.

The league made the decision to play "Lift Every Voice and Sing" before Week 1 games last year in the midst of a summer of racial unrest across major metropolitan cities in the U.S.

NFL Commissioner Roger Goodell acknowledged the Black Lives Matter movement as well.

"We, at the National Football League, believe Black lives matter. I personally protest with you and want to be part of the much-needed change in this country," he said in last year's video.

"Without Black players, there would be no National Football League and the protests around the country are emblematic of the centuries of silence, inequality and oppression of Black players, coaches, fans and staff. We are listening, I am listening, and I will be reaching out to players who have raised their voices and others on how we can improve and go forward for a better and more united NFL family."
Without fans of every skin color and hue of the Human Race, the NFL will cease to exist.
Let's face it, this nation is experiencing a Political Division of a magnitude never before seen.
This ongoing Political Division came to fruition during the 8 long arduous years of the presidency of Barack Hussein Obama.
The NFLPA was not protesting during those years, however.
Just Colin Kaepernick was and he did it to impress his Muslim girlfriend, a poor choice which led to a lengthy unemployment, along with the cold hard fact that he is actually not that good of a quarterback.
No matter the feeble explanations which have been given by the NFL Players Association and the spineless Liberal Management of the NFL, the fact of the matter is that the election of Donald J. Trump and the poor advice of external Liberal Protest Groups, such as Black Lives Matter, caused these players, at least some of whom graduated college "Thank You, Laudy", instead of Cum Laude, to make the decision to kneel and disrespect the flag and the national anthem of a country which has made them multi-millionaires for playing a game which the majority of American kids growing up in the Heartland played out in our yards with our friends.
It is very apparent that before the beginning of the NFL's 2017-2018 Season, those same Liberals, whom the late, great Rush Limbaugh spoke about in 2014, had spoken to Commissioner Goodell concerning giving said "professionals" the freedom to exercise their "First Amendment Rights" during the course of Game Day Activities.
For some time now, it has been quite apparent to anyone with a lick of common sense that this organized protest by the NFL Players has NEVER been about  "Police Brutality" against black Americans.
Those who have influenced these players to kneel have played these poor saps for suckers, or, as Marxists (like BLM) have ALWAYS called them, "useful idiots"..
I truly believe that.
If you don't believe that to be the case, go back and read all of the articles, written by Liberal writers bemoaning the "violent NFL" and the subsequent articles written about the "Concussion Scandal" in the league.
Heck, go rent Will Smith's bomb of a movie about the "problem", titled simply "Concussion".
Liberals have always turned up their noses at the NFL AND their fans.
What better way to kill two birds with one stone than to convince the players that it is cool to protest on "company time" by indoctrinating them into Marxism through insulting our municipal police forces and the symbols of our country at the same time?
And, to allow a separate "National Anthem", based on race, to be played at the games?
Who in their right mind would believe that would be accepted by average Americans?
Probably the same simpletons who believe that Joe Biden is in charge of his Presidential Administration.
Buh Bye, NFL
You have turned America's Pastime into Political Theater.
And, Americans will turn you off.
GO WOKE. GO BROKE..
Until He Comes,
KJ
DONATIONS ARE WELCOME AND APPRECIATED.
Make a one-time donation
Make a monthly donation
Make a yearly donation
Choose an amount
Or enter a custom amount
$
---
Your contribution is appreciated.
Your contribution is appreciated.
Your contribution is appreciated.
Donate
Donate monthly
Donate yearly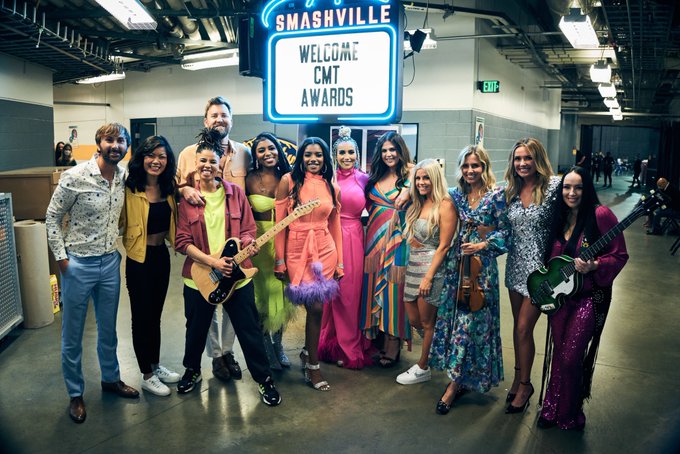 I miss "Hee Haw".
FoxNews.com reports that
The Country Music Television (CMT) Music Awards are here.

The star-studded event kicked off from Nashville, Tenn., Wednesday evening with a performance by Lady A. The trio was joined onstage by Carly Pearce and Lindsay Ell.

Ell stepped in after Gabby Barrett bowed out, citing "personal circumstances."

Cameras then took viewers to a farm where Chris Stapleton performed "Arkansas."

Following the two performances, hosts Kane Brown and Kelsea Ballerini took the stage. "After this year … I'm thirsty for a great party," Brown said.

"This is awesome. First of all, we're back and making music people," Kimberly Schlapman yelled, referring to the pandemic.

"I know you like drinking songs," Karen Fairchild added.

The award was presented by Trace Adkins and Taylor Lewan of the NFL's Tennessee Titans, who poked fun at country music "lingo" by asking Adkins what a dobro, diminished fifth and bluegrass is – refuting the expert's answers with silly jokes.

Lewan told Adkins that a diminished fifth was when a drinker has less whiskey than they expected and that a dobro is a friend who eats too much pizza.

Hailey Whitters then took the stage to sing her hit "Fillin' My Cup." Miranda Lambert also performed a stripped-down version of her hit "Tequila Does." She sang around a campfire alongside Jon Randall and Jack Ingram. Luke Combs also performed.

Linda Martell, who is one of the pioneering Black acts in country music and the first Black woman to perform solo at the Grand Ole Opry, received the CMT Equal Play Award.

Comedian Iliza Shlesinger took the stage next to poke fun at country music lyrics, particularly from some of the genre's top female artists.

She pointed out "violent" lyrics in songs from Carrie Underwood and Lambert, suggesting that a "CSI: Nashville" television show be developed based on songs like "Before He Cheats." The remark was a reference to the long-running CBS drama "CSI" and its spinoffs, which followed crime scene investigators.

The star presented the award for collaborative video of the year, which was given to Chris Young and Brown for their tune "Famous Friends."

The CMT Music Awards will honor acts in country music but will also share its stage with pop and R&B stars, including Gladys Knight, Pink, John Legend, Halsey, H.E.R. and Noah Cyrus.

Knight and Mickey Guyton will perform together and Stapleton and fellow guitar slayer H.E.R. are joining forces onstage at Wednesday's show celebrating the year's best country music videos.

Both Maren Morris and Barrett were originally set to perform at the CMT Awards but backed out.
By the way,, boys and girls.
Did y'all know that CMT encouraged their viewers to wear orange for "Gun Control"?
Needless to say, Country Music Fans, their core audience, are not complying.
SJW has now officially come to Modern "Country" Music.
The East Cost/Left Coast Power Brokers have done to Country Music exactly what they did to Classical Liberalism.
They have jettisoned Traditional American Faith and Values for a shallow hedonistic conflagration of drinkin', cheatin', partyin', and Liberal Politics, changing an entire music genre into something that it never was and was never meant to be.
On this Mississippi June Morning, just a few miles away from Graceland, the home of Elvis Presley, I sit here reflecting on the influence which actual Country Music had on my young life, growing up with my Mother and Daddy.
Every family, to this day, has rituals that they observe like clockwork.
Our Saturday Night Ritual was to eat homemade hamburgers, spaghetti, or crockpot beans off of TV trays and watch "Hee Haw", the syndicated country music variety show, out of Nashville, which starred Buck Owens, Roy Clark, and a "cast of thousands".
The snotty folks up in the Northeast Corridor and Hollyweird never could figure out what made that "hick show", that lasted 25 years, so popular.
After all, it was about traditional American Values, love of God and Country, respecting our American Musical Heritage, and featured talented performers who wrote songs, sang, played their own instruments, loved and appreciated their fans, and actually behaved like average Americans.
Plus, they had the good grace and common sense to keep their private lives, private.
At this time in our country's history, when morality has become relative and ethics situational, we find our hearts crying out to hear something that will soothe our troubled souls.
Instead, we find synthesized, mass-produced Pop Music and "so-called" Country Music, actually more Pop Music, manufactured in New York City (pronounced like they did in the old Pace Salsa Commercials), advocating meaningless one-night stands and encouraging the debasement of the human soul, instead of its ability to rise above any obstacle in its path that might hinder individual achievement.
With all of today's over-produced, under-written Pop and Country-Pop Music flooding the airwaves of both broadcast and satellite radio, Americans my age wonder where all the great Country Songwriters and Performers have gone to?
What is happening to country music reflects a lot about the culture we live in. Artists who actually lived what they sung about like Loretta Lynn, George Jones, Merle Haggard, Tammy Wynette, The Statlers, Jim Ed Brown, Porter Waggoner, Hank Williams, Jr., Randy Travis, Jeannie C. Riley, and Elvis Presley have been replaced by fashion models and wannabe rappers and rock stars.
Please don't get me wrong.
There are still Americans performing country music. Brad Paisley, Alan Jackson, Toby Keith, Reba McEntire, Martina McBride, Clint Black, and Brooks and Dunn,  among others, are still attempting to keep the spirit of Country Music alive.
However, in our culture of fast lives, fast food, and instant gratification, superficiality sells. That's how we got stuck for 8 long years with Barack Hussein Obama (mm mmm mmmm).
It is easier and more profitable for a record company to sell someone who looks good and can sing a little, or to release a country music album made by a fading rock star, than it is for them to market someone who is unbelievably talented and writes their own songs, but who resembles your next door neighbor.
What the heck do Gladys Knight and John Legend have to do with Country Music?
Remember the Bruce Springsteen and Van Morrison Country Music CD fiascos?
No? I don't blame you. I wouldn't admit it, either.
Can you imagine Hank Williams, Sr., Patsy Cline, or Buck Owens trying to get a record deal today?
I'm sorry Mr. Williams. Your vocalization is way too twangy and you drink way too much. "I Saw The Light"? What kind of song is that? A song about redemption? Get real. "I'm So Lonesome I Could Cry"? Who Cares? You're just not marketable.
Ms. Cline, we can't use you. You look like somebody's next door neighbor.

Mr. Owens, what is the "Bakersfield Sound" that you're talking about? That won't get any airtime in New York City. "Act Naturally"? That's a song? Next thing you know, you'll tell me that the Beatles will want to record it.
Now you know why Toby Keith formed his own record label.
The big recording companies like RCA Nashville and Arista are run like any other business. Executives are transferred from other cities and other divisions within the company and are judged to be successful by the amount of revenue they generate.
The decision was made several years ago to turn country music into pop music. Country Music started the transition from Kitty Wells to Taylor Swift and from George Jones to Kid Rock in an effort to claim a bigger share of the CD-buying public.
The disconnect arises when you take a genre that has traditionally sung about God, America, family, and heartache and try to make it about fashionistas, MTV, and shallow people with situational morality and ethics.
Just like the Liberal Politics of the outspoken harpies, the Dixie Chicks, it just doesn't work here in America's Heartland.
As we say in Dixie,
That dog don't hunt.
Alan Jackson and George Strait were prophets.
Nobody saw him running from sixteenth avenue
They never found the fingerprint or the weapon that was used
But someone killed country music, cut out its heart and soul
They got away with murder down on music row

The almighty dollar and the lust for worldwide fame
Slowly killed tradition and for that someone should hang
They all say not guilty, but the evidence will show
That murder was committed down on music row

For the steel guitars no longer cry and fiddles barely play
But drums and rock 'n' roll guitars are mixed up in your face
Old Hank wouldn't have a chance on today's radio
Since they committed murder, down on music row

They thought no one would miss it, once it was dead and gone
They said no one would buy them old drinking and cheating songs
Well I'll still buy 'em
Well there ain't no justice in it and the hard facts are cold
Murder's been committed, down on music row

Oh, the steel guitars no longer cry and you can't hear fiddles play
With drums and rock 'n roll guitars mixed right up in your face
Why, the hag, he wouldn't have a chance on today's radio
Since they committed murder down on music row
Why, they even tell the posse to pack up and go back home
There's been an awful murder down on music row

"Murder on Music Row". George Strait/Alan Jackson, 2000
Please excuse my grammar,
But, what the East and Left Coast Liberals have done to "Country Music" today, ain't just murder.
It's a MASSACRE.
Until He Comes,
KJ
DONATIONS ARE WELCOME AND APPRECIATED.
Make a one-time donation
Make a monthly donation
Make a yearly donation
Choose an amount
Or enter a custom amount
$
---
Your contribution is appreciated.
Your contribution is appreciated.
Your contribution is appreciated.
Donate
Donate monthly
Donate yearly
Traditionalists decrying a lack of respect for Scripture have lamented that United Methodist evangelism lately has consisted mainly of spreading the social gospel of good works rather than the spiritual freedom of The Great Commission. In more than 18 months, only a couple stories of well over a thousand on the daily UM News feed have reported people accepting Jesus as Lord and Savior.
ChristianPost.com reports that
The United Methodist Church, the third-largest Christian sect in the United States, took another step toward schism over their longstanding debate on LGBT issues when theological conservatives recently unveiled their plan for a new denomination.

Known as the Global Methodist Church, it was the product of the 17-member Transitional Leadership Council, a group of theologically conservative United Methodists.

The Wesleyan Covenant Association, a conservative United Methodist advocacy group, announced the launching of the GMC on March 1, explaining that it will not officially begin operations until a formal separation policy is approved by the UMC.

"Theologically conservative United Methodists have made no secret of their efforts to form a new church," stated the WCA in the announcement.

"In late 2018, the Wesleyan Covenant Association created a Next Steps Working Group to begin drafting its own 'Book of Doctrines and Discipline' outlining essential theological confessions and governing structures for a new church's consideration."

The creators of the GMC and other United Methodists are holding off further action until the results of the next churchwide legislative meeting, known as the General Conference.

Due largely to the coronavirus pandemic, the global denomination has had to postpone the legislative meeting multiple times, with it presently being scheduled to take place Aug. 29 – Sept. 6, 2022, in Minneapolis, Minnesota.

On the agenda for General Conference 2022 will be a proposal to fund and create at least one new separate denomination for those who no longer want to remain in the UMC.
Before I begin, please allow me to be honest with you.
I left the United Methodist Church at the age of 39, when I realized that, thanks to those in control of the denomination, whose headquarters was in the Northeast, some parts of the UMC were beginning to value secularism more than it did the Word of God.
How did I come to that conclusion?
I walked into a Sunday School class and a theology student was teaching out of a book titled, "Rescuing the Bible from Fundamentalists".
While I hated to leave the Choir Director whom I had sang under for 20 years, like Belshazzar, I saw the writing upon the wall.
That was over 20 years ago.
Now, after a long journey down a road filled with Liberals' "religion of social justice", the United Methodist Church is about to pay for following the word of man instead of the Word of God..
Right now, I can hear the Liberals who read my posts in order to raise their blood pressure beyond their usual catharsis, saying,
Well, what's wrong with embracing the lifestyle of the LGBT "community" and allowing them to have leadership roles and to get married within the church?

Christ loved and embraced everyone.
Indeed He did.
Jesus was often found in the company of sinners…but not because He accepted their sins. He was with them because he loved them and loathed their sin. He was there to redeem them through His Loving Grace, so that they might repent and find salvation through Him.
When secular idolatry and popular culture is worshiped and celebrated, instead of Jesus Christ's victory on the cross through His Blood as the expiation for the sins of the whole world, those who believe that the Bible is the authoritative Word of God have a decision to make: either stay and worship man's word or attend a Bible-believing Church.
While Evangelicals, such as myself, welcome all sinners, including gays, into our churches, we do so because we view the church as a "Hospital for Sinners", which we all are.
The Good News is that we are all sinners saved by His Grace and, as Christians, we are not perfect…just FORGIVEN.
Liberals, through their "religion of social justice", view the church as the latest "Shrine in which to Worship Political Correctness".
The problem with their belief is that God always has the last word.
Remember Sodom and Gomorrah?
Until He Comes,
KJ
DONATIONS ARE WELCOME AND APPRECIATED.
Make a one-time donation
Make a monthly donation
Make a yearly donation
Choose an amount
Or enter a custom amount
$
---
Your contribution is appreciated.
Your contribution is appreciated.
Your contribution is appreciated.
Donate
Donate monthly
Donate yearly
I began writing my daily articles in April of 2010.
Today, almost 10 years later, the struggle to prevent Liberals from rewriting our nation's history continues.
As does the fight to keep the greed and avarice of those promoting the installment of Marxist Theory in our political, medical, and religious institutions from consuming our nation in a fire of self-destruction, as it has those before us.
Friends have asked me if I believe that Christ would be in favor of the "Social Justice" movement that has infiltrated some churches in America, replacing Christian Doctrine with a Modern Liberal Political Agenda.
In order for you to understand how I and the overwhelming majority of Americans living here in the Heartland feel about that question, I believe you first need a working knowledge as to whom Jesus was.
As some of you know, I was born and raised in Memphis, Tennessee. The following piece was written in 1912 by the editor of the Commercial Appeal in Memphis, Tennessee, C.P.J. Mooney. Since then, it has remained so popular, that the newspaper has published it on their Op Ed page every year at Christmas.
JESUS, THE PERFECT MAN

There is no other character in history like that of Jesus.

As a preacher, as a doer of things, and as a philosopher, no man ever had the sweep and the vision of Jesus.

A human analysis of the human actions of Jesus brings to view a rule of life that is amazing in its perfect detail.

The system of ethics Jesus taught during His Earthly sojourn 2,000 years ago was true then, has been true in every century since and will be true forever.

Plato was a great thinker and learned in his age, but his teachings did not stand the test of time. In big things and in little things time and human experience have shown that he erred.

Marcus Aurelius touched the reflective mind of the world, but he was as cold and austere as brown marble. …

Thomas a Kempis' Imitation of Christ is a thing of rare beauty and sympathy, but it is, as its name indicates, only an imitation.

Sir Thomas More's Utopia is yet a dream that cannot be realized.

Lord Bacon writing on chemistry and medicine under the glasses of the man working in a 20th century laboratory is puerile.

The world's most learned doctors until 150 years ago gave dragon's blood and ground tails of lizards and shells of eggs for certain ailments. The great surgeons a hundred years ago bled a man if he were wounded.

Napoleon had the world at his feet for four years, and when he died the world was going on its way as if he had never lived.

JESUS TAUGHT little as to property because He knew there were things of more importance than property. He measured property and life, the body and soul, at their exact relative value. He taught much more as to character, because character is of more importance than dollars.

Other men taught us to develop systems of government. Jesus taught so as to perfect the minds of men. Jesus looked to the soul, while other men dwelled on material things.

After the experience of 2,000 years no man can find a flaw in the governmental system outlined by Jesus.

Czar and kaiser, president and socialist, give to its complete merit their admiration.

No man today, no matter whether he follows the doctrine of Mill, Marx or George as to property, can find a false principle in Jesus's theory of property.

In the duty of a man to his fellow, no sociologist has ever approximated the perfection of the doctrine laid down by Jesus in His Sermon on the Mount.

Not all the investigations of chemists, not all the discoveries of explorers, not all the experiences of rulers, not all the historical facts that go to make up the sum of human knowledge on this day in 1912 are in contradiction to one word uttered or one principle laid down by Jesus.

The human experiences of 2,000 years show that Jesus never made a mistake. Jesus never uttered a doctrine that was true at that time and then became obsolete.

Jesus spoke the truth, and the truth is eternal.

History has no record of any other man leading a perfect life or doing everything in logical order. Jesus is the only person whose every action and whose every utterance strike a true note in the heart and mind of every man born of woman. He never said a foolish thing, never did a foolish act and never dissembled.

No poet, no dreamer, no philosopher loved humanity with all the love that Jesus bore toward all men.

WHO, THEN, was Jesus?

He could not have been merely a man, for there never was a man who had two consecutive thoughts absolute in truthful perfection.

Jesus must have been what Christendom proclaims Him to be — a divine being — or He could not have been what He was. No mind but an infinite mind could have left behind those things which Jesus gave the world as a heritage.
No, I do not believe that Jesus would be a part of the social justice movement. His was and is a soul-saving movement. One that still brings hundreds of thousand of people to individual salvation on this terrestrial ball every day. A movement that, in fact, was embraced by the founders of this cherished land.
In a opinion piece for ChristianPost.com, Christian Talk Show Host Julie Roys gave the following Five Reasons that Socialism itself is not based on  the teachings of Jesus Christ.

1. Socialism is Based on a Materialistic Worldview

According to socialists like Bernie Sanders, the greatest problem in the world is the unequal distribution of wealth.

His website declares: "The issue of wealth and income inequality is the great moral issue of our time, it is the great economic issue of our time, and it is the great political issue of our time."

This betrays a fundamentally materialistic worldview, which is the basis of socialism.

To socialists, all that really exists is the material world.

2. Socialism Punishes Virtue

Socialists want to distribute wealth to individuals according to their need, regardless of virtue.

As Karl Marx, famously said, "From each according to his ability, to each according to his needs."

However, whenever any institution provides aid, it runs the risk of removing God-designed rewards and consequences. It can punish those who are industrious by making them pay for those who are not. And, it can reward those who aren't industrious by giving them the fruits of another man's labor. This is precisely what socialism does.

Interestingly, Marx mooched off others his whole life, and failed to provide for his wife and children.

As Aristotle once noted, "Men start revolutionary changes for reasons connected with their private lives."

The Bible teaches that aid should be tied to responsibility. First, anyone who refuses to work should be refused aid.

3. Socialism Endorses Stealing

Barack Obama once defended his socialist policies to a little girl by saying, "We've got to make sure that people who have more money help the people who have less money. If you had a whole pizza, and your friend had no pizza, would you give him a slice?"

That sounds pretty Christian, right? What Christian wouldn't endorse sharing your abundance with someone who has nothing? However, Obama wasn't endorsing people voluntarily sharing their wealth with others; he was endorsing the government forcibly taking a piece of the pie from one person and giving it to someone else. Put another way, that's saying that if you have three cars and your neighbor has none, the government has a right to take your car and give it to your neighbor. That's not Christian; that's stealing!

But, socialists don't believe in private property. And, some Christian socialists actually assert that the Bible doesn't either. That's preposterous.

Both the Old Testament and New Testament unequivocally affirm private property. We can't even obey the eighth commandment to not steal, unless we accept the notion of private ownership. Nor, can we steward our money as the Bible commands if the state owns our money, not us.

4. Socialism Encourages Envy and Class Warfare

Socialists demonize the rich, blaming all of society's problems on them.

Bernie Sanders once posted to his Facebook Page: "Let us wage a moral and political war against the billionaires and corporate leaders on Wall Street and elsewhere, whose policies and greed are destroying the middle class of America."

Here, Sanders is mimicking Karl Marx, who viewed history as a series of class struggles between the rich and the poor — and advocated overthrowing the ruling class.

Scripture strongly warns the rich and powerful not to oppress the poor.

In fact, Proverbs 14:31 says, "Whoever oppresses the poor shows contempt for his maker . . ."

But, Sanders — and other Leftists, including Hillary Clinton — go far beyond decrying specific acts of injustice. They basically condemn an entire class of people simply for possessing wealth. And, they encourage those who are poor to overthrow them. In fact, Clinton once said the U.S. economy required a "toppling" of the wealthiest 1%.

The rich are not causing all the problems in American society. People like Bill Gates are not acquiring wealth by stealing from the masses. They're creating great products, which produce wealth, and actually provide jobs for many people. But, even if they were exploiting the poor, nowhere does Scripture support the have-nots demanding money from the haves. Instead, it teaches that we should not covet (Exodus 20:17) and should be content in all circumstances (Phil. 4:11-13). 

5. Socialism Seeks to Destroy Marriage & Family

A little known fact about socialism is that, from its beginning, it has sought to destroy marriage and family. Grove City Professor Paul Kengor explains this in detail in his book, Takedown: From Communists to Progressives, How the Left Has Sabotaged Marriage and Family. Essentially, what socialism seeks is for the state to replace the family. That way, it can indoctrinate children in its Leftist way of thinking, and remove from them any notions of God and religion.

Friedrich Engels, co-author with Marx of the "The Communist Manifesto," once wrote that the society he envisioned would be one where "the single family ceases to be the economic unit of society. Private housekeeping is transformed into a social industry. The care and education of the children becomes a public affair."

Similarly today, Bernie Sanders calls for a "revolution" in childcare and for the government to provide early childhood education beginning with children as young as six-weeks-old. And, he's a proud supporter of gay marriage — what Kengor calls "communism's Trojan Horse" to secure the final takedown of traditional marriage.

To socialists, what Bernie describes is a utopia. But, to Christians, it's a dystopia. That's because there's nothing Christian about socialism — and there's absolutely no way Jesus would ever support it.
America was not founded to be a Socialist Nation.
The following is courtesy of adherents.com:
There were 56 signers of the Declaration of Independence. There were 48 signers of the Articles of Confederation. All 55 delegates who participated in the Constitutional Convention of 1787 are regarded as Founding Fathers, in fact, they are often regarded as the Founding Fathers because it is this group that actually debated, drafted and signed the U.S. Constitution, which is the basis for the country's political and legal system. Only 39 delegates actually signed the document, however, meaning there were 16 non-signing delegates – individuals who were Constitutional Convention delegates but were not signers of the Constitution.

There were 95 Senators and Representatives in the First Federal Congress. If one combines the total number of signatures on the Declaration, the Articles of Confederation and the Constitution with the non-signing Constitutional Convention delegates, and then adds to that sum the number of congressmen in the First Federal Congress, one obtains a total of 238 "slots" or "positions" in these groups which one can classify as "Founding Fathers" of the United States. Because 40 individuals had multiple roles (they signed multiple documents and/or also served in the First Federal Congress), there are 204 unique individuals in this group of "Founding Fathers." These are the people who did one or more of the following:

– signed the Declaration of Independence
– signed the Articles of Confederation
– attended the Constitutional Convention of 1787
– signed the Constitution of the United States of America
– served as Senators in the First Federal Congress (1789-1791)
– served as U.S. Representatives in the First Federal Congress

The religious affiliations of these individuals are summarized below. Obviously this is a very restrictive set of names, and does not include everyone who could be considered an "American Founding Father." But most of the major figures that people generally think of in this context are included using these criteria, including George Washington, Thomas Jefferson, Samuel Adams, Benjamin Franklin, John Adams, John Hancock, James Madison, Alexander Hamilton and more.

Courtesy adherents.com

Religious Affiliation of U.S. Founding Fathers

# of Founding Fathers/% of Founding Fathers

Episcopalian/Anglican 88 54.7%
Presbyterian 30 18.6%
Congregationalist 27 16.8%
Quaker 7 4.3%
Dutch Reformed/German Reformed 6 3.7%
Lutheran 5 3.1%
Catholic 3 1.9%
Huguenot 3 1.9%
Unitarian 3 1.9%
Methodist 2 1.2%
Calvinist 1 0.6%
TOTAL 204
The Founding Fathers were, I do not doubt, aware of the following passage:
Now the Lord is the Spirit, and where the Spirit of the Lord is, there is freedom. – 2 Corinthians 3:17
The Liberals and Atheists who reply to my blogs on Facebook and other Internet Sites insist that Crosses and other Christian symbols have no place in the Public Square.  They wish for Christians to remain unseen and unheard from, worshiping in private, and for Christian Americans to  "compromise" our Faith…i.e., shut up about Homosexual Marriage and other sins, being used as political expediencies to further an agenda to "radically change" America into something that it was never meant to be.
Well,  y'all can wish for a unicorn to magically appear in your backyard…but that ain't gonna happen, either.
As a free nation, all you who are non-believers have every right to exercise your faith.
However, as Orthodox Rabbi Daniel Lapin of the Jewish Policy Center clearly explains:
[I] understand that I live . . . in a Christian nation, albeit one where I can follow my faith as long as it doesn't conflict with the nation's principles. The same option is open to all Americans and will be available only as long as this nation's Christian roots are acknowledged and honored.

…Without a vibrant and vital Christianity, America is doomed, and without America, the west is doomed. Which is why I, an Orthodox Jewish rabbi, devoted to Jewish survival, the Torah, and Israel am so terrified of American Christianity caving in. God help Jews if America ever becomes a post-Christian society! Just think of Europe!
Is the Rabbi prophetic? I pray that he isn't.
I have, however, noticed in the last few years, a propensity among those who have not been raised in a Christian home, to be intolerant toward those who have…as witnessed in public forms, ranging from Collegiate Classrooms to Facebook Political Pages.
Americans' Christian Faith, of which approximately 3/4ths of us, according to Gallup, still anchor our lives around, has been the Solid Rock upon which our nation was built. To deny that, is to deny reality, to re-write history, and, to, quite frankly, endanger "the Shining City on a Hill".
As President Ronald Reagan said,
If we ever forget that we are One Nation Under God, then we will be a nation gone under. 
This November, Americans face a critical choice once again.
Do not be fooled.
Whether it is BIden or Sanders who is the Democratic Presidential Candidate, they are both Socialists.
Joe Biden just hides it better than Bernie Sanders does.
Pay attention to his actions, not his words.
Wherefore by their fruits ye shall know them. – Matthew 7:20
Until He Comes,
KJ