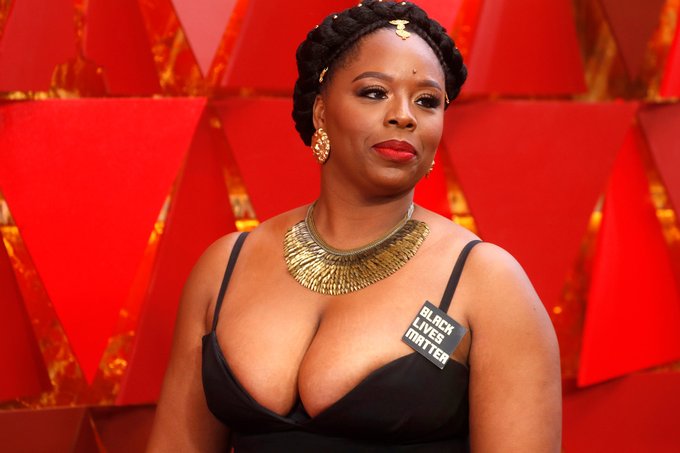 Sadly, the Left is no longer liberal at all, for it has traded in individualism for collectivism, thus placing us into an oppression Olympics where victimhood is a virtue. This post-modernism – this cultural Marxism or whatever you want to call it – can only destroy; it cannot create. – Dave Rubin
FoxNews.com reports that
Black Lives Matter co-founder Patrisse Cullors is stepping down from her role as executive director of the activist group's central foundation amid questions about her finances.

Cullors, 37, told the Associated Press on Thursday that she was leaving the position to focus on other projects, including the release of her second book and a television deal with Warner Bros. She held the top post at Black Lives Matter Global Network Foundation for more than five years.

The activist said she had created "the necessary bones and foundation" at the organization and felt the "time is right" to leave. She asserted that her exit was planned for more than a year and was unrelated to scrutiny regarding her personal finances.

"Those were right-wing attacks that tried to discredit my character, and I don't operate off of what the right thinks of me," Cullors said.

Cullors' finances drew attention in April after the New York Post reported she had purchased four homes for $3.2 million. The report prompted Hawk Newsome, the head of Black Lives Matter Greater New York City, to call for an "independent investigation" into the foundation's finances. The two organizations are not affiliated.

Critics have pointed out that Cullors bought the high-end homes despite referring to herself as a "trained Marxist" in the past.

At the time, Cullors said allegations that she enriched herself through donations meant for Black Lives Matter were 'categorically untrue." She denied that she received a salary from the foundation, asserting that her income came from other sources, such as proceeds from book sales and a YouTube deal.

"I think I will probably be less visible, because I won't be at the helm of one of the largest, most controversial organizations right now in the history of our movement," Cullors said regarding her impending exit from the foundation.

In April, the foundation disclosed that Cullors had received a total of $120,000 in compensation from 2013 to 2019.

"As a registered 501c3 non-profit organization, (the foundation) cannot and did not commit any organizational resources toward the purchase of personal property by any employee or volunteer," the foundation said in a statement. "Any insinuation or assertion to the contrary is categorically false."

The Associated Press previously reported that the BLM Foundation took in about $90 million in 2020 and ended the year with a balance of more than $60 million.
Perhaps some of Cullors' "Useful Idiots" are beginning to wake up concerning the true nature of Marxism and the economic disparity between those in charge and the "Proletariat".
Black Lives Matter is doing absolutely nothing to help Black Americans.
BLM believes in destroying the traditional American Nuclear Family. The proof can be found on their official website, BlackLivesMatter.com…
We are guided by the fact that all Black lives matter, regardless of actual or perceived sexual identity, gender identity, gender expression, economic status, ability, disability, religious beliefs or disbeliefs, immigration status, or location.

We make space for transgender brothers and sisters to participate and lead.

We are self-reflexive and do the work required to dismantle cisgender privilege and uplift Black trans folk, especially Black trans women who continue to be disproportionately impacted by trans-antagonistic violence.

We build a space that affirms Black women and is free from sexism, misogyny, and environments in which men are centered.

We practice empathy. We engage comrades with the intent to learn about and connect with their contexts.

We make our spaces family-friendly and enable parents to fully participate with their children. We dismantle the patriarchal practice that requires mothers to work "double shifts" so that they can mother in private even as they participate in public justice work.

We disrupt the Western-prescribed nuclear family structure requirement by supporting each other as extended families and "villages" that collectively care for one another, especially our children, to the degree that mothers, parents, and children are comfortable.

We foster a queer‐affirming network. When we gather, we do so with the intention of freeing ourselves from the tight grip of heteronormative thinking, or rather, the belief that all in the world are heterosexual (unless s/he or they disclose otherwise).

We cultivate an intergenerational and communal network free from ageism. We believe that all people, regardless of age, show up with the capacity to lead and learn.

We embody and practice justice, liberation, and peace in our engagements with one another.
On May 5, 2015, Black Economist and Conservative Pundit, Dr. Thomas Sowell, published the following observation in an op ed about racial division…
You cannot take any people, of any color, and exempt them from the requirements of civilization — including work, behavioral standards, personal responsibility and all the other basic things that the clever intelligentsia disdain — without ruinous consequences to them and to society at large.

Non-judgmental subsidies of counterproductive lifestyles are treating people as if they were livestock, to be fed and tended by others in a welfare state — and yet expecting them to develop as human beings have developed when facing the challenges of life themselves.

One key fact that keeps getting ignored is that the poverty rate among black married couples has been in single digits every year since 1994. Behavior matters and facts matter, more than the prevailing social visions or political empires built on those visions. [Emphasis mine.]
If the Democrat Elite, like Sleepy Joe Biden and "Heels Up" Kamala Harris, along with those who are still rioting in our major cities, and all other Modern American Liberals, both black and white, Democrat and Republican, in Municipal, State, and National Leadership Positions, would focus their angst and "concern" on the society-altering, continuing dissolution of the Black Family Unit and work instead toward the restoration of the Black Family Unit, instead of attempting to blame our city's police officers and average Americans for the violence in our streets, perhaps the stifling defeatism of the cycle of Generational Poverty and Crime, and the violence it brings, would eventually be a thing of the past, or greatly diminished, anyway.
Then, I wouldn't be awakened every morning, by the Local News in Memphis, to stories about Black Americans killing each other, or mobs of Black Teenagers beating up innocent people.
And American Families could actually go to events in Democrat-run American Cities without being afraid of being robbed, beaten, raped, or killed..
Until He Comes,
KJ
DONATIONS ARE WELCOME AND APPRECIATED.
Make a one-time donation
Make a monthly donation
Make a yearly donation
Choose an amount
Or enter a custom amount
$
---
Your contribution is appreciated.
Your contribution is appreciated.
Your contribution is appreciated.
Donate
Donate monthly
Donate yearly