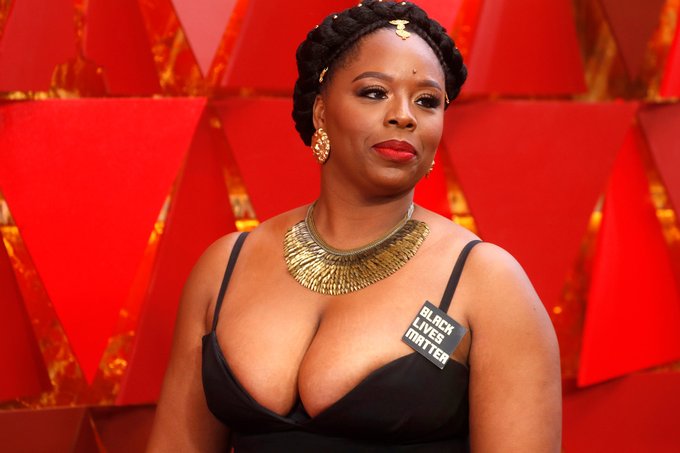 Sadly, the Left is no longer liberal at all, for it has traded in individualism for collectivism, thus placing us into an oppression Olympics where victimhood is a virtue. This post-modernism – this cultural Marxism or whatever you want to call it – can only destroy; it cannot create. – Dave Rubin
FoxNews.com reports that
Black Lives Matter co-founder Patrisse Cullors is stepping down from her role as executive director of the activist group's central foundation amid questions about her finances.

Cullors, 37, told the Associated Press on Thursday that she was leaving the position to focus on other projects, including the release of her second book and a television deal with Warner Bros. She held the top post at Black Lives Matter Global Network Foundation for more than five years.

The activist said she had created "the necessary bones and foundation" at the organization and felt the "time is right" to leave. She asserted that her exit was planned for more than a year and was unrelated to scrutiny regarding her personal finances.

"Those were right-wing attacks that tried to discredit my character, and I don't operate off of what the right thinks of me," Cullors said.

Cullors' finances drew attention in April after the New York Post reported she had purchased four homes for $3.2 million. The report prompted Hawk Newsome, the head of Black Lives Matter Greater New York City, to call for an "independent investigation" into the foundation's finances. The two organizations are not affiliated.

Critics have pointed out that Cullors bought the high-end homes despite referring to herself as a "trained Marxist" in the past.

At the time, Cullors said allegations that she enriched herself through donations meant for Black Lives Matter were 'categorically untrue." She denied that she received a salary from the foundation, asserting that her income came from other sources, such as proceeds from book sales and a YouTube deal.

"I think I will probably be less visible, because I won't be at the helm of one of the largest, most controversial organizations right now in the history of our movement," Cullors said regarding her impending exit from the foundation.

In April, the foundation disclosed that Cullors had received a total of $120,000 in compensation from 2013 to 2019.

"As a registered 501c3 non-profit organization, (the foundation) cannot and did not commit any organizational resources toward the purchase of personal property by any employee or volunteer," the foundation said in a statement. "Any insinuation or assertion to the contrary is categorically false."

The Associated Press previously reported that the BLM Foundation took in about $90 million in 2020 and ended the year with a balance of more than $60 million.
Perhaps some of Cullors' "Useful Idiots" are beginning to wake up concerning the true nature of Marxism and the economic disparity between those in charge and the "Proletariat".
Black Lives Matter is doing absolutely nothing to help Black Americans.
BLM believes in destroying the traditional American Nuclear Family. The proof can be found on their official website, BlackLivesMatter.com…
We are guided by the fact that all Black lives matter, regardless of actual or perceived sexual identity, gender identity, gender expression, economic status, ability, disability, religious beliefs or disbeliefs, immigration status, or location.

We make space for transgender brothers and sisters to participate and lead.

We are self-reflexive and do the work required to dismantle cisgender privilege and uplift Black trans folk, especially Black trans women who continue to be disproportionately impacted by trans-antagonistic violence.

We build a space that affirms Black women and is free from sexism, misogyny, and environments in which men are centered.

We practice empathy. We engage comrades with the intent to learn about and connect with their contexts.

We make our spaces family-friendly and enable parents to fully participate with their children. We dismantle the patriarchal practice that requires mothers to work "double shifts" so that they can mother in private even as they participate in public justice work.

We disrupt the Western-prescribed nuclear family structure requirement by supporting each other as extended families and "villages" that collectively care for one another, especially our children, to the degree that mothers, parents, and children are comfortable.

We foster a queer‐affirming network. When we gather, we do so with the intention of freeing ourselves from the tight grip of heteronormative thinking, or rather, the belief that all in the world are heterosexual (unless s/he or they disclose otherwise).

We cultivate an intergenerational and communal network free from ageism. We believe that all people, regardless of age, show up with the capacity to lead and learn.

We embody and practice justice, liberation, and peace in our engagements with one another.
On May 5, 2015, Black Economist and Conservative Pundit, Dr. Thomas Sowell, published the following observation in an op ed about racial division…
You cannot take any people, of any color, and exempt them from the requirements of civilization — including work, behavioral standards, personal responsibility and all the other basic things that the clever intelligentsia disdain — without ruinous consequences to them and to society at large.

Non-judgmental subsidies of counterproductive lifestyles are treating people as if they were livestock, to be fed and tended by others in a welfare state — and yet expecting them to develop as human beings have developed when facing the challenges of life themselves.

One key fact that keeps getting ignored is that the poverty rate among black married couples has been in single digits every year since 1994. Behavior matters and facts matter, more than the prevailing social visions or political empires built on those visions. [Emphasis mine.]
If the Democrat Elite, like Sleepy Joe Biden and "Heels Up" Kamala Harris, along with those who are still rioting in our major cities, and all other Modern American Liberals, both black and white, Democrat and Republican, in Municipal, State, and National Leadership Positions, would focus their angst and "concern" on the society-altering, continuing dissolution of the Black Family Unit and work instead toward the restoration of the Black Family Unit, instead of attempting to blame our city's police officers and average Americans for the violence in our streets, perhaps the stifling defeatism of the cycle of Generational Poverty and Crime, and the violence it brings, would eventually be a thing of the past, or greatly diminished, anyway.
Then, I wouldn't be awakened every morning, by the Local News in Memphis, to stories about Black Americans killing each other, or mobs of Black Teenagers beating up innocent people.
And American Families could actually go to events in Democrat-run American Cities without being afraid of being robbed, beaten, raped, or killed..
Until He Comes,
KJ
DONATIONS ARE WELCOME AND APPRECIATED.
Make a one-time donation
Make a monthly donation
Make a yearly donation
Choose an amount
Or enter a custom amount
$
---
Your contribution is appreciated.
Your contribution is appreciated.
Your contribution is appreciated.
Donate
Donate monthly
Donate yearly
"Those who seek to erase our heritage want Americans to forget our pride and our great dignity, so that we can no longer understand ourselves or America's destiny. In toppling the heroes of 1776, they seek to dissolve the bonds of love and loyalty that we feel for our country, and for each other." – Donald J. Trump, 45th President of the United States of America, July 3, 2020
On July 4th, 1986, the greatest president in my lifetime, Ronald Wilson Reagan, delivered these words to a television audience. They are as inspirational today as the day that they were given.
My remarks tonight will be brief, but it's worth remembering that all the celebration of this day is rooted in history. It's recorded that shortly after the Declaration of Independence was signed in Philadelphia celebrations took place throughout the land, and many of the former Colonists — they were just starting to call themselves Americans — set off cannons and marched in fife and drum parades.

What a contrast with the sober scene that had taken place a short time earlier in Independence Hall. Fifty-six men came forward to sign the parchment. It was noted at the time that they pledged their lives, their fortunes, and their sacred honors. And that was more than rhetoric; each of those men knew the penalty for high treason to the Crown. "We must all hang together," Benjamin Franklin said, "or, assuredly, we will all hang separately." And John Hancock, it is said, wrote his signature in large script so King George could see it without his spectacles. They were brave. They stayed brave through all the bloodshed of the coming years. Their courage created a nation built on a universal claim to human dignity, on the proposition that every man, woman, and child had a right to a future of freedom.

For just a moment, let us listen to the words again: "We hold these truths to be self-evident, that all men are created equal, that they are endowed by their Creator with certain unalienable Rights, that among these are Life, Liberty, and the pursuit of Happiness." Last night when we rededicated Miss Liberty and relit her torch, we reflected on all the millions who came here in search of the dream of freedom inaugurated in Independence Hall. We reflected, too, on their courage in coming great distances and settling in a foreign land and then passing on to their children and their children's children the hope symbolized in this statue here just behind us: the hope that is America. It is a hope that someday every people and every nation of the world will know the blessings of liberty.
If you listen to the Mantra of Modern American Liberals, you would think that America is the worst Nation on the face of the Earth.
Personally, I do not give one cent of value to their assessment of "The Shining City Upon a Hill".
Rather, I stand with this man who embodied the American Spirit that is beginning to awaken across this blessed land.
Per military.com:
Gen. Anthony Clement McAuliffe is best remembered for uttering a single word — no mean feat, considering that even the shortest Bible verse has two. Commanding the U.S. Army's beleaguered and surrounded 101st Airborne Division during World War II's Battle of the Bulge, McAuliffe received a German surrender ultimatum. "Nuts!" he replied, and became a lasting symbol of American courage and determination under fire.

A 1918 West Point graduate, McAuliffe held various field artillery positions before World War II. On the eve of D-Day, McAuliffe jumped with the first wave as a commander of division artillery, although he had never received formal parachute training.

In December 1944, during the siege of Bastogne, Belgium, McAuliffe was acting commander of the 101st in Gen. Maxwell D. Taylor's absence. The Americans had been holding the Belgian town "at all costs," and on Dec. 22, Gen. McAuliffe received the encouraging news that the 4th Armored Division was beginning its drive north to relieve the 101st. Later that morning, members of the division's glider regiment saw four Germans coming up the road carrying a white flag. Everyone hoped they were offering surrender. Instead, they presented two pages demanding the Americans' surrender: "To the USA Commander of the encircled town of Bastogne. . .There is only one possibility. . .the honorable surrender of the encircled town."

McAuliffe glanced at the message and said, "Aw, nuts!" When he told his commanders he didn't know what answer to send, Lt. Col. Harry Kinnard said 'That first crack you made would be hard to beat, General." Everyone laughed as a sergeant typed up the succinct response: "To the German Commander: Nuts! The American Commander."

Between this stoic reply, Patton's troops from the south, and a change in the weather that allowed air reinforcement the following day, the 101st was able to hold Bastogne. Their victory resulted in the first full-Division Presidential Distinguished Unit Citation.

McAuliffe's actions at Bastogne helped assure the final defeat of the Germans. Gen. McAuliffe continued to serve on active duty, including assignments as Head of the Army Chemical Corps, Commander, 7th Army, and Commander-In-Chief of the U.S. Army, Europe, until his 1956 retirement. He died in Washington, D.C. in 1975 and is buried at Arlington National Cemetery.
If you have been paying attention to what has been happening in the streets of our major cities for the part 3 weeks, you have seen a bunch of spoiled ungrateful wannabe anarchists, a "Woke Resistance" Movement, if you will, aided by the Far Left Democratic Party, attempt to erase our nation's history through the toppling of historical statues and the defacing of our nation's monuments.
Those who are acting in such a disrespectful and ignorant manner echo the sentiments of the 44th President of the United States of America, Barack Hussein Obama, and the rest of the Far Left self-proclaimed geniuses who cost the Democratic Party the Presidency in 2016 and who believe that anybody who works hard for a living and believes in God and Country, is a Jingoistic imbecile.
According to the dictionary, Jingoism is an extreme chauvinism or nationalism marked especially by a belligerent foreign policy.
In other words, being guilty of believing that America is the greatest country on the face of God's Green Earth and believing in American Exceptionalism.
For the past 2 decades at least, children and young adults, attending American Institutes of Learning from kindergarten to college campuses have been taught by Liberal teachers and professors that America is "just another country" and to be a patriot is to somehow be close-minded, ignorant, and bigoted, not necessarily in that order.
Evidently, the overeducated imbeciles who planned this Marxist uprising which we have witnessed over the last 3 weeks have never understood in their ungrateful little lives what has made and continues to make our country exceptional.
Where the exceptionalism of America lies…is not in the Halls of Power…nor in the Halls of Academia. But, rather in the courage and spirit of the average American. A courage and spirit, which our history proves, has driven American Citizens to build a nation, which is indeed exceptional among all others.
The secret of this country's exceptionalism is the "Average Joe", the 9 to 5′er, working himself into the grave to try to provide for his family.
It was this same "Average Joe", who fired the shot heard around the world and began the War for American Independence, who stormed the beaches of Normandy on D-Day in World War II, who waded through rice paddies in Vietnam, and who swallowed sand in Desert Storm and Desert Shield. The same "Average Joe" who, as a New York City Policeman or Fireman, ran up the stairs of the World Trade Center on 9/11/01, instead of running down them. The same "Average Joe", who simply wants things to be easier in this life for his children and grandchildren, than he had it.
It is this same "Average Joe", who takes family and friends in, when they are in the midst of a life-altering tragedy. The same "Average Joe", who volunteers on a soup line or at a Senior Citizens Home, or, who begins a successful business in his basement.
And, it is this same "Average Joe" whom, being fed up with the Democratic Party's Far Left Crusade against anything and everything traditionally American, went to the voting booth and elected Donald J. Trump, a Citizen Statesman, as our 45th President.
And that, boys and girls, is why, on this 4th of July, almost 4 years after average Americans watched with a sense of prideful accomplishment as Donald J. Trump took the Oath of Office, Modern American Liberals are still showing the world their posteriors while continuing to throw the longest mass temper tantrum in recorded history.
Their ego-driven political ideology did not permit them to consider the reality that theirs is still the minority political ideology in this nation, as shown during the recent Marxist uprisings by Antifa and Black Lives Matters, in which they demonstrated that they champion a Far Left Fascist political ideology which none but a small minority on the Far Left of the Political Spectrum embrace.
While the East and "Left" Coast are indeed heavily-populated in their metropolitan areas with Liberals (some of them even Legal Citizens), the reality of what actually happened on November 8th, 2016 can been plainly seen on any Electoral Map.
It was an overestimation of their own intellect and an underestimation of the intelligence and unbridled love of average Americans for OUR COUNTRY, that cost the Democrats the Presidency.
As George Orwell said,
Patriotism is usually stronger than class hatred, and always stronger than internationalism.
So, to summarize, by supporting the recent violent Marxist riots in our major cities, by labeling Patriotism as "Jingoism", and by ridiculing and accusing  those of us who love our country and hold fast to Traditional American Values as being "racists", the Democratic Party are well into the process of, once again, costing themselves the Presidency…going from the "In Crowd" to the Outhouse.
If I was a Modern American Liberal with any sort of self-awareness, I would be throwing a temper tantrum, too…over my own ungrateful arrogant ignorance that will cause the defeat of my 2020 Presidential Candidate….along with his own dementia-driven incompetence.
Unfortunately, the Far Left "Democratic Socialists" who have taken over the once mainstream Democratic Party are not self-aware.
And, it is this lack of self-awareness that is allowing average Americans to witness the implosion and political extinction of the Democratic Party right before our very eyes.
In the opinion of this 61-year-old, sitting in the Northwest corner of the Magnolia State in America's Heartland, Modern American Liberals, and their ideological leaders, who trod the Halls of Power with impunity, underestimated the American Spirit, just as King George and the British Aristocracy did, so many years ago.
As our enemies, both foreign and domestic, have discovered since the birth of our nation, Americans will fight for our freedom.
We showed this fact to the world on November 8th, 2016.
And now, almost 4 years later, thanks to the unflinching leadership of an American President, and despite a Worldwide Pandemic and the actions of those who despise our American Way of Life, our Sovereign Nation is beginning to once again rise like a phoenix from its ashes and we are on our way making American great again!
May God Bless you and your family on this 4th of July, the Year of Our Lord, 2020, and may God Bless America.
Until He Comes,
KJ