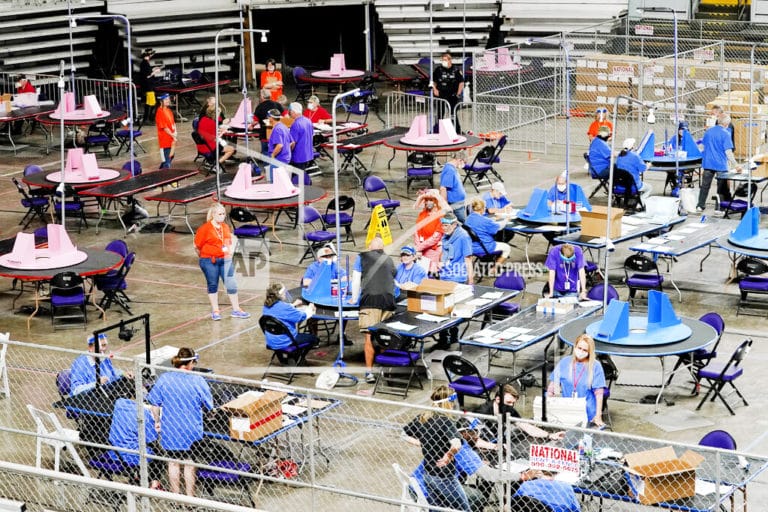 Newsmax.com reports that
Former President Donald Trump says Maricopa County's refusal to allow full transparency amid the 2020 presidential election audit makes him skeptical once again, suggesting that county election officials have something to hide.

"Why won't the RINO Maricopa County Board of Supervisors in Arizona give the routers?" Trump asked in a statement Monday from his Save America PAC. "What are they trying to hide? They are fighting for life or death. What is going on?"

The latest request for information involves auditors requesting routers from the county for inspection.

"Give the routers!" Trump's statement continued. "Doesn't this mean that the voting was, despite their statements to the contrary, connected to the Internet? The voter fraud in the 2020 presidential election was monumental, and the facts are coming out daily!"

The Republican-held Arizona Senate originally subpoenaed the internet routers from the county polling places, but the county rejected the request, claiming it would cost $6 million to replace them. A similar claim led Arizona Secretary of State Katie Hobbs to destroy voting machines that were inspected by auditors.

Officials skeptical of election fraud argued that Hobbs' claim the voting machines could be compromised by auditors is evidence they are indeed vulnerable to tampering. The voting machines audited would not be used in future elections, Hobbs said, but Arizona Republicans noted they would have been subjected to the inspection and certification process in place in the state.

Also, with respect to the routers subpoena, Maricopa County Sheriff Paul Penzone has said law enforcement security would have been jeopardized, the Arizona Mirror reported.

Auditors argue the routers are critical to finishing a complete report on election vulnerabilities, but Maricopa County election officials say the voting machines were not connected to the internet.

According to CyFir CEO Ben Cotton, one of the subcontractors doing the audit, submitting the routers for inspection would not compromise security, according to the Mirror.
The 2020 Presidential Election is the story that would not go away.
The number of states who are announcing that they are calling for an audit of the votes in the November 3rd Election, which saw a outcome which could only be described as "highly suspect" at best, continues to grow, as the obviously reality of the incompetency and unpopularity of Joe Biden becomes clearer every day.
The Political Swamp, the faceless bureaucrats who control Washington Politics behind the scenes, have extended their control into not just state governments but municipal governments as well, thanks to puppet masters like George Soros
Trying to investigate the mass fraud which occurred in the 2020 Presidential Election and the widespread corruption behind it is like wading through quicksand.
One false move and the investigators risk being "swallowed up" politically…never to be seen again.
For example, I have been watching the "Old Guard " of the Republican Party appear on Fox News and Newsmax, saying that they are going to fighting against what the Democrats are trying to do to our country.
If they are speaking the truth, they why are they not openly calling for audits in all of the states that stopped counting votes in the middle of the night of November 3rd?
Former President Trump showed y'all how to win and a lot of you "Establishment Republicans" furthered your political career by riding his coat tails to positions of power on Capitol Hill.
Y'all want to go back to your political strategy of of reaching across the aisle (i.e. sucking up) to the Democrats and allowing them to pass whatever cockamamie laws they want to while they raises our taxes and the amount we pay for gas to fill up our cars so that we can go to work and provide for our families.
That is how we got stuck with Former President Barack Hussein Obama, aka "Petulant President Pantywaist".
If the Republican Establishment keeps mooning average Americans and showcasing their Spines of Jello, instead of supporting the wishes of those who sent them to Capitol Hill and fight back, including investigating the 2020 Election, average Americans are liable to show them what they think of them by starting a new party behind Donald J. Trump.
However, I am beginning to believe that the Vichy Republicans. for all of their bluster, could care less.
As it has  proven, without a doubt in the past, the Republican Establishment's arrogance will be their undoing.
After all…
Actions (and Inactions) have consequences.
The American people are tired of Political Correctness and anti-American political expediencies being forced down our throats by both political parties and trumpeted by their lackeys in the Main Stream Media.
Donald Trump, for all of his brashness and braggadocio, remains a breath of free air and, quite frankly an anomaly. He's not a professional politician. He is a businessman who became a wonderful public servant.
Does Donald J. Trump need to "tone it down", in terms of his fight against those who would preserve the Washingtonian Status Quo?
Only if he wants to sound like a Professional Politician.
And, we Americans have had our fill of them.
Until He Comes,
KJ
DONATIONS ARE WELCOME AND APPRECIATED.
Make a one-time donation
Make a monthly donation
Make a yearly donation
Choose an amount
Or enter a custom amount
$
---
Your contribution is appreciated.
Your contribution is appreciated.
Your contribution is appreciated.
Donate
Donate monthly
Donate yearly
https://twitter.com/realDonaldTrump/status/1061962869376540672
FoxNews.com reports that
With razor-thin margins in multiple Florida races being recounted, dueling protests, lawsuits, and unfounded allegations captured the confusion, frustration and all-out anger brewing in Broward County on Monday.

Florida has been back middle of a familiar nightmare after a recount was ordered in three races. Florida law mandates that any election decided by 0.5 percent or less will trigger a recount. Three in the Sunshine State fit the bill – with two being in the national spotlight.

The Senate race is perhaps the most contentious. Republican challenger Gov. Rick Scott declared victory Tuesday night, but incumbent Democrat Bill Nelson never conceded the race. According to the Florida Division of Elections' website, total votes show Scott with 50.07 percent of the ballots counted to Nelson's 49.92 percent.

In the governor's race, unofficial results show that Republican former Rep. Ron DeSantis led Democratic Tallahassee Mayor Andrew Gillum by 0.41 percentage points.

Officials here spent much of the day rushing to catch up to Miami-Dade County following a Sunday glitch – a machine wasn't registering all the ballots when it was tested – that delayed the recount process by about three hours.

By mid-afternoon Monday, Miami-Dade was about halfway through their recount process while Broward was just getting started. Much of the blame fell on the shoulders of Broward County Elections Supervisor Brenda Snipes, who has a history of election missteps that even her supporters labeled amateurish at best.

Protesters carried signs that read, "Corrupt Snipes!!! Lock Her Up!," "Busted Brenda" and "I trust (Michael) Avenatti more than Brenda!" while shouting at election officials, counter-protesters and the news media.

"Brenda needs to be fired! She needs to go! GOOOOOOOOOOOOOOOO!" screamed Lois Healy, a New Jersey retiree living in southern Florida. "She can't hide from us! I hate that woman."

Another yelled into a bullhorn, "Supervisor of corruption! Show your face!"

Several others Fox News spoke to demanded Snipes, a Talladega, Alabama, native who has lived in Florida since 1964, be fired. A few went a step further and said she should be indicted.

"She needs to go," one man wearing a Trump T-shirt said. The president has himself said Snipes "has had a horrible history." President Trump also weighed in on the recount Monday, urging the state to go with election night results and called the ballots in question "massively infected" but did not provide any details.

The Snipes debate seemed to saturate much of the conversation in Broward, spilling out onto the streets near downtown Fort Lauderdale.

"I don't care about her past," Robyn White told Fox News. "Every vote needs to be counted. Every single one. Those people (protesting) – God bless them, but no."

Over at the courthouse, lawyers on behalf of candidates duked it as the demands and lawsuits piled up. Nelson called on Scott to recuse himself from having anything to do with the recount. The incumbent senator did score a win after Circuit Chief Judge Jack Tuter said he saw no wrongdoing in the vote-counting and denied Scott's request to seize voting machines. Though Tuter asked both sides to "ramp down the rhetoric" to reassure citizens that the integrity of the recount is being protected, that didn't seem to sway many people.

There were other troubling signs about the recount Monday.

The Miami Herald reported that an election official in Bay County said he allowed some displaced voters to cast ballots by email or fax though there are no rules that allow for it in state law.

Bay County Supervisor of Elections Mark Andersen told the newspaper he accepted 11 ballots by email and 147 by fax – something that's only allowed for voters overseas. It is unclear what the fallout – if any – will be from the admission.

Andersen said that the email and faxed ballots were verified by signature and that voters were required to sign an oath before submitting the documents.

"If I can validate it with a signature, the ballot is there, how is that different than a ballot that comes in through the post office?"

And as the state scrambles to meet its Thursday recount deadline, it's also dealing with unfounded allegations that a box of Broward County ballots was found at the Fort Lauderdale airport Sunday night.
What a mess.
The country hasn't seen this much corruption in one county since…well, since Broward Country attempted voter fraud in 2016 and, before that, in 2000 with Bush vs. Gore and the "hanging chads".
Before Trump was president, Republicans brought up the subject of required Voter Identification in order for American Citizens to exercise their Constitutional Right to Vote.
Of course, the Democrats hollered that it was some sort of Civil Rights Violation, which made every sane person in the country scratch their heads while wondering what the Dems were smoking.
Heck, the Democrat's lawyers who were sent down to Broward County to "clear up" this fiasco want illegal aliens' votes counted!
What the heck were illegals doing voting in an American Midterm Election?
The Democrats' quest for more voters to support their minority political ideology transcends such "passe" concepts as right and wrong, legal and illegal.
And, that is their reasoning when it comes to giving those who have broken into our country the same rights as law-abiding citizens, including the right to vote in American Elections.
Looking at the political shenanigans going on in Arizona, Georgia, and Florida, do you now understand why the Democrats have fought against Voter I.D. Cards so ferociously?
A Voter I.D. would spoil the plans of the Democratic Party Leadership.
Remember, their Chairman is a Hispanic Political Activist.
In my state, even if you cannot drive, you can still get a state identification.
There is nothing to it and it comes in useful for all sorts of things where you need an I.D., even purchasing a cellphone and service plan.
Trump is absolutely right.
I.D.'s are a part of the overwhelming majority of Americans' everyday lives.
The only reason to intentionally not carry one would be if you do not want to be identified because you're breaking the law in some form or fashion…such as being in this Sovereign Nation illegally.
The right to vote in American Elections should remain as it always has been: a right enjoyed by American Citizens Only.
Allowing illegals to vote is rewarding them for not having enough respect for America to enter our country in a legal manner.
It is the wrong thing to do….just like "finding votes" after the election is.
What is happening in Broward County and Georgia, and the conclusion of the Arizona Senate Race is simply WRONG.
It is something that one would expect in a Third World Socialist Country like Venezuela…not the United States of America.
This needs to be dealt with and stopped now…for the sake of our Constitutional Republic
Until He Comes,
KJ