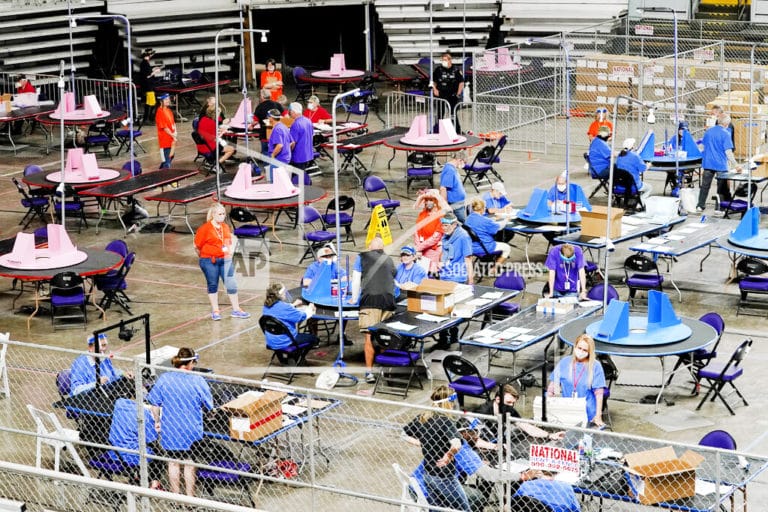 Newsmax.com reports that
Former President Donald Trump says Maricopa County's refusal to allow full transparency amid the 2020 presidential election audit makes him skeptical once again, suggesting that county election officials have something to hide.

"Why won't the RINO Maricopa County Board of Supervisors in Arizona give the routers?" Trump asked in a statement Monday from his Save America PAC. "What are they trying to hide? They are fighting for life or death. What is going on?"

The latest request for information involves auditors requesting routers from the county for inspection.

"Give the routers!" Trump's statement continued. "Doesn't this mean that the voting was, despite their statements to the contrary, connected to the Internet? The voter fraud in the 2020 presidential election was monumental, and the facts are coming out daily!"

The Republican-held Arizona Senate originally subpoenaed the internet routers from the county polling places, but the county rejected the request, claiming it would cost $6 million to replace them. A similar claim led Arizona Secretary of State Katie Hobbs to destroy voting machines that were inspected by auditors.

Officials skeptical of election fraud argued that Hobbs' claim the voting machines could be compromised by auditors is evidence they are indeed vulnerable to tampering. The voting machines audited would not be used in future elections, Hobbs said, but Arizona Republicans noted they would have been subjected to the inspection and certification process in place in the state.

Also, with respect to the routers subpoena, Maricopa County Sheriff Paul Penzone has said law enforcement security would have been jeopardized, the Arizona Mirror reported.

Auditors argue the routers are critical to finishing a complete report on election vulnerabilities, but Maricopa County election officials say the voting machines were not connected to the internet.

According to CyFir CEO Ben Cotton, one of the subcontractors doing the audit, submitting the routers for inspection would not compromise security, according to the Mirror.
The 2020 Presidential Election is the story that would not go away.
The number of states who are announcing that they are calling for an audit of the votes in the November 3rd Election, which saw a outcome which could only be described as "highly suspect" at best, continues to grow, as the obviously reality of the incompetency and unpopularity of Joe Biden becomes clearer every day.
The Political Swamp, the faceless bureaucrats who control Washington Politics behind the scenes, have extended their control into not just state governments but municipal governments as well, thanks to puppet masters like George Soros
Trying to investigate the mass fraud which occurred in the 2020 Presidential Election and the widespread corruption behind it is like wading through quicksand.
One false move and the investigators risk being "swallowed up" politically…never to be seen again.
For example, I have been watching the "Old Guard " of the Republican Party appear on Fox News and Newsmax, saying that they are going to fighting against what the Democrats are trying to do to our country.
If they are speaking the truth, they why are they not openly calling for audits in all of the states that stopped counting votes in the middle of the night of November 3rd?
Former President Trump showed y'all how to win and a lot of you "Establishment Republicans" furthered your political career by riding his coat tails to positions of power on Capitol Hill.
Y'all want to go back to your political strategy of of reaching across the aisle (i.e. sucking up) to the Democrats and allowing them to pass whatever cockamamie laws they want to while they raises our taxes and the amount we pay for gas to fill up our cars so that we can go to work and provide for our families.
That is how we got stuck with Former President Barack Hussein Obama, aka "Petulant President Pantywaist".
If the Republican Establishment keeps mooning average Americans and showcasing their Spines of Jello, instead of supporting the wishes of those who sent them to Capitol Hill and fight back, including investigating the 2020 Election, average Americans are liable to show them what they think of them by starting a new party behind Donald J. Trump.
However, I am beginning to believe that the Vichy Republicans. for all of their bluster, could care less.
As it has  proven, without a doubt in the past, the Republican Establishment's arrogance will be their undoing.
After all…
Actions (and Inactions) have consequences.
The American people are tired of Political Correctness and anti-American political expediencies being forced down our throats by both political parties and trumpeted by their lackeys in the Main Stream Media.
Donald Trump, for all of his brashness and braggadocio, remains a breath of free air and, quite frankly an anomaly. He's not a professional politician. He is a businessman who became a wonderful public servant.
Does Donald J. Trump need to "tone it down", in terms of his fight against those who would preserve the Washingtonian Status Quo?
Only if he wants to sound like a Professional Politician.
And, we Americans have had our fill of them.
Until He Comes,
KJ
DONATIONS ARE WELCOME AND APPRECIATED.
Make a one-time donation
Make a monthly donation
Make a yearly donation
Choose an amount
Or enter a custom amount
$
---
Your contribution is appreciated.
Your contribution is appreciated.
Your contribution is appreciated.
Donate
Donate monthly
Donate yearly