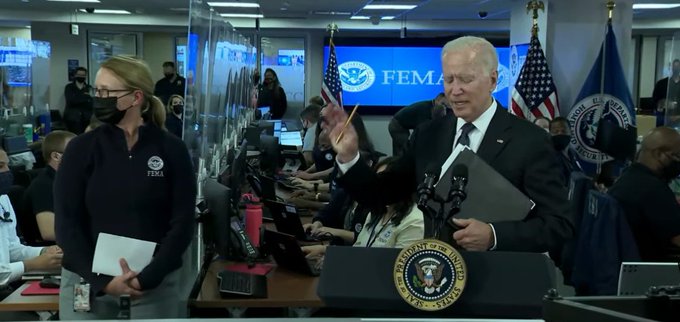 FoxNews.com reports that
President Biden blew off a question about Afghanistan after offering to take questions at the Federal Emergency Management Agency headquarters in Washington on Sunday.

Biden was at FEMA to address the response to Hurricane Ida, which strengthened to a Category 4 before making landfall in Louisiana earlier Sunday.

"I'm not supposed to take any questions but go ahead," Biden told Bloomberg News reporter Jennifer Jacobs.

Jacobs began, "Mr. President, on Afghanistan—"

"I'm not gonna answer on Afghanistan now," Biden interjected before walking away from the podium.

The Republican National Committee slammed the exchange, which came three days after ISIS-K terrorists attacked the airport in Kabul, killing 13 U.S. service members and more than 170 Afghans.

Biden has faced widespread criticism over his execution of the U.S. military withdrawal in Afghanistan and his actions during and after the collapse of Kabul, which completed the Taliban's retaking of the country 20 years after their ouster by U.S.-led forces. The president has repeatedly defended his plan while hundreds of U.S. citizens and tens of thousands of Afghan allies and Afghans vulnerable to Taliban reprisal remain stranded in the country.

Just last month, Biden assured Americans that a Taliban takeover of Afghanistan was not likely and that he trusted "the capacity of the Afghan military." The president largely avoided cameras during the Aug. 15 collapse of Kabul, watching it unfold from the Camp David presidential retreat in Maryland.

Three days after the Kabul collapse, Biden was fiercely criticized after he gave public remarks about COVID-19 and failed to address the crisis in Afghanistan or take any questions. On Tuesday, his remarks from the White House were delayed more than four hours after being rescheduled twice, and the U.S. evacuation effort in Afghanistan was the last topic he addressed after touting his Build Back Better agenda.
"I'm not supposed to take any questions…"
Again with the "I'm not supposed to…"
You are the President of the United States of America! You can answer any question that you want to…or that you are able to.
Biden did not answer the reporter's question because he was not mentally able to.
Who is/are the puppet master(s) behind the living breathing dementia-riddled mannequin that is Joe Biden?
A lot of fun has been had at Biden's expense over the fact that he is losing his war with dementia.
However, in terms of the safety of our country's citizens and our nation's continued existence, it is definitely not a laughing matter.
Any American who paid attention during the campaign soon figured out that Biden has some serious mental and physical health issues.
It was one thing to over look his inappropriate behavior during the Obama Presidency when he was just the Vice-President and Obama, Susan Rice, and Valerie Jarret were running the show, anyway.
Guess what?
They are still running the show!
I am certain that it has been difficult for them to cover for Biden's compromised state.
They knew that he was a doddering old fool even before the Democratic Primaries.
However, when the time came for Biden to start appearing during the Democrat Primaries and then, the Presidential Campaign itself, it was quite obvious that "Lunch Bucket Joe" was shy a potato chip or two.
Now, the President of the United States of America reminds average Americans of their relatives who live in nursing homes whom they have not seen in a while because they cannot bear to witness them deteriorating like Biden is.
HIs wife, "Dr." Jill Biden and the rest of his Handlers can try as hard as they can to hide his condition.
Unfortunately, as we have noticed, Joe is declining physically as well as mentally.
Vice-President Kamala Harris and the Democrat Elites know that Joe's time in the Oval Office is limited.
That is why she has been distancing herself from him by taking trips.
Even she knows that Biden is responsible for the situation in Afghanistan brought about by his pulling our troops out and closing up Bagram before he got the American Civilians and our allies out.
Joe Biden is a perfect example of the "Peter Principle", a book published decades ago, which posited the theory that people rise in their professional endeavors to their level of incompetence.
The problem with having the Dummy From Delaware sitting in the Oval Office is that he is not paying the price for his incompetence.
We are.
Until He Comes,
KJ
DONATIONS ARE WELCOME AND APPRECIATED.
Make a one-time donation
Make a monthly donation
Make a yearly donation
Choose an amount
Or enter a custom amount
$
---
Your contribution is appreciated.
Your contribution is appreciated.
Your contribution is appreciated.
Donate
Donate monthly
Donate yearly