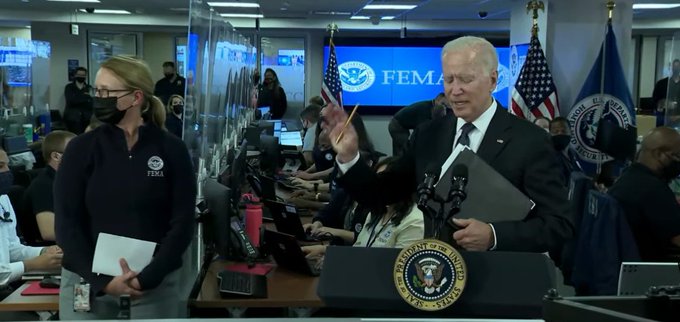 FoxNews.com reports that
President Biden blew off a question about Afghanistan after offering to take questions at the Federal Emergency Management Agency headquarters in Washington on Sunday.

Biden was at FEMA to address the response to Hurricane Ida, which strengthened to a Category 4 before making landfall in Louisiana earlier Sunday.

"I'm not supposed to take any questions but go ahead," Biden told Bloomberg News reporter Jennifer Jacobs.

Jacobs began, "Mr. President, on Afghanistan—"

"I'm not gonna answer on Afghanistan now," Biden interjected before walking away from the podium.

The Republican National Committee slammed the exchange, which came three days after ISIS-K terrorists attacked the airport in Kabul, killing 13 U.S. service members and more than 170 Afghans.

Biden has faced widespread criticism over his execution of the U.S. military withdrawal in Afghanistan and his actions during and after the collapse of Kabul, which completed the Taliban's retaking of the country 20 years after their ouster by U.S.-led forces. The president has repeatedly defended his plan while hundreds of U.S. citizens and tens of thousands of Afghan allies and Afghans vulnerable to Taliban reprisal remain stranded in the country.

Just last month, Biden assured Americans that a Taliban takeover of Afghanistan was not likely and that he trusted "the capacity of the Afghan military." The president largely avoided cameras during the Aug. 15 collapse of Kabul, watching it unfold from the Camp David presidential retreat in Maryland.

Three days after the Kabul collapse, Biden was fiercely criticized after he gave public remarks about COVID-19 and failed to address the crisis in Afghanistan or take any questions. On Tuesday, his remarks from the White House were delayed more than four hours after being rescheduled twice, and the U.S. evacuation effort in Afghanistan was the last topic he addressed after touting his Build Back Better agenda.
"I'm not supposed to take any questions…"
Again with the "I'm not supposed to…"
You are the President of the United States of America! You can answer any question that you want to…or that you are able to.
Biden did not answer the reporter's question because he was not mentally able to.
Who is/are the puppet master(s) behind the living breathing dementia-riddled mannequin that is Joe Biden?
A lot of fun has been had at Biden's expense over the fact that he is losing his war with dementia.
However, in terms of the safety of our country's citizens and our nation's continued existence, it is definitely not a laughing matter.
Any American who paid attention during the campaign soon figured out that Biden has some serious mental and physical health issues.
It was one thing to over look his inappropriate behavior during the Obama Presidency when he was just the Vice-President and Obama, Susan Rice, and Valerie Jarret were running the show, anyway.
Guess what?
They are still running the show!
I am certain that it has been difficult for them to cover for Biden's compromised state.
They knew that he was a doddering old fool even before the Democratic Primaries.
However, when the time came for Biden to start appearing during the Democrat Primaries and then, the Presidential Campaign itself, it was quite obvious that "Lunch Bucket Joe" was shy a potato chip or two.
Now, the President of the United States of America reminds average Americans of their relatives who live in nursing homes whom they have not seen in a while because they cannot bear to witness them deteriorating like Biden is.
HIs wife, "Dr." Jill Biden and the rest of his Handlers can try as hard as they can to hide his condition.
Unfortunately, as we have noticed, Joe is declining physically as well as mentally.
Vice-President Kamala Harris and the Democrat Elites know that Joe's time in the Oval Office is limited.
That is why she has been distancing herself from him by taking trips.
Even she knows that Biden is responsible for the situation in Afghanistan brought about by his pulling our troops out and closing up Bagram before he got the American Civilians and our allies out.
Joe Biden is a perfect example of the "Peter Principle", a book published decades ago, which posited the theory that people rise in their professional endeavors to their level of incompetence.
The problem with having the Dummy From Delaware sitting in the Oval Office is that he is not paying the price for his incompetence.
We are.
Until He Comes,
KJ
DONATIONS ARE WELCOME AND APPRECIATED.
Make a one-time donation
Make a monthly donation
Make a yearly donation
Choose an amount
Or enter a custom amount
$
---
Your contribution is appreciated.
Your contribution is appreciated.
Your contribution is appreciated.
Donate
Donate monthly
Donate yearly
FoxNews.com reports that
A federal judge on Friday ordered the Biden administration to stop all applications for the Deferred Action for Childhood Arrivals (DACA) program, ruling that the Obama-era program was illegal – dealing a blow to the Biden administration's efforts to protect the program.

DACA was established under the Obama administration in 2012 and granted protection from deportation and work permits to illegal immigrants who came to the country as minors. Approximately 700,000 are estimated to have been granted protection under the program, and hundreds of thousands more are deemed eligible.

Judge Andrew Hanen, a Texas judge, found that the Department of Homeland Security violated the Administrative Procedure Act (APA) in creating the policy. He found that the policy was implemented unlawfully and ordered DHS to stop approving DACA applications, although he said it could continue to accept applications and that it does not affect the status of any current DACA recipients.

The judge found that the agency's interpretation of statutes was "overly broad" and those laws did not carry the authority for the federal government to institute the program.

"DACA would grant lawful presence and work authorization to over a million people for whom Congress had made no provision and has consistently refused to make such a provision," Hanen wrote.

The suit had been brought by a coalition of states led by Texas, who argued that the policy violated the APA and the Constitution.

Republicans have repeatedly claimed that the program was illegal, and President Donald Trump sought to revoke the program. That effort was shot down by the Supreme Court, which found it was done in a manner that was "arbitrary and capricious," while not ruling on the program itself.

Democrats and the Biden administration, as well as some Republicans, have supported pathways to citizenship for DACA recipients, whom activists and Democrats have termed "dreamers." Many of those pushes expand the category to include not only DACA recipients, but those who are DACA-eligible.

President Biden signed a memo after entering office to protect DACA, ordering DHS to take "all appropriate actions under the law" to preserve the program and calling on Congress to give a path to citizenship for recipients.

There have already been a number of efforts in Congress this year to give legal status to DACA recipients. Most recently, Rep. Pramila Jayapal, D-Wash., said that the Democratic budget proposal includes a pathway for citizenship for a number of illegal immigrant groups — including DACA recipients. Democrats may be able to pass such a proposal without Republican support.

Immigration activists used the ruling to renew the push for a pathway to citizenship for all illegal immigrants.

"Judge Hanen's rash decision to suspend the DACA program reiterates the immediate need for Congress AND the Biden administration to keep their promise and create a pathway to citizenship for all undocumented people in the U.S.," the Refugee and Immigrant Center for Education and Legal Services tweeted.
What makes those benefiting from DACA, who wish to stay here forever, exempt from the rules and regulations that every other generation of immigrants to this country had to abide by in order to become legal citizens of the greatest nation in the world?
These "Dreamers" must go through a strict process such as other generations of immigrants have gone through.
In other words, a stringent, controlled pathway to citizenship that will end with them going through the same procedures as all other legal immigrants before them.
Just like those who have wanted to be American Citizens before them, these "Dreamers" must also pledge:
I hereby declare, on oath, that I absolutely and entirely renounce and abjure all allegiance and fidelity to any foreign prince, potentate, state, or sovereignty, of whom or which I have heretofore been a subject or citizen; that I will support and defend the Constitution and laws of the United States of America against all enemies, foreign and domestic; that I will bear true faith and allegiance to the same; that I will bear arms on behalf of the United States when required by the law; that I will perform noncombatant service in the Armed Forces of the United States when required by the law; that I will perform work of national importance under civilian direction when required by the law; and that I take this obligation freely, without any mental reservation or purpose of evasion; so help me God.
The Democrats have sought to make political hay for years now by erroneously claiming that the reason that the majority of Americans wanted to build a wall in order to secure our Southern Border is because we have a fear of people who look different from us.
If that were the case, American would have never become the "Great American Melting Pot", as the old cartoon from Scholastic Rock, that we used to watch as kids on Saturday Mornings on ABC, so aptly explained.
This country was built by LEGAL IMMIGRANTS of all Ethic Backgrounds, who assimilated into our culture and became AMERICANS, who were loyal to their now-found country, not the country that they left behind to come here for a better life.
For decades, Liberals/Democrats have purposefully assigned a "nobility" and "righteousness" to those who would enter this country illegally, to take American Jobs, while remaining loyal to their country of origin and to those who have been entering illegally for the purpose of destroying our nation through the mindless violence of Islamic Terrorism.
The overwhelming majority of Americans continue to state repeatedly that they want our borders to be secure.
President Reagan kept his word. Congress did not.
President Trump was well on his way to making that a reality.
The Democrats must not be allowed to reward those who enter our Sovereign Nation illegally.
Until He Comes,
KJ
DONATIONS ARE WELCOME AND APPRECIATED.
Make a one-time donation
Make a monthly donation
Make a yearly donation
Choose an amount
Or enter a custom amount
$
---
Your contribution is appreciated.
Your contribution is appreciated.
Your contribution is appreciated.
Donate
Donate monthly
Donate yearly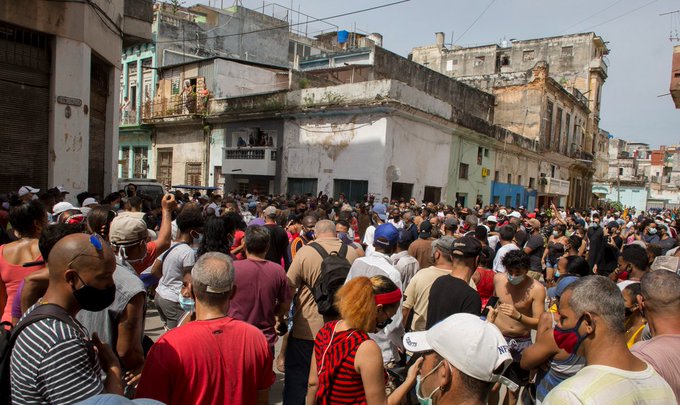 Newsmax.com reports that
Backing the protesters calling for liberation from communism in Cuba, former President Donald Trump issued a reminder of the Biden administration's reversing his Cuban policies and calling on President Joe Biden to stand up against communism.

"I stand with the Cuban people 100% in their fight for freedom," Trump wrote in a statement from his Save America PAC on Monday afternoon. "The government must let them speak and be free!

"Joe Biden MUST stand up to the communist regime or — history will remember. The Cuban people deserve freedom and human rights! THEY ARE NOT AFRAID!"

Trump noted the protests abruptly stopped in Cuba, remarking on the oppressive regime's silencing of freedoms and speech – much like he has denounced from Big Tech and the liberal mainstream media in America.

"Big demonstrations are breaking out in Cuba and Miami in protest of the Communist Cuban Government (although, today there are zero protesters in Cuba — you know what that means!)," Trump's statement began.

Trump also rebuked Biden's reversing his administration's "very tough stance on Cuba," while reminding Americans former President Barack Obama – who Biden served as a vice president – was not only soft on Cuba, but welcoming.

"Don't forget that Biden and the Democrats campaigned on reversing my very tough stance on Cuba," Trump's statement continued. "Remember when Obama attended baseball games with Castros while they imprisoned, beat, and killed the Cuban people."

Trump's strict embargo against Cuba was imposed after he took the White House from Obama in 2017, and Diaz-Canel pointed to those for causing an energy shortage in Cuba, which triggered the uprising that saw the first mass anti-government protests in decades on the island.

President Miguel Diaz-Canel denounced the "economic asphyxiation" causing the discontent over energy shortages forcing the government to slow economic output and causing blackouts in the tropical island.

Diaz-Canel also railed against "Miami's conservative Cuban-American mafia" for fueling the unrest as Cubans were already exhausted and living uneasy with surging COVID-19 infections on the island, according to The Associated Press.

Protesters looted and flipped a police car, according to the president, scenes similar to the anti-China protests in Hong Kong more than a year ago and the social injustice unrest in America led by Black Lives Matter and Antifa activists after the death of George Floyd.
Do you remember how Barack Hussein Obama (mm mmm mmmm) eulogized Cuba's Communist Dictator, Fidel Castro?
At this time of Fidel Castro's passing, we extend a hand of friendship to the Cuban people. We know that this moment fills Cubans – in Cuba and in the United States – with powerful emotions, recalling the countless ways in which Fidel Castro altered the course of individual lives, families, and of the Cuban nation. History will record and judge the enormous impact of this singular figure on the people and world around him. For nearly six decades, the relationship between the United States and Cuba was marked by discord and profound political disagreements. During my presidency, we have worked hard to put the past behind us, pursuing a future in which the relationship between our two countries is defined not by our differences but by the many things that we share as neighbors and friends – bonds of family, culture, commerce, and common humanity. This engagement includes the contributions of Cuban Americans, who have done so much for our country and who care deeply about their loved ones in Cuba.

Today, we offer condolences to Fidel Castro's family, and our thoughts and prayers are with the Cuban people.
I am certain that the "most refined" among us, "the smartest people in the room" as they refer to themselves, the Modern American Liberals, including the Former Chief Marxist/Alinsky-ite himself, Barack Hussein Obama, and the Administration of his Former Vice-President, #DementiaJoe, are aghast at the protesters calling for the end of the Cuba's "perfect form of government"(Marxism) which they are trying to install in our Sovereign Nation.
Why do Modern American Liberals admire those leaders and societies, like the government of Communist Cuba, the leaders of whom would take away their individual freedom, at best, and gut them like a Thanksgiving Turkey, at worst?
How could they be so naïve as to view he poverty-stricken Communist country as being a "Socialist Utopia", which they have dreamt of and which they are trying their best to turn America into, you ask?
Didn't you know? Being a Marxist is cool.
Just ask the Liberal American Millennials walking around with their Che Guevara t-shirts on.
They remember Che differently than the Cuban Exiles in Miami, who came here seeking freedom from tyranny do.
If these members of the "Young and Dumb" had actually read a book, they would burn those stupid t-shirts.
Cuban children are taught in state-run schools that Che was a doctor, even though he had no medical degree.
They are taught that he was a kind soul who cared for the poor and the oppressed, and a brave guerrilla leader who helped to liberate the downtrodden Cuban People from the oppressive tyrant Batista.
And, Jack the Ripper was a surgeon who made House Calls.
Humberto Fontova's "Exposing the Real Che Guevara" paints a vivid picture of the real Che Guevara:
In his biography of Che, Fontova quotes a Cuban exile who is identified by the pseudonym of "Charlie Bravo"
I'd loved to have seen those Sorbonne and Berkeley and Berlin student protesters with their 'groovy' Che posters try their 'anti-authority' grandstanding in Cuba at the time. I'd love to have seen Che and his goons get their hands on them. They'd have gotten a quick lesson about the 'fascism' they were constantly complaining about—and firsthand. They would have quickly found themselves sweating and gasping from forced labor in Castro's and Che's concentration camps, or jabbed in the butt by 'groovy' bayonets when they dared slow down and perhaps getting their teeth shattered by a 'groovy' machine-gun butt if they adopted the same attitude in front of Che's militia as they adopted in front of those campus cops.
In the instruction to that book, Fontova writes that,
If Cuban Americans strike you as too passionate, over the top, even a little crazy, there is a reason. Practically every day, we turn on our televisions or go out to the street only to see the image of the very man who trained the secret police to murder our relatives—thousands of men, women, and boys. This man committed many of these murders with his own hands. And yet we see him celebrated everywhere as the quintessence of humanity, progress, and compassion.
So, while President Obama and his family were jetting to Cuba, on Air Force One, on the American Taxpayer's dime, celebrating the "Progressive Freedom" that only Marxism can bring (that's sarcasm, boys and girls), America's Che Worshippers were back home, wearing their Che T-shirts, brandishing posters proclaiming American Businessman, Entrepreneur, and then-Leading Republican Primary Candidate Donald J. Trump a "fascist", and a modern "Hitler", while blocking roads, jumping on people's cars, and marching lockstep on the streets of New York City, in scenes reminiscent of the Cuban Revolution.
And, that same Astroturf  "Resistance" Movement continues today.
Only now, it is the "Woke" Movement.
United States President Ronald Reagan once said,
How do you tell a communist? Well, it's someone who reads Marx and Lenin. And how do you tell an anti-Communist? It's someone who understands Marx and Lenin.
What we are witnessing among the Far Left Power Brokers, and their "Young and Dumb Foot Soldiers", is a purposeful obtuseness, as to our Constitutional Rights to arm ourselves and vote for whom we please and the harsh reality of Marxism or "spreading the wealth".
History repeats itself.
Irony is embarrassed.
Until He Comes,
KJ
DONATIONS ARE WELCOME AND APPRECIATED.
Make a one-time donation
Make a monthly donation
Make a yearly donation
Choose an amount
Or enter a custom amount
$
---
Your contribution is appreciated.
Your contribution is appreciated.
Your contribution is appreciated.
Donate
Donate monthly
Donate yearly
D-Day, also called the Battle of Normandy, was fought on June 6, 1944, between the Allied nations and German forces occupying Western Europe. To this day, 77 years later, it  still remains the largest seaborne invasion in history. Almost three million troops crossed the English Channel from England to Normandy to be used as human cannon fodder in an invasion of occupied France.
The twelve nations who participated in the invasion included Australia, Canada, Belgium, France, Czechoslovakia, Greece, New Zealand, the Netherlands, Norway, Poland, the United Kingdom, and, of course. the United States of America.
The codename for the invasion was Operation Overlord. The assault phase was known as Operation Neptune. Operation Neptune began on D-Day (June 6, 1944) and ended on June 30. Operation Overlord also began on D-Day, and ended with the crossing of the River Seine on August 19.
General Dwight D. Eisenhower faced a daunting task in the planning of such a massive invasion. He would have to move his forces 100 miles across the English Channel and storm a heavily fortified coastline. His enemy was the weapon-and-tank-superior German army commanded by the "Desert Fox" Erwin Rommel, one of the most brilliant generals of the war.
Less than 15 percent of the young men called upon to sacrifice their lives for our freedom in the invasion had ever seen combat.
A crossing of the unpredictable and dangerous English Channel had not been attempted since 1688. Once the invading forces set out, there was no turning back. The channel was soon hosting a 5,000-vessel armada that stretched as far as the eye could see, transporting both men and vehicles across the channel to the French beaches. Not to mention, the Allies also launched 4,000 smaller landing craft and more than 11,000 aircraft.
By the time the sun set on June 6, more than 9,000 Allied soldiers were dead or wounded, and more than 100,000 had made it ashore, capturing French coastal villages. Within weeks, supplies were being unloaded at Utah and Omaha beachheads at the rate of more than 20,000 tons per day. By June 11, more than 326,000 troops, 55,000 vehicles, and 105,000 tons of supplies had been landed on the beaches. By June 30, the Allies had established a firm foothold in Normandy. Allied forces crossed the River Seine on August 19.
There has never been an exact count of the sacrifices made on D-Day. Although, it is estimated that more than 425,000 Allied and German troops were killed, wounded, or went missing during the battle. 209,000 of those who lost their lives were Allied forces. In addition to almost 200,000 German troops killed or wounded, the Allies also captured 200,000 soldiers. Captured Germans were sent to American prisoner-of-war camps at the rate of 30,000 per month, from D-Day until Christmas 1944. Between 15,000 and 20,000 French civilians were killed during the battle.
Basically, the invasion of Normandy was a success, due to sheer force of numbers. By July 1944, some one million Allied troops, mostly American, British, and Canadian, were entrenched in Normandy. During the great invasion, the Allies assembled nearly three million men and stored 16 million tons of arms, munitions, and supplies in Britain.
Among the young men who stepped off those boats, in a hail of gunfire, was a fellow named Edward, whom everyone called Ned, from the small town of Helena, Arkansas.  Already in his young life, Ned had been forced to drop out of school in the sixth grade, in order to work at the local movie theatre to help support his mother, brother, and sister, faced with the ravages of the Great Depression.
He was a gentle man who loved to laugh and sing, having recorded several 78 rpm records in the do-it-yourself booths of the day. And now, he found himself, a Master Sergeant in an Army Engineering Unit, stepping off a boat into the unknown, watching his comrades being mercilessly gunned down around him.
Ned, along with the rest of his unit who survived the initial assault, would go on to assist in the cleaning out of the Concentration Camps, bearing witness to man's inhumanity to man.
The horrors he saw had a profound effect on Ned.  One which he would keep to himself for the remainder of his life.  While his children knew that he served with an Engineering Unit in World War II, they did not know the full extent of his service, until they found his medal, honoring his participation in the Invasion of Normandy, while going through his belongings, after he passed away on December 29, 1997.
The second soldier in this tale was born 41 years after D-Day, in Sun Valley Idaho, to a pair of "Devout Calvinists", who homeschooled him and his sister, while their parents both worked at jobs, which according to a famous national magazine in 2012, were "nearly off the grid".
At 16, tired of being cooped up at home, the young man went in search of fencing lessons, and wound up being a ballet "lifter", moving in with the girl he was "lifting".
At 20, he left for France, to learn to speak French and join the Foreign legion. Failing miserably at that, he returned home, where he worked for a few years at a local coffee shop.
He joined the Army in 2008, and arrived in Eastern Afghanistan in 2009.
According to his parents, and the "national magazine", this young man had "a heart for the Afghan people", which led him to become disgusted with the actions of our nation, whom he was supposed to be fighting for.
The young man would detail his disillusionment with the Afghanistan campaign in an email to his parents three days before he went missing.
"I am sorry for everything here," he wrote. "These people need help, yet what they get is the most conceited country in the world telling them that they are nothing and that they are stupid."
Bergdahl also complained about fellow soldiers. The battalion commander was a "conceited old fool," he said, and the only "decent" sergeants, planning to leave the platoon "as soon as they can," told the privates — Bergdahl then among them — "to do the same."
"I am ashamed to be an American. And the title of US soldier is just the lie of fools," he concluded. "I am sorry for everything. The horror that is America is disgusting."
His father responded in an email: "OBEY YOUR CONSCIENCE!"
This young man would then desert his post, for the second time, concluding a pair of calculated moves, proven by the fact that he sent his laptop and his personal journal, back to his mother and father.
On his second "walkabout", he was taken in by local Afghan Muslim Terrorists, with whom he lived for 5 years, converting to their religion and declaring himself a "WARRIOR FOR ISLAM" in 2010.
Some Liberal supporters say his purpose in leaving the base was an attempt to "broker a peace deal". Others, within his own unit, believe that he wanted to "aid and abed the enemy".
As far as his "conversion" goes, his defenders are claiming that he did it to insure his own survival, unlike former POWs, who chose death to renouncing God and Country.
The young man was flown back to the country that he betrayed, his freedom having been secured through the release of 5 of the enemy: high-ranking Muslim Terrorists, who had sworn an oath to "destroy the Great Satan" (That's US.)
Of course, that young man was Bowe Bergdahl.
The man responsible for this inequitable deal is the unapologetic Former (Thank God) President of the United States of America Barack Hussein Obama, the product of an Islamic Private School for the wealthy in Jakarta, Indonesia.
On October 16, 2017, Bowe Bergdahl plead guilty to desertion and misbehavior before the enemy. On November 3, 2017, he received a dishonorable discharge from the US Army, avoiding prison time. The military judge also ruled that Bergdahl's rank be reduced from sergeant to private and he was also required to pay a $1,000 fine from his salary for the next 10 months.
According to the New York Times, those five senior Taliban officials who were held for some 13 years at Guantanamo and exchanged for Bergdahl, held prominent positions across from U.S diplomats and generals led by America's senior envoy Zalmay Khalilzad in Doha, Qatar during some Afghanistan Peace Talks two years ago.
I kid you not.
I made the comparison between these two soldiers to make a point about the sacrifices made by those thousands of brave Americans 77 years ago today as compared to the selfishness and cowardice shown by Bowe Bergdahl, who was and still is treated as a hero by the Far Left Democratic Party.
If this selfish generation had existed 77 years ago, I have no doubt whatsoever that America would not exist as the Bastion of Freedom which we know it as today.
Why do I feel so strongly about this? And, how did I know so much about Ned?
Ned was my Daddy.  You see, my love of Christ and, of this country, comes from my Earthly father, 40 years my senior.
I was raised by members of the Greatest Generation.
It is today that we pause to remember their sacrifices at home and abroad.
May this day also serve as a reminder of the sacrifices made by our Brightest and Best and their families, yesterday, today, and tomorrow.
May God bless them all and may He hold them in the hollow of His hand.
God Bless America.
Until He Comes,
KJ
DONATIONS ARE WELCOME AND APPRECIATED.
Make a one-time donation
Make a monthly donation
Make a yearly donation
Choose an amount
Or enter a custom amount
$
---
Your contribution is appreciated.
Your contribution is appreciated.
Your contribution is appreciated.
Donate
Donate monthly
Donate yearly
Obama is not the messiah any longer. He is now your standard, ordinary, everyday politician who lies, who breaks promises, who's in it for himself, who can't do anything on his own. He's not qualified. All of this is becoming known, sadly, too late. – Rush Limbaugh
FoxNews.com reports that
A "parasite" on the Democratic Party is how journalist Edward Isaac Dovere describes former President Obama in his forthcoming tell-all book "Battle for the Soul: Inside the Democrats' Campaign to Defeat Trump."

In a chapter entitled "Benign Neglect," Dovere writes that the section's namesake is how Obama aides privately described his abandonment of the Democratic Party once in the White House. "'Negligence' might be more accurate," Dovere, writer for The Atlantic and former chief Washington correspondent for Politico, writes.

"The numbers are hard to ignore: during his eight years in office, Obama oversaw a net loss of 947 state legislative seats, 63 House seats, 11 senators, and 13 governors," he continues.

In 2008, Democrats increased their majorities in the House and Senate, delivering Obama the legislature for his first two years in office. In 2010, Republicans took the majority in the House with the Tea Party wave and Democrats maintained but shrunk their majority in the Senate. In 2014, Republicans gained control of both the House and Senate.

Dovere writes that the 44th president carried himself with a "self-assured self-regard."

"Obama never built a Democratic bench and never cared to, aside from a few scattered candidates who interested him," according to the book.

Dovere writes that "defenders" of Obama have argued he didn't want to "taint" his presidency by " mucking about in fundraising," or that he didn't want to spoil the image voters had of him as an independent politician, or that faced with the choice to campaign or govern, he would always choose govern.

Dovere writes that during his first term, Obama used the party structure as a "host" for his next campaign.

In 2009, Obama hired his friend Tim Kaine to head the DNC, even though Kaine was also serving as governor for the first year on the job.

In a scathing passage Dovere claims Kaine was at the time "commuting two days a week to oversee the pilfering of talent, money, resources, and purpose for the Obama reelection effort that was already under way."

"In his second term, he cared about what happened to the husk as much as any parasite does," Dovere says.

Dovere pointed to the Obama team's decision to strike a deal with the Democratic National Committee (DNC) that saddled the committee with $2.4 million in leftover debt from Obama's 2012 election. In return, "Obama for America" gave the DNC its email list, and Obama was supposed to headline additional fundraisers.

Obama's peak pride came in 2015, Dovere writes, when on back-to-back days the Supreme Court upheld ObamaCare, his signature achievement, and ruled the 14th Amendment requires all states to grant same-sex marriages.

"'In hindsight it's hard not to see delusion in the self-assurance and the celebration and the sense of moving forward of those two weeks in America," Dovere writes.

Obama also reportedly said in the summer of 2020 that when he had left office, America had more prepared for a pandemic than any nation on earth, but had since fallen far behind.

The former president reportedly believes he could have won had he run for another term.

"Ultimately Obama's math comes down to a simple calculation: he has suggested in conversations with people close to him that he thinks he would have won had he been able to be a candidate in 2016. The economy, the Democratic debris, Russia – if he could have run for a third term, even confronted with all these issues, he believes, he would have figured out how to pull a victory off anyway," according to the book.
Obama is more crooked than a dog's hind leg.
For example…
In 2004, Illinois State Senator Barack Hussein Obama (mm mmm mmmm) decided to run for The United States Senate.
In order to have a successful Senatorial campaign, Scooter  had to secure tremendous financial backing and be the recipient of astute political mentoring.  No problem.
It is now very well-known that George Soros, evil genius, major Democratic Party donor and anti-Israel crusader, has been a generous contributor to Barack Obama. However, not too many people know that a loophole in McCain-Feingold allowed Soros and his family members to be extremely generous in their support of Obama's 2004 Senatorial campaign.
Obama had to run against Blair Hull in the primary and then Jack Ryan in the general (both multi-millionaires). Obama received huge donations from individuals, to so-called "millionaires exception."  Usually,  individuals are limited to giving $2300 to candidates in federal elections, but if the candidates are running against millionaires, these limits do not apply and candidates are allowed to receive up to $12,000 from a single individual. Soros and his family gave Barack Obama $60,000. This does not count the money that Soros was funneled to so-called 527 groups (Moveon.org, for example) that have also been politically active; nor does it include money that Soros raised from tapping a network of friends, business associates, and employees.
Besides garnering unlimited campaign funds, as the campaigns entered their closing rounds, the news "happened to be" leaked to media outlets that both Hull and Ryan had "personal scandals" in their past. The timely release of this news wiped out both of their campaigns, leading to an easy victory for Obama in the primary and then in the general election.
The New York Times Magazine revealed that David Axelrod, Obama's chief political and media adviser, may well have been behind the leak of the story that doomed the Hull candidacy as the primary reached its home stretch.  I'm shocked.
As he has shown over the years, Axelrod was right at home operating in this gray area, part idealist, part hired muscle. One can not bring up Axelrod's name  in certain circles in Chicago without the matter of the Blair Hull divorce papers coming up. Approaching the 2004 Senate primary, it was clear that it was a two-man race: the millionaire liberal, Hull, leading in the polls, and Obama, who was the figurehead of an impressive grass-roots campaign. One month before the vote, The Chicago Tribune "just happened" to reveal, at the end of a long profile of Hull, that during a divorce proceeding, Hull's second wife filed for an order of protection. This revelation proceeded to erupt into a full-fledged scandal.  This scandal destroyed Hull's campaign and handed Obama an easy primary victory.
The Tribune reporter who wrote the story later admitted in print that the Obama camp had "worked aggressively behind the scenes" to push the story. However, a lot of folks in Chicago believe that Axelrod leaked the initial story. They will tell you that before signing on with Obama, Axelrod interviewed with Hull. They also point out that Obama's TV ad campaign just happened to start at almost the same time. Axelrod swears up and down that "we had nothing to do with it" and that the campaign's television ad schedule was in the works for a long time.
Axlerod's explanation?
An aura grows up around you, and people assume everything emanates from you.
That's not an "aura". That's a stench.
And, the Biden Presidency smells of that same stench…and then some.
Until He Comes,
KJ
DONATIONS ARE WELCOME AND APPRECIATED.
Make a one-time donation
Make a monthly donation
Make a yearly donation
Choose an amount
Or enter a custom amount
$
---
Your contribution is appreciated.
Your contribution is appreciated.
Your contribution is appreciated.
Donate
Donate monthly
Donate yearly
…You know, we have not taught communism properly in the schools in this country for at least 30 years, since the 1980s. And we have to consider that Xi Jinping and the ChiCom Politburo came up with a way to share the effects of this virus with everybody else in the world to make sure they were not the only ones damaged by it.

…In other words, these are communists. They treat their own citizens horribly. They don't care. If something like this is gonna wreck them, then they're gonna make sure they're not the only ones that suffer, either reputational damage — they don't want it thought that these viruses emanate, originate in China. They don't want that. And they don't want any economic damage. So it's a fascinating theory.  – Rush Limbaugh, 4/15/20
FoxNews.com reports that
Republicans on the House Intelligence Committee say there is "significant circumstantial evidence" that the COVID-19 outbreak stemmed from a leak at the Wuhan Institute of Virology, urging the federal government to put "more pressure on China" to allow for a "full, credible investigation" into the source of the global pandemic.

Committee Ranking Member Devin Nunes, R-Calif., and Republicans on the panel released a report Wednesday, first obtained by Fox News, saying it is "crucial for health experts and the U.S. government to understand how the COVID-19 virus originated" to prevent "or quickly mitigate future pandemics."

"International efforts to discover the true source of the virus, however, have been stymied by a lack of cooperation from the People's Republic of China," Republicans wrote. "Nevertheless, significant circumstantial evidence raises serious concerns that the COVID-19 outbreak may have been a leak from the Wuhan Institute of Virology."

Republicans pointed to China's "history of research lab leaks resulting in infections," and warnings from U.S. diplomats in China as early as 2017 that the Wuhan lab was conducting "dangerous research" on coronaviruses without following "necessary safety protocols, risking the accidental outbreak of a pandemic."

Republicans also pointed to public reports that "several researchers in the Wuhan lab were sickened with COVID-19-like symptoms" in Fall 2019, and the Chinese military's "involvement in the Wuhan Lab."

"By contrast, little circumstantial evidence has emerged to support the PRC's claim that COVID-19 was a natural occurrence, having jumped from some other species to human," they wrote, saying Chinese authorities "have failed to identify the original species that allegedly spread the virus to humans, which is critical to their zoonotic transfer theory."

Committee Republicans also claimed there are "clear signs" that U.S. government agencies and academic institutions "may have funded or collaborated in Gain of Function research" at the Wuhan Lab, claiming that research "was published even after the U.S. government had paused these kinds of studies in the United States due to ethical concerns over their biowarfare applicability and their potential to accidentally unleash a pandemic.

"To protect American citizens from future pandemics, the U.S. Government must place more pressure on China to allow full, credible investigations of the source of the COVID-19 pandemic and to allow probes of the likelihood that it resulted from a lab leak," the report states. "The U.S. Government must also provide a full accounting of any American cooperation with the Wuhan lab's coronavirus research, including the support of these projects through U.S. Government funds."

The report was released after Nunes and other GOP members on the committee penned letters to President Biden and Director of National Intelligence Avril Haines, accusing the intelligence community of failing to provide timely updates on its investigation into the origins of COVID-19 and of not being "forthcoming" about "what processes it undertook to make seemingly authoritative statements early in the pandemic about the origins of the virus — conclusions that are now in question."

The letters demanded that the intelligence community turn over all of its information on COVID-19's origins, requesting any reporting on a possible "collaboration" between the Wuhan lab and the Chinese military. It asked for any evidence intelligence agencies had to prove coronavirus broke out naturally and originated in animals, and also asked if the intelligence community was involved in any reviews of "gain of function" research and whether it was appropriate to fund such research outside the U.S.

The letters set a deadline of May 31 to begin providing information relevant to the request.
In an article from February 20th of last year, posted on qz.com by Jan Li, their Chinese Tech Reporter, she states that
The institute first rejected speculation that the first patient to be infected  with the virus was a graduate student who studied at the lab, saying on Sunday (Feb. 16) the student is in good health. Yesterday (Feb. 19), it issued a strong worded statement (link in Chinese), saying the rumors about it have "hurt the feelings of its frontline researchers hugely"  and "severely interfered" with its task to study viruses. "We have nothing to hide," the letter read. Nonetheless, internet users don't appear to be convinced by the assurances from the lab. "What is the truth? The collapse of trustworthiness of media and government is not only sad for the two parties, but also for us citizens," said a user on Weibo commenting on the rumors. "Some might think the so-called rumors are just a prophecy ahead of our times," said another.

Some "rumors" from the early days of the epidemic after all turned out not to be far from reality. Li Wenliang, a doctor, had told others about a cluster of cases of viral pneumonia before the outbreak had been made public, but was summoned by Wuhan police for "spreading rumors." He later became infected himself, and his death turned him into a vivid symbol of the costs of the government's opacity—prompting an outpouring of anger and grief, and rare public demands for freedom of speech and transparency from the government.
The Chinese people themselves knew that their Communist Government Officials were lying about the origin of the Coronavirus.
Unfortunately, the Chinese Communists are famous for making people "disappear".
Meanwhile, here in America, the Chinese have infiltrated Colleges and Universities, due to a program started under the Obama Administration.
The Recruitment Program for Innovative Talents (Long Term) targets people under 55 years of age who are willing to work in China on a full-time basis, with full professorships or the equivalent in prestigious foreign universities and R&D institutes, or with senior titles from well-known international companies or financial institutions. – "The Thousand Talents Plan"
Per their website, 1000plan.org, China initiated the Thousand Talents Plan at the end of 2008.
By 2017, China had recruited more than 7,000 professionals, per a bi-partisan Senate Sub-committee report titled "Threats to the U.S. Research Enterprise: China's Talent Recruitment Plans" published in November of last year.
Okay. Why was this allowed in the first place?
And, why didn't the Federal Government put a stop to it?
Who was the President in January of 2009?
Oh, wait…Now, I remember (with a little help from The Washington Post)
Obama became the first U.S. president to visit China during his first year in office. But his administration was taken aback by how completely the Chinese controlled all aspects of that visit.

"He wasn't allowed to say much at all," said Orville Schell, a longtime China scholar who was in China during the visit. "The Chinese kept him from meeting certain people, from taking questions or even radio broadcasts. He didn't know quite how to respond. He didn't want to be impolite. It took the U.S. a while to understand that this was the direction China and the relationship was headed."

Some have blamed Obama for adopting such an overly optimistic and open stance during those early years. For all his outreach, current and former top U.S. diplomats say, Obama got little in return, except the feeling of being burned by Beijing.
Well, gosh.
Could it be that the 44th President of the United States of America's naivete has led to the Chinese Communists' infiltration of America's Education System and the Professional Bureaucrats of the "Deep State"?
Did Former President Barack Hussein Obama "act stupidly"?
Does Adam Schiff look like Deputy Barney Fife?
Until He Comes,
KJ
DONATIONS ARE WELCOMED AND APPRECIATED.
Make a one-time donation
Make a monthly donation
Make a yearly donation
Choose an amount
Or enter a custom amount
$
---
Your contribution is appreciated.
Your contribution is appreciated.
Your contribution is appreciated.
Donate
Donate monthly
Donate yearly
We must continue working toward a time when all people respect and understand the important work that law enforcement officers do.  Unfortunately, our law enforcement officers do not always receive the respect they deserve.  These brave men and women must operate in an environment where their moral and legal authority is constantly being scrutinized, and they undertake the critical yet difficult task of addressing the actions of those affected by addiction, homelessness, and mental illness.  Their ability to work well in the face of these and other challenges is extraordinary, and we have incredible appreciation for their public service and selflessness. – President Donald J. Trump, "Proclamation on Peace Officers Memorial Day and Police Week, 2020"

FoxNews.com reports that
President Biden is marking Police Week with a statement that includes language about the "deep sense of distrust" toward cops by Black and brown Americans and the "trauma" caused by deaths in police custody — a statement described as "beyond disappointing" by one police group.

Biden's proclamation marking both Police Week and Peace Officers Memorial Day, begins by praising law enforcement for their wide range of duties in securing public safety.

"Every morning, our Nation's law enforcement officers pin on a badge and go to work, not knowing what the day will bring, and hoping to come home safely," the president says, before noting the impact of COVID-19 on the men and women in blue.

"As we recognize Peace Officers Memorial Day and Police Week, we honor those who lost their lives in the line of duty, and thank them on behalf of this grateful Nation for their service," he says.

But after promising to support law enforcement "and work to ensure they have the resources and research tools they need to do their jobs successfully and the funding necessary to enhance officer safety and wellness," the statement begins talking about the alleged harm caused to minority communities by police.

"This year, we also recognize that in many of our communities, especially Black and brown communities, there is a deep sense of distrust towards law enforcement; a distrust that has been exacerbated by the recent deaths of several Black and brown people at the hands of law enforcement," he says.

Biden has pushed for police reform in the wake of the death of George Floyd, for which the police officer was convicted of murder, and his Department of Justice has returned to the Obama-era practice of issuing consent decrees to crack down on police departments — amid claims by activists and many Democrats that such deaths are caused by systemic racism.

"These deaths have resulted in a profound fear, trauma, pain, and exhaustion for many Black and brown Americans, and the resulting breakdown in trust between law enforcement and the communities they have sworn to protect and serve ultimately makes officers' jobs harder and more dangerous as well," Biden wrote. "In order to rebuild that trust, our State, local, and Federal Government and law enforcement agencies must protect constitutional rights, ensure accountability for misconduct, and embrace policing that reflects community values and ensures community safety. These approaches benefit those who wear the badge and those who count on their protection."

The statements are in stark contrast to those from the overwhelmingly positive proclamations issued by the Trump administration, and even the Obama administration — where a 2016 proclamation included no explicit reference to such controversies and said that cops "care deeply about their communities, and together with our partners in law enforcement, we must work to build up our neighborhoods, prevent crime before it happens, and put opportunity within reach for all our people."

Biden's proclamation comes amid a police week that was barely marked by the White House — although Biden did invite illegal immigrants protected from deportation by the Deferred Action for Childhood Arrivals (DACA) program to the White House, amid a number of non-cop related events.

"This week we pause to pay respect to our law enforcement officers, particularly those who have made the ultimate sacrifice to protect their communities," Jason Johnson, president of the Law Enforcement Legal Defense Fund told Fox News. "It is beyond disappointing to see the president of the United States continue to perpetuate false and hurtful myths about police, rather than uniting as he claimed he would during the campaign. "

Rep. Ronny Jackson, R-Texas, accused Biden of expressing a "Bash the Blue" attitude toward law enforcement.

"I'm still DISGUSTED that Biden would use his official Police Week statement to suggest that every Cop is a racist. Democrat hatred for our police is outright REPULSIVE," he tweeted.

The controversy comes as Biden faces continued pressure on policing from the left of his own party, who have pushed for police departments to be defunded entirely.
So, Appointed President Biden and the rest of you Far Left Democrats, how are you going to protect Americans when you run all of our municipal law enforcement officers off their jobs?
What are you going to do? Post "This is a Gun-Free Zone" signs all over your cities to discourage the criminals?
Tell all of the Gang Bangers to hand over their guns?
On July 2, 2008, Democratic Presidential Candidate Barack Obama proclaimed in a speech:
"We cannot continue to rely on our military in order to achieve the national security objectives that we've set," he said. "We've got to have a civilian national security force that's just as powerful, just as strong, just as well-funded."
This part of Barack Hussein Obama's political platform was quickly hidden away, never to be spoken of again.
At least, not openly.
As is my wont to do, I have been thinking back over Obama's Imperial Presidency, and his statements concerning America's Municipal Law Enforcement Organizations.
When issues involving law enforcement arose during his presidency, time and again, Obama came on the opposite side from every single local law enforcement organization.
Now, isn't the President of the United States supposed to be on the side of Law and Order?
Biden certainly isn't.
Neither is the man pulling his strings, the 44th President of the United States of America, Barack Hussein Obama (mm mmm mmmm).
Why would Barack Hussein Obama not support local law enforcement during his "first" presidency?
Perhaps, because he wanted to build a National Municipal Law Enforcement Organization, under his command and the command of the Department of Justice.
Fast forward to today…
All of the cities and states which have experienced "trouble"  with police departments happen to be Blue States with Democrats in charge of State and Municipal Governments.
Instead of relying on traditional police departments and the American System of Law and Order, Democrats like those in the Minneapolis City Council want to have the power to circumvent the American System of Justice because of their issues in the past with it.
The death of ex-convict George Floyd gave them the excuse to attempt to defund police departments.
And now, with a Democrat in office, those who oppose Law and Order are all taking the side of the criminals.
Even the Democrat sitting behind the Oval Office…when he is not taking a nap.
Just like a criminal does not represent an entire race, neither do bad policemen represent an entire nation's Law Enforcement Officers.
They are heroes.
So, please allow me to end today's post with the text of a classic narration by the late, great Paul Harvey  titled "What is a Policeman?"
"A policeman is a composite of what all men are, I guess, a mingling of saint and sinner, dust and deity. What that really means is that they are exceptional, they are unusual. They are not commonplace. Buried under the froth is the fact, the fact is that less than one half of one percent of policeman misfit that uniform, and that is a better average than you'd find among clergymen."What is a policeman?

"He of all men is at once the most needed, and the most wanted, a strangely nameless creature who is sir to his face and pig or worse behind his back. He must be such a diplomat that he can settle differences between individuals so that each will think he won, but, if a policeman is neat, he's conceited, if he's careless he's a bum, if he's pleasant, he's a flirt, if he's not, he's a grouch.

"He must make instant decisions that would require months for a lawyer but if he hurries he's careless, if he's deliberate, he's lazy. He must be first to an accident, infallible with diagnoses. He must be able to start breathing, stop bleeding, tie splints and above all, be sure the victim goes home without a limp.

"The police officer must know every gun, draw on the run and hit where it doesn't hurt.

"He must be able to whip two men twice his size and half his age without damaging his uniform, and without being brutal. If you hit him he's a coward, if he hits you, he's a bully. The policeman from a single human hair must be able to describe the crime, the weapon the criminal, and tell you where the criminal is hiding but, if he catches the criminal he's lucky, if he doesn't he's a dunce.

"He runs files and writes reports until his eyes ache to build a case against some felon who will get dealt out by some shameless shamus. The policeman must be a minister, a social worker, a diplomat, a tough guy, and a gentle man. And of course, he'll have to be a genius, because he'll have to feed a family on a policeman's salary."
Until He Comes,
KJ
DONATIONS ARE WELCOME AND APPRECIATED.
Make a one-time donation
Make a monthly donation
Make a yearly donation
Choose an amount
Or enter a custom amount
$
---
Your contribution is appreciated.
Your contribution is appreciated.
Your contribution is appreciated.
Donate
Donate monthly
Donate yearly
FoxNews.com reports that
President Biden said during remarks on coronavirus vaccinations that he was not "supposed" to be answering questions.

After responding to a number of questions from reporters on the Colonial Pipeline shutdown and the unrest in Israel and Gaza, one reporter asked Biden how his infrastructure meeting with bipartisan lawmakers had gone.

"You guys are bad, I'm not supposed to be answering all these questions, I'm supposed to leave," the president responded. He added that he'd come away "encouraged" after meeting with House and Senate Republican Leaders Kevin McCarthy, Calif., and Sen. Mitch McConnell, Ky.

Biden also announced 250 million vaccines had been administered since he'd taken office and reiterated his support for Israel's "right to defend itself when you have thousands of rockets flying in your territory."

Last week, White House press secretary Jen Psaki said that Biden taking impromptu reporter questions is "not something we recommend."

She said that Biden takes questions "nearly every day that he's out in front of the press."

"That is not something we recommend. In fact, a lot of times we say 'don't take questions,'" she continued. "But he's going to do what he wants to do because he's the president of the United States."

But it's not just the president whose words to the press are policed by his communications team. Politico reported this week that the White House frequently requires that interviews with administration officials take place on "background with quote approval."

The practice means that information given can be used for a story, but in order for an official's name to be attached, the White House communications teams must first approve the quotes a reporter plans to use. Reporters say the practice was used often under President Obama and sometimes under President Trump, less frequently than with Biden's team, and they've grown "increasingly frustrated" by "abuse" of the practice.
Wow. How far we have fallen in terms of Presidential leadership, huh?
Dear readers, would you like to know who Biden is going to be in trouble with for attempting to answer reporters' questions off the cuff?
His Handlers, that's who.
A lot of fun has been had at Biden's expense over the fact that he is losing his war with dementia.
However, in terms of the safety of our country's citizens and our nation's continued existence, it is definitely not a laughing matter.
Any American who paid attention during the campaign soon figured out that Biden had some serious mental and physical health issues.
It was one thing to over look his inappropriate behavior during the Obama Presidency when he was just the Vice-President and Obama, Susan Rice, and Valerie Jarret were running the show, anyway.
Guess what?
They are still running the show!
I am certain that it has been difficult for them to cover for Biden's compromised state.
They knew that he was a doddering old fool even before the Democratic Primaries.
However, when the time came for Biden to start appearing during the Democrat Primaries and then, the Presidential Campaign itself, it was quite obvious that "Lunch Bucket Joe" was shy a potato chip or two.
Now, the President of the United States of America reminds average Americans of their relatives who live in nursing homes whom they have not seen in a while because they cannot bear to witness them deteriorating like Biden is.
HIs wife, "Dr." Jill Biden and the rest of his Handlers can try as hard as they can to hide his condition.
Unfortunately, as we have noticed, Joe is declining physically as well as mentally.
It's hard not to notice that the Leader of the Free World has cognitive issues as America is falling apart all around us and Hamas is shooting hundreds of rockets at our greatest ally, Israel..
Vice-President Kamala Harris and the Democrat Elites know that Joe's time in the Oval Office is limited.
That is another reason why Harris is the one who has been talking to world leaders directly.
And, why she is limiting her public appearances so that the country will not notice what a lightweight she is.
Please reference how stupid "Sleepy Joe" looked as the old World Leader wearing a mask during his  Zoom Conference Call with World Leaders.
Kamala might as well be ready to assume the Presidency.
Biden's tenure as President will end before the year is out….perhaps by Fall.
Until He Comes,
KJ
DONATIONS ARRE WELCOMED AND APPRECIATED.
Make a one-time donation
Make a monthly donation
Make a yearly donation
Choose an amount
Or enter a custom amount
$
---
Your contribution is appreciated.
Your contribution is appreciated.
Your contribution is appreciated.
Donate
Donate monthly
Donate yearly
FoxNews.com reports that
U.S. Special Climate Envoy John Kerry on Monday denied allegations that while he was serving as secretary of state under Barack Obama informed the Iranian foreign minister of Israeli operations in Syria.

In a Twitter post, Kerry called the claims – detailed in leaked audio obtained by several media outlets – 'unequivocally false.'

Iranian Foreign Minister Mohammad Javad Zarif alleged in the audio that Kerry told him that Israel had struck around 200 Iranian targets in Syria.

The Iranian leader admitted he was shocked by the purported admission, as reported by The New York Times.

Republicans were quick to jump on the reports as a betrayal to Israel – a key U.S. ally in the region – with some even calling for Kerry's resignation from his post in the Biden administration.

As previously reported by Fox News, Kerry has been accused of colluding with Iran to undermine President Donald Trump during his presidency in an effort to ease relations between the U.S. and Iran.

Kerry has said he met with Zarif on at least two occasions during the Trump administration, for which Trump said he should be "prosecuted."
The thing is, gentle readers, you can bet that John F. Kerry did not think of "reaching out" to the Iranians on his own.
What was conveniently forgotten during the Trump Administration, thanks to the Liberal Mass Freak-Out over the Trump-Russia Collusion Fairy Tale, is the fact that Barack Hussein Obama, the Former Petulant President Pantywaist himself, had set up his Command Headquarters for his "Shadow Government" just a few blocks away from the White House and had even moved his "right-hand Iranian" Valerie Jarrett, into the house with him and "Mooch".
When this was first reported. during his Nationally Syndicated Radio Talk Show, the late, great Rush Limbaugh stated on his March 2, 2017 Program that,
…The story is Valerie Jarrett moving in to the Obama family home. What the hell's up with that?

There's a story here is about how Obama and his people are running the resistance operation from that home, and that's why she's moved in. The story here is the Democrat Party being blown out of the water in election after election after election. The story here is Barack Obama's agenda has been totally reputed by the American people. It has been rejected in 2010. It was rejected in 2012. It was rejected in 2016. It was sent packing. The story here is that Barack Obama is humiliated and angry and embarrassed that his effort to transform the United States of America into some kind of socialist paradise has been interrupted, that he was the architect of the Democrat Party defeat. And that cannot stand for the history books! And so this story is all about the Democrat Party trying to rewrite history and make it look like they actually won were it not for the cheating of the Russians and Trump.

They're trying to convince the Europeans of this. They're doing everything they can to delegitimize Trump, his administration, his victory. That is the story that people need to focus on because there's evidence for that. There is evidence at every town hall protest. There is evidence all over this country every day that this sabotage is going on.
It appears the story that El Rushbo was referring to was 100% correct.
Merriam-Webster.com defines "sedition" as
: incitement of resistance to or insurrection against lawful authority
That being said, the intentional interference in the Foreign Policy of the United States of America by Former Secretary of State John F. Kerry though his rogue "negotiations" with the hostile Radical Islamic Rogue Nation of Iran can not be considered to be anything less. According to Federal Law, the punishment for Seditious Conspiracy  is detailed as follows..
If two or more persons in any State or Territory, or in any place subject to the jurisdiction of the United States, conspire to overthrow, put down, or to destroy by force the Government of the United States, or to levy war against them, or to oppose by force the authority thereof, or by force to prevent, hinder, or delay the execution of any law of the United States, or by force to seize, take, or possess any property of the United States contrary to the authority thereof, they shall each be fined under this title or imprisoned not more than twenty years, or both.
The Trump Administration and its specified duties regarding the operation of the Government of the United States of America and the oversight of the safety and welfare of its citizens were constantly under attack by both members of a Former Presidential Administration and by members of our own Department of Justice.
It is a wonder that President Trump was able to accomplish as much as he did for our Sovereign Nation.
Until He Comes,
KJ
DONATIONS ARE WELCOMED AND APPRECIATED.
Make a one-time donation
Make a monthly donation
Make a yearly donation
Choose an amount
Or enter a custom amount
$
---
Your contribution is appreciated.
Your contribution is appreciated.
Your contribution is appreciated.
Donate
Donate monthly
Donate yearly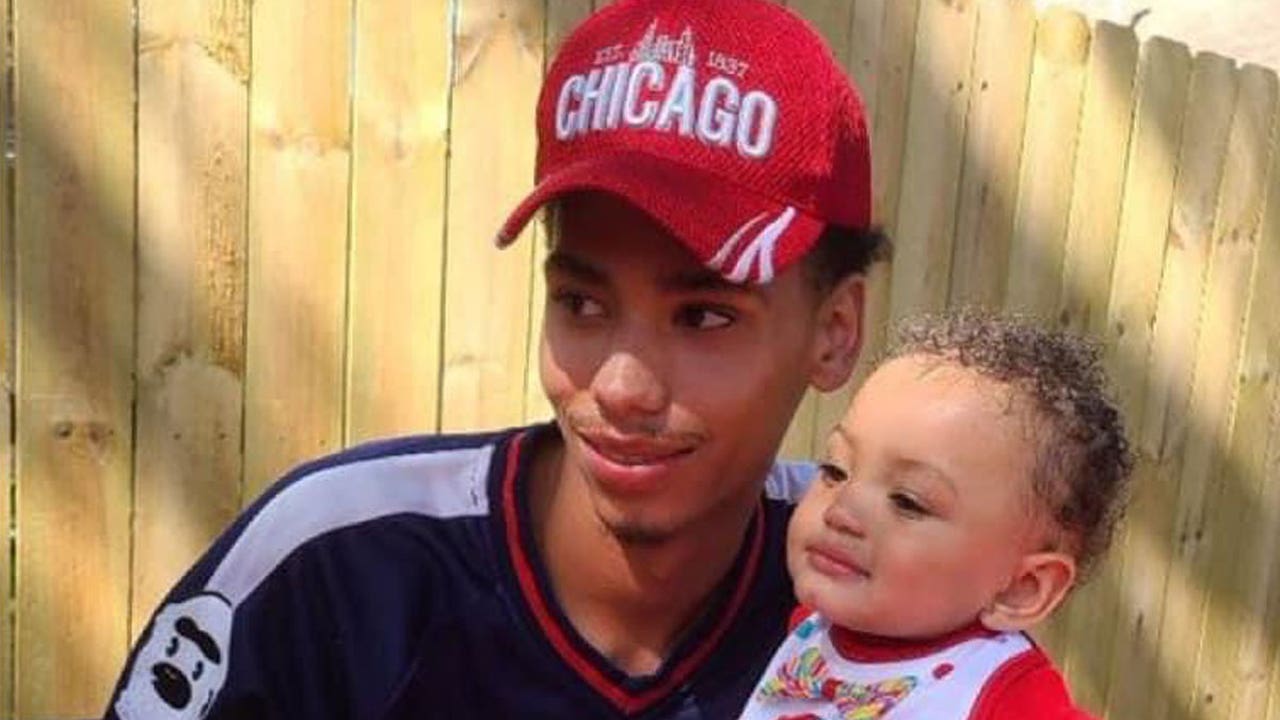 FoxNews.com reports that
Daunte Wright, the 20-year-old Black man shot by a police officer in a Minneapolis suburb Sunday afternoon, had an open warrant for his arrest related to an aggravated armed robbery attempt when he was killed, according to court records.

Wright and another man, identified as Emajay Maurice Driver, a high school acquaintance, had both been charged with first-degree aggravated robbery in a December 2019 incident in Osseso, Minn., Hennepin County District Court documents show.

According to the documents, Wright and Driver went to a party at an apartment in the 600 block of North Oaks Drive in Osseo – about 5 miles from Brooklyn Center, where Wright was fatally shot.

Around 2:30 a.m., two women at the home told Wright and Driver they needed to leave, but the two men said they did not have a ride, the documents say. The women reportedly allowed the Wright and Driver to spend the night.

In the morning, one of the two women left the apartment to get $820 in cash to pay the other for rent. After paying the rent, she left for work.

As Wright and Driver were waiting for their rides, the other woman who stayed behind said Wright allegedly blocked the door, preventing her from leaving. Wright then allegedly pulled a black handgun "with silver trim out from either his right waistband or his right coat pocket," pointed it at the woman and demanded the $820, the court documents say.

The victim asked him, "Are you serious?" to which he allegedly responded, "Give me the f—ing money, I know you have it," according to the court documents.

When she asked again if he was serious, he allegedly told her, "I'm not playing around."

Wright then allegedly choked the woman while trying to pull the cash out from under her bra, where she had tucked it away.

The court documents say she was able to pry herself loose and "started to kneel down and scream." She told authorities that she allegedly heard Driver tell her to give the money to Wright, who was yelling at her to stop screaming.

She reportedly screamed at them to get out of her apartment, telling them that the cops were close. Wright allegedly told her he would shoot her and said, "Give me the money and we will leave, give me the money and we will go."

He allegedly tried to choke her a second time and tried to take her money, according to the court documents. Driver allegedly told her to give Wright the money. The two men then left the apartment, got into a white Cadillac, and left the scene without the money. The woman later identified Wright and Driver via photo line-ups.

Wright was arrested and later released on $100,000 bail. As a condition of his release, he was not to have contact with the victim or witnesses, had to refrain from drugs and alcohol, and could not possess a firearm.

Wright's bail was reportedly revoked in July because he allegedly possessed a firearm and was not keeping in touch with his probation officer, according to The Daily Mail, which was the first outlet to report on the aggravate robbery attempt.

The case was still pending when Wright was pulled over Sunday for having an expired license plate. Police then tried to arrest him on an outstanding warrant after failing to appear in court on charges that he fled from officers and possessed a gun without a permit during an encounter with Minneapolis police in June.
So, this is the "Role Model for American 'Yutes'" that has inspired BLM-organized riots and demonstrations across the country.
Yes, it was a horrible, tragic mistake on the part of Officer Potter and she will pay for it.
However, those who are demonstrating and rioting are not making things better by doing so.
They are harming their fellow citizens and are deepening the racial division which the Democratic Party has purposefully worked to widen since Barack Hussein Obama (mm mmm mmmm) became the 44th President of the United States of America.
This have gotten so STUPID that the Black Mayor of the Minneapolis Suburb where the shooting took place has come out and said that the police should not be wearing weapons when they perform a routine traffic stop.
Really, Mr. Mayor??!!
Do you want them to wear uniforms with targets painted on their chests, too?
Dear Lord.
Americans are witnessing a replay of the Russian Revolution with BLM, Antifa, and the rest of the rioters playing the part of the Bolsheviks, otherwise known as "Useful Idiots".
To "radically change" a country, first you have to whip up its citizens into such a frenzy that they no longer think for themselves.
Rather, they act in unison as a crowd, focusing and acting on the "shared indignation" which brings them together.
Once they are united in a cause, they are more easily manipulated to proceed with the process of "radically changing" the country into what those who are manipulating them want it to be.
In the case of the Russian Revolution, the manipulator of the masses was the Marxist, Vladimir Lenin.
In the case of the rioters, it is the group known as Black Lives Matter, whose leader is a self-proclaimed Marxist, who has become rich from the labor of her "New Bolsheviks".
So, why aren't the Biden-Harris Administration and the rest of the Democrat Elite trying to stop the rioting, like President Trump tried to?
Simple.
In order to make an omelet, you have to break a few eggs.
And, in order to change America into a Democratic Socialist country, you have to overthrow our present society, which is kept safe by "The Thin Blue Line", and replace those protecting us with "Useful Idiots".
Thus endeth the lesson.
God help us.
Until He Comes,
KJ
DONATIONS ARE WELCOME AND APPRECIATED.
Make a one-time donation
Make a monthly donation
Make a yearly donation
Choose an amount
Or enter a custom amount
$
---
Your contribution is appreciated.
Your contribution is appreciated.
Your contribution is appreciated.
Donate
Donate monthly
Donate yearly