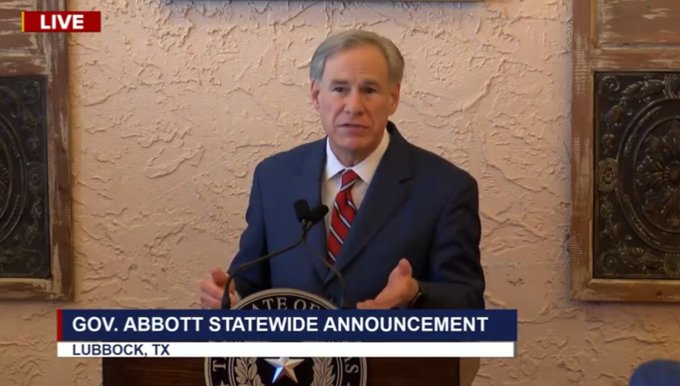 Newsmax.com reports that
Texas on Tuesday became the biggest state to lift its mask rule, joining a rapidly growing movement by governors and other leaders across the U.S. to loosen COVID-19 restrictions despite pleas from health officials not to let their guard down yet.

The Lone Star State will also do away with limits on the number of diners who can be served indoors, said Republican Gov. Greg Abbott, who made the announcement at a restaurant in Lubbock.

The governors of Michigan, Mississippi and Louisiana likewise eased up on bars, restaurants and other businesses Tuesday, as did the mayor of San Francisco.

"Removing statewide mandates does not end personal responsibility," said Abbott, speaking from a crowded dining room where many of those surrounding him were not wearing masks. "It's just that now state mandates are no longer needed."

A year into the crisis, politicians and ordinary Americans alike have grown tired of rules meant to stem the spread of the coronavirus, which has killed over a half-million people in the United States. Some places are lifting infection control measures; in other places, people are ignoring them.

Top health officials, including the head of the Centers for Disease Control and Prevention, have responded by begging people repeatedly not to risk another deadly wave of contagion just when the nation is making progress in vaccinating people and victory over the outbreak is in sight.

U.S. cases have plunged more than 70% over the past two months from an average of nearly 250,000 new infections a day, while average deaths per day have plummeted about 40% since mid-January.

But the two curves have leveled off abruptly in the past several days and have even risen slightly, and the numbers are still running at alarmingly high levels, with an average of about 2,000 deaths and 68,000 cases per day. Health officials are increasingly worried about virus mutations.

"We stand to completely lose the hard-earned ground we have gained," CDC director Dr. Rochelle Walensky warned on Monday.

Even so, many Americans are sick of the shutdowns that have damaged their livelihoods and are eager to socialize again.
Amen.
I am happy to say that my state, Mississippi, is one of those who are throwing off their lockdown chains.
While actually being able to speak to someone without being muffled by a mask and being able to see the person whom you are speaking with smile will be wonderful, Gov. Abbott is right, common sense and some precautions in the name of personal responsibility must still prevail.
Trust me. My wife and I were severely ill for a month with COVID-19.
I would not wish it on anyone…even Biden's Handlers.
As states begin to shake off the yoke of the Chinese Coronavirus, look for the Blue States to be the last to allow their residents to go back to living their normal lives.
The reason for that is obvious: A bunch of Democrat Governors in the Blue States, in their unfettered zeal to exercise unabridged control over the daily lives of the "common" people in their state, exceeded the powers of their office and did stupid and downright ignorant things, like putting those stricken with the illness in Nursing Homes, like Governor Andrew Cuomo of New York did.
These Democrats fear the repercussions for their Executive Overreach.
It is hard to believe that it has only been a year since the "WuFlu" "accidently" escaped the confines of the Institute of Virology in Wuhan Province.
It feels like an eternity,
Americans have lost family members, gotten extremely sick, and have lost income because of COVID-19.
The Democrats turned the "Plague" into an excuse to change state rules for voting in a national election, leading to the election of an 78-year old man suffering from dementia as the President of the United States of America.
And now, the Democrats in Congress are fighting to make those "changes" permanent.
I am glad that the Chinese Coronavirus appears to be on the way out.
Average Americans are going to need all of the strength and conviction which we can muster to fight against the fascist tyranny which the Democrats sitting in the Halls of Power in Washington, D. C. have planned to pass as laws in the next four years.
Gird your loins.
Until He Comes
KJ