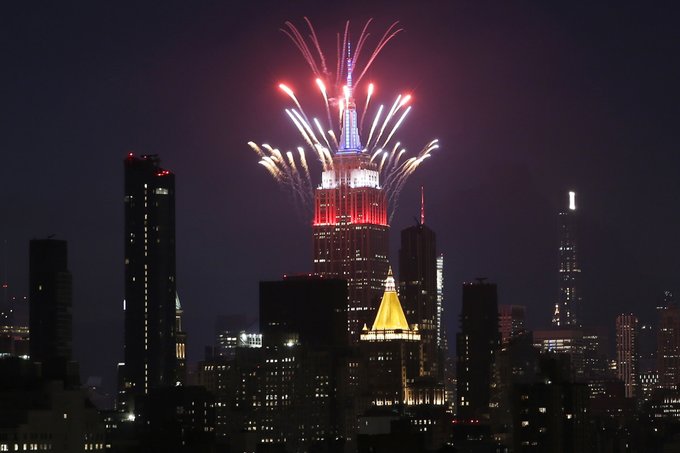 FoxNews.com reports that
One Democratic lawmaker and several left-wing figures used the Fourth of July to share controversial statements or disparage the founding of the United States.

Democrat Rep. Cori Bush, D-Mo, tweeted out "When they say that the 4th of July is about American freedom, remember this: the freedom they're referring to is for White people. This land is stolen land and Black people still aren't free."

There were some who agreed with Bush's comments like congressional candidate Shahid Buttar. He replied to her tweet saying "Speak it, @CoriBush! It's almost as if our entire country has been brainwashed to ignore our history—and how its worst elements continue today—despite our self-congratulatory rhetoric."

Former MSNBC anchor Toure was far more vocal, tweeting out "F–k Independence Day. Not only were we not free, the whole reason the Colonies wanted independence was because Britain was moving toward abolishing slavery. Why would Black people celebrate a day so wrapped up in our enslavement?"

He also tweeted out his own opinion piece for the website The Grio titled "F–k Fourth of July: The only independence day I recognize is Juneteenth."

Actress Alyssa Milano also disparaged the Fourth of July by sharing a TikTok video of herself reading "Reminder: The United States was founded on the unjust treatment of Native Americans, Africans and other people of color."

News organizations also took the opportunity to use the holiday to criticize the United States and its history.

NPR tweeted out a thread of the original Declaration of Independence, claiming it to be "a document with flaws and deeply ingrained hypocrisies." It also remarked immediately that the document "says 'that all men are created equal' — but women, enslaved people, Indigenous people and many others were not held as equal at the time."

The Washington Post went even further by posting several opinion pieces that critique the holiday or use it for political partisanship. These pieces included "The Fourth is for complainers," "Independence Day 2021 is an apt occasion to celebrate America's liberation from Trump," and a perspective piece titled "July Fourth is Independence Day for two countries. But for one it is hollow."

This followed the New York Times opinion piece that suggested the American flag became a symbol of divisiveness. In the article titled "A Fourth of July Symbol of Unity That May No Longer Unite."

"Today, flying the American flag from the back of a pickup truck or over a lawn is increasingly seen as a clue, albeit an imperfect one, to a person's political affiliation in a deeply divided nation," the article states.
Now that the Democratic Party has become nothing but a Far Left, Marxism-embracing, American-hating, special interest groups butt-kissing bunch of self-absorbed ungrateful American-haters, they have lost all credibility with average Americans.
So, why don't clowns like Rep. Cori Bush, Toure, and Alyssa Milno, the Democrat Minions who work at the Propaganda Machines known as CNN and MSNBC and their masters, the Democratic Party, understand that attacking Traditional American Values, such as was on display during 4th of July Celebrations across the Heartland of America, 24 hours a day, 7 days a week, is why they continue to lose viewers and voters?
Simple. They are blinded by their egotistical rage.
In American Politics, as far as anybody can remember, that is still alive and kicking, you have had those of a political ideology who were Pro-American and Gung Ho about all the things that this country stands for. And, on the other side, you had those of a political ideology who criticized everything that America stood for, and still stands for, to this day.
From those who believed that Communism would be great for America back in the 1950s, to those in the 1960's, who wanted to "tune in, turn on, and drop out", and spit on our returning Servicemen, to those of the 1970s who were naïve pacifists like their President, Jimmy Carter, to those in the 1980s, who were part of the "Me Generation", to those whom we call "Progressives" (a misnomer) or "Modern Liberals" in our present generation, including Nancy Pelosi, Chuck "U" Schumer, Jerry Nadler, Bill and Hillary Clinton, Former (Thank God) President Barack Hussein Obama and the unfunny comedy team of Dementia Joe and "Heels Up" Harris, there has always been a minority segment of American Society, who despise everything that this land, which was given us by the Almighty and was fought for and died for by those before us, stands for, while they reap all the benefits of America the Beautiful.
Through the last several decades, the Democratic Party, once the party of the "Middle Class Working American" has devolved into a Far Left Political Party of special interest groups and has become the champion and practitioner of the "Tyranny of the Minority".
What we have heah is failure to communicate. – Strother Martin, "Cool Hand Luke".
While spending time on Facebook Political Pages, which I really should cut down on, as it tends to increase my blood pressure to Mt. Vesuvius Levels, I continuously encounter individuals who echo the sentiments of the Far Left self-proclaimed geniuses who champion the Far Left Democratic Party and who believe that anybody who works hard for a living, believes in God and Country, and who still support Former President Trump, is a Jingoistic imbecile.
The same intolerant idiots who have decided that they do not need to hire "straight white males".
By the way, according to the dictionary, Jingoism is an extreme chauvinism or nationalism marked especially by a belligerent foreign policy.
In other words, being guilty of "patriotism", i.e., believing that America is the greatest country on the face of God's Green Earth and believing in American Exceptionalism.
And, that is fuel that drives idiots like Rep. Cori Bush and the bosses at MSNBC to act like ungrateful imbeciles.
This ol' cracka has any idea for y'all:
If you don't like it here…LEAVE!
…and take the Biden-Harris Administration and the Democrat Elite on Capitol Hill with you.
GOD BLESS AMERICA!
Until He Comes,
KJ
DONATIONS ARE WELCOME AND APPRECIATED.
Make a one-time donation
Make a monthly donation
Make a yearly donation
Choose an amount
Or enter a custom amount
$
---
Your contribution is appreciated.
Your contribution is appreciated.
Your contribution is appreciated.
Donate
Donate monthly
Donate yearly
FoxNews.com reports that
Amid increased scrutiny of Black Lives Matter co-founder Patrisse Cullor's lavish spending, including her reported purchases of multiple homes totaling upward of $3 million and the installation of fencing and an electric gate around one of those homes, the original ten BLM chapters are demanding more accountability and transparency from the BLM global network.

The BLM infighting comes on the heels of Cullors announcing she would step down from her role as the BLM foundation executive director as questions surrounding her finances swirled. Cullors, however, denied that her decision to resign had anything to do with that controversy, insisting she had planned to step away for more than a year.

But Cullors' move to step down is not enough to satisfy a growing number of BLM chapters' demand for change within the organization. Referring to initial calls for more transparency and accountability from the "BLM 10," the name for the ten original BLM chapters, a new group, deemed the "BLM 10 Plus" is now speaking out.

"The number of chapters that have aligned in support of our statement has nearly doubled. Some of these chapters have made their own statements echoing not only our call to accountability but also our experiences as we sought transparency, democracy, and internal transformation for years," a statement released by the BLM 10 Plus on Friday reads.

"The BLM 10 Plus continues the call for transparency and most importantly, for principled accountability in movement infrastructures. The issues we've highlighted within the Black Lives Matter movement are not unique to this group or to people of color. Grassroots movements have been co-opted across the globe and it is our intention to be a part of the collective creating processes based on integrity so that we, nor any other activist or advocate, encounters these avoidable issues in the future," the statement continues.

Among the most notable names joining forces with the BLM 10 Plus is Michael Brown Sr., the Ferguson, Missouri father of 18-year-old Michael Brown who was fatally shot by a White police officer in 2014.

According to the BLM 10 Plus, backlash that boiled over in November with a public statement critical of how BLM was being run resulted in the names of chapters that voice disagreement being removed from the BLM Global Network website.

All of this comes just days after the BLM Global network reiterated its commitment to the "on-the-ground grassroots work of organizers, chapters, and communities around the world."

"Over the past six months, BLM Grassroots has created a process for onboarding new chapters that will nourish our collective vision for Black freedom. Together we will build, grow, and expand while harnessing the wisdom learned over the past 8 years," the BLM Global network said.

"As we work to bring these new chapters into the fold worldwide, we are resolute in our commitment to Black liberation and to principled struggle. Now is the time to fortify our deep roots while strengthening new relationships and strategic work."

BLM 10 Plus and the BLM Global Network did not return Fox News' request for comment.
All of those who are involved in this organization are nothing but "useful idiots".
According to an article on Breitbart.com…
The co-founder of the Black Lives Matter (BLM) movement, Patrisse Cullors, was the protégé of a communist-supporting domestic terrorist for over a decade, spending years training in political organizing and absorbing the radical Marxist-Leninist ideology which shaped her worldview.

Eric Mann, who mentored Cullors for over a decade in community organizing, was a member of radical-left militant groups: Students for a Democratic Society and the Weather Underground, which bombed government buildings and police stations in the 1960s and 1970s.

In a newly resurfaced video from 2015, Black Lives Matter co-founder Patrisse Cullors reveals that she and her fellow BLM founders are "trained Marxists."

In the video, Cullors is interviewed by Jared Ball of the Real News Network and discusses the direction of the BLM movement.

"The first thing, I think, is that we actually do have an ideological frame. Myself and Alicia in particular are trained organizers," she said. "We are trained Marxists. We are super-versed on, sort of, ideological theories. And I think that what we really tried to do is build a movement that could be utilized by many, many black folk."

In previous interviews in 2018, while promoting her then-new book titled, "When They Call You a Terrorist: A Black Lives Matter Memoir," Cullors describes her introduction to and affinity for Marxist ideology.

In an interview with Democracy Now!, Cullors describes how she became a trained organizer with the Labor/Community Strategy Center, calling it her "first political home" and the center's director, Eric Mann, her personal mentor.

She told The Politic that it was there that she was trained from her youth and grew as a leader.
BLM believes in destroying the traditional American Nuclear Family. The proof can be found on their official website, BlackLivesMatter.com…
We are guided by the fact that all Black lives matter, regardless of actual or perceived sexual identity, gender identity, gender expression, economic status, ability, disability, religious beliefs or disbeliefs, immigration status, or location.

We make space for transgender brothers and sisters to participate and lead.

We are self-reflexive and do the work required to dismantle cisgender privilege and uplift Black trans folk, especially Black trans women who continue to be disproportionately impacted by trans-antagonistic violence.

We build a space that affirms Black women and is free from sexism, misogyny, and environments in which men are centered.

We practice empathy. We engage comrades with the intent to learn about and connect with their contexts.

We make our spaces family-friendly and enable parents to fully participate with their children. We dismantle the patriarchal practice that requires mothers to work "double shifts" so that they can mother in private even as they participate in public justice work.

We disrupt the Western-prescribed nuclear family structure requirement by supporting each other as extended families and "villages" that collectively care for one another, especially our children, to the degree that mothers, parents, and children are comfortable.

We foster a queer‐affirming network. When we gather, we do so with the intention of freeing ourselves from the tight grip of heteronormative thinking, or rather, the belief that all in the world are heterosexual (unless s/he or they disclose otherwise).

We cultivate an intergenerational and communal network free from ageism. We believe that all people, regardless of age, show up with the capacity to lead and learn.

We embody and practice justice, liberation, and peace in our engagements with one another.
On May 5, 2015, Black Economist and Conservative Pundit, Dr. Thomas Sowell, published the following observation in an op ed about racial division…
You cannot take any people, of any color, and exempt them from the requirements of civilization — including work, behavioral standards, personal responsibility and all the other basic things that the clever intelligentsia disdain — without ruinous consequences to them and to society at large.

Non-judgmental subsidies of counterproductive lifestyles are treating people as if they were livestock, to be fed and tended by others in a welfare state — and yet expecting them to develop as human beings have developed when facing the challenges of life themselves.

One key fact that keeps getting ignored is that the poverty rate among black married couples has been in single digits every year since 1994. Behavior matters and facts matter, more than the prevailing social visions or political empires built on those visions. [Emphasis mine.]
If the Democrat Elite, like Sleepy Joe Biden and "Heels Up" Kamala Harris, along with those who are still rioting in our major cities, and all other Modern American Liberals, both black and white, Democrat and Republican, in Municipal, State, and National Leadership Positions, would focus their angst and "concern" on the society-altering, continuing dissolution of the Black Family Unit and work instead toward the restoration of the Black Family Unit, instead of attempting to blame our city's police officers and average Americans for the violence in our streets, perhaps the stifling defeatism of the cycle of Generational Poverty and Crime, and the violence it brings, would eventually be a thing of the past, or greatly diminished, anyway.
Then, I wouldn't be awakened every morning, by the Local News in Memphis, to stories about Black Americans killing each other, or mobs of Black Teenagers beating up innocent people.
And American Families could actually go to events in Democrat-run American Cities without being afraid of being robbed, beaten, raped, or killed..
Until He Comes,
KJ
DONATIONS ARE WELCOME AND APPRECIATED.
Make a one-time donation
Make a monthly donation
Make a yearly donation
Choose an amount
Or enter a custom amount
$
---
Your contribution is appreciated.
Your contribution is appreciated.
Your contribution is appreciated.
Donate
Donate monthly
Donate yearly
We must continue working toward a time when all people respect and understand the important work that law enforcement officers do.  Unfortunately, our law enforcement officers do not always receive the respect they deserve.  These brave men and women must operate in an environment where their moral and legal authority is constantly being scrutinized, and they undertake the critical yet difficult task of addressing the actions of those affected by addiction, homelessness, and mental illness.  Their ability to work well in the face of these and other challenges is extraordinary, and we have incredible appreciation for their public service and selflessness. – President Donald J. Trump, "Proclamation on Peace Officers Memorial Day and Police Week, 2020"

FoxNews.com reports that
President Biden is marking Police Week with a statement that includes language about the "deep sense of distrust" toward cops by Black and brown Americans and the "trauma" caused by deaths in police custody — a statement described as "beyond disappointing" by one police group.

Biden's proclamation marking both Police Week and Peace Officers Memorial Day, begins by praising law enforcement for their wide range of duties in securing public safety.

"Every morning, our Nation's law enforcement officers pin on a badge and go to work, not knowing what the day will bring, and hoping to come home safely," the president says, before noting the impact of COVID-19 on the men and women in blue.

"As we recognize Peace Officers Memorial Day and Police Week, we honor those who lost their lives in the line of duty, and thank them on behalf of this grateful Nation for their service," he says.

But after promising to support law enforcement "and work to ensure they have the resources and research tools they need to do their jobs successfully and the funding necessary to enhance officer safety and wellness," the statement begins talking about the alleged harm caused to minority communities by police.

"This year, we also recognize that in many of our communities, especially Black and brown communities, there is a deep sense of distrust towards law enforcement; a distrust that has been exacerbated by the recent deaths of several Black and brown people at the hands of law enforcement," he says.

Biden has pushed for police reform in the wake of the death of George Floyd, for which the police officer was convicted of murder, and his Department of Justice has returned to the Obama-era practice of issuing consent decrees to crack down on police departments — amid claims by activists and many Democrats that such deaths are caused by systemic racism.

"These deaths have resulted in a profound fear, trauma, pain, and exhaustion for many Black and brown Americans, and the resulting breakdown in trust between law enforcement and the communities they have sworn to protect and serve ultimately makes officers' jobs harder and more dangerous as well," Biden wrote. "In order to rebuild that trust, our State, local, and Federal Government and law enforcement agencies must protect constitutional rights, ensure accountability for misconduct, and embrace policing that reflects community values and ensures community safety. These approaches benefit those who wear the badge and those who count on their protection."

The statements are in stark contrast to those from the overwhelmingly positive proclamations issued by the Trump administration, and even the Obama administration — where a 2016 proclamation included no explicit reference to such controversies and said that cops "care deeply about their communities, and together with our partners in law enforcement, we must work to build up our neighborhoods, prevent crime before it happens, and put opportunity within reach for all our people."

Biden's proclamation comes amid a police week that was barely marked by the White House — although Biden did invite illegal immigrants protected from deportation by the Deferred Action for Childhood Arrivals (DACA) program to the White House, amid a number of non-cop related events.

"This week we pause to pay respect to our law enforcement officers, particularly those who have made the ultimate sacrifice to protect their communities," Jason Johnson, president of the Law Enforcement Legal Defense Fund told Fox News. "It is beyond disappointing to see the president of the United States continue to perpetuate false and hurtful myths about police, rather than uniting as he claimed he would during the campaign. "

Rep. Ronny Jackson, R-Texas, accused Biden of expressing a "Bash the Blue" attitude toward law enforcement.

"I'm still DISGUSTED that Biden would use his official Police Week statement to suggest that every Cop is a racist. Democrat hatred for our police is outright REPULSIVE," he tweeted.

The controversy comes as Biden faces continued pressure on policing from the left of his own party, who have pushed for police departments to be defunded entirely.
So, Appointed President Biden and the rest of you Far Left Democrats, how are you going to protect Americans when you run all of our municipal law enforcement officers off their jobs?
What are you going to do? Post "This is a Gun-Free Zone" signs all over your cities to discourage the criminals?
Tell all of the Gang Bangers to hand over their guns?
On July 2, 2008, Democratic Presidential Candidate Barack Obama proclaimed in a speech:
"We cannot continue to rely on our military in order to achieve the national security objectives that we've set," he said. "We've got to have a civilian national security force that's just as powerful, just as strong, just as well-funded."
This part of Barack Hussein Obama's political platform was quickly hidden away, never to be spoken of again.
At least, not openly.
As is my wont to do, I have been thinking back over Obama's Imperial Presidency, and his statements concerning America's Municipal Law Enforcement Organizations.
When issues involving law enforcement arose during his presidency, time and again, Obama came on the opposite side from every single local law enforcement organization.
Now, isn't the President of the United States supposed to be on the side of Law and Order?
Biden certainly isn't.
Neither is the man pulling his strings, the 44th President of the United States of America, Barack Hussein Obama (mm mmm mmmm).
Why would Barack Hussein Obama not support local law enforcement during his "first" presidency?
Perhaps, because he wanted to build a National Municipal Law Enforcement Organization, under his command and the command of the Department of Justice.
Fast forward to today…
All of the cities and states which have experienced "trouble"  with police departments happen to be Blue States with Democrats in charge of State and Municipal Governments.
Instead of relying on traditional police departments and the American System of Law and Order, Democrats like those in the Minneapolis City Council want to have the power to circumvent the American System of Justice because of their issues in the past with it.
The death of ex-convict George Floyd gave them the excuse to attempt to defund police departments.
And now, with a Democrat in office, those who oppose Law and Order are all taking the side of the criminals.
Even the Democrat sitting behind the Oval Office…when he is not taking a nap.
Just like a criminal does not represent an entire race, neither do bad policemen represent an entire nation's Law Enforcement Officers.
They are heroes.
So, please allow me to end today's post with the text of a classic narration by the late, great Paul Harvey  titled "What is a Policeman?"
"A policeman is a composite of what all men are, I guess, a mingling of saint and sinner, dust and deity. What that really means is that they are exceptional, they are unusual. They are not commonplace. Buried under the froth is the fact, the fact is that less than one half of one percent of policeman misfit that uniform, and that is a better average than you'd find among clergymen."What is a policeman?

"He of all men is at once the most needed, and the most wanted, a strangely nameless creature who is sir to his face and pig or worse behind his back. He must be such a diplomat that he can settle differences between individuals so that each will think he won, but, if a policeman is neat, he's conceited, if he's careless he's a bum, if he's pleasant, he's a flirt, if he's not, he's a grouch.

"He must make instant decisions that would require months for a lawyer but if he hurries he's careless, if he's deliberate, he's lazy. He must be first to an accident, infallible with diagnoses. He must be able to start breathing, stop bleeding, tie splints and above all, be sure the victim goes home without a limp.

"The police officer must know every gun, draw on the run and hit where it doesn't hurt.

"He must be able to whip two men twice his size and half his age without damaging his uniform, and without being brutal. If you hit him he's a coward, if he hits you, he's a bully. The policeman from a single human hair must be able to describe the crime, the weapon the criminal, and tell you where the criminal is hiding but, if he catches the criminal he's lucky, if he doesn't he's a dunce.

"He runs files and writes reports until his eyes ache to build a case against some felon who will get dealt out by some shameless shamus. The policeman must be a minister, a social worker, a diplomat, a tough guy, and a gentle man. And of course, he'll have to be a genius, because he'll have to feed a family on a policeman's salary."
Until He Comes,
KJ
DONATIONS ARE WELCOME AND APPRECIATED.
Make a one-time donation
Make a monthly donation
Make a yearly donation
Choose an amount
Or enter a custom amount
$
---
Your contribution is appreciated.
Your contribution is appreciated.
Your contribution is appreciated.
Donate
Donate monthly
Donate yearly
https://twitter.com/toddstarnes/status/1295555312225865728?s=20
FoxNews.com reports that
Former first lady Michelle Obama, in a measured but searing address to close out Democrats' opening convention night, accused President Trump's White House of operating in "chaos" and without "empathy" as she urged voters to cast their ballots for Joe Biden like their lives depend on it.

In prerecorded remarks, Obama stressed the "awesome power of the presidency," while saying the job "requires clear-headed judgment, a masterly of complex and competing issues, a moral compass and an ability to listen."

She added: "Whenever we look to this White House for some leadership or consultation or any semblance of steadiness, what we get instead is chaos, division and a total and utter lack of empathy."

The address was widely praised by Democrats as a powerful indictment of the administration. But it also came at the close of a first-night program that was awfully bleak at times, especially with Sen. Bernie Sanders repeatedly saying the country is facing the threat of "authoritarianism."

Trump campaign adviser Steve Cortes told Fox News' Laura Ingraham that they presented a "dystopian" picture of the country. And the unusual format, at the first-ever virtual political convention, also raised eyebrows as videos of musical performances and news-style segments hosted by Eva Longoria were interspersed with remarks from lawmakers.

But Michelle Obama, in an impassioned address, sought to tie the strings together, concluding Trump is "the wrong president for our country."

"He has had more than enough time…He is clearly in over his head," she said. "He cannot meet this moment. He simply cannot be who we need him to be for us."

She added: "It is what it is." (This may have been a swipe at Trump's infamous comment on coronavirus deaths.)

Obama went on to warn: "If you think things cannot possibly get worse, trust me, they can, and they will if we don't make a change in this election."

"If we have any hope of ending this chaos, we have got to vote for Joe Biden like our lives depend on it," she said. "I know Joe. He is a profoundly decent man guided by faith."

Obama did not mention Biden's running mate, Sen. Kamala Harris, D-Calif., who is the first woman of color to be named as a vice presidential nominee for a major party. It's possible the video was recorded before she was named.

Obama also slammed "the America that is on display for the next generation."

"A nation that's underperforming, not simply on matters of policy, but on matters of character, and that's not just disappointing, it's downright infuriating," she said, noting she knows "the goodness and grace" across the country.

Obama said "empathy" was something she has "been thinking a lot about lately."

"The ability to walk in someone else's shoes. The recognition that someone else's experience has values too," she said. "Most of us practice this without a second thought."

She went on to say that children in the U.S. "are seeing what happens when we stop requiring empathy of one another."

"They're looking around wondering if we've been lying to them this whole time," she said. "They see people shouting in grocery stores unwilling to wear a mask to keep us all safe; they see people calling the police on folks minding their own business just because of the color of their skin…They see our leaders labeling fellow citizens enemy of the state, while emboldening torch-baring white supremacists."

Meanwhile, Obama referenced her "they go low, we go high" catchphrase, explaining that "going high is the only thing that works" but doesn't always mean being nice.

"When we go low, degrading and dehumanizing others, we just become part of the other noise that's drowning out everything else," she said. "Let's be clear: going high does not mean putting on a smile and saying nice things when confronted by viciousness and cruelty."

She added: "Going high means going the higher path—scraping and clawing to that mountain top."
Let's review Michelle Obama taking that "higher path" that she referred to last night…
On January 23rd, 2008, during a speech given in Columbia, South Carolina, Michelle Obama said:
We don't like being pushed outside of our comfort zones. You know it right here on this campus. You know people sitting at different tables, y'all living in different dorms. I was there. Y'all not talking to each another, taking advantage of the fact that you're in this diverse community because sometimes it's easier to hold onto your own stereotypes and misconceptions, it makes you feel justified in your ignorance. That's America. So the challenge for us is, are we ready for change?
Then, in February of 2008, while campaigning for her husband in Wisconsin, Mrs. Obama said:
Let me tell you something. For the first time in my adult life, I am proud of my country, because it feels like hope is finally making a comeback.

And let me tell you something. I need to believe that we live in that kind of nation, where hope and possibility and unity is still what drives us.
She made the "proud" comment twice in 2 different speeches. David Axlerod, Obama's Chief Strategist, tried to explain it away at the time, saying:
She gives this talk all the time, and I don't think she formulates the words quite that way generally. But if you look at the whole quote and read beyond it, she was plainly talking about this burst of participation, this sense of hope, the sense of possibility and so on. And she was talking about the politics of our country.
In an article titled "The Other Obama", published on March 10, 2008, in The New Yorker Magazine, writer Lauren Collins gave us the following insights into the Future First Lady's true feelings about America:
The four times I heard her give the speech—in a ballroom at the University of South Carolina, from the pulpit of Pee Dee Union, at an art gallery in Charleston, and in the auditorium of St. Norbert College, in De Pere, Wisconsin—its content was admirably consistent, with few of the politician's customary tweaks and nods to the demographic predilections, or prejudices, of a particular audience.

Obama begins with a broad assessment of life in America in 2008, and life is not good: we're a divided country, we're a country that is "just downright mean," we are "guided by fear," we're a nation of cynics, sloths, and complacents. "We have become a nation of struggling folks who are barely making it every day," she said, as heads bobbed in the pews. "Folks are just jammed up, and it's gotten worse over my lifetime. And, doggone it, I'm young. Forty-four!"

From these bleak generalities, Obama moves into specific complaints. Used to be, she will say, that you could count on a decent education in the neighborhood. But now there are all these charter schools and magnet schools that you have to "finagle" to get into. (Obama herself attended a magnet school, but never mind.) Health care is out of reach ("Let me tell you, don't get sick in America"), pensions are disappearing, college is too expensive, and even if you can figure out a way to go to college you won't be able to recoup the cost of the degree in many of the professions for which you needed it in the first place. "You're looking at a young couple that's just a few years out of debt," Obama said. "See, because, we went to those good schools, and we didn't have trust funds. I'm still waiting for Barack's trust fund. Especially after I heard that Dick Cheney was s'posed to be a relative or something. Give us something here!"
Her expensive tastes, during her time as "First Lady", which included Wagyu Beef and Lobster, her penchant for taking the most expensive vacations ever imagined by man (with larger entourages than an NBA Player), along with her attempts at telling Americans what we HAVE to feed our children and grandchildren, and how we should be raising them, did not exactly endear herself to the overwhelming majority of Americans.
Especially when she started telling us how to feed our children and grandchildren…
Past First Ladies always took a cause to tackle during their husbands' terms.
Usually, it was a non-intrusive cause such as literacy or combating hunger in America.
Not, in the case of our globe-trotting (on our dime) Former First Lady, "Moochelle" Obama. Under the guise of battling Childhood Obesity, she decided to sic the food police on America's school menus, turning our children into the Liberal Administrations' own personal lab rats and overruling the parental authority of the average American Family.
Mrs. Obama eventually had to adjust her diet plan, because children were not receiving enough nourishment from her Diet Plan and literally falling out by the middle of the afternoon.
In response to this danger to the health of their students, several school systems across the nation told the First Lady what she could do with her non-nutritious Diet Plan, including the Liberal Bastion of New York State!
Most of the other First Ladies in my 61 years, such as our current one, Melania Trump, have brought a certain degree of class and decorum to their unelected position as "FLOTUS".
Hillary Clinton being a notable exception.
Where that woman spits, grass never grows again.
But, I digress…
First Lady Melania Trump speaks six different languages fluently and came here on a special Visa which they call the "Einstein" Visa. Plus, she always presents herself as an asset to our nation in public.
Former First Lady Michelle Obama thinks decorum is something you do to a room.
And now, this "mooch" has the nerve to call President Trump "divisive" while calling for average Americans to elect  a man clearly in the throes of dementia as President of the greatest country on the face of God's green Earth?
America has not forgotten the damage that her, her husband, and Sleepy Joe did in the long, nightmarish 8 years that they were in the White House.
NO, THANK YOU.
Until He Comes,
KJ
​