"Shana, you are 100% correct. If I were President, your wonderful and beautiful son Kareem would be with you now, and so would the sons and daughters of others, including all of those who died in the vicious Kabul airport attack. Civilians should have been brought out first, along with our $85 billion of equipment, with the Military coming out very safely after all was clear. I love you, and I love Kareem…" – Former President Donald J. Trump
Newsmax.com reports that
A Trump-supporting Gold Star mother received a heartfelt message from the former president Monday.

"Thank you Shana – our country loves you and especially loves your beautiful boy, Kareem," Donald Trump wrote to Shana Chappell in a message from his Save America PAC.

Trump's message included a quote from the Stars and Stripes' salute Sunday to Chappell's son Marine Lance Cpl. Kareem Mae'Lee Grant Nikoui, who was one of 13 U.S. service members killed in the Kabul suicide bombing:

"'Nikoui, a 2019 Norco High graduate was described as a "strong person," who "held no grudges," and had "a love for kids,"' Pastor Phil Wozniak said. The fallen Marine's mother told Wozniak that he'd gone back to save a child when the bomb went off."

Trump's message also shared a previous Facebook post from a grieving Chappell, where she thanks Trump for a past salute to her fallen son and calls him the "real President of the United States of America."

Chappell noted, like Trump, she has had her Instagram account temporarily suspended and has been "shadow banned" on social media.

"Now is the time we fight back, and we don't stop until we have our country back on her feet!" her Facebook post concluded. "Be #lionsnotsheep #america #landofthefree #homeofthebrave i am watching what i post and say that way i don't lose my account again or get censored.

"I will be doing interviews soon, but right now I'm to hurt and angry to do them."
Ms. Chappell's Facebook and Instagram accounts were restored last Tuesday after both removals were claimed to have been a mistake.
Both of her posts were lengthy and spoke about Biden attempting to compare his son, who passed away from Brain Cancer, to the 13 heroes who died from a suicide bombing at Kabul Airport while still on active duty.
Ms. Chappell wrote, and rightfully so, that if President Trump had still been in office, her son and his fellow warriors would not have died that fateful day.
Former President Trump loves and respects our military. So much so that he sat with them in the stands a couple of years ago for the annual Army-Navy Football Game.
And, when he participated in the dignified transfer of our fallen heroes, he did not look at his watch…he saluted.
President Biden's Afghanistan Crisis and his reaction to it and the deaths of our 13 heroes, has left an indelible stain on his Presidency.
So much so, that fans as several college football games chanted "F*** Joe Biden!!!" during the games.
I have also heard that when he visited Louisiana after Hurricane Ida, Americans turned their back to his motorcade as it passed.
At this rate, Biden is turning out to be the last-liked President in United States History.
And, no spinning by the Democrats and their minions in the Main Stream Media will be able to overcome that.
Until He Comes,
KJ
DONATIONS ARE WELCOME AND APPRECIATED.
Make a one-time donation
Make a monthly donation
Make a yearly donation
Choose an amount
Or enter a custom amount
$
---
Your contribution is appreciated.
Your contribution is appreciated.
Your contribution is appreciated.
Donate
Donate monthly
Donate yearly
FoxNews.com reported last night that
"U.S. military forces conducted an over-the-horizon counterterrorism operation today against an ISIS-K planner. The unmanned airstrike occurred in the Nangahar Province of Afghanistan. Initial indications are that we killed the target. We know of no civilian casualties," U.S. Central Command spokesman Capt. Bill Urban said.

The U.S. drone hit a vehicle carrying the ISIS-K leader who was believed to be "carrying out future attacks," a U.S. official briefed on the strike tells Fox News.

(Later, Fox News reported that)

It's not clear if the planner was involved in the suicide attack at Kabul airport Thursday, which killed 13 U.S. service members and wounded 20 others.

The ISIS-K planner was also traveling with an "associate," Fox News understands.
The U.S. Embassy in Kabul issued a second alert to Americans on Friday, advising them not to travel to the airport and to avoid airport gates due to "security threats" in Afghanistan.

"Because of security threats at the Kabul airport, we continue to advise U.S. citizens to avoid traveling to the airport and to avoid airport gates," the embassy wrote in the alert, which seemingly mirrored the first one.

Unlike the first alert the embassy issued on Wednesday, this one mentions the New Ministry of Interior Gate at Kabul airport as an area in which Americans should immediately flee. "U.S. citizens who are at the Abbey gate, East gate, North gate or the New Ministry of Interior gate now should leave immediately."
Let me get this straight.
They killed someone whom they believe is an "ISIS-K Planner who MAY have been carrying out future attacks against Americans and Afghanis and the Biden Administration is not even sure that they killed the barbarian responsible for killing 13 of America's Best and Brightest and 90 Afghanis.
So, he could strike again.
Oh, Dear Lord.
Why did they not get the appropriate information together before beginning the operation?
This is the same half-a@@ military intelligence shown in Biden's botched pullout of our troops from Afghanis which resulted in an Islamic Terrorist Attack at Kabul Airport.
And now, if this WASN'T the mastermind of that attack, we will probably be hit with an even bigger attack in the near future.
Don't forget,,,we left $2 billion worth of American military weapons, including helicopters behind. 
Who are the members our Military Intelligence Brain Trust?
Dru's Minions?
I was going to say that this is unbelievable…except for what we as a country have witnessed so far in this deadly fiasco that is Biden's decision as President…so far.
All of the pundits have been saying that identifying the terrorist responsible for Thursday's bombing would be next to impossible since Biden has pulled all of our operatives out already…and the rest and running for their lives trying to get out of the country.                 
With all of the blowback that Biden has received already on this botched operation, his Handlers probably told his Woke Military Leaders that some sort of retaliation had to be put together FAST before the movement in the House to impeach him gathered stream and Americans started protesting for his ouster in front of the White House.
So, evidently they decided that a Drone Strike was in order, in keeping with Biden's bragging about "Over the Horizon" military Operations.
The only problem with remote control war is the fact that it only works if you hit the right target.
Until He Comes,
KJ
DONATIONS ARE WELCOME AND APPRECIATED.
Make a one-time donation
Make a monthly donation
Make a yearly donation
Choose an amount
Or enter a custom amount
$
---
Your contribution is appreciated.
Your contribution is appreciated.
Your contribution is appreciated.
Donate
Donate monthly
Donate yearly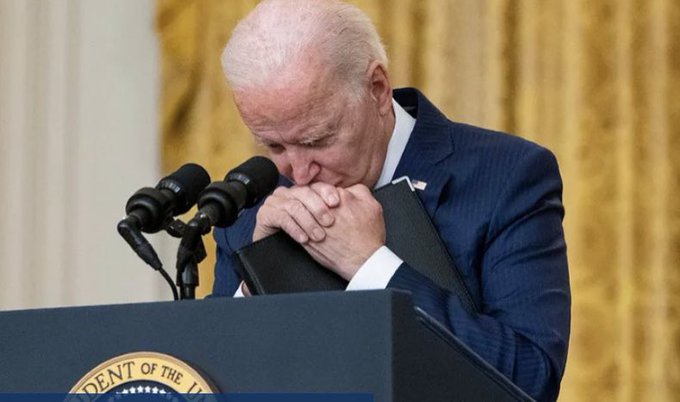 You know, at 62 years of age, I have a lot of memories.
Memories of great American accomplishments like the Moon Landing.
And, memories of horrible events like the largest Islamic Terrorist Attack ever on American Soil on September 11, 2001.
Now, to add to those horrible memories, I, like the rest of my fellow Americans, have to live with the knowledge that a President of the United States of America is running away like a scalded dog after 13 of our Brightest and Best were murdered by 2 suicide bombers at Kabul Airport in Afghanistan, trying to save Americans and Afghanis from being executed by the Taliban due to mistakes made by this same arrogant dementia-riddled "Surrenderer-in-Chief".
I was going to ask "What person in their right mind pulls out their military force from a dangerous country before they do their own government workers, civilian operatives and interpreters?"
However, therein lies the crux of the matter: The President of the United States of America, Joe Biden, is NOT in his right mind.
He is in the throes of dementia, which, along with his advanced years, has left him feeble and weak, and unable to perform the duties of the President of the United States of America.
No President in their right mind would have allowed yesterday's attack to happen.
Biden's predecessor, Former President Donald J. Trump, left him in the catbird's seat. There had been no attacks on our soldiers in Afghanistan in 18 months prior to yesterday.
Trump had literally cowered the leader of the Taliban back into his cave by threatening to unleash Hell on them and their families, if he dared to attack us.
So, what did Biden do?
He got rid of Trump's deal which kept our people over in Afghanistan safe.
And, when the Taliban had taken over, he sent his CIA Director to have a secret meeting with the leader of the Taliban.
Not only that, but Biden's people gave the Taliban a list of Americans and Afghanis that they wanted them to "escort" to the Kabul Airport.
I'm serious.
After yesterday's attack, his Handlers made him come out and have a Press Conference late yesterday afternoon, he mumbled something about accepting the blame for what happened…and then he blamed Trump.
Make no mistake….
In no way was yesterday's Islamic Terrorist Attack Trump's fault.
The blood of those 13 dead service members can be found on the hands of President Joe Biden.
The Democrats' lust for complete and absolute power which led them to change the rules of our Presidential Election, allowing them to cheat to win, has now put the entire Free World in danger.
Elections do indeed have consequences.
And, I am afraid that the consequences for us as a country are just beginning.
I sure could use a mean Tweet right about now.
Until He Comes,
KJ
DONATIONS ARE WELCOME AND APPRECIATED.
Make a one-time donation
Make a monthly donation
Make a yearly donation
Choose an amount
Or enter a custom amount
$
---
Your contribution is appreciated.
Your contribution is appreciated.
Your contribution is appreciated.
Donate
Donate monthly
Donate yearly
FoxNews.com reports that
White House press secretary Jen Psaki grew visibly annoyed during the press briefing Monday when she was asked whether President Biden was aware that most of the criticism against the Afghanistan withdrawal was about Americans being "stranded" in Kabul.

"Does the president have a sense that most of the criticism is not of leaving Afghanistan? It's the way that he has ordered it to happen by pulling the troops before getting these Americans who are now stranded. Does he have a sense of that?" Fox News' White House correspondent Peter Doocy asked.

Psaki said it was "irresponsible" to say that Americans are stranded in Afghanistan. "I think it's irresponsible to say Americans are stranded. They are not. We are committed to bringing Americans who want to come home, home."

Doocy followed up and asked whether "there are no Americans stranded" is the official White House position.

"I'm just calling you out for saying we are stranding Americans in Afghanistan when we have been very clear that we are not leaving Americans who want to return home," Psaki said. "We are going to bring them home and I think that's important for the American public to hear and understand."

Doocy later asked Psaki whether Americans being beaten up by the Taliban and Afghans passing babies over barbed-wire fences was what Biden meant when he said, "America is back."

"What the president meant is that we are going to continue to lead in the world including being the leaders in evacuating not just our Afghan partners, not just American citizens, but also our allies," Psaki replied.

Fox News had reached out to Psaki on Saturday about an American woman who described being trapped from reaching the Kabul airport. The White House never issued a response.

"I really have given up hope, given up on the hope of going to the airport," the woman, whose identity is being withheld due to concerns for her safety, told Fox News. "It's just not possible to make it through all those people."

She said there are as many as 20 Taliban checkpoints between her and the airport – and she's one of an uncertain number of American citizens trapped behind enemy lines.

She was whipped by Taliban fighters on one attempt to get through, she said. A man standing near her was shot in the head on another try, leaving his wife and baby in tears. Since then, she's been in hiding.
I haven't seen an Administration as full of incompetent liars as this one is….since the Obama Administration.
They continue to dig a hole which they have dug deeper with every lie that they tell.
The entire world is laughing at Biden and those who work in his Administration.
Just as Doc Holliday's (Val Kilmer) hypocrisy knew no bounds in the movie "Tombstone", the Biden Administration's incompetence knows no bounds in attempting to deal with the Crisis in Afghanistan.
Yes, there are Americans stranded there who cannot get to the Kabul Airport because it is surrounded by the Taliban, who are also going door-to-door, seeking Americans and our Afghan Allies.
If was Biden's own arrogance, magnified by his dementia, that brought about the Afghanistan Crisis and, if a miracle does not happen, a hostage crisis which will make Iran dwarf in comparison.
Until he sends our military to the Americans who are "in country" to escort them safely to the airport, they will never make it, regardless of Biden's naïve "agreements" he may have made with the Radical Islamic Barbarians.
The only thing that the Taliban understands is a leader with steely resolve, backed up by the will to use military force, if necessary.
Biden acts like he is scared of the Taliban.
Trump was not.
Biden's botching of this situation has not only endangered Americans in Afghanistan, it has endangered everyone living in America, as well.
The rest of our enemies, like Putin, and Xi, have seen how weak Biden is, and had better believe that they are watching and waiting to see how they can take advantage of incompetence.
American has never been more vulnerable than we are now.
May God protect us.
Until He Comes,
KJ
DONATIONS ARE WELCOME AND APPRECIATED.
Make a one-time donation
Make a monthly donation
Make a yearly donation
Choose an amount
Or enter a custom amount
$
---
Your contribution is appreciated.
Your contribution is appreciated.
Your contribution is appreciated.
Donate
Donate monthly
Donate yearly