FoxNews.com reported last night that
"U.S. military forces conducted an over-the-horizon counterterrorism operation today against an ISIS-K planner. The unmanned airstrike occurred in the Nangahar Province of Afghanistan. Initial indications are that we killed the target. We know of no civilian casualties," U.S. Central Command spokesman Capt. Bill Urban said.

The U.S. drone hit a vehicle carrying the ISIS-K leader who was believed to be "carrying out future attacks," a U.S. official briefed on the strike tells Fox News.

(Later, Fox News reported that)

It's not clear if the planner was involved in the suicide attack at Kabul airport Thursday, which killed 13 U.S. service members and wounded 20 others.

The ISIS-K planner was also traveling with an "associate," Fox News understands.
The U.S. Embassy in Kabul issued a second alert to Americans on Friday, advising them not to travel to the airport and to avoid airport gates due to "security threats" in Afghanistan.

"Because of security threats at the Kabul airport, we continue to advise U.S. citizens to avoid traveling to the airport and to avoid airport gates," the embassy wrote in the alert, which seemingly mirrored the first one.

Unlike the first alert the embassy issued on Wednesday, this one mentions the New Ministry of Interior Gate at Kabul airport as an area in which Americans should immediately flee. "U.S. citizens who are at the Abbey gate, East gate, North gate or the New Ministry of Interior gate now should leave immediately."
Let me get this straight.
They killed someone whom they believe is an "ISIS-K Planner who MAY have been carrying out future attacks against Americans and Afghanis and the Biden Administration is not even sure that they killed the barbarian responsible for killing 13 of America's Best and Brightest and 90 Afghanis.
So, he could strike again.
Oh, Dear Lord.
Why did they not get the appropriate information together before beginning the operation?
This is the same half-a@@ military intelligence shown in Biden's botched pullout of our troops from Afghanis which resulted in an Islamic Terrorist Attack at Kabul Airport.
And now, if this WASN'T the mastermind of that attack, we will probably be hit with an even bigger attack in the near future.
Don't forget,,,we left $2 billion worth of American military weapons, including helicopters behind. 
Who are the members our Military Intelligence Brain Trust?
Dru's Minions?
I was going to say that this is unbelievable…except for what we as a country have witnessed so far in this deadly fiasco that is Biden's decision as President…so far.
All of the pundits have been saying that identifying the terrorist responsible for Thursday's bombing would be next to impossible since Biden has pulled all of our operatives out already…and the rest and running for their lives trying to get out of the country.                 
With all of the blowback that Biden has received already on this botched operation, his Handlers probably told his Woke Military Leaders that some sort of retaliation had to be put together FAST before the movement in the House to impeach him gathered stream and Americans started protesting for his ouster in front of the White House.
So, evidently they decided that a Drone Strike was in order, in keeping with Biden's bragging about "Over the Horizon" military Operations.
The only problem with remote control war is the fact that it only works if you hit the right target.
Until He Comes,
KJ
DONATIONS ARE WELCOME AND APPRECIATED.
Make a one-time donation
Make a monthly donation
Make a yearly donation
Choose an amount
Or enter a custom amount
$
---
Your contribution is appreciated.
Your contribution is appreciated.
Your contribution is appreciated.
Donate
Donate monthly
Donate yearly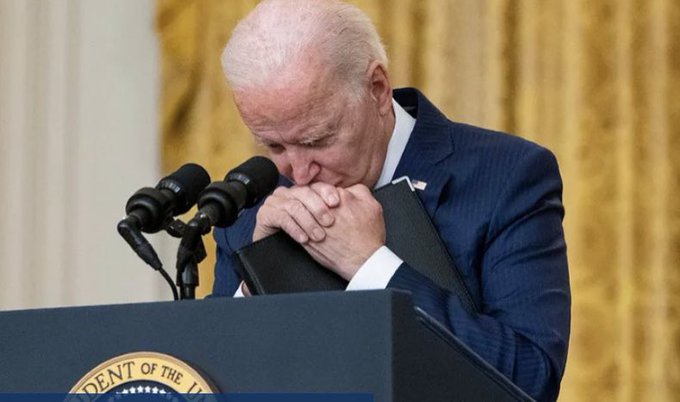 You know, at 62 years of age, I have a lot of memories.
Memories of great American accomplishments like the Moon Landing.
And, memories of horrible events like the largest Islamic Terrorist Attack ever on American Soil on September 11, 2001.
Now, to add to those horrible memories, I, like the rest of my fellow Americans, have to live with the knowledge that a President of the United States of America is running away like a scalded dog after 13 of our Brightest and Best were murdered by 2 suicide bombers at Kabul Airport in Afghanistan, trying to save Americans and Afghanis from being executed by the Taliban due to mistakes made by this same arrogant dementia-riddled "Surrenderer-in-Chief".
I was going to ask "What person in their right mind pulls out their military force from a dangerous country before they do their own government workers, civilian operatives and interpreters?"
However, therein lies the crux of the matter: The President of the United States of America, Joe Biden, is NOT in his right mind.
He is in the throes of dementia, which, along with his advanced years, has left him feeble and weak, and unable to perform the duties of the President of the United States of America.
No President in their right mind would have allowed yesterday's attack to happen.
Biden's predecessor, Former President Donald J. Trump, left him in the catbird's seat. There had been no attacks on our soldiers in Afghanistan in 18 months prior to yesterday.
Trump had literally cowered the leader of the Taliban back into his cave by threatening to unleash Hell on them and their families, if he dared to attack us.
So, what did Biden do?
He got rid of Trump's deal which kept our people over in Afghanistan safe.
And, when the Taliban had taken over, he sent his CIA Director to have a secret meeting with the leader of the Taliban.
Not only that, but Biden's people gave the Taliban a list of Americans and Afghanis that they wanted them to "escort" to the Kabul Airport.
I'm serious.
After yesterday's attack, his Handlers made him come out and have a Press Conference late yesterday afternoon, he mumbled something about accepting the blame for what happened…and then he blamed Trump.
Make no mistake….
In no way was yesterday's Islamic Terrorist Attack Trump's fault.
The blood of those 13 dead service members can be found on the hands of President Joe Biden.
The Democrats' lust for complete and absolute power which led them to change the rules of our Presidential Election, allowing them to cheat to win, has now put the entire Free World in danger.
Elections do indeed have consequences.
And, I am afraid that the consequences for us as a country are just beginning.
I sure could use a mean Tweet right about now.
Until He Comes,
KJ
DONATIONS ARE WELCOME AND APPRECIATED.
Make a one-time donation
Make a monthly donation
Make a yearly donation
Choose an amount
Or enter a custom amount
$
---
Your contribution is appreciated.
Your contribution is appreciated.
Your contribution is appreciated.
Donate
Donate monthly
Donate yearly
We don't like being pushed outside of our comfort zones. You know it right here on this campus. You know people sitting at different tables, y'all living in different dorms. I was there. Y'all not talking to each another, taking advantage of the fact that you're in this diverse community because sometimes it's easier to hold onto your own stereotypes and misconceptions, it makes you feel justified in your ignorance. That's America. So the challenge for us is, are we ready for change? – Michelle Obama, January 23rd, 2008, Columbia, South Carolina
Filed under the category of "Well, At Least She's Consistent"…
The NBC Affiliate in New York City reports that
Michelle Obama praised the diverse graduates of the city's oldest public institution of higher learning and took a mild swipe at Donald Trump as she delivered the last commencement address of her tenure as U.S. first lady on Friday.

"I really want you all to know that there is a reason why, of all of the colleges and universities in this country, I chose this particular school in this particular city for this special moment," Obama told the graduates of the City College of New York.

Noting that students at the 169-year-old college come from 150 countries and speak more than 100 languages, she said, "You represent just about every possible background – every color and culture, every faith and walk of life."

Obama, the wife of Democratic President Barack Obama, told the graduates that "with your glorious diversity, with your remarkable accomplishments and your deep commitment to your communities, you all embody the very purpose of this school's founding."

She made a thinly veiled reference to Trump, the presumptive Republican presidential nominee, by saying "some folks" don't value the diversity that City College embodies.

"They seem to view our diversity as a threat to be contained rather than as a resource to be tapped," Obama said. "They tell us to be afraid of those who are different, to be suspicious of those with whom we disagree.

"They act as if name-calling is an acceptable substitute for thoughtful debate, as if anger and intolerance should be our default state rather than the optimism and openness that have always been the engine of our progress."

Trump has promised to build a wall between the United States and Mexico, proposed banning Muslims from entering the U.S. and said it's risky to take in Syrian refugees because terrorists could be among them.

Obama added that "here in America, we don't give in to our fears. We don't build up walls to keep people out because we know that our greatness has always depended on contributions from people who were born elsewhere but sought out this country and made it their home."

City College, founded as the Free Academy of the City of New York in 1847, gained a reputation as the poor man's Harvard in the 1930s, when it educated a generation of Jewish intellectuals who were shut out of elite private colleges.
The Godfather of Conservative Talk Radio, Rush Limbaugh, once said about outgoing (Thank God) First Lady Michelle Obama that
I think the essence of hope and change, I think the hope was not so much hope for the country's future economically, hope for people's personal economic success.  I think the hope was that if this country made the statement, a majority white country electing an African-American president, that alone would serve a significant role, play a significant role and cause there to be massive progress toward eliminating, or not eliminating, but reducing the racial strife in this country, and the exact opposite has happened.
Rush is right.
Like her husband, President Barack Hussein Obama, Michelle Obama has done her best to play The Race Card at every opportunity.
In this case, by erroneously claiming that the reason Donald J. Trump's. along with the majority of Americans', desire to secure our Southern Border, is because we have a fear of people who look different from us.
If that were the case, American would have never become the "Great American Melting Pot", as the old cartoon from Scholastic Rock, that we used to watch as kids on Saturday Mornings on ABC, so aptly explained.
And, "The Donald" would have an all-white workforce in his companies.
This country was built by LEGAL IMMIGRANTS of all Ethic Backgrounds, who assimilated into our culture and became AMERICANS, who were loyal to their now-found country, not the country that they left behind to come here for a better life.
"Mooch" is purposefully assigning a "nobility" and "righteousness" to those who would enter this country illegally, to take American Jobs , while remaining loyal to their country of origin and to those who are entering illegally for the purpose of destroying our nation through the mindless violence of Islamic Terrorism.
Michelle Obama does not speak for the overwhelming majority of Americans.
She never has.
Most of the other First Ladies in my 56 years have brought a certain degree of class and decorum to their unelected position as "FLOTUS".
Hillary Clinton being a notable exception.
Where that woman spits, grass never grows again.
But, I digress…
Michelle Robinson Obama is the most useless, racially divisive, and downright hateful excuse for a First Lady that this country has ever seen.
Bess Truman was Mother Teresa compared with the woman whom I affectionately refer to as "Mooch"…
Her expensive tastes, which include Wagyu Beef and Lobster, her penchant for taking the most expensive vacations ever imagined by man (with larger entourages than an NBA Player), along with her attempts at telling Americans what we HAVE to feed our children and grandchildren, and how we should be raising them, have not exactly endeared herself to the overwhelming majority of Americans.
Quite frankly, all of us out here in the Heartland, think that she stinks on ice.
For Michelle Obama to drop her carefully concealed mask of racial intolerance this late in the game, with still time left in her husband's presidency, shows how little regard she has, not only for the decorum of her position, but, for the well-being of America and her citizens, both black and white.
She's classless.
That being said, here is a little ditty I wrote a while back, in "honor" of the most beloved mate of a national leader since Eva Braun:
50 Ways to Get Your Mooch On (to the tune of "50 Ways to Leave Your Lover" by Paul Simon)

A young lady came up to

The First Lady

She said, "Like you I want to

get everything free"

'Chelle said, "You've come to the right

person, baby"

I'll teach you fifty ways

To get your "mooch" on

She said it's easy if you put

your mind to it

By gaming the system 

you can get a lot of sh#t.

In Presidential Politics,

Taxpayers' money you will get

And, if you're a Democrat

if you're caught, they will acquit

There are Fifty ways to get your 'mooch' on

[CHORUS:]

Go vay-cay in Spain, Jane

Get you some pearls, girl

Chow down on Wagyu,Sue

Pay attention to me

Just listen to 'Chelle, Nell

You don't need a brain cell

Marry The Prez, honey

And get it for free

She said I hope my rap

Is getting through to you

I am laying it out very plainly

These things that you should do

The girl said," I am diggin' this,

But, would please tell me some more 50 Ways"?

'Chelle said. "Please take everything I'm telling you

and place it in your heart

Marrying a politician is

a great place to start"

And, then 'Chelle left her

And she caught on to the game

'Chelle did have 50 ways to get her "mooch" on

50 Ways to get her "mooch" on

CHORUS:

Go vay-cay in Spain, Jane

Get you some pearls, girl

Chow down on Wagyu,Sue

Pay attention to me

Just listen to 'Chelle, Nell

You don't need a brain cell

Marry The Prez, honey

And get it for free.
It is a shame that we can't impeach the President's Spouse.
Until He Comes,
KJ
The President of the United States of America, Barack Hussein Obama, continued to display his "great disconnect" from average Americans last night in an Internationally-televised "Townhall Event, featuring a hand-picked audience, selected by CNN and the White House.
Foxnews.com reports that
President Obama doubled down on his push for gun control Thursday at a televised town hall meeting in which he said that sales of guns have soared under his presidency because gun rights groups have convinced people "that somebody is going to come get your guns."

"Part of the reason is that the NRA has convinced many of its members that somebody is going to come get your guns," Obama said after admitting that his presidency had been good for gun manufacturers.

The town hall came just two days after Obama announced executive actions designed, among other goals, to broaden the scope of gun sales subject to background checks.

Obama said that he has never owned a gun but would occasionally shoot one at Camp David for skeet shootings.

He also said he would "be happy" to meet with the National Rifle Association — which has vocally opposed to the president's gun control proposals — and that he had invited them to the White House multiple times. Obama criticized the NRA's decision not to attend the event, and took aim at their fiery language in response to his actions.

"If you listen to the rhetoric, it is so over the top, and so overheated," Obama said.

At the town hall, which was hosted and televised by CNN, Obama took questions from Taya Kyle, whose late husband Chris Kyle was depicted in the film "American Sniper." Kyle told Obama that gun ownership was at an all-time high while murder rates are at an historic low, and defended her right to own a gun.

"I want the hope — and the hope that I have the right to protect myself; that I don't end up to be one of these families; that I have the freedom to carry whatever weapon I feel I need," Kyle said.

"There is a way for us to set up a system where you (as) a gun owner … can have a firearm to protect yourself but where it is much harder for somebody to fill up a car with guns and sell them to 13-year-old kids on the streets," Obama replied.

Obama also took questions from Cleo Pendleton, whose daughter was shot and killed near Obama's Chicago home, and from Sheriff Paul Babeu, an Arizona lawman and congressional candidate who has accused Obama of unconstitutional power grabs on guns.

He also took questions from controversial Chicago Catholic priest Rev. Michael Pfleger.

"The reality is that I don't understand why we can't title guns just like cars," Pfleger said. "If I have a car and I give it to you, Mr. President, and I don't transfer a title, and you're in an accident, it's on me."

"Issues like licensing, registration, that's an area where there's just not enough national consensus at this stage to even consider it. And part of it is, is people's concern that that becomes a prelude to taking people's guns away," Obama replied.

Also in the audience was former Rep. Gabby Giffords and her husband Mark Kelly. Kelly and Giffords became prominent gun control advocates after Giffords was shot in 2011.

Obama has come under heavy fire from Republicans and Second Amendment advocates for his actions, which they say infringe on Americans' right to bear arms.

The NRA fired back at Obama while the town hall was still going on. NRA Director Chris Cox told Fox News' Megyn Kelly: "This is an attempt to distract the American people away from his failed policies."

"The NRA does more to teach safe and responsible gun ownership than this president ever has or ever will," Cox said.

The president also published an opinion piece in Thursday's New York Times in which he pledged not to support any candidate who is opposed to gun control.

"I will not campaign for, vote for or support any candidate, even in my own party, who does not support common-sense gun reform," Obama said, a move that could make Democratic candidates in Republican states feel unable to request the political support of the two-term president.

White House spokesman Josh Earnest said before the event that Obama hoped the forum will spur a "serious conversation" about the Second Amendment as well as the administration's new push to tighten gun control rules.
So, let's have a "serious conversation" about the Second Amendment to the U.S. Constitution, found in the section known as the "Bill of Rights".
The Second Amendment states that
A well regulated Militia, being necessary to the security of a free State, the right of the people to keep and bear Arms, shall not be infringed.
Why did our Founding Fathers, in all their wisdom, include this Amendment?
Dr. Nelson Lund, Patrick Henry Professor of Constitutional Law and the Second Amendment at George Mason University, wrote the following in an article posted at Heritage.org…
The Founding generation mistrusted standing armies. Many Americans believed, on the basis of English history and their colonial experience, that central governments are prone to use armies to oppress the people. One way to reduce that danger would be to permit the government to raise armies (consisting of full-time paid troops) only when needed to fight foreign adversaries. For other purposes, such as responding to sudden invasions or similar emergencies, the government might be restricted to using a militia, consisting of ordinary civilians who supply their own weapons and receive a bit of part-time, unpaid military training.

…Thus, the choice was between a variety of militias controlled by the individual states, which would likely be too weak and divided to protect the nation, and a unified militia under federal control, which almost by definition could not be expected to prevent federal tyranny. This conundrum could not be solved, and the [Constitutional] Convention did not purport to solve it. Instead, the Convention presumed that a militia would exist, but it gave Congress almost unfettered authority to regulate that militia, just as it gave the new federal government almost unfettered authority over the army and navy.

This massive shift of power from the states to the federal government generated one of the chief objections to the proposed Constitution. Anti-Federalists argued that federal control over the militia would take away from the states their principal means of defense against federal oppression and usurpation, and that European history demonstrated how serious the danger was. James Madison, for one, responded that such fears of federal oppression were overblown, in part because the new federal government was structured differently from European governments. But he also pointed out a decisive difference between America and Europe: the American people were armed and would therefore be almost impossible to subdue through military force, even if one assumed that the federal government would try to use an army to do so. In The Federalist No. 46, he wrote:

"Besides the advantage of being armed, which the Americans possess over the people of almost every other nation, the existence of subordinate governments, to which the people are attached and by which the militia officers are appointed, forms a barrier against the enterprises of ambition, more insurmountable than any which a simple government of any form can admit of. Notwithstanding the military establishments in the several kingdoms of Europe, which are carried as far as the public resources will bear, the governments are afraid to trust the people with arms. And it is not certain that with this aid alone they would not be able to shake off their yokes."

Implicit in the debate between the Federalists and Anti-Federalists were two shared assumptions: first, that the proposed new constitution gave the federal government almost total legal authority over the army and the militia; and second, that the federal government should not have any authority at all to disarm the citizenry. The disagreement between Federalists and Anti-Federalists was only over the narrower question of how effective an armed population could be in protecting liberty.
My purpose in reviewing history is quite simple:
Those who do not study history are doomed to repeat it.
Make no mistake, if President Barack Hussein Obama had his way, we would live in a country comprised of restrictive gun laws, which would be modeled after those in Europe.
And, as recent events have plainly shown, those restrictive gun laws have allowed Islamic Terrorists to kill innocent people unchallenged, because none of those innocent people were allowed to carry a weapon with which to defend themselves.
In fact, in some cases, even the police officers, who first arrived on the scene, were unarmed, and had to call for additional forces, thus giving the perpetrators more time to murder and maim the innocent.
One of our Founding Fathers, Dr. Benjamin Franklin, once wrote,
Any society that would give up a little liberty to gain a little security will deserve neither and lose both.
Like Dr. Franklin and the rest of those who have fought for our freedom, average Americans realize what the president does not.
Until He Comes,
KJ
The President of these United States, Barack Hussein Obama, said the following about the Radical Islamic Terrorist Organization, ISIS, in a interview with The New Yorker Magazine, published on January 27th of this year:
The analogy we use around here sometimes, and I think is accurate, is if a JV team puts on Lakers uniforms that doesn't make them Kobe Bryant. I think there is a distinction between the capacity and reach of a bin Laden and a network that is actively planning major terrorist plots against the homeland versus jihadists who are engaged in various local power struggles and disputes, often sectarian.
I wonder if ol' Scooter is having second thoughts about his under-estimation, because, according to his Secretary of Defense, Obama's ignorant analysis missed by a country mile.
Reuters.com has the story
The sophistication, wealth and military might of Islamic State militants represent a major threat to the United States that may surpass that once posed by al Qaeda, U.S. military leaders said on Thursday.

"They are an imminent threat to every interest we have, whether it's in Iraq or anywhere else," Defense Secretary Chuck Hagel told reporters at the Pentagon.

Hagel's assessment of Islamic State, which gained strength during Syria's civil war and swept into northern Iraq earlier this summer, sounded a note of alarm several days after the group posted a video on social media showing one of its fighters beheading an American hostage kidnapped in Syria.

Asked if the hardline Sunni Muslim organization posed a threat to the United States comparable to that of the attacks of Sept. 11, 2001, Hagel said it was "as sophisticated and well-funded as any group we have seen."

"They are beyond just a terrorist group. They marry ideology, a sophistication of … military prowess. They are tremendously well-funded. This is beyond anything we've seen."

Hagel spoke as the United States continued attacking Islamic State targets in Iraq. In the past two weeks, U.S. drones and fighter jets have conducted 89 airstrikes against militant targets in northern Iraq.

So far, President Barack Obama has sought to limit his renewed military campaign in Iraq to protecting American diplomats and civilians under direct threat. Obama ended the war in Iraq that killed thousands of American soldiers and consumed U.S. foreign policy for nearly a decade,

Even after the gruesome killing of U.S. journalist James Foley, Obama is seen as unlikely to deepen his near-term military involvement in either Iraq or Syria as he seeks to avoid becoming embroiled in another messy Middle Eastern conflict.

But U.S. officials say they have not ruled out escalating military action against Islamic State, which has increased its overt threats against the United States since the air campaign in Iraq began.

"We haven't made a decision to take additional actions at this time, but we truly don't rule out additional action against ISIL if it becomes warranted," Ben Rhodes, a senior Obama aide, told National Public Radio earlier on Thursday, using another name for Islamic State.

General Martin Dempsey, chairman of the U.S. Joint Chiefs of Staff, said officials were worried about the possibility that European or U.S. nationals, radicalized after fighting in Iraq or Syria, would return to their home countries.

Dempsey suggested Islamic State would remain a danger until it could no longer count on safe havens in areas of Syria under militant control.

"This is an organization that has an apocalyptic, end-of- days strategic vision and which will eventually have to be defeated," Dempsey said.

"To your question, can they be defeated without addressing that part of their organization which resides in Syria? The answer is no. That will have to be addressed on both sides of what is essentially at this point a non-existent border."
So, they are big, bad, financed, and capable. But, why should we worry? It's not like they have any Weapons of Mass Destruction.
Ummm…that would be a negatory, Good Buddy.
On June 19, 2014, the Wall Street Journal reported:
Sunni extremists in Iraq have occupied what was once Saddam Hussein's premier chemical-weapons production facility, a complex that still contains a stockpile of old weapons, State Department and other U.S. government officials said.

U.S. officials don't believe the Sunni militants will be able to create a functional chemical weapon from the material. The weapons stockpiled at the Al Muthanna complex are old, contaminated and hard to move, officials said.

Nonetheless, the capture of the chemical-weapon stockpile by the forces of the Islamic State of Iraq and al-Sham, known as ISIS or ISIL, the militant group that is seizing territory in the country, has grabbed the attention of the U.S.

"We remain concerned about the seizure of any military site by the ISIL," Jen Psaki, the State Department spokeswoman, said in a written statement. "We do not believe that the complex contains CW materials of military value and it would be very difficult, if not impossible, to safely move the materials." …

The Muthanna complex is near Lake Tharthar, roughly 45 miles northwest of Baghdad, an area now firmly in control of the Sunni rebels. ISIS has taken control of most of Anbar province as well as Mosul, Iraq's second-largest city.

Military officials said the U.S. was well aware of the Muthanna stockpile and wouldn't have left it there if it posed a military threat. Still, when the U.S. pulled out of Iraq, it didn't anticipate a large swath of the country, including numerous military bases, would be overrun by radical Sunni militants. One defense official said that if the U.S. had known the Iraqi government would lose control so soon, it might not have left the old chemical weapons in place.
In December of 1985, five U.S. citizens were murdered in simultaneous Islamic terrorist attacks at the Rome and Vienna airports. Upon finding out that Libyan Despot Muammar al-Qaddafi was behind the attacks, U.S. President Ronald Reagan ordered expanded sanctions against Libya and froze Libyan assets in the United States. On March 24, 1986, U.S. and Libyan forces clashed in the Gulf of Sidra, and four Libyan attack boats were sunk. Then, on April 5, terrorists bombed a West Berlin dance hall known to be frequented by U.S. servicemen. One U.S. serviceman and a Turkish woman were killed, and more than 200 people were wounded, including 50 other U.S. servicemen. U.S. intelligence actually intercepted radio messages sent from Libya to its diplomats in East Berlin ordering the April 5 attack on the LaBelle discotheque.
On April 14, 1986, President Reagan ordered air strikes against Libya in retaliation for their sponsorship of terrorism against American troops and citizens. The raid, which began shortly before 7 p.m. EST (2 a.m., April 15 in Libya), involved more than 100 U.S. Air Force and Navy aircraft, and was over within an hour. Five military targets and "terrorism centers" were hit, including the headquarters of Libyan leader Muammar al-Qaddafi.
In fact, the rumor was, we fired a Stinger Missile right into Qaddafi's bedroom.
After this, Qaddafi left us alone and kept his mouth shut for 25 years. All it took to make the sponsor of Muslim Terrorism back down was a show of strength and a United States President who was not afraid to use our military might in defense of our country.
Fast forward to today…
American Journalist Tim Foley is beheaded by ISIS, on a video which has now been seen around the world.
Obama delivers a 5-minute sternly-worded speech and leaves to go play golf.
Way to go, President Pantywaist. That showed 'em.
God protect us.
Until He Comes,
KJ