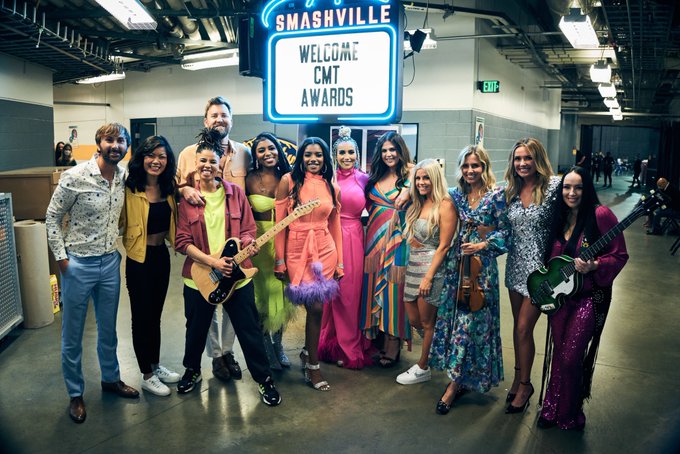 I miss "Hee Haw".
FoxNews.com reports that
The Country Music Television (CMT) Music Awards are here.

The star-studded event kicked off from Nashville, Tenn., Wednesday evening with a performance by Lady A. The trio was joined onstage by Carly Pearce and Lindsay Ell.

Ell stepped in after Gabby Barrett bowed out, citing "personal circumstances."

Cameras then took viewers to a farm where Chris Stapleton performed "Arkansas."

Following the two performances, hosts Kane Brown and Kelsea Ballerini took the stage. "After this year … I'm thirsty for a great party," Brown said.

"This is awesome. First of all, we're back and making music people," Kimberly Schlapman yelled, referring to the pandemic.

"I know you like drinking songs," Karen Fairchild added.

The award was presented by Trace Adkins and Taylor Lewan of the NFL's Tennessee Titans, who poked fun at country music "lingo" by asking Adkins what a dobro, diminished fifth and bluegrass is – refuting the expert's answers with silly jokes.

Lewan told Adkins that a diminished fifth was when a drinker has less whiskey than they expected and that a dobro is a friend who eats too much pizza.

Hailey Whitters then took the stage to sing her hit "Fillin' My Cup." Miranda Lambert also performed a stripped-down version of her hit "Tequila Does." She sang around a campfire alongside Jon Randall and Jack Ingram. Luke Combs also performed.

Linda Martell, who is one of the pioneering Black acts in country music and the first Black woman to perform solo at the Grand Ole Opry, received the CMT Equal Play Award.

Comedian Iliza Shlesinger took the stage next to poke fun at country music lyrics, particularly from some of the genre's top female artists.

She pointed out "violent" lyrics in songs from Carrie Underwood and Lambert, suggesting that a "CSI: Nashville" television show be developed based on songs like "Before He Cheats." The remark was a reference to the long-running CBS drama "CSI" and its spinoffs, which followed crime scene investigators.

The star presented the award for collaborative video of the year, which was given to Chris Young and Brown for their tune "Famous Friends."

The CMT Music Awards will honor acts in country music but will also share its stage with pop and R&B stars, including Gladys Knight, Pink, John Legend, Halsey, H.E.R. and Noah Cyrus.

Knight and Mickey Guyton will perform together and Stapleton and fellow guitar slayer H.E.R. are joining forces onstage at Wednesday's show celebrating the year's best country music videos.

Both Maren Morris and Barrett were originally set to perform at the CMT Awards but backed out.
By the way,, boys and girls.
Did y'all know that CMT encouraged their viewers to wear orange for "Gun Control"?
Needless to say, Country Music Fans, their core audience, are not complying.
SJW has now officially come to Modern "Country" Music.
The East Cost/Left Coast Power Brokers have done to Country Music exactly what they did to Classical Liberalism.
They have jettisoned Traditional American Faith and Values for a shallow hedonistic conflagration of drinkin', cheatin', partyin', and Liberal Politics, changing an entire music genre into something that it never was and was never meant to be.
On this Mississippi June Morning, just a few miles away from Graceland, the home of Elvis Presley, I sit here reflecting on the influence which actual Country Music had on my young life, growing up with my Mother and Daddy.
Every family, to this day, has rituals that they observe like clockwork.
Our Saturday Night Ritual was to eat homemade hamburgers, spaghetti, or crockpot beans off of TV trays and watch "Hee Haw", the syndicated country music variety show, out of Nashville, which starred Buck Owens, Roy Clark, and a "cast of thousands".
The snotty folks up in the Northeast Corridor and Hollyweird never could figure out what made that "hick show", that lasted 25 years, so popular.
After all, it was about traditional American Values, love of God and Country, respecting our American Musical Heritage, and featured talented performers who wrote songs, sang, played their own instruments, loved and appreciated their fans, and actually behaved like average Americans.
Plus, they had the good grace and common sense to keep their private lives, private.
At this time in our country's history, when morality has become relative and ethics situational, we find our hearts crying out to hear something that will soothe our troubled souls.
Instead, we find synthesized, mass-produced Pop Music and "so-called" Country Music, actually more Pop Music, manufactured in New York City (pronounced like they did in the old Pace Salsa Commercials), advocating meaningless one-night stands and encouraging the debasement of the human soul, instead of its ability to rise above any obstacle in its path that might hinder individual achievement.
With all of today's over-produced, under-written Pop and Country-Pop Music flooding the airwaves of both broadcast and satellite radio, Americans my age wonder where all the great Country Songwriters and Performers have gone to?
What is happening to country music reflects a lot about the culture we live in. Artists who actually lived what they sung about like Loretta Lynn, George Jones, Merle Haggard, Tammy Wynette, The Statlers, Jim Ed Brown, Porter Waggoner, Hank Williams, Jr., Randy Travis, Jeannie C. Riley, and Elvis Presley have been replaced by fashion models and wannabe rappers and rock stars.
Please don't get me wrong.
There are still Americans performing country music. Brad Paisley, Alan Jackson, Toby Keith, Reba McEntire, Martina McBride, Clint Black, and Brooks and Dunn,  among others, are still attempting to keep the spirit of Country Music alive.
However, in our culture of fast lives, fast food, and instant gratification, superficiality sells. That's how we got stuck for 8 long years with Barack Hussein Obama (mm mmm mmmm).
It is easier and more profitable for a record company to sell someone who looks good and can sing a little, or to release a country music album made by a fading rock star, than it is for them to market someone who is unbelievably talented and writes their own songs, but who resembles your next door neighbor.
What the heck do Gladys Knight and John Legend have to do with Country Music?
Remember the Bruce Springsteen and Van Morrison Country Music CD fiascos?
No? I don't blame you. I wouldn't admit it, either.
Can you imagine Hank Williams, Sr., Patsy Cline, or Buck Owens trying to get a record deal today?
I'm sorry Mr. Williams. Your vocalization is way too twangy and you drink way too much. "I Saw The Light"? What kind of song is that? A song about redemption? Get real. "I'm So Lonesome I Could Cry"? Who Cares? You're just not marketable.
Ms. Cline, we can't use you. You look like somebody's next door neighbor.

Mr. Owens, what is the "Bakersfield Sound" that you're talking about? That won't get any airtime in New York City. "Act Naturally"? That's a song? Next thing you know, you'll tell me that the Beatles will want to record it.
Now you know why Toby Keith formed his own record label.
The big recording companies like RCA Nashville and Arista are run like any other business. Executives are transferred from other cities and other divisions within the company and are judged to be successful by the amount of revenue they generate.
The decision was made several years ago to turn country music into pop music. Country Music started the transition from Kitty Wells to Taylor Swift and from George Jones to Kid Rock in an effort to claim a bigger share of the CD-buying public.
The disconnect arises when you take a genre that has traditionally sung about God, America, family, and heartache and try to make it about fashionistas, MTV, and shallow people with situational morality and ethics.
Just like the Liberal Politics of the outspoken harpies, the Dixie Chicks, it just doesn't work here in America's Heartland.
As we say in Dixie,
That dog don't hunt.
Alan Jackson and George Strait were prophets.
Nobody saw him running from sixteenth avenue
They never found the fingerprint or the weapon that was used
But someone killed country music, cut out its heart and soul
They got away with murder down on music row

The almighty dollar and the lust for worldwide fame
Slowly killed tradition and for that someone should hang
They all say not guilty, but the evidence will show
That murder was committed down on music row

For the steel guitars no longer cry and fiddles barely play
But drums and rock 'n' roll guitars are mixed up in your face
Old Hank wouldn't have a chance on today's radio
Since they committed murder, down on music row

They thought no one would miss it, once it was dead and gone
They said no one would buy them old drinking and cheating songs
Well I'll still buy 'em
Well there ain't no justice in it and the hard facts are cold
Murder's been committed, down on music row

Oh, the steel guitars no longer cry and you can't hear fiddles play
With drums and rock 'n roll guitars mixed right up in your face
Why, the hag, he wouldn't have a chance on today's radio
Since they committed murder down on music row
Why, they even tell the posse to pack up and go back home
There's been an awful murder down on music row

"Murder on Music Row". George Strait/Alan Jackson, 2000
Please excuse my grammar,
But, what the East and Left Coast Liberals have done to "Country Music" today, ain't just murder.
It's a MASSACRE.
Until He Comes,
KJ
DONATIONS ARE WELCOME AND APPRECIATED.
Make a one-time donation
Make a monthly donation
Make a yearly donation
Choose an amount
Or enter a custom amount
$
---
Your contribution is appreciated.
Your contribution is appreciated.
Your contribution is appreciated.
Donate
Donate monthly
Donate yearly
FoxNews.com reports that
President Biden on Thursday, in rolling out a set of executive orders on gun control, said "no amendment is absolute," while maintaining that "nothing" he is recommending "impinges" on the Second Amendment.

"Today we're taking steps to confront not just the gun crisis, but what is actually a public health crisis," Biden said from the White House Thursday.

"Nothing, nothing I am about to recommend in any way impinges on the Second Amendment," the president said, calling arguments suggesting that those constitutional rights are at stake "phony."

"No amendment, no amendment to the Constitution is absolute," he said. "You can't yell 'fire' in a crowded movie theater — recall a freedom of speech. From the very beginning, you couldn't own any weapon you wanted to own. From the very beginning that the Second Amendment existed, certain people weren't allowed to have weapons."

He added: "So the idea is just bizarre, to suggest that some of the things we're recommending are contrary to the Constitution."

The president went on to call gun violence in the United States "an epidemic."

"Let me say it again, gun violence in this country is an epidemic," Biden said. "And it's an international embarrassment."

Biden announced a set of executive actions and legislative proposals on gun control Thursday.

Biden is asking that the Justice Department, within a month, propose a rule to stop "ghost guns," which are "kits" people can buy legally then fully assemble to create a functioning firearm that does not have a serial number.

Biden is also asking the DOJ within 60 days to propose a rule on braces used for handguns, which make them more accurate; proposing action on "community violence intervention"; asking the DOJ to publish suggestions for "red flag" legislation; and having his administration issue a report on gun trafficking. 

Biden also formally announced David Chipman as the director of the Bureau of Alcohol, Tobacco, Firearms and Explosives (ATF). 

A senior administration official Wednesday said that Chipman will respect the Second Amendment while he enforces gun laws. 

The Biden administration is also expected to throw its weight behind gun control proposals in Congress. 
Here is how our Founding Fathers would have responded to the Dummy From Delaware, Joe Biden…
[T]he said Constitution [should] be never construed . . . to prevent the people of the United States, who are peaceable citizens, from keeping their own arms. Samuel Adams, Signer of the Declaration, "Father of the American Revolution" 

The right . . . of bearing arms . . . is declared to be inherent in the people. Fisher Ames, A Framer of the Second Amendment in the First Congress 

[T]he advantage of being armed [is an advantage which] the Americans possess over the people of almost every other nation. . . . [I]n the several kingdoms of Europe . . . the governments are afraid to trust the people with arms. James Madison, U.S. President, Signer of the Constitution, a Framer of the Second Amendment in the first congress

[T]o preserve liberty, it is essential that the whole body of the people always possess arms, and be taught alike, especially when young, how to use them. Richard Henry Lee, Signer of the Declaration, A Framer of the Second Amendment in the First Congress 
Democrats like Biden believe that the Constitution is a "fluid" document, subject to change to fit the political ideology of those who happen to be the majority party, presiding over the Executive and Legislative Branches of our Federal Government at the time.
That is where they are wrong…and they know it…but, they do not care, as evidenced by the bullying and didactic tone which Biden took during his Royal Proclamation yesterday.
The Constitution was written by brilliant men who foresaw the possibility of a minority of tyrants attempting to take over and change our Constitutional Republic into a tyrannical form of government, such as they left behind in Europe.
And, that, boys and girls, after hearing President Joe Biden threaten the Second Amendment, appears to be exactly what the Democrats want for the future of our Sovereign Nation and our children and grandchildren.
By proclaiming, like a monarch, that "no amendment is absolute", Biden has warned us that changing the Second Amendment of OUR Constitution, a part of OUR Bill of Rights, is a very real possibility, if he can get the "Fools on the Hill", otherwise known as Congress, to go along with it.
And, if that happens, what is to stop them from "radically changing" the First Amendment, as well?
And, God forbid, if all of that happens, our Constitutional Republic will no longer exist and America will be just another failed Democratic Socialist Third World Barrio, instead of "The Shining City Up On A Hill".
It is time to "put on the whole Armor of God", to pray, and to call our Representatives in Washington and tell them that We The People will not stand for this…and if they want to keep their jobs they had better start fighting against this "Russian Revolution II" and the unwanted revision of OUR Constitution.
Or they are going to be out of a job.
God protect us.
Until He Comes,
KJ
DONATIONS ARE WELCOME AND APPRECIATED.
Make a one-time donation
Make a monthly donation
Make a yearly donation
Choose an amount
Or enter a custom amount
$
---
Your contribution is appreciated.
Your contribution is appreciated.
Your contribution is appreciated.
Donate
Donate monthly
Donate yearly
FoxNews.com reports that
President Biden will announce gun control measures on Thursday that an administration official described as an initial set of actions aimed at addressing all forms of gun violence.

The president will detail several initiatives to be achieved through a mix of executive and legislative action, the official told reporters.

Biden will call on the Department of Justice to issue proposed rules to stop the proliferation of so-called "ghost guns" within 30 days. Ghost guns refer to kits that allow the recipient to assemble the firearm using provided parts. These guns do not have commercial serial numbers and are difficult to track.

The Justice Department will be given 60 days to issue a separate rule on stabilizing braces, which can turn a pistol into a more accurate weapon that fires like a rifle. Sixty days will also be provided for the DOJ to develop model "red flag" legislation that would allow friends and family members to identify an individual as a potential danger, thereby temporarily preventing the person from accessing a firearm.

The president will also highlight the steps his administration is taking to invest in community violence interventions and call on the DOJ to issue a firearms trafficking report.

The administration official said while Biden will call on Congress to act – including on closing loopholes in the background check system – he will not wait.

"Gun violence takes lives and leaves a lasting legacy of trauma in communities every single day in this country, even when it is not on the nightly news," the White House said in a statement.

The administration official told reporters on Wednesday that Biden is concerned about all forms of gun violence, not only mass shootings but also domestic violence and forms of community violence that disproportionately affect Black and Brown communities.

Biden's actions follow three recent mass shootings, and the administration official suggested there could be additional actions in the weeks and months to come.

Chipman, who is a gun owner himself, has said he backs regulations that save lives but do not take firearms away from law-abiding citizens.

The administration official confirmed on Wednesday night that Chipman was selected to enforce gun laws while also respecting Second Amendment rights.

ATF is a law enforcement agency within the Department of Justice that strives to safeguard the public from criminal organizations and activity, including the illegal use and trafficking of firearms.
During the Democratic Primary Candidates Debates last year, Candidate Joe Biden said,
"150 million people have been killed since 2007 when Bernie (Sanders) voted to exempt the gun manufacturers from liability, more than all the wars, including Vietnam from that point on."

The heavily inflated figure misrepresented gun deaths in America since 2007. From 2007 to 2017, the number of firearm deaths in the U.S. was 373,663. This number includes both violent firearm deaths and unintentional or accidental deaths, according to the Center for American Progress, an organization that promotes progressive values.

More in line with Biden's figures, an analysis of FBI statistics by the Center found that from 2008 through 2017, more than 1.5 million aggravated assaults involved a firearm, with rates varying significantly across the states.

"If I'm elected, NRA [the National Rifle Association], I'm coming for you and gun manufacturers, I'm gonna take you on and I'm gonna beat you," Biden said.
For years, Democrat politicians like the Dummy From Delaware have been on a crusade to pass stricter and stricter gun control laws, literally foaming at the mouth to take the right to own guns, guaranteed by the Second Amendment to the United States Constitution, away from average law-abiding Americans.
I have always wondered why they have never attempted to get tough with those who break our laws by committing gun violence, instead of trying to take away our Constitutional Right to be able to defend ourselves.
Was it just naiveté on the part of Democrats …or something else?
And then…the Democrats built a wall around our nation's Capitol.
And, I wondered no more.
Today's Democrat Elite have allowed their own arrogance to blossom into totalitarianism.
Their zeal to radically change our Constitutional Republic into just another Democratic Socialist failure of a country, like those in Europe and South America, has led them to no longer wish to hear any other political opinions except their own.
The Democrats, led by the Biden-Harris Administration, through their push for continued lockdowns, expanded "Unemployment" payments, flooding our Southern Border with illegal aliens, and now, attempting to abridge our Second Amendment Rights, are employing a political strategy designed to turn America into a country whose people have restricted liberty given to them by an all-powerful Central Government, instead of by "Our Creator".
Sound familiar?
Sure, Sleepy Joe is going to tell us today that this is not an abridgement of our Second Amendment Rights.
And, Germany's National Socialist Party told the European Jews that they were simply going to be "relocated".
The name of the game, boys and girls, is 'CONTROL".
Give the Democrats an inch and they will take a mile.
Those who have come before us did not give up their lives on the field of battle while preserving our liberty for us to willingly give it away to a demented doddering old fool issuing Executive Orders written by his Handlers.
 Those whom we have elected to represent us in Washington MUST fight for our American Freedoms.
Or, we need to boot them out and replace them with those who will.
Until He Comes,
KJ
DONATIONS ARE WELCOME AND APPRECIATED.
Make a one-time donation
Make a monthly donation
Make a yearly donation
Choose an amount
Or enter a custom amount
$
---
Your contribution is appreciated.
Your contribution is appreciated.
Your contribution is appreciated.
Donate
Donate monthly
Donate yearly
FoxNews.com reports that
President Biden is considering executive action on gun control in the wake of two mass shootings in less than a week, White House press secretary Jen Psaki said Tuesday.

Psaki did not specify what action Biden might take.

"We are considering a range of levers, including working through legislation, including executive action," Psaki told reporters. "That has been under discussion and will continue to be under discussion."

Biden, addressing the shooting that occurred in Boulder, Colo., and that left 10 dead, said Tuesday he didn't "want to wait another minute, let alone an hour" to act on gun violence. A shooting six days earlier left eight dead in Atlanta, Georgia.

He didn't mention potential executive action but implored the Senate to pass a series of House bills that would close loopholes in background checks. He also urged Congress to ban "assault weapons."

"I got that done as a senator. It brought down mass shootings, we can do it again," Biden said during remarks at the White House. "We can ban assault weapons and high-capacity magazines in this country once again."

"These are bills that received votes with both Republicans and Democrats in the House. This is not and should not be a partisan issue. This is an American issue that will save lives, American lives. And we have to act. We should also ban assault weapons in the process," Biden said.

The House passed two bills this month to tighten gun control, one that would give authorities 10 business days instead of three to complete a background check before a gun sale. Under current law, gun sales can proceed if a background check takes longer than three days, what's known as the "Charleston Loophole." That bill passed 219-210 with only two Republicans supporting it.

Another bill would expand background check requirements to guns bought over the internet, at gun shows or through other private transactions. Eight Republicans joined Democrats in backing the bill.

The Senate would need to garner support from 10 Republicans to clear the filibuster and pass the legislation.

Senate Majority Leader Chuck Schumer, D-N.Y., said Tuesday he hasn't spoken without the White House about an assault weapons ban. Such a ban is not part of the pair of House bills that passed earlier this month.

Gun control experts told Fox News last month that Biden could tighten gun control without Congress by using his authority to limit trade.
This is another reason why there is a fence around the Capitol Building and the White House,
Biden, his Handlers and Democrat Elite don't give a rat's rear what you and I believe.
And, they don't care what our Constitution says, either.
The Democrats' never-ending quest for "Gun Control", if successful, would only succeed in controlling law-abiding American Citizens, instead of punishing those who operate outside of our laws, such as the Virginia Beach shooter, DeWayne Braddock,  Parkland High School Mass Murderer Nikolas Cruz, the thugs who have turned Former President Obama's "hometown" of Chicago and my hometown of Memphis into their own personal "Killing Fields", the Marxist Anarchists who are destroying our major cities and shooting at those who serve and protect us, and now, this Syrian Islamic Extremist (yeah,  said it) who slaughtered innocent Americans and a brave police officer in a grocery store in Boulder, Colorado.
The leader of the bloody Russian Revolution, Vladimir Lenin, once wrote that
One man with a gun can control 100 without one.
If the Democrats had their way, we would live in a country under the oppression of restrictive gun laws, which would be modeled after those in Europe. And, as past events have plainly shown, those restrictive gun laws have allowed Islamic Terrorists and other murderous nut jobs to kill innocent people unchallenged, because none of those innocent people were allowed to carry a weapon with which to defend themselves.
In fact, in some cases, even the police officers, who first arrived on the scene, were unarmed, and had to call for additional forces, thus giving the perpetrators more time to murder and maim the innocent.
One of our Founding Fathers, Dr. Benjamin Franklin, once wrote,
Any society that would give up a little liberty to gain a little security will deserve neither and lose both.
Like Dr. Franklin and the rest of those who have fought for our freedom, average Americans realize what Democrats do not.
The problem in stopping mass murders and other shooting deaths from happening is not that there are not enough gun laws. The problem is the gun laws on the books are not properly enforced.
The dissolution of the Family Unit, the revolving door state of our Municipal Justice Systems, and, as in the case of DeWayne Braddock,  Nikolas Cruz, and Ahmad Al Aliwi Alissa, the lack of recognition and treatment of the mentally ill and wannabe Terrorists and Marxist Anarchists, has a lot to do with the rise of these horrible massacres in America and the horrible violence which plagues cities like Chicago and Memphis..
What Liberals have never understood, in their continuous quest to take away the Second Amendment rights of average Americans, is that we will never surrender our Constitutional Right to defend ourselves and our families from enemies foreign and domestic.
What part of the words "shall not be infringed" do you Liberals not understand?
Passing more restrictive gun laws is not the answer.
Criminals are called "outlaws" for a reason.
They will find a way to get guns. They do now.
I agree with what Former President Trump said when Candidate Biden brought up Gun Control: "Hit the animals hard".
This is a people problem. Not a gun problem.
After all, have you ever seen a gun pull its own trigger?
Until He Comes,
KJ
DONATIONS ARE ACCEPTED AND APPRECIATED.
Make a one-time donation
Your contribution is appreciated.
Donate
---
Make a monthly donation
Your contribution is appreciated.
Donate monthly
---
Make a yearly donation
Your contribution is appreciated.
Donate yearly