FoxNews.com reports that
1619 Project writer Nikole Hannah-Jones said in a podcast that she believes Cuba is the most equal country in the Western hemisphere and could serve as a model for its integration agenda.

In a 2019 podcast with Ezra Klein of Vox and The New York Times, Hannah-Jones was asked whether there were candidates or places that she thought had a "viable and sufficiently ambitious integration agenda."

Hannah-Jones responded that while she is not an expert on race relations internationally, she believed the most "equal" and "multiracial" country in the Western hemisphere is Cuba, which she attributed to socialism.

"The most equal multi-racial country in our hemisphere, it would be Cuba," Hannah-Jones said, as reported by the publication. "Cuba has the least inequality between Black and white people anyplace really in the hemisphere. I mean, the Caribbean, most of the Caribbean it's hard to count because the White population in a lot of those countries is very, very small. A lot of those countries are run by Black folks. But in places that are truly at least biracial countries, Cuba actually has the least inequality. And that's largely due to socialism—which I'm sure no one wants to hear."

As reported by The National Pulse, Hannah-Jones also wrote an op-ed published by The Oregonian that was posted in 2008, in which she noted that there are many overlooked accomplishments in the country, including a very high literacy rate, a low HIV infection rate and a "model" universal health care system.

In the article, she also wrote that the Cuban revolution led to the "end of codified racism" and brought about universal education and access to jobs for Black Cubans.

The 1619 Project is a project spearheaded by The New York Times that delves into the effects of slavery on U.S. history. It was led by Hannah-Jones, who is a Pulitzer Prize winning writer and a professor at Howard University.

As previously reported by Fox News, Rep. Alexandria Ocasio-Cortez has come under fire for recent comments she has made about Cuba.

Ocasio-Cortez wrote on Twitter that the U.S. has contributed to suffering in Cuba via its embargo, which she characterized as "absurdly cruel."

Rep. Nicole Malliotakis, R-N.Y., who is the daughter of a Cuban immigrant, called Ocasio-Cortez a "communist sympathizer who wants to bring socialism" to the U.S. during an interview with "Fox News Sunday."
The Far Left Democratic Party, which is full of "Useful Idiots" like Nikole Hanna-Jones and AOC,  is determined to not only rewrite American History but also to indoctrinate our children and grandchildren to hate America and our Traditional System of Faith, Values, and Patriotism.
Why is it wrong to be a Proud American?
Nationalism, placing the well-being of Americans Citizens first, is a good thing and is what being a President should be all about.
The Far Left-controlled Biden-Harris Administration, the Democratic Party and their Propaganda Arm, the Main Stream Media, look down their noses at us average Americans living here in "Flyover Country" who believe that America is the greatest country on the face of God's Green Earth and believing in American Exceptionalism.
Since the 8 years of the reign of King Barack The First, children and young adults, attending American Institutes of Learning from kindergarten to college campuses have been taught by Liberal teachers and professors that America was "just another country" and to be a patriot or to believe in "Nationalism" was to somehow be close-minded, ignorant, and bigoted, not necessarily in that order.
And now, these same clowns want to continue teaching Revisionist History to our children and grandchildren while asserting that "educated people" believe that those of us who agree with Former President Trump's optimism and "Nationalism" and those who disagree with their anti-American beliefs are  "racist" and "uneducated".
They really need to visit America's heartland, where all of us average and EDUCATED Americans live.
Believe of not, y'all, there are actually colleges and universities in "Flyover Country".
In fact, where the exceptionalism of America actually lies is not in the Halls of Power nor in the Halls of Academia. But, rather in the courage and spirit of the average American. A courage and spirit, which our history proves, has driven American Citizens to build a nation, which is indeed exceptional among all others.
The secret of this country's exceptionalism is the "Average Joe", the 9 to 5′er, working himself into the grave to try to provide for his family.
It was this same "Average Joe", who fired the shot heard around the world and began the War for American Independence, who stormed the beaches of Normandy on D-Day in World War II, who waded through rice paddies in Vietnam, and who swallowed sand in Desert Storm and Desert Shield. The same "Average Joe" who, as a New York City Policeman or Fireman, ran up the stairs of the World Trade Center on 9/11/01, instead of running down them. The same "Average Joe", who simply wants things to be easier in this life for his children and grandchildren, than he had it.
It is this same "Average Joe", who takes family and friends in, when they are in the midst of a life-altering tragedy. The same "Average Joe", who volunteers on a soup line or at a Senior Citizens Home, or, who begins a successful business in his basement.
And, it is this same "Average Joe" who, being fed up with the Democratic Party's Far Left Crusade against anything and everything traditionally American, went to the voting booth and elected Donald J. Trump, a Citizen Statesman, as our 45th President.
And, we are the same ones who believe that there is no way in H-E-L-L that dementia-riddled doddering fool Joe Biden won the 2020 Presidential Election with out a massive case of Election Fraud.
And that, boys and girls, is why the Far Left Democratic Party and Joe Biden's Handlers built a fence around OUR Capitol and are governing like a bunch of fascist dictators..
Their ego-driven political ideology does not permit them to consider the reality that theirs is still the minority political ideology in this nation.
While the East and "Left" Coast are indeed heavily populated in their metropolitan areas with Liberals (some of them even Legal Citizens), the reality is that the overwhelming majority of Americans are still Patriots who believe in God and Country.
It was an overestimation of their own intellect and an underestimation of the intelligence and unbridled love of average Americans for OUR COUNTRY, that cost the Democrats the Presidency in 2016.
And, stupid moves like attempting to teach our children and grandchildren that America is a "Racist Country" and the Totalitarian Communist Regime in Cuba is a brilliant example of government is going to blow up in their weasel-looking faces and cost them the next two national elections in 2022 and 2024.
As George Orwell said,
Patriotism is usually stronger than class hatred, and always stronger than internationalism.
Patriotism is still cool…and "Useful Idiots" like Nikole Hanna-Jones and the  rest of the Far Left Marxism-Loving Democrats are clueless.
Until He Comes,
KJ
DONATIONS ARE WELCOME AND APPRECIATED.
Make a one-time donation
Make a monthly donation
Make a yearly donation
Choose an amount
Or enter a custom amount
$
---
Your contribution is appreciated.
Your contribution is appreciated.
Your contribution is appreciated.
Donate
Donate monthly
Donate yearly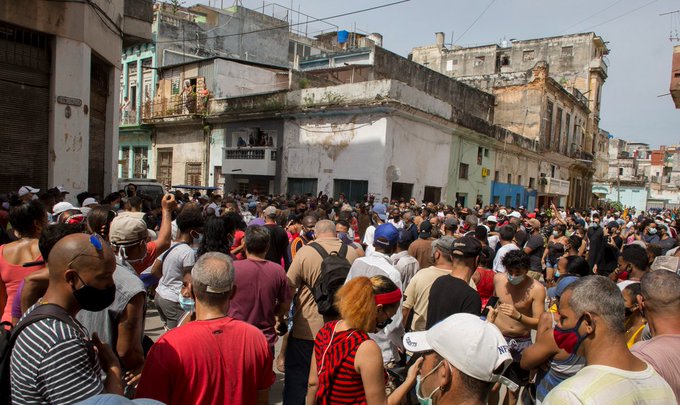 Newsmax.com reports that
Backing the protesters calling for liberation from communism in Cuba, former President Donald Trump issued a reminder of the Biden administration's reversing his Cuban policies and calling on President Joe Biden to stand up against communism.

"I stand with the Cuban people 100% in their fight for freedom," Trump wrote in a statement from his Save America PAC on Monday afternoon. "The government must let them speak and be free!

"Joe Biden MUST stand up to the communist regime or — history will remember. The Cuban people deserve freedom and human rights! THEY ARE NOT AFRAID!"

Trump noted the protests abruptly stopped in Cuba, remarking on the oppressive regime's silencing of freedoms and speech – much like he has denounced from Big Tech and the liberal mainstream media in America.

"Big demonstrations are breaking out in Cuba and Miami in protest of the Communist Cuban Government (although, today there are zero protesters in Cuba — you know what that means!)," Trump's statement began.

Trump also rebuked Biden's reversing his administration's "very tough stance on Cuba," while reminding Americans former President Barack Obama – who Biden served as a vice president – was not only soft on Cuba, but welcoming.

"Don't forget that Biden and the Democrats campaigned on reversing my very tough stance on Cuba," Trump's statement continued. "Remember when Obama attended baseball games with Castros while they imprisoned, beat, and killed the Cuban people."

Trump's strict embargo against Cuba was imposed after he took the White House from Obama in 2017, and Diaz-Canel pointed to those for causing an energy shortage in Cuba, which triggered the uprising that saw the first mass anti-government protests in decades on the island.

President Miguel Diaz-Canel denounced the "economic asphyxiation" causing the discontent over energy shortages forcing the government to slow economic output and causing blackouts in the tropical island.

Diaz-Canel also railed against "Miami's conservative Cuban-American mafia" for fueling the unrest as Cubans were already exhausted and living uneasy with surging COVID-19 infections on the island, according to The Associated Press.

Protesters looted and flipped a police car, according to the president, scenes similar to the anti-China protests in Hong Kong more than a year ago and the social injustice unrest in America led by Black Lives Matter and Antifa activists after the death of George Floyd.
Do you remember how Barack Hussein Obama (mm mmm mmmm) eulogized Cuba's Communist Dictator, Fidel Castro?
At this time of Fidel Castro's passing, we extend a hand of friendship to the Cuban people. We know that this moment fills Cubans – in Cuba and in the United States – with powerful emotions, recalling the countless ways in which Fidel Castro altered the course of individual lives, families, and of the Cuban nation. History will record and judge the enormous impact of this singular figure on the people and world around him. For nearly six decades, the relationship between the United States and Cuba was marked by discord and profound political disagreements. During my presidency, we have worked hard to put the past behind us, pursuing a future in which the relationship between our two countries is defined not by our differences but by the many things that we share as neighbors and friends – bonds of family, culture, commerce, and common humanity. This engagement includes the contributions of Cuban Americans, who have done so much for our country and who care deeply about their loved ones in Cuba.

Today, we offer condolences to Fidel Castro's family, and our thoughts and prayers are with the Cuban people.
I am certain that the "most refined" among us, "the smartest people in the room" as they refer to themselves, the Modern American Liberals, including the Former Chief Marxist/Alinsky-ite himself, Barack Hussein Obama, and the Administration of his Former Vice-President, #DementiaJoe, are aghast at the protesters calling for the end of the Cuba's "perfect form of government"(Marxism) which they are trying to install in our Sovereign Nation.
Why do Modern American Liberals admire those leaders and societies, like the government of Communist Cuba, the leaders of whom would take away their individual freedom, at best, and gut them like a Thanksgiving Turkey, at worst?
How could they be so naïve as to view he poverty-stricken Communist country as being a "Socialist Utopia", which they have dreamt of and which they are trying their best to turn America into, you ask?
Didn't you know? Being a Marxist is cool.
Just ask the Liberal American Millennials walking around with their Che Guevara t-shirts on.
They remember Che differently than the Cuban Exiles in Miami, who came here seeking freedom from tyranny do.
If these members of the "Young and Dumb" had actually read a book, they would burn those stupid t-shirts.
Cuban children are taught in state-run schools that Che was a doctor, even though he had no medical degree.
They are taught that he was a kind soul who cared for the poor and the oppressed, and a brave guerrilla leader who helped to liberate the downtrodden Cuban People from the oppressive tyrant Batista.
And, Jack the Ripper was a surgeon who made House Calls.
Humberto Fontova's "Exposing the Real Che Guevara" paints a vivid picture of the real Che Guevara:
In his biography of Che, Fontova quotes a Cuban exile who is identified by the pseudonym of "Charlie Bravo"
I'd loved to have seen those Sorbonne and Berkeley and Berlin student protesters with their 'groovy' Che posters try their 'anti-authority' grandstanding in Cuba at the time. I'd love to have seen Che and his goons get their hands on them. They'd have gotten a quick lesson about the 'fascism' they were constantly complaining about—and firsthand. They would have quickly found themselves sweating and gasping from forced labor in Castro's and Che's concentration camps, or jabbed in the butt by 'groovy' bayonets when they dared slow down and perhaps getting their teeth shattered by a 'groovy' machine-gun butt if they adopted the same attitude in front of Che's militia as they adopted in front of those campus cops.
In the instruction to that book, Fontova writes that,
If Cuban Americans strike you as too passionate, over the top, even a little crazy, there is a reason. Practically every day, we turn on our televisions or go out to the street only to see the image of the very man who trained the secret police to murder our relatives—thousands of men, women, and boys. This man committed many of these murders with his own hands. And yet we see him celebrated everywhere as the quintessence of humanity, progress, and compassion.
So, while President Obama and his family were jetting to Cuba, on Air Force One, on the American Taxpayer's dime, celebrating the "Progressive Freedom" that only Marxism can bring (that's sarcasm, boys and girls), America's Che Worshippers were back home, wearing their Che T-shirts, brandishing posters proclaiming American Businessman, Entrepreneur, and then-Leading Republican Primary Candidate Donald J. Trump a "fascist", and a modern "Hitler", while blocking roads, jumping on people's cars, and marching lockstep on the streets of New York City, in scenes reminiscent of the Cuban Revolution.
And, that same Astroturf  "Resistance" Movement continues today.
Only now, it is the "Woke" Movement.
United States President Ronald Reagan once said,
How do you tell a communist? Well, it's someone who reads Marx and Lenin. And how do you tell an anti-Communist? It's someone who understands Marx and Lenin.
What we are witnessing among the Far Left Power Brokers, and their "Young and Dumb Foot Soldiers", is a purposeful obtuseness, as to our Constitutional Rights to arm ourselves and vote for whom we please and the harsh reality of Marxism or "spreading the wealth".
History repeats itself.
Irony is embarrassed.
Until He Comes,
KJ
DONATIONS ARE WELCOME AND APPRECIATED.
Make a one-time donation
Make a monthly donation
Make a yearly donation
Choose an amount
Or enter a custom amount
$
---
Your contribution is appreciated.
Your contribution is appreciated.
Your contribution is appreciated.
Donate
Donate monthly
Donate yearly
Newsmax.com reports that
Black Lives Matter co-founder Patrisse Cullors in a letter to Democratic presidential candidate Joe Biden said Black people "want something for our vote."

"We want to be heard and our agenda to be prioritized," Cullors wrote to Biden and running mate Kamala Harris on Saturday, according to Fox News.

"Without the resounding support of Black people, we would be saddled with a very different electoral outcome. In short, Black people won this election."

Cullors also requested a meeting with Biden, who was announced the winner of the 2020 presidential election by several news outlets.

Newsmax TV has yet to call the race and President Donald Trump, citing voter fraud, refuses to concede.

Biden, in an acceptance speech Saturday, thanked Black voters for their support.

"The African American community stood up again for me. They always have my back, and I'll have yours," Biden said at the Chase Center in Wilmington, Delaware. "I said from the outset I wanted a campaign that represented America, and I think we did that. Now that's what I want the administration to look like."

Cullors also reminded Biden and Harris that they both "expressed regrets regarding your record on issues impacting Black people," and advised them to "take your direction from Black grassroots organizers that have been engaged in this work for decades, with a legacy that spans back to the first arrival of enslaved Africans."

"We would like to be actively engaged in your Transition Team's planning and policy work," Cullors said. "Let's get to work!"
If Biden officially supports BLM and Patrisse Cullors, he is hopping in bed with communists.
According to an article on Breitbart.com…
The co-founder of the Black Lives Matter (BLM) movement, Patrisse Cullors, was the protégé of a communist-supporting domestic terrorist for over a decade, spending years training in political organizing and absorbing the radical Marxist-Leninist ideology which shaped her worldview.

Eric Mann, who mentored Cullors for over a decade in community organizing, was a member of radical-left militant groups: Students for a Democratic Society and the Weather Underground, which bombed government buildings and police stations in the 1960s and 1970s.

In a newly resurfaced video from 2015, Black Lives Matter co-founder Patrisse Cullors reveals that she and her fellow BLM founders are "trained Marxists."

In the video, Cullors is interviewed by Jared Ball of the Real News Network and discusses the direction of the BLM movement.

"The first thing, I think, is that we actually do have an ideological frame. Myself and Alicia in particular are trained organizers," she said. "We are trained Marxists. We are super-versed on, sort of, ideological theories. And I think that what we really tried to do is build a movement that could be utilized by many, many black folk."

In previous interviews in 2018, while promoting her then-new book titled, "When They Call You a Terrorist: A Black Lives Matter Memoir," Cullors describes her introduction to and affinity for Marxist ideology.

In an interview with Democracy Now!, Cullors describes how she became a trained organizer with the Labor/Community Strategy Center, calling it her "first political home" and the center's director, Eric Mann, her personal mentor.

She told The Politic that it was there that she was trained from her youth and grew as a leader.
BLM believes in destroying the traditional American Nuclear Family. The proof can be found on their official website, BlackLivesMatter.com…
We are guided by the fact that all Black lives matter, regardless of actual or perceived sexual identity, gender identity, gender expression, economic status, ability, disability, religious beliefs or disbeliefs, immigration status, or location.

We make space for transgender brothers and sisters to participate and lead.

We are self-reflexive and do the work required to dismantle cisgender privilege and uplift Black trans folk, especially Black trans women who continue to be disproportionately impacted by trans-antagonistic violence.

We build a space that affirms Black women and is free from sexism, misogyny, and environments in which men are centered.

We practice empathy. We engage comrades with the intent to learn about and connect with their contexts.

We make our spaces family-friendly and enable parents to fully participate with their children. We dismantle the patriarchal practice that requires mothers to work "double shifts" so that they can mother in private even as they participate in public justice work.

We disrupt the Western-prescribed nuclear family structure requirement by supporting each other as extended families and "villages" that collectively care for one another, especially our children, to the degree that mothers, parents, and children are comfortable.

We foster a queer‐affirming network. When we gather, we do so with the intention of freeing ourselves from the tight grip of heteronormative thinking, or rather, the belief that all in the world are heterosexual (unless s/he or they disclose otherwise).

We cultivate an intergenerational and communal network free from ageism. We believe that all people, regardless of age, show up with the capacity to lead and learn.

We embody and practice justice, liberation, and peace in our engagements with one another.
On May 5, 2015, Black Economist and Conservative Pundit, Dr. Thomas Sowell, published the following observation in an op ed about racial division…
You cannot take any people, of any color, and exempt them from the requirements of civilization — including work, behavioral standards, personal responsibility and all the other basic things that the clever intelligentsia disdain — without ruinous consequences to them and to society at large.

Non-judgmental subsidies of counterproductive lifestyles are treating people as if they were livestock, to be fed and tended by others in a welfare state — and yet expecting them to develop as human beings have developed when facing the challenges of life themselves.

One key fact that keeps getting ignored is that the poverty rate among black married couples has been in single digits every year since 1994. Behavior matters and facts matter, more than the prevailing social visions or political empires built on those visions. [Emphasis mine.]
If the Democrat Elite, like Sleepy Joe Biden and "Heels Up" Kamala Harris, along with those who are still rioting in our major cities, and all other Modern American Liberals, both black and white, Democrat and Republican, in Municipal, State, and National Leadership Positions, would focus their angst and "concern" on the society-altering, continuing dissolution of the Black Family Unit and work instead toward the restoration of the Black Family Unit, instead of attempting to blame our city's police officers and average Americans for the violence in our streets, perhaps the stifling defeatism of the cycle of Generational Poverty and Crime, and the violence it brings, would eventually be a thing of the past, or greatly diminished, anyway.
Then, I wouldn't be awakened every morning, by the Local News in Memphis, to stories about Black Americans killing each other, or mobs of Black Teenagers beating up innocent people.
And American Families could actually go to events in Democrat-run American Cities without being afraid of being robbed, beaten, raped, or killed..
Until He Comes,
KJ