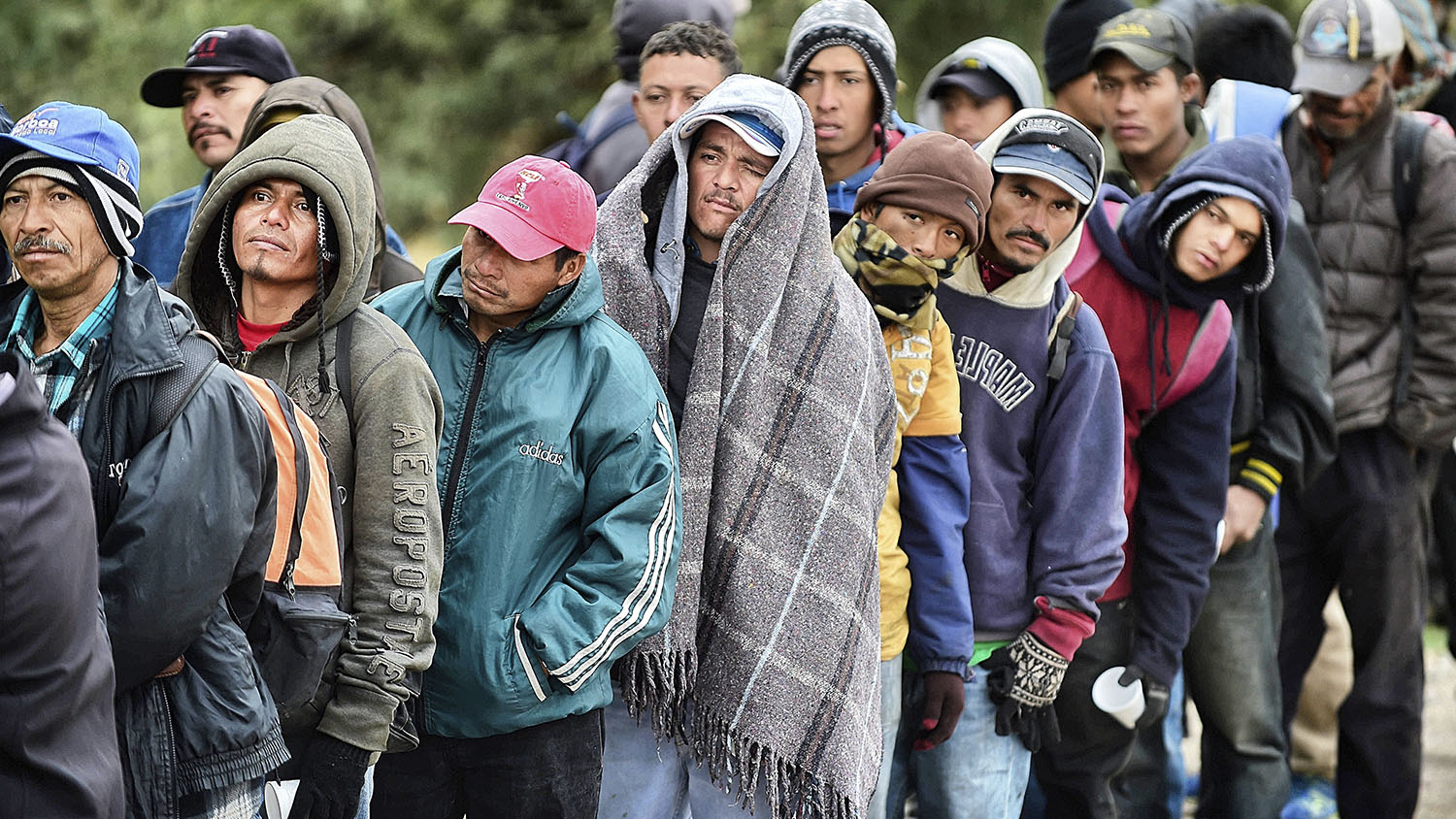 You may have seen this already, however, it explains illegal immigration as succinctly as anything I've come across:
Let's pretend I broke into your house.  When you discover me there, you insist I leave.  But I say, "I've made all the beds, washed the dishes, did the laundry, and cleaned the floors; I've done all the work you don't like to do. I'm hardworking and honest (except for breaking into your house). Not only must you let me stay, you must also add me to your insurance plan, educate my kids, and provide these benefits to my husband, too (he will do your yard work, he's honest and hardworking too–except for that breaking in part). If you try to force me out, I will call my friends who will picket your house and proclaim my right to be there! It's only fair, because you have a nicer house than I do, and I'm trying to better myself. I'm hardworking and honest…except for, well, you know. I will live in your house, contributing only a fraction of the cost of my keep, and there is nothing you can do about it without being accused of selfishness and prejudice.

Oh yeah, I want you to learn my language so you can communicate with me.

Good plan.. don't you think?
Actually, NO.
However, the Biden-Harris Administration and the Democrat Elite do.
FoxNews.com reports that
Department of Homeland Secretary (DHS) Alejandro Mayorkas says he wants to make "significant changes" to Immigration and Customs Enforcement (ICE) — an agency that has seen a rapid reduction in its enforcement scope and has seen arrests and deportations of illegal immigrants plummet since President Biden took office.

In an interview with The Washington Post, Mayorkas said that his agency is conducting a review of ICE and its priorities, and that he expects "significant changes" when that review is complete.

"What those changes will be, I am wrestling with right now, quite frankly," Mayorkas said, the newspaper reported.

It is not clear whether Mayorkas will loosen or tighten the already-strict guidance imposed by the Biden administration on the men and women of ICE in February.

After the Biden administration's attempt to impose a radical 100-day moratorium on deportations was shut down by a judge in response to a Texas lawsuit, the administration issued new guidance dramatically narrowing the illegal immigrants that ICE officers can target for arrest and deportation.

The new rules limit ICE officers to targeting on recent border crossers, national security threats and "aggravated felons." While officials note that technically no one is ruled out of being deported, ICE officers who want to arrest someone outside of those categories need preapproval from a superior. Separately, DHS has also now barred ICE from making arrests at or near courthouses.

The guidance is temporary, but the effects have been dramatic. Deportations have plummeted, with less than 3,000 illegal immigrants deported in April — down 20% from March.

Arrests too dropped, going from 5,118 in January to just over 2,000 in April, according to the latest ICE numbers.

Meanwhile, ICE releases into the U.S. — both from those already here and those crossing the border and being placed into ICE custody — have increased. Between October and January, ICE was releasing between 2,500 and 3,600 immigrants a month. In February, that increased to 4,782 and increased again in March to 11,888 – and then in April to 12,726.

"We continue to use the civil immigration enforcement priorities to focus our resources on threats to national security, border security and public safety," an ICE spokesperson told Fox News earlier this month. "ICE will continue to carry out the duties of enforcing the laws of the United States to further the security and safety of our communities."

Republicans have accused the administration of a de facto abolition of the agency in the face of pressure who radical left-wing activists in the Democratic Party who have long called for the agency to be scrapped.

But Mayorkas has said he has a new vision for the agency.

"I really am focused on it becoming a premier national security and law enforcement agency," Mayorkas told the Post. "I really want to elevate all of the other work [ICE] does and also ensure that its civil immigration work is well-focused in the service of the national security and public safety mission."

But the Post reported that ICE officials describe an environment where officers spend time doing paperwork or working out as they fear making an arrest rather than missing one.
.Y'know, boys and girls, I have been saying for a long time now, that if the Democrats had their way regarding illegal immigration America would turn into a Third World "Democratic Socialist" Paradise, like Venezuela and Cuba.
Even the Dems, like Rep. Henry Cuellar from Texas, are concerned that Biden and his Handers do not have a clue as to what they are doing in regards to the way that they have thrown open our Southern Border to bring in unaccompanied minors, housing them in the cages which Former President Barack Hussein Obama (mm mmm mmmm) built.
It is known that a percentage of these illegal minors are COVID-19 positive.
If they are being held with the other illegals, then Biden and his Administration are "recharging" the pandemic.
And, the rumor is that they are going to take these minors to military bases, like Obama did, and then these "children" will be released to "relatives", making it very possible that America could be headed for another lockdown…which would fit in perfectly in the plans of the Far Left Democrats.
In fact, they have been flying illegals secretly into Chattanooga, Tennessee under the cover of darkness to be distributed into cities in the Eastern part of the United States.
These illegals ar3e not just new Democrat Voters.
The Democrats will use them as human contagion bearers
Just as they have fenced in OUR nation's capitol in order to intimidate and control us, they would have no hesitation to attempt to force another nationwide "Pandemic Lockdown" on American citizens, again.
In countries like Greece, which have allowed the "Democratic Socialists" to take control of their government, the same "game plan" was followed.
Open up the borders, then overwhelm "the system" while raising taxes until businesses go under, placing 40% of the country's population "working for" the government or on government assistance".
Think about this:
Just as the Millionaire Democrats on Capital Hill, like Pelosi, live in gated communities to separate themselves from the violence and poverty which they are responsible for, so are they now working in a "gated community" designed to keep  "Deplorables" (i.e. average American citizens) out.
Welcome to the USSA, Comrades.
Until He Comes,
KJ
DONATIONS ARE WELCOME AND APPRECIATED.
Make a one-time donation
Make a monthly donation
Make a yearly donation
Choose an amount
Or enter a custom amount
$
---
Your contribution is appreciated.
Your contribution is appreciated.
Your contribution is appreciated.
Donate
Donate monthly
Donate yearly
In the first place, we should insist that if the immigrant who comes here in good faith becomes an American and assimilates himself to us, he shall be treated on an exact equality with everyone else, for it is an outrage to discriminate against any such man because of creed, or birthplace, or origin. But this is predicated upon the person's becoming in every facet an American, and nothing but an American…There can be no divided allegiance here. Any man who says he is an American, but something else also, isn't an American at all. We have room for but one flag, the American flag… We have room for but one language here, and that is the English language… and we have room for but one sole loyalty and that is a loyalty to the American people. – Theodore Roosevelt 1907
I had a post already written for today, when a California Judge, appointed by President Clinton, decided that he knew better than the President of the United States of America what was right and just as pertains to the most precious gift that our Sovereign Nation offers: the gift of American Citizenship.
According to Founding Father Alexander Hamilton, in the following Federalist Paper, Americans have nothing to fear from the Judiciary when they act alone. It's when they act in concert with others, such as Liberal Politicians on the State and Federal Level, that Americans need to be afraid.
The plaintiffs in the suit ruled on last night by California District Judge William Alsup included, among others, attorneys general from California, Maine, Maryland, Minnesota and the University of California.
From The Federalist #78
Whoever attentively considers the different departments of power must perceive, that, in a government in which they are separated from each other, the judiciary, from the nature of its functions, will always be the least dangerous to the political rights of the Constitution; because it will be least in a capacity to annoy or injure them. The Executive not only dispenses the honors, but holds the sword of the community. The legislature not only commands the purse, but prescribes the rules by which the duties and rights of every citizen are to be regulated. The judiciary, on the contrary, has no influence over either the sword or the purse; no direction either of the strength or of the wealth of the society; and can take no active resolution whatever. It may truly be said to have neither FORCE nor WILL, but merely judgment; and must ultimately depend upon the aid of the executive arm even for the efficacy of its judgments.

This simple view of the matter suggests several important consequences. It proves incontestably, that the judiciary is beyond comparison the weakest of the three departments of power1; that it can never attack with success either of the other two; and that all possible care is requisite to enable it to defend itself against their attacks. It equally proves, that though individual oppression may now and then proceed from the courts of justice, the general liberty of the people can never be endangered from that quarter; I mean so long as the judiciary remains truly distinct from both the legislature and the Executive. For I agree, that "there is no liberty, if the power of judging be not separated from the legislative and executive powers."2 And it proves, in the last place, that as liberty can have nothing to fear from the judiciary alone, but would have every thing to fear from its union with either of the other departments; that as all the effects of such a union must ensue from a dependence of the former on the latter, notwithstanding a nominal and apparent separation; that as, from the natural feebleness of the judiciary, it is in continual jeopardy of being overpowered, awed, or influenced by its co-ordinate branches; and that as nothing can contribute so much to its firmness and independence as permanency in office, this quality may therefore be justly regarded as an indispensable ingredient in its constitution, and, in a great measure, as the citadel of the public justice and the public security.
Do you think that Hamilton foresaw the rise of Activist Judges, whose sole purpose, working in concert with an out-of-power Political Party, to sabotage a president trying to protect and do what is right and just for American Citizens?
The repeated, desperate actions taken by these "Activist Judges" prove that Liberals are more concerned about their politics than they are the safety of our nation and the rights of American Citizens.
This is nothing but a deliberate political effort to keep a fairly-elected United States President from doing his job.
USA Today reported yesterday that
WASHINGTON — President Trump promised Tuesday to sign what he called a "bill of love" to extend protections to 800,000 immigrants who entered the United States illegally as children — if Congress can work out the details.

"You folks are going to have to come up with a solution," Trump told 25 lawmakers in a remarkable televised negotiation at the White House. "And if you do, I'm going to sign that solution." 

But funding for a wall along the border with Mexico remains a sticking point, as Trump insisted that border security remain a part of any deal. 

Lawmakers are under a March 5 deadline — imposed by Trump — to come up with a legal fix to the Obama-era Deferred Action for Childhood Arrivals program. DACA, as it's known, is now the main stumbling block holding up a wide range of other Trump administration immigration priorities. 

Conservative Republicans in the House want to link DACA to Trump's request for $18 billion for a border wall. That would give immigration talks even more urgency, as the spending bill must pass by Jan. 19 to prevent a government shutdown. 

So Trump and his top advisers sat down Tuesday with 25 members of Congress — 16 senators and nine representatives, 15 Republicans and 10 Democrats. And in an unusual move, the White House opened nearly an hour of the meeting to the press.

The Republicans came with a common talking point: Congress needs a permanent fix to immigration enforcement, or else have to deal with the issue again. Democrats said the urgency of saving DREAMers from deportation meant that extending DACA must take priority.

The so-called DREAMers are the children of immigrants who remained in the country illegally — growing up as Americans but without the legal status. Obama's solution was to use his enforcement discretion to give up to 800,000 DREAMers a quasi-legal status, but the Trump administration has said Obama exceeded his authority and that any fix must come from Congress.

Trump said repeatedly on Tuesday that he would sign any bill Congress sends him to make that deferred action program legal. But then he later clarified that such a bill must also include border security measures, including funding for a border wall.

"A clean DACA bill, to me, is a DACA bill where we take care of the 800,000 people," he said. "We take care of them and we also take care of security. That's very important."

Sen. Richard Durbin, D-Ill., the number two Democrat in the Senate, expressed optimism that such a deal could get done.  

As of March 5, one thousand people a day will lose their temporary status, Durbin said. "Lives are hanging in the balance. We've got the time to do it," Durbin told Trump.

"We feel that we can put together a combination for the future of DACA as well as border security," said Durbin, sitting to Trump's right. "We want a safe border in America, period, both when it comes to the issues of illegal migration, but also when it comes to drugs and all these other areas."

But Republicans also want two other issues on the table: elimination of the diversity visa lottery program and family based "chain migration." 

"Yes, we've got to do DACA, and I agree with you 100%," said House Majority Leader Kevin McCarthy, R-Calif. "But if we do not do something with the security, if we do not do something with the chain migration, we are fooling each other that we solved the problem."

Senate Democratic Leader Chuck Schumer of New York, who was not in the meeting, said he was encouraged by Trump's more productive tone. "The fact that he limited things to just the four areas that were talked about — something we have been seeking for a while to see what the limits are—was a very good sign," he said.

After the reporters left, Trump showed even more flexibility, said Sen. Jeff Flake, R-Ariz. — especially on the issue of how much money he wants for the border wall.

"I went in very skeptical that anything would be accomplished, but the biggest part of the meeting — the best part — is what the president did actually a little more explanation of what the wall actually means to him," said Flake, who has been a frequent critic of the president in the past. "The wall is really a fence."

Tuesday's meeting in the Cabinet Room of the White House was scheduled to be closed to reporters, but opened up on short notice. It quickly became perhaps the most extended open discussion between the president and congressional leaders since President Barack Obama's Blair House summit on health care eight years ago. Sen. Lindsay Graham, R-S.C., called it "the most fascinating meeting I've been involved with in 20-plus years in politics."

"I like opening it up to the media," Trump said. "Because I think they're seeing, more than anything else, that we're all very much on a similar page. We're on the same page."

The open negotiation also came amid growing questions about Trump's command of the issues following the release of a tell-all book last week. Often sitting with his arms crossed and directing the conversation, Trump delved into immigration policy with occasional tangents into earmarks, military spending and whether Oprah Winfrey will run for president. ("I don't think she's going to run," Trump said.)

After 55 minutes, Trump finally gave the signal for aides to usher reporters out of the room. "Thank you all very much. I hope we gave you enough material. This should cover you for about two weeks," he said.
Going live with these negotiations was a stroke of genius.
Not only did it give the American public an insider's view as to how these sort of negotiations work, it also decimated the latest Democratic lie that President Trump is somehow "mentally impaired".
Any plan that Congress may come up with as regards to the "Dreamers", will be met with close scrutiny by Trump and his Administration.
President Trump is quite aware that if he has a "Read My Lips" moment, his decision will have detrimental consequences for average Americans and our Sovereign Nation.
And, any plans he might have for a reelection bid.
What makes those benefiting from DACA, who wish to stay here forever, exempt from the rules and regulations that every other generation of immigrants to this country had to abide by in order to become legal citizens of the greatest nation in the world?
These "Dreamers" must go through a strict process such as other generations of immigrants have gone through.
In other words, a stringent, controlled pathway to citizenship that will end with them going through the same procedures as all other legal immigrants before them.
Just like those who have wanted to be American Citizens before them, these "Dreamers" must also pledge:
I hereby declare, on oath, that I absolutely and entirely renounce and abjure all allegiance and fidelity to any foreign prince, potentate, state, or sovereignty, of whom or which I have heretofore been a subject or citizen; that I will support and defend the Constitution and laws of the United States of America against all enemies, foreign and domestic; that I will bear true faith and allegiance to the same; that I will bear arms on behalf of the United States when required by the law; that I will perform noncombatant service in the Armed Forces of the United States when required by the law; that I will perform work of national importance under civilian direction when required by the law; and that I take this obligation freely, without any mental reservation or purpose of evasion; so help me God.
The Democrats have sought to make political hay for years now by erroneously claiming that the reason that President Donald J. Trump, along with the majority of Americans, want to build a wall in order to secure our Southern Border, is because we have a fear of people who look different from us.
If that were the case, American would have never become the "Great American Melting Pot", as the old cartoon from Scholastic Rock, that we used to watch as kids on Saturday Mornings on ABC, so aptly explained.
And, "The Donald" would have employed an all-white workforce in his companies.
This country was built by LEGAL IMMIGRANTS of all Ethic Backgrounds, who assimilated into our culture and became AMERICANS, who were loyal to their now-found country, not the country that they left behind to come here for a better life.
For decades, Liberals/Democrats have purposefully assigned a "nobility" and "righteousness" to those who would enter this country illegally, to take American Jobs , while remaining loyal to their country of origin and to those who have been entering illegally for the purpose of destroying our nation through the mindless violence of Islamic Terrorism.
The overwhelming majority of Americans have stated repeatedly that they want our borders to be secure.
President Reagan kept his word. Congress did not.
President Trump must not let that happen to him.
When this Activist Judge's opinion is struck down, and I am confidant that it will be, President Trump and Congress, before they do anything else, must…
SECURE THE BORDER FIRST.
Until He Comes,
KJ