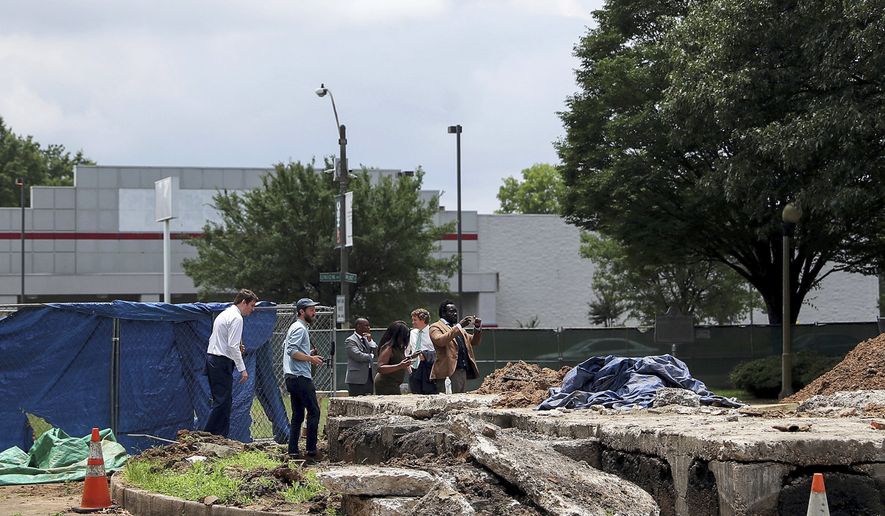 …After the Culture Jihadists finish culturally cleansing the Southern States — they'll be showing up in your neighborhood — to destroy any painting, statue, monument, film or book they find offensive. – Todd Starnes
WREG.com reports that
The remains of Gen. Nathan Bedford Forrest and his wife have been removed from Health Sciences Park in Memphis, where they had been interred since the early 20th century.

The remains were discovered Monday, June 7 at 9:01 a.m., said Van Turner with Memphis Greenspace.

"We would hope that the example showed here with the safe removal of the monuments and the safe removal of the remains will serve as an example of what we can do to move this city forward," said Turner, a Shelby County commissioner who called it "a great day for Memphis."

They are currently in an undisclosed location, said Lee Millar with the Sons of Confederate Veterans.

Members of the Forrest family were present for the removal, and a licensed funeral director was in charge of the process. A public announcement was not made.

"We wanted to do this in a very reverent manner to honor the general and his wife," Millar said.

| Crews begin work to remove Nathan Bedford Forrest's statue pedestal, remains from Memphis park →

Memphis Greenspace, the nonprofit that was granted ownership of the former city-owned Forrest Park, along with the Sons of Confederate Veterans, which is taking responsibility for the remains and monument, joined city officials to make the announcement Friday.

A large statue of Forrest was removed from the park at 9:01 p.m. on Dec. 20, 2017 after the city transferred ownership of the park to a nonprofit. The pedestal supporting it remained until workers began removing it several days ago.

About eight feet under the pedestal were the tombs of the former Confederate general and Ku Klux Klan leader, along with his wife. Forrest died in 1877 and was originally buried in Elmwood cemetery before the remains were moved and the monument built on Union Avenue in the early 20th century.

The remains will be relocated to Columbia, Tennessee.

Removal was complicated both by COVID-19, which held up the legal process because courts were closed, and because no one knew precisely where the remains were buried. Old burial records were used to find the location.

"From there it became more like an archaeological excavation site, so that we could preserve the remains and get them removed safely and in a dignified way," said funeral director Brent Taylor.

Forrest's casket was intact; his wife's had deteriorated so a new casket was provided. A Victorian cradle was also found.

Turner said the park, formerly known as Forrest Park, will host a Juneteenth Festival in a few days. He said the plan for the park is for it to be "just a park" for now, without any symbolism.

Memphis Greenspace also removed a monument to Confederate President Jefferson Davis from Memphis Park downtown.
As a 62-year-old resident of the Memphis Area, I have borne witness to the governmental mismanagement and resulting decay and degeneration of what was once one of the friendliest places in the country to live.
There are still friendly people in Memphis, but, chances are, they work in Memphis and are living in the suburbs, as I do.
The mass exodus of Memphis taxpayers started when Memphis Mayor Willie Herenton, who occupied that office from 1991-2008, told taxpayers of a Caucasian persuasion, if they did not like the way he was running the city, they could leave.
So, they did.
Since then, violent crime in Memphis has steadily risen, to the point where some suburban husbands will not allow their families to enter Memphis during the day or night.
On February 6, 2013, the Majority-Black-Democrat Memphis City Council renamed three Confederate-themed parks to prevent some State Legislators from blocking such name changes.
The council passed a resolution to immediately rename Confederate Park and Jefferson Davis Park in downtown Memphis and Nathan Bedford Forrest Park, which lies just a few miles away. The vote was 9-0 with three members abstaining.
As of 2021, Memphis is the third most dangerous city in the United States of America, per NeighborhoodScout.com.
It must have been those Confederate Statues' fault…it just HAS to have been the fault of the General and his wife…maybe even, his horse.
It has to have been.
Otherwise, the people who have been responsible for the descent of "The City of Good Abode" into Detroit South, where black Americans are being murdered every night of the week, would have to be held responsible for their own actions.
And we can't have that, now…
Can we?
By the way, what those who desecrated the remains of the General don't want you to dwell on is the fact that the property formerly known as Forrest Park was sold for $1 in a scam that involved several Memphis and Shelby County Officials.
Does this mean that we can dig up their relatives who have passed away and "relocate" them, too, if we find them to be "offensive"?
Just asking.
But, I digress…
It is time for the Memphis City Council to quite worrying about offending somebody or not be seen as being "politically correct" and to start worrying about the fact that Memphis has too much violent crime, which is affecting the city's revenue in innumerable ways.
But, by gosh, by golly, now that the Memphis City Council has gotten rid of the General and Mrs. Forrest, decades of poor Democratic Stewardship will magically disappear and all of Memphis' problems will be solved.
…And, I'm actually a blonde 22-year old Dallas Cowboy Cheerleader named "Buffy".
If the City Council actually believes that parks named after Confederate soldiers, historical statues, and solemn gravesites are the reason that Memphis, Tennessee has regressed from being an annual "City Beautiful Award" Winner to a city that is the Third Most Dangerous City in America, then I believe that they have their heads lodged firmly up a dark and lonely place.
At this rate, they might as well leave their heads where they are, because they are certainly not using them to think.
Here's a serious question:
When the Woke Political Activists and Politicians have finished removing any American History involving the Confederacy…whose family will they dig up next because they are offended?
YOURS?
Until He Comes.
KJ
DONATIONS ARE WELCOME AND APPRECIATED.
Make a one-time donation
Make a monthly donation
Make a yearly donation
Choose an amount
Or enter a custom amount
$
---
Your contribution is appreciated.
Your contribution is appreciated.
Your contribution is appreciated.
Donate
Donate monthly
Donate yearly