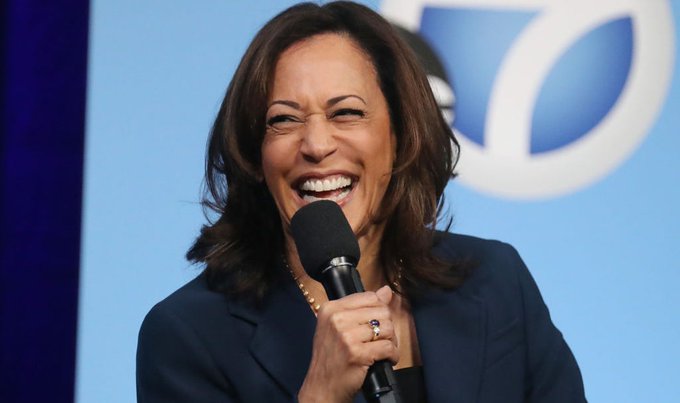 FoxNews.com reports that
Vice President Kamala Harris came under fire Saturday for tweeting about Memorial Day, but without mentioning the significance of the weekend.

"Enjoy the long weekend," Harris wrote, above a candid photo of herself smiling.

Social media users condemned Harris' lack of tact reminding the vice president of the sacrifices the "long weekend" is meant to honor.

"Don't forget why we have a long weekend," Tony Lederer wrote in a tweet paired with a picture of the Vietnam Memorial.

"It is Memorial Day weekend – [not] for enjoying – but for memorializing our fallen," wrote another. "Our brothers and sisters, who 'gave the last full measure of devotion. Please try to respect that."

The tweet was shared with an image of a woman lying on a blanket in front of a tombstone at the Arlington National Cemetery with an infant.

"While we get the long weekend to 'enjoy,' let us all please take a solemn moment to remember those courageous men and women who sacrificed *everything," Peter Francis wrote.

Memorial Day is celebrated the last Monday of May each year to honor the men and women who have died while serving in the U.S. military.

The tradition began as Decoration Day during the spring in the years following the end of the Civil War, eventually becoming a federal holiday in 1971.

A 2019 study by Bloomberg BNA found that 97 percent of employees designated Memorial Day a paid day off, but roughly 40 percent of companies require some employees to still work.

Other social media users reminded the vice president that not all Americans are allotted a long weekend with Mondays off, particularly as the service industry has reopened following the coronavirus pandemic.

Harris addressed the pandemic in a speech at a commencement ceremony for graduates at the U.S. Naval Academy Friday.

"It has forever impacted our world," she said. "It has forever influenced our perspective, and if we weren't clear before, we know now: Our world is interconnected. Our world is interdependent, and our world is fragile."

"This, midshipmen, is the era we are in, and it is unlike any era that came before," Harris added.

But Harris turned heads when she made a joke about Naval electrical engineers creating green energy during her speech Friday.

"Just ask any Marine today, would she rather carry 20 pounds of batteries or a rolled-up solar panel, and I am positive she will tell you a solar panel, and so would he," she said, before laughing.

The White House declined to comment on the tweet that garnered negative attention.
I am certain that they did.
America's President and Vice-President are supposed to be America's biggest advocates…not our biggest detractors.
I have never heard one word from Joe Biden or Kamala Harris about how wonderful America is and how much they appreciate our men and women of the Armed Forces and the sacrifices which those before us have made to secure our American Freedom.
Everything word that comes out of their mouths is either about how great they are or about what a backwards, bigoted nation with a long way to go America is.
For Kamala Harris to be so tone deaf, while appalling, is not surprising.
She is so awful that only 1% of the Democrats backed her in the Democratic Presidential Primaries.
She jump-started her political career by becoming 60-yeear old Willie Brown's paramour.
Since she has been Biden's Vice-President and presumed successor when his Handlers cannot hide his dementia from the American public anymore, Kamala hasn't done squat.
When Biden announced that he was putting his VP in charge of the "situation" at the Southern Border, I am sure that all of the Mexican Cartels breathed a sigh of relief.
That was over 50 days ago and she still has not visited our southern border, yet.
But, I digress…
Just like the Clintons and the Obamas before them, the Biden-Harris Administration have absolutely no respect for our Armed Forces.
Flag-draped coffins and grieving families do not move them at all.
To them, our Armed Forces are simply another vehicle by which to advance their mission to spread "Wokeness" (Cultural Marxist ) throughout our Sovereign Nation in order to usher in "Democratic Socialism".
And, in order to do that, the current Administration is in the process of purging our Armed Forces of "extremists", because those in their ranks who believe in Traditional American Faith and Values would resist fighting for a political ideology that is the exact opposite of what their ancestors fought and died in battle to preserve.
So, when Kamala Harris disrespected our Brightest and Best who died while serving our country by not acknowledging the reason for a three-day weeked…it was intentional.
To do so would be against what she believes in.
Until He Comes,
KJ
DONATIONS ARE WELCOME AND APPRECIATED.
Make a one-time donation
Make a monthly donation
Make a yearly donation
Choose an amount
Or enter a custom amount
$
---
Your contribution is appreciated.
Your contribution is appreciated.
Your contribution is appreciated.
Donate
Donate monthly
Donate yearly