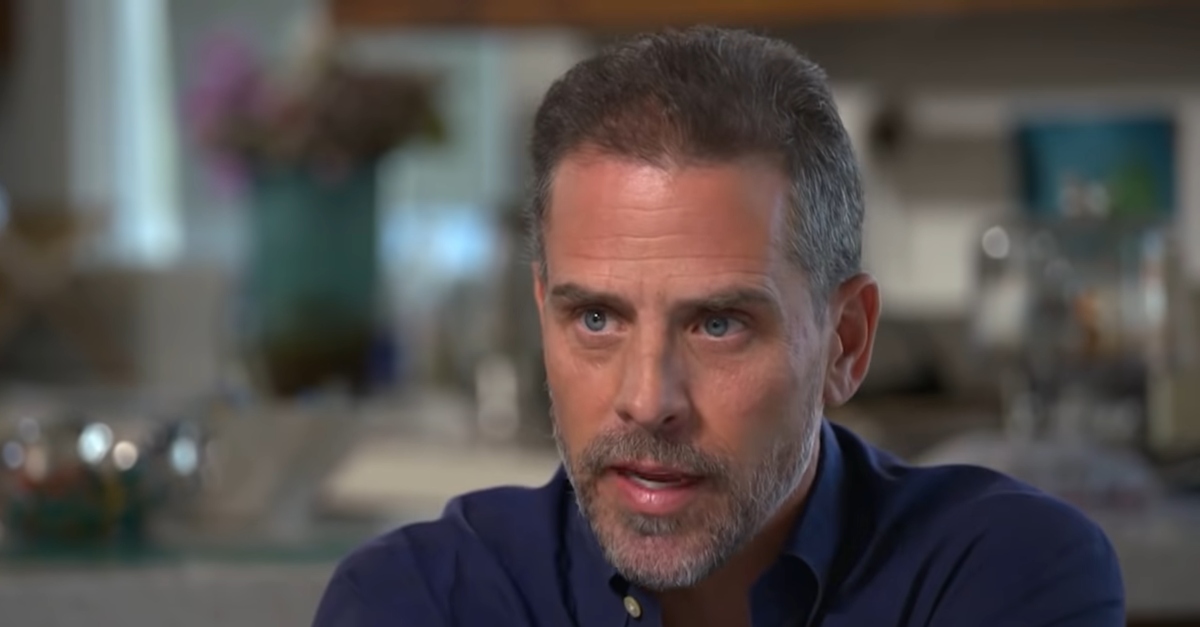 The evidence contained in Hunter Biden's laptop of financial malfeasance of government payoffs, of blackmailable events, makes what Hillary Clinton was trafficking in really small stuff. Joe Biden is no different than Hillary Clinton in that he was selling access to his family and to him for huge amounts of money and for the enrichment of his son Hunter. – Rush Limbaugh, 10/15/20
FoxNews.com reports that
Hunter Biden said he's "100% certain" that he'll be cleared of any wrongdoing in a Department of Justice investigation into his finances during an interview Sunday.

The "CBS Sunday Morning" interview came ahead of the scheduled Tuesday release of Biden's memoir "Beautiful Things."

The president's son said he couldn't go into much detail regarding the investigation.

"But I can say this: I'm cooperating completely. And I'm absolutely certain — I'm 100% certain — that at the end of the investigation, I will be cleared of any wrongdoing," he said. "And all I can do is cooperate and trust in the process."

President Joe Biden talks with his son Hunter Biden as he holds his grandson Beau Biden as they walk to board Air Force One at Andrews Air Force Base, Md., Friday, March 26, 2021. (AP Photo/Patrick Semansky)
President Joe Biden talks with his son Hunter Biden as he holds his grandson Beau Biden as they walk to board Air Force One at Andrews Air Force Base, Md., Friday, March 26, 2021. (AP Photo/Patrick Semansky) (AP)

Biden also revealed that his father calls him "at least" every night and has for years.

"I'll tell you why. Because he's lost [loved ones]. He, like me, knows what it's like not to be able to pick up the phone and talk to your son," Hunter Biden said.

The U.S. Attorney's Office in Delaware is investigating Hunter Biden's tax affairs, Fox News first reported in December. The investigation, according to a source familiar with the matter, began in 2018.

"I learned yesterday for the first time that the U.S. Attorney's Office in Delaware advised my legal counsel, also yesterday, that they are investigating my tax affairs," Biden said in a statement in December. "I take this matter very seriously but I am confident that a professional and objective review of these matters will demonstrate that I handled my affairs legally and appropriately, including with the benefit of professional tax advisors."

President Biden has vowed that he will stay out of the DOJ investigation of his son.

The DOJ asked a slew of Trump-era federal prosecutors to resign earlier this year but notably kept on Delaware U.S. Attorney David Weiss, who is overseeing the investigation into the younger Biden. White House Press Secretary Jen Psaki said the president made the decision to keep on Weiss to "fulfill his promise of maintaining independence."

Hunter Biden's foreign entanglements have been a source of controversy for the Biden administration in its early days.

In February, Psaki said Hunter Biden was still "working to unwind his investment" in a Chinese equity fund, despite a promise from President Biden that his family would not hold foreign investments during his presidency.
FoxNews.com reported in October of 2020 that
The FBI's subpoena of a laptop and hard drive purportedly belonging to Hunter Biden came in connection with a money laundering investigation in late 2019, according to documents obtained by Fox News and verified by multiple federal law enforcement officials who reviewed them.

It is unclear, at this point, whether the investigation is ongoing or if it was directly related to Hunter Biden.

Multiple federal law enforcement officials, as well as two separate government officials, confirmed the authenticity of these documents, which were signed by FBI Special Agent Joshua Wilson. Wilson did not immediately respond to Fox News' request for comment.
Hmmm…
Now, I'm just spitballin' here…but I have a couple of ideas as to what sort of activities the FBI Investigation may have been looking into which precipitated the money laundering.
Given what we know about the contents of Hunter Biden's laptop or "The Laptop From Hell" as President Trump has called it, the case could have sprung from
Payments from foreign countries and foreign corporations to Hunter for access to and political favors from his Father while he was Vice-President
Sexual trafficking of underage Chinese girls
So, boys and girls, wrap your heads around this:
Joe and Hunter Biden are guilty of the very thing that President Donald J. Trump was investigated for by a Special Counsel, his minions, and Nancy Pelosi and the Democrats in the House of Representatives: COLLUSION!
Joe Biden lied to American voters concerning his involvement with his son's nefarious foreign deals, which makes him a security risk to our Sovereign Nation who should never have been able to run for President of the United States of America.
To say that Sleepy Joe is compromised is putting it mildly.
He and his heathen son are both as crooked as a dog's hind leg.
Another thing, Special Counsel Robert Mueller was chosen in May of 2017.
His investigation was underway while the Biden Crime Family was brokering deals for personal gain with our two biggest enemies.
Given the fact that this Father and Son enterprise had been in "business" since Biden was Vice-President, and that several prominent Democrats were on lists to be contacted by the Bidens about certain endeavors, it sheds a whole new light on the sham impeachment of President Trump.
Were the Democrats attempting to cover their own dealings with the Biden Crime Family?
It's certainly possible.
And, the Democrats' love affair with the Chinese Government continued with the revelation that Representative Eric Swalwell, a member of the House Intelligence Committee was sleeping with a Chinese Spy named Fang Fang (I'm Serious).
I wonder if she was any relation to the girl named Chew Mee in the Roger Moore Bond Movie "The Man With The Golden Gun?
But, I digress…
While they were accusing President Trump of collusion, the Democrats were literally in bed with Communist China.
Calling the Democrat Elite a bunch of hypocrites does not even begin to cover the depth of their corruption.
God protect us.
Until He Comes,
KJ
DONATIONS ARE WELCOME AND APPRECIATED.
Make a one-time donation
Your contribution is appreciated.
---
Make a monthly donation
Your contribution is appreciated.
---
Make a yearly donation
Your contribution is appreciated.