"I've noticed that everyone who is for abortion has already been born." – President Ronald Reagan
FoxNews.com reports that
A hearing in the Justice Department's lawsuit against the state of Texas over its "heartbeat bill" is scheduled for Friday.

The Biden administration, after the law went into effect earlier this month, announced that it would sue the state over the law known as Senate Bill 8, which allows private citizens to sue abortion providers and anyone who assists in the procedure.

The law, as reported by The New York Times, makes it "difficult to challenge in the courts" since the lawsuit does not name state officials as defendants. Rather, the defendants in this lawsuit are private citizens who "have no connection to the patient or the clinic."

The Texas Tribune reports that both state and federal lawyers will give their arguments at Friday's hearing, which is being overseen by Judge Robert L. Pitman of the U.S. District Court for the Western District of Texas.

The DOJ argues that Texas has flouted "settled constitutional law" that "a State may not prohibit any woman from making the ultimate decision to terminate her pregnancy before viability."

The federal government also states that S.B. 8 "conflicts with federal law by purporting to prohibit federal agencies from carrying out their responsibilities under federal law related to abortion services," and that since S.B. 8 does not make exceptions for rape or incest, "its terms purport to prohibit the federal government and its employees and agents from performing, funding, reimbursing, or facilitating abortions in such cases."

Texas' argument states that "if the Department of Justice wants to expand its authority, it should direct its requests to Congress, not this Court."

As they consider similar abortion restrictions, other states are watching the court's ruling in the Texas case. In addition, Roe v. Wade, the landmark 1973 U.S. Supreme Court decision that gave women the right to legally access abortion throughout the United States, might again be back before the high court for a ruling on whether the decision is constitutional.
If you are surprised that Biden's Democratically-controlled Department of Justice is attempting to overturn Texas' "Heartbeat Law" in favor of continuing the practice of killing the unborn, then you have not been paying attention to "The Party of Death".
Prior to 1973, abortions were allowed in some states but restricted or almost banned in others. Every state legislature made their own decision on whether to allow abortions and under what circumstances.  There was no Federal Law in regards to abortion.  Then, in 1973, the U.S. Supreme Court gave us Roe v. Wade. It declared a Texas anti-abortion statute unconstitutional and, in doing so, affected abortion laws in many other states.
For any low  information voters who might be reading, I present the following summary:
Jane Roe was an unmarried and pregnant Texas resident in 1970. Texas law made it a felony to abort a fetus unless "on medical advice for the purpose of saving the life of the mother." Roe filed suit against Wade, the district attorney of Dallas County, contesting the statue on the grounds that it violated the guarantee of personal liberty and the right to privacy implicitly guaranteed in the First, Fourth, Fifth, Ninth, and Fourteenth Amendments. In deciding for Roe, the Supreme Court invalidated any state laws that prohibited first trimester abortions.

"We … acknowledge our awareness of the sensitive and emotional nature of the abortion controversy, of the vigorous opposing views, even among physicians, and of the deep and seemingly absolute convictions that the subject inspires." — Justice Blackmun (1973), majority opinion in Roe v. Wade
When you talk to Far Left Democrats about this stopping of a beating heart, they will  claim that, a human fetus is "just a clump of cells". 
From the scientific perspective, Dr. Carlo Bellieni, in his book "Dawn of the I: Pain, Memory, Desire, Dream of the Fetus," says:
As soon as it is born, the child shows in a scientifically demonstrable way that it recognizes its mother's voice and distinguishes it from that of a stranger. Where has he learned that voice other than in the maternal womb?

There are also direct proofs. For example, we register how the movements and cardiac frequency of the fetus vary if we transmit unexpected sounds through the uterine wall. And we see that at first the fetus is startled, then it gets used to it, just like we do when we hear something that does not interest us.

In fact, the scientific evidence is immense. We cannot understand how it can be thought that it becomes a person at a certain point, perhaps when coming out of the uterus.

From the physical point of view, at the birth very little really changes: Air enters the lungs, the arrival of blood from the placenta is interrupted, the type of circulation of blood in the heart changes, and not much more.

As I often say, only blind faith in magic arts or some strange divinity can lead one to think that there is a "human" quality leap at a given moment — certainly not science.
Several years ago, then-President Obama, who was brushing away tears on a Tuesday Morning on behalf of limiting the Second Amendment Rights of American Citizens, said the following,
Look, I got two daughters — 9 years old and 6 years old. I am going to teach them first about values and morals, but if they make a mistake, I don't want them punished with a baby. I don't want them punished with an STD at age 16, so it doesn't make sense to not give them information.
My question for the Democrat Elite and their Department of Justice, is:
When do children stop being a "punishment" and start being precious lives to shed tears over?
Is it simply a matter of "Political Expediency"?
Until He Comes,
KJ
DONATIONS ARE WELCOME AND APPRECIATED.
Make a one-time donation
Make a monthly donation
Make a yearly donation
Choose an amount
Or enter a custom amount
$
---
Your contribution is appreciated.
Your contribution is appreciated.
Your contribution is appreciated.
Donate
Donate monthly
Donate yearly
FoxNews.com reports that
A "passionate" Alabama TV anchor and former college football player who broke the infamous Bill Clinton tarmac meeting with then-Attorney General Lorreta Lynch died Saturday, according to reports and his employer.

Christopher Sign, 45, was found dead Saturday morning by Hoover police in his Scout Terrace home, according to Al.com. The death is being investigated as a suicide, Hoover Lt. Keith Czeskleba said, according to the outlet.

"Chris was a tremendous leader in our newsroom," wrote ABC 33/40 on Saturday in tribute.

"He worked with our reporting staff on a daily basis, but also worked behind the scenes with the I-Team and with news managers on coverage of major events. You were very likely to get an email from him with a story idea in the middle of the night. He was passionate about journalism and showed it each and every day as he pushed himself and his colleagues to be the best."

Sign had three boys with his wife Laura, according to the local ABC affiliate.

"Our deepest sympathy is shared with Christopher's loving family and close friends," said ABC 33/40 vice president and general manager in a statement.

"We have lost a revered colleague who's indelible imprint will serve forever as a hallmark of decency, honesty and journalist integrity," he added. "We can only hope to carry on his legacy. May his memory be for blessings."

The Dallas-area native had in 2017 returned to Alabama to anchor the ABC station's evening news show, after working for a TV station in Phoenix. While there, Sign broke the major 2016 presidential campaign news that former President Clinton in June 2016 met at Sky Harbor Airport with Lynch while the attorney general was investigating former Secretary of State Hillary Clinton's use of an private email server.

Sign, who played offensive lineman at Alabama in the 1990s, wrote a book about the encounter named "Secret on the Tarmac."
The Main Street Media is reporting Mr. Sign's death as a "suicide".
Do you remember that "Tarmac Meeting" between Former President Bill "Bubba" Clinton and Attorney General Loretta Lynch which happened on June 27, 2016?
That meeting occurred just hours before Department of Justice Officials filed a motion in federal court seeking a 27-month delay in producing correspondence between former Secretary of State Hillary Clinton's four top aides and officials with the Clinton Foundation and Teneo Holdings, a closely allied public relations firm that Bill Clinton helped launch.
The next morning I wrote,
"Now, why would someone as smart as Bill Clinton, the former president of United States of America comma and attorney general Loretta Lynch, have a meeting that has such an appearance of impropriety?"
At the time, I thought that there were several possibilities.
Looking back on it, I believe that it is patently clear why Bubba met with AG Lynch in that jet idling on the tarmac.
FoxNews.com reported some additional information about that clandestine meeting in an article posted on December 1, 2017…
The revelation last year of an unorthodox tarmac meeting between former President Bill Clinton and then-Attorney General Loretta Lynch set off a frenzied scramble at the FBI to track down the source, newly released documents show. 

Conservative watchdog group Judicial Watch, which on Thursday released 29 pages of FBI emails related to the 2016 meeting, said the messages show officials were more concerned about the leak than the substance of the report. 

"These new FBI documents show the FBI was more concerned about a whistleblower who told the truth about the infamous Clinton-Lynch tarmac meeting than the scandalous meeting itself," Judicial Watch President Tom Fitton said in a statement. 

The FBI initially claimed it had no documents pertaining to the meeting, until uncovering the files later turned over to Judicial Watch. 

The watchdog group, in releasing the files, said FBI officials sent a flurry of emails after the meeting was reported in New York's Observer.

One email sent from an unidentified FBI account on July 3, 2016 said, "We need to find that guy" and bring him or her before a supervisor. Another said the source should be banned from working security details. 

Officials speculated that the source of the leak was a Phoenix police officer. One official said they contacted the Phoenix office and would try to "stem any further damage." 

One official, in a July 2 email, said the article represented a "breach in security protocol" and the Phoenix division would be pressured to "identify the source of the breach." 

Judicial Watch said all names on the emails were redacted and there is no documentation showing concern over the meeting itself.

The tarmac meeting fueled Republican complaints at the time that Lynch had improperly met with the husband of an investigation subject, just before the probe into Hillary Clinton's personal email use was completed with no charges filed.

Fired FBI Director James Comey, in Senate testimony, described the tarmac meeting as problematic. The tarmac meeting came days before Comey held a news conference informing the media that Hillary Clinton would not be charged.

Comey in July 2016 said Clinton was "extremely careless" in handling classified and other emails on the servers but recommend no criminal charges — a conclusion Lynch accepted.

Lynch later expressed regret that she sat down with Bill Clinton while his wife was under federal criminal investigation, a chance encounter she acknowledged "cast a shadow" on the public's perception of a case bound to influence the presidential campaign.

"I certainly wouldn't do it again," Lynch said of the meeting.
Well, gosh, gentle readers. I wonder why the FBI was more worried about the source of the leak than they were about the impropriety of the meeting, itself?
Well, duuuuh.
It's because the FBI had orchestrated it with the Clintons.
It was a strategy session.
And now, the Broadcast Journalist who had the temerity to report on that clandestine meeting is dead from an apparent suicide.
It certainly is strange how many people within the Clintons' "Sphere of Influence" have would up that way.
It certainly makes one stop and think, doesn't it?
Until He Comes,
KJ
DONATIONS ARE WELCOME AND APPRECIATED.
Make a one-time donation
Make a monthly donation
Make a yearly donation
Choose an amount
Or enter a custom amount
$
---
Your contribution is appreciated.
Your contribution is appreciated.
Your contribution is appreciated.
Donate
Donate monthly
Donate yearly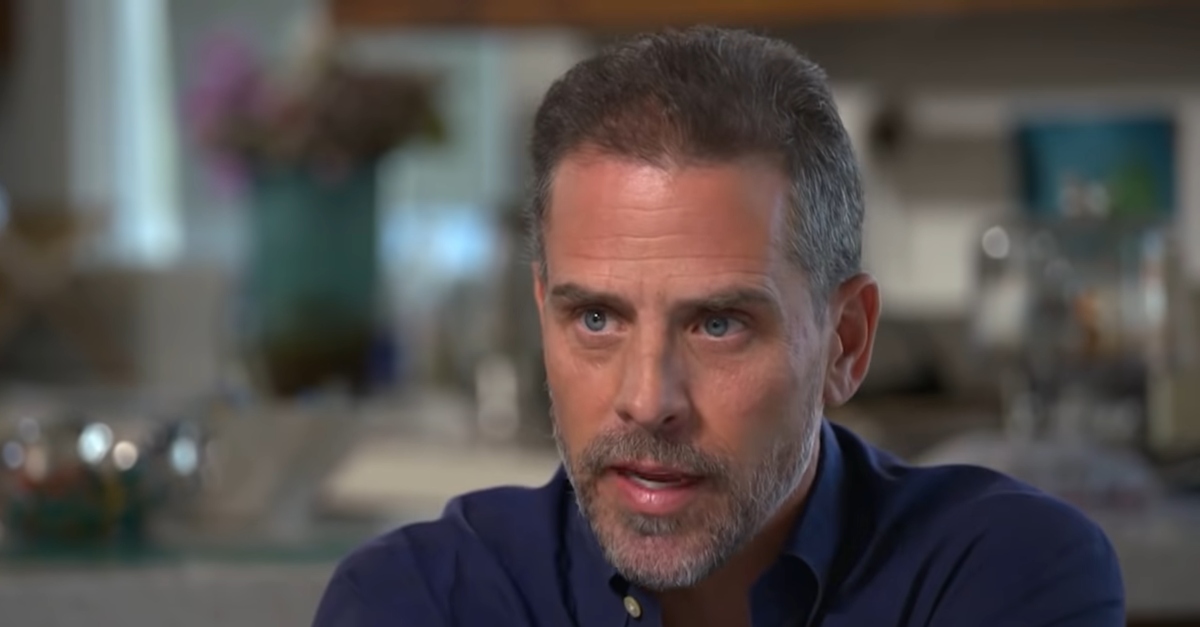 The evidence contained in Hunter Biden's laptop of financial malfeasance of government payoffs, of blackmailable events, makes what Hillary Clinton was trafficking in really small stuff. Joe Biden is no different than Hillary Clinton in that he was selling access to his family and to him for huge amounts of money and for the enrichment of his son Hunter. – Rush Limbaugh, 10/15/20
FoxNews.com reports that
Hunter Biden said he's "100% certain" that he'll be cleared of any wrongdoing in a Department of Justice investigation into his finances during an interview Sunday.

The "CBS Sunday Morning" interview came ahead of the scheduled Tuesday release of Biden's memoir "Beautiful Things."

The president's son said he couldn't go into much detail regarding the investigation.

"But I can say this: I'm cooperating completely. And I'm absolutely certain — I'm 100% certain — that at the end of the investigation, I will be cleared of any wrongdoing," he said. "And all I can do is cooperate and trust in the process."

President Joe Biden talks with his son Hunter Biden as he holds his grandson Beau Biden as they walk to board Air Force One at Andrews Air Force Base, Md., Friday, March 26, 2021. (AP Photo/Patrick Semansky)
President Joe Biden talks with his son Hunter Biden as he holds his grandson Beau Biden as they walk to board Air Force One at Andrews Air Force Base, Md., Friday, March 26, 2021. (AP Photo/Patrick Semansky) (AP)

Biden also revealed that his father calls him "at least" every night and has for years.

"I'll tell you why. Because he's lost [loved ones]. He, like me, knows what it's like not to be able to pick up the phone and talk to your son," Hunter Biden said.

The U.S. Attorney's Office in Delaware is investigating Hunter Biden's tax affairs, Fox News first reported in December. The investigation, according to a source familiar with the matter, began in 2018.

"I learned yesterday for the first time that the U.S. Attorney's Office in Delaware advised my legal counsel, also yesterday, that they are investigating my tax affairs," Biden said in a statement in December. "I take this matter very seriously but I am confident that a professional and objective review of these matters will demonstrate that I handled my affairs legally and appropriately, including with the benefit of professional tax advisors."

President Biden has vowed that he will stay out of the DOJ investigation of his son.

The DOJ asked a slew of Trump-era federal prosecutors to resign earlier this year but notably kept on Delaware U.S. Attorney David Weiss, who is overseeing the investigation into the younger Biden. White House Press Secretary Jen Psaki said the president made the decision to keep on Weiss to "fulfill his promise of maintaining independence."

Hunter Biden's foreign entanglements have been a source of controversy for the Biden administration in its early days.

In February, Psaki said Hunter Biden was still "working to unwind his investment" in a Chinese equity fund, despite a promise from President Biden that his family would not hold foreign investments during his presidency.
FoxNews.com reported in October of 2020 that
The FBI's subpoena of a laptop and hard drive purportedly belonging to Hunter Biden came in connection with a money laundering investigation in late 2019, according to documents obtained by Fox News and verified by multiple federal law enforcement officials who reviewed them.

It is unclear, at this point, whether the investigation is ongoing or if it was directly related to Hunter Biden.

Multiple federal law enforcement officials, as well as two separate government officials, confirmed the authenticity of these documents, which were signed by FBI Special Agent Joshua Wilson. Wilson did not immediately respond to Fox News' request for comment.
Hmmm…
Now, I'm just spitballin' here…but I have a couple of ideas as to what sort of activities the FBI Investigation may have been looking into which precipitated the money laundering.
Given what we know about the contents of Hunter Biden's laptop or "The Laptop From Hell" as President Trump has called it, the case could have sprung from
Payments from foreign countries and foreign corporations to Hunter for access to and political favors from his Father while he was Vice-President
Sexual trafficking of underage Chinese girls
So, boys and girls, wrap your heads around this:
Joe and Hunter Biden are guilty of the very thing that President Donald J. Trump was investigated for by a Special Counsel, his minions, and Nancy Pelosi and the Democrats in the House of Representatives: COLLUSION!
Joe Biden lied to American voters concerning his involvement with his son's nefarious foreign deals, which makes him a security risk to our Sovereign Nation who should never have been able to run for President of the United States of America.
To say that Sleepy Joe is compromised is putting it mildly.
He and his heathen son are both as crooked as a dog's hind leg.
Another thing, Special Counsel Robert Mueller was chosen in May of 2017.
His investigation was underway while the Biden Crime Family was brokering deals for personal gain with our two biggest enemies.
Given the fact that this Father and Son enterprise had been in "business" since Biden was Vice-President, and that several prominent Democrats were on lists to be contacted by the Bidens about certain endeavors, it sheds a whole new light on the sham impeachment of President Trump.
Were the Democrats attempting to cover their own dealings with the Biden Crime Family?
It's certainly possible.
And, the Democrats' love affair with the Chinese Government continued with the revelation that Representative Eric Swalwell, a member of the House Intelligence Committee was sleeping with a Chinese Spy named Fang Fang (I'm Serious).
I wonder if she was any relation to the girl named Chew Mee in the Roger Moore Bond Movie "The Man With The Golden Gun?
But, I digress…
While they were accusing President Trump of collusion, the Democrats were literally in bed with Communist China.
Calling the Democrat Elite a bunch of hypocrites does not even begin to cover the depth of their corruption.
God protect us.
Until He Comes,
KJ
DONATIONS ARE WELCOME AND APPRECIATED.
Make a one-time donation
Your contribution is appreciated.
---
Make a monthly donation
Your contribution is appreciated.
---
Make a yearly donation
Your contribution is appreciated.