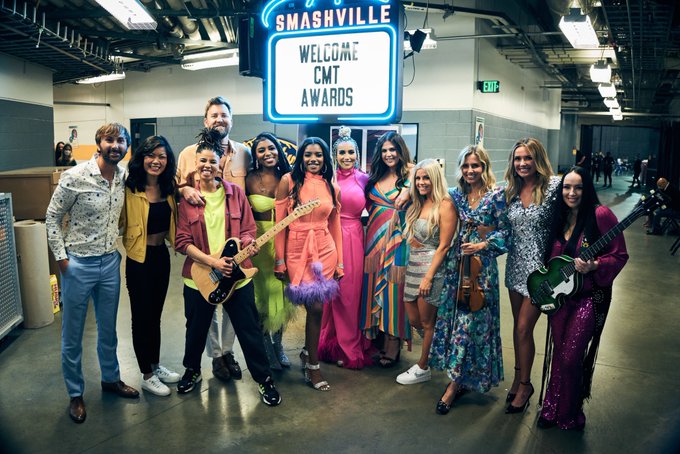 I miss "Hee Haw".
FoxNews.com reports that
The Country Music Television (CMT) Music Awards are here.

The star-studded event kicked off from Nashville, Tenn., Wednesday evening with a performance by Lady A. The trio was joined onstage by Carly Pearce and Lindsay Ell.

Ell stepped in after Gabby Barrett bowed out, citing "personal circumstances."

Cameras then took viewers to a farm where Chris Stapleton performed "Arkansas."

Following the two performances, hosts Kane Brown and Kelsea Ballerini took the stage. "After this year … I'm thirsty for a great party," Brown said.

"This is awesome. First of all, we're back and making music people," Kimberly Schlapman yelled, referring to the pandemic.

"I know you like drinking songs," Karen Fairchild added.

The award was presented by Trace Adkins and Taylor Lewan of the NFL's Tennessee Titans, who poked fun at country music "lingo" by asking Adkins what a dobro, diminished fifth and bluegrass is – refuting the expert's answers with silly jokes.

Lewan told Adkins that a diminished fifth was when a drinker has less whiskey than they expected and that a dobro is a friend who eats too much pizza.

Hailey Whitters then took the stage to sing her hit "Fillin' My Cup." Miranda Lambert also performed a stripped-down version of her hit "Tequila Does." She sang around a campfire alongside Jon Randall and Jack Ingram. Luke Combs also performed.

Linda Martell, who is one of the pioneering Black acts in country music and the first Black woman to perform solo at the Grand Ole Opry, received the CMT Equal Play Award.

Comedian Iliza Shlesinger took the stage next to poke fun at country music lyrics, particularly from some of the genre's top female artists.

She pointed out "violent" lyrics in songs from Carrie Underwood and Lambert, suggesting that a "CSI: Nashville" television show be developed based on songs like "Before He Cheats." The remark was a reference to the long-running CBS drama "CSI" and its spinoffs, which followed crime scene investigators.

The star presented the award for collaborative video of the year, which was given to Chris Young and Brown for their tune "Famous Friends."

The CMT Music Awards will honor acts in country music but will also share its stage with pop and R&B stars, including Gladys Knight, Pink, John Legend, Halsey, H.E.R. and Noah Cyrus.

Knight and Mickey Guyton will perform together and Stapleton and fellow guitar slayer H.E.R. are joining forces onstage at Wednesday's show celebrating the year's best country music videos.

Both Maren Morris and Barrett were originally set to perform at the CMT Awards but backed out.
By the way,, boys and girls.
Did y'all know that CMT encouraged their viewers to wear orange for "Gun Control"?
Needless to say, Country Music Fans, their core audience, are not complying.
SJW has now officially come to Modern "Country" Music.
The East Cost/Left Coast Power Brokers have done to Country Music exactly what they did to Classical Liberalism.
They have jettisoned Traditional American Faith and Values for a shallow hedonistic conflagration of drinkin', cheatin', partyin', and Liberal Politics, changing an entire music genre into something that it never was and was never meant to be.
On this Mississippi June Morning, just a few miles away from Graceland, the home of Elvis Presley, I sit here reflecting on the influence which actual Country Music had on my young life, growing up with my Mother and Daddy.
Every family, to this day, has rituals that they observe like clockwork.
Our Saturday Night Ritual was to eat homemade hamburgers, spaghetti, or crockpot beans off of TV trays and watch "Hee Haw", the syndicated country music variety show, out of Nashville, which starred Buck Owens, Roy Clark, and a "cast of thousands".
The snotty folks up in the Northeast Corridor and Hollyweird never could figure out what made that "hick show", that lasted 25 years, so popular.
After all, it was about traditional American Values, love of God and Country, respecting our American Musical Heritage, and featured talented performers who wrote songs, sang, played their own instruments, loved and appreciated their fans, and actually behaved like average Americans.
Plus, they had the good grace and common sense to keep their private lives, private.
At this time in our country's history, when morality has become relative and ethics situational, we find our hearts crying out to hear something that will soothe our troubled souls.
Instead, we find synthesized, mass-produced Pop Music and "so-called" Country Music, actually more Pop Music, manufactured in New York City (pronounced like they did in the old Pace Salsa Commercials), advocating meaningless one-night stands and encouraging the debasement of the human soul, instead of its ability to rise above any obstacle in its path that might hinder individual achievement.
With all of today's over-produced, under-written Pop and Country-Pop Music flooding the airwaves of both broadcast and satellite radio, Americans my age wonder where all the great Country Songwriters and Performers have gone to?
What is happening to country music reflects a lot about the culture we live in. Artists who actually lived what they sung about like Loretta Lynn, George Jones, Merle Haggard, Tammy Wynette, The Statlers, Jim Ed Brown, Porter Waggoner, Hank Williams, Jr., Randy Travis, Jeannie C. Riley, and Elvis Presley have been replaced by fashion models and wannabe rappers and rock stars.
Please don't get me wrong.
There are still Americans performing country music. Brad Paisley, Alan Jackson, Toby Keith, Reba McEntire, Martina McBride, Clint Black, and Brooks and Dunn,  among others, are still attempting to keep the spirit of Country Music alive.
However, in our culture of fast lives, fast food, and instant gratification, superficiality sells. That's how we got stuck for 8 long years with Barack Hussein Obama (mm mmm mmmm).
It is easier and more profitable for a record company to sell someone who looks good and can sing a little, or to release a country music album made by a fading rock star, than it is for them to market someone who is unbelievably talented and writes their own songs, but who resembles your next door neighbor.
What the heck do Gladys Knight and John Legend have to do with Country Music?
Remember the Bruce Springsteen and Van Morrison Country Music CD fiascos?
No? I don't blame you. I wouldn't admit it, either.
Can you imagine Hank Williams, Sr., Patsy Cline, or Buck Owens trying to get a record deal today?
I'm sorry Mr. Williams. Your vocalization is way too twangy and you drink way too much. "I Saw The Light"? What kind of song is that? A song about redemption? Get real. "I'm So Lonesome I Could Cry"? Who Cares? You're just not marketable.
Ms. Cline, we can't use you. You look like somebody's next door neighbor.

Mr. Owens, what is the "Bakersfield Sound" that you're talking about? That won't get any airtime in New York City. "Act Naturally"? That's a song? Next thing you know, you'll tell me that the Beatles will want to record it.
Now you know why Toby Keith formed his own record label.
The big recording companies like RCA Nashville and Arista are run like any other business. Executives are transferred from other cities and other divisions within the company and are judged to be successful by the amount of revenue they generate.
The decision was made several years ago to turn country music into pop music. Country Music started the transition from Kitty Wells to Taylor Swift and from George Jones to Kid Rock in an effort to claim a bigger share of the CD-buying public.
The disconnect arises when you take a genre that has traditionally sung about God, America, family, and heartache and try to make it about fashionistas, MTV, and shallow people with situational morality and ethics.
Just like the Liberal Politics of the outspoken harpies, the Dixie Chicks, it just doesn't work here in America's Heartland.
As we say in Dixie,
That dog don't hunt.
Alan Jackson and George Strait were prophets.
Nobody saw him running from sixteenth avenue
They never found the fingerprint or the weapon that was used
But someone killed country music, cut out its heart and soul
They got away with murder down on music row

The almighty dollar and the lust for worldwide fame
Slowly killed tradition and for that someone should hang
They all say not guilty, but the evidence will show
That murder was committed down on music row

For the steel guitars no longer cry and fiddles barely play
But drums and rock 'n' roll guitars are mixed up in your face
Old Hank wouldn't have a chance on today's radio
Since they committed murder, down on music row

They thought no one would miss it, once it was dead and gone
They said no one would buy them old drinking and cheating songs
Well I'll still buy 'em
Well there ain't no justice in it and the hard facts are cold
Murder's been committed, down on music row

Oh, the steel guitars no longer cry and you can't hear fiddles play
With drums and rock 'n roll guitars mixed right up in your face
Why, the hag, he wouldn't have a chance on today's radio
Since they committed murder down on music row
Why, they even tell the posse to pack up and go back home
There's been an awful murder down on music row

"Murder on Music Row". George Strait/Alan Jackson, 2000
Please excuse my grammar,
But, what the East and Left Coast Liberals have done to "Country Music" today, ain't just murder.
It's a MASSACRE.
Until He Comes,
KJ
DONATIONS ARE WELCOME AND APPRECIATED.
Make a one-time donation
Make a monthly donation
Make a yearly donation
Choose an amount
Or enter a custom amount
$
---
Your contribution is appreciated.
Your contribution is appreciated.
Your contribution is appreciated.
Donate
Donate monthly
Donate yearly
"I love all my students, but I will never lie to them regardless of the consequences," – Tanner Cross s
FoxNews.com reports that
Byron "Tanner" Cross, a physical education teacher, has won an initial battle with the Loudoun County Public Schools (LCPS), which placed him on leave after a controversial speech denouncing a proposed policy regarding gender.

In a letter Tuesday, Twelfth Circuit Judge James E. Plowman ordered LCPS to restore Cross' position as a physical education teacher at Leesburg Elementary School. The temporary injunction will allow Cross to maintain his job until Dec. 31, at which point the injunction will dissolve unless other orders are put in place.

Plowman argued that Cross was likely to succeed if his case was brought to trial, that the school district had adversely impacted his First Amendment rights, and that reinstating his job was within the "public interest."

Cross sparked an uproar last month when he told LCPS' school board that he wouldn't "affirm that a biological boy can be a girl and vice versa because it's against my religion. It's lying to a child, it's abuse to a child, and it's sinning against our God."

Just days after that speech, Cross was told in a letter not to come on the school's premises. The letter vaguely stated the school district was investigating "allegations that you engaged in conduct that has had a disruptive impact on the operations" of his school.

Plowman's letter rejected the school district's argument that it was suspending Cross not due to his speech, but because of the disruption it created.

"[T]he Court has found … that the disruption relied upon was insufficient," he wrote, adding that Cross' speech and religious content were "central" to LCPS' decision.

Plowman also argued that Cross' "interest in expressing his First Amendment speech outweigh the Defendant's interest in restricting the same and the level of disruption that Defendant asserts did not serve to meaningfully disrupt the operations or services of Leesburg Elementary School."

LCPS declined to comment. Alliance Defending Freedom (ADF), a religious liberty firm representing Cross, praised the ruling.

"Nobody should be punished for expressing concern about a proposed government policy, especially when the government invites comment on that policy," said ADF President and CEO Michael Farris.

"For that reason, we are pleased at the court's decision to halt Loudoun County Public Schools' retaliation against Tanner Cross while his lawsuit continues. Educators are just like everybody else — they have ideas and opinions that they should be free to express. Advocating for solutions they believe in should not cost them their jobs."

Plowman similarly held that Cross' comments constituted private and constitutionally protected speech.

Cross had referred to draft policy 8040, which required Loudoun staff to use preferred pronouns.

"LCPS staff shall allow gender-expansive or transgender students to use their chosen name and gender pronouns that reflect their gender identity without any substantiating evidence, regardless of the name and gender recorded in the student's permanent educational record," it read.

"School staff shall, at the request of a student or parent/legal guardian, when using a name or pronoun to address the student, use the name and pronoun that correspond to their gender identity. The use of gender-neutral pronouns are appropriate. Inadvertent slips in the use of names or pronouns may occur; however, staff or students who intentionally and persistently refuse to respect a student's gender identity by using the wrong name and gender pronoun are in violation of this policy."

Another proposed policy, 8350, stated that LCPS staff "shall allow gender-expansive and transgender students to participate in such activities in a manner consistent with the student's gender identity."

Tuesday's school board meeting exploded with parents and educators irate at the county for its actions towards Cross.

Many complained that LCPS was exceeding its authority and chilling speech. Some educators also spoke in support of Cross and his ideas.
With any liberal, as long as you believe what they believe, you're one of the smartest people in the room. However, as soon as you cross them, and stand up for your own Christian Heritage of Faith, you are labeled a stupid "Christianist" and/or an "intolerant", inbred hillbilly, as demonstrated by the Loudoun County School Board.
Additionally, after American voters in the majority of states got together to express their opposition to homosexual marriage through their right to vote, the Gay Mafia found a sympathetic (at the time) Supreme Court to rule that marriage is a "Civil Right", instead of a Holy Sacrament…a bond between a man and a woman, ordained by God.
The problem that Christians and Conservatives alike face is the fact that being Pro-homosexual marriage is the "cool" thing to be now.
Even if it is at the expense of the First Amendment.
For several decades now, the Democratic Party, relying on Far Left Ideologues or their own opinion as their "highest authority", have made a determined effort to eliminate the practice of American Christianity and the Traditional American Morality and Ethics which go with it from Everyday American Life, attempting to regulate Christians' role in American Society as remaining unseen and unheard from, worshiping in private, on Sunday mornings, only.
Or, as Actor and Professional Wrestler Dwayne "The Rock" Johnson would say, Modern American Liberals want American Christians to
Sit down, shut up, and know your role!
Unfortunately for them, Former President Donald J. Trump reinforced our rights as Americans to our Faith with an Executive Order early in his Presidency.
The First Amendment to the Constitution still holds.
Congress shall make no law respecting an establishment of religion, or prohibiting the free exercise thereof; or abridging the freedom of speech, or of the press; or the right of the people peaceably to assemble, and to petition the Government for a redress of grievances.
The spiritual battle raging between the influence of American Popular Culture and those seeking the Will of God in their lives, takes all the strength…and prayer, that Christians can muster.
Modern Liberals seem to have great difficulty comprehending the role which Our Creator, the God of Abraham, played and plays in this Grand Experiment, known as the United States of America.
Why are they so focused on removing America's Christian Heritage?
Well, as is usually my wont, I have been doing some "reckoning" about this.
It seems to this ol' Southern Boy, living here in the Heartland, that America's Christian Heritage and the very real fact of His influence in building and shaping America's growth into the greatest country on the face of God's Green Earth, not only stifles and interferes with Modern Liberals' "anything goes", "share the wealth", "hive-mind", "man is his own god", "boys can be girls and girls can be boys" Political Ideology, but the reality of God's very existence, somewhere deep in their miserable, bitter psyches, scares the mess out of them.
Why else would they be trying so hard to fight against the influence of Someone Whom they really don't believe in?
And, a second and final thought has occurred to me upon reviewing the situation of this brave school teacher who stood up for his faith.
Today's Far Left Democratic Party are nothing but a bunch of fools.
For…
The fool says in his heart, "There is no God." They are corrupt, they do abominable deeds; there is none who does good. – Psalms 14:1
Until He Comes,
KJ
DONATIONS ARE WELCOME AND APPRECIATED.
Make a one-time donation
Make a monthly donation
Make a yearly donation
Choose an amount
Or enter a custom amount
$
---
Your contribution is appreciated.
Your contribution is appreciated.
Your contribution is appreciated.
Donate
Donate monthly
Donate yearly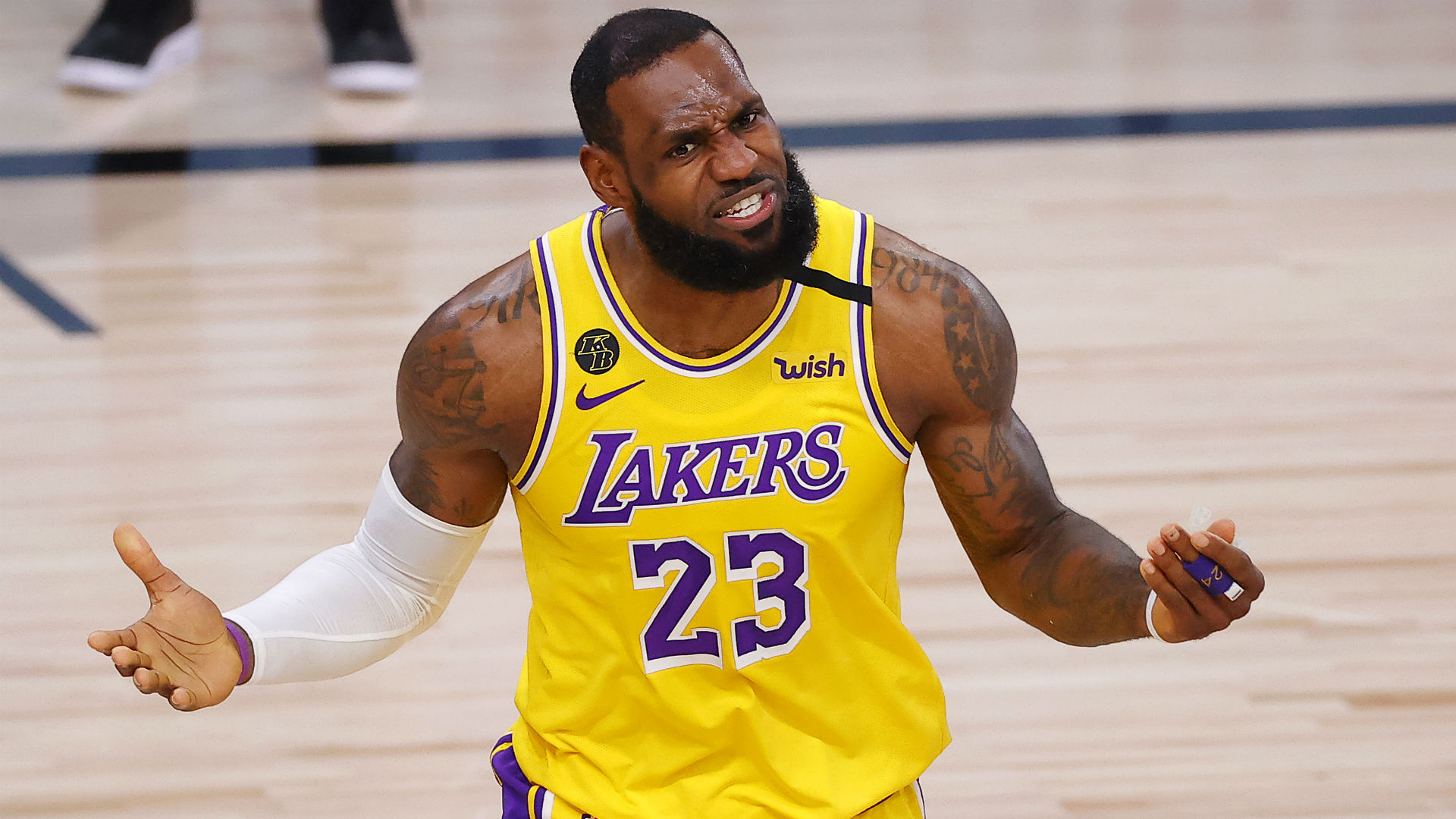 FoxNews.com reports that
Los Angeles Lakers superstar LeBron James is facing intense backlash over a now-deleted tweet targeting a Columbus police officer involved in the shooting of 16-year-old Ma'Khia Bryant.

Bodycam footage released late Tuesday showed Bryant being shot as she was attacking another Black teen with a knife.

However, like many other public figures, James suggested that the Columbus shooting was unjustified coming on the heels of the conviction of former Minneapolis police officer Derek Chauvin on murder and manslaughter charges in the death of George Floyd.

"YOU'RE NEXT #ACCOUNTABILITY," the NBA icon wrote with an hourglass emoji over an image of one of the officers at the scene of Bryant's shooting.

James was accused by critics of leveraging his massive Twitter following to target the officer.

"Lebron James is inciting violence against an Ohio police officer. This is disgraceful and dangerous. Is the NBA okay with this? Is Twitter?" Sen. Tom Cotton, R-Ark. asked.

"On behalf of pro athletes, current and former, I apologize for how #LeBronJames just showed his inner Maxine Waters and made a very real, ongoing threat to the life of the officer who quickly acted to prevent a knife attack from becoming worse. Many of us appreciate what LEOs do!" former Major League Baseball player Lenny Dykstra wrote.

"LeBron James doxes [sic] police officer who saved a teenage girl from being stabbed to death, demands officer be held accountable, sets new record for athlete stupidity," OutKick founder Clay Travis tweeted.

"Reported threatening violence," journalist Emily Miller wrote, flagging the tweet to Twitter.

"That cop did nothing wrong by any reasonable standard, and now someone with 50 million followers is encouraging attacks against him," conservative writer A.G. Hamilton said. "That's on top [of] countless news organizations lying about his actions. Decent people need to speak out. Real people will get hurt by this stuff."

James returned to Twitter to explain the "ANGER" he felt when sending that tweet.

"ANGER does any of us any good and that includes myself!" James tweeted. "Gathering all the facts and educating does though! My anger still is here for what happened that lil girl. My sympathy for her family and may justice prevail!"

He added, "I'm so damn tired of seeing Black people killed by police. I took the tweet down because its being used to create more hate -This isn't about one officer. it's about the entire system and they always use our words to create more racism. I am so desperate for more ACCOUNTABILITY."

James is one of several public figures and media outlets who have downplayed the fact that Bryant was attacking someone when she was shot.

Former Obama aide Valerie Jarrett claimed the police officer had shot Bryant "in order to break up a knife fight."

Other tweets, including missives from The New York Times and The Washington Post, completely omitted any reference to the knife Bryant was holding at the time of the shooting.
People have lost their minds.
That police officer did his job.
He saved that other girl's life.
Please allow me to make a confession. It has been quite a few years since I was a serious NBA Fan. I've kept up from afar, just so I could engage in Water Cooler Talk at work. However, until "wokeness" and the Chinese Coronavirus happened, I enjoyed college basketball infinitely more than I did the professional product.
I suppose that it is because of my rather youthful age of 62 and having grown up during some of the greatest times in the history of sports.
In the NBA, I can remember the Knicks, Celtics, Lakers, and Pistons playing hurt and leaving everything that they had out there on the court.
I am also a lifelong Memphis State/University of Memphis Tiger Basketball Fan.
There is a reason for that…
The year is 1972. A skinny, undersized asthmatic kid, new to Wooddale Junior High, in Memphis, Tennessee, is about to be annihilated in a game called Bombardment, a rather sadistic game thought up by the 9th grade P.E. coach for his personal amusement.
Resembling the movie "Dodgeball" on steroids, two teams (usually the delinquents on one side and their victims on the other), would line up against both sides of the bleachers waiting for the coach's whistle. Then, the massacre would ensue.
Sure that I was about to breathe my last, I felt a hand on my shoulder, and a kind voice telling me to stand beside him. I looked up to see the smiling face of Larry Finch, Senior shooting guard on the Memphis State University Tigers Basketball Team. He had just taken an Internship at my school!
Of course, that was the school year that they lost the NCAA Championship to Bill Walton and the UCLA Bruins. I don't think that anyone in the nation hollered at their television set louder that night than I did.
Over the semester, we became friends. I became a Tiger fan for life, eventually receiving my degree there in 1980 in Radio, TV, and Film. While there, I had the privilege of calling radio play-by-play for the Women's Basketball and Men's Baseball teams.
Larry is also the reason that I went on to play and coach basketball, a 4th grade team and a church team, respectively. My coaching record is 24 – 5.
But, I digress…
The reason that I drifted away from being a big fan of the NBA is that they drifted away from me.
As an average American, living here in the Heartland, I still believe in Traditional American Values, such as Faith, Hard Work, Loyalty, Gratitude, and Respect.
The recent actions and words being seen and heard coming from the outrageously paid professional athletes of the NFL, the NBA, and now, Major League Baseball, are not the words and actions of "professionals". Rather, they are the whining, screaming, and lashing out of cry-baby millionaires, who neither respect their fan base, nor those who have made their path to fame and fortune possible through the shedding of their blood for the flag and country which they are so intent on insulting and diminishing.
And now, this "professional" who is extravagantly paid for playing a game that you can watch being played in playgrounds and gymnasiums across the country just threatened and "doxxed" a policeman who did his duty and saved a life.
Oh, sure.
James and the rest of the professional athletes always tell us that it is because of "racial injustice" that they are disrespecting America and all that it stands for along with the sacrifices made by those who comprise the "Thin Blue Line". However, if that was their concern, why have these multi-millionaires waited until the last few years to voice their concern and why didn't they put their money where their big mouths are and do something about it a long, long time ago?
Well, listen up, you ungrateful overpaid pampered pu…err wussified excuses for professional athletes.
You cry-babies offend US!!!
By "us", I am referring to average Americans just like me, who are out here killing ourselves in our 40-plus hour a week jobs, just to make it from paycheck-to-paycheck, including those of us who actually still attend your games, shell out our hard-earned cash, just to see you disrespect our flag, and our Law Enforcement Officers who put their lines on the line to protect us, while you sleepwalk your way through games on your way to collect your millions.
LeBron James and those who run their big mouths like you do are misanthropic ungrateful jackasses, who are not worthy to lace up the tennis shoes of those who have gone before you in your chosen field of athletic endeavor.
Those American Athletes knew whom they were playing for and who paid their salaries. And, they also had the sense to keep their mouths shut.
They knew that young boys followed their every word and action, idolizing them as sports heroes. And, the overwhelming majority of professional athletes back in the day, took that very seriously.
You guys do not seem to take anything seriously…except your own notoriety and your enormous paycheck.
So, LeBron and the rest of you "disenfranchised" millionaires…
As you watch your popularity, the fans in the stands, and your undeserved paychecks dwindling before your eyes…just remember:
Pride goeth before destruction, and a haughty spirit before a fall. – Proverbs 16:18 (KJV)
If you keep running off at the mouth and commit mass seppuku…then perhaps Shaq can get you a job with Papa John's Pizza…delivering.
But hey…that's the way the ball bounces.
So…
#SHUTUPANDDRIBBLE
Until He Comes,
KJ
DONATIONS ARE WELCOMED AND APPRECIATED.
Make a one-time donation
Your contribution is appreciated.
---
Make a monthly donation
Your contribution is appreciated.
---
Make a yearly donation
Your contribution is appreciated.
"Wokeness" is a pseudonym for oppressive Liberal Cultural Stupidity. – kingjester
FoxBusiness.com reports that
The board game "Monopoly" will be the next classic entertainment brand to receive a socially conscious makeover, publisher Hasbro announced this week.

Hasbro will change all 16 of Monopoly's "community chest" cards to remove outdated concepts. The company said the classic versions of the cards, which included prompts referencing beauty contests and holiday funds, were "long overdue for a refresh."

New community chest cards will focus on topics that emphasize "community." Hasbro asked the public to vote on potential replacements, with rewards for in-game actions such as rescuing a puppy or shopping local among the options. Other cards would penalize players for forgetting to recycle or blasting music too late at night.

"The world has changed a lot since Monopoly became a household name more than 85 years ago, and clearly today community is more important than ever," said Eric Nyman, Hasbro's chief consumer officer. "We felt like 2021 was the perfect time to give fans the opportunity to show the world what community means to them through voting on new Community Chest Cards."

Patrice Onwuka of the Independent Women's Forum calls the cancellation a 'misfocus' of priorities in education.Video
Hasbro said the updated version of Monopoly featuring new community chest cards will be available this fall. It wasn't clear if a classic version of the game will still be sold.

Not everyone was pleased with Hasbro's announcement. Critics took to social media to voice their displeasure with the company's decision.

"Hasbro are wanting to "update" the game: I say, "Don't tamper with a classic. I still want to win a Beauty Contest and collect £ 10!," said Gyles Brandreth, a former European Monopoly champion.

"No. Just no. What makes the game so awesome is the dated quality…." another social media user wrote.

The change to Monopoly was announced weeks after Hasbro said it would rebrand its "Mr. Potato Head" product line to "Potato Head." The company said the move was meant to "better reflect the full line."

Earlier this month, Dr. Seuss Enterprises drew scrutiny from conservatives after it announced it would no longer publish six of its books due to "insensitive and racist imagery."
What in the name of Marvin Gardens is going on here?
Who are these Liberal Lilliputians to tell average Americans that we cannot play the game that generations have grown up on just as it is?
Who died and made them the Arbiters of American Culture?
Who gave them any authority at all?
This makes about as much sense as Appointed President Sleepy Joe Biden telling us that "he might allow us " to celebrate the Fourth of July with our friends and families.
Let me state this as plainly as I know how: Average Americans here in the Heartland think you overeducated and under-raised "Woke" Liberal idiots need to get out of your Moms' basements and get a real job.
Y'all are just like the bully who tried to pick on me in 7th grade.
He was twice my size and just would not leave me alone.
Finally, one day I had had enough and hit him right between the eyes with my 2S drumsticks which I used to play the Tom in Junior High Band.
We both got sent to the office and when the Assistant Principal asked me what happened, I told him and he laughed and sent me back to class.
After the Mr. Potato Head Fiasco, you would have thought that you self-appointed Arbiters of American Culture would have learned your lesson.
Just wait until your revenue starts to nosedive like Fox News' did, Hasbro.
You will wish somebody had hit you between the eyes with a pair of drumsticks before you made such a stupid decision.
Until He Comes,
KJ