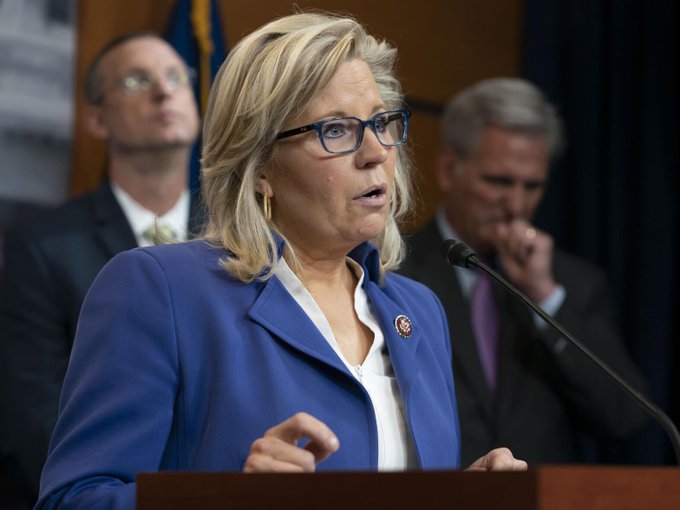 Liz Cheney is a warmongering fool who has no business in Republican Party Leadership. We want leaders who believe in the Make America Great Again movement, and prioritize the values of America First. Elise Stefanik is a far superior choice, and she has my COMPLETE and TOTAL endorsement for GOP Conference Chair. Elise is a tough and smart communicator! – From the Desk of Donald J. Trump, 5/5/21
Rep. Liz Cheney (R-WY) wrote that the Republican Party is at a "turning point" and must decide "whether we will join Trump's crusade to delegitimize and undo the legal outcome of the 2020 election, with all the consequences that might have."

Cheney offered her commentary in an op-ed for the Washington Post, published Wednesday.

"We Republicans need to stand for genuinely conservative principles, and steer away from the dangerous and anti-democratic Trump cult of personality," Cheney wrote.

With her House leadership role as GOP conference chair in jeopardy, Cheney writes that Trump's language about the 2020 election "provoked violence on January 6." Trump, who was banned from social media platforms, recently launched his own method of communicating with his supporters. There, he wrote, "the Fraudulent Presidential Election of 2020 will be, from this day forth, known as THE BIG LIE!"

"While embracing or ignoring Trump's statements might seem attractive to some for fundraising and political purposes, that approach will do profound long-term damage to our party and our country," Cheney wrote. "Trump has never expressed remorse or regret for the attack of Jan. 6 and now suggests that our elections, and our legal and constitutional system, cannot be trusted to do the will of the people."

This is immensely harmful, especially as we now compete on the world stage against Communist China and its claims that democracy is a failed system," she continued.

Cheney also addressed recent violence from groups such as Black Lives Matter and Antifa, but noted those are a "different problem with a different solution."
This woman has lost her RINO mind.
Donald J. Trump did more in three years to enrich the pocketbooks of America's Middle Class and to raise the employment levels of Black and Hispanic Americans than any American President before him.
The reason that Donald J. Trump remains the overwhelming choice of Republicans to run in the 2024 Presidential Election is because he actually has a spine.
He is unafraid to place American and Americans First.
He is not answerable to any lobbyist or any other country.
He is also NOT responsible for what happened on January 6th. It was preplanned before he ever gave his speech that day.
And before everything is said and done, it believe that the fact that Mitch McConnell and Nancy Pelosi were in on the "insurrection in order to damage Trump.
We still do not know the name of the officer who shot and killed unarmed Ashli Babbitt.
Liz Cheney is a nothing but a Democrat but-kissing Warhawk Swamp Creature who lives is the Washington D.C. Country Club along with the other RINOs.
Like the rest of the Vichy Republicans, Liz Cheney thinks more of her "colleagues across the aisle" than she does of actual Conservative Republicans, both in Congress and here in America's Heartland, where we cast our 2016 Vote for Donald J. Trump.
Vichy Republicans, like Liz Cheney, need to be purged from the Republican Party in 2022 and again in 2024, before their spineless acquiescence allows the Democrats to turn America into just another Marxist Nation.
Until He Comes,
KJ
DONATIONS ARE WELCOMED AND APPRECIATED.
Make a one-time donation
Make a monthly donation
Make a yearly donation
Choose an amount
Or enter a custom amount
$
---
Your contribution is appreciated.
Your contribution is appreciated.
Your contribution is appreciated.
Donate
Donate monthly
Donate yearly
It is certainly understandable to be a Republican who's appalled at Donald Trump and refuses to vote for him. But it's another thing entirely to go raise millions of dollars from Democratic donors and run ads not just against Trump, but against run-of-the-mill Republican senators whose only offense is having an R next to their names. – Rich Lowry on "The Lincoln Project"
TheHill.com reports that
The Lincoln Project on Friday released a new ad attacking President Trump for calling for a boycott of the Ohio-based Goodyear tire company, accusing him of threatening American jobs during the coronavirus pandemic because his "feelings got hurt."

The ad, released in partnership with Republican Voters Against Trump, noted that thousands of Ohioans have filed for unemployment and are facing foreclosures or evictions due to the health crisis.

"Times are tough in Ohio and Donald Trump is making it worse," the narrator says. "Demanding a boycott to put Goodyear out of business."

The clip notes that a Goodyear boycott could put 3,300 union jobs at risk.

"Why? His feelings got hurt," the narrator continues. "Trump talks a good game, but he's not on our side. Never has been, never will be."

Reed Galen, a co-founder of The Lincoln Project, said in a statement that the last thing Ohioans need during the pandemic "is to suffer the economic aftershocks of a presidential temper tantrum."

The group, founded by well-known Washington Republicans like George Conway, said it plans to spend $425,000 airing the "Goodyear" ad through next week.

Trump on Wednesday sparked controversy when he called for a boycott of Goodyear following reports that some employees in Kansas were told not to wear clothing with political messages, with "Blue Lives Matter" and "MAGA attire" listed as examples.

"Don't buy GOODYEAR TIRES – They announced a BAN ON MAGA HATS. Get better tires for far less!" Trump tweeted. "(This is what the Radical Left Democrats do. Two can play the same game, and we have to start playing it now!)."

Trump has since doubled-down on his remarks, saying he's considering replacing the Goodyear tires on the presidential car with a different brand.

The company, in a statement Wednesday morning, said that the image of the slide — which made the rounds on social media — created "misconceptions" about company policy. Goodyear said the visual was not created or distributed by Goodyear corporate, nor was it part of a diversity training class.
Imagine that.
Goodyear stocks start dropping and the company starts losing revenue and issues a disclaimer.
I'm shocked. Shocked, I tell you.
What is "The Lincoln Project"?
According to Dan McLaughlin, writing for NationalReview.com…
…the "Lincoln Project," a political action committee founded by three former Republican campaign consultants — Steve Schmidt, Rick Wilson, and John Weaver — and former Republican lawyer George Conway. You may know Schmidt mainly as John McCain's 2008 campaign manager and for helming Arnold Schwarzenegger's 2006 reelection campaign as California governor. Weaver was instrumental in McCain's 2000 campaign (the 2008 campaign only took off after ditching Weaver), and the 2012 Jon Huntsman and 2016 John Kasich campaigns. In between, he theatrically left the Republican Party once before over George W. Bush. His Huntsman and Kasich campaigns veered heavily into sneering-at-Republican-voters-for-media-plaudits territory. In 2019, Weaver registered as a foreign agent for a Russian state-owned energy company.

Still, these men are entitled to their view of Trump. They are entitled to their idiosyncratic strategy of running ads aimed primarily at getting Trump's attention and trying to hurt his feelings so that he lashes out, rather than ads aimed primarily at persuading voters. They are perhaps less entitled to present themselves as disaffected Republicans while catering to a donor base of Democrats…

..Where the Lincoln Project leaves behind any pretense at being a Republican or conservative project at all is in concentrating its efforts heavily on mainstream, moderate, and otherwise very not-Trumpy Republican Senators — Susan Collins, Cory Gardner, Joni Ernst, Martha McSally, and Thom Tillis — and doing so mainly by running ads attacking them from the left, not the right.
OpenSecrets.org reported on July 15th that
Staunch supporters of the Democratic Party and major donors to liberal super PACs started bankrolling The Lincoln Project in June as the Republican-led group slammed Trump over his response to peaceful protesters and the coronavirus pandemic.

Billionaire investor Stephen Mandel — a longtime backer of Democratic groups — gave $1 million to The Lincoln Project last month. Bain Capital executive Joshua Bekenstein chipped in $100,000 to the group. He and his wife Anita have given $6.4 million mostly to Democratic causes during the 2020 cycle, making them the 20th most generous donors. The Bekensteins gave big to two other super PACs supporting presumptive Democratic nominee Joe Biden, Unite the Country and Priorities USA Action.

DreamWorks founder David Geffen — a million-dollar donor to Democratic super PACs in 2018 — also gave $100,000 to the Republican-led group. So did billionaire cable TV pioneer Amos Hostetter, another major Democratic donor. Retail developer Joseph Kaempfer added $75,000 after giving $500,000 to pro-Biden super PAC American Bridge 21st Century earlier this year.
So, boys and girls, the Lincoln Project is as "Republican" as Barack Hussein Obama is.
Their anti-Trump ads need a disclaimer on them which reads "Financed by Democratic Party Billionaires".
Those RINOs who are the "front men" of the Lincoln Project might as well go ahead and change their party affiliation.
Their attack ad reeks of the same delusional arrogance which Americans witnessed during this past week's Democratic National Bore-a-thon…err…Convention.
Just like their Democratic Co-conspirators, the RINOs do not have a clue as to what average Americans' dreams and wishes for the future direction of our country.
One thing that we do not like are traitors. That has been the case since our nation's beginning.
That fact leads me to the knowledge that if President Lincoln were still alive he would twist their arms into a hammerlock and put a boot to their backsides.
Oh,well.
Just like the Democratic Billionaires funding them, the 4 front men of the Lincoln Project did not learn anything from the outcome of the 2016 Presidential Election.
And, those who will not learn from history are doomed to repeat it.
Until He Comes,
KJ