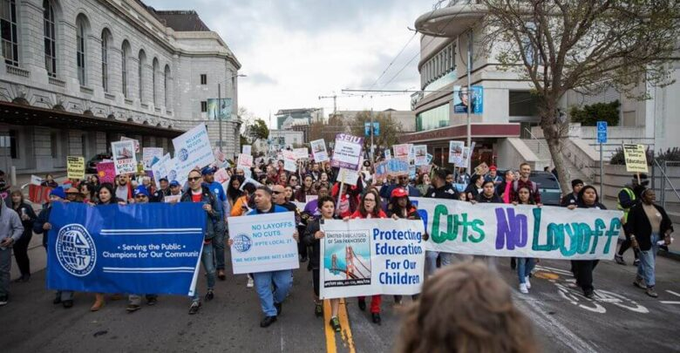 FoxNews.com reports that
San Francisco's teachers union is drawing criticism from Jewish families after voting to endorse the anti-Israel Boycott, Divestment and Sanctions (BDS) movement and releasing a statement accusing America's Middle Eastern ally of committing "apartheid and war crimes".

The United Educators of San Francisco's endorsement of the movement in mid-May during the recent fighting between Israel and Hamas is reportedly the first time a public school teachers union has backed that cause, according to the San Francisco Chronicle. The BDS movement seeks to pressure Israel to change its policies toward Palestinians.

"As public school educators in the United States of America, we have a special responsibility to stand in solidarity with the Palestinian people because of the 3.8 billion dollars annually that the U.S. government gives to Israel, thus directly using our tax dollars to fund apartheid and war crimes," the union said in a resolution that it passed. "Therefore, be it resolved, that United Educators of San Francisco (UESF) express our solidarity with the Palestinian people and call for Israel to end bombardment of Gaza and stop displacement at Sheikh Jarrah."

The union also called on President Biden to stop sending aid to Israel and that it "endorse[s] the international campaign for boycotts, divestment, and sanctions against apartheid in Israel."

However, parents of students in the district are wondering why the 6,000-member union is getting involved in international politics during the coronavirus pandemic. Public schools in San Francisco only started welcoming children back to classrooms in April.

"The teachers union has failed in its most basic mission this year, opening schools and educating San Francisco's children," Todd David, a Jewish parent, told the San Francisco Chronicle. "Instead of focusing on that, they are weighing in on an international political land dispute that experts have been unable to resolve for 70 years."

Parent Arik Luck – a member of the local Congregation Emanu-El — also told the newspaper that he feels the union has betrayed him as their statement "singled out Israel" and "did not even mention Hamas, an organization that is classified by our government as a terrorist group with a well-documented history of executing their political rivals and homosexuals."

"I also question what my teachers union is doing wading into these waters at the expense of my kids," he added. "There are many Jewish people in this city, public school parents who feel the way I do, and a statement like this causes us to worry for the safety of our children in school."

The San Francisco Unified School District has not yet responded to a request for comment Friday from Fox News.

Union spokesperson Amanda Hart told the San Francisco Chronicle this week that "we stand by our call for the boycott, divestment and sanctions of Israel and we unequivocally stand against antisemitism in all its forms."
Really?
Per their website BDSMovement.net,
The Boycott, Divestment, Sanctions (BDS) movement works to end international support for Israel's oppression of Palestinians and pressure Israel to comply with international law.
"BDS" stands for boycott, divest, and sanction.
According to MyJewishLearning.com,
The BDS effort officially traces its origins to a 2005 call by a coalition of 170 Palestinian organizations, though some observers see its roots in the Arab League boycott of Israel launched in the 1940s. The contemporary BDS movement began to take shape during the Second Intifada, which began in 2000. Escalating violence and various major Israeli military operations in the West Bank led to a number of boycott calls beginning in 2002. The construction of Israel's West Bank barrier, which the Palestinians largely opposed, alleging that it was a land grab rather than an effort to reduce terrorism, gave further momentum to these efforts. The 2005 BDS declaration opens by noting that Israel's construction of the barrier was continuing despite an International Court of Justice ruling a year earlier that it was illegal.

Do any Jewish organizations support BDS?

Very few, and none of the major ones. The best-known is Jewish Voice for Peace, a San Francisco-based group that does not endorse a two-state solution or the principles of Zionism and which the Anti-Defamation League lists among the top anti-Israel groups in the United States. Among mainstream Jewish organizations, there is wall-to-wall rejection of BDS. The Jewish campus group Hillel officially bars pro-BDS groups from speaking under its auspices, though this policy has been challenged at a number of schools. J Street, the liberal lobbying group, rejects BDS because the BDS movement does not support a two-state solution or recognize the Jewish right to a state. J Street does support boycotts that are targeted at Jewish settlements in Israeli-occupied territory, however.
So, the largest Jewish Group who supports the BDS Movement happens to be in San Francisco.
I'm shocked. Shocked, I tell you.
Boys and girls, are any of you actually surprised that a Liberal Teachers' Union in Ultra-Liberal San Francisco are taking the side of a "movement" which The Squad champions because it speaks for the wishes of a bunch of Islamic barbarians (yeah, I said it) who want to take land away from Israel for a "country" with never existed?
The term "Palestine" (Falastin in Arabic) was an ancient name for the general geographic region that is more or less today's Israel. The name derives from the Philistines, who originated from the eastern Mediterranean, and invaded the region in the 11th and 12th centuries B.C. The Philistines were apparently either from Greece, Crete, the Aegean Islands, and/or Ionia. They seem to be related to the Bronze Age Greeks, and they spoke a language akin to Mycenaean Greek. Their descendents, still living on the shores of the Mediterranean, greeted Roman invaders a thousand years later. The Romans corrupted the name to "Palestina," and the area under the sovereignty of their city-states became known as "Philistia." Six-hundred years later, the Arab invaders called the region "Falastin."

Throughout subsequent history, the name remained only a vague geographical entity. There was never a nation of "Palestine," never a people known as the "Palestinians," nor any notion of "historic Palestine." The region never enjoyed any sovereign autonomy, remaining instead under successive foreign sovereign domains from the Umayyads and Abbasids to the Fatimids, Ottomans, and British.
Here's a suggestion:
Why don't the United Educators of San Francisco shut up, open back up their schools and classrooms, and teach?
Wouldn't that be refreshing?
Or, would that be too much like work for them?
Until He Comes,
KJ
DONATIONS ARE WELCOME AND APPRECIATED.
Make a one-time donation
Make a monthly donation
Make a yearly donation
Choose an amount
Or enter a custom amount
$
---
Your contribution is appreciated.
Your contribution is appreciated.
Your contribution is appreciated.
Donate
Donate monthly
Donate yearly
Traditionalists decrying a lack of respect for Scripture have lamented that United Methodist evangelism lately has consisted mainly of spreading the social gospel of good works rather than the spiritual freedom of The Great Commission. In more than 18 months, only a couple stories of well over a thousand on the daily UM News feed have reported people accepting Jesus as Lord and Savior.
ChristianPost.com reports that
The United Methodist Church, the third-largest Christian sect in the United States, took another step toward schism over their longstanding debate on LGBT issues when theological conservatives recently unveiled their plan for a new denomination.

Known as the Global Methodist Church, it was the product of the 17-member Transitional Leadership Council, a group of theologically conservative United Methodists.

The Wesleyan Covenant Association, a conservative United Methodist advocacy group, announced the launching of the GMC on March 1, explaining that it will not officially begin operations until a formal separation policy is approved by the UMC.

"Theologically conservative United Methodists have made no secret of their efforts to form a new church," stated the WCA in the announcement.

"In late 2018, the Wesleyan Covenant Association created a Next Steps Working Group to begin drafting its own 'Book of Doctrines and Discipline' outlining essential theological confessions and governing structures for a new church's consideration."

The creators of the GMC and other United Methodists are holding off further action until the results of the next churchwide legislative meeting, known as the General Conference.

Due largely to the coronavirus pandemic, the global denomination has had to postpone the legislative meeting multiple times, with it presently being scheduled to take place Aug. 29 – Sept. 6, 2022, in Minneapolis, Minnesota.

On the agenda for General Conference 2022 will be a proposal to fund and create at least one new separate denomination for those who no longer want to remain in the UMC.
Before I begin, please allow me to be honest with you.
I left the United Methodist Church at the age of 39, when I realized that, thanks to those in control of the denomination, whose headquarters was in the Northeast, some parts of the UMC were beginning to value secularism more than it did the Word of God.
How did I come to that conclusion?
I walked into a Sunday School class and a theology student was teaching out of a book titled, "Rescuing the Bible from Fundamentalists".
While I hated to leave the Choir Director whom I had sang under for 20 years, like Belshazzar, I saw the writing upon the wall.
That was over 20 years ago.
Now, after a long journey down a road filled with Liberals' "religion of social justice", the United Methodist Church is about to pay for following the word of man instead of the Word of God..
Right now, I can hear the Liberals who read my posts in order to raise their blood pressure beyond their usual catharsis, saying,
Well, what's wrong with embracing the lifestyle of the LGBT "community" and allowing them to have leadership roles and to get married within the church?

Christ loved and embraced everyone.
Indeed He did.
Jesus was often found in the company of sinners…but not because He accepted their sins. He was with them because he loved them and loathed their sin. He was there to redeem them through His Loving Grace, so that they might repent and find salvation through Him.
When secular idolatry and popular culture is worshiped and celebrated, instead of Jesus Christ's victory on the cross through His Blood as the expiation for the sins of the whole world, those who believe that the Bible is the authoritative Word of God have a decision to make: either stay and worship man's word or attend a Bible-believing Church.
While Evangelicals, such as myself, welcome all sinners, including gays, into our churches, we do so because we view the church as a "Hospital for Sinners", which we all are.
The Good News is that we are all sinners saved by His Grace and, as Christians, we are not perfect…just FORGIVEN.
Liberals, through their "religion of social justice", view the church as the latest "Shrine in which to Worship Political Correctness".
The problem with their belief is that God always has the last word.
Remember Sodom and Gomorrah?
Until He Comes,
KJ
DONATIONS ARE WELCOME AND APPRECIATED.
Make a one-time donation
Make a monthly donation
Make a yearly donation
Choose an amount
Or enter a custom amount
$
---
Your contribution is appreciated.
Your contribution is appreciated.
Your contribution is appreciated.
Donate
Donate monthly
Donate yearly
"If you dissent, you're a domestic terrorist, folks. If you dissent from whatever it is the Democrat Party today believes, they are claiming they have a right to shut you down, to delete your tweets." – Rush Limbaugh
OANN.com reports that
The liberal media appears to be following the lead of Big Tech. Recent efforts have emerged from the left to continue to silence conservative voices.

The most recent example of calls to so-called "deprogram" the right came from former NBC and CBS journalist Katie Couric.

On Real Time with Bill Maher Friday, Couric discussed congressional Republicans who continued to stand behind President Trump and voted against impeachment.

She said, "the question is, how are we going to really almost deprogram these people who have signed up for the cult of Trump?"

Just last week, Washington Post editor and MSNBC contributor Eugene Robinson said the same of President Trump's supporters.

"There are millions of Americans, almost all white, almost all Republicans, who somehow need to be deprogrammed," Robinson said. "They are members of a cult, the Trumpist cult, and have to be deprogrammed."

The calls to deprogram Republicans came as Big Tech has banned conservatives, with Rep. Marjorie Taylor Greene (R-Ga.) as the latest GOP target. Greene's Twitter account was temporarily blocked following her criticism of Georgia's election results.

The efforts from liberals could worsen under the incoming administration with the formation of a close relationship between Joe Biden and Big Tech.

Former top-level employees of Facebook, Google and Twitter are preparing to join the Biden administration, giving Big Tech even more influence on censorship and the future of Section 230.
Welcome to the USSA, Comrades!
If you have been paying attention to what has been happening in the streets of our major cities for the part 3 weeks, you have seen a bunch of spoiled ungrateful wannabe anarchists, a "Woke Resistance" Movement, if you will, aided by the Far Left Democratic Party, attempt to erase our nation's history through the toppling of historical statues and the defacing of our nation's monuments.
Those who are acting in such a disrespectful and ignorant manner echo the sentiments of the 44th President of the United States of America, Barack Hussein Obama, and the rest of the Far Left self-proclaimed geniuses who cost the Democratic Party the Presidency in 2016 and who believe that anybody who works hard for a living and believes in God and Country, is a Jingoistic imbecile.
According to the dictionary, Jingoism is an extreme chauvinism or nationalism marked especially by a belligerent foreign policy.
In other words, being guilty of believing that America is the greatest country on the face of God's Green Earth and believing in American Exceptionalism.
For the past 2 decades at least, children and young adults, attending American Institutes of Learning from kindergarten to college campuses have been taught by Liberal teachers and professors that America is "just another country" and to be a patriot is to somehow be close-minded, ignorant, and bigoted, not necessarily in that order.
Evidently, the overeducated imbeciles who planned this Marxist uprising which we have witnessed over the last 3 weeks have never understood in their ungrateful little lives what has made and continues to make our country exceptional.
Where the exceptionalism of America lies…is not in the Halls of Power…nor in the Halls of Academia. But, rather in the courage and spirit of the average American. A courage and spirit, which our history proves, has driven American Citizens to build a nation, which is indeed exceptional among all others.
The secret of this country's exceptionalism is the "Average Joe", the 9 to 5′er, working himself into the grave to try to provide for his family.
It was this same "Average Joe", who fired the shot heard around the world and began the War for American Independence, who stormed the beaches of Normandy on D-Day in World War II, who waded through rice paddies in Vietnam, and who swallowed sand in Desert Storm and Desert Shield. The same "Average Joe" who, as a New York City Policeman or Fireman, ran up the stairs of the World Trade Center on 9/11/01, instead of running down them. The same "Average Joe", who simply wants things to be easier in this life for his children and grandchildren, than he had it.
It is this same "Average Joe", who takes family and friends in, when they are in the midst of a life-altering tragedy. The same "Average Joe", who volunteers on a soup line or at a Senior Citizens Home, or, who begins a successful business in his basement.
And, it is this same "Average Joe" whom, being fed up with the Democratic Party's Far Left Crusade against anything and everything traditionally American, went to the voting booth and elected Donald J. Trump, a Citizen Statesman, as our 45th President.
And that, boys and girls, is why, almost 4 years to the day when average Americans watched with a sense of prideful accomplishment as Donald J. Trump took the Oath of Office, Modern American Liberals are still showing the world their posteriors by claiming that the fellow Americans need to be "deprogrammed".
To which I reply "BITE ME!"
Their ego-driven political ideology dOES not permit them to consider the reality that theirs is still the minority political ideology in this nation, as shown during last year's Marxist uprisings by Antifa and Black Lives Matters, in which they demonstrated that they champion a Far Left Fascist political ideology which none but a small minority on the Far Left of the Political Spectrum embrace.
While the East and "Left" Coast are indeed heavily-populated in their metropolitan areas with Liberals (some of them even Legal Citizens), the reality of what actually happened on November 8th, 2016 can been plainly seen on any Electoral Map.
It was an overestimation of their own intellect and an underestimation of the intelligence and unbridled love of average Americans for OUR COUNTRY, that cost the Democrats the Presidency in 2016 and makes their victory in the 2020 Presidential Election very suspicious.
As George Orwell said,
Patriotism is usually stronger than class hatred, and always stronger than internationalism.
So, to summarize, by supporting last year's Marxist riots in our major cities, by labeling Patriotism as "Jingoism", and by ridiculing and accusing  those of us who love our country and hold fast to Traditional American Values as being "racists", in need of deprogramming, the Democratic Party and "President-elect" Joe Biden demonstrate that they do not have a clue concerning what Americans believe.
If I was a Modern American Liberal with any sort of self-awareness, I would be writing Joe Biden a letter, telling him to stay in the squishy middle and not to rock the ship of state by leaning too far to the Left.
Unfortunately, the Far Left "Democratic Socialists" who have taken over the once mainstream Democratic Party are not self-aware.
And, it is this lack of self-awareness that is allowing average Americans to witness the implosion and political extinction of the Democratic Party right before our very eyes.
In the opinion of this 62-year-old, sitting in the Northwest corner of the Magnolia State in America's Heartland, Modern American Liberals, and their ideological leaders, who trod the Halls of Power with impunity, underestimated the American Spirit, just as King George and the British Aristocracy did, so many years ago.
As our enemies, both foreign and domestic, have discovered since the birth of our nation, Americans will fight for our freedom.
We showed this fact to the world on November 8th, 2016.
And now, 4 years later, we face a new fight, defending our American Liberty which was given to us by God Almighty and paid for with the blood of brave young men and women who went before us.
May God Bless you and your family and keep you safe for these next four years.
Until He Comes,
KJ