Newsmax.com reports that
Rudy Giuliani has been banned from appearing on Fox News for several months, and only learned of the "from the top" order on the eve of the 20th anniversary of the 9/11 terrorist attacks.

Son Andrew Giuliani, a New York gubernatorial candidate, has also been banned.

And former NYPD Commsissioner Bernie Kerik, a close adviser to Giuliani, is rarely booked on Fox News, Politico Playbook reports.

Rudy Giuliani and Kerik were prominent New York City leaders on 9/11 as mayor and NYPD commissioner.

"They're not doing us any favors," a Trump aide told Politico.

The rejection on hosting the Giulianis "comes from the top," sources told Politico.

Fox began distancing itself from Giuliani shortly after Trump left office and in the wake of Dominion Voting Systems' lawsuit against the network. The suit cited Giuliani's appearances and statements made on Fox in its $1.6 billion defamation case.

Newsmax was also sued by Dominion over its election coverage, but the network continues to have Giuliani, his son, and Kerik on as guests.

"Rudy is really hurt because he did a big favor for Rupert [Murdoch, founder of Fox News' parent company]," a source close to Giuliani told the outlet. "He was instrumental in getting Fox on Time Warner so it could be watched in New York City."

Rudy Giuliani learned of being bumped from Fox News on the eve of this 9/11 anniversary, with "Fox & Friends" host Pete Hegseth having to call to apologize for being cut from the show, according to the report.

Kerik was reportedly also un-booked from "Fox & Friends" on 9/11.

"I could not have been more disappointed with the Fox coverage on the 20th anniversary of Sept. 11," Kerik said in a statement to Politico. "Then they chose to intentionally ignore Mayor Giuliani who was, and who, according to their own coverage for the last two decades, was America's hero on the day and in the aftermath of the attack.

"Regardless of reasoning, I think this was another demonstration of Fox's cowering to the far left."

A source close to Giuliani tells Newsmax that the former mayor and his circle view their banishment from Fox as part of the network's strategy to reduce and restrict Trump's influence in the Republican party.
Marshall McLuhan once wrote that
The media is the message.
Well, in the past couple of decades, the Main Stream Media has become not just the message, but also judge, jury, and political executioner.
And, unfortunately, thanks to the influence of the Liberal daughter-in-laws of Rupert Murdoch, Fox News began overcompensating to the Left in keeping its programming "fair and balanced".
Daily diatribes from Juan Williams, the now-departed Shep Smith, Donna Brazile, and Chris Wallace made me more than once turn the channel to reruns of…well…just about anything.
Then, came the night of the 2020 Presidential Election.
Fox News stripped away its veneer of "Fair and Balanced" to join CNN and MSNBC as servants of the Democratic Party.
That was not a very smart move.
And, they have been making mind-blowingly stupid moves ever since.
However, this one is the cherry on top of an ice cream sundae of Cable News Channel Programming Stupidity.
I'm so old that I remember when Fox News Channel was not a member of the Main Stream Media.
According to the Old Testament Book of Proverbs,
"Pride goeth before destruction and an haughty spirit before a fall."
That scripture has never been truer than in the case of Fox News.
Americans have noticed that Fox News has been traveling in a Liberal direction ever since Rupert Murdoch left the running of the channel to his sons.
There are more Liberal Pundits and Anchors on Fox News than there have ever been in its history.
And, those who were not known until recently to be Liberal seem to be relishing the opportunity to drive away the audience which made Fox News Channel number one in the ratings for many, many years.
What is maddening to me is the fact that Former President Trump went out of his way to be kind to them, helping their ratings over his time in office through live phone calls and exclusive interviews, including one morning when he made a spontaneous appearance on "Fox and Friends", consenting to a live on-the-spot interview with Steve Doocy.
So, why has Fox News repeatedly bitten the hand that feeds them?
Poor management.
The change in political viewpoint at Fox News has to be the worst marketing decision since "New Coke".
And, just like New Coke, it has left a bitter taste in the mouths of millions of Americans.
So, are the powers-that-be at FNC bright enough to apologize to the millions of Americans who made them number one in the cable news ratings for years and made them all wealthy in the process?
Heck no.
They just keep doubling down on stupid, like AOC at a MENSA Meeting.
Fox News not only jumped the shark…they continue to gleeful feed the crocodile known as the Democratic Party , along with the "Never-Trumper" Wing of the Republican Party, hoping that it will eat them last.
Their arrogance is exceeded only by their stupidity.
Until He Comes,
KJ
DONATIONS ARE WELCOMED AND APPRECIATED.
Make a one-time donation
Make a monthly donation
Make a yearly donation
Choose an amount
Or enter a custom amount
$
---
Your contribution is appreciated.
Your contribution is appreciated.
Your contribution is appreciated.
Donate
Donate monthly
Donate yearly
WREG.com reports that
Multiple people were injured Thursday in a shooting inside the Kroger on Byhalia and Poplar Avenue in Collierville, a Memphis suburb, after an active shooter incident officials are calling the "most horrific event" in the town's history.

Collierville Police Chief Dale Lane confirmed 13 people were shot, and one person killed. The suspected shooter also is dead, possibly from a self-inflicted gunshot, Lane said.

A family member and a Collierville alderman has identified one of the victims as Olivia King.

The suspect's vehicle is still parked and is being investigated. Sources say the suspect was a sub contractor who did work in the store's deli department.

Lane said officers entered the store just after 1:30 and found multiple people shot, and employees in hiding. He could not comment on whether the shooter was an employee, saying it was under investigation.

Lane called it "the most horrific event that's occurred in Collierville history."

Multiple witnesses report hearing at least a dozen shots. Some customers made it out of the store. Employees had others take shelter in the cooler, witnesses said.

One employee named Brignetta Dickerson, who says she's worked at the Kroger for 32 years, told WREG she hid with her coworkers and several customers when they heard the gunshots.

She said her only concern was her customers and coworkers.

"I'm still in shock right now," said Dickerson. "But I was calm. I was calm and told the customers and my co-workers 'Just sit down and relax. You'll be okay.'"

Get the latest news updates on your phone! DOWNLOAD THE WREG APP

Jean Kurzawski said she worked in the back of the Kroger and heard noises toward the front entrance. She thought balloons were popping at first until she saw customers running. She escaped out a back exit and said she heard gunshots continuing behind her.

"I was just thinking, oh I'm gonna die, I'm gonna die, he's gonna shoot me," she said.

Collierville High School was briefly sheltering in place.

Multiple ambulances were seen entering Regional One Hospital in Memphis. The hospital reported it saw nine patients, four in critical condition and five non-critical.

Kroger released a statement on the shooting:

We are deeply saddened by the incident that occurred at our Kroger store located on New Byhalia Rd. in Collierville, TN – a suburb of Memphis. The entire Kroger family offers our thoughts, prayers and support to the individuals and families of the victims during this difficult time. We are cooperating with local law enforcement, who have secured the store and parking lot. The store will remain closed while the police investigation continues, and we have initiated counseling services for our associates. To protect the integrity of the ongoing investigation, we are referring questions to the Collierville Police Department.

The Collierville store will remain closed until further notice, Kroger Delta Division spokeswoman Teresa Dickerson said.

"We are praying for our associates here in Collierville," she said.
Collierville is a beautiful town right outside of Memphis, TN.
Having lived in the Memphis Area most of my life, I have high school friends who live in Collierville.
When the news came on in the break room where I work, my first thought was that one or more of them may have been in the Kroger Grocery Store when this horrible event occurred.
I immediately went to Facebook to check and, thank God, none of them were in the store at that time.
Since the shooting, word has come out and has been confirmed that a disgruntled employee was the shooter.
If gave me a horrible feeling of Deja Vu, as this was very similar to the Southaven, MS Walmart Shooting back in July of 2019 when a fired employee ambushed the Store Manager as he got out of his car as he arrived to work. The murderer set the baby area of the store on fire and then killed the grocery manager, who also had a part in his firing.
That piece of trash got burned but survived.
I am sure that over the next several days that the Powers-That-Be in Memphis will get their mugs in front of every Television News Camera that they can and holler for "Gun Control", which will be an extremely hypocritical move being that Memphis is the Third Most Dangerous City in America.
As Democratically-controlled cities like Memphis, Chicago, and New York have found out the hard way, strict gun control laws do not work.
Outlaws will find a way to get guns. That is why they are called "outlaws".
And the only thing that will stop a bad guy with a gun is a good guy with a gun.
Guns can not pull their own trigger.
What happened yesterday was horribly tragic.
Unfortunately, we live in a different culture than a lot of us grew up in.
When God's Word is replaced by man's Political Expediencies, society begins to call good "evil" and evil "good".
And, without having a Solid Rock to stand on, society crumbles.
Until He Comes,
KJ
DONATIONS ARE WELCOME AND APPRECIATED.
Make a one-time donation
Make a monthly donation
Make a yearly donation
Choose an amount
Or enter a custom amount
$
---
Your contribution is appreciated.
Your contribution is appreciated.
Your contribution is appreciated.
Donate
Donate monthly
Donate yearly
"The Left, which dominates the media, the arts, and most of intellectual life in the West, has rendered criticism of Christianity and Zionism acceptable, even laudable, but criticism of Islam unacceptable. Why has the Left done this? Because the enemy (radical Islam) of my enemy (America and Israel) is my friend, and because the Muslim world is regarded as the underdog vis-à-vis powerful America and Israel, and the Left supports what it perceives as the underdog." ― Dennis Prager
FoxNews.com reports that
A growing number of prominent journalists have declared once-bedrock press principles like fairness and objectivity to be outdated and unnecessary since the Donald Trump era rocked American politics, and while some observers appreciate the honesty, others feel blending opinion and reporting makes for a "dangerous time" in America.

As media members like CNN's Jim Acosta and PBS' Yamiche Alcindor became heroes to the left for their antagonistic approach to the president, who derided them and other reporters as "fake news," more journalists are leaving behind the image of the disinterested, impartial correspondent.

"I do think it is a trend, and it frankly started with Trump even before all this election stuff," one network news reporter told Fox News.

In the aftermath of the Capitol riot and Trump's continued claims his 2020 election defeat was "rigged," NBC News anchor Lester Holt won plaudits from mainstream colleagues this year after declaring "fairness is overrated." In his acceptance speech for a journalism award, he added it's not necessary to "always give two sides equal weight and merit."

CNN's John Harwood, an outspoken liberal in the vein of Acosta, publicly thanked Holt. CNN's "Reliable Sources" newsletter called it a "sharp critique of bothsidesism."

Left-wing New York Times Magazine writer Nikole Hannah-Jones recently said "all journalism is activism," and Lauren Wolfe, the former New York Times editor who got fired after saying watching then-President-elect Joe Biden head to Washington gave her "chills," wrote this month it's "better to be open about my views on the issues I cover."

Alcindor said this year that she considers it her duty to use journalism to bend the "moral arc toward justice." Left-wing White House reporter April Ryan published a Twitter thread last August announcing why she would no longer be objective in covering the Trump White House.

"On one hand, journalists abandoning objectivity, or as Lester Holt said even more insidiously, 'fairness,' just further cements the media's abandonment of principles it once maintained," Fourth Watch editor Steve Krakauer told Fox News. "On the other hand, I appreciate the honesty."

Krakauer feels it's "almost refreshing" that mainstream media members are finally coming clean.

"Everyone in America with two eyes and a brain knows most of the establishment, legacy media isn't objective and hasn't been for a very long time. It's good they are finally admitting the obvious — to the public and to themselves," Krakauer said.

While liberals may cheer, conservatives fret that even the appearance of objectivity to some leading reporters has been cast aside.

The examples of media members "finally admitting the obvious" have grown on a seemingly regular basis. A former CBS News reporter who covered abortion issues quit last week and declared, to the surprise of few, she was openly pro-choice.

That's not to mention other recent gestures like an open media letter proclaiming Israel should be covered as a violent, oppressive "apartheid" state, directly adopting the language of far-left politicians like Squad members Alexandria Ocasio-Cortez, D-N.Y., Ilhan Omar, D-Minn., and Rashida Tlaib, D-Mich.

The signers included hundreds of journalists, some of them anonymous, from the New York Times, the Washington Post, CNN, BuzzFeed, the Associated Press, the Los Angeles Times, ABC News, NBC News, NPR, The Atlantic, The Boston Globe, and the Chicago Tribune.

CNN journalists presented as straight-news personalities like Acosta and Jake Tapper are more comfortable than ever blurring the lines between news and opinion, although the latter insists he only editorializes on matters of "decency." Tapper also made headlines when he declared he wouldn't have on "election liars" who voted to challenge Biden's 2020 Electoral College victory.

"Objectivity as a standard at least requires that outlets try to see and reconcile their own biases. Without it, we risk sinking even deeper into an environment where advocacy and partisanship get laundered as straight news to everyday Americans who see the media as honest brokers," conservative writer Drew Holden told Fox.

While many mainstream journalists bristle at conservative criticism of their reporting as bad-faith, the network news reporter told Fox there is pressure from the left to not even give voice to Republicans like the ones Tapper won't have on his programs.

"There's a whole group of people out there who want reporters to be partisans, and are very critical whenever people who do what I do try to basically do our jobs … to be fair and balanced," the reporter said. "It's like a sin, like, 'How dare you talk to Steve Scalise? He voted to challenge the electoral votes.' Yeah, he's also the number two Republican in the House and he's an important political figure. You've got to cover him."

Some reporters have claimed what appears to be a bias toward Democrats is merely a bias toward "facts."
Uh huh. Sure.
If that were the case, then Jennifer Rubin is today's Madame Marie Curie (look her up, kids).
For the last several decades, Americans have witnessed the Fourth Estate, America's Main Stream Media, slowly but surely lose their objectivity to become a Propaganda Arm for the Democratic Party.
While their reporting became decidedly one-sided, it was not a great danger to the country even though it was a completely different sort of propaganda than when President Franklin Delano Roosevelt used the Main Stream Media to support the American effort in World War II.
Then, the 1980s arrived and along with it a new era in mass communications. Cable News Networks began springing up, increasing the role of the media in our daily lives.
Because of this new role, news organizations increased in their power and their influence in our daily lives. However, with this increased role came the responsibility to fill a 24-hours a day, 7 days a week, 52 weeks a year, with new stories.
When actual new stories became hard to find, human interest stories began to fill the time, and when they ran out, news organizations decided to act like the National Enquirer and started to make news up.
Also, as the years wore on, America's newsrooms became bastions of Liberal thought as more and more Conservatives left the business simply due to attrition and being squeezed out by young Liberal reporters who were a product of American universities which had become fountains of anti-American Political Activism.
Of course, these Liberal news reporters were members of the Democratic Party as it moved to the left of the political Spectrum. So, naturally, these reporters started reporting news more and more favorably to their political party of choice while keeping with their own personal political philosophy.
We all remember what happened when Barack Obama appeared on the political scene.
The Main Stream Media treated him as if it his appearance on the political scene was the Second Coming".
The Main Stream Media had finally become political activists instead of just political observers and pundits.
And, that is where we find ourselves today.
The Main Stream Media did everything in its power as political activists, working as the Propaganda Arm of the Democratic Party, to keep Donald J. Trump from being elected President of the United States of America in 2016.
During his Presidency, they deliberately posted false and scurrilous news stories designed to impede and threaten his presidency.
And, when there was obvious political chicanery during the 2020 Presidential Election, they turned a blind eye on it.
Even now that Biden has turned out to be the worst United States President in history, leaving Americans and our allies stranded in a country run by Islamic Terrorists, the Liberal Reporters in the Main Stream Media, at least most of them, refuse to call the demented treasonous fool out on his actions.
At least, they are beginning to admit that they are all a bunch of Liberal Political Operatives, instead of objective news reporters.
But, then again, the majority of Americans had already figured that out a couple of decades ago.
Until He Comes,
KJ
DONATIONS ARE WELCOME AND APPRECIATED.
Make a one-time donation
Make a monthly donation
Make a yearly donation
Choose an amount
Or enter a custom amount
$
---
Your contribution is appreciated.
Your contribution is appreciated.
Your contribution is appreciated.
Donate
Donate monthly
Donate yearly
FoxNews.com reports that
A California school district is investigating a teacher after she posted a video admitting that she encouraged her students to pledge allegiance to a gay pride flag after she removed the American flag from her classroom.

"Okay, so during third period, we have announcements and they do the pledge of allegiance," the teacher, identified as Kristin Pitzen of Newport Mesa School District in Orange County, said in a video posted to social media. "I always tell my class, stand if you feel like it, don't stand if you feel like it, say the words if you want, you don't have to say the words."

"So, my class decided to stand but not say the words. Totally fine," she continued in the now-viral video.

"Except for the fact that my room does not have a flag," she said, explaining that she removed the flag during the pandemic and then whispered to the camera, "because it made me uncomfortable."

She went on to say that one of her students asked where they should look during the pledge of allegiance since there is no American flag in the classroom.

"In the meantime, I tell this kid, 'We do have a flag in the class that you can pledge your allegiance to. And he like, looks around and goes, 'Oh, that one?'" and points to the pride flag.

The Newport Mesa School District told Fox News on Saturday that the incident is under investigation, but could not provide more details as it does not "discuss employee related matters."

"We are aware of this incident and are investigating. While we do not discuss employee related matters, we can tell you that showing respect and honor for our nation's flag is a value that we instill in our students and an expectation of our employees. We take matters like this seriously and will be taking action to address it," public relations officer for the district, Annette Franco, told Fox News.

The video has meanwhile garnered backlash on social media, including from former acting director of national intelligence Ric Grenell.

"What kind of parent would allow their child to be taught by this wacko? Why are parents turning their kids over to someone they don't know? I'd like to talk to people who think this is good?!?" Grenell wrote on Twitter, accompanied by the video.
Why would a teacher in a public school purposefully denigrate our nation's flag while endorsing the lifestyle of approximately 2% of America's population?
Simple. This young woman has been raised under the freedom-stifling indoctrination of a State Educational System which genuflects to the ideology of Political Correctness.
This ideology preaches that all cultures are equally good, all "religions" lead to God, America is NOT exceptional, and American Patriotism is "jingoistic".
Oh, and if your parents do not believe this "truth", you should ignore them….and snitch on them to the authorities…especially if they own a gun.
The multi-headed snake of Political Correctness has been slithering its way into our Popular Culture for years.
However, it really kicked into high gear with the immaculation…err…inauguration of its messiah, Barack Hussein Obama (mm mmm mmmm), who stated that America was "not Just a Christian Nation" and those of us here in the Heartland, were "bitterly clinging to our Bibles and guns".
Growing up in the Heartland of America, starting in elementary school, every student said the Pledge of Allegiance every morning, facing the American Flag in the corner of our classroom with our hands placed firmly over our hearts.
And, I can tell you from first hand experience, that act of allegiance and reverence for our country still takes place every morning in schools across this country, including those here in Mississippi.
Why is this done?
Is it some sort of arcane ritual that has no meaning in this Modern America, where our Liberal politicians preach that diversity is what makes America strong and that the "Melting Pot" image of a unified America is no longer relevant?
Liberals, all over the Internet, have been asking what difference does it make if kids recite the pledge or not?
I'm glad you asked, Libs.
The Pledge of Allegiance is more than just words being said to an inanimate object.
Just as America's Founding Fathers pledged "their lives, their fortunes, and their sacred honor" to one another, as they fought to secure our American Freedom from the forces of tyranny, every time Americans recite our Pledge of Allegiance, we are pledging our loyalty to each other as Americans, and to our country.
This is not a pledge to be taken lightly. This is not a pledge which was designed to be said in the language of our enemies.
This is a pledge which was meant to be said sincerely and said in a way that honors the flag of our country, a symbol which brave men have fought and died for in defense of our liberty.
As I have written before, my friend Johnny McDonald once wrote that "liberty is freedom with responsibility". Our nation's Pledge of Allegiance is a pledge of responsibility… a responsibility to keep America "The Shining City on a Hill"… a country where legal immigrants can begin their new lives as Americans…"one nation under God with liberty and justice for all".
Maybe this teacher in California was never properly explained the meaning of the Pledge of Allegiance.
As I take my leave today, America's Clown Prince, Mr. Richard (Red) Skelton, will explain it, so that even she might understand. God Bless America!


Until He Comes,
KJ
DONATIONS ARE WELCOME AND APPRECIATED.
Make a one-time donation
Make a monthly donation
Make a yearly donation
Choose an amount
Or enter a custom amount
$
---
Your contribution is appreciated.
Your contribution is appreciated.
Your contribution is appreciated.
Donate
Donate monthly
Donate yearly
Before we get started, here is what this post is all about.
On NYtimes.com, there is an Opinion Piece by Atossa Araxia Abrahamian titled "There Is No Good Reason You Should Have to Be a Citizen to Vote".
In it, Ms. Abrahamian states that
I've lived in New York since 2004, but haven't once had a chance to cast a ballot here. Last fall, I grew so frustrated that I started mailing ballots to my hometown in Switzerland. But voting in a place I haven't lived in since I was a minor makes about as little sense as not voting in the city where I've lived my entire adult life.
Uh huh.
The strongest case for noncitizen voting today is representation: The more voters show up to the polls, the more accurately elections reflect people's desires. The United States already has plenty of institutions that account for noncitizens: The census aims to reach all residents because it believes everyone, even aliens, matters. Corporations enjoy free speech and legal personhood — and they're not even people. Would it be such a stretch to give noncitizen residents a say in who gets elected to their state legislature, Congress or the White House?

What's more, allowing noncitizens to vote in federal, state and municipal elections would help revitalize American democracy at a time when enthusiasm and trust are lacking. While 2020 was considered a high-turnout election, only about 65 percent of eligible voters cast ballots. Compare that to Germany, where turnout was 76 percent in the last general election.

Democrats are likely to be the biggest beneficiaries of this change — at least at first. But it could have interesting ripple effects: Elected Republicans might be induced to appeal to a more diverse constituency or perhaps to enthuse their constituents so deeply that they, too, start to vote in greater numbers.

It's also just good civics: Allowing people to vote gives them even more of a sense of investment in their towns, cities, communities and country. There's a detachment that comes with not being able to vote in the place where you live. Concerns about mixed loyalties, meanwhile, are misplaced. The United States not only allows dual citizenship but also allows dual citizens to vote — and from abroad. Is there any reason to think resident foreigners should be less represented?
Oh, I can think of a few.
Why are Liberals, like this New York Times Contributor, so desirous to give noncitizens, including those who are in our country illegally, the Constitutional Right to vote, a right reserved for American Citizens?
Well…
Democrats are eager to allow noncitizens to vote in OUR elections because the "Democratic Socialism" which has become their party's political ideology is still rejected by the overwhelming majority of American Voters….and considering the way that the Biden Administration is going down the toilet, they will lose every election they enter.
Those who are in our nation illegally will be more than happy to vote in these Democratic Socialist Candidates because they will be told and will believe that they will be getting a bunch of free stuff and they will be able to share in the American Dream.
And, those who are here legally from another country will enjoy the same rights as Americans without having to take an Oath of Loyalty which all those seeking citizenship have to take.
Voting in American Elections is a Constitutional Right as prescribed by our Founding Fathers, to be exercised by American Citizens ONLY.
President Teddy Roosevelt wrote that
We should insist that if the immigrant who comes here does in good faith become an American and assimilates himself to us, he shall be treated on an exact equality with everyone else, for it is an outrage to discriminate against any such man because of creed or birth-place or origin.

But this is predicated upon the man's becoming in very fact an American and nothing but an American. If he tries to keep segregated with men of his own origin and separated from the rest of America, then he isn't doing his part as an American. There can be no divided allegiance here. . . We have room for but one language here, and that is the English language, for we intend to see that the crucible turns our people out as Americans, of American nationality, and not as dwellers in a polyglot boarding-house; and we have room for but one soul loyalty, and that is loyalty to the American people.
Our Founders gifted us with our American Liberty, won through the blood of patriots.
Liberty is Freedom with Responsibility.
Voting is the responsibility of all American Citizens of legal age.
It is also a PRIVILEGE…one which illegal immigrants and those who refuse to take an oath to be LOYAL AMERICANS have not earned.
Until He Comes,
KJ
DONATIONS ARE WELCOME AND APPRECIATED.
Make a one-time donation
Make a monthly donation
Make a yearly donation
Choose an amount
Or enter a custom amount
$
---
Your contribution is appreciated.
Your contribution is appreciated.
Your contribution is appreciated.
Donate
Donate monthly
Donate yearly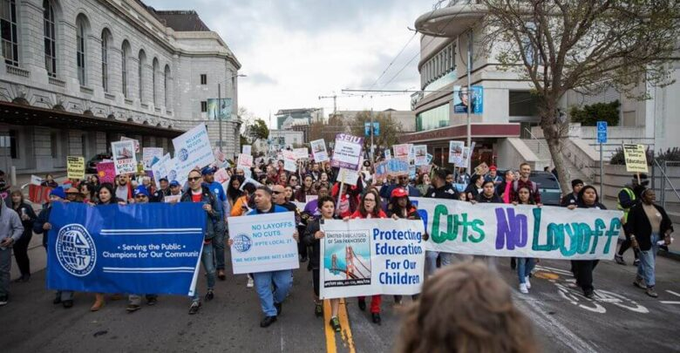 FoxNews.com reports that
San Francisco's teachers union is drawing criticism from Jewish families after voting to endorse the anti-Israel Boycott, Divestment and Sanctions (BDS) movement and releasing a statement accusing America's Middle Eastern ally of committing "apartheid and war crimes".

The United Educators of San Francisco's endorsement of the movement in mid-May during the recent fighting between Israel and Hamas is reportedly the first time a public school teachers union has backed that cause, according to the San Francisco Chronicle. The BDS movement seeks to pressure Israel to change its policies toward Palestinians.

"As public school educators in the United States of America, we have a special responsibility to stand in solidarity with the Palestinian people because of the 3.8 billion dollars annually that the U.S. government gives to Israel, thus directly using our tax dollars to fund apartheid and war crimes," the union said in a resolution that it passed. "Therefore, be it resolved, that United Educators of San Francisco (UESF) express our solidarity with the Palestinian people and call for Israel to end bombardment of Gaza and stop displacement at Sheikh Jarrah."

The union also called on President Biden to stop sending aid to Israel and that it "endorse[s] the international campaign for boycotts, divestment, and sanctions against apartheid in Israel."

However, parents of students in the district are wondering why the 6,000-member union is getting involved in international politics during the coronavirus pandemic. Public schools in San Francisco only started welcoming children back to classrooms in April.

"The teachers union has failed in its most basic mission this year, opening schools and educating San Francisco's children," Todd David, a Jewish parent, told the San Francisco Chronicle. "Instead of focusing on that, they are weighing in on an international political land dispute that experts have been unable to resolve for 70 years."

Parent Arik Luck – a member of the local Congregation Emanu-El — also told the newspaper that he feels the union has betrayed him as their statement "singled out Israel" and "did not even mention Hamas, an organization that is classified by our government as a terrorist group with a well-documented history of executing their political rivals and homosexuals."

"I also question what my teachers union is doing wading into these waters at the expense of my kids," he added. "There are many Jewish people in this city, public school parents who feel the way I do, and a statement like this causes us to worry for the safety of our children in school."

The San Francisco Unified School District has not yet responded to a request for comment Friday from Fox News.

Union spokesperson Amanda Hart told the San Francisco Chronicle this week that "we stand by our call for the boycott, divestment and sanctions of Israel and we unequivocally stand against antisemitism in all its forms."
Really?
Per their website BDSMovement.net,
The Boycott, Divestment, Sanctions (BDS) movement works to end international support for Israel's oppression of Palestinians and pressure Israel to comply with international law.
"BDS" stands for boycott, divest, and sanction.
According to MyJewishLearning.com,
The BDS effort officially traces its origins to a 2005 call by a coalition of 170 Palestinian organizations, though some observers see its roots in the Arab League boycott of Israel launched in the 1940s. The contemporary BDS movement began to take shape during the Second Intifada, which began in 2000. Escalating violence and various major Israeli military operations in the West Bank led to a number of boycott calls beginning in 2002. The construction of Israel's West Bank barrier, which the Palestinians largely opposed, alleging that it was a land grab rather than an effort to reduce terrorism, gave further momentum to these efforts. The 2005 BDS declaration opens by noting that Israel's construction of the barrier was continuing despite an International Court of Justice ruling a year earlier that it was illegal.

Do any Jewish organizations support BDS?

Very few, and none of the major ones. The best-known is Jewish Voice for Peace, a San Francisco-based group that does not endorse a two-state solution or the principles of Zionism and which the Anti-Defamation League lists among the top anti-Israel groups in the United States. Among mainstream Jewish organizations, there is wall-to-wall rejection of BDS. The Jewish campus group Hillel officially bars pro-BDS groups from speaking under its auspices, though this policy has been challenged at a number of schools. J Street, the liberal lobbying group, rejects BDS because the BDS movement does not support a two-state solution or recognize the Jewish right to a state. J Street does support boycotts that are targeted at Jewish settlements in Israeli-occupied territory, however.
So, the largest Jewish Group who supports the BDS Movement happens to be in San Francisco.
I'm shocked. Shocked, I tell you.
Boys and girls, are any of you actually surprised that a Liberal Teachers' Union in Ultra-Liberal San Francisco are taking the side of a "movement" which The Squad champions because it speaks for the wishes of a bunch of Islamic barbarians (yeah, I said it) who want to take land away from Israel for a "country" with never existed?
The term "Palestine" (Falastin in Arabic) was an ancient name for the general geographic region that is more or less today's Israel. The name derives from the Philistines, who originated from the eastern Mediterranean, and invaded the region in the 11th and 12th centuries B.C. The Philistines were apparently either from Greece, Crete, the Aegean Islands, and/or Ionia. They seem to be related to the Bronze Age Greeks, and they spoke a language akin to Mycenaean Greek. Their descendents, still living on the shores of the Mediterranean, greeted Roman invaders a thousand years later. The Romans corrupted the name to "Palestina," and the area under the sovereignty of their city-states became known as "Philistia." Six-hundred years later, the Arab invaders called the region "Falastin."

Throughout subsequent history, the name remained only a vague geographical entity. There was never a nation of "Palestine," never a people known as the "Palestinians," nor any notion of "historic Palestine." The region never enjoyed any sovereign autonomy, remaining instead under successive foreign sovereign domains from the Umayyads and Abbasids to the Fatimids, Ottomans, and British.
Here's a suggestion:
Why don't the United Educators of San Francisco shut up, open back up their schools and classrooms, and teach?
Wouldn't that be refreshing?
Or, would that be too much like work for them?
Until He Comes,
KJ
DONATIONS ARE WELCOME AND APPRECIATED.
Make a one-time donation
Make a monthly donation
Make a yearly donation
Choose an amount
Or enter a custom amount
$
---
Your contribution is appreciated.
Your contribution is appreciated.
Your contribution is appreciated.
Donate
Donate monthly
Donate yearly
Traditionalists decrying a lack of respect for Scripture have lamented that United Methodist evangelism lately has consisted mainly of spreading the social gospel of good works rather than the spiritual freedom of The Great Commission. In more than 18 months, only a couple stories of well over a thousand on the daily UM News feed have reported people accepting Jesus as Lord and Savior.
ChristianPost.com reports that
The United Methodist Church, the third-largest Christian sect in the United States, took another step toward schism over their longstanding debate on LGBT issues when theological conservatives recently unveiled their plan for a new denomination.

Known as the Global Methodist Church, it was the product of the 17-member Transitional Leadership Council, a group of theologically conservative United Methodists.

The Wesleyan Covenant Association, a conservative United Methodist advocacy group, announced the launching of the GMC on March 1, explaining that it will not officially begin operations until a formal separation policy is approved by the UMC.

"Theologically conservative United Methodists have made no secret of their efforts to form a new church," stated the WCA in the announcement.

"In late 2018, the Wesleyan Covenant Association created a Next Steps Working Group to begin drafting its own 'Book of Doctrines and Discipline' outlining essential theological confessions and governing structures for a new church's consideration."

The creators of the GMC and other United Methodists are holding off further action until the results of the next churchwide legislative meeting, known as the General Conference.

Due largely to the coronavirus pandemic, the global denomination has had to postpone the legislative meeting multiple times, with it presently being scheduled to take place Aug. 29 – Sept. 6, 2022, in Minneapolis, Minnesota.

On the agenda for General Conference 2022 will be a proposal to fund and create at least one new separate denomination for those who no longer want to remain in the UMC.
Before I begin, please allow me to be honest with you.
I left the United Methodist Church at the age of 39, when I realized that, thanks to those in control of the denomination, whose headquarters was in the Northeast, some parts of the UMC were beginning to value secularism more than it did the Word of God.
How did I come to that conclusion?
I walked into a Sunday School class and a theology student was teaching out of a book titled, "Rescuing the Bible from Fundamentalists".
While I hated to leave the Choir Director whom I had sang under for 20 years, like Belshazzar, I saw the writing upon the wall.
That was over 20 years ago.
Now, after a long journey down a road filled with Liberals' "religion of social justice", the United Methodist Church is about to pay for following the word of man instead of the Word of God..
Right now, I can hear the Liberals who read my posts in order to raise their blood pressure beyond their usual catharsis, saying,
Well, what's wrong with embracing the lifestyle of the LGBT "community" and allowing them to have leadership roles and to get married within the church?

Christ loved and embraced everyone.
Indeed He did.
Jesus was often found in the company of sinners…but not because He accepted their sins. He was with them because he loved them and loathed their sin. He was there to redeem them through His Loving Grace, so that they might repent and find salvation through Him.
When secular idolatry and popular culture is worshiped and celebrated, instead of Jesus Christ's victory on the cross through His Blood as the expiation for the sins of the whole world, those who believe that the Bible is the authoritative Word of God have a decision to make: either stay and worship man's word or attend a Bible-believing Church.
While Evangelicals, such as myself, welcome all sinners, including gays, into our churches, we do so because we view the church as a "Hospital for Sinners", which we all are.
The Good News is that we are all sinners saved by His Grace and, as Christians, we are not perfect…just FORGIVEN.
Liberals, through their "religion of social justice", view the church as the latest "Shrine in which to Worship Political Correctness".
The problem with their belief is that God always has the last word.
Remember Sodom and Gomorrah?
Until He Comes,
KJ
DONATIONS ARE WELCOME AND APPRECIATED.
Make a one-time donation
Make a monthly donation
Make a yearly donation
Choose an amount
Or enter a custom amount
$
---
Your contribution is appreciated.
Your contribution is appreciated.
Your contribution is appreciated.
Donate
Donate monthly
Donate yearly
"Wokeness" is a pseudonym for oppressive Liberal Cultural Stupidity. – kingjester
FoxBusiness.com reports that
The board game "Monopoly" will be the next classic entertainment brand to receive a socially conscious makeover, publisher Hasbro announced this week.

Hasbro will change all 16 of Monopoly's "community chest" cards to remove outdated concepts. The company said the classic versions of the cards, which included prompts referencing beauty contests and holiday funds, were "long overdue for a refresh."

New community chest cards will focus on topics that emphasize "community." Hasbro asked the public to vote on potential replacements, with rewards for in-game actions such as rescuing a puppy or shopping local among the options. Other cards would penalize players for forgetting to recycle or blasting music too late at night.

"The world has changed a lot since Monopoly became a household name more than 85 years ago, and clearly today community is more important than ever," said Eric Nyman, Hasbro's chief consumer officer. "We felt like 2021 was the perfect time to give fans the opportunity to show the world what community means to them through voting on new Community Chest Cards."

Patrice Onwuka of the Independent Women's Forum calls the cancellation a 'misfocus' of priorities in education.Video
Hasbro said the updated version of Monopoly featuring new community chest cards will be available this fall. It wasn't clear if a classic version of the game will still be sold.

Not everyone was pleased with Hasbro's announcement. Critics took to social media to voice their displeasure with the company's decision.

"Hasbro are wanting to "update" the game: I say, "Don't tamper with a classic. I still want to win a Beauty Contest and collect £ 10!," said Gyles Brandreth, a former European Monopoly champion.

"No. Just no. What makes the game so awesome is the dated quality…." another social media user wrote.

The change to Monopoly was announced weeks after Hasbro said it would rebrand its "Mr. Potato Head" product line to "Potato Head." The company said the move was meant to "better reflect the full line."

Earlier this month, Dr. Seuss Enterprises drew scrutiny from conservatives after it announced it would no longer publish six of its books due to "insensitive and racist imagery."
What in the name of Marvin Gardens is going on here?
Who are these Liberal Lilliputians to tell average Americans that we cannot play the game that generations have grown up on just as it is?
Who died and made them the Arbiters of American Culture?
Who gave them any authority at all?
This makes about as much sense as Appointed President Sleepy Joe Biden telling us that "he might allow us " to celebrate the Fourth of July with our friends and families.
Let me state this as plainly as I know how: Average Americans here in the Heartland think you overeducated and under-raised "Woke" Liberal idiots need to get out of your Moms' basements and get a real job.
Y'all are just like the bully who tried to pick on me in 7th grade.
He was twice my size and just would not leave me alone.
Finally, one day I had had enough and hit him right between the eyes with my 2S drumsticks which I used to play the Tom in Junior High Band.
We both got sent to the office and when the Assistant Principal asked me what happened, I told him and he laughed and sent me back to class.
After the Mr. Potato Head Fiasco, you would have thought that you self-appointed Arbiters of American Culture would have learned your lesson.
Just wait until your revenue starts to nosedive like Fox News' did, Hasbro.
You will wish somebody had hit you between the eyes with a pair of drumsticks before you made such a stupid decision.
Until He Comes,
KJ
"If you dissent, you're a domestic terrorist, folks. If you dissent from whatever it is the Democrat Party today believes, they are claiming they have a right to shut you down, to delete your tweets." – Rush Limbaugh
OANN.com reports that
The liberal media appears to be following the lead of Big Tech. Recent efforts have emerged from the left to continue to silence conservative voices.

The most recent example of calls to so-called "deprogram" the right came from former NBC and CBS journalist Katie Couric.

On Real Time with Bill Maher Friday, Couric discussed congressional Republicans who continued to stand behind President Trump and voted against impeachment.

She said, "the question is, how are we going to really almost deprogram these people who have signed up for the cult of Trump?"

Just last week, Washington Post editor and MSNBC contributor Eugene Robinson said the same of President Trump's supporters.

"There are millions of Americans, almost all white, almost all Republicans, who somehow need to be deprogrammed," Robinson said. "They are members of a cult, the Trumpist cult, and have to be deprogrammed."

The calls to deprogram Republicans came as Big Tech has banned conservatives, with Rep. Marjorie Taylor Greene (R-Ga.) as the latest GOP target. Greene's Twitter account was temporarily blocked following her criticism of Georgia's election results.

The efforts from liberals could worsen under the incoming administration with the formation of a close relationship between Joe Biden and Big Tech.

Former top-level employees of Facebook, Google and Twitter are preparing to join the Biden administration, giving Big Tech even more influence on censorship and the future of Section 230.
Welcome to the USSA, Comrades!
If you have been paying attention to what has been happening in the streets of our major cities for the part 3 weeks, you have seen a bunch of spoiled ungrateful wannabe anarchists, a "Woke Resistance" Movement, if you will, aided by the Far Left Democratic Party, attempt to erase our nation's history through the toppling of historical statues and the defacing of our nation's monuments.
Those who are acting in such a disrespectful and ignorant manner echo the sentiments of the 44th President of the United States of America, Barack Hussein Obama, and the rest of the Far Left self-proclaimed geniuses who cost the Democratic Party the Presidency in 2016 and who believe that anybody who works hard for a living and believes in God and Country, is a Jingoistic imbecile.
According to the dictionary, Jingoism is an extreme chauvinism or nationalism marked especially by a belligerent foreign policy.
In other words, being guilty of believing that America is the greatest country on the face of God's Green Earth and believing in American Exceptionalism.
For the past 2 decades at least, children and young adults, attending American Institutes of Learning from kindergarten to college campuses have been taught by Liberal teachers and professors that America is "just another country" and to be a patriot is to somehow be close-minded, ignorant, and bigoted, not necessarily in that order.
Evidently, the overeducated imbeciles who planned this Marxist uprising which we have witnessed over the last 3 weeks have never understood in their ungrateful little lives what has made and continues to make our country exceptional.
Where the exceptionalism of America lies…is not in the Halls of Power…nor in the Halls of Academia. But, rather in the courage and spirit of the average American. A courage and spirit, which our history proves, has driven American Citizens to build a nation, which is indeed exceptional among all others.
The secret of this country's exceptionalism is the "Average Joe", the 9 to 5′er, working himself into the grave to try to provide for his family.
It was this same "Average Joe", who fired the shot heard around the world and began the War for American Independence, who stormed the beaches of Normandy on D-Day in World War II, who waded through rice paddies in Vietnam, and who swallowed sand in Desert Storm and Desert Shield. The same "Average Joe" who, as a New York City Policeman or Fireman, ran up the stairs of the World Trade Center on 9/11/01, instead of running down them. The same "Average Joe", who simply wants things to be easier in this life for his children and grandchildren, than he had it.
It is this same "Average Joe", who takes family and friends in, when they are in the midst of a life-altering tragedy. The same "Average Joe", who volunteers on a soup line or at a Senior Citizens Home, or, who begins a successful business in his basement.
And, it is this same "Average Joe" whom, being fed up with the Democratic Party's Far Left Crusade against anything and everything traditionally American, went to the voting booth and elected Donald J. Trump, a Citizen Statesman, as our 45th President.
And that, boys and girls, is why, almost 4 years to the day when average Americans watched with a sense of prideful accomplishment as Donald J. Trump took the Oath of Office, Modern American Liberals are still showing the world their posteriors by claiming that the fellow Americans need to be "deprogrammed".
To which I reply "BITE ME!"
Their ego-driven political ideology dOES not permit them to consider the reality that theirs is still the minority political ideology in this nation, as shown during last year's Marxist uprisings by Antifa and Black Lives Matters, in which they demonstrated that they champion a Far Left Fascist political ideology which none but a small minority on the Far Left of the Political Spectrum embrace.
While the East and "Left" Coast are indeed heavily-populated in their metropolitan areas with Liberals (some of them even Legal Citizens), the reality of what actually happened on November 8th, 2016 can been plainly seen on any Electoral Map.
It was an overestimation of their own intellect and an underestimation of the intelligence and unbridled love of average Americans for OUR COUNTRY, that cost the Democrats the Presidency in 2016 and makes their victory in the 2020 Presidential Election very suspicious.
As George Orwell said,
Patriotism is usually stronger than class hatred, and always stronger than internationalism.
So, to summarize, by supporting last year's Marxist riots in our major cities, by labeling Patriotism as "Jingoism", and by ridiculing and accusing  those of us who love our country and hold fast to Traditional American Values as being "racists", in need of deprogramming, the Democratic Party and "President-elect" Joe Biden demonstrate that they do not have a clue concerning what Americans believe.
If I was a Modern American Liberal with any sort of self-awareness, I would be writing Joe Biden a letter, telling him to stay in the squishy middle and not to rock the ship of state by leaning too far to the Left.
Unfortunately, the Far Left "Democratic Socialists" who have taken over the once mainstream Democratic Party are not self-aware.
And, it is this lack of self-awareness that is allowing average Americans to witness the implosion and political extinction of the Democratic Party right before our very eyes.
In the opinion of this 62-year-old, sitting in the Northwest corner of the Magnolia State in America's Heartland, Modern American Liberals, and their ideological leaders, who trod the Halls of Power with impunity, underestimated the American Spirit, just as King George and the British Aristocracy did, so many years ago.
As our enemies, both foreign and domestic, have discovered since the birth of our nation, Americans will fight for our freedom.
We showed this fact to the world on November 8th, 2016.
And now, 4 years later, we face a new fight, defending our American Liberty which was given to us by God Almighty and paid for with the blood of brave young men and women who went before us.
May God Bless you and your family and keep you safe for these next four years.
Until He Comes,
KJ
As we begin a New Year, we find our Sovereign Nation more divided than it has been in decades, almost as it was before the start of the Civil War.
Americans have had to endure a devastating coronavirus, released by Communist China, which took a  horrible toll in terms of American lives, businesses and jobs.
Then, just as Americans were starting to see a light at the end of the tunnel, it turned out to be an oncoming train in the form of Election Fraud, in which a demented old man, who could not even draw a campaign crowd of 200, supposedly inspired 80 million Americans to vote him in as President of the United States of America.
And now, the Democratic Hierarchy and the Vichy Republicans are reticent to actually expose the truth about what actually happened on November 3, 2020, while polls show that the majority of Americans want to know.
Why are those who claim to be our "public servants" so adamant about going against the wishes of the American people?
According to a man who was an American Legend, it all has to do with the way Liberals look at things…
…I always thought I was a liberal but I came up terribly surprised when I found I was a right-wing conservative extremist…I have always listened to every human being I've ever met about how I should feel.  But this so-called new liberal group… they never listen to your point of view and they make a decision as to what you think and they're articulate enough and in control of enough of the press to force that image out for the average person.  For some reason, maybe it's these pictures, they have not been able to do that with me…it hasn't affected my career in popularity in spite of the fact that they've tried to make them do it.  There isn't a hell of a lot we can do to change human behavior.  We keep making laws to try to change human behavior but we can't do it…You're being conned into Keynesianism and socialism now but it isn't going to stop the selfishness of human behavior.  It isn't going to stop the greed.  If you take $20 and give a dollar to every son of a b!tch in the room, you come back a year later one of the b@st@rds will have most of the money.  It's just human nature.  We're never gonna whip it with a lot of laws. 

As communication gets better and you make people conscious of somebody in trouble, starving or something like that, the average person will help…I think there are people who try to affect a thinking where they know more than some other son of a b!tch and try to pull a false impression on what human nature is.  We've proven we go back to hope at the first opportunity…and bam they're out there ready to grab it.  So we are optimistic; we have to be optimistic.  What else would we be if you lose optimism?" –  John Wayne
The negativity and bitterness of the Modern American Liberals to whom the Duke was referring has been on display for the entire world to see, ever since the night of November 8, 2016, when reality threw a bucket of cold water in their faces, putting them on notice that average Americans were tired of their failed political philosophy and their perpetually morose opinion about the Greatest Country on the Face of the Earth.
Ever since President Donald J. Trump took office and for 8 long years under his predecessor, Barack Hussein Obama, there has been constant chorus provided by the Nattering Nabobs of Negativism, now known as Modern American Liberals, concerning how uncaring, how bigoted, how xenophobic, how narrow-minded, and how just plain awful and stupid average Americans are to continue to love this country, to honor its flag, and to continue to hold dear the America Legacy of Traditional Faith and Values.
For proof of this, please check out the protests during the Confirmation Hearings for Supreme Court Associate Justice Brett Kavanaugh, in which Liberals were bussed to Capitol Hill in order to not only disrupt those hearings but intimidate Republican Senators and the sham impeachment of President Trump over a normal phone call with the President of Ukraine.
Luckily, the overwhelming majority of those of us who live between the coasts did not live our lives like the mindless lemmings whom I have named the "New Bolsheviks".
The rugged individualism of previous generations of Americans flows through our veins. The American "Can-Do" Spirit has taken us from the bottom of the Ocean to the surface of the moon.
The overwhelming majority of Americans will stand by one another in times of crisis, as shown be the outpouring of support throughout the past year's hurricanes and horrible events such as the California Wildfires.
The intestinal fortitude that is our heritage as Americans…along with that Still, Small Voice which still resides in each and every one of us, will continue, I pray, to guide our nation, and spur us on, to stay vigilant and protect our American Freedom, just as my Parents' Generation did, against the Axis of Evil.
It is that same Divine Spark which leads our Best and Brightest as they protest and serve our nation's interests in all corners of the globe. It is also found in our First Responders and the men and women of Law Enforcement who are willing to give their lives to protect our municipalities, such as Corporal Ronil Singh,
I thank God that we have had an AMERICAN PRESIDENT who is not afraid to support them and to take the stand he has for our nation's safety.
The Great Communicator, President Ronald Reagan, summarized what I have been trying to say better than I ever could.
In 1964, in his famous stump speech, "A Time for Choosing", The Great Communicator said,
It's time we asked ourselves if we still know the freedoms intended for us by the Founding Fathers. James Madison said, "We base all our experiments on the capacity of mankind for self government."

This idea — that government was beholden to the people, that it had no other source of power — is still the newest, most unique idea in all the long history of man's relation to man. This is the issue of this election: Whether we believe in our capacity for self-government or whether we abandon the American Revolution and confess that a little intellectual elite in a far-distant capital can plan our lives for us better than we can plan them ourselves.

You and I are told we must choose between a left or right, but I suggest there is no such thing as a left or right. There is only an up or down. Up to man's age-old dream–the maximum of individual freedom consistent with order — or down to the ant heap of totalitarianism.
As we enter the New Year with an uncertain and frightening future facing our country, it will be up to us to continue what was begun on the night of November 8, 2016 and continue the fight to MAKE AMERICA GREAT AGAIN, regardless of what happens next Wednesday during the certification.
While I do not know what tomorrow holds, I know Who holds tomorrow…and me.
"And, life is worth the living, just because HE LIVES."
Happy New Year, Americans!
Until He Comes,
KJ