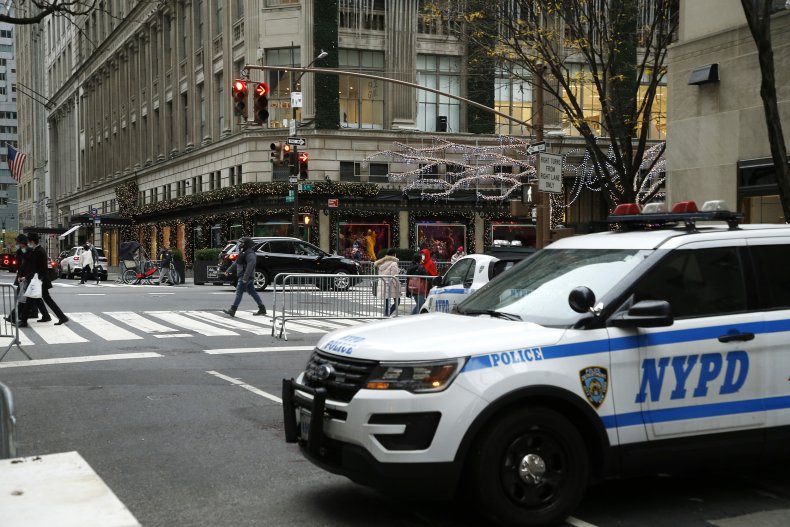 FoxNews.com reports that
Newly obtained surveillance video shows the moment a campaign volunteer for New York City Mayoral candidate Eric Adams was stabbed multiple times on a Bronx street over the weekend.

The footage obtained by WNBC-TV shows the victim, 42, being stabbed several times on a sidewalk around 2:30 p.m on Morris Avenue.

As the victim falls to the ground, the attacker appears to keep knifing him near a parked vehicle, according to the footage.

Adams, a former New York Police Department captain who serves as Brooklyn borough president, said the stabbing occurred at 149th St and Morris Ave. in the South Bronx.

The victim was taken to a hospital for his injuries. His condition was not available.

The suspect fled the scene and no arrests have been made, the New York Police Department told Fox News. Investigators found a knife and ice pick at the scene, the New York Post reported.

The stabbing came just two days ahead of the Democratic primary for New York City's next mayor.

On Monday, Adams said he would visit the unidentified volunteer in the hospital a second time and try to convince him to cooperate with investigators, according to the Post.
Last July, AOC said that the uptick in crime in NYC was due to people being hungry from being unemployed.
The uptick in crime in the Big Apple is not due to hungry citizens.
It is due to the lack of policemen and policewomen patrolling the city due to Mayor di Blasio and AOC's fellow Democrat's putting the city in danger for the sake of political expediency.
The local Democrat politicians, including Commie Mayor Bill de Blasio treat the NYPD like THEY are the thugs, defunding and treating them like garbage, and then the Dems have the nerve to act surprised when the city's crime rate goes through the roof?
Their arrogance knows no bounds.
Without good ol' fashioned police work and the municipal and New York State system of law and justice functioning without bias and enforcing the law as they are supposed to, , it will not be long before New York City will become the Hellhole seen in "Escape From New York" starring Kirk Russell.
Di Blasio and the rest of the New York Democrats need to learn to respect the men and women of the NYPD.
The Great American Broadcaster, the late Paul Harvey, was the son of a policeman who died in the line of duty. He wrote the following tribute for one of his daily updates…
"What is a policeman?

"A policeman is a composite of what all men are, I guess, a mingling of saint and sinner, dust and deity. What that really means is that they are exceptional, they are unusual. They are not commonplace. Buried under the froth is the fact, the fact is that less than one half of one percent of policeman misfit that uniform, and that is a better average than you'd find among clergymen.

"He of all men is at once the most needed, and the most wanted, a strangely nameless creature who is sir to his face and pig or worse behind his back. He must be such a diplomat that he can settle differences between individuals so that each will think he won, but, if a policeman is neat, he's conceited, if he's careless he's a bum, if he's pleasant, he's a flirt, if he's not, he's a grouch.

"He must make instant decisions that would require months for a lawyer but if he hurries he's careless, if he's deliberate, he's lazy. He must be first to an accident, infallible with diagnoses. He must be able to start breathing, stop bleeding, tie splints and above all, be sure the victim goes home without a limp.

"The police officer must know every gun, draw on the run and hit where it doesn't hurt.

"He must be able to whip two men twice his size and half his age without damaging his uniform, and without being brutal. If you hit him he's a coward, if he hits you, he's a bully. The policeman from a single human hair must be able to describe the crime, the weapon the criminal, and tell you where the criminal is hiding but, if he catches the criminal he's lucky, if he doesn't he's a dunce.

"He runs files and writes reports until his eyes ache to build a case against some felon who will get dealt out by some shameless shamus. The policeman must be a minister, a social worker, a diplomat, a tough guy, and a gentle man. And of course, he'll have to be a genius, because he'll have to feed a family on a policeman's salary."
The Democrats are a bunch of ungrateful arrogant fools.
Back the Blue.
Until He Comes,
KJ
DONATIONS ARE WELCOME AND APPRECIATED.
Make a one-time donation
Make a monthly donation
Make a yearly donation
Choose an amount
Or enter a custom amount
$
---
Your contribution is appreciated.
Your contribution is appreciated.
Your contribution is appreciated.
Donate
Donate monthly
Donate yearly