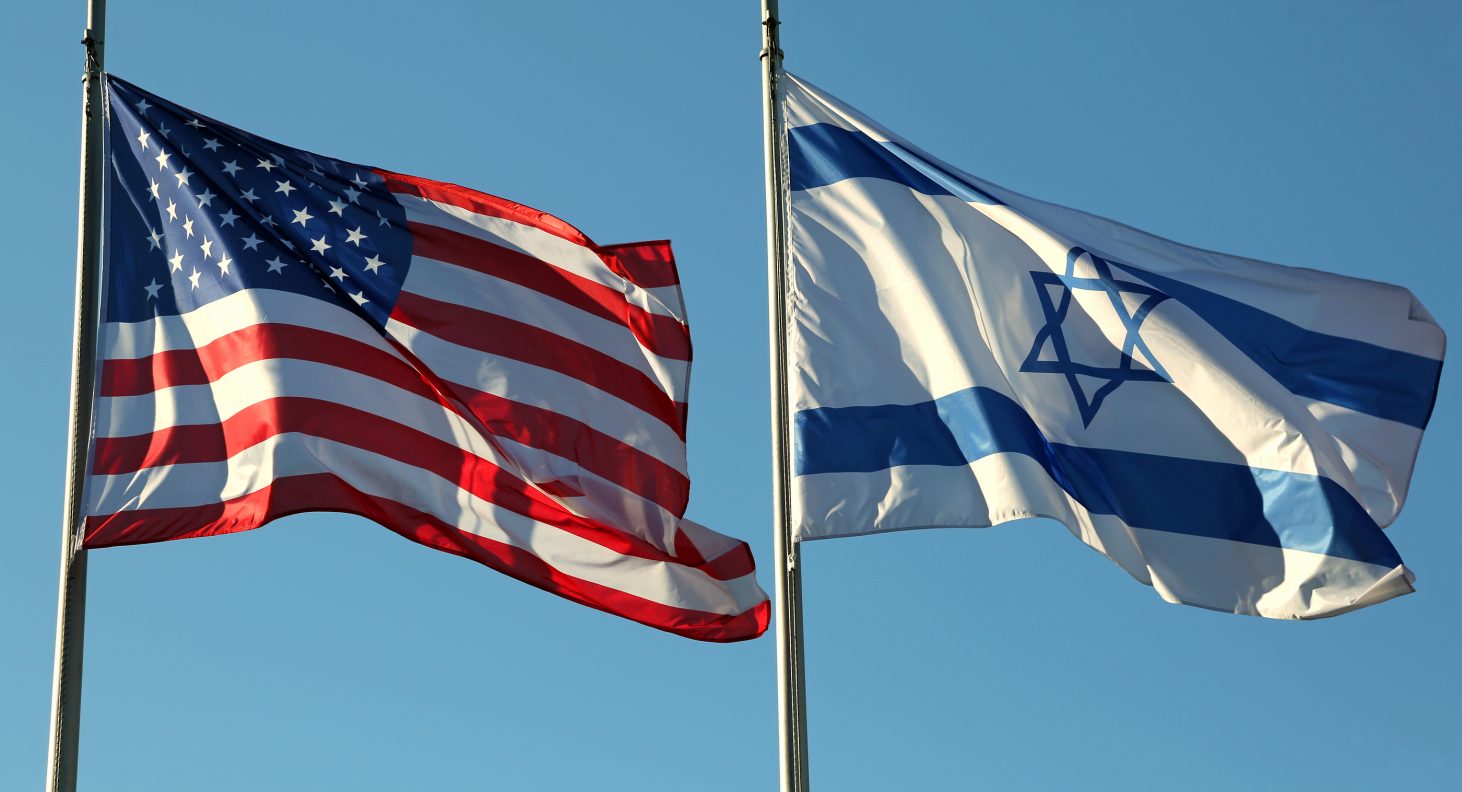 FoxNews.com reports that
The Israeli military said Thursday that it had deployed air and ground troops within the Gaza Strip to battle the Hamas terrorist group, which has been launching rocket barrages since Monday.

Israel had been retaliating with air strikes, but the ground attack marks another major escalation in what authorities were already describing as the largest clash between Israelis and Palestinian militants since 2014.

And at least three additional rockets were launched by unknown persons out of Lebanon, the country to the north, according to the Israeli Defense Forces.

Israel has taken credit for killing more than a dozen Hamas military figures and razed a pair of high-rise towers in airstrikes amid the country's fierce military offensive in the Gaza Strip.

.More than 100 Palestinians, including 27 children, have been killed in the recent fighting, Gaza's Health Ministry said.

A total of seven people have been killed in Israel, including a soldier and a 6-year-old boy.

As a result, the State Department is discouraging Americans form traveling to the region.
The Palestinians are trying to return to their own "country". A country which never existed.
The term "Palestine" (Falastin in Arabic) was an ancient name for the general geographic region that is more or less today's Israel. The name derives from the Philistines, who originated from the eastern Mediterranean, and invaded the region in the 11th and 12th centuries B.C. The Philistines were apparently either from Greece, Crete, the Aegean Islands, and/or Ionia. They seem to be related to the Bronze Age Greeks, and they spoke a language akin to Mycenaean Greek. Their descendents, still living on the shores of the Mediterranean, greeted Roman invaders a thousand years later. The Romans corrupted the name to "Palestina," and the area under the sovereignty of their city-states became known as "Philistia." Six-hundred years later, the Arab invaders called the region "Falastin."

Throughout subsequent history, the name remained only a vague geographical entity. There was never a nation of "Palestine," never a people known as the "Palestinians," nor any notion of "historic Palestine." The region never enjoyed any sovereign autonomy, remaining instead under successive foreign sovereign domains from the Umayyads and Abbasids to the Fatimids, Ottomans, and British.

During the centuries of Ottoman rule, no Arabs under Turkish rule made any attempt to formulate an ideology of national identity, least of all the impoverished Arab peasantry in the region today known as Israel.

The term "Palestinian," ironically, was used during the British Mandate period (1922-1948) to identify the Jews of British Mandatory Palestine. The Arabs of the area were known as "Arabs," and their own designation of the region was balad esh-Sham (the province of Damascus). While some Arab nationalist writers, and coffee-shop intellectuals in Cairo or Beirut, developed the concept of Arab nationalism in large part as a response to Zionism, the terms "Palestine" and "Palestinian" were used in their traditional sense as geographic designations, not as national identities.

In early 1947, in fact, when the UN was exploring the possibility of the partition of British Mandatory Palestine into two states, one for the Jews and one for the Arabs, various Arab political and academic spokespersons spoke out vociferously against such a division because, they argued, the region was really a part of southern Syria, no such people or nation as "Palestinians" had ever existed, and it would be an injustice to Syria to create a state ex nihilo at the expense of Syrian sovereign territory.

During the 19 years from Israel's victory in 1948 to Israel's victory in the Six-Day War, all that remained of the UN's partitioned territory to the "Arabs" of British Mandatory Palestine were the West Bank, under illegal Jordanian sovereignty, and the Gaza Strip, under Egyptian rule. Never during these 19 years did any Arab leader anywhere in the world argue for the right of national self-determination for the Arabs of these territories. A "Palestinian" nation and "Palestinian" people had not yet been invented.

Article 24 of the PLO's [Palestine Liberation Organization] original founding document, the PLO Covenant, states: "This Organization (the PLO) does not exercise any regional sovereignty over the West Bank in the Hashemite Kingdom of Jordan, in the Gaza Strip or the Himmah area." For Arafat before the Six-Day War, Palestine was Israel. It was not the West Bank or the Gaza Strip — because the West Bank and the Gaza Strip belonged to other Arab states, and the inhabitants of these areas were not numbered among the Palestinians whose "homeland" Arafat sought to "liberate." The only "homeland" for the PLO in 1964 was the State of Israel. However, in response to the Six Day War, the PLO revised its Covenant on July 17, 1968, to remove the operative language of Article 24, thereby newly asserting a "Palestinian" claim of sovereignty to the West Bank and Gaza Strip.

This ploy was revealed, perhaps inadvertently, to the West in a public interview with Zahir Muhse'in, a member of the PLO Executive Committee, in a March 31, 1977, interview with the Amsterdam-based newspaper Trouw:

"The Palestinian people does not exist. The creation of a Palestinian state is only a means for continuing our struggle against the state of Israel for our Arab unity. In reality today there is no difference between Jordanians, Palestinians, Syrians and Lebanese. Only for political and tactical reasons do we speak today about the existence of a Palestinian people, since Arab national interests demand that we posit the existence of a distinct "Palestinian people" to oppose Zionism. For tactical reasons, Jordan, which is a sovereign state with defined borders, cannot raise claims to Haifa and Jaffa, while as a Palestinian, I can undoubtedly demand Haifa, Jaffa, Beer-Sheva and Jerusalem. However, the moment we reclaim our right to all of Palestine, we will not wait even a minute to unite Palestine and Jordan."

[Yasser] Arafat himself said the same thing, on many occasions. In his authorized biography (Terrorist or Peace Maker, by Alan Hart), he is quoted saying: "[T]he Palestinian people have no national identity. I, Yasser Arafat, man of destiny, will give them that identity through conflict with Israel."

But such admissions did not stem the enthusiasm with which these fictions were greeted by Western leaders. Within a few years, the USSR's invention of the fictitious narrative of Palestinian national aspirations and rights of self-determination created the facade of morality and legitimacy that the terrorists needed in order to curry favor with the European Union, the United Kingdom, and the United States.
About Hamas…
HAMAS (an acronym for Harakat al-Muqawamat al-Islamiyya, which is Arabic for "Islamic Resistance Movement") is an Islamic fundamentalist group founded on December 14, 1987. As a single Arabic word rather than an acronym, "Hamas" means "zeal." The organization's founders were seven leading members of the Muslim Brotherhood: Ahmed Dassin, Abdel Aziz Rantisi, Ibrahim al-Yazuri, Sheikh Salih Shihada, 'Isa al-Našhar, Muhammad Shama'a, and 'Abd al-Fattah Dukhan. Hamas, in a sense, grew out of a 1985-86 Brotherhood movement — in which Ahmed Yassin was involved — that resolved to pursue its goal of degrading and ultimately destroying Israel by means of civil disturbance.

Describing itself as "one of the wings of the Muslim Brother[hood]," Hamas's avowed purpose is "liberating Palestine" from its Jewish "oppressors," whose very presence in the Middle East Hamas considers an affront to Muslims' rightful sovereignty over the region. Hamas is best known for using violent methods — including suicide bombings against Israeli military and civilian targets — as part of its long-term strategy to destroy Israel and replace it with an Islamic Palestinian state. The U.S. State Department, Canada, Japan, Israel, and the entire European Union have named Hamas as an Islamic terrorist organization.
Anti-Semitism is pervasive among today's Far Left Liberal Democratic Party.
Anti-Semitism is the norm in Marxism in all of its forms, including "Democratic Socialism".
Anti-Semitic groups tend to gravitate toward each other finding solace and kindred spirits in their shared hatred of the Jewish people.
For those of you who are old enough to have actually studied history before the Liberals started revising it, the world has bore witness to this phenomena before.
A socialist political party in a developed nation joined forces with Islamists before, based on their mutual hatred of Jews.
You may remember this. They were the National Socialist Party of Germany, otherwise known as the Nazis.
They caused the mass extermination of millions of European Jews, the Holocaust which gives Congresswoman Tlaib "a calming feeling".
The political philosophies which the Modern Democrats are now embracing are the anti-thesis of whom they claim to be.
The false equivalencies which have been thrown about, for the last few decades all over the cable news channels and the internet by Liberal Pundits, paid and unpaid, trying to justify the murderous cowardly actions of the Palestinian Terrorist Organization, Hamas, boggle the mind of any rational, well-informed American.
While Israel has been one of our nations staunchest allies since their birth as a nation in 1948, Hamas, who took over for the Palestinian Liberation Organization, hates our ever-loving guts, and would behead every single American, man or woman, adult or child, without any regret whatsoever. Because to them, we are infidels, and "The Great Satan", against which they are waging a "Holy Jihad", not to mention the fact that Israel is our closest ally.
For Liberals, like the members of the "Squad", and the rest of the Democratic House to support murders and to advocate for a "nation" which never even existed is nothing but an exercise in stupid, dangerous naiveté for the sake of a political ideology…
…and proves continuously that denial is not just a river in Egypt.
Until He Comes,
KJ
DONATIONS ARE WELCOMED AND APPRECIATED.
Make a one-time donation
Make a monthly donation
Make a yearly donation
Choose an amount
Or enter a custom amount
$
---
Your contribution is appreciated.
Your contribution is appreciated.
Your contribution is appreciated.
Donate
Donate monthly
Donate yearly
A KJ Sunday Morning Reflection
Every time a terrorist murders an innocent person, and falsely invokes the name of God, it should be an insult to every person of faith.

Terrorists do not worship God, they worship death.

If we do not act against this organized terror, then we know what will happen. Terrorism's devastation of life will continue to spread. Peaceful societies will become engulfed by violence. And the futures of many generations will be sadly squandered.

If we do not stand in uniform condemnation of this killing—then not only will we be judged by our people, not only will we be judged by history, but we will be judged by God.

This is not a battle between different faiths, different sects, or different civilizations.

This is a battle between barbaric criminals who seek to obliterate human life, and decent people of all religions who seek to protect it.

This is a battle between Good and Evil.– President Donald J. Trump
Truer Words were never spoken.
ChristianPost.com reports that
Islamic State supporters have threatened to launch a terror attack in Washington, D.C. and New York on Christmas, according to the SITE intelligence group. A propaganda poster carries a picture that shows Washington's National Cathedral erupting in flames while indicating that New York could be their target.

"We meet at Christmas in New York soon," reads the caption of the poster, which otherwise carries an image of Washington's National Cathedral, reveals SITE, which monitors extremist communications online.

The poster was found circulating through a pro-Islamic State encrypted channel, Telegram.

"ISIS is incentivized to make threats like this, which come at no cost to them. ISIS is not dispatching fighters around the world for complex coordinated terrorist attacks, but has largely relied upon individuals and citizens already living in Europe and the United States to commit unsophisticated attacks," Newsweek quotes Harrison Akins, a researcher at the Howard Baker Center, as saying.

"These individuals' affiliations with ISIS are often tenuous and are perhaps better described as 'inspired by' rather than operationally directed. So perhaps somebody within the U.S. will take it upon themselves to commit an attack on Christmas, which falsely bolsters the perceived capabilities and reach of the group."

In October, a 27-year-old man from Virginia, Mohamad Khweis, became the first U.S. citizen to be convicted of successfully joining the Islamic State terror group, also known as IS, ISIS, ISIL or Daesh, and was sentenced to 20 years in prison. Over 100 people in the U.S. have been charged with trying to support or join IS, but Khweis succeeded.

IS managed to encourage over 40,000 fighters from more than 110 countries to travel to join their fight before and after the declaration of the "caliphate" in June 2014, according to a report, "Beyond the Caliphate: Foreign Fighters and the Threat of Returnees."

The report, recently released by the Washington-based security intelligence consultancy Soufan Center, states that there are now at least 5,600 citizens or residents from 33 countries who have returned home — accounting for about 15 percent of the fighters.

The report claims that for the U.S., 129 fighters succeeded in leaving the country and only seven have returned.

While IS has lost its territory in Syria and Iraq, the threat is far from over in the Middle East or elsewhere.

Iraq declared earlier this month that its territory is now "fully liberated" from IS, overlooking warnings by allies that the terror group still poses a threat to the country in the form of guerrilla warfare.

"As ISIS continues to lose land, influence, funding streams and conventional capabilities, we expect them to return to their terrorist roots by conducting high-profile attacks on helpless civilians such as those we've already seen in Nasiriyah, Ramadi, and elsewhere over the past weeks," a spokesperson of the U.S.-led international coalition said at the time.

Iranian influence is now present in Nineveh towns once mostly populated by Christians before IS took over, and has prevented some from returning to their homes.
So, what is it about ISIS and their brand of Radical Islam that entices these "lone wolves" to murder in their name?
Every now and then you will see some ignorant celebrity, Liberal Politician, or uniformed millinneal claim that there is no difference between Islam and Christianity.
The differences are startling…and absolute.
In Islam, the way to "walk with God and escape his judgment on that final day of judgment" is through 'falah', which means self-effort or positive achievement. The faithful must submit to God and follow all of his laws as found in the Koran. Judgment day in Islam involves some sort of measurement of what the believer has done wrong and what they have done right. And, even then, you might not be let into heaven if Allah decides you're not good enough.
This is the direct opposite of Christianity.
According to the Bible, no man can ever be good enough to deserve God's favor, to win God's heaven, because from birth we have Free Will. This Free Will may cause us to reject God and live our lives our own way. That's why it was necessary for Jesus Christ to die for our sins, covering us in His blood of the New Covenant.
God's Word tells us that what we need is not 'falah,' but faith. To have faith in, to trust, to rely on Jesus and his death as "the expiation for our sins". Those who have been Saved by Jesus Christ can be sure that in the future God will welcome them into heaven with wide open arms, because they have been washed by His blood.
Islam and Christianity present two very different Deities, who may share some similarities, but who have different identities and ultimately different standards. To pretend they are the same is not only to be clueless of the faith of 76% of the citizens of this nation, but, to be ignorant of an integral part of our American Heritage, the legacy of Christian Faith, which our Founding Fathers bequeathed us.
Now, I am not saying that every Muslim is on a jihad against "the infidels".
However…
When Christians become "radicalized", we want to share the testimony of what God has done for us through His love, with everyone we meet. We get involved in our local church and we become better fathers, mothers, sisters, brothers, and American Citizens.
When Muslims become "radicalized", they want to "kill the Infidels" in the name of "Allah the Merciful".
In the case of the Chechen Muslim brothers who bombed the Boston Marathon, their immersion into Radical Islam led them to "kill the infidels" that horrendous day.
In the case of the Radical Islamist Couple in San Bernadino, it let them to murder their neighbors and co-workers.
In the case of the barbarians of ISIS, it has turned them into doppelgangers of the Nazi Butchers of Dachau.
For Liberals to continue to deny the connection between Radical Islamic Terrorism and the Political Ideology, masquerading as a religion, that is Islam, is disingenuous at best, and just plain out-and-out lying at worst.
Thehill.com reported last year that
The majority of Americans say the country is at war with radical Islamic terrorism, according to a new poll taken in the aftermath of last week's terrorist attacks in France.

A survey by the conservative-leaning Rasmussen Reports published Friday found that 60 percent of likely voters believe the country is at war, compared with 24 percent who say the U.S. is not at war.

"President Obama, Hillary Clinton and other senior Democrats refuse to say America is at war with 'radical Islamic terrorism' for fear of insulting all Muslims, but voters beg to disagree," the polling agency said.

Majorities from both major parties said the U.S. is engaged in a conflict with radical Islam: 56 percent of Democrats and 70 percent of Republicans, as well as 54 percent of independents.


Ninety-two percent of respondents also said they regard radical Islamic terrorism as a "serious" threat to national security, including 73 percent who said the threat is a "very serious" one, which is up from 50 percent in October of last year.



American attitudes toward the Islamic faith as a whole also appear to have shifted.

Although a plurality of Americans, 46 percent, still said terrorist groups such as the Islamic State in Iraq and Syria (ISIS) do not represent the true Muslim faith, that number is down from 58 percent in February. Thirty-five percent said ISIS does represent the Muslim faith.

ISIS has claimed responsibility for the Paris attack last week in which at least 130 people were killed and hundreds were injured.

 The Rasmussen poll surveyed 1,000 likely voters Nov. 17–18. The margin of error for the poll is 3 percentage points.
Liberals are engaging in a very dangerous naiveté.
Christian Americans do not deserve their scorn and Radical Islamists certainly do not deserve their oblivious excuses.
Our country's very survival is at stake.
Until He Comes,
KJ