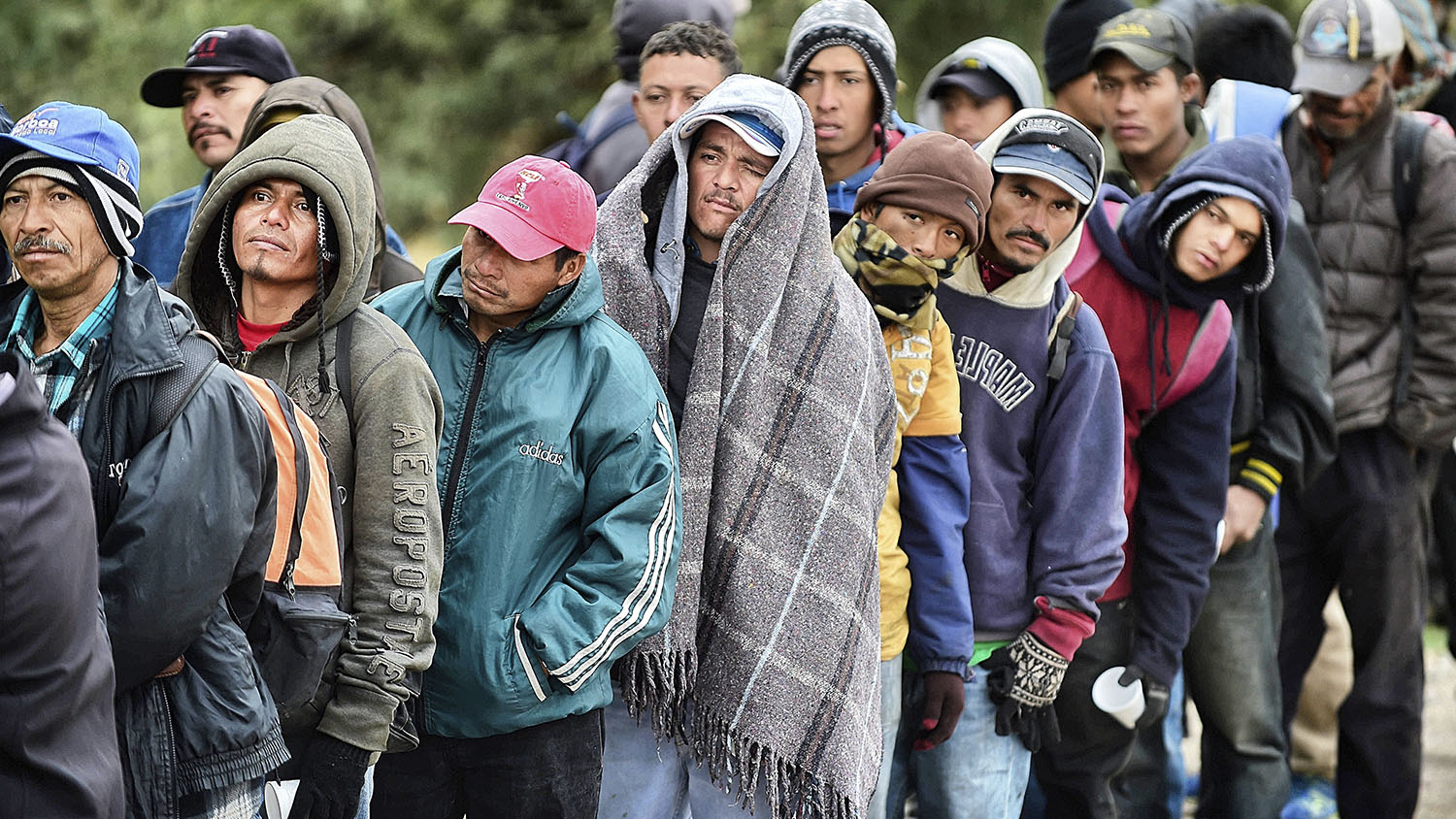 You may have seen this already, however, it explains illegal immigration as succinctly as anything I've come across:
Let's pretend I broke into your house.  When you discover me there, you insist I leave.  But I say, "I've made all the beds, washed the dishes, did the laundry, and cleaned the floors; I've done all the work you don't like to do. I'm hardworking and honest (except for breaking into your house). Not only must you let me stay, you must also add me to your insurance plan, educate my kids, and provide these benefits to my husband, too (he will do your yard work, he's honest and hardworking too–except for that breaking in part). If you try to force me out, I will call my friends who will picket your house and proclaim my right to be there! It's only fair, because you have a nicer house than I do, and I'm trying to better myself. I'm hardworking and honest…except for, well, you know. I will live in your house, contributing only a fraction of the cost of my keep, and there is nothing you can do about it without being accused of selfishness and prejudice.

Oh yeah, I want you to learn my language so you can communicate with me.

Good plan.. don't you think?
Actually, NO.
However, the Biden-Harris Administration and the Democrat Elite do.
FoxNews.com reports that
Department of Homeland Secretary (DHS) Alejandro Mayorkas says he wants to make "significant changes" to Immigration and Customs Enforcement (ICE) — an agency that has seen a rapid reduction in its enforcement scope and has seen arrests and deportations of illegal immigrants plummet since President Biden took office.

In an interview with The Washington Post, Mayorkas said that his agency is conducting a review of ICE and its priorities, and that he expects "significant changes" when that review is complete.

"What those changes will be, I am wrestling with right now, quite frankly," Mayorkas said, the newspaper reported.

It is not clear whether Mayorkas will loosen or tighten the already-strict guidance imposed by the Biden administration on the men and women of ICE in February.

After the Biden administration's attempt to impose a radical 100-day moratorium on deportations was shut down by a judge in response to a Texas lawsuit, the administration issued new guidance dramatically narrowing the illegal immigrants that ICE officers can target for arrest and deportation.

The new rules limit ICE officers to targeting on recent border crossers, national security threats and "aggravated felons." While officials note that technically no one is ruled out of being deported, ICE officers who want to arrest someone outside of those categories need preapproval from a superior. Separately, DHS has also now barred ICE from making arrests at or near courthouses.

The guidance is temporary, but the effects have been dramatic. Deportations have plummeted, with less than 3,000 illegal immigrants deported in April — down 20% from March.

Arrests too dropped, going from 5,118 in January to just over 2,000 in April, according to the latest ICE numbers.

Meanwhile, ICE releases into the U.S. — both from those already here and those crossing the border and being placed into ICE custody — have increased. Between October and January, ICE was releasing between 2,500 and 3,600 immigrants a month. In February, that increased to 4,782 and increased again in March to 11,888 – and then in April to 12,726.

"We continue to use the civil immigration enforcement priorities to focus our resources on threats to national security, border security and public safety," an ICE spokesperson told Fox News earlier this month. "ICE will continue to carry out the duties of enforcing the laws of the United States to further the security and safety of our communities."

Republicans have accused the administration of a de facto abolition of the agency in the face of pressure who radical left-wing activists in the Democratic Party who have long called for the agency to be scrapped.

But Mayorkas has said he has a new vision for the agency.

"I really am focused on it becoming a premier national security and law enforcement agency," Mayorkas told the Post. "I really want to elevate all of the other work [ICE] does and also ensure that its civil immigration work is well-focused in the service of the national security and public safety mission."

But the Post reported that ICE officials describe an environment where officers spend time doing paperwork or working out as they fear making an arrest rather than missing one.
.Y'know, boys and girls, I have been saying for a long time now, that if the Democrats had their way regarding illegal immigration America would turn into a Third World "Democratic Socialist" Paradise, like Venezuela and Cuba.
Even the Dems, like Rep. Henry Cuellar from Texas, are concerned that Biden and his Handers do not have a clue as to what they are doing in regards to the way that they have thrown open our Southern Border to bring in unaccompanied minors, housing them in the cages which Former President Barack Hussein Obama (mm mmm mmmm) built.
It is known that a percentage of these illegal minors are COVID-19 positive.
If they are being held with the other illegals, then Biden and his Administration are "recharging" the pandemic.
And, the rumor is that they are going to take these minors to military bases, like Obama did, and then these "children" will be released to "relatives", making it very possible that America could be headed for another lockdown…which would fit in perfectly in the plans of the Far Left Democrats.
In fact, they have been flying illegals secretly into Chattanooga, Tennessee under the cover of darkness to be distributed into cities in the Eastern part of the United States.
These illegals ar3e not just new Democrat Voters.
The Democrats will use them as human contagion bearers
Just as they have fenced in OUR nation's capitol in order to intimidate and control us, they would have no hesitation to attempt to force another nationwide "Pandemic Lockdown" on American citizens, again.
In countries like Greece, which have allowed the "Democratic Socialists" to take control of their government, the same "game plan" was followed.
Open up the borders, then overwhelm "the system" while raising taxes until businesses go under, placing 40% of the country's population "working for" the government or on government assistance".
Think about this:
Just as the Millionaire Democrats on Capital Hill, like Pelosi, live in gated communities to separate themselves from the violence and poverty which they are responsible for, so are they now working in a "gated community" designed to keep  "Deplorables" (i.e. average American citizens) out.
Welcome to the USSA, Comrades.
Until He Comes,
KJ
DONATIONS ARE WELCOME AND APPRECIATED.
Make a one-time donation
Make a monthly donation
Make a yearly donation
Choose an amount
Or enter a custom amount
$
---
Your contribution is appreciated.
Your contribution is appreciated.
Your contribution is appreciated.
Donate
Donate monthly
Donate yearly