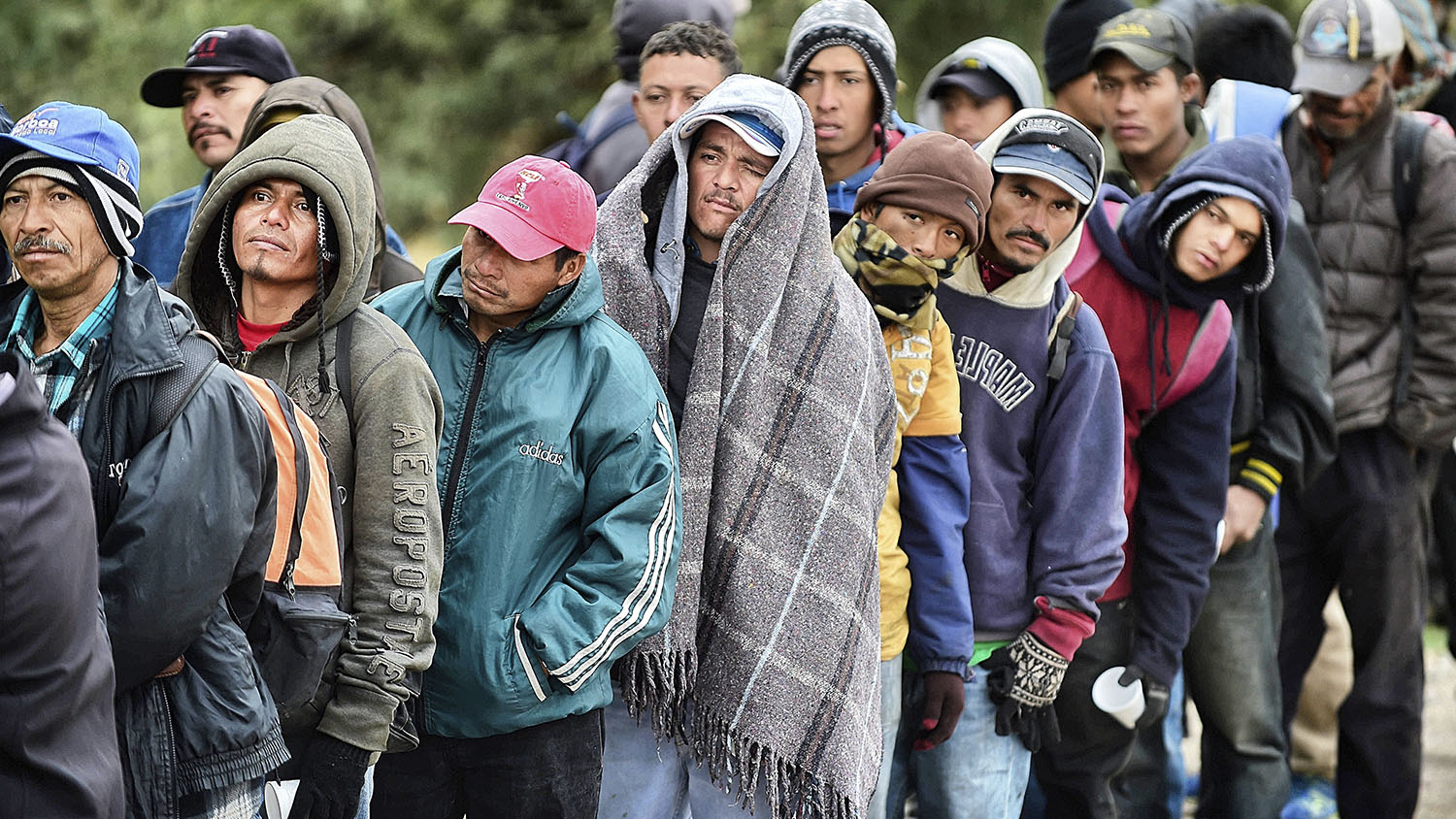 You may have seen this already, however, it explains illegal immigration as succinctly as anything I've come across:
Let's pretend I broke into your house.  When you discover me there, you insist I leave.  But I say, "I've made all the beds, washed the dishes, did the laundry, and cleaned the floors; I've done all the work you don't like to do. I'm hardworking and honest (except for breaking into your house). Not only must you let me stay, you must also add me to your insurance plan, educate my kids, and provide these benefits to my husband, too (he will do your yard work, he's honest and hardworking too–except for that breaking in part). If you try to force me out, I will call my friends who will picket your house and proclaim my right to be there! It's only fair, because you have a nicer house than I do, and I'm trying to better myself. I'm hardworking and honest…except for, well, you know. I will live in your house, contributing only a fraction of the cost of my keep, and there is nothing you can do about it without being accused of selfishness and prejudice.

Oh yeah, I want you to learn my language so you can communicate with me.

Good plan.. don't you think?
Actually, NO.
However, the Biden-Harris Administration and the Democrat Elite do.
FoxNews.com reports that
Department of Homeland Secretary (DHS) Alejandro Mayorkas says he wants to make "significant changes" to Immigration and Customs Enforcement (ICE) — an agency that has seen a rapid reduction in its enforcement scope and has seen arrests and deportations of illegal immigrants plummet since President Biden took office.

In an interview with The Washington Post, Mayorkas said that his agency is conducting a review of ICE and its priorities, and that he expects "significant changes" when that review is complete.

"What those changes will be, I am wrestling with right now, quite frankly," Mayorkas said, the newspaper reported.

It is not clear whether Mayorkas will loosen or tighten the already-strict guidance imposed by the Biden administration on the men and women of ICE in February.

After the Biden administration's attempt to impose a radical 100-day moratorium on deportations was shut down by a judge in response to a Texas lawsuit, the administration issued new guidance dramatically narrowing the illegal immigrants that ICE officers can target for arrest and deportation.

The new rules limit ICE officers to targeting on recent border crossers, national security threats and "aggravated felons." While officials note that technically no one is ruled out of being deported, ICE officers who want to arrest someone outside of those categories need preapproval from a superior. Separately, DHS has also now barred ICE from making arrests at or near courthouses.

The guidance is temporary, but the effects have been dramatic. Deportations have plummeted, with less than 3,000 illegal immigrants deported in April — down 20% from March.

Arrests too dropped, going from 5,118 in January to just over 2,000 in April, according to the latest ICE numbers.

Meanwhile, ICE releases into the U.S. — both from those already here and those crossing the border and being placed into ICE custody — have increased. Between October and January, ICE was releasing between 2,500 and 3,600 immigrants a month. In February, that increased to 4,782 and increased again in March to 11,888 – and then in April to 12,726.

"We continue to use the civil immigration enforcement priorities to focus our resources on threats to national security, border security and public safety," an ICE spokesperson told Fox News earlier this month. "ICE will continue to carry out the duties of enforcing the laws of the United States to further the security and safety of our communities."

Republicans have accused the administration of a de facto abolition of the agency in the face of pressure who radical left-wing activists in the Democratic Party who have long called for the agency to be scrapped.

But Mayorkas has said he has a new vision for the agency.

"I really am focused on it becoming a premier national security and law enforcement agency," Mayorkas told the Post. "I really want to elevate all of the other work [ICE] does and also ensure that its civil immigration work is well-focused in the service of the national security and public safety mission."

But the Post reported that ICE officials describe an environment where officers spend time doing paperwork or working out as they fear making an arrest rather than missing one.
.Y'know, boys and girls, I have been saying for a long time now, that if the Democrats had their way regarding illegal immigration America would turn into a Third World "Democratic Socialist" Paradise, like Venezuela and Cuba.
Even the Dems, like Rep. Henry Cuellar from Texas, are concerned that Biden and his Handers do not have a clue as to what they are doing in regards to the way that they have thrown open our Southern Border to bring in unaccompanied minors, housing them in the cages which Former President Barack Hussein Obama (mm mmm mmmm) built.
It is known that a percentage of these illegal minors are COVID-19 positive.
If they are being held with the other illegals, then Biden and his Administration are "recharging" the pandemic.
And, the rumor is that they are going to take these minors to military bases, like Obama did, and then these "children" will be released to "relatives", making it very possible that America could be headed for another lockdown…which would fit in perfectly in the plans of the Far Left Democrats.
In fact, they have been flying illegals secretly into Chattanooga, Tennessee under the cover of darkness to be distributed into cities in the Eastern part of the United States.
These illegals ar3e not just new Democrat Voters.
The Democrats will use them as human contagion bearers
Just as they have fenced in OUR nation's capitol in order to intimidate and control us, they would have no hesitation to attempt to force another nationwide "Pandemic Lockdown" on American citizens, again.
In countries like Greece, which have allowed the "Democratic Socialists" to take control of their government, the same "game plan" was followed.
Open up the borders, then overwhelm "the system" while raising taxes until businesses go under, placing 40% of the country's population "working for" the government or on government assistance".
Think about this:
Just as the Millionaire Democrats on Capital Hill, like Pelosi, live in gated communities to separate themselves from the violence and poverty which they are responsible for, so are they now working in a "gated community" designed to keep  "Deplorables" (i.e. average American citizens) out.
Welcome to the USSA, Comrades.
Until He Comes,
KJ
DONATIONS ARE WELCOME AND APPRECIATED.
Make a one-time donation
Make a monthly donation
Make a yearly donation
Choose an amount
Or enter a custom amount
$
---
Your contribution is appreciated.
Your contribution is appreciated.
Your contribution is appreciated.
Donate
Donate monthly
Donate yearly
Just as Vladimir Lenin used the Bolsheviks to overthrow the Russian Government, so the Far Left or "Justice Democrats" are quite willing to use gangs who have arrived here illegally for their own purposes.
FoxNews.com reports that
Rep. Alexandria Ocasio-Cortez, D-N.Y., led a group of her House Democratic colleagues in a letter to federal immigration officials demanding an overhaul of immigration policies and objecting to gang members in the country illegally being targeted for deportation.

Ocasio-Cortez and 34 of her Democratic colleagues sent a letter to Department of Homeland Security (DHS) Secretary Alejandro Mayorkas and Immigration and Customs Enforcement (ICE) director Tae Johnson, calling on them to change immigration policies that rely on the US's "discriminatory legal system."

The lawmakers claim an interim enforcement memo issued by ICE "does not adequately protect the liberty interests of asylum seekers" and presumes an illegal migrant — including those convicted of aggravated felonies —to be a "border security and enforcement and removal priority."

"This blanket presumption will effectively mean detaining an untold number of people who have fled persecution," the lawmakers wrote.

Additionally, the letter claims the "definition of an aggravated felony" is a "relic of the racist War on Drugs" and that the "category has been interpreted to include many state drug misdemeanors."

"'Aggravated felonies' as a category have been designed to ensure that people have as few rights as possible to fight detention and deportation," Ocasio-Cortez and her colleagues wrote.

"Moreover, we are concerned that the memorandum only requires ICE officers have a 'good faith belief' that someone has an aggravated felony conviction even while acknowledging that such a determination is 'a complex question,'" they continued.

The lawmakers also claimed the memo "invites racial profiling" by making a migrant who has been convicted of actively or intentionally participating in gang activity a "public safety enforcement and removal priority."

They claimed that leaving ICE agents to determine whether someone has been convicted of being involved in gang activity or an aggravated felony "should not be left to an officer's discretion or 'good faith belief.'"

"It is well documented that law enforcement's practices of labelling people as gang-involved is often faulty, based on arbitrary and racist factors, and not subject to due process," the lawmakers claimed.

"We are in a moment of racial reckoning in this country, with communities across the country calling for an end to mass incarceration and racist policing," the group continued. "It is time to end the carceral approach to immigration, which relies on these same flawed systems."

The letter was signed by multiple progressive lawmakers, including "Squad" members Reps. Rashida Tlaib, D-Mich., Ayanna Pressley, D-Mass., and Jamaal Bowman, D-N.Y.

Additionally, Rep. Carolyn Maloney, D-N.Y., signed onto the letter after Justice Democrats — a group linked to Ocasio-Cortez — backed far-left candidate Rana Abdelhamid in a primary attempt.

DHS did not immediately respond to Fox News' request for comment.
Yeah. Leave those poor widdle gang members alone.
They dindu nuffin.
Sheesh.
So, just what is this "Justice Democrats" Group all about?
According to their website,
Justice Democrats is recruiting and supporting progressive Democrats all over the country, starting with Congress. We're working to transform the Democratic Party while building independent power. We do this by running primary challengers against out-of-touch Democratic incumbents and organizing to hold the party accountable to our issues.
So, who is the "Money Man" behind the Justice Democrats"?
I will give you three guesses and the first tow don't count.
Per MikeHuckabee.com,
"Members linked to Soros-funded digital media asked Ocasio-Cortez to run for office," the report states, "which guarantees she would get favorable news coverage by a media network that reaches almost 300 million people monthly." Well, we know it was Justice Democrats that recruited her to run for office, so this suggests a strong connection.

The report goes on to confirm that connection, saying that "one member of the Soros-funded media, Cenk Uygur, also founded one of the two political groups responsible for asking Ocasio-Cortez to run, Justice Democrats, whose goal is to get Sanders-like politicians elected to Congress." Sanders, as in socialist. (Our understanding is that Uygur is no longer officially with JD, due to some #MeToo issues regarding his treatment of women in the workplace.)

The DCNF story also links favorable news coverage by "Soros-linked digital media" to AOC's win in the Democratic primary, which, of course, meant an automatic win in the heavily Democratic district. The other organization mentioned in this report, Brand New Congress, had essentially the same people involved.

According to the Media Research Center, "[George] Soros funds nearly every major left-wing media source in the United States. Forty-five of those are financed through his support of the Media Consortium…The list is predictable — everything from Alternet to the Young Turks." The Young Turks is Cenk Uygur's YouTube channel, so that must be the "Soros-linked digital media" mentioned by DCNF.

So, there you go. Is George Soros involved? OF COURSE he is!
When the Caravans from The Triangle Area started heading to "el Norte" during the Trump Presidency, I wrote an article describing how Soros was one of the funders of that little enterprise.
I am certain that he is still funding it.
So, adding 1 + 1 together, if Soros is involved with Justice Democrats-supported push to allow the Mexican and South American Gangs to run rampant in out Sovereign Nation from the time they leave their home countries to the time they illegally enter America…shouldn't he be held responsible for the damage that he is doing to our country?
Oh, wait.
There I go thinking logically again.
I forgot
We are experiencing the third Presidential Term of Barack Hussein Obama.
Anything foes.
Welcome to the jungle.
Until He Comes,
KJ
DONATIONS ARE WELCOMED AND APPRECIATED.
Make a one-time donation
Make a monthly donation
Make a yearly donation
Choose an amount
Or enter a custom amount
$
---
Your contribution is appreciated.
Your contribution is appreciated.
Your contribution is appreciated.
Donate
Donate monthly
Donate yearly
David Steinberg of TheBlaze.com reports that
On Oct. 30, I reported that the Department of Justice had assigned an FBI Special Agent in Charge, or SAC, to review Rep. Ilhan Omar's apparent, astonishing spree of felonies from 2009 to 2017.

Minnesota state Rep. Steve Drazkowski (R) had previously filed a complaint on the matter with the Minnesota District of the Department of Justice. That office — headed by U.S. Attorney Erica MacDonald, a 2018 Donald Trump appointee — directed the FBI to review the complaint. An FBI SAC formally met with Rep. Drazkowski, and others, in mid-October to receive a prepared file of evidence and related information.

I can confirm that the FBI has taken additional steps since this October meeting.

In October, the FBI SAC stated that the wide range of criminal activity suggested by the evidence against Rep. Omar may lead the FBI to expand the review to other federal departments. In such situations, the SAC continued, the FBI often acts as a hub — sharing evidence, or coordinating a joint investigation, with several other investigative agencies.

Indeed, this has since occurred.

At least the following two federal agencies were contacted by the FBI with information regarding Rep. Omar. The FBI then placed the October meeting attendees in touch with selected investigators within these two agencies:

1. Department of Education Inspector General
This is related to evidence suggesting that Rep. Omar's 2009 marriage to a UK citizen may have been an attempt to facilitate federal student loan fraud, or other fraud involving higher education.

● Shortly after Omar's 2009 marriage, the new couple moved to Fargo, North Dakota. Omar enrolled at North Dakota State University in August 2009. Her husband enrolled the following year.

Omar received a degree in June 2011. According to Omar herself, she and her husband then permanently separated in June 2011. The marriage's start and end coincide with the start and end dates of Omar's NDSU enrollment.

Incredibly — according to address records, and a statement from Omar herself — she was also still living with her first husband, and their two kids, throughout this second marriage.

● In 2017, Omar finally filed for divorce. Under penalty of perjury, she submitted a nine-question form to the court attesting to having lost all contact with her NDSU husband in June 2011.

Dozens of verified social media posts, photos, and even a 2016 interview with the NDSU husband indicate otherwise. It appears Omar perjured herself eight times answering those nine questions.

2. Immigration and Customs Enforcement
● This is related to evidence suggesting a breathtaking number of possible immigration-related felonies. As I stated in an introductory passage within my July 18 article:

The [following] answers to those questions about [Rep. Omar's 2009 marriage] appear to give probable cause to investigate Omar for eight instances of perjury, immigration fraud, marriage fraud, up to eight years of state and federal tax fraud, two years of federal student loan fraud, and even bigamy.

To be clear: The facts describe perhaps the most extensive spree of illegal misconduct committed by a House member in American history.

The involvement of ICE with a possible criminal investigation could hardly be of greater political import to Omar.

For several years, Omar has vigorously supported the abolishment of ICE. Her 2020 re-election platform — featured on her campaign site, and pictured below — targets ICE agents with vicious rhetoric that simply must be read by interested parties.

States Omar's site: "Immigration and Customs Enforcement (ICE) is an unreformable organization that has become increasingly militarized, brutal, and unaccountable."

Since August 2016, the remarkable story of Rep. Ilhan Omar's past has produced scarce political, law enforcement, or media activity. A near-perfect inversion of the Trump/"Russian collusion" yarn, with which it is inseparable.

Consider how the Trump investigation was initiated, as former FBI Director James Comey tells it. (Recent statements from Attorney General William Barr and U.S. Attorney John Durham suggest disagreement.) Comey treated an unverifiable claim, from a foreign diplomat, of a drunken remark by a low-level Trump staffer as predicate for spying on a presidential campaign.

Comey never did find stronger evidence. Yet the Democratic Party and supportive media hardly paused, for three years, covering this investigation.

Concurrently — in August 2016 — Minnesota reporters Scott Johnson and Preya Samsundar were publishing extensive, verified, still-unchallenged evidence implicating Rep. Omar in multiple felonies. Their exponentially more substantial evidence was ignored by the Democratic Party and supportive media. Their evidence was even ignored by law enforcement, per an extraordinary public dismissal shortly before Omar's 2016 election to the Minnesota House of Representatives.

FBI guidelines require only "'articulable factual basis' of possible criminal activity" to open an investigation. By September 2016, Johnson and Samsundar had objectively breached that threshold. Picture Comey applying his "Crossfire Hurricane" standards to their work — perhaps Omar's trial reaches the sentencing phase before the November election.

I followed up on Johnson and Samsundar's investigation in early 2018. A year later, the proportions of the verifiable case against Omar resemble that against a Batman villain. A comical number of likely felonies, all backed by gobsmacking evidence: Certified state and federal documents; certified UK government documents; archived state public school records; archived U.S. and UK address records; verifiably unmanipulated digital photographs; corroborating statements from Omar herself; corroborating statements from Omar's ex-husband himself; several years of social media posts from Omar's verified accounts; and several years of suddenly deleted social media posts from Omar's verified accounts.

And that's before we reach the good stuff.

…The only man on Earth with the same name and birthdate as Omar's ex-husband — appears to have been raised in the London home of Ilhan's verifiable sister. And has the same three family names.

Yet media continued to approach the developing story of Omar's background with zero rigor.

Literally zero.

Their distortions were provably deliberate, and their intentions blinking-red evident. Simply, Ilhan Omar's "identity" struck the Democratic Party and supportive media as being a best-case vehicle for selling progressivism. Omar's character? Worst-case. But they preferred the fantasy — they printed it, over and over, along with that other one sparked by drunken hearsay. The rule of law and the safety of Jews were roadblocks.

The Democratic Party and the media have not changed. Consider the coverage of the House Democrats' articles of impeachment, which do not even allege that the president committed a crime. However — much of the Obama-era, politically infected law enforcement leadership is indeed fired and gone. We have cause to believe many career federal investigators are honorable and were glad to see them go.

Rep. Omar now appears to be receiving the scrutiny her "articulable facts" have deserved since August 2016; perhaps a criminal investigation is open.
When I heard about this yesterday, it struck me as being a prime example of the anti-American hypocrisy which has become a trademark of the Far Left SJW-led Democratic Party.
They have spent the last 3 years on a "holy" crusade to evict President Donald J. Trump from the Oval Office, accusing him of everything from "colluding" with the Russians to molesting women to withholding aid from our allies to molesting puppies.
Okay. I just threw the last charge in there. But, I guarantee, once he is acquitted by the Senate from the House Dems' made-up Impeachment, they will probably bring up "molesting puppies" as their next "Article of Impeachment".
Meanwhile, on their side, anything, I mean ANYTHING, is permissible.
From trips to Epstein's Orgy Island to sleeping with your late brother's widow to telling your followers that you are going to IMPEACH THE MOTHERF####R (President Trump) when there was no impeachable evidence, nobody can touch you if you are a Democrat up in your perch on Capitol Hill.
Morality and Ethics and the laws which govern them are gor "common people" like the "Outsider" in the White House and the "Deplorables" who elected him.
And, don't forget the wonderful "perks of the job", like "Stock Market Tips" and "deals on Real Estate" which made millions for House Speaker Nancy Pelosi and her husband.
The behavior of Rep. Ilhan Omar is beyond reprehensible…so she fits right in with the rest of the House Democrats.
It is wonderful that there have been investigations launched against her by three government agencies.
However, considering how proficiently the Democrats have weighted the Scales of Justice in their favor during the last few decades. I will be very pleasantly surprised if the American-hating anti-Semitic Radical Islamist gets the punishment she deserves.
However, I have been pleasantly surprised before…
On the night of November 8, 2016.
Until He Comes,
KJ