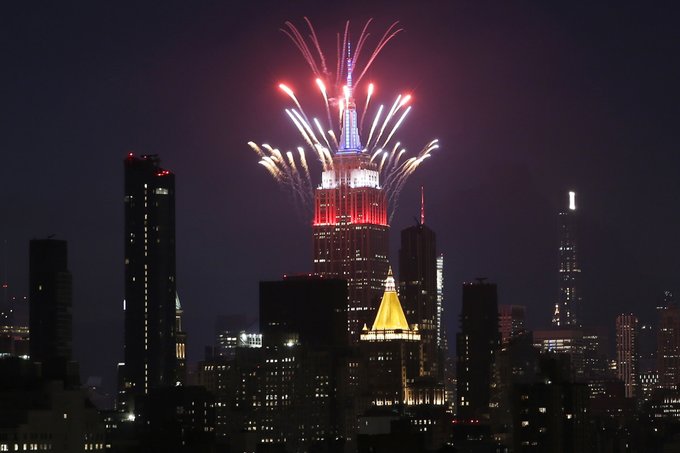 FoxNews.com reports that
One Democratic lawmaker and several left-wing figures used the Fourth of July to share controversial statements or disparage the founding of the United States.

Democrat Rep. Cori Bush, D-Mo, tweeted out "When they say that the 4th of July is about American freedom, remember this: the freedom they're referring to is for White people. This land is stolen land and Black people still aren't free."

There were some who agreed with Bush's comments like congressional candidate Shahid Buttar. He replied to her tweet saying "Speak it, @CoriBush! It's almost as if our entire country has been brainwashed to ignore our history—and how its worst elements continue today—despite our self-congratulatory rhetoric."

Former MSNBC anchor Toure was far more vocal, tweeting out "F–k Independence Day. Not only were we not free, the whole reason the Colonies wanted independence was because Britain was moving toward abolishing slavery. Why would Black people celebrate a day so wrapped up in our enslavement?"

He also tweeted out his own opinion piece for the website The Grio titled "F–k Fourth of July: The only independence day I recognize is Juneteenth."

Actress Alyssa Milano also disparaged the Fourth of July by sharing a TikTok video of herself reading "Reminder: The United States was founded on the unjust treatment of Native Americans, Africans and other people of color."

News organizations also took the opportunity to use the holiday to criticize the United States and its history.

NPR tweeted out a thread of the original Declaration of Independence, claiming it to be "a document with flaws and deeply ingrained hypocrisies." It also remarked immediately that the document "says 'that all men are created equal' — but women, enslaved people, Indigenous people and many others were not held as equal at the time."

The Washington Post went even further by posting several opinion pieces that critique the holiday or use it for political partisanship. These pieces included "The Fourth is for complainers," "Independence Day 2021 is an apt occasion to celebrate America's liberation from Trump," and a perspective piece titled "July Fourth is Independence Day for two countries. But for one it is hollow."

This followed the New York Times opinion piece that suggested the American flag became a symbol of divisiveness. In the article titled "A Fourth of July Symbol of Unity That May No Longer Unite."

"Today, flying the American flag from the back of a pickup truck or over a lawn is increasingly seen as a clue, albeit an imperfect one, to a person's political affiliation in a deeply divided nation," the article states.
Now that the Democratic Party has become nothing but a Far Left, Marxism-embracing, American-hating, special interest groups butt-kissing bunch of self-absorbed ungrateful American-haters, they have lost all credibility with average Americans.
So, why don't clowns like Rep. Cori Bush, Toure, and Alyssa Milno, the Democrat Minions who work at the Propaganda Machines known as CNN and MSNBC and their masters, the Democratic Party, understand that attacking Traditional American Values, such as was on display during 4th of July Celebrations across the Heartland of America, 24 hours a day, 7 days a week, is why they continue to lose viewers and voters?
Simple. They are blinded by their egotistical rage.
In American Politics, as far as anybody can remember, that is still alive and kicking, you have had those of a political ideology who were Pro-American and Gung Ho about all the things that this country stands for. And, on the other side, you had those of a political ideology who criticized everything that America stood for, and still stands for, to this day.
From those who believed that Communism would be great for America back in the 1950s, to those in the 1960's, who wanted to "tune in, turn on, and drop out", and spit on our returning Servicemen, to those of the 1970s who were naïve pacifists like their President, Jimmy Carter, to those in the 1980s, who were part of the "Me Generation", to those whom we call "Progressives" (a misnomer) or "Modern Liberals" in our present generation, including Nancy Pelosi, Chuck "U" Schumer, Jerry Nadler, Bill and Hillary Clinton, Former (Thank God) President Barack Hussein Obama and the unfunny comedy team of Dementia Joe and "Heels Up" Harris, there has always been a minority segment of American Society, who despise everything that this land, which was given us by the Almighty and was fought for and died for by those before us, stands for, while they reap all the benefits of America the Beautiful.
Through the last several decades, the Democratic Party, once the party of the "Middle Class Working American" has devolved into a Far Left Political Party of special interest groups and has become the champion and practitioner of the "Tyranny of the Minority".
What we have heah is failure to communicate. – Strother Martin, "Cool Hand Luke".
While spending time on Facebook Political Pages, which I really should cut down on, as it tends to increase my blood pressure to Mt. Vesuvius Levels, I continuously encounter individuals who echo the sentiments of the Far Left self-proclaimed geniuses who champion the Far Left Democratic Party and who believe that anybody who works hard for a living, believes in God and Country, and who still support Former President Trump, is a Jingoistic imbecile.
The same intolerant idiots who have decided that they do not need to hire "straight white males".
By the way, according to the dictionary, Jingoism is an extreme chauvinism or nationalism marked especially by a belligerent foreign policy.
In other words, being guilty of "patriotism", i.e., believing that America is the greatest country on the face of God's Green Earth and believing in American Exceptionalism.
And, that is fuel that drives idiots like Rep. Cori Bush and the bosses at MSNBC to act like ungrateful imbeciles.
This ol' cracka has any idea for y'all:
If you don't like it here…LEAVE!
…and take the Biden-Harris Administration and the Democrat Elite on Capitol Hill with you.
GOD BLESS AMERICA!
Until He Comes,
KJ
DONATIONS ARE WELCOME AND APPRECIATED.
Make a one-time donation
Make a monthly donation
Make a yearly donation
Choose an amount
Or enter a custom amount
$
---
Your contribution is appreciated.
Your contribution is appreciated.
Your contribution is appreciated.
Donate
Donate monthly
Donate yearly