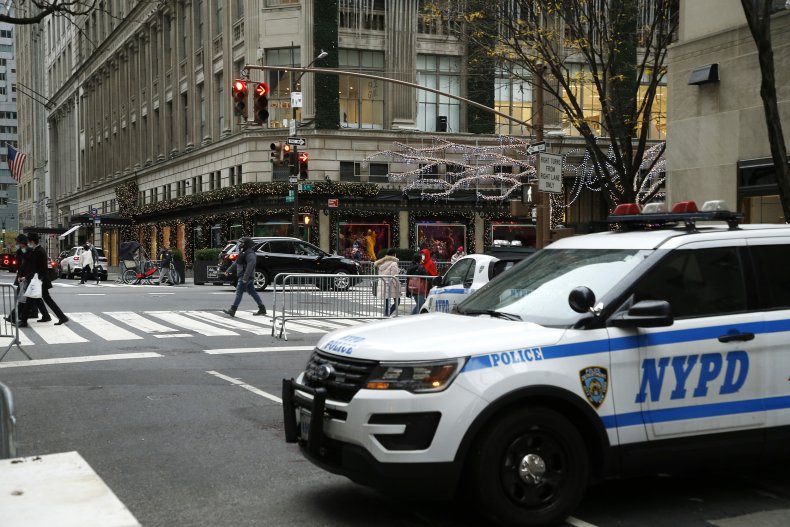 FoxNews.com reports that
Newly obtained surveillance video shows the moment a campaign volunteer for New York City Mayoral candidate Eric Adams was stabbed multiple times on a Bronx street over the weekend.

The footage obtained by WNBC-TV shows the victim, 42, being stabbed several times on a sidewalk around 2:30 p.m on Morris Avenue.

As the victim falls to the ground, the attacker appears to keep knifing him near a parked vehicle, according to the footage.

Adams, a former New York Police Department captain who serves as Brooklyn borough president, said the stabbing occurred at 149th St and Morris Ave. in the South Bronx.

The victim was taken to a hospital for his injuries. His condition was not available.

The suspect fled the scene and no arrests have been made, the New York Police Department told Fox News. Investigators found a knife and ice pick at the scene, the New York Post reported.

The stabbing came just two days ahead of the Democratic primary for New York City's next mayor.

On Monday, Adams said he would visit the unidentified volunteer in the hospital a second time and try to convince him to cooperate with investigators, according to the Post.
Last July, AOC said that the uptick in crime in NYC was due to people being hungry from being unemployed.
The uptick in crime in the Big Apple is not due to hungry citizens.
It is due to the lack of policemen and policewomen patrolling the city due to Mayor di Blasio and AOC's fellow Democrat's putting the city in danger for the sake of political expediency.
The local Democrat politicians, including Commie Mayor Bill de Blasio treat the NYPD like THEY are the thugs, defunding and treating them like garbage, and then the Dems have the nerve to act surprised when the city's crime rate goes through the roof?
Their arrogance knows no bounds.
Without good ol' fashioned police work and the municipal and New York State system of law and justice functioning without bias and enforcing the law as they are supposed to, , it will not be long before New York City will become the Hellhole seen in "Escape From New York" starring Kirk Russell.
Di Blasio and the rest of the New York Democrats need to learn to respect the men and women of the NYPD.
The Great American Broadcaster, the late Paul Harvey, was the son of a policeman who died in the line of duty. He wrote the following tribute for one of his daily updates…
"What is a policeman?

"A policeman is a composite of what all men are, I guess, a mingling of saint and sinner, dust and deity. What that really means is that they are exceptional, they are unusual. They are not commonplace. Buried under the froth is the fact, the fact is that less than one half of one percent of policeman misfit that uniform, and that is a better average than you'd find among clergymen.

"He of all men is at once the most needed, and the most wanted, a strangely nameless creature who is sir to his face and pig or worse behind his back. He must be such a diplomat that he can settle differences between individuals so that each will think he won, but, if a policeman is neat, he's conceited, if he's careless he's a bum, if he's pleasant, he's a flirt, if he's not, he's a grouch.

"He must make instant decisions that would require months for a lawyer but if he hurries he's careless, if he's deliberate, he's lazy. He must be first to an accident, infallible with diagnoses. He must be able to start breathing, stop bleeding, tie splints and above all, be sure the victim goes home without a limp.

"The police officer must know every gun, draw on the run and hit where it doesn't hurt.

"He must be able to whip two men twice his size and half his age without damaging his uniform, and without being brutal. If you hit him he's a coward, if he hits you, he's a bully. The policeman from a single human hair must be able to describe the crime, the weapon the criminal, and tell you where the criminal is hiding but, if he catches the criminal he's lucky, if he doesn't he's a dunce.

"He runs files and writes reports until his eyes ache to build a case against some felon who will get dealt out by some shameless shamus. The policeman must be a minister, a social worker, a diplomat, a tough guy, and a gentle man. And of course, he'll have to be a genius, because he'll have to feed a family on a policeman's salary."
The Democrats are a bunch of ungrateful arrogant fools.
Back the Blue.
Until He Comes,
KJ
DONATIONS ARE WELCOME AND APPRECIATED.
Make a one-time donation
Make a monthly donation
Make a yearly donation
Choose an amount
Or enter a custom amount
$
---
Your contribution is appreciated.
Your contribution is appreciated.
Your contribution is appreciated.
Donate
Donate monthly
Donate yearly
FoxNews.com reports that
The Justice Department revealed Wednesday it has filed dozens of charges for riot-related federal offenses in the aftermath of George Floyd's in-custody death — including for aiming a green laser pointer at an FBI aircraft overhead in Milwaukee, torching the Third Precinct police station in Minneapolis, and impersonating a U.S. Marshal in Orlando.

The crackdown comes as President Trump has repeatedly demanded a return to "LAW & ORDER" in the country. Attorney General Bill Barr exclusively told Fox News this week that "focused" investigations of the left-wing Antifa are underway, as well as a review of the role of right-wing groups.

…As the DOJ moved to prosecute alleged rioters, New York state officials announced Wednesday that Loretta Lynch, who served as attorney general in President Obama's administration from 2015 to 2017, will "help guide and support" authorities' ongoing investigation into the NYPD's interactions with the public in the wake of the Floyd protests.

…The move came despite concerns over the numerous consent decrees that Lynch's Justice Department (DOJ) arranged with police departments, which observers said actually increased crime rates by disincentivizing policing and causing police to pull out of dangerous neighborhoods.

The consent decrees asserted that numerous police departments across the country were engaged in systemic racism. Critics, however, said the DOJ was improperly concluding that disparate enforcement numbers were necessarily evidence of police racism.

"There is no greater responsibility of government than the protection of its citizens," Lynch said in a statement. "It is time to examine recent events to ensure that all New Yorkers receive truly equal protection under the law. I look forward to working with Attorney General [Letitia] James and her outstanding team on these important issues."

Amid the protests during the past two weeks, some NYPD officers have been run over by cars, shot, and stabbed; others have drawn scrutiny for actions that were widely broadcast — and, in some cases, heavily edited — on social media.

New York City Mayor Bill de Blasio at one point called for an officer to be fired when a short video showed him brandishing a gun at protesters; a full video then emerged showing the officer's supervisor had just been hit by a brick.

The mayor initially defended other officers filmed driving through protesters who were attacking their police vehicles before calling for an investigation. And an NYPD officer has been charged with assault for pushing a woman to the ground.

The episodes in New York and across the country came as President Trump has called for police reforms, while some Democrats and the Black Lives Matter group want the total defunding of police departments.
Gentle readers…do you realize what we are witnessing?
The purposeful unraveling of the safeguards which those before us have put in place in order that we might live in a society where we can feel safe to venture from our homes.
Not only that, but as the cry from the "New Bolsheviks" is becoming louder and more high-pitched to do away with traditional law and order, spineless Democrat Governors and Mayors are actually giving them what they want: anarchy.
Why do they want anarchy?
In an article titled "Marx, Theoretician of Anarchism, written by Maximilien Rubel in 1973, and found on Marxists.org, the writer makes the following observation…
Marxism as the ideology of a master class has succeeded in emptying the concepts of socialism and communism, as Marx and his forerunners understood them, of their original meaning and has replaced it with the picture of a reality which is its complete negation. Although closely linked to the other two, a third concept – anarchism – seems however to have escaped this fate of becoming a mystification. But while people know that Marx had very little sympathy for certain anarchists, it is not so generally known that despite this he still shared the anarchist ideal and objectives: the disappearance of the State. It is therefore pertinent to recall that in embracing the cause of working class emancipation, Marx started off in the anarchist tradition rather than in that of socialism or communism; and that, when finally he chose to call himself a "communist," for him this term did not refer to one of the communist currents which then existed, but rather to a movement of thought and mode of action which had yet to be founded by gathering together all the revolutionary elements which had been inherited from existing doctrines and from the experience of past struggles.

…Marx developed a theory of anarchism; and further, (and) in fact it was he who was the first to provide a rational basis for the anarchist utopia and to put forward a project for achieving it.
For decades now, the Democrats have moved further and further left of the Political Spectrum until, at this point, the Democratic Party is a Far Left political entity, ridiculing, hating, and seeking to destroy America History, traditional faith and values, and, in the process, radically changing our Constitutional Republic into just another failed Democratic Socialist country.
Through the mobilization of "useful Idiots" like Antifa, Black Lives Matter, and Hollywood celebrities, private and political power brokers have "taken advantage of a crisis" to make their move to stoke the fires of anarchy through the use of organized riots in major American cities.
They have used the death of George Floyd to attack and attempt to eliminate our first line of defense: "The Thin Blue Line".
Because their efforts to take out President Trump continued to fail, these power brokers decided to follow the example of Vladimir Lenin, the disciple of Karl Marx, and start a revolution at the grass roots level with their own "New Bolsheviks", the "useful idiots" who I mentioned earlier.
While I do not believe that they will be successful at this time on a national level, if we do not keep a strong American Patriot like President Trump in office, the Democrats' dream of a Socialist Utopia ushered in through anarchy achieved by fiery rhetoric designed to shame Americans into not standing up to them.
They have already succeeding in having young Americans literally kiss the feet of those whom they have supposedly "offended".
And now, they have succeeded in causing the cancellation of "Cops" after 32 years on television and "Live P.D.", a very popular program on A&E.
They re going after every program which shows the police in a good light, even "Paw Patrol"!
It is time for America to stand up for our country…
Before it is gone.
Until He Comes,
KJ
FoxNews.com reports that
Former Hillary Clinton press secretary Brian Fallon took heat on Thursday for calling to "defund the police" as the nation is gripped with protests and riots against police brutality.

The "defund the police" movement has gained traction by Black Lives Matter activists following the death of George Floyd. 

Missouri Republican Sen. Josh Hawley asked Fallon on Twitter if this was now the "official position" of the Democratic Party.

Former Acting Director of National Intelligence Richard Grenell called on the Biden campaign to condemn the rhetoric immediately.

"Obama-Biden Justice Department Spokesman calls for defunding the police," Grenell wrote. "This must be widely condemned by the Biden campaign immediately."

"Hillary Clinton press secretary makes the 2020 Dem agenda clear: 'Defund the police.' Take away your guns. Cheer on the rioters & looters who burn your city," Sen. Ted Cruz, R-Texas, said on Twitter. "It's like Mad Max at Thunderdome, brought home to America."

"Wealthy liberals like Hillary Clinton's former press assistant have no problem calling to defund the police—they can live in gated communities and hire security guards," said Sen. Tom Cotton, R-Ark.

White House Director of Strategic Communications Alyssa Farrah sarcastically called Fallon's tweet "brave."

"How brave! This, coming from Hillary Clinton's former Spox who rode around in motorcades with her with Police escorts to keep them safe," she said.

Though the push has gained traction online, a leader with the Congressional Black Caucus seemed to reject the demand on Wednesday.

"No, I don't believe that we should defund police departments," said caucus chairwoman Rep. Karen Bass, noting that she was "not familiar" with that demand from Black Lives Matter and would further consult them.

Bass on Wednesday joined with the leaders of the Congressional Hispanic Caucus, the Congressional Congressional Asian Pacific American Caucus and members of the Congressional Native American Caucus to call for legislation to condemn police brutality and reform police departments. Leaders predicted a package of reform bills could pass later this June.

Activists calling to defund police departments want resources diverted to other investments in the black community, such as education, health care and other community services.

The #DefundThePolice petition has gotten the support of liberal celebrities, including singer John Legend.

But the progressive movement doesn't appear to be gaining traction in the House. Instead of zeroing out police department budgets, lawmakers are focused on police reforms. The proposals are still being developed, but Bass outlined the broad themes of the "comprehensive" legislation: holding police accountable, identifying bad cops and training officers.

The House Judiciary Committee will hold a hearing on the police reforms next week, Bass said, which will jumpstart the House's legislative response. Details of the forthcoming committee hearing have not yet been released.

The package of bills is being developed with the Congressional Black Caucus and Sens. Cory Booker, D-N.J.,  and Kamala Harris, D-Calif., in the Senate.
Uh Huh.
For the edification of Rep. Karen Bass, here is BLM's official position, found on a petition posted at BlackLivesMatter.com…
Enough is enough.

Our pain, our cries, and our need to be seen and heard resonate throughout this entire country.

We demand acknowledgment and accountability for the devaluation and dehumanization of Black life at the hands of the police.

We call for radical, sustainable solutions that affirm the prosperity of Black lives.

George Floyd's violent death was a breaking point — an all too familiar reminder that, for Black people, law enforcement doesn't protect or save our lives. They often threaten and take them.

Right now, Minneapolis and cities across our country are on fire, and our people are hurting — the violence against Black bodies felt in the ongoing mass disobedience, all while we grapple with a pandemic that is disproportionately affecting, infecting, and killing us.

We call for an end to the systemic racism that allows this culture of corruption to go unchecked and our lives to be taken.

We call for a national defunding of police. We demand investment in our communities and the resources to ensure Black people not only survive, but thrive. If you're with us, add your name to the petition right now and help us spread the word.
Per their website,
#BlackLivesMatter was founded in 2013 in response to the acquittal of Trayvon Martin's murderer. Black Lives Matter Foundation, Inc is a global organization in the US, UK, and Canada, whose mission is to eradicate white supremacy and build local power to intervene in violence inflicted on Black communities by the state and vigilantes. 

…We are a collective of liberators who believe in an inclusive and spacious movement. We also believe that in order to win and bring as many people with us along the way, we must move beyond the narrow nationalism that is all too prevalent in Black communities. We must ensure we are building a movement that brings all of us to the front.
For those of you who do not already know, George Soros has donated millions of dollars to Black Lives Matter.
So, why do Democrats like Former (Thank God) President Barack Hussein Obama and others support a radical organization whose goal is to "radically Change America through fermenting Racial Animus and Racial Division?
By the time President Lyndon Baines Johnson came into office, after the assassination of President John Fitzgerald Kennedy, the majority of Americans totally believed that our government always had our best interest at heart.
President Johnson came into office and immediately started his push for the Great Society. These programs were designed to make Americans even more dependent on the Federal Government for their very survival.
As the Vietnam War grew more and more and unpopular, Americans' trust in the government became more and more compromised.  Protests against the Federal Government became more and more common and it became cool to be a rebel or "hippie".
Time passed, and while rebellious Americans calmed down, Americans' dependence upon government programs became generational, as multiple family members from one generation to the next, relied on Uncle Sugar for their daily existence.
Meanwhile, the rebels of the 1960's got older and began to work within the system, taking jobs within the private and public sectors.
Eventually, they moved into positions of power, becoming heads of corporations and local and national politicians.
It is not really necessary to tell you what the political ideology of these rebels was, is it?
As the last century ended and the new one began, these hippies and their offspring, solidly in place in the halls of power, began to pass more more legislation designed to keep generations of Americans enslaved to Uncle Sugar.
What we are witnessing during he "George Floyd Riots", which are really not about George Floyd at all, is the result of anti-establishment rhetoric, spewed forth by those who are now actually now "the Establishment", taking hold, and spreading Class Envy and Racial Animus in such a way as to inspire violent retaliation for perceived "grievances" against a fictional "White Establishment", which actually is more representative of the Democrats who control them, and the Police, who are seen as the emissaries of "The Man", "keeping Black Americans down", when, in reality, Gang Violence,  Black-on-Black Homocides, and abortions, are doing more to damage the "Black Community" than "systemic racism" has.
And, now, across the nation in Democrat-run cities, Political Activists, supported by Black Lives Matter and Antifa, and funded by a guy who ratted out his Jewish Neighbors to the Nazis in Germany are attempting to "Defund the Police" and to destroy our Constitutional Republic and replace with a Marxist form of Anarchy.
It's reminiscent of Lenin and the Bolsheviks.
Look it up, y'all.
Until He Comes,
KJ
We're planning a series of massive direct actions that will shut down the Inauguration ceremonies and any related celebrations–the Inaugural parade, the Inaugural balls, you name it. We're also planning to paralyze the city itself, using blockades and marches to stop traffic and even public transit. And hey, because we like fun, we're even going to throw some parties. – The DC Welcoming Committee, #DisruptJ20
Foxnews.com reports that
An anti-Donald Trump group is planning massive disruptions for next week's inauguration covering everything from "blockades" at security checkpoints to a "dance party" outside VP-elect Mike Pence's house, according to group leaders as well as newly obtained audio of their apparent plans.

The organization #DisruptJ20 already announced at a press conference Thursday its various plans to wreak havoc at Trump's Jan. 20 inauguration and in the days leading up to it.

A conservative group also shared with FoxNews.com what it said was audio from a Jan. 8 #DisruptJ20 meeting at a Washington church, giving even greater insight into the group's planned D.C. "shutdown."

The audio, recorded by Trevor Loudon with Capital Research Center, purports to show a female member detailing plans to "do everything we can to try and stop people from being able to access the inauguration."

This begins with what was described as a "pure dance party at Mike Pence's house" on Jan. 18.

"It's his last few days living in Chevy Chase before he moves into the vice presidential residence, and we're going to send him off with a bang," the woman says in the audio.

Then she says the group is turning its attention toward the pro-Trump "DeploraBall" the following day, which she describes as the "alt-right neo-Nazi … party to celebrate Trump."

"We're gonna crash it," she says.

That takes the group into inauguration morning, when members say they plan to block entrance points as well as roads and transportation.

"We're going to be doing blockades," the woman says in the audio. "We're going to [be] blockading checkpoints into the security zones. We're also going to be blockading roads and other modes of transit into the city."

At 10 a.m. that day, the group is planning an "anti-Capitalist, anti-fascist bloc" that "will be an unpermitted march that will be leaving from Logan Square."

A #DisruptJ20 spokeswoman confirmed to FoxNews.com on Friday that the group laid out these plans at the Jan. 8 meeting, which she described as public and well-attended.

Defending the group's agenda, she said: "We're exercising our freedom of speech and really want to set a tone for the next few years that there's a massive body of people … who are very concerned about the dangerous direction Donald Trump is taking our country in."

The Jan. 8 remarks also track with what members said at Thursday's press conference.

#DisruptJ20 members openly described plans to blockade checkpoints. One organizer told Fox News he hopes to "turn the inauguration into as big of a clusterf— as possible."

Another group, ANSWER Coalition, is also planning to protest the inauguration but with a somewhat different agenda. The group said it's galvanizing tens of thousands of people at permitted locations — like Freedom Plaza and the Navy Memorial — to march and protest in a more traditional way.

The #DisruptJ20 audio was obtained by Dangerous Documentaries, a project of the Capital Research Center, as part of its upcoming documentary on left-wing protesters, "America Under Siege: Civil War 2017." The film is set for release before Inauguration Day.
According to a Gallup Poll, published on January 16th of last year, Conservatives are still the leading Political Ideology in America at 37%, followed closely by "self-described" Moderates at 35%. Liberals remain the Minority Political Ideology in America, comprising only 24% of our population.
That is why I call the actions of these insufferable idiots, like the like the ones from #Disruptj20, "The Tyranny of the Minority".
So, anyway, here we are…with a bunch of paid and unpaid "useful idiots" telling all of us normal Americans, living out here in the Heartland, how stupid and intolerant we are, for actually holding to Traditional American Values and electing as our next President, Donald J. Trump.
They firmly believe that if they attempt to disrupt Trump's Inauguration, somehow they will prevent 6the wishes of the Electoral Majority of American Citizens from becoming a reality.
They have no respect for our Founding Fathers and the System of Government which they pledged their lives and sacred honor to give to us.
They are a bunch of spoiled brats having a never-ending National Temper Tantrum.
I have dealt with one of these idiots before.
Back in 2011, I got into a discussion on Andrew Breitbart's Big Government website with some Cheetos-munching, Mom's basement-dwelling Lib with no home training, who proceeded to tell me that he would be proud to defecate on the American Flag.
If I could have reached through my computer monitor and throttled that useless, ungrateful spoiled brat, I would have.
That "dude" was yet another example of the useful idiots of this present generation, such as Miley Cyrus, that seem to be garnering a lot of national attention for their outrageous, disrespectful…and, yes, intolerant, behavior.
Just as we have been bearing witness for the last couple of years, through the glorification of thugs and the vilifying of our local police departments by the Obama Administration and the local "communities" which they lay their lives on the line for, every day they put on their uniforms, the effects of LBJ's "Great Society" on American Culture and the Black Family Unit, so are we witnessing, through the egocentric behavior of this present generation, what happens when children are left to "their own devices", instead of being raised "in the way in which they should go".
The "spoiled children" and wannabe anarchists who will attempt to disrupt the Inauguration of Donald J. Trump have a lot in common with the hoolums whom I was just speaking of.
They have no "home training", either.
These "spoiled brats", like their imperious President, do not care about the "Will of the People", but, rather, they are intent on implementing and enforcing their Far Left Political Ideology, resulting in a "Tyranny of the Minority", which we are seeing play out, as they attempt to hold on to the perceived power which they had under Obama's failed presidency, while they collected their "FREE STUFF" bestowed upon them by the "benevolent masters" of the Democrat Party, by trying to somehow block Donald J. Trump's swearing in as the 45th President of the United States of America.
The use of Karl Marx/Saul Alinsky-inspired "Class War Politics", including "Racial Rhetoric", and Barack Hussein Obama's own petulant, belligerent personality of a 12-year-old, has inspired these "protestors", leading to a divided nation, the likes of which has not been seen since "The War of Northern Aggression".
When our Founding Fathers sat down to provide form and substance to the laws and procedures for governing this new country, which they had fought and won a bloody war over, by pledging their lives, their fortunes, and their sacred honor, they were very aware of the price of tyranny.
They determined that this new nation would be a Constitutional Republic, having had their fill of monarchies.
And, that Sacred Document, our United States Constitution, gives each of us the right, including President-elect Trump, to speak our minds and be heard.
It gives those protestors that right, too…but, not at the expense of others, by strong-arming their way into the Inauguration, nor by blocking the access of American Citizens to attend it, for the expressed purpose of attempting to circumvent the Constitution of the United States of America..
That is called "INTOLERANCE". It is also called FASCISM.
As I have previously written, I firmly believe that America is now fighting a new war against fascism.
It's not a war that is being fought with guns and bullets, But instead with state referendums, Congressional votes, Executive Orders, judicial activism, and FAR Left-sponsored and organized Political Activists.
And, it's not our Brightest and Best who are dying on this field of battle, but rather, it is our Constitutional Freedoms which are dying an ignoble death, pierced by the arrows of socialism and political correctness.
Whether Soros and his paid-off "Special Snowflakes" like him or not, does not matter. Donald J. Trump was legally elected as the next President of the United States of America.
For these Soros-funded, fascist "New Bolsheviks", to attempt to circumvent the will of the American People though this Orchestrated Protest is an exercise in intimidation that has not been seen since the days of the Russian Revolution and Germany's National Sociality Party.
Of course, don't not attempt to tell a Modern American Liberal that.
After all, it's not Fascism when they do it.
Until He Comes,
KJ