Woe to those who call evil good and good evil, who put darkness for light and light for darkness, who put bitter for sweet and sweet for bitter! – Isaiah 5:20
Consider, if you will, a country in which its president's first action in office was to close a oil pipeline which was important to our country's energy needs and which employed thousands of Americans.
…a country whose majority political party builds a wall around its capitol building in order to separate itself from the citizens whom they are supposed to be serving..
…a country whose President and his Administration gave billions of dollars of our weaponry behind during a botched pull-out from a Radical Islamic Nation, leaving Islamic Terrorists in charge of it who worked with others who killed 3,000 Americans 20 years ago, leaving hundreds of Americans are trapped inside the country now.
…a country whose President announces with glee that he is going to require private businesses to force their employees to either get a vaccine that may require a booster or lose their job…increasing an already massive unemployment problem.
…a country whose President vows to fight a law protecting unborn babies having a heartbeat from getting ripped out of their mothers' wombs.
a country whose President is obviously battling dementia, getting worse every day, and no one is making him step down because the cabal who is "handling" him will not allow it.
…a country in which the faith of 75% of its citizens is constantly attacked by the same people who constantly clqaim to be tolerant of others.
"You are traveling through a previously unknown country, a country whose population has politically been torn asunder, a country whose Democratic Leadership have forsworn its traditional faith and values to embrace those of its enemies. A country whose great promise is now being broken, subjugated to the wishes of a political minpority who follow the teachings of Karl Marx.
There's a signpost up ahead. Next stop, Socialist America."
This country has been pulling apart at the seams since Barack Hussein Obama was elected as our 43rd President.
The direction which the Modern Democratic Party has taken to the Far Left of the Political Spectrum has put them at odds with the majority of Americans who still hold dear the Traditional Faith and Values System upon which our Sovereign Nation was founded.
In an article written for Decision Magazine dated February 12, 2012, America's Pastor, Rev. Billy Graham, wrote on the subject of "Confusing Evil With Good". Here are some excerpts…
Humanity has always been dexterous at confusing evil with good. That was Adam and Eve's problem, and it is our problem today. If evil were not made to appear good, there would be no such thing as temptation. It is in their close similarity that the danger lies.

Modern social righteousness often differs from the righteousness of the Bible. Someone has said: "A wrong deed is right if the majority of people declare it not to be wrong." By this principle we can see our standards shifting from year to year according to the popular vote! Divorce was once frowned upon by society, and laws against fornication and adultery were strictly enforced. But now divorce is accepted by society, and fornication is glorified in our literature and films.

The Bible says: "Woe to those who call evil good, and good evil." God has not changed. His standards have not been lowered. God still calls immorality a sin, and the Bible says God is going to judge it.

Honesty was once the hallmark of character. But it has been set aside with an "It's all right if you don't get caught" philosophy. Only when we are in court are we required to tell the truth, the whole truth and nothing but the truth.

…How do we get our values so mixed up? How do we fall into this trap of Satan? For one thing, we're shortsighted. We look for shortcuts to happiness. Our lust for immediate pleasure prompts us to think of evil as good.

In one of novelist John Steinbeck's books he has a character saying: "If it succeeds, they will be thought not crooked but clever." In our desire to achieve success quickly, it is easy to get our values mixed up and call evil good and good evil.

Another way to call evil good is to say that morals are relative. Someone has said: "As the occasion, so the behavior." We have changed our moral code to fit our behavior instead of changing our behavior to harmonize with our moral code. Nothing is firm today. We are not on solid ground. Young people are shifting from one side to the other. Morally, they are drifting aimlessly without compass or guide.

Still another way that evil is called good is for the conscience to be perverted, and certainly our consciences today are perverted. But right is right even if nobody is right, and wrong is wrong even if everybody is wrong. God does not change the moral law to suit our behavior.

…The modern conscience has been twisted and distorted so badly that it is difficult to tell what is genuine and what is false.

Self-centeredness is another reason we are so inclined to call evil good. When something brings profit or pleasure to us we are inclined to call evil good, even though we know it is dead wrong. "But it's what I've always wanted," or, "It's good for me, although I know it's wrong" are the alibis we have manufactured to justify evil and call it good.
It is very apparent that there is something that is literally tearing apart the fabric of our country.
The only conclusion that I, as a Christian American can reach, is the fact that our Sovereign Nation is in the midst of SPIRITUAL WARFARE for its very soul.
Make no mistake about it, boys and girls, EVIL EXISTS.
My friends, I believe that we are fighting a war not just against the Chinese Coronavirus and the Taliban, but also against "princes and principalities". Evil is still alive and well and flourishing in a world in which relative morality and situational ethics are increasingly being accepted as normal behavior.
We see it everyday around us.
It inundates the cable news channels and our country's failing Liberal Newspapers like the New York Times. Heck, you can even see it on Facebook.
Since Cain slew Able with a rock, mankind, because we are all fallen creatures, has had to deal with the presence of evil in our lives.
From the legendary massacres, perpetrated by Vlad the Impaler, to the horrific scenes of Hitler's Concentration Camps, to the killing fields of Pol Pot, to the massacre of innocent Middle Eastern Christians by Islamic State, to the murders by Chicago Street Gangs every night, the Forces of Evil continue to flourish across the globe.
Who we as a nation are struggling with are those forces who want to turn our country into not just an immoral society, but, an amoral one, whose concept of right and wrong is "Whatever Gets You Through the Night (It's Alright. It's Alright.)", and whose ultimate authority is not the God of Abraham, but a Godless All-Powerful Central Government, whose credo is
From each according to his abilities, to each according to his needs. (Karl Marx)
Just as Marxism has failed wherever it has been tried before, so, if allowed to do so, it would lead to America's downfall.
The galling thing is the fact that, even though American Christians remain 75% of the population, we are propagandized and suppressed by the Liberals in both the Old and New Media, to make it seem as if WE are the Minority, when, in fact, WE are the overwhelming Majority.
It is this New Generation of Amoral Socialists, who have taken over the Democratic Party, who are in fact, just a tiny, albeit vocal, Minority of America's population.
So, what can an average Christian American, like you and me, do about this "Tyranny of the Minority"?
Christians have to make a choice in these tough times whether to allow those who are attempting to "radically change" our Sovereign Nation, given to us by God into a Democratic Socialist Paradise or…
As the Apostle Paul tells us in Ephesians, we can STAND.
However, you cannot stand without "the full armor of God". I have found, as have my family and friends, that the better that you are doing, in terms of your Christian Walk, the harder that you will be attacked.
10Finally, be strong in the Lord and in the strength of His might. 11Put on the full armor of God, so that you will be able to stand firm against the schemes of the devil. 12For our struggle is not against flesh and blood, but against the rulers, against the powers, against the world forces of this darkness, against the spiritual forces of wickedness in the heavenly places.…- Ephesians 6:10-12
Now, more than ever, in the midst of this pandemic, our Christianity as Americans does not and can not end at Noon on Sunday as we finish watching church services on the internet via our Smart TVs.
"Onward, Christian Soldiers, marching as to war."
Because believe me, Americans…we are in one with three enemies. Two enemies are invisible and one is political.
Pray for those who are out "on the front line" fighting the Chinese Coronavirus every day and caring for those who are sick with it,
Pray for our country.
God Bless America.
Until He Comes,
KJ
DONATIONS ARE WELCOMED AND APPRECIATED.
Make a one-time donation
Make a monthly donation
Make a yearly donation
Choose an amount
Or enter a custom amount
$
---
Your contribution is appreciated.
Your contribution is appreciated.
Your contribution is appreciated.
Donate
Donate monthly
Donate yearly
In some ways it does not seem like it has been 20 years since the worst Terrorist Attack ever perpetrated on American soil.
In other ways, it seems like an eternity.
That horrible day was so surreal. It seemed to me like I was stuck in a nightmare.
Certainly this couldn't be happening to us? We're the greatest nation in the world. Who in their right mind, would dare attack the United States of America? Who would be brazen enough to attack us, using instruments of our own design? Who would actually dare flying planes into the Twin Towers, a living symbol of American Prosperity?
For that matter,. who would fly a plane into the Pentagon…the Seat of Power behind our nation's awesome Military, the finest collection of Fighting Men and Women on Earth?
It was not a nightmare. It was a reality.
I remember seeing that first plane crash into the World Trade Center.
I remember the look of incredulity and panic on the faces of Steve Doocy, Brian Kilmeade, and E.D. Hill, as they watched from the set of Fox and Friends that fateful morning.
I remember the second plane on its approach, and the horrifying realization that this was no accident… that America was under attack. An attack, which turned out to have been planned and executed by Osama bin Laden, and a group of Saudi Arabians, members of the Muslim Terrorist Group, known as al-Qaeda.
I remember the images of Americans jumping out of windows to their certain death, rather than be consumed by the fires, raging around them.
I remember the sickening thud as they hit the pavement.
I remember the images of the brave NYC Policemen and Firemen as they rushed into the World Trade Center…never to return.
I remember watching the First Tower collapse…then, the second one.
I remember a heroic Mayor Rudy Giuliani, out in the middle of the devastation, doing whatever he could to get New Yorkers to safety.
I remember President George W. Bush coming on television, with a look of steely determination, as he announced that we would be avenged.
I remember him standing on that heap of rubble that used to be a part of the World Trade Center, side by side with that fireman, telling the assembled crowd, through his bullhorn, that "the world will hear from us".
And, it did.
Here is the tragedy of 9/11/01, broken down by the numbers. Courtesy of nymag.com:
The initial numbers are indelible: 8:46 a.m. and 9:02 a.m. Time the burning towers stood: 56 minutes and 102 minutes. Time they took to fall: 12 seconds. From there, they ripple out.

Total number killed in attacks (official figure as of 9/5/02):2,819
Number of firefighters and paramedics killed: 343
Number of NYPD officers: 23
Number of Port Authority police officers: 37
Number of WTC companies that lost people: 60
Number of employees who died in Tower One: 1,402
Number of employees who died in Tower Two: 614
Number of employees lost at Cantor Fitzgerald: 658
Number of U.S. troops killed in Operation Enduring Freedom: 22
Number of nations whose citizens were killed in attacks:115
Ratio of men to women who died: 3:1
Age of the greatest number who died: between 35 and 39
Bodies found "intact": 289
Body parts found: 19,858
Number of families who got no remains: 1,717
Estimated units of blood donated to the New York Blood Center: 36,000
Total units of donated blood actually used: 258
Number of people who lost a spouse or partner in the attacks: 1,609
Estimated number of children who lost a parent: 3,051
Percentage of Americans who knew someone hurt or killed in the attacks: 20
FDNY retirements, January–July 2001: 274
FDNY retirements, January–July 2002: 661
Number of firefighters on leave for respiratory problems by January 2002: 300
Number of funerals attended by Rudy Giuliani in 2001:200
Number of FDNY vehicles destroyed: 98
Tons of debris removed from site: 1,506,124
Days fires continued to burn after the attack: 99
Jobs lost in New York owing to the attacks: 146,100
Days the New York Stock Exchange was closed: 6
Point drop in the Dow Jones industrial average when the NYSE reopened: 684.81
Days after 9/11 that the U.S. began bombing Afghanistan: 26
Total number of hate crimes reported to the Council on American-Islamic Relations nationwide since 9/11: 1,714
Economic loss to New York in month following the attacks: $105 billion
Estimated cost of cleanup: $600 million
Total FEMA money spent on the emergency: $970 million
Estimated amount donated to 9/11 charities: $1.4 billion
Estimated amount of insurance paid worldwide related to 9/11: $40.2 billion
Estimated amount of money needed to overhaul lower-Manhattan subways: $7.5 billion
Amount of money recently granted by U.S. government to overhaul lower-Manhattan subways: $4.55 billion
Estimated amount of money raised for funds dedicated to NYPD and FDNY families: $500 million
Percentage of total charity money raised going to FDNY and NYPD families: 25
Average benefit already received by each FDNY and NYPD widow: $1 million
Percentage increase in law-school applications from 2001 to 2002: 17.9
Percentage increase in Peace Corps applications from 2001 to 2002: 40
Percentage increase in CIA applications from 2001 to 2002: 50
Number of songs Clear Channel Radio considered "inappropriate" to play after 9/11: 150
Number of mentions of 9/11 at the Oscars: 26
Apartments in lower Manhattan eligible for asbestos cleanup: 30,000
Number of apartments whose residents have requested cleanup and testing: 4,110
Number of Americans who changed their 2001 holiday-travel plans from plane to train or car: 1.4 million
Estimated number of New Yorkers suffering from post-traumatic-stress disorder as a result of 9/11: 422,000
And, here we are, 20 years removed from that nightmarish day, with a President of the United States, who since taking office, has purposefully divided our Sovereign Nation like never before, pitting black Americans against White Americans, the poor among us against those who employ people, and the vaccinated against the un-vaccinated.
This treasonous imbecile who was installed as President has kissed the backsides of the same people responsible for the horrific events which we stop to remember on this solemn day.
Not only that, in his surrender to the Taliban, he left behind American citizens, now claiming that the Taliban are acting like "professionals"
Under our former Commander-in-Chief that would have never happened. Former President Donald J. Trump does not bow down to Radical Islamists.
During the days after 9/11/2001, political affiliation, race, gender, personal philosophy, did not matter.
WE WERE AMERICANS.
This country came together, in a way in which I had never before seen in my lifetime (which, is a pretty long time).
Now, look at us.
Besides the Far Left Cabal and their puppet in the White House, we have Radical Muslims (and Marxists) occupying seats in the House of Representatives and displaying their ignorance and disdain for our country.
Like Rep. Ilhan Omar (D-MN) who infamously said,
"Some people did something."
Americans must continue to stand firm and to once again come together and let our "public servants" in the Halls of Power in Washington, D.C know that we stand against those who would embrace our enemies instead of serving our Sovereign Nation, as they were elected to do.
Also, we remember those who left us on that September Morning so long ago, and say a prayer for them and the Four Americans whom we lost on the grounds of a US Embassy Compound in Benghazi, Libya. All these years later, they still deserve no less.
On September 11, 2001, Radical Islamists attacked us on our own soil and murdered over 3,000 Americans, and if given the opportunity, they will not hesitate to do it again.
We must stop the Far Left ideologues of the Modern Democratic Party, including President Joe Biden and his "Handlers" and not give them any more opportunities to bring about "radical change" in America through the appeasement of our enemies which has already started happening under this President, including secret deals, possible pay-offs, acquiescence, and leaving them the means of our nation's destruction during the botched pull-out from Afghanistan..
America was NEVER meant to be "just another country".
We must stand united as a nation and continue to reclaim our heritage as "The Shining City Upon a Hill".
The lives lost on September 11, 2001…and September 11, 2012…demand it.
Until He Comes,
KJ
DONATIONS ARE WELCOMED AND APPRECIATED.
Make a one-time donation
Make a monthly donation
Make a yearly donation
Choose an amount
Or enter a custom amount
$
---
Your contribution is appreciated.
Your contribution is appreciated.
Your contribution is appreciated.
Donate
Donate monthly
Donate yearly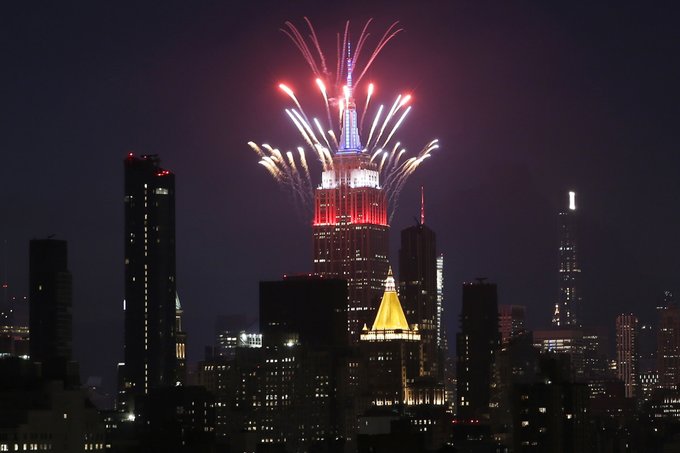 FoxNews.com reports that
One Democratic lawmaker and several left-wing figures used the Fourth of July to share controversial statements or disparage the founding of the United States.

Democrat Rep. Cori Bush, D-Mo, tweeted out "When they say that the 4th of July is about American freedom, remember this: the freedom they're referring to is for White people. This land is stolen land and Black people still aren't free."

There were some who agreed with Bush's comments like congressional candidate Shahid Buttar. He replied to her tweet saying "Speak it, @CoriBush! It's almost as if our entire country has been brainwashed to ignore our history—and how its worst elements continue today—despite our self-congratulatory rhetoric."

Former MSNBC anchor Toure was far more vocal, tweeting out "F–k Independence Day. Not only were we not free, the whole reason the Colonies wanted independence was because Britain was moving toward abolishing slavery. Why would Black people celebrate a day so wrapped up in our enslavement?"

He also tweeted out his own opinion piece for the website The Grio titled "F–k Fourth of July: The only independence day I recognize is Juneteenth."

Actress Alyssa Milano also disparaged the Fourth of July by sharing a TikTok video of herself reading "Reminder: The United States was founded on the unjust treatment of Native Americans, Africans and other people of color."

News organizations also took the opportunity to use the holiday to criticize the United States and its history.

NPR tweeted out a thread of the original Declaration of Independence, claiming it to be "a document with flaws and deeply ingrained hypocrisies." It also remarked immediately that the document "says 'that all men are created equal' — but women, enslaved people, Indigenous people and many others were not held as equal at the time."

The Washington Post went even further by posting several opinion pieces that critique the holiday or use it for political partisanship. These pieces included "The Fourth is for complainers," "Independence Day 2021 is an apt occasion to celebrate America's liberation from Trump," and a perspective piece titled "July Fourth is Independence Day for two countries. But for one it is hollow."

This followed the New York Times opinion piece that suggested the American flag became a symbol of divisiveness. In the article titled "A Fourth of July Symbol of Unity That May No Longer Unite."

"Today, flying the American flag from the back of a pickup truck or over a lawn is increasingly seen as a clue, albeit an imperfect one, to a person's political affiliation in a deeply divided nation," the article states.
Now that the Democratic Party has become nothing but a Far Left, Marxism-embracing, American-hating, special interest groups butt-kissing bunch of self-absorbed ungrateful American-haters, they have lost all credibility with average Americans.
So, why don't clowns like Rep. Cori Bush, Toure, and Alyssa Milno, the Democrat Minions who work at the Propaganda Machines known as CNN and MSNBC and their masters, the Democratic Party, understand that attacking Traditional American Values, such as was on display during 4th of July Celebrations across the Heartland of America, 24 hours a day, 7 days a week, is why they continue to lose viewers and voters?
Simple. They are blinded by their egotistical rage.
In American Politics, as far as anybody can remember, that is still alive and kicking, you have had those of a political ideology who were Pro-American and Gung Ho about all the things that this country stands for. And, on the other side, you had those of a political ideology who criticized everything that America stood for, and still stands for, to this day.
From those who believed that Communism would be great for America back in the 1950s, to those in the 1960's, who wanted to "tune in, turn on, and drop out", and spit on our returning Servicemen, to those of the 1970s who were naïve pacifists like their President, Jimmy Carter, to those in the 1980s, who were part of the "Me Generation", to those whom we call "Progressives" (a misnomer) or "Modern Liberals" in our present generation, including Nancy Pelosi, Chuck "U" Schumer, Jerry Nadler, Bill and Hillary Clinton, Former (Thank God) President Barack Hussein Obama and the unfunny comedy team of Dementia Joe and "Heels Up" Harris, there has always been a minority segment of American Society, who despise everything that this land, which was given us by the Almighty and was fought for and died for by those before us, stands for, while they reap all the benefits of America the Beautiful.
Through the last several decades, the Democratic Party, once the party of the "Middle Class Working American" has devolved into a Far Left Political Party of special interest groups and has become the champion and practitioner of the "Tyranny of the Minority".
What we have heah is failure to communicate. – Strother Martin, "Cool Hand Luke".
While spending time on Facebook Political Pages, which I really should cut down on, as it tends to increase my blood pressure to Mt. Vesuvius Levels, I continuously encounter individuals who echo the sentiments of the Far Left self-proclaimed geniuses who champion the Far Left Democratic Party and who believe that anybody who works hard for a living, believes in God and Country, and who still support Former President Trump, is a Jingoistic imbecile.
The same intolerant idiots who have decided that they do not need to hire "straight white males".
By the way, according to the dictionary, Jingoism is an extreme chauvinism or nationalism marked especially by a belligerent foreign policy.
In other words, being guilty of "patriotism", i.e., believing that America is the greatest country on the face of God's Green Earth and believing in American Exceptionalism.
And, that is fuel that drives idiots like Rep. Cori Bush and the bosses at MSNBC to act like ungrateful imbeciles.
This ol' cracka has any idea for y'all:
If you don't like it here…LEAVE!
…and take the Biden-Harris Administration and the Democrat Elite on Capitol Hill with you.
GOD BLESS AMERICA!
Until He Comes,
KJ
DONATIONS ARE WELCOME AND APPRECIATED.
Make a one-time donation
Make a monthly donation
Make a yearly donation
Choose an amount
Or enter a custom amount
$
---
Your contribution is appreciated.
Your contribution is appreciated.
Your contribution is appreciated.
Donate
Donate monthly
Donate yearly
How do you tell a communist? Well, it's someone who reads Marx and Lenin. And how do you tell an anti-Communist? It's someone who understands Marx and Lenin. – President Ronald Reagan
FoxNews.com reports that
As American educational institutions continue to be called into question, a North Korean defector fears the United States' future "is as bleak as North Korea" after she attended one of the country's most prestigious universities.

Yeonmi Park has experienced plenty of struggle and hardship, but she does not call herself a victim.

One of several hundred North Korean defectors settled in the United States, Park, 27, transferred to Columbia University from a South Korean university in 2016 and was deeply disturbed by what she found.

"I expected that I was paying this fortune, all this time and energy, to learn how to think. But they are forcing you to think the way they want you to think," Park said in an interview with Fox News. "I realized, wow, this is insane. I thought America was different but I saw so many similarities to what I saw in North Korea that I started worrying."

Those similarities include anti-Western sentiment, collective guilt and suffocating political correctness.

Yeonmi saw red flags immediately upon arriving at the school.

During orientation, she was scolded by a university staff member for admitting she enjoyed classic literature such as Jane Austen.

"I said 'I love those books.' I thought it was a good thing," recalled Park.

"Then she said, 'Did you know those writers had a colonial mindset? They were racists and bigots and are subconsciously brainwashing you.'"

It only got worse from there as Yeonmi realized that every one of her classes at the Ivy League school was infected with what she saw as anti-American propaganda, reminiscent to the sort she had grown up with.

"'American Bastard' was one word for North Koreans" Park was taught growing up.

"The math problems would say 'there are four American bastards, you kill two of them, how many American bastards are left to kill?'"

She was also shocked and confused by issues surrounding gender and language, with every class asking students to announce their preferred pronouns.

"English is my third language. I learned it as an adult. I sometimes still say 'he' or 'she' by mistake and now they are going to ask me to call them 'they'? How the heck do I incorporate that into my sentences?"

"It was chaos," said Yeonmi. "It felt like the regression in civilization."

"Even North Korea is not this nuts," she admitted. "North Korea was pretty crazy, but not this crazy."

After getting into a number of arguments with professors and students, eventually Yeonmi "learned how to just shut up" in order to maintain a good GPA and graduate.

In North Korea, Yeonmi Park did not know of concepts like love or liberty.

"Because I have seen oppression, I know what it looks like," said Yeonmi, who by the age of 13 had witnessed people drop dead of starvation right before her eyes.

"These kids keep saying how they're oppressed, how much injustice they've experienced. They don't know how hard it is to be free," she admonished.

"I literally crossed through the middle of the Gobi Desert to be free. But what I did was nothing, so many people fought harder than me and didn't make it."

Park and her mother first fled the oppressive North Korean regime in 2007, when Yeonmi was 13 years old.

After crossing into China over the frozen Yalu River, they fell into the hands of human traffickers who sold them into slavery: Yeonmi for less than $300 and her mother for roughly $100.

With the help of Christian missionaries, the pair managed to flee to Mongolia, walking across the Gobi Desert to eventually find refuge in South Korea.

In 2015 she published her memoir "In Order to Live," where she described what it took to survive in one of the world's most brutal dictatorships and the harrowing journey to freedom.

"The people here are just dying to give their rights and power to the government. That is what scares me the most," the human right activist said.

She accused American higher education institutions of stripping people's ability to think critically.

"In North Korea I literally believed that my Dear Leader [Kim Jong-un] was starving," she recalled. "He's the fattest guy – how can anyone believe that? And then somebody showed me a photo and said 'Look at him, he's the fattest guy. Other people are all thin.' And I was like, 'Oh my God, why did I not notice that he was fat?' Because I never learned how to think critically."

"That is what is happening in America," she continued. "People see things but they've just completely lost the ability to think critically."

Witnessing the depth of American's ignorance up close has made Yeonmi question everything about humanity.

"North Koreans, we don't have Internet, we don't have access to any of these great thinkers, we don't know anything. But here, while having everything, people choose to be brainwashed. And they deny it."

Having come to America with high hopes and expectations, Yeonmi expressed her disappointment.

"You guys have lost common sense to degree that I as a North Korean cannot even comprehend," she said.

"Where are we going from here?" she wondered. "There's no rule of law, no morality, nothing is good or bad anymore, it's complete chaos."

"I guess that's what they want, to destroy every single thing and rebuild into a Communist paradise."
Yup.
That is exactly what they want.
Saul Alinsky's "Rules for Radicals", a favorite of the 60s counter culture, was on the reading list of the 44th President of the United States, Barack Hussein Obama, and his First Secretary of State and Failed 2016 Democratic Party Presidential Candidate, Hillary Rodham Clinton.  Let's look at rule #8 – rule #13:
8. Keep the pressure on with different tactics and actions, and utilize all events of the period for your purpose.

9. The threat is usually more terrifying than the thing itself.

10. The major premise for tactics is the development of operations that will maintain a constant pressure upon the opposition.

11. If you push a negative hard and deep enough, it will break through into its counterside.

12. The price of a successful attack is a constructive alternative.

13. Pick the target, freeze it, personalize it, and polarize it.
It's very apparent from what happened on America's college campuses during Obama's and Trump's Presidency that somebody had read Alinsky's book.
In American Politics, as far as anybody can remember, that is still alive and kicking, you have had those of a political ideology who were Pro-American and Gung Ho about all the things that this country stands for. And, on the other side, you had those of a political ideology who criticized everything that America stood for, and still stands for, to this day.
From those who believed that Communism would be great for America back in the 1950s, to those in the 1960's, who wanted to "tune in, turn on, and drop out", and spit on our returning Servicemen, to those of the 1970s who were naive pacifists like their President, Jimmy Carter, to those in the 1980s, who were part of the "Me Generation", to those whom we call "Progressives" (a misnomer) or "Modern Liberals" in our present generation, including Former President Barack Hussein Obama, current "installed" President Joe Biden and all of the Democrat Party minions, there has always been a minority segment of American Society, who despise everything that this land, which was given us by the Almighty and was fought for and died for by those before us, stands for, while they reap all the benefits of America the Beautiful.
As I have written, during Obama's two terms as President, America suffered under a "Tyranny of the Minority".
Ands now, we are beginning to suffer through that same nightmare with Obama's marionette, Joe Biden, occupying the Oval Office.
Like Obama, Biden owes everything that he is to the benevolence and largess of America and her people.
Just like King Barack The First did, Biden is proving that he is president of some of the people, not all of the people.
And, those of us, whom his failing political ideology does not appeal to, are considered unworthy to study at not only Ivy League Universities, but all Liberal-run Universities throughout the country.
It is time for our Republican Congressmen and women and each one of us, as American, to deal with this situation head on.
Or, as the late Fred Thompson, in his great role as Admiral Josh Painter, in "The Hunt for Red October" said,
This business will get out of control. It will get out of control and we'll be lucky to live through it.
I have a couple of suggestions as to how to deal with this situation:
Don't back down. 
As a parent or someone looking at Universities to attend, do not support those who do not allow Conservative thought on campus.
It is time to stop the Marxist Indoctrination going on in the halls of our Academic Institutions.
Until He Comes,
KJ
DONATIONS ARE WELCOME AND APPRECIATED.
Make a one-time donation
Make a monthly donation
Make a yearly donation
Choose an amount
Or enter a custom amount
$
---
Your contribution is appreciated.
Your contribution is appreciated.
Your contribution is appreciated.
Donate
Donate monthly
Donate yearly
Check this out…
FoxNews.com reports that
Rep. Rashida Tlaib, D-Mich., issued a strong rebuke of House Speaker Nancy Pelosi and Democratic leadership for their statement calling out fellow Squad member Rep. Ilhan Omar for her comments involving Israel.

"Freedom of speech doesn't exist for Muslim women in Congress," Tlaib tweeted Thursday shortly after Pelosi and Democratic leaders issued a statement critical of Omar. "The benefit of the doubt doesn't exist for Muslim women in Congress. House Democratic leadership should be ashamed of its relentless, exclusive tone policing of Congresswomen of color."

Tlaib and Omar were the first Muslim women elected to Congress in 2018 and, along with other members of the progressive Squad, have been more critical of Israel, especially during the recent 11-day conflict with Hamas that left more than 250 dead, the vast majority Palestinians.

The Squad rallied around Omar Thursday as fellow Democrats, including House leadership, have lined up to condemn Omar for comments they perceived as comparing U.S. and Israeli "war crimes" to actions by the Taliban and Hamas.

Pelosi and senior Democratic leaders issued a unified statement Thursday, denouncing Omar's comments.

"[T]here is no moral equivalency between the U.S. and Israel and Hamas and the Taliban," the Democratic leaders said Thursday.

The Democratic leadership said they "welcome" the "clarification" Omar released earlier in the day after the Minnesota Democrat was met with a flood of criticism.

"To be clear: the conversation was about accountability for specific incidents regarding those ICC (International Criminal Court) cases, not a moral comparison between Hamas and the Taliban and the U.S. and Israel," Omar said Thursday of her remarks.

"I was in no way equating terrorist organizations with democratic countries with well-established judicial systems," she added.

The immense backlash came after the congresswoman questioned Secretary of State Antony Blinken during a House Foreign Affairs Committee about ICC investigations into U.S. and Israeli actions in Afghanistan and the Palestinian territories.

She later posted a tweet of their exchange and said, "We have seen unthinkable atrocities committed by the U.S., Hamas, Israel, Afghanistan, and the Taliban. I asked @SecBlinken where people are supposed to go for justice."

A group of Democrats pounced on her comments as "offensive" and "misguided."

Omar initially defended her statements as asking legitimate questions about how war crime victims can get justice and called out her colleagues for piling on.

"It's shameful for colleagues who call me when they need my support to now put out a statement asking for 'clarification' and not just call," Omar said in a tweet early Thursday before her clarifying statement. "The islamophobic tropes in this statement are offensive. The constant harassment & silencing from the signers of this letter is unbearable."

The House Progressive Caucus also came to Omar's defense decrying how "a Black, Muslim woman in Congress" is routinely attacked and saying fellow Democrats should not "abet or amplify such divisive and bad-faith tactics."
A short while back, Rep. Tlaib advocated for the BDS Movement from the Floor of the House of Representatives.
So what is BDS?
Per their website bdsmovement.net,
Boycott, Divestment, Sanctions (BDS) is a Palestinian-led movement for freedom, justice and equality. BDS upholds the simple principle that Palestinians are entitled to the same rights as the rest of humanity.

Israel is occupying and colonising Palestinian land, discriminating against Palestinian citizens of Israel and denying Palestinian refugees the right to return to their homes. Inspired by the South African anti-apartheid movement, the BDS call urges action to pressure Israel to comply with international law.

BDS is now a vibrant global movement made up of unions, academic associations, churches and grassroots movements across the world. Thirteen years since its launch, BDS is having a major impact and is effectively challenging international support for Israeli apartheid and settler-colonialism.
Rep. Talib said this in May of 2019….
"There's always kind of a calming feeling, I tell folks, when I think of the Holocaust, and the tragedy of the Holocaust, and the fact that it was my ancestors — Palestinians — who lost their land and some lost their lives, their livelihood, their human dignity, their existence in many ways, have been wiped out, and some people's passports," Tlaib said on the podcast's most recent episode, published Friday. "And, just all of it was in the name of trying to create a safe haven for Jews, post-the Holocaust, post-the tragedy and the horrific persecution of Jews across the world at that time. And, I love the fact that it was my ancestors that provided that, right, in many ways, but they did it in a way that took their human dignity away and it was forced on them."
In case you do not remember, the night that Rep. Tlaib was sworn in as a member of the 116th Congress, she was videotaped vowing to impeach Former President Trump. This was shortly after she penned an op-ed for The Detroit Free Press outlining the case for impeachment.
The video showed Tlaib telling supporters.
"People love you and you win. And when your son looks at you and says: 'Momma, look you won. Bullies don't win.' And I said, 'Baby, they don't, because we're gonna go in there and we're gonna impeach the motherf***er.'"
Classy, huh?
Tlaib is a Black Muslim, born in America to parents of Palestinian descent.
As I have been writing over the last 11 years, Liberals are nothing if not predictable.
They view everything in terms of politics and race, not necessarily in that order.
For years now, I have referred to the intolerant political ideology of Modern American Liberals as "The New Fascism" because of their intolerance toward traditional Americans Faith and Values, including our relationship with our closest ally, Israel, since their birth as a country in 1948.
What we are seeing now, as regards the rampant anti-Semitism in the Far Left Democratic Party, which began under Former President Barack Hussein Obama, is a result of an amalgamation of the political philosophies of the special interest groups who have replaced average Americans as the Democrats' Voting Base.
Anti-Semitism is the norm in Marxism in all of its forms, including "Democratic Socialism".
Anti-Semitic groups tend to gravitate toward each other finding solace and kindred spirits in their shared hatred of the Jewish people.
For those of you who are old enough to have actually studied history before the Liberals started revising it, the world has bore witness to this phenomena before.
A socialist political party in a developed nation joined forces with Islamists before, based on their mutual hatred of Jews.
You may remember this. They were the National Socialist Party of Germany, otherwise known as the Nazis.
They caused the mass extermination of millions of innocent European Jews, the Holocaust which gives Congresswoman Tlaib "a calming feeling".
The political philosophies which the Modern Democrats are now embracing are the anti-thesis of whom they claim to be.
Average Americans are not fooled by the "Unity" Rhetoric spewed by Joe Biden and the Far Left Democrats..
Heck, they can not even keep their own political party unified.
Those who hate Americans, simply because they are Jewish, like those who hate the nation of Israel for the same reason, have already gone on record.
Those on the Left Side of the Political Spectrum bear the responsibility for the anti-Semitic violence which has plagued New York City and is beginning to rear its ugly head in other cities, as well,.
Unfortunately, all we are hearing from their leaders is support for a "country" which never existed.
Until He Comes,
KJ
DONATIONS ARE WELCOMED AND APPRECIATED.
Make a one-time donation
Make a monthly donation
Make a yearly donation
Choose an amount
Or enter a custom amount
$
---
Your contribution is appreciated.
Your contribution is appreciated.
Your contribution is appreciated.
Donate
Donate monthly
Donate yearly
Memorial Day isn't just about honoring veterans, its honoring those who lost their lives. Veterans had the fortune of coming home. For us, that's a reminder of when we come home we still have a responsibility to serve. It's a continuation of service that honors our country and those who fell defending it. – Pete Hegseth
Today is a day of solemn remembrance, during which we honor our fallen heroes.
Memorial Day, originally called Decoration Day, is a day of remembrance for those who have died in our nation's service. There are many stories as to its actual beginnings, with over two dozen cities and towns laying claim to being the birthplace of Memorial Day. There is also evidence that organized women's groups in the South were decorating graves before the end of the Civil War: a hymn published in 1867, "Kneel Where Our Loves are Sleeping" by Nella L. Sweet carried the dedication "To The Ladies of the South who are Decorating the Graves of the Confederate Dead" (Source: Duke University's Historic American Sheet Music, 1850-1920). While Waterloo N.Y. was officially declared the birthplace of Memorial Day by President Lyndon Johnson in May 1966, it's difficult to prove conclusively the origins of the day. It is more likely that it had many separate beginnings; each of those towns and every planned or spontaneous gathering of people to honor the war dead in the 1860's tapped into the general human need to honor our dead, each contributed honorably to the growing movement that culminated in Gen Logan giving his official proclamation in 1868. It is not important who was the very first, what is important is that Memorial Day was established. Memorial Day is not about division. It is about reconciliation; it is about coming together to honor those who gave their all.

Memorial Day was officially proclaimed on 5 May 1868 by General John Logan, national commander of the Grand Army of the Republic, in his General Order No. 11, and was first observed on 30 May 1868, when flowers were placed on the graves of Union and Confederate soldiers at Arlington National Cemetery. The first state to officially recognize the holiday was New York in 1873. By 1890 it was recognized by all of the northern states. The South refused to acknowledge the day, honoring their dead on separate days until after World War I (when the holiday changed from honoring just those who died fighting in the Civil War to honoring Americans who died fighting in any war). It is now celebrated in almost every State on the last Monday in May (passed by Congress with the National Holiday Act of 1971 (P.L. 90 – 363) to ensure a three day weekend for Federal holidays), though several southern states have an additional separate day for honoring the Confederate war dead: January 19 in Texas, April 26 in Alabama, Florida, Georgia, and Mississippi; May 10 in South Carolina; and June 3 (Jefferson Davis' birthday) in Louisiana and Tennessee.
Last night, as I sat down to write today's post, I tried to think about something pithy to write. Then, I realized that today is not a day for witticisms and sarcasm.
I thought about all of the American lives, all of the brave men and women who have sacrificed their lives out of love and devotion for our Sovereign Nation and their fellow Americans, both their comrades and their families back home.
The unselfish devotion shown by these brave Americans is made fun of and remains the source of derision by many devotees of the anti-American political philosophy who consider themselves to be the "smartest people in the room".
These same "enlightened" individuals consider "patriotism" to be a bad word.
They have replaced it words like "nationalism" and "jingoism".
The devotees of this political philosophy do not believe in American Exceptionalism.
They believe that America is "just another country", certainly not worthy of sacrificing their lives for.
These people just don't get it.
Freedom is not free.
That is why brave men and women of the past and the present age have fought and died while wearing the uniforms of our Armed Forces.
When they went into battle, they did not just represent their hometowns…they represented all of us.
From the germ of an idea to the greatest country on the face of God's green Earth, this country has stood strong because of resolute men and women who were willing to "pledge their lives, their fortunes, and their sacred honor" to protect "The Shining City Upon a Hill".
Greater love hath no man than this, that a man lay down his life for his friends. – John 15:13-17 
May God bless and comfort the families of our Fallen Heroes and may their memories and our American Freedom endure.
Until He Comes,
KJ
DONATIONS ARE WELCOME AND APPRECIATED.
Make a one-time donation
Make a monthly donation
Make a yearly donation
Choose an amount
Or enter a custom amount
$
---
Your contribution is appreciated.
Your contribution is appreciated.
Your contribution is appreciated.
Donate
Donate monthly
Donate yearly
Thanksgiving Day.
Simply saying the words to myself brings back a flood of precious memories…memories of Thanksgivings past, as a child, surrounded by aunts, uncles, cousins, my sisters, and my Mother and Daddy…smells of sage dressing and oven-roasted turkey…followed by the feeling of having an over-stuffed stomach…all topped by the sounds of laughter and the sight of my aunts and uncles, all members of America's Greatest Generation, being led in a penny-ante poker game after the Thanksgiving meal by my Daddy, the finest man I have ever known…all of them enjoying each other's company as they reveled in the wonderful completeness of being a family.
Thanksgiving is a uniquely American Holiday…as unique as the nation which celebrates it.
In 1621, a small group of Plymouth colonists and Wampanoag Indians shared a feast celebrating the autumn harvest. This is acknowledged today as one of the first Thanksgiving celebrations in the colonies.
However, Thanksgiving is much more than this.
Thanksgiving is a day when Americans thank their Creator for the blessings they have received during the year, while holding hope and expectation in their hearts for the blessings yet to come.
The Father of Our Country expressed his thankfulness concerning God and America, when he announced this holiday in 1789:
Whereas it is the duty of all Nations to acknowledge the providence of almighty God, to obey his will, to be grateful for his benefits, and humbly to implore his protection and favor – and Whereas both Houses of Congress have by their joint Committee requested me "to recommend to the People of the United States a day of public thanksgiving and prayer to be observed by acknowledging with grateful hearts the many signal favors of Almighty God, especially by affording them an opportunity peaceably to establish a form of government for their safety and happiness."

Now therefore I do recommend and assign Thursday the 26th day of November next to be devoted by the People of these States to the service of that great and glorious Being, who is the beneficent Author of all the good that was, that is, or that will be – That we may then all unite in rendering unto him our sincere and humble thanks – for his kind care and protection of the People of this country previous to their becoming a Nation – for the signal and manifold mercies, and the favorable interpositions of his providence, which we experienced in the course and conclusion of the late war –for the great degree of tranquillity, union, and plenty, which we have since enjoyed – for the peaceable and rational manner in which we have been enabled to establish constitutions of government for our safety and happiness, and particularly the national One now lately instituted, for the civil and religious liberty with which we are blessed, and the means we have of acquiring and diffusing useful knowledge; and in general for all the great and various favors which he hath been pleased to confer upon us.

And also that we may then unite in most humbly offering our prayers and supplications to the great Lord and Ruler of Nations and beseech him to pardon our national and other transgressions – to enable us all, whether in public or private stations, to perform our several and relative duties properly and punctually – to render our national government a blessing to all the People, by constantly being a government of wise, just, and constitutional laws, discreetly and faithfully executed and obeyed – to protect and guide all Sovereigns and Nations (especially such as have shewn kindness unto us) and to bless them with good government, peace, and concord – To promote the knowledge and practice of true religion and virtue, and the increase of science among them and Us – and generally to grant unto all mankind such a degree of temporal prosperity as he alone knows to be best.

Given under my hand at the City of New York the third day of October in the year of our Lord 1789. – United States President George Washington.
On November 15, 1985, in the first year of his second term, President Ronald Reagan issued the following proclamation…
Although the time and date of the first American thanksgiving observance may be uncertain, there is no question but that this treasured custom derives from our Judeo-Christian heritage. "Unto Three, O God, do we give thanks," the Psalmist sang, praising God not only for the "wondrous works" of His creation, but for loving guidance and deliverance from dangers.

A band of settlers arriving in Maine in 1607 held a service of thanks for their safe journey, and twelve years later settlers in Virginia set aside a day of thanksgiving for their survival. In 1621 Governor William Bradford created the most famous of all such observances at Plymouth Colony when a bounteous harvest prompted him to proclaim a special day "to render thanksgiving to the Almighty God for all His blessings." The Spaniards in California and the Dutch in New Amsterdam also held services to give public thanks to God.

In 1777, during our War of Independence, the Continental Congress set aside a day for thanksgiving and praise for our victory at the battle of Saratoga. It was the first time all the colonies took part in such an event on the same day. The following year, upon news that France was coming to our aid, George Washington at Valley Forge prescribed a special day of thanksgiving. Later, as our first President, he responded to a Congressional petition by declaring Thursday, November 26, 1789, the first Thanksgiving Day of the United States of America.

Although there were many state and national thanksgiving days proclaimed in the ensuing years, it was the tireless crusade of one woman, Sarah Josepha Hale, that finally led to the establishment of this beautiful feast as an annual nationwide observance. Her editorials so touched the heart of Abraham Lincoln that in 1863 – even in the midst of the civil War – he enjoined his countrymen to be mindful of their many blessings, cautioning them not to forget "the source from which they come," that they are "the gracious gifts of the Most High God…" Who ought to be thanked "with one heart and one voice by the whole American People."

It is in that spirit that I now invite all Americans to take part again in this beautiful tradition with its roots deep in our history and deeper still in our hearts. We manifest our gratitude to God for the many blessings he has showered upon our land and upon its people.

In this season of Thanksgiving we are grateful for our abundant harvests and the productivity of our industries; for the discoveries of our laboratories; for the researches of our scientists and scholars; for the achievements of our artists, musicians, writers, clergy, teachers, physicians, businessmen, engineers, public servants, farmers, mechanics, artisans, and workers of every sort whose honest toil of mind and body in a free land rewards them and their families and enriches our entire Nation.

Let us thank God for our families, friends, and neighbors, and for the joy of this very festival we celebrate in His name. Let every house of worship in the land and every home and every heart be filled with the spirit of gratitude and praise and love on this Thanksgiving Day.
In accordance with this tradition, on Wednesday, November 25th, President Donald J. Trump, issued his own Thanksgiving Proclamation to the American people, in which he said…
On Thanksgiving Day, we thank God for the abundant blessings in our lives.  As we gather with family and friends to celebrate this season of generosity, hope, and gratitude, we commemorate America's founding traditions of faith, family, and friendship, and give thanks for the principles of freedom, liberty, and democracy that make our country exceptional in the history of the world.

This November marks 400 years since the Mayflower and its passengers faced the unknown and set sail across the Atlantic Ocean.  Propelled by hope for a brighter future, these intrepid men and women endured two long months at sea, tired and hungry, to arrive in a new world full of potential.  In the winter weather that greeted their arrival, they lost nearly half of their fellow travelers to exposure, disease, and starvation.  Despite unimaginable hardships, these first Americans nevertheless remained firm in their faith and unwavering in their commitment to their dreams.  They forged friendships with the Wampanoag Tribe, fostered a spirit of common purpose among themselves, and trusted in God to provide for them.  The following year, they celebrated a successful harvest alongside their Native American neighbors — the first Thanksgiving.  This seminal event in the history of our Nation is a continual reminder of the power of faith, love, perseverance, prayer, and fellowship.

The Mayflower's arrival to the New World in 1620 also marks the arrival of the first seeds of democracy to our land.  Absent the rule of a monarch in an uncharted wilderness, these early settlers resolved to create their own government through what is known as the Mayflower Compact.  Defined by majority rule through elected leaders responsible for creating "just and equal laws," the Mayflower Compact represents the first chapter in the long tradition of self-determination and rule of law in America.  One hundred and fifty-six years later, our Nation's Founding Fathers resolved to break free from England, building upon the Mayflower Compact to establish an enduring government whose authority came solely "from the consent of the governed."

This year, as our Nation continues to combat the coronavirus pandemic, we have once again joined together to overcome the challenges facing us.  In the midst of suffering and loss, we are witnessing the remarkable courage and boundless generosity of the American people as they come to the aid of those in need, reflecting the spirit of those first settlers who worked together to meet the needs of their community.  First responders, medical professionals, essential workers, neighbors, and countless other patriots have served and sacrificed for their fellow Americans, and the prayers of our people have once again lifted up our Nation, providing comfort, healing, and strength during times of uncertainty.  Despite unprecedented challenges, we have not faltered in the face of adversity.  To the contrary, we have leveraged our strengths to make significant breakthroughs that will end this crisis, rebuilding our stockpiles, revamping our manufacturing capabilities, and developing groundbreaking therapeutics and life-saving vaccines on record-shattering timeframes.

During this season of gratitude, we also acknowledge those who cannot be with their families.  This includes the brave American patriots of our Armed Forces who selflessly defend our sacred liberty at home and abroad.  And we pause to remember the sacrifices of our law enforcement personnel and first responders.  We are deeply grateful for all those who remain on watch over the holidays and keep us safe as we celebrate and give thanks for the blessings in our lives.

This Thanksgiving, we reaffirm our everlasting gratitude for all that we enjoy, and we commemorate the legacy of generosity bestowed upon us by our forbearers.  Although challenges remain, we will never yield in our quest to live up to the promise of our heritage.  As we gather with our loved ones, we resolve with abiding faith and patriotism to celebrate the joys of freedom and cherish the hope and peace of a brighter future ahead.
This Thanksgiving Day 2020, I'm thankful for Americans who are still making a difference.  "Average Americans" who still love God and country, and stand on principle with their feet planted on a Solid Rock, and not on shifting sands.
The "Average American", the 9 to 5′er, working himself into the grave to try to provide for his family.
It was this same "Average American", who fired the shot heard around the world and began the War for American Independence, who stormed the beaches of Normandy on D-Day in World War II, who waded through rice paddies in Vietnam, and who swallowed sand in Desert Storm and Desert Shield.
The same "Average American" who, as a New York City Policeman or Fireman, ran up the stairs of the World Trade Center on 9/11/01, instead of running down them.
The same "Average American", who simply wants things to be easier in this life for his children and grandchildren, than he had it.
It is this same "Average American", who takes family and friends in, when they are in the midst of a life-altering tragedy.
The same "Average American", who volunteers on a soup line or at a Senior Citizens Home, or, who begins a successful business in his basement.
They are the reason we remain, in spite of all that has befallen us as a nation, the Greatest Country on the Face of the Earth, despite what those who are presently trying to take away our right as Americans to choose whom we want to be our President.
They are also the reason that we will Keep America Great.
Happy Thanksgiving!
Until He Comes,
KJ