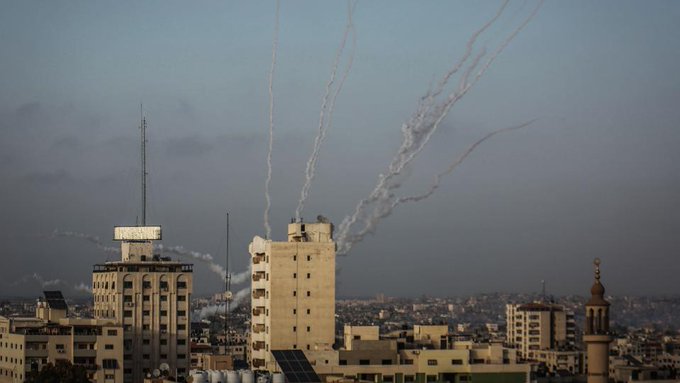 FoxNews.com reports that
Rep. Ilhan Omar, D-Minn., accused Israel of "terrorism" following deadly air strikes in the Gaza Strip after Hamas reportedly launched seven rockets at Jerusalem.

"Israeli air strikes killing civilians in Gaza is an act of terrorism. Palestinians deserve protection. Unlike Israel, missile defense programs, such as Iron Dome, don't exist to protect Palestinian civilians. It's unconscionable to not condemn these attacks on the week of Eid," Omar wrote on Twitter on Monday.

Rep. Rashida Tlaib, D-Mich., and other members of the progressive so-called "Squad" advocated for Palestinians after Israeli police and Palestinians clashed Friday at the Al-Aqsa mosque compound, a major holy site sacred to Muslims and Jews in Jerusalem. Tlaib targeted some of her statements at President Biden and Secretary of State Antony Blinken, questioning the White House's reasoning for providing aid to Israel.

"I was 7 years old when I first prayed at the Al Aqsa with my sity [sic]. It's a sacred site for Muslims. This is equivalent to attacking the Church of the Holy Sepulchre for Christians, or the Temple Mount for Jews. Israel attacks it during Ramadan. Where's the outrage @POTUS?" Tlaib wrote on Twitter.

"American taxpayer money is being used to commit human rights violations. Congress must condition the aid we send to Israel, and end it altogether if those conditions are not followed. Statements aren't working @SecBlinken. Enough is enough," she wrote in a separate tweet.

Tlaib is the first Palestinian-American woman elected to Congress.

Omar took a similar stance.

"This is happening as Muslims pray tarawih [and] tahajud in Palestine. Families who pray all night during Ramadan, the mosque is like home. Palestinians deserve to find refuge in a mosque and peace in Ramadan. Where is the media coverage? [Speak] up against Israeli occupation terror," Omar wrote on Twitter on Saturday along with a video of the violence.

Omar also accused Israel of "ethnic cleansing," citing a New York Times story about evictions of Arabs in East Jerusalem.

"This deputy mayor is describing ethnic cleansing here, yet everyone is the West is pretending that's not what's happening to Palestinians. It's reprehensible," Omar wrote on Twitter on Sunday.

Israeli police firing tear gas, stun grenades and rubber bullets clashed with stone-throwing Palestinians at a flashpoint Jerusalem holy site on Monday, the latest in a series of confrontations that threatened to push the contested city toward wider conflict.

More than 305 Palestinians were hurt Monday, including 228 who went to hospitals and clinics for treatment, according to the Palestinian Red Crescent. Seven of the injured were in serious condition. Police said 21 officers were hurt, including three who were hospitalized.

Monday's confrontation was the latest after weeks of mounting tensions between Palestinians and Israeli troops in the Old City of Jerusalem, the emotional center of their conflict. The clashes have come during the Muslim holy month of Ramadan, already a time of heightened religious sensitivities.

Most recently, the tensions have been fueled by an eviction plan in an Arab neighborhood of east Jerusalem, where Israeli settlers have waged a lengthy legal battle to take over properties.
Ever since my collegiate days, from 1976-1980, when I was a Radio News Director, I have watched with stunned incredulity, as the American Liberal Political Ideology and its adherents, have vocally castigated the country of Israel for defending themselves against the violent factions of nomadic tribes , who wish for nothing else than their annihilation of both the country of Israel and their citizenry.
The irony of their naiveté, is the fact that, in the 1960's, American Liberals were among some of Israel's strongest supporters. However, as of this writing, they continue to blatantly back the Palestinians and the Terrorist Organization known as Hamas.
Opposing God's Chosen People and supporting the historically nomadic people that call themselves "Palestinians" fits with Modern Liberals' Political Ideology, which views modern political struggles as "Class Warfare", being waged between race and ethnic groups. Liberals believe that the predominantly white West is  somehow subjugating the non-white rest of the world. This viewpoint is an extension of the class-based, rich versus poor, categories, which they intentionally classify people in, since the Presidency of their fallen messiah, Former President Barack Hussein Obama (mm mmm mmmm).
For years now, I have referred to the intolerant political ideology of Modern American Liberals as "The New Fascism" because of their intolerance toward traditional Americans Faith and Values, including our relationship with our closest ally, since their birth as a country in 1948.
What we are seeing now, as regards the growing anti-Semitism in the Democratic Party, which began under Former President Barack Hussein Obama, is a result of an amalgamation of the political philosophies of the special interest groups who have replaced average Americans as the Democrats' Voting Base.
Anti-Semitism is the norm in Marxism in all of its forms, fascism, and, of course, Islam.
All of these political philosophies are the anti-thesis of who the Far Left Democrats claim to be.
Ladies and gentlemen, I firmly believe that America is now fighting a new war against fascism.
It's not a war that is being fought with guns and bullets, But instead, it is being fought through the brainwashing of American students in their classrooms  who then become Far Left Activists when they graduate.
And, it is being fought behind the walls that now separate those who are supposed to be servants from those whom they are supposed to be serving up on Capitol Hill..
It's not our Brightest and Best who are dying on this field of battle, but rather, it is our Constitutional Freedoms and our form of government, including our System of Checks and Balances, which are dying an ignoble death, pierced by the arrows of socialism and political correctness.
By now, there's some out there in the audience saying, "Oh Lord, the crazy old cracker's overreacting again."
No, Skippy, I'm not.
If you try to talk to a Liberal about this New Fascism, they will deny that there is any fascism going on at all. In fact, they will tell you that this is "the will of the people" and they will site Democratically stacked push polls in order to back their opinion up.
Liberals can not legitimately defend their positions, such as the suppression of the Second Amendment Rights of average Americans, the Silent Coup began by those members of the DOJ and FBI during the Obama Administration against Former President Trump, the "Caining" of Judge Kavanaugh, and now, the growth of anti-Semitism within the Democratic Party.
Fascism, in any form, remains indefensible.
All of this political unethical behavior by the Far Left Democrats is reminiscent of both the Russian Revolution and Hitler and his Brown Shirts "Beer Hall Putsch" which probably should have been expected, given the "New Bolsheviks" track record of Liberal Intolerance and aversion to opposing viewpoints.
Ronald Reagan, during an interview with Mike Wallace on 12/14/75, quipped…
"You know, someone very profoundly once said many years ago that if fascism ever comes to America, it will come in the name of liberalism."
The man was a prophet.
Until He Comes,
KJ
DONATIONS ARE WELCOMED AND APPRECIATED.
Make a one-time donation
Make a monthly donation
Make a yearly donation
Choose an amount
Or enter a custom amount
$
---
Your contribution is appreciated.
Your contribution is appreciated.
Your contribution is appreciated.
Donate
Donate monthly
Donate yearly