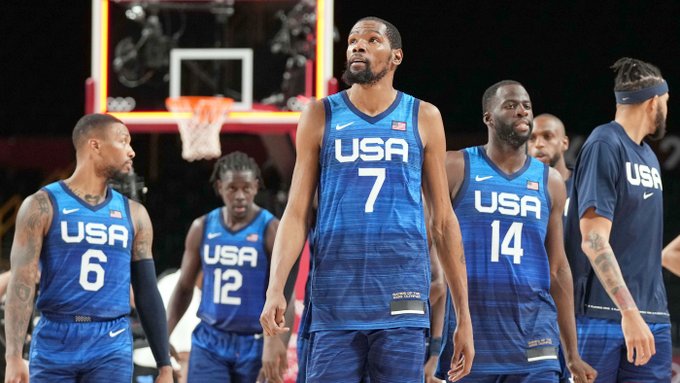 Newsmax.com reports that
The Democrats' philosophy is "America Last," former President Donald Trump tells Newsmax.

"Look at what's happening with Russia,' he told Newsmax's Benny Johnson before his keynote speech at the day-long "Rally to Save Our Elections" event in Phoenix on Saturday. "Look at what's happening with China. Look what's happening with Iran. Iran would have had a deal with us within a week. I would have completed a deal with Iran. Now they're asking for money. It's the craziest thing I've ever seen."

Trump also talked about the U.S. Olympics team after some members would not respect the flag or the National Anthem.

"I think they're disgraceful," he said. "I think woke is really a losers' philosophy. Take a look at what's happening to the women's soccer team. They lost to Sweden. Woke means lose. The sad part is the Americans are rooting for the opponent. They don't like these people. They don't like what they saw happening. Some of the women stood up proudly. It wasn't all of them….(the others) should never disrespect our flag or our country."

Trump also commented on the ongoing argument between Sen. Rand Paul, R-Ky., and Dr. Anthony Fauci and the senator's call for an investigation on the director of the National Institute of Allergy and Infectious Diseases.

"Rand has been very strong on Fauci," said Trump. "I thought Fauci did a great job. Everything he said, I did the opposite. I did right on just about all of it.

And when asked if he'd rather run against Biden or Vice President Kamala Harris in 2024, the former president pointed to polls showing Biden's ratings low.

"You're looking at the same polls I'm looking at," he said. "They're vicious people. They'll do anything to stop it; they want to stop the MAGA movement…they'll do anything."
Donald J. Trump is a prophet.
FoxNews.com reports that
Team USA men's basketball is off to a rough start at the Tokyo Olympics.

France snapped Team USA's 25-game win streak, 83-76, in the first game of the group stage Sunday night. The French went on a 16-2 run to knock off the U.S.

With the U.S. leading 74-73 and about a minute to play, France's Guerschon Yabusele dove for a ball that was heading out of bounds in the corner. Yabusele flicked the ball to Evan Fournier, who hit the go-ahead three pointer to give France a two-point lead.

On the ensuing possession, the U.S. got a handful of good looks.

The U.S. decided to only try three-pointers instead of dribbling into the key to at least tie the game. Zach LaVine, Kevin Durant and Jrue Holiday all missed shots in one possession.
Please allow me to make a confession. It has been quite a few years since I was a serious NBA Fan. I've kept up from afar, just so I could engage in Water Cooler Talk at work. However, I enjoy college basketball nowadays infinitely more than I do the professional product.
I suppose that it is because of my rather youthful age of 62 and having grown up during some of the greatest times in the history of sports.
In the NBA, I can remember the Knicks, Celtics, Lakers, and Pistons playing hurt and leaving everything that they had out there on the court.
The reason that I have drifted away from being a big fan of the NBA is that they have drifted away from me.
As an average American, living here in the Heartland, I still believe in Traditional American Values, such as Faith, Hard Work, Loyalty, Gratitude, and Respect.
The actions and words being seen and heard coming from the outrageously paid professional athletes of both the NFL and now, the NBA regarding the Sovereign Nation which has made them millionaires, are not the words and actions of "professionals". Rather, they are the whining, screaming, and lashing out of attention-seeking cry-babies, who neither respect their fan base, nor those who have made their path to fame and fortune possible through the shedding of their blood for the flag and country which they are so intent on insulting and diminishing.
And now, these "professionals" who are extravagantly paid for playing a game that you can watch being played in playgrounds and gymnasiums across the country have allowed themselves to become USEFUL IDIOTS to those who not only want to destroy our way of life but control what lives we have left from cradle to grave via a Central Marxist Government.
Well, listen up, you ungrateful overpaid pampered pu…err wussified excuses for professional athletes who have put your own "Wokeness" over appropriately representing America in the Olympics.
You cry-babies offend US!!!
By "us", I am referring to average Americans just like me, who are out here killing ourselves in our 40-plus hour a week jobs, just to make it from paycheck-to-paycheck, including those of us who actually still attend your games, shell out our hard-earned cash, just to see you disrespect our country and, at times, sleepwalk your way through games on your way to collect your millions.
You misanthropic ungrateful jackanapes are not worthy to lace up the tennis shoes of those who have gone before you in your chosen field of athletic endeavor and those who have proudly represented America at previous Olympics.
Regarding Professional Basketball, those American Athletes knew whom they were playing for and who paid their salaries. And, they also had the sense to keep their mouths shut about the country in which they were able to have the freedom to have the job that they wanted and be paid handsomely for it. They also had the home-training and grace to proudly and honorably represent America at the Olympics, if they were lucky enough to be a part of an U.S.A. Olympic team.
They knew that young boys followed their every word and action, idolizing them as sports heroes. And, the overwhelming majority of professional athletes back in the day, took that very seriously.
You guys do not seem to take anything seriously…except your own notoriety and your enormous paycheck.
So, to all you athletes on the 2021 U.S.A. Olympic team who are putting yourself before honorably representing your country…
Learn from the NFL and the extremely poor ratings of the recent NBA Season….
Pride goeth before destruction, and a haughty spirit before a fall. – Proverbs 16:18 (KJV)
If you keep running off at the mouth and commit mass seppuku as the NFL and NBA are in the process of doing…then perhaps Shaq can get you a job with Papa John's Pizza…delivering.
But hey…that's the way the ball bounces.
Until He Comes,
KJ
DONATIONS ARE WELCOME AND APPRECIATED.
Make a one-time donation
Make a monthly donation
Make a yearly donation
Choose an amount
Or enter a custom amount
$
---
Your contribution is appreciated.
Your contribution is appreciated.
Your contribution is appreciated.
Donate
Donate monthly
Donate yearly