FoxNews.com reports that
Former President Trump returned to the nation's southern border Wednesday, taking direct aim at President Biden for the surge this year in migrants crossing the U.S.-Mexican border.

"There has never been a border so secure as the southern border that we had, and now it's opened up," the former president emphasized as he sat down for a briefing from Republican Gov. Greg Abbott of Texas and Lone Star State law enforcement and border officials.

And slamming Biden, who reversed key immigration policies implemented during the Trump administration, the former president charged that "now we have an open, really dangerous, border. More dangerous than it's ever been in the history of our country, and we better go back fast."

Biden has ended many of the restrictive immigration polices implemented by Trump, who repeatedly pledged during his successful 2016 campaign for the White House to build a border wall and make Mexico pay for the construction. Trump made border security a top policy during his administration and in 2019 declared a state of emergency in order to divert federal funds heading to the military to pay for the border wall.

Besides halting construction of Trump's wall, Biden also ended a program that forced migrants to stay in Mexico as they waited for resolution to their U.S. asylum cases, as he aims to follow through on his 2020 campaign pledge for a more humane immigration system.

Arrests along the southern border with Mexico have surged this year to their highest monthly averages in two decades, with Republicans blaming Biden's immigration policies for the influx.

"We had all these great polices going and they were ended. One day, they were all ended. This didn't take place over three months or five months. This took place in the first week, they were ended. It was almost like they were ended because I did it," Trump argued as he spoke at the briefing in Weslaco, near the southern tip of Texas.

"We're going to admire the wall and how it works," Trump said at the end of the briefing as he and Abbott headed out to tour an unfinished part of the border wall.

Abbott has pledged to finish construction of the wall in his state. The governor announced a couple of weeks ago steps to stem the flow of migrants illegally crossing the border into Texas – among them are temporary fencing along the border as he pledges to finish construction of the border wall, beefing up the presence of state police at the border, and arresting and jailing people caught illegally trespassing on private property.

Speaking ahead of Trump, Abbott called the former president "a great friend to Texas" who "stepped up and he secured our border and kept Texas and America safe."

Abbott charged that "things have changed so quickly and so dramatically under the Biden administration. It has been amazing and disastrous."

"The people of Texas have been pleading for us to be able to step up and help restore safety and security in their lives and is exactly why Texas is stepping up and doing a job that is truly the federal government's job – a job that you did but a job that the Biden administration is completely failing us on," the governor emphasized.

Abbott also criticized the Biden administration for their emphasis in trying to tackle the roots of the crisis. After heavy criticism from Republicans and even a few Democrats, Vice President Kamala Harris – who's been tasked to steer aspects of the administration's handling of the immigration crisis – toured the southern border last week.

"There is one place to solve all the problems on the border and that is on the border and that's exactly where the Biden administration needs to devote their resources to get the job done," Abbott stressed as he jabbed at the White House.
The Biden-Harris Administration and the Democrat Elite are not going to do squat about Biden's Border Crisis.
They want it this way.
Their goal is to turn America into a Third World "Democratic Socialist" Paradise, like Venezuela and Cuba.
Even Dems, like Rep. Cuellar of Texas are concerned that Biden and his Handers do not have a clue as to what they are doing in regards to the way that they have thrown open our Southern Border to bring in unaccompanied minors, housing them in the cages which Former President Barack Hussein Obama (mm mmm mmmm) built.
It is known that a percentage of these illegal minors are COVID-19 positive.
If they are being held with the other illegals, then Biden and his Administration are "recharging" the pandemic.
The Biden Administration has been loading these illegal immigrants into airplanes and dropping them into our towns and cities, like Chattanooga, Tennessee, in the middle of the night, under the cover of darkness.
Just as they have fenced in OUR nation's capitol in order to intimidate and control us, they would have no hesitation to attempt to force another nationwide "Pandemic Lockdown" on American citizens, again.
In countries like Greece, which have allowed the "Democratic Socialists" to take control of their government, the same "game plan" was followed.
Open up the borders, the overwhelm "the system" while raise taxes until businesses go under, placing 40% of the country's population "working for" the government or on government assistance".
Think about this:
Just as the Millionaire Democrats on Capital Hill, like Pelosi, live in gated communities to separate themselves from the violence and poverty which they are responsible for, so are they now working in a "gated community" designed to keep  "Deplorables" (i.e. average American citizens) out.
Welcome to the USSA, Comrades.
Until He Comes,
KJ
DONATIONS ARE WELCOME AND APPRECIATED.
Make a one-time donation
Make a monthly donation
Make a yearly donation
Choose an amount
Or enter a custom amount
$
---
Your contribution is appreciated.
Your contribution is appreciated.
Your contribution is appreciated.
Donate
Donate monthly
Donate yearly
We're seeing an assault on our sovereignty with the border not being defended. And today, my remarks are really a call for American revival…There are angry forces on the left that want to tear down all of the pillars of American democracy. And we've got to answer the call, and we've got to stand up and defend this great nation. – Sen. Ted Cruz (R – TX)
FoxNews.com reports that
More than 50 House Republicans are urging President Biden to remove Vice President Kamala Harris from her role dealing with the migrant crisis that has overwhelmed the southern border in recent months — accusing her of "inaction" on the crisis due to her failure to visit the border.

"Despite being in the midst of a border crisis this country has not seen in two decades, Vice President Harris has not yet shown adequate interest in observing this crisis first-hand," the 56 lawmakers, led by Rep. Glenn Grothman, R-Wis., wrote. "In the 85 days since the Vice President has been tasked with solving this crisis, she has yet to visit the border and meet with Border Patrol agents, Immigration and Customs Enforcement (ICE) officials and local law enforcement officials."

Harris was appointed more than 80 days ago to lead diplomatic talks to solve what the White House described as the "root causes" of the migrant crisis — such as poverty, climate change, and violence in Central America.

Harris recently visited both Guatemala and Mexico as part of her responsibilities, meeting with leaders and announcing a number of investments in both countries to tackle those root causes — while urging migrants not to come to the border. Harris described her trip as a success, though she was dogged by questions about her failure to visit the border

The White House and the administration have sought to clarify that Harris is not in charge of the border per se and is instead focused on diplomatic talks, but Republicans have said it is still important for her to visit the border to truly understand the crisis that saw more than 180,000 migrant encounters in May.

Republicans have blamed the crisis on the administration's policies — particularly the rollback of Trump-era policies like border wall construction and the Migrant Protection Protocols (MPP).

The lawmakers who wrote to Biden this week said that, even if root causes are to blame, "the exclusive focus on Central American countries ignores the fact that we see many migrants attempting to illegally cross our southern border from countries all over the world, including Russia, Brazil, Cuba and Haiti."

"We are also aware of no dramatic changes in Central American countries over the last few months that would result in such a wide gap of encounters at the southern border compared to last year," they say.

They also blast the administration for ignoring its own policies that they say enticed migrants to make the journey north.

"This country cannot afford another minute of inaction from Vice President Harris," the lawmakers tell Biden as they urge him to replace Harris as the point-person for the crisis. "While you have publicly defended the Vice President, even you must be discouraged with her inaction."

The Biden administration defended its handling of the crisis this week, with Homeland Security Secretary Alejandro Mayorkas saying its strategy was working.

"We have a strategy," Mayorkas said. "We are executing that strategy, I am confident in the strategy and I am confident in the proposal we have submitted to this Congress to best resource that strategy."
"Yep. They are executing their "strategy", alright.
You want to know why President Joe Biden and his, evidently, "Co-President", Kamala Harris are not working to end this unbridled illegal mass entry into our Sovereign Nation?
Simple…this is exactly what the Biden-Harris Administration, their Handlers, and the Democrat Elite want.
They want the same thing to happen to America that happened to the countries in Europe who have been invaded by Muslim Migrants.
They want our national identity to change.
Think about it.
How did Lenin become the leader of the Russian Revolution?
He used the Mensheviks and the Bolsheviks to overthrow the Russian Monarchy.
In the same manner, the Democrats are going to use illegal immigrants to change the way our Constitutional Voting Process works in order to "stay in power forever.
The Democrat Elite, including the current Administration, do not care about these people who they are allowing to invade our country.
If they were humanitarians, there would not be a wall around Nancy Pelosi's San Francisco Mansion…or the White House.
Here's a not-so-secret secret::The Democrat Elite only care about political power and their own personal wealth.
Even if it means putting innocent children's' lives in danger to achieve their goals.
.Y'know, boys and girls, I have been saying for a long time now, that if the Democrats had their way regarding illegal immigration America would turn into a Third World "Democratic Socialist" Paradise, like Venezuela and Cuba.
I hate it when I'm right.
Until He Comes,
KJ
DONATIONS ARE WELCOME AND APPRECIATED.
Make a one-time donation
Make a monthly donation
Make a yearly donation
Choose an amount
Or enter a custom amount
$
---
Your contribution is appreciated.
Your contribution is appreciated.
Your contribution is appreciated.
Donate
Donate monthly
Donate yearly
"We went from detain-and-remove to catch-and-release. We went from having border security that was the envy of the world to a lawless border that is now pitied around the world. Biden and Harris have handed control of our border over to cartels, criminals, and coyotes. Drug dealers, MS-13 gang members, human smugglers, sex traffickers, and the criminal elements of the world now have free reign. Hospitals and schools are getting crushed and public health is being sacrificed all in service of a radical left anti-borders agenda. Our brave border agents and courageous ICE officers have been illegally stopped from doing their jobs. Our Nation is now one giant sanctuary city where even dangerous criminals are being cut loose and set free inside the U.S interior on a daily basis." – Former President Donald J. Trump, June 15, 2021
FoxNews.com reports that
Former President Donald Trump is scheduled to visit the U.S.-Mexico border with Texas Gov. Greg Abbott at the end of the month, which he described on Tuesday as an "unmitigated disaster zone."

The president said in a press release that he had accepted Abbott's invitation to visit the "decimated" border, a deteriorating situation that he attributed to the Biden administration's decisions to reverse many of his immigration policies.

"Biden and Harris have handed control of our border over to cartels, criminals, and coyotes. Drug dealers, MS-13 gang members, human smugglers, sex traffickers, and the criminal elements of the world now have free reign," Trump said in a statement. "What Biden and Harris have done, and are continuing to do on our border, is a grave and willful dereliction of duty."

Abbott previously told Fox News in an interview that later this week he will unveil the state's plans to build a border wall in an attempt to finish what the former president started.

"We will continue that process of building the border wall in addition to these other strategies that we will use to make sure that anybody coming here will understand Texas is the wrong state to come into," Abbott said.

President Biden signed an executive order on his Inauguration Day pausing construction on the border wall project spearheaded by Trump. The White House also ended the former administration's national emergency declaration at the border shortly after taking over, in addition to terminating a number of other measures like the "Remain in Mexico" policy.

Vice President Kamala Harris recently drew criticism from members of her own party during her first trip to Guatemala and Mexico since she was tasked with addressing the "root causes" of the immigration crisis at the end of March.

During a press conference with Guatemalan President Alejandro Giammattei, Harris warned migrants not to make the "dangerous trek" to the U.S. border where they would be turned away.

Harris' comments come as the U.S. battles a surge in migrant encounters at the U.S. border, which totaled more than 180,000 in May, according to data from U.S. Customs and Border Protection.

She and the president have yet to visit the U.S. border, though Harris told Univision in an interview last week that she planned to do so. She declined to give a date when asked.
Our Southern Border is a disaster…and, Kamala Harris is not to blame for it.
This is Joe Biden's fault…100%.
He is the President and the buck stops with him.
By putting VP Harris "in charge" of the border situation, Biden's handlers sought to take some of the spotlight and blame away from Biden.
Harris is unlikable to begin with. Her inactivity regarding the border crisis is just making an already-tarnished public image worse.
Biden and his Handlers are the ones allowing the chaos at our Southern Birders.
The Far Left Democrats want an influx of undereducated illegal immigrants to come into our Sovereign Nation.
They, like the product of Liberal-staffed colleges before them, are easier to mold and deceive.
It is the same logic which caused Vladimir Lenin to approach the barbaric Bolsheviks and Mensheviks to help him overthrow the Czar of Russia and usher in the "glorious period of enlightenment and social justice" known as the Russian Revolution.
Of course, you know that while I was writing the statement above, I had my tongue firmly planted in my cheek.
Lenin suckered the masses into believing that the political theory which he was championing would bring about a land of milk and honey, where every man would have what he needed to be happy, healthy, and prosperous.
Instead, what Marxism, which has failed in every country in which it has been tried, brought to the poor peasants of Russia was more poverty and even less individual freedom than what they had experienced under the Czar's rule.
The Democrats are so desperate to change our country's government from a Constitutional Republic to the "glory" of Democratic Socialism that they are willing to bring thousands of Covid-19-positive illegals across our Southern Border.
Their plan kills two birds with one stone:
It gives them more "foot soldiers" and it will re-infect America with the Chinese Coronavirus, causing more lockdowns and the opportunity for Democrats to grab more power and gain more control of American Citizens.
Thank God that Texas has a strong governor, like Governor Abbott, to stand up against an out-of-control Presidential Administration.
And, a Former President like Donald J. Trump, who is not afraid to shine the spotlight on the disaster happening at our Southern Border.
I miss having a strong American President.
Until He Comes,
KJ
DONATIONS ARE WELCOME AND APPRECIATED.
Make a one-time donation
Make a monthly donation
Make a yearly donation
Choose an amount
Or enter a custom amount
$
---
Your contribution is appreciated.
Your contribution is appreciated.
Your contribution is appreciated.
Donate
Donate monthly
Donate yearly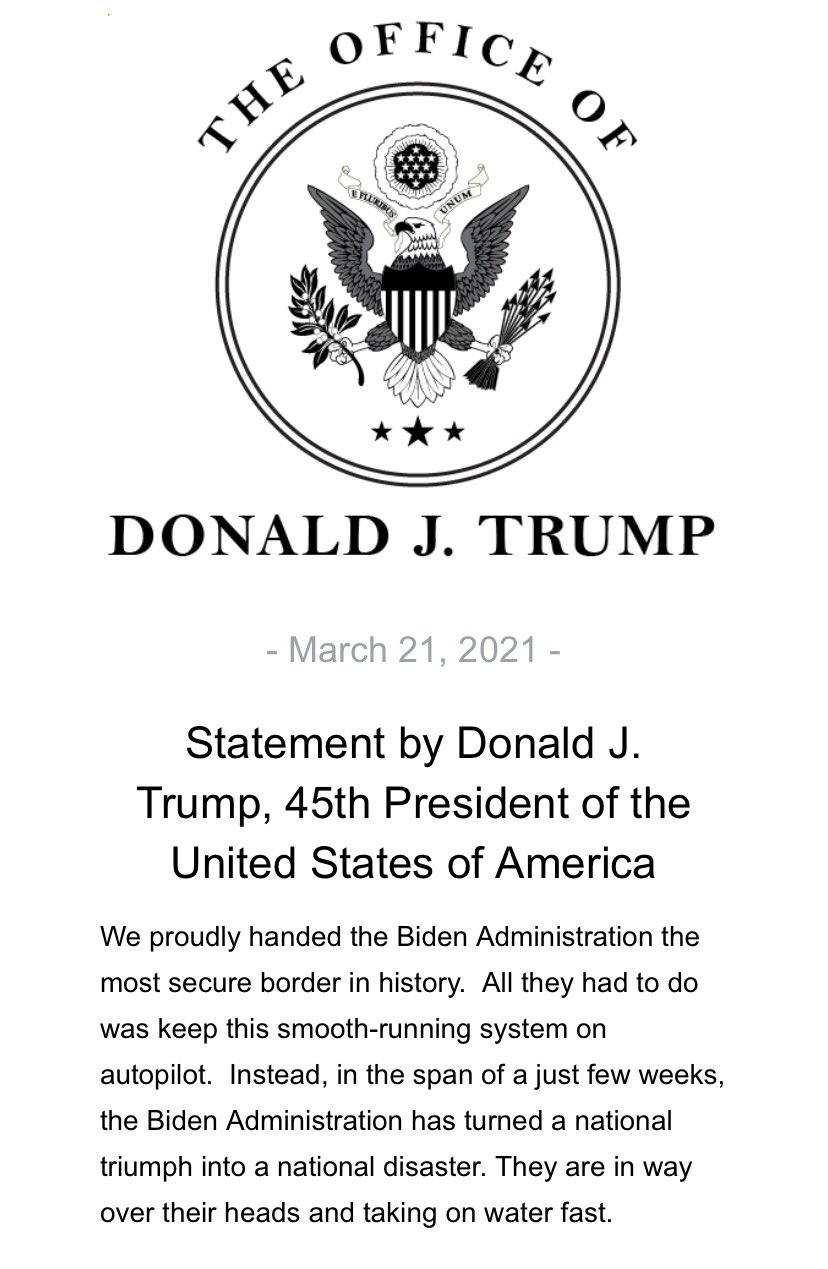 In a related story…
FoxNews.com reports that
Fox News confirmed Sunday that Border Patrol agents in the Rio Grande Valley Sector (RGV) have begun to process and release illegal border crossers who claim asylum without issuing a Notice to Appear (NTA) – allowing them to depart custody without scheduling a court date for a hearing.

The unprecedented move places the responsibility of seeking an asylum hearing on the migrants through Immigrations and Customs Enforcement (ICE) or legal assistance.

Multiple Border Patrol agents confirmed the new process to Fox News, revealing that they have been directed to use prosecutorial discretion (PD) to forgo the hours-long process of paperwork required to issue an NTA amid the surge of migrants at the border.

Instead, migrants are registered into the system with biometrical data taken and largely released into the public – in one instance – at a bus station in McAllen, TX. The processing is being done mostly at a temporary outdoor processing site. Border Patrol agents emphasized that this does not apply to unaccompanied children.
During his 2016 Campaign for the Presidency, President Donald J. Trump would recite the words of the classic R & B Song by Al Wilson, "The Snake", an excerpt from which can be found at the beginning of this post.
In the song, a venomous, evil snake begs a kind-hearted beautiful woman to let him come live with her. Once she lets him in, being true to his nature, he poisons her by biting her.
Trump used the song to drive home his point concerning stopping immigration from those countries who sponsor Radical Islamic Terrorism, until our country can come up with a better screening method to prevent what has happening to the U.K.,France, and other European countries with open borders and lax immigration laws.
Europe's "Muslim Problem" is a demonstration as to what happens when a non-indigenous population moves into a country and does not assimilate into the normal traditions and customs of that nation, and, instead, keep their own traditions and laws, separating themselves from the indigenous population in the name of "multiculturalism", the opposite of the "Melting Pot", which helped to form the greatest nation on the face of the Earth, the United States of America.
By bringing "their own country" with them, they have no impetus to become patriotic citizens of their host country, and are therefore, in their own minds, not subject to the laws of that nation, leading to their own internal justification of any acts of violence that they may take against the indigenous citizens of their host country.
Now that Joe Biden has become President of the United States of America, he has opened our borders and canceled the Immigration Policies put into place by President Trump which kept our Sovereign Nation safe. from our enemies.
Just like the "Democratic Socialist" countries in Europe which Joe Biden and the rest of the Far Left Democrat Elite so greatly admire, America, also, is in the process of being bitten by "The Snake".
Until He Comes,
KJ
HELP SUPPORT MY WORK TO BRING YOU THE NEWS YOU NEED TO HEAR.
YOUR CONSIDERATION IS APPRECIATED!
Make a one-time donation
Make a monthly donation
Make a yearly donation
Choose an amount
Or enter a custom amount
$
---
Your contribution is appreciated.
Your contribution is appreciated.
Your contribution is appreciated.
Donate
Donate monthly
Donate yearly
The right of the people to be secure in their persons, houses, papers, and effects, against unreasonable searches and seizures, shall not be violated, and no warrants shall issue, but upon probable cause, supported by oath or affirmation, and particularly describing the place to be searched, and the persons or things to be seized. – Amendment IV, The United States Constitution
Foxnews.com reports that
The Supreme Court expressed sympathy Tuesday for the family of a Mexican teenager fatally shot from across the U.S.-Mexico line by a Border Patrol agent, but struggled to reach consensus on whether foreign nationals – like the teen's relatives – can sue in American courts.

The divisions were on display during oral arguments for what has become a closely watched case, amid an escalating political debate in Washington over border security. The arguments were held the same day the Department of Homeland Security released new directives on immigration enforcement, and after a lower federal court blocked a separate executive action from President Trump on immigration and refugee restrictions.

Apart from renewed interest in the court's consideration of immigration disputes, the case heard Tuesday also could have implications for other U.S. government actions taken overseas — including military drone strikes against suspected terrorists, and electronic surveillance over the Internet.

In the current dispute, 15-year-old Sergio Hernandez was just steps from the border on Mexican soil when he was killed in 2010 by Jesus Mesa Jr., an agent standing on the American side in El Paso, Texas.

The federal agent was not prosecuted, and the U.S. refused to extradite him to Mexico. The victim's family says a civil action is now their only recourse for justice.

The issues for the court are whether the officer enjoys immunity from such claims of excessive force, and whether the victim enjoyed limited constitutional protections, even though he was not a U.S. citizen.

During a spirited, 70-minute public session at the high court, the eight justices appeared divided over just what kind of violations by the U.S. government against foreigners merit legal action, and whether courts should even get involved.

"This is one of the most sensitive areas of foreign affairs where the political branches should discuss with Mexico what the solution ought to be," said Justice Anthony Kennedy. "This an urgent matter of separation of powers for us to respect the duty that the principle rule the executive and the legislative have with respect to foreign affairs."

But Justice Sonia Sotomayor wondered, "Why should there not be a civil remedy to ensure that border police are complying with the Constitution? … Wouldn't shooting potshots at Mexican citizens be shocking to the conscience?"

Both sides in the shooting incident offer differing accounts of what happened in June 2010, when Hernandez and three of his friends were spotted hanging around a concrete culvert along the Rio Grande waterway separating the two countries.

Video shot on a phone by a civilian shows the agent shooting Hernandez as the unarmed boy peeked out from behind a railroad trestle, 60 feet away.

Mesa's lawyers and supporters say unreleased surveillance video shows the agent was under threat from rocks being thrown at him, and that he acted appropriately.

While Mesa was never prosecuted, other border agents have been in separate incidents, including Lonnie Swartz for second-degree murder in the 2012 death of a 16-year-old Mexican boy. The agent has pleaded not guilty and his trial is pending.

An outside report commissioned by U.S. Customs and Border Protection faulted the agency for not fully investigating 67 shootings incidents from 2010-2012.

Immigration rights activists in particular have criticized incidents along the often-unmarked border, which Justice Elena Kagan called a "no-man's land"– where determining what happened and where can prove challenging.

Both sides agree had Hernandez been on U.S. soil at the time of the shooting — even illegally — the agent could be sued in civil court.

But Justice Ruth Bader Ginsburg said the real issue here concerns the actions of the agent himself.

"It's the United States law operating on the United States official who's acting inside the United States," she said. "This case has, as far as the conduct is concerned, United States written all over it. There's nothing about Mexico. The Border Patrol guard doesn't take his orders from Mexico."

But Chief Justice John Roberts repeatedly urged lawyers for Hernandez's family to offer a standard on just when such claims can be pressed, offering a contemporary hypothetical.

"How do you analyze the case of a drone strike in Iraq where the plane is piloted from Nevada?" he asked.

Given the competing arguments at Tuesday's public sessions, the court may find it difficult to articulate a clear standard even for similar cases occurring within shooting distance of the border. A 4-4 tie would not create any precedent, but would stop the Hernandez lawsuit from proceeding.

The family's lawyer said after the arguments that the Trump administration's controversial immigration policies make it imperative the courts step in.

"It intensifies the danger if there is no Constitution when the border agents interact with the folks they are trying to deport," said Robert Hilliard. "There is going to be more of a need to have the executive's conduct reviewed by the judiciary. Right now there is no checks on the executive. There's no separation of powers."

But the attorney for the border agent told Fox News that, if his side loses, public safety could be compromised if agents feared being subjected to lawsuits. "I think it would create a chilling effect for all those protecting our borders and our national security in times of critical incidents on when to act and when to protect themselves in times of peril," Randolph Ortega said.

The case is Hernandez v. Mesa (15-118). A ruling is expected by June.
Placing the fact of the wasted life of a 16-year old aside, the question remains:
How can non-citizens possibly have "Constitutional Rights"?
The child's parents are Mexican Citizens, residing in Mexico, as was their 16-year old son.
How can "their 4th Amendment Rights" have been violated?
They do not reside on American Soil, therefore the laws, which our Founding Fathers  established to protect our Sovereign Nation's Citizens, do not apply to them.
Illegal Immigrants do not have Constitutional Rights, either. However, they have had them bestowed upon them by sympathetic courts, when they are involved in "trifling" legal matters. like, say, the MURDER of an American Citizen.
Legal Immigrants, on the other hand, earned their citizenship. They showed that they were willing to become a part of the Great American Melting Pot (from the Schoolhouse Rock video of the same name).
They demonstrated that, as the US Citizen and Immigration services states, that they were willing to…
Support the Constitution;
Renounce and abjure absolutely and entirely all allegiance and fidelity to any foreign prince, potentate, state, or sovereignty of whom or which the applicant was before a subject or citizen;
Support and defend the Constitution and laws of the United States against all enemies, foreign and domestic;
Bear true faith and allegiance to the same; and
A. Bear arms on behalf of the United States when required by the law; or
B. Perform noncombatant service in the Armed Forces of the United States when required by the law; or
C. Perform work of national importance under civilian direction when required by the law.
Additionally, these legal immigrants also took the following oath:
I hereby declare, on oath, that I absolutely and entirely renounce and abjure all allegiance and fidelity to any foreign prince, potentate, state, or sovereignty, of whom or which I have heretofore been a subject or citizen; that I will support and defend the Constitution and laws of the United States of America against all enemies, foreign and domestic; that I will bear true faith and allegiance to the same; that I will bear arms on behalf of the United States when required by the law; that I will perform noncombatant service in the Armed Forces of the United States when required by the law; that I will perform work of national importance under civilian direction when required by the law; and that I take this obligation freely, without any mental reservation or purpose of evasion; so help me God.
Perhaps, if the young man's parents had raised him to be respectful of America's Southern Border and the Americans who faithfully guard it, they would still have their son.
But, there I go again, expecting other nations to have our value systems and their people to exercise personal responsibility.
It's far easier to disrespect a Sovereign Nation's Borders and rely on the avarice and naiveté of those in the Judicial and  Legislative Branches of that country's Governments to bestow those rights upon you, for the sake of Political Power.
Until He Comes,
KJ