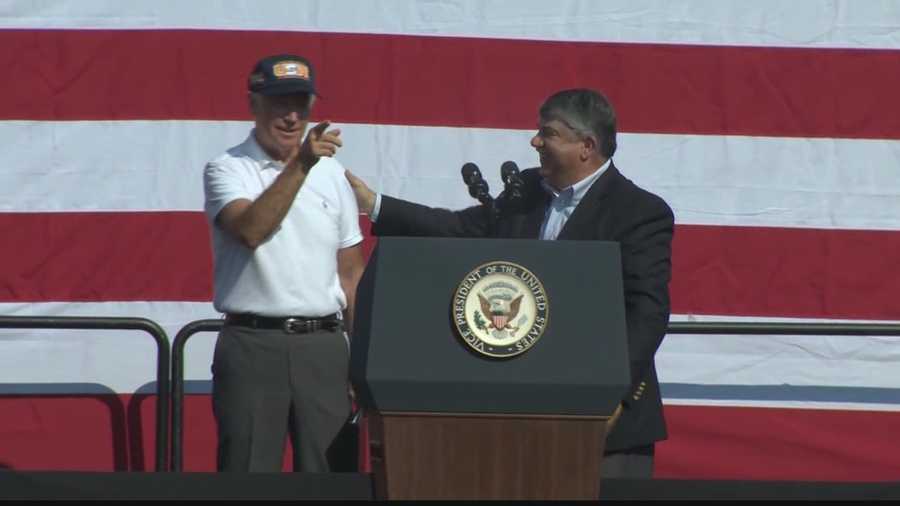 Why it matters: Labor's sizable personnel presence in the administration is driving policy, and the president's appointment of top union officials to senior posts gives those unions powerful voices in the federal bureaucracy — even at the cost of strictly adhering to his own stringent ethics standards. – Axios.com
FoxNews.com reports that
The Biden administration has come under scrutiny from Republicans on Capitol Hill following its decision to circumvent federal ethics rules and staff former union officials in senior posts.

Beginning as early as March, the White House waived certain rules for former labor union personnel slotted to fill Biden's transition teams and government vacancies, who would have otherwise been prevented from communicating with their old unions.

Senior official in the Office of Personnel Management (OPM), Alethea Predeoux, was granted a waiver to allow her to facilitate communication between the government agency and the American Federation of Government Employees – a union representing 700,000 federal workers for whom she was formally a top lobbyist, Axios first reported.

In April, the White House issued a similar waiver, allowing for Celeste Drake, who was tapped to lead the White House Made In America Office, to communicate with her former employers, the Director's Guild of America and the American Federation of Labor and Congress of Industrial Organizations (AFL-CIO).

The administration has said these are necessary moves to facilitate liaisons between government agencies and labor unions.

In a statement to Fox News on Saturday, National Republican Senatorial Committee spokeswoman Katharine Cooksey said, "The pattern of corruption between Democrats and big union bosses is obvious – just follow the money and follow the staff."

Biden pledged from the campaign trail to bolster unions across the US – a move that Republicans believe has made the administration overly beholden to them.

Union involvement in White House policymaking has become increasingly evident in recent months.

Reporting by the New York Post last week found that the nation's second-largest teachers' union, the American Federation of Teachers (AFT), regularly communicated with the Centers for Disease Control and Prevention (CDC) on school reopening guidelines.

Correspondence obtained through a Freedom of Information Act request found the AFT had a direct influence on language implemented in the CDC's February safety guidance for in-person instruction.

The CDC had originally prepared guidelines that allowed in-school instruction regardless of transmission rates. But at the suggestion of the union, the language was adjusted to include a provision that granted remote work for those "who have a household member" or "who have documented high-risk conditions or who are at increased risk."

Frustrated parents and city officials nationwide have launched lawsuits and accused teachers' unions of utilizing the pandemic to bargain for increased benefits by refusing to re-enter the classroom.

The AFT political action committee further granted more than $1.6 million in funding to Democratic congressional campaigns and committees between January and March, according to FEC filings.

"Since the very first day of the Biden administration, every single Democrat has echoed the same union-approved talking points to keep schools closed and to jam a radical, job-killing agenda through Congress," Cooksey said. "While Republicans are working to get kids back in the classrooms and the economy moving again, Democrats are taking orders from their bosses at the unions to keep schools closed and stifle job opportunities."
There is a reason for Biden kissing the backsides of the Unions.
He owes them…BIG TIME.
Biden launched his Presidential Campaign 2 years ago last month.
Per OpenSecrets.org…
Over the next 19 months, Biden also became the union candidate. Labor organizations contributed $27.5 million to his campaign and other groups that supported him. His opponent, former President Donald Trump, took in less than $360,000 from those with labor ties.

Now, almost a month into his presidency, Biden is poised to make good on his campaign promises to workers and unions. On Tuesday, he hosted 10 union leaders at the White House to discuss his hallmark America Rescue Plan and infrastructure projects.

"Every once and a while as president, you get to invite close friends into the Oval," Biden told the White House press pool after the meeting.

"I've said from the beginning of my campaign, throughout my whole career, that the middle class built this country and labor built the middle class," Biden continued.

Richard Trumka — president of the AFL-CIO, the largest union in America — told Axios' Jonathan Swan that he's optimistic about Biden.

"He still identifies as a blue-collar guy …. He doesn't aspire to be accepted by Wall Street. He is what he is, and that is a genuinely good human being that cares about working people," Trumka told Axios.
Uh huh. Good ol' "Lunch Bucket Joe".
What a bunch of garbage.
Biden is not a Middle Class American.
He is a rich Professional Politician from Delaware who knows as much about average Americans living in America's Heartland as AOC knows about…err…umm… just about anything…NOTHING AT ALL.
And, he is as crooked as a dog's hind leg as shown by his symbiotic relationship with the Unions.
Per UnionFacts.com
During fiscal years 2000–2019, OLMS investigations led to over $156.3 million dollars of restitution in over 2,100 criminal cases;
OLMS investigations also led to 2,297 indictments and 2166 convictions;
The Labor-Management Reporting and Disclosure Act's (LMRDA) reliance on self-government, public disclosure, and ultimately deterrence has failed;
The Department of Labor's (DOL) Office of Labor-Management Standards (OLMS) has investigated and prosecuted union leaders for embezzling more than $100 million in union dues since 2001;
Investigations by the DOL's Office of Inspector General, which investigates labor racketeering and organized crime's influence within the labor movement, has resulted in more than $1 billion in fines, restitutions, and forfeitures;
Fewer than 5 percent of unions audited by the DOL received unqualified passes.
And, of course, I could bring up the sordid tale of Jimmy Hoffa and his untimely death.
But, that is a story for another day.
The Unions have lost a lot of their political clout in America of the last few decades, as American Workers have decided to leave them as more and more corporations began to offer better benefits for their employees.
Corporations also relocated down here to the sunny South where the weather is nicer, the taxes are lower, and the unions are pretty much nonexistent.
Just as Biden pretty much ignored the Heartland of America, including the South, during his Presidential Campaign, he is continuing to do so with his closer-than-this unethical relationship with America's Labor Unions.
Biden is indeed nothing but a demented old Washington Swamp Rat who is not fooling average Americans living in America's Heartland one bit.
We think Sleepy Joe stinks on ice.
And, we can't wait for Trump's MAGA Rallies to start back up.
Until He Comes,
KJ
DONATIONS ARE WELCOMED AND APPRECIATED.
Make a one-time donation
Make a monthly donation
Make a yearly donation
Choose an amount
Or enter a custom amount
$
---
Your contribution is appreciated.
Your contribution is appreciated.
Your contribution is appreciated.
Donate
Donate monthly
Donate yearly