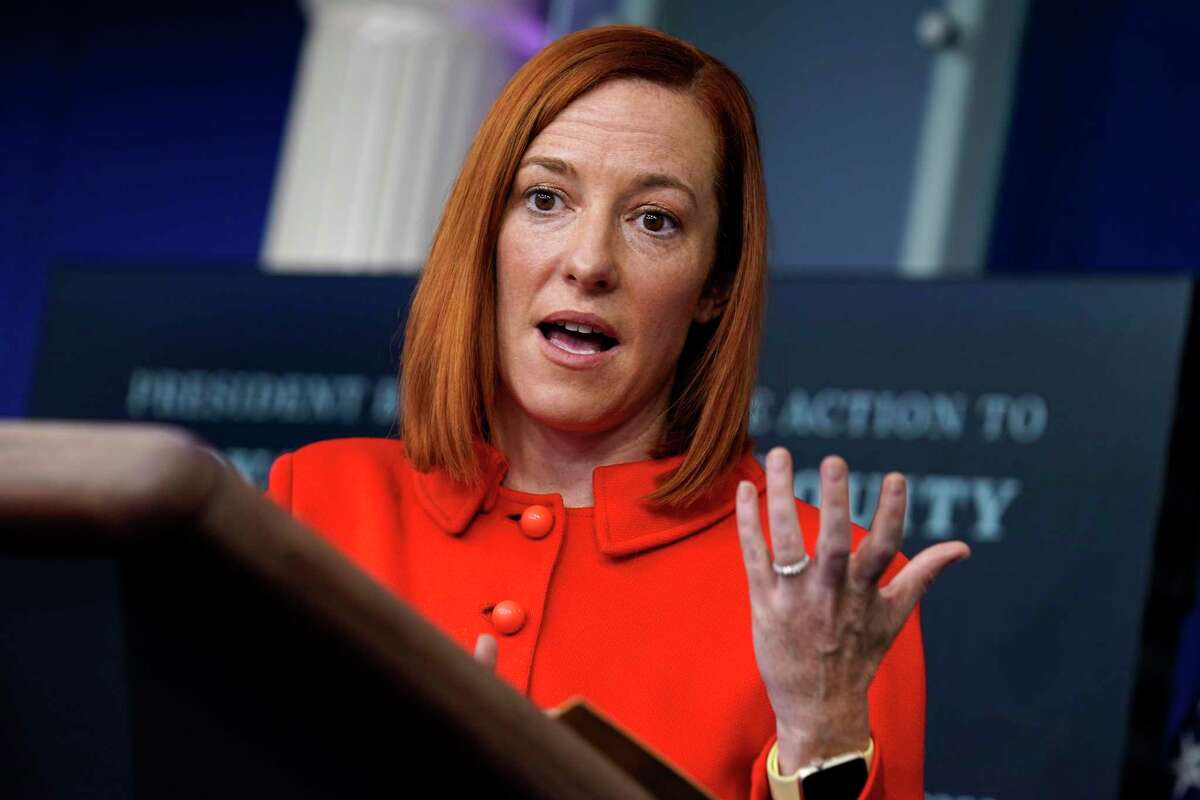 "Our country is suffering from a far-left radical movement … that is trying to defame, demoralize, defund, dismantle and dissolve our great police departments." – Former President Donald J. Trump, August 15, 2020
FoxNews.com reports that
White House press secretary Jen Psaki said in a daily briefing Friday that "too often" law enforcement uses "unnecessary force" that results in the death of "Black and brown Americans."

Psaki had been asked if President Biden had watched footage of the police shooting of 13-year-old Adam Toledo.

"I have not spoken with him this morning. I expect I'll see him later this morning. I will say for those of us who did watch that video, it is certainly chilling and a reminder that across the country there are far too many communities where there is violence that is impacting that too often in this country," Psaki said. "Law enforcement uses unnecessary force, too often resulting in the death of black and brown Americans.

"The president, again, has repeatedly said that he believes we need police reform. That's what he says he's calling for Congress to send to his desk," the press secretary continued. "There's an independent investigation, as you well know, and certainly we'll see that play itself through."

Still, the White House has distanced the president from more progressive members of his party who say that police are so corrupt they must be dismantled. Asked about Rep. Rashida Tlaib's, D-Mich., call to end policing, Psaki said earlier this week "that is not the president's view."

Psaki said that Biden believes in using legislation, specifically the George Floyd Justice in Policing Act, which "can put many of these necessary reforms in place

The Chicago community and family members of Toledo were reeling after the release of police footage and other materials related to the March shooting of the boy, who was fatally wounded by an officer responding to a report of shots fired in the area.

According to video footage, Toledo appears to have his hands up when he is shot one time in the chest.

Footage from a surveillance camera provides a different perspective of the police chase, with Toledo appearing to reach behind the fence. The footage later shows a gun on the ground alongside the fence, feet from where Toledo was shot.
So, Appointed President Biden and the rest of you Far Left Democrats, how are you going to protect Americans when you run all of our municipal law enforcement officers off their jobs?
What are you going to do? Post "This is a Gun-Free Zone" signs all over your cities to discourage the criminals?
Tell all of the Gang Bangers to hand over their guns?
I know.
Since Minnesota Attorney General and his family are all Muslims, perhaps they plan on installing Sharia Law in Minneapolis.
After all, they do have a large Somalian population there, who gave us the America-hating, Anti-Semite, Far Left Democrat Congressional Representative Ilhan Omar.
They should have kept her to themselves.
Anyway, where did this idea that the Liberals are pushing of "community policing" come from?
On July 2, 2008, Democratic Presidential Candidate Barack Obama proclaims in a speech:
"We cannot continue to rely on our military in order to achieve the national security objectives that we've set," he said. "We've got to have a civilian national security force that's just as powerful, just as strong, just as well-funded."
This part of Barack Hussein Obama's political platform was quickly hidden away, never to be spoken of again.
At least, not openly.
As is my wont to do, I have been thinking back over Obama's Imperial Presidency, and his statements concerning America's Municipal Law Enforcement Organizations.
When issues involving law enforcement arose during his presidency, time and again, Obama came on the opposite side from every single local law enforcement organization.
Now, isn't the President of the United States supposed to be on the side of Law and Order?
Biden certainly isn't.
Neither is the man pulling his strings, the 44th President of the United States of America, Barack Hussein Obama (mm mmm mmmm).
Why would Barack Hussein Obama not support local law enforcement during his "first" presidency?
Perhaps, because he wanted to build a National Municipal Law Enforcement Organization, under his command and the command of the Department of Justice.
Fast forward to today…
All of the cities and states which have experienced "trouble"  with police departments happen to be Blue States with Democrats in charge of State and Municipal Governments.
Instead of relying on traditional police departments and the American System of Law and Order, Democrats like those in the Minneapolis City Council want to have the power to circumvent the American System of Justice because of their issues in the past with it.
The death of ex-convict George Floyd gave them the excuse to attempt to defund police departments.
And now, with a Democrat in office, those who oppose Law and Order are all taking the side of the criminals.
Even the Democrat sitting behind the Oval Office…when he is not taking a nap.
Just like a criminal does not represent an entire race, neither do bad policemen represent an entire nation's Law Enforcement Officers.
They are heroes.
So, please allow me to end today's post with the text of a classic narration by the late, great Paul Harvey  titled "What is a Policeman?"
"A policeman is a composite of what all men are, I guess, a mingling of saint and sinner, dust and deity. What that really means is that they are exceptional, they are unusual. They are not commonplace. Buried under the froth is the fact, the fact is that less than one half of one percent of policeman misfit that uniform, and that is a better average than you'd find among clergymen."What is a policeman?

"He of all men is at once the most needed, and the most wanted, a strangely nameless creature who is sir to his face and pig or worse behind his back. He must be such a diplomat that he can settle differences between individuals so that each will think he won, but, if a policeman is neat, he's conceited, if he's careless he's a bum, if he's pleasant, he's a flirt, if he's not, he's a grouch.

"He must make instant decisions that would require months for a lawyer but if he hurries he's careless, if he's deliberate, he's lazy. He must be first to an accident, infallible with diagnoses. He must be able to start breathing, stop bleeding, tie splints and above all, be sure the victim goes home without a limp.

"The police officer must know every gun, draw on the run and hit where it doesn't hurt.

"He must be able to whip two men twice his size and half his age without damaging his uniform, and without being brutal. If you hit him he's a coward, if he hits you, he's a bully. The policeman from a single human hair must be able to describe the crime, the weapon the criminal, and tell you where the criminal is hiding but, if he catches the criminal he's lucky, if he doesn't he's a dunce.

"He runs files and writes reports until his eyes ache to build a case against some felon who will get dealt out by some shameless shamus. The policeman must be a minister, a social worker, a diplomat, a tough guy, and a gentle man. And of course, he'll have to be a genius, because he'll have to feed a family on a policeman's salary."
Until He Comes,
KJ
DONATIONS ARE WELCOME AND APPRECIATED.
Make a one-time donation
Make a monthly donation
Make a yearly donation
Choose an amount
Or enter a custom amount
$
---
Your contribution is appreciated.
Your contribution is appreciated.
Your contribution is appreciated.
Donate
Donate monthly
Donate yearly
I was always taught while growing up that, when something is equivalent, it means that two things have an equal weight of importance to them.
Yahoo.com reports that
It was business as usual at Minnesota's Mall of America and Canada's West Edmonton Mall on Sunday, with most people either oblivious to any threat to attack the shopping centers or confident that the risk was too small to worry about.

Shoppers, employees and recreational "mall walkers" were out in full force despite news of a videotape attributed to al Shabaab, a Somali-based Islamist militant group behind a deadly 2013 attack on a Kenyan shopping center, that appeared to threaten the North American malls.

Mall of America (MOA), outside the Twin Cities, and West Edmonton Mall in Alberta issued statements saying they were implementing extra security measures but there were no signs of beefed-up law enforcement at either mall.

At the MOA, one of the largest in the country, hundreds of people turned out for a walk to support the National Eating Disorders Association. The event started before shops opened their doors

Among the participants were Tatum Pugrah, 23, and her boyfriend Nick Disbrowe, also 23. The couple said they were not aware of any special threat but were not entirely surprised when told about the videotape.

"If anyone is going to target anything, it's the Mall of America," Disbrowe said.

Clem Jauquet, 57, said he knew about the threat but was not concerned enough to skip his usual early-morning walk around the mall. "I trust the government will protect us from bomb threats," he said.

The MOA, with 520 stores, a theme park and 50 restaurants, is in an area with one of the largest concentrations of Somalis in the United States. Minnesota's ethnic Somali population has mushroomed in the last two decades to more than 50,000.

U.S. authorities have been investigating the recruitment of ethnic Somali men into al Shabaab from the Minneapolis-St. Paul area since 2007.

An affiliate of al Qaeda, al Shabaab has been designated as a terrorist organization by the United States. It claimed responsibility for an attack at Nairobi's Westgate Mall that killed 67 people and fueled global concerns about mall safety.

West Edmonton Mall bills itself as the No. 1 tourist attraction in the oil-rich Canadian province of Alberta. It has more than 800 stores, two hotels and about 100 dining venues.

Hala Haddad, an employee at the mall, said the possibility of an attack would not keep her away from her job.

"I just don't think we should let other people influence our behavior going to shopping centers," she said.
Of course not.
That same sort of logic (or, lack thereof) can be traced all the way back to the White House.
According to the Washington Times…
A new Department of Homeland Security intelligence assessment circulated this month focuses on the threat of right-wing sovereign citizen extremist groups in the U.S. Some law enforcement groups say the threat is equal to, and occasionally greater than, the threat from Islamic extremist groups.

The Homeland Security report, produced in coordination with the FBI, counts 24 violent sovereign citizen-related attacks across the U.S. since 2010, CNN reported Friday.

These types of extremists believe that they can ignore laws because those laws attack their individual rights, even in routine daily instances like a traffic stop or being required to obey a court order, CNN reported Friday.

In one instance in Louisiana in 2012 a father and son were accused of engaging in a shootout with police after an officer puled them over for a traffic violation. Two offices were killed and several others wounded in the shooting. The two men were sovereign citizen extremists who claimed the police had no authority over them.

The Homeland Security report predicts that most sovereign citizen violence in 2015 will occur during routine law enforcement encounters at a suspect's home, during enforcement stops and at government offices, CNN reported.

"Law enforcement officers will remain the primary target of (sovereign citizen) violence over the next year due to their role in physically enforcing laws and regulations," the report states, according to CNN.

The new assessment comes as President Obama is holding a conference to focus on efforts to fight violent extremism. While the White House has come under fire for its refusal to use the term "Islamist extremism" during the talks, there has been very little discussion on the domestic terror threat from sovereign citizen groups.

"I don't think it's fair to say the (White House) conference didn't address this at all," an administration official said, adding that the president addresses the need to combat "violent ideologies" of all types, CNN reported.

While groups like the Islamic State and al Qaeda have dominated the global discussion on terrorism, a survey last year of state and local law enforcement officers listed sovereign citizen terrorists ahead of foreign Islamists and domestic militia groups as the top domestic terror threat, CNN reported.

The Homeland Security issued a similar report on the threat of right-wing terrorist groups in the past, garnering criticism for the Obama administration. A 2009 Homeland Security report on possible recruitment of military veterans by right-wing militia groups prompted an outcry from veterans groups.

That report was produced by staff members during the Bush administration but wasn't published until then Homeland Security Janet Napolitano had taken office. Ms. Napolitano criticized her own agency for the report.
There's that false equivalency, which the Administration and all their Leftist Minions in the MSM and on Facebook and Internet Chat Boards have been pushing as hard as they can.
They have attacked Christian American Conservatives, over the last month, trying to equate us to ISIS, to no avail.
So, Obama and his Administration have changed targets.
Now I'm not saying that wackadoodles like the Sovereign Citizens Movement, and other fringe organizations, are not a couple of fries short of a Happy Meal, a lot of them are.

However, in the grand scheme of things, these "Right Wing Extemists" do not threaten the security of our nation like Muslim Extremists do. It was not "Sovereign Citizens" who flew airplanes into the Twin Towers on September 11, 2001.

When Obama embarrassed himself in front of the entire nation, on the morning of the National Prayer Breakfast, when he told the 75% of us who are Christians, that we should all "get down off of our high horses" and accept the fact that we, as Christians,  are just as guilty of violent acts as Muslims, he ignited a political firestorm, which has since had gasoline poured on top of it, by Former New York City Mayor Rudy Giuliani remarks, questioning Obama's Christianity and Patriotism.

For the Department of Homeland Security to be so intent on spending time in pursuit of "Right Wing Extremists", while home-grown Radical Muslims are being trained and nurtured by their mentors to carry out jihad against us, shows that the Administration's philosophy of false equivalency is pervasive throughout the Obama .

And, unlike the harmless Direct TV Commercial, featuring "Bad Choices" Rob Lowe, the Administration's BAD CHOICES could end up being the death of us all.

Until He Comes,

KJ
If you have always believed that everyone should play by the same rules and be judged by the same standards, that would have gotten you labeled a radical 60 years ago, a liberal 30 years ago and a racist today. – Dr. Thomas Sowell
From 1985 – 1988, President Barack Hussein Obama was a Community Organizer in Chicago. What does a Community Organizer do? I'm glad you asked.
Per Byron York in an article found at nationalreview.com:
Community organizing is most identified with the left-wing Chicago activist Saul Alinsky (1909-72), who pretty much defined the profession. In his classic book, Rules for Radicals, Alinsky wrote that a successful organizer should be "an abrasive agent to rub raw the resentments of the people of the community; to fan latent hostilities of many of the people to the point of overt expressions." Once such hostilities were "whipped up to a fighting pitch," Alinsky continued, the organizer steered his group toward confrontation, in the form of picketing, demonstrating, and general hell-raising.

Obama was hired by Jerry Kellman, a New Yorker who had gotten into organizing in the 1960s. Kellman was trying to help laid-off factory workers on the far South Side of Chicago, in a nearly 100% black community. He led a group, the Calumet Community Religious Conference, that had been created by several local Catholic churches in the industrial community. Kellman was advised to hire a black organizer for a new spinoff from CCRC. They called it the Developing Communities Project, designed to focus solely on the Chicago part of the area.

One of Obama's projects while he was there, was to try to build an alliance of white and black churches and enlist them in the cause of social justice. Obama had a problem, though. He didn't go to church himself. And that, brothers and sisters, is how Obama, drawn to the preaching of Rev. Jeremiah Wright (and a political opportunity), joined Trinity United Church of Christ on 95th Street.

If you ask Obama's fellow Community Organizers what his most significant accomplishments were, they'll say two things: the expansion of a city summer-job program for South Side teenagers and the removal of asbestos from one of the area's oldest housing projects. Those were his biggest victories.
Remember all of that as you read this…
NBCNews.com reports that
President Barack Obama will meet with young civil rights leaders, politicians and law enforcement from around the country as protests continue over Ferguson in a bid to build trust among communities of color and police, the White House said Sunday.

Obama will welcome the civil rights activists in the Oval Office on Monday. He then will sit down with local leaders, elected officials and police, the White House said.

"Recent events in Ferguson, Missouri and around the country have shone a spotlight on the importance of strong, collaborative relationships between local police and the communities they protect and serve," the White House said in a statement.

"As the country has witnessed, disintegration of trust between law enforcement agencies and the people they protect and serve can destabilize communities, undermine the legitimacy of the criminal justice system, undermine public safety, create resentment in local communities, and make the job of delivering police services less safe and more difficult," the White House added.

Protests have continued nationwide since a grand jury decided not to indict Ferguson Police Officer Darren Wilson in the fatal shooting of unarmed black teenager Michael Brown. Wilson resigned from the police force on Saturday.
As I have written before, Obama ascended to the throne of the Regime during a period when our nation was experiencing a period of economic recession, by appealing to the masses by promising that if he was elected, the oceans would rise and fall, the sun would come out tomorrow (Hey, that sounds like a song. Oh…never mind.) and everybody would receive a unicorn in their backyard. (Okay. He didn't really promise that. But, heck, he promised everything else.)
Obama's "speechifying" sounded great to the 47%, who have relied on Uncle Sugar's largesse for generations.
Obama has always aimed his "soaring rhetoric" toward that audience, preaching not only economic class division, but racial division, as well.
The attention which he has paid to isolated racial incidents, like the shooting of the young thug, Michael Brown, blown up to national attention by the Democrat Party and their professional race-baiters, including Obama himself, diminishes the presidency.
When Ronald Reagan was president, he was in the Oval Office by 7:00 a.m. every morning, in a coat and tie, because he felt like his being in shirt sleeves was unseemly for the highest office in the land.
Obama saunters into the Oval Office every day about 10 a.m. or so, in shirt sleeves. Quite frankly, I'm surprised that he doesn't wear his golf shorts and an Izod golf shirt.
Going to college, back in the day, one of the books I had to read for a Business Communications Course was "The Peter Principle", which states that everyone, in their chosen profession, rises to their level of incompetence.
Unfortunately, for average hard-working Americans, Obama's level of competence ended in 1988.
And, he's been Community Organizing ever since.
Until He Comes,
KJ