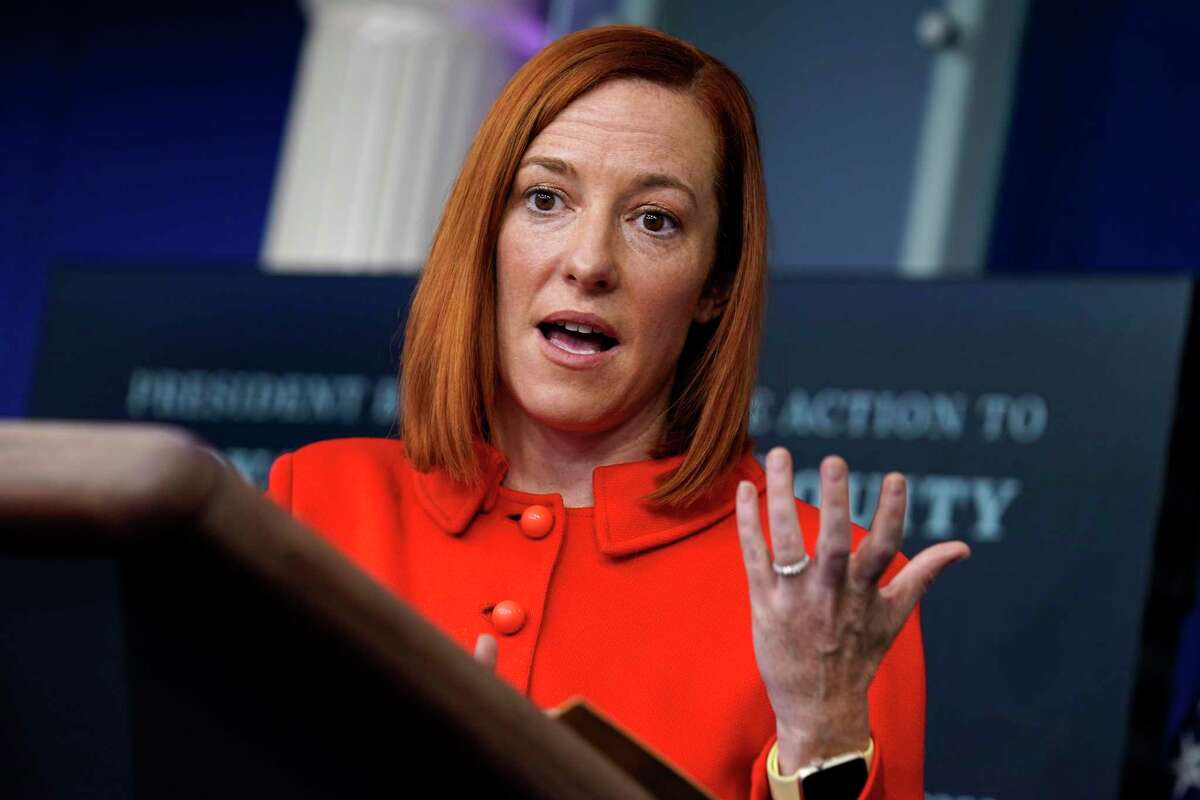 "Our country is suffering from a far-left radical movement … that is trying to defame, demoralize, defund, dismantle and dissolve our great police departments." – Former President Donald J. Trump, August 15, 2020
FoxNews.com reports that
White House press secretary Jen Psaki said in a daily briefing Friday that "too often" law enforcement uses "unnecessary force" that results in the death of "Black and brown Americans."

Psaki had been asked if President Biden had watched footage of the police shooting of 13-year-old Adam Toledo.

"I have not spoken with him this morning. I expect I'll see him later this morning. I will say for those of us who did watch that video, it is certainly chilling and a reminder that across the country there are far too many communities where there is violence that is impacting that too often in this country," Psaki said. "Law enforcement uses unnecessary force, too often resulting in the death of black and brown Americans.

"The president, again, has repeatedly said that he believes we need police reform. That's what he says he's calling for Congress to send to his desk," the press secretary continued. "There's an independent investigation, as you well know, and certainly we'll see that play itself through."

Still, the White House has distanced the president from more progressive members of his party who say that police are so corrupt they must be dismantled. Asked about Rep. Rashida Tlaib's, D-Mich., call to end policing, Psaki said earlier this week "that is not the president's view."

Psaki said that Biden believes in using legislation, specifically the George Floyd Justice in Policing Act, which "can put many of these necessary reforms in place

The Chicago community and family members of Toledo were reeling after the release of police footage and other materials related to the March shooting of the boy, who was fatally wounded by an officer responding to a report of shots fired in the area.

According to video footage, Toledo appears to have his hands up when he is shot one time in the chest.

Footage from a surveillance camera provides a different perspective of the police chase, with Toledo appearing to reach behind the fence. The footage later shows a gun on the ground alongside the fence, feet from where Toledo was shot.
So, Appointed President Biden and the rest of you Far Left Democrats, how are you going to protect Americans when you run all of our municipal law enforcement officers off their jobs?
What are you going to do? Post "This is a Gun-Free Zone" signs all over your cities to discourage the criminals?
Tell all of the Gang Bangers to hand over their guns?
I know.
Since Minnesota Attorney General and his family are all Muslims, perhaps they plan on installing Sharia Law in Minneapolis.
After all, they do have a large Somalian population there, who gave us the America-hating, Anti-Semite, Far Left Democrat Congressional Representative Ilhan Omar.
They should have kept her to themselves.
Anyway, where did this idea that the Liberals are pushing of "community policing" come from?
On July 2, 2008, Democratic Presidential Candidate Barack Obama proclaims in a speech:
"We cannot continue to rely on our military in order to achieve the national security objectives that we've set," he said. "We've got to have a civilian national security force that's just as powerful, just as strong, just as well-funded."
This part of Barack Hussein Obama's political platform was quickly hidden away, never to be spoken of again.
At least, not openly.
As is my wont to do, I have been thinking back over Obama's Imperial Presidency, and his statements concerning America's Municipal Law Enforcement Organizations.
When issues involving law enforcement arose during his presidency, time and again, Obama came on the opposite side from every single local law enforcement organization.
Now, isn't the President of the United States supposed to be on the side of Law and Order?
Biden certainly isn't.
Neither is the man pulling his strings, the 44th President of the United States of America, Barack Hussein Obama (mm mmm mmmm).
Why would Barack Hussein Obama not support local law enforcement during his "first" presidency?
Perhaps, because he wanted to build a National Municipal Law Enforcement Organization, under his command and the command of the Department of Justice.
Fast forward to today…
All of the cities and states which have experienced "trouble"  with police departments happen to be Blue States with Democrats in charge of State and Municipal Governments.
Instead of relying on traditional police departments and the American System of Law and Order, Democrats like those in the Minneapolis City Council want to have the power to circumvent the American System of Justice because of their issues in the past with it.
The death of ex-convict George Floyd gave them the excuse to attempt to defund police departments.
And now, with a Democrat in office, those who oppose Law and Order are all taking the side of the criminals.
Even the Democrat sitting behind the Oval Office…when he is not taking a nap.
Just like a criminal does not represent an entire race, neither do bad policemen represent an entire nation's Law Enforcement Officers.
They are heroes.
So, please allow me to end today's post with the text of a classic narration by the late, great Paul Harvey  titled "What is a Policeman?"
"A policeman is a composite of what all men are, I guess, a mingling of saint and sinner, dust and deity. What that really means is that they are exceptional, they are unusual. They are not commonplace. Buried under the froth is the fact, the fact is that less than one half of one percent of policeman misfit that uniform, and that is a better average than you'd find among clergymen."What is a policeman?

"He of all men is at once the most needed, and the most wanted, a strangely nameless creature who is sir to his face and pig or worse behind his back. He must be such a diplomat that he can settle differences between individuals so that each will think he won, but, if a policeman is neat, he's conceited, if he's careless he's a bum, if he's pleasant, he's a flirt, if he's not, he's a grouch.

"He must make instant decisions that would require months for a lawyer but if he hurries he's careless, if he's deliberate, he's lazy. He must be first to an accident, infallible with diagnoses. He must be able to start breathing, stop bleeding, tie splints and above all, be sure the victim goes home without a limp.

"The police officer must know every gun, draw on the run and hit where it doesn't hurt.

"He must be able to whip two men twice his size and half his age without damaging his uniform, and without being brutal. If you hit him he's a coward, if he hits you, he's a bully. The policeman from a single human hair must be able to describe the crime, the weapon the criminal, and tell you where the criminal is hiding but, if he catches the criminal he's lucky, if he doesn't he's a dunce.

"He runs files and writes reports until his eyes ache to build a case against some felon who will get dealt out by some shameless shamus. The policeman must be a minister, a social worker, a diplomat, a tough guy, and a gentle man. And of course, he'll have to be a genius, because he'll have to feed a family on a policeman's salary."
Until He Comes,
KJ
DONATIONS ARE WELCOME AND APPRECIATED.
Make a one-time donation
Make a monthly donation
Make a yearly donation
Choose an amount
Or enter a custom amount
$
---
Your contribution is appreciated.
Your contribution is appreciated.
Your contribution is appreciated.
Donate
Donate monthly
Donate yearly