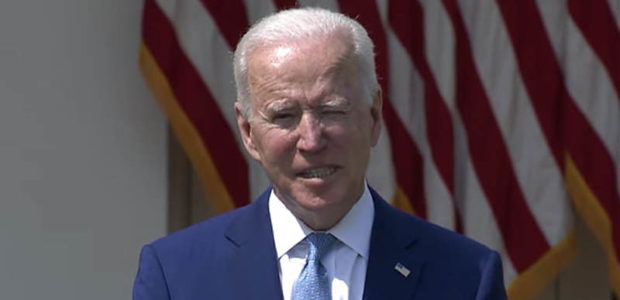 FoxNews.com reports that
"The Five" host Greg Gutfeld blasted President Joe Biden as a "pathological, shameless liar" after the commander-in-chief injected race into a Philadelphia speech about election laws as Texas state Democratic lawmakers flew to Washington, D.C. to prevent that state's legislature from having a quorum to approve new reforms.

Speaking in Old City, Biden claimed proponents of election security measures are engaging in a "21st century Jim Crow assault."

"It's unrelenting. It's unrelenting. And we are going to challenge it vigorously," he said. "Are you on the side of truth or lies?… Stand up, for God's sake, and help prevent this concerted effort to undermine our election.'

Biden went on to claim Republican-led election security reforms in states such as Texas, Georgia and Pennsylvania are akin to "facing the most significant test of our democracy since the Civil War."

On "The Five," Gutfeld said he was upset by Biden's race-infused rhetoric.

"He is a pathological, shameless liar," he said. "He ran on being a unifier, and all he does is bank on racial discontent. He is comparing this bill to the KKK [and] Jim Crow. All he does is foment racial conflict," Gutfeld said, additionally referencing the Texas election integrity bill that spurred the Democrats to leave the state. "

In his speech, Biden said 17 states have enacted 28 new laws to "make it harder for Americans to vote."

Gutfeld said Biden believes he is making a "moral case" for voting rights as if such rights don't exist.

"Every American has the right to vote, except the left's favored voting blocs, which are felons, illegal immigrants, and the dead," he said.

"[The] only one true possibility of a zombie uprising [is] because the corpses found out they voted for Joe Biden — The only Republicans they know of are evil."

The "Gutfeld!" host added that Biden joins a long line of Democratic figures who have made it customary to label their political opponents either racist or extremist:

He said President Reagan had been compared to Adolf Hitler while George W. Bush and the late Sen. John McCain, R-Ariz., were dubbed "warmongers."

Biden himself, the host noted, previously also claimed during a 2012 event near Martinsville, Va. that GOP nominee Mitt Romney would put the attendees of color "back in chains" with his fiscal policy platform.

"Then we are supposed to get the biggest, greatest existential risk in history out of Donald Trump, and now that's a lie because he's gone," Gutfeld continued. "And now this is a bigger existential risk than Donald Trump. 'This is the worst thing since the Civil War.' I'm beginning to think they are exaggerating."

Democrats in the Texas Legislature bolted Monday for Washington and said they were ready to remain there for weeks in a second revolt against a GOP overhaul of election laws, forcing a dramatic new showdown over voting rights in America.

Private planes carrying more than 50 Democrats left Austin for Dulles International Airport midafternoon, skipping town just days before the Texas House of Representatives was expected to give early approval to sweeping new voting restrictions in a special legislative session.

The cross-country exodus was the second time that Democratic lawmakers have staged a walkout on the voting overhaul, a measure of their fierce opposition to proposals they say will make it harder for young people, people of color, and people with disabilities to vote.

"Should we stick around? Hell no. For what?" Texas State Rep. Jarvis Johnson, D-Houston, said this week. "There's nothing being done in earnest."

"There's nothing be done with the utmost respect for one another," Johnson added.

In Pennsylvania, where Biden was speaking Tuesday, a group of Republicans led by State Sen. Pat Stefano, R-Somerset and Douglas Mastriano, R-Chambersburg, recently sponsored SB 402, which would repeal a 2019 provision that allows for no-excuse mail-in voting in the Keystone State.

The chairman of the state Senate committee that oversees elections, Sen. Dave Argall, R-Tamaqua, also responded to the president's visit in a statement, saying in part that "no matter what President Biden said today in Philadelphia, voter ID is not wrong, it's simple common sense. He further called his remarks "completely out of touch."
So, Joe Biden is calling Americans who want voter ID laws and fair, honest elections RACISTS.
Irony is embarrassed.
Back in February of 2007, Delaware Senator Joe Biden described his future boss, contender for the Democrat Presidential Nomination, Barack Hussein Obama, in the following manner…
I mean, you got the first mainstream African-American who is articulate and bright and clean and a nice-looking guy," Biden said. "I mean, that's a storybook, man.
Liberals' arrogance often lead them to reveal their own intolerance.
Sleepy Joe became chairman of the Senate Judiciary Committee in the late 1980s and as Delaware Senator supported a crime bill in 1994, saying at the time that his aim was to control violent crime.
Thomas Frank, a Liberal, wrote an op ed for The Guardian back on April 15, 2016, about the unexpected results of the 1994 Crime Bill. In the article he wrote that…
…what is most shocking in our current journo-historical understanding of the Clinton years is the idea that the mass imprisonment of people of color was an "unintended consequence" of the 1994 crime bill, to quote the New York Daily News's paraphrase of Hillary Clinton. This is flatly, glaringly false, as the final, ugly chapter of the crime bill story confirms.

Back in the early 1990s, and although they were chemically almost identical, crack and powder cocaine were regarded very differently by the law. The drug identified with black users (crack) was treated as though it were 100 times as villainous as the same amount of cocaine, a drug popular with affluent professionals. This "now-notorious 100-to-one" sentencing disparity, as the New York Times put it, had been enacted back in 1986, and the 1994 crime law instructed the US Sentencing Commission to study the subject and adjust federal sentencing guidelines as it saw fit.

The Sentencing Commission duly recommended that the 100-to-1 sentencing disparity be abolished, largely because (as their lengthy report on the subject put it) "The 100-to-1 crack cocaine to powder cocaine quantity ratio is a primary cause of the growing disparity between sentences for black and white federal defendants." By the time their report was released, however, Republicans had gained control of Congress, and they passed a bill explicitly overturning the decision of the Sentencing Commission. (Bernie Sanders, for the record, voted against that bill.)

The bill then went to President Clinton for approval. Shortly before it came to his desk he gave an inspiring speech deploring the mass incarceration of black Americans. "Blacks are right to think something is terribly wrong," he said on that occasion, "… when there are more African American men in our correction system than in our colleges; when almost one in three African American men, in their twenties, are either in jail, on parole, or otherwise under the supervision of the criminal system. Nearly one in three."

Two weeks after that speech, however, Clinton blandly affixed his signature to the bill retaining the 100-to-1 sentencing disparity, a disparity that had brought about the lopsided incarceration of black people. Clinton could have vetoed it, but he didn't. He signed it.

Today we are told that mass incarceration was an "unintended consequence" of Clinton's deeds.
Uh huh.
Liberal Democrats have taken the votes of Black Americans for granted for a long time now.
The Democrats, decades after the advent of LBJ's "Great Society", naturally assume that they are going to get the majority of black Americans' votes in every Presidential Election.
They not only expect it, they rely on it.
However, the problem the Biden and his handlers face is the fact that Trump made great inroads into securing some of that "expected" support from Black American Voters.
Candace Owens has done a great job of waking black Americans up to the reality of the Democrats' feigned "benevolence".
The problem that the "unintended consequences" of the 1994 Crime Bill and Biden's racist comment to the Radio personality, Charlemagne, poses for the Democrats is the fact that it shows the hypocrisy. is attempting to blame the amount of arrests made of black Americans on "Systematic Racism".
The Democrats are the ones who tore apart the Black Family United with the advent of their "Great Society" under President Lyndon Baines Johnson and the subsequent generations who either could not or did not wish to get off of the Government Dole. 
Unfortunately for Sleepy Joe and the Democrat Elite, Americans are very aware that they are not only supporting the racial unrest in our cities, their Vice-President Kamala Harris has bailed out rioters.
I thought Sleepy Joe was supposed to "unite" us..
Sheesh.
With the existence of "Uniters" like President "Sleepy Joe" Biden and his Vice-President, "Heels Up" Harris, America's "racial divide" has become another Grand Canyon..
Until He Comes,
KJ
DONATIONS ARE WELCOME AND APPRECIATED.
Make a one-time donation
Make a monthly donation
Make a yearly donation
Choose an amount
Or enter a custom amount
$
---
Your contribution is appreciated.
Your contribution is appreciated.
Your contribution is appreciated.
Donate
Donate monthly
Donate yearly
FoxNews.com reports that
Former Vice President Joe Biden charged Saturday that Jim Crow is "sneaking back in" as he emphasized voting rights at his first presidential campaign stop in South Carolina, where black voters play a key role in the South's first presidential primary.

In criticizing Republican efforts to adopt more stringent voting rules, including identification requirements and curtailing early voting hours, Biden recalled the racial segregation laws of the past.

"You've got Jim Crow sneaking back in," he said, referring to the era before the civil rights movement. "You know what happens when you have an equal right to vote? They lose."

Biden centered much of his trip around the need to restore decency to the White House. "Your state motto is, 'While I breathe, I hope,'" he said at the rally after continuing his full-throated denunciation of President Donald Trump. "It's not a joke. We're breathing, but God, we have got to have hope."

He kept up that theme at a private evening fundraiser, telling several dozen donors that he expects a nasty race from Trump.

"This guy is going to go after me and family," Biden said, recalling his grandchildren telling him before his announcement that they expect Trump and others to bring up family details including his son Hunter Biden's divorce.

Biden said there "are so many nicknames I want to give this guy," and he drew laughter when he joked that he'd "start with clown." But he added that he doesn't want to respond in kind.

"The only place he has any confidence is in the mud," Biden said, because the president "doesn't understand how to respond to issues."

Biden said he will answer Trump "directly" in the future without name-calling. He recalled saying in 2016 that in high school he'd have "taken him behind the barn and beat the hell out of" Trump. "Guess what? I probably shouldn't have done that," Biden said. "The presidency is an office that requires dignity and reestablishing respect and standing."

Biden will continue his trip Sunday by worshipping at a black church in Columbia.
Okay, let me get this straight.
The guy who once described Barack Hussein Obama as "clean and articulate" is calling President Donald J. Trump and the rest of Republicans RAAACIIIST for wanting to pass laws requiring an ID to vote and other measures designed to ensure honest, fair elections in the future?
Look at the political shenanigans which transpired during the 2018 Midterm Elections in Arizona, Georgia, and Florida, and you will understand why "Sleepy Joe" and his fellow Democrats have fought against Voter I.D. Cards so ferociously.
A Voter I.D. would spoil the 2020 Presidential Election Plans of the Democratic Party Leadership.
Remember, their Chairman is a Hispanic Political Activist.
In my state, even if you cannot drive, you can still get a state identification.
There is nothing to it and it comes in useful for all sorts of things where you need an I.D., even purchasing a cellphone and service plan.
Trump is absolutely right.
I.D.'s are a part of the overwhelming majority of Americans' everyday lives.
The only reason to intentionally not carry one would be if you do not want to be identified because you're breaking the law in some form or fashion…such as being in this Sovereign Nation illegally.
The right to vote in American Elections should remain as it always has been: a right enjoyed by American Citizens Only.
Allowing illegals to vote is rewarding them for not having enough respect for America to enter our country in a legal manner.
It is the wrong thing to do….just like "finding votes" after the election is.
Oh, and another thing: It was not a bunch of Republicans who attempted to beat up Black Conservative Candace Owens, the Founder of the #Blexit Movement, the other day.
It was a bunch of black-hooded punks from Antifa, the Far Left Fascists.
Since its inception, the #Blexit Movement has encouraged a lot of black Americans to #breakaway from the Democratic Party and become Republicans.
With Black Unemployment at a record low and more and more black Americans walking away from the Democratic Party, it has opened a lot of eyes to the fact that the Democratic Party has done absolutely nothing for black America.
I'll take that back. They have done something.
They have encouraged them since President Johnson's implementation of "The Great Society" to let "Uncle Sugar" take care of them, assuring them that as long as they continued to vote Democrats into public office that they would be "taken care of".
It has been those black Americans who have broken out of the cycle of government-assisted poverty who have come to realize that the Democratic Party's "benevolence" was, in fact, a boat anchor, tied to them to keep them from reaching the shores of self-reliance.
By the way, a bunch of successful young black Americans met with President Trump several months ago and, according to them, they love the guy.
And, they didn't feel "used" at all.
They felt empowered.
Trump is winning over a voting bloc that the Democrats have always counted on to vote for their candidate in the Presidential Election.
And, gentle readers, that is why Sleepy Joe brought up Tom Crow and is going on a "Goodwill Tour" through black communities, including making a campaign speech today in a black church.
I guess the "separation of church and state" which the Dems always whine about doesn't apply to them.
One final thought: Do you know how you can tell that Sleepy Joe and the Democrats have already reached the stage of desperation in the 2020 Presidential Campaign?
They are already playing the Race Card.
Until He Comes,
KJ