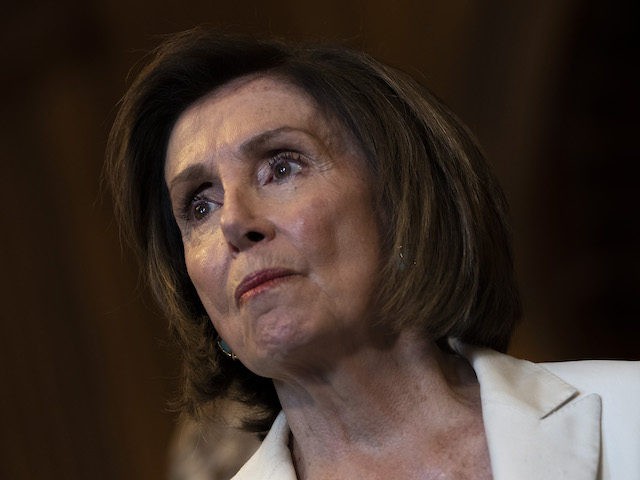 "I've noticed that everyone who is for abortion has already been born." – President Ronald Reagan
FoxNews.com reports that
House Speaker Nancy Pelosi, D-Calif., Thursday pledged to bring a bill codifying the Supreme Court abortion decision Roe v. Wade to the House floor in the wake of the Supreme Court's decision to allow a Texas abortion law to go into effect.

"When we go back to Washington, we will be putting Roe v. Wade codification on the floor of the House, to make sure that women everywhere have access to the reproductive health that they need," Pelosi said in a news conference.

The Texas law, signed by Republican Gov. Greg Abbott in May, prohibits abortions once medical professionals can detect cardiac activity, usually around six weeks and before many women know they're pregnant.

The court voted 5-4 to deny an emergency appeal from abortion providers and others to sideline the law while appeals are made, allowing the law to go into effect Wednesday. The judges also suggested that their order likely isn't the last word on whether the law can stand.

Pelosi announced that the House would vote on a bill sponsored by Rep. Judy Chu, D-Calif., H.B. 3755, the Women's Health Protection Act. The bill aims "to protect a person's ability to determine whether to continue or end a pregnancy, and to protect a health care provider's ability to provide abortion services."

The law would strike down current state restrictions on abortion and prevent states from imposing new restrictions on abortion, which pro-life advocates claim involves the killing of an unborn baby, except in limited circumstances.

Pro-life advocates celebrated the court's ruling.

"March for Life celebrates the Supreme Court's decision to allow – for now – the state of Texas to protect babies who have a detectable heartbeat. Americans, through their elected representatives, deserve to be able to enact laws that reflect their own values and compassion for our most vulnerable citizens," Jeanne Mancini, president of the March for Life, said in a statement.

"The Supreme Court's ruling allows Texas to protect unborn babies with beating hearts while litigation continues," Marjorie Dannenfelser, president of the Susan B. Anthony List, said in a statement. "The Texas legislature, acting on the will of the people, debated and passed this law with the very simple goal of protecting unborn children with beating hearts from death in the womb. This is how democracy works."

Dannenfelser condemned H.B. 3755, claiming that the bill would "permanently stifle American debate on abortion."

"Joe Biden and Nancy Pelosi want to permanently stifle American debate on abortion and instead impose a regime of abortion on demand, up until the moment of birth, paid for by the taxpayer," Dannenfelser wrote in a statement after Pelosi's announcement. "The deceptively named 'Women's Health Protection Act' should really be called the 'National Abortion on Demand Act.' Existing laws at risk if the legislation passes include limits on late-term abortions, waiting periods, informed consent laws, and limits on discriminatory abortions, and many others."

President Biden announced that he is launching a "whole-of-government effort to respond to this decision, looking specifically to the Department of Health and Human Services and the Department of Justice to see what steps the Federal Government can take to ensure that women in Texas have access to safe and legal abortions as protected by Roe, and what legal tools we have to insulate women and providers from the impact of Texas' bizarre scheme of outsourced enforcement to private parties."

Some Democrats have renewed their push to pack the Supreme Court in the wake of the ruling.

"Republicans promised to overturn Roe v Wade, and they have. Democrats can either abolish the filibuster and expand the court, or do nothing as millions of peoples' bodies, rights, and lives are sacrificed for far-right minority rule," Rep. Alexandria Ocasio-Cortez, D-N.Y., wrote on Twitter.

Democrat-controlled state legislatures have passed their own attempts to codify Roe v. Wade should the conservative-majority Supreme Court strike down the ruling. The New York version not only codified abortion but removed protections for babies in the womb, even those wanted by their mothers. It struck down laws treating the death of an unborn baby as a homicide.
If you are surprised that Pelosi and Company are attempting to overrule Texas' "Heartbeat Law" in favor of continuing the practice of killing the unborn, then you have not been paying attention to "The Party of Death".
Prior to 1973, abortions were allowed in some states but restricted or almost banned in others. Every state legislature made their own decision on whether to allow abortions and under what circumstances.  There was no Federal Law in regards to abortion.   Then, in 1973, the U.S. Supreme Court gave us Roe v. Wade. It declared a Texas anti-abortion statute unconstitutional and, in doing so, affected abortion laws in many other states.
For any low  information voters who might be reading, I present the following summary:
Jane Roe was an unmarried and pregnant Texas resident in 1970. Texas law made it a felony to abort a fetus unless "on medical advice for the purpose of saving the life of the mother." Roe filed suit against Wade, the district attorney of Dallas County, contesting the statue on the grounds that it violated the guarantee of personal liberty and the right to privacy implicitly guaranteed in the First, Fourth, Fifth, Ninth, and Fourteenth Amendments. In deciding for Roe, the Supreme Court invalidated any state laws that prohibited first trimester abortions.

"We … acknowledge our awareness of the sensitive and emotional nature of the abortion controversy, of the vigorous opposing views, even among physicians, and of the deep and seemingly absolute convictions that the subject inspires." — Justice Blackmun (1973), majority opinion in Roe v. Wade
When you talk to Far Left Democrats about this stopping of a beating heart, they will  claim that, a human fetus is "just a clump of cells". 
From the scientific perspective, Dr. Carlo Bellieni, in his book "Dawn of the I: Pain, Memory, Desire, Dream of the Fetus," says:
As soon as it is born, the child shows in a scientifically demonstrable way that it recognizes its mother's voice and distinguishes it from that of a stranger. Where has he learned that voice other than in the maternal womb?

There are also direct proofs. For example, we register how the movements and cardiac frequency of the fetus vary if we transmit unexpected sounds through the uterine wall. And we see that at first the fetus is startled, then it gets used to it, just like we do when we hear something that does not interest us.

In fact, the scientific evidence is immense. We cannot understand how it can be thought that it becomes a person at a certain point, perhaps when coming out of the uterus.

From the physical point of view, at the birth very little really changes: Air enters the lungs, the arrival of blood from the placenta is interrupted, the type of circulation of blood in the heart changes, and not much more.

As I often say, only blind faith in magic arts or some strange divinity can lead one to think that there is a "human" quality leap at a given moment — certainly not science.
Several years ago, then-President Obama, who was brushing away tears on Tuesday Morning on behalf of limiting the Second Amendment Rights of American Citizens, said the following,
Look, I got two daughters — 9 years old and 6 years old. I am going to teach them first about values and morals, but if they make a mistake, I don't want them punished with a baby. I don't want them punished with an STD at age 16, so it doesn't make sense to not give them information.
My question for Speaker Pelosi and the rest of the Democrat Elite, is:
When do children stop being a "punishment" and start being precious lives to shed tears over?
Is it simply a matter of "Political Expediency"?
Until He Comes,
KJ
DONATIONS ARE WELCOME AND APPRECIATED.
Make a one-time donation
Make a monthly donation
Make a yearly donation
Choose an amount
Or enter a custom amount
$
---
Your contribution is appreciated.
Your contribution is appreciated.
Your contribution is appreciated.
Donate
Donate monthly
Donate yearly